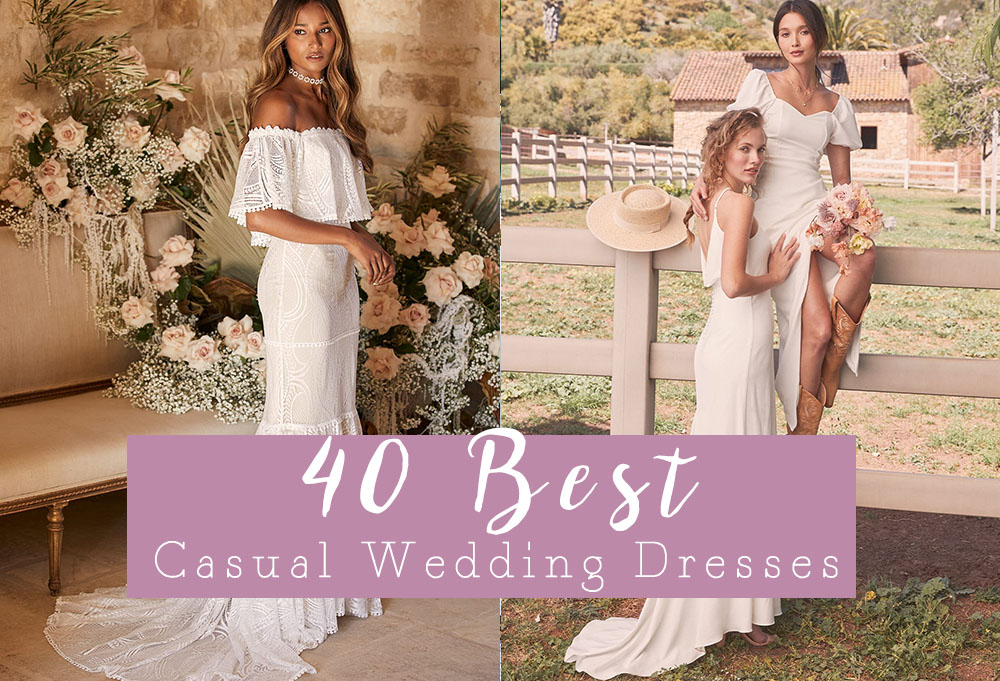 40 Best Casual Wedding Dresses for Laid-Back Brides 2023
If a traditional bridal gown isn't your thing and you want to look your best on your big day, you've found the best selection of casual wedding gowns 2023 has to offer. There is a current fashion trend toward simpler wedding gowns, which I really like. Casual wedding gowns are great for the bride who likes to keep things lighthearted and carefree on her big day. Since many stores were closed, my friend has been asking me where she can get a casual wedding dress that she can wear if she decides to go that route.
We compiled this MOST AMAZING collection of the most feminine, low-key wedding attire. The wedding attire we have seen has ranged from sleeveless to sled to pocketed, to tulle-skirted, to colorless, to casual, to formal, to cowboy boots.
If you know where to search, you can find some incredible choices. That's why we're here!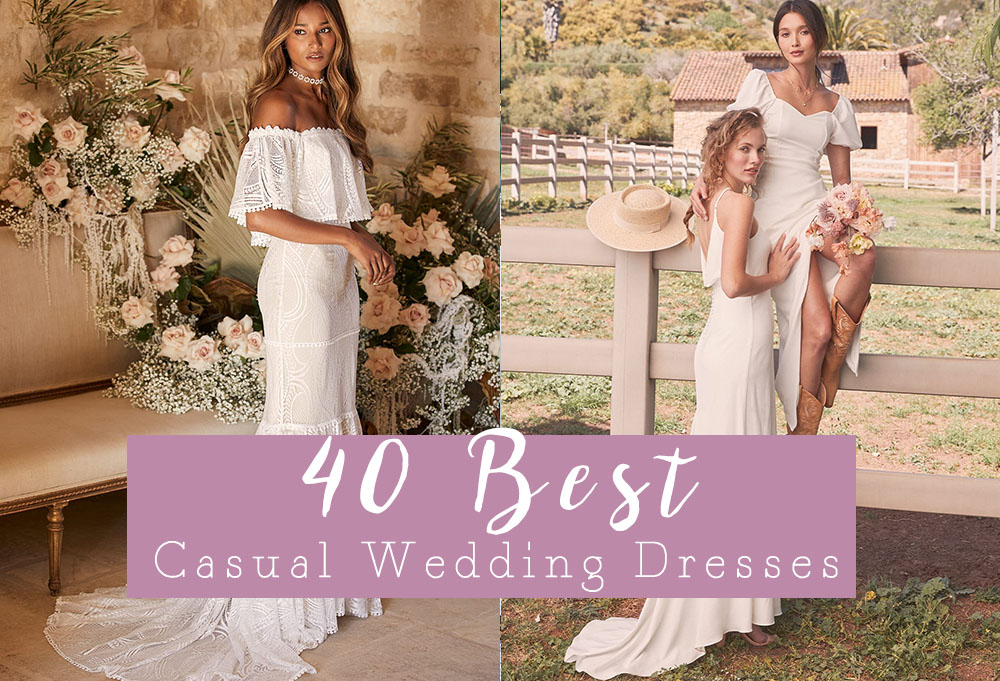 Even though casual, low-cost summer wedding gowns are all the rage, their popularity does not wane when October rolls around. Whether it's an homage to a more laid-back aesthetic or practicality in light of the season's sometimes hot and humid weather, summer brides are looking for short, casual wedding gowns.
We are seeing an increase in the popularity of casual wedding dresses with sleeves, particularly for autumn nuptials and winter celebrations, and not only among more mature brides. Recently, long-sleeved wedding dresses have become more popular. Casual wedding dresses with sleeves that are both simple and elegant are also becoming more popular.
The new cap-sleeve casual shapes or the half-sleeve alternatives are favorites among spring brides. Casual wedding gowns with three-quarter or half sleeves are all the rage right now, and they're perfect for spring and fall brides who don't want to invest in a formal gown with sleeves.
Besides the wedding's formality level, season, mood, and theme, the wedding's venue should also influence your dress selection. Before you go out and purchase that casual wedding dress, consider these suggestions.
Informal Wedding Dresses for Outdoors
Dresses with a more relaxed silhouette are ideal for weddings held in more casual outdoor settings, such as a barn, beach, mountain, seashore, mountain, or vineyard. Light and airy is the way to go when it comes to a casual wedding dress. Look for flowy, airy materials like chiffon and organza for your casual wedding dress. If you want to avoid looking filthy in pictures, avoid wearing a dress with a train that may catch sand, mud, or leaves. You may also get casual wedding dresses that have a mini-train or a dress that has a train that can be removed if desired.
Popular Tip for Low-Key Wedding Dresses: Silhouettes
Whether you're looking at sheath wedding dresses, A-line wedding dresses, strapless wedding dresses, casual halter wedding dresses, etc., the most important thing is to choose a style that flatters your form. When you've settled on the perfect cut, you'll need to choose the appropriate length. Wedding gowns that fall at or just above the knee are a great option for the bride who wants a more demure look.
Best Informal Wedding Dresses for Style
Last but not least, the overwhelming majority of modern brides choose informal wedding attire since they like the style. There are ladies out there who just don't want to wear a big, puffy wedding dress, and that's just OK! Choosing a wedding gown that doesn't express who you are is a missed opportunity. It's quite OK to wear a more casual gown to your wedding if you choose. Whose wedding style best describes you? The minimalist, the rustic, the bohemian, the classic, or the beach bride? Casual wedding dresses are perfect for the minimalist bride since they don't have any unnecessary "frills," such as embroidery, beading, rhinestones, or excessive lace. As the song implies, however, not all brides are interested in the ritzy extras. For the record, Sia has my undying love. Casual wedding dresses may be found for much less than $200, and in some cases, even $100, which is another reason to appreciate them.
Casual Wedding Dresses + Accessories to Match
You may be curious not only about where to get casual wedding dresses but also about what kinds of bridal apparel go best with them. Because a veil will blow in the wind and get in the way all the time, you should wear one that is close to your face, like a birdcage veil (or don't wear one at all).

To hell with shoes for these laid-back brides. I was just joking. Sure, you can skip the shoes at the beach (particularly if you're wearing these), but it's generally recommended that you don't. As you would guess, heels are practically impossible on the beach, on grass, in mud, running about or dancing in a barn, etc., so we advise wearing the most comfortable wedding shoes you can find, such as these sandals or wedding flats for the bride and bridesmaids. Simply said, flats are the more convenient option.
If you're looking for a place to purchase a casual wedding dress for an outdoor ceremony in summer or autumn, or if you're trying to save money and need a dress that costs less than $100, you've come to the perfect place!
Here are the top casual wedding dresses 2023 has to offer for cool, laid-back brides. Enjoy!
Wherever you decide to shop, you'll find a wide selection of casual wedding gowns. Who knew the alternatives were so wonderful, and several were even handmade! Casual, sleeved wedding gowns are my absolute favorite. Can you name your preferred style? Drop a line in the comment section and tell us!
Sheer lace short casual wedding dress with cap sleeves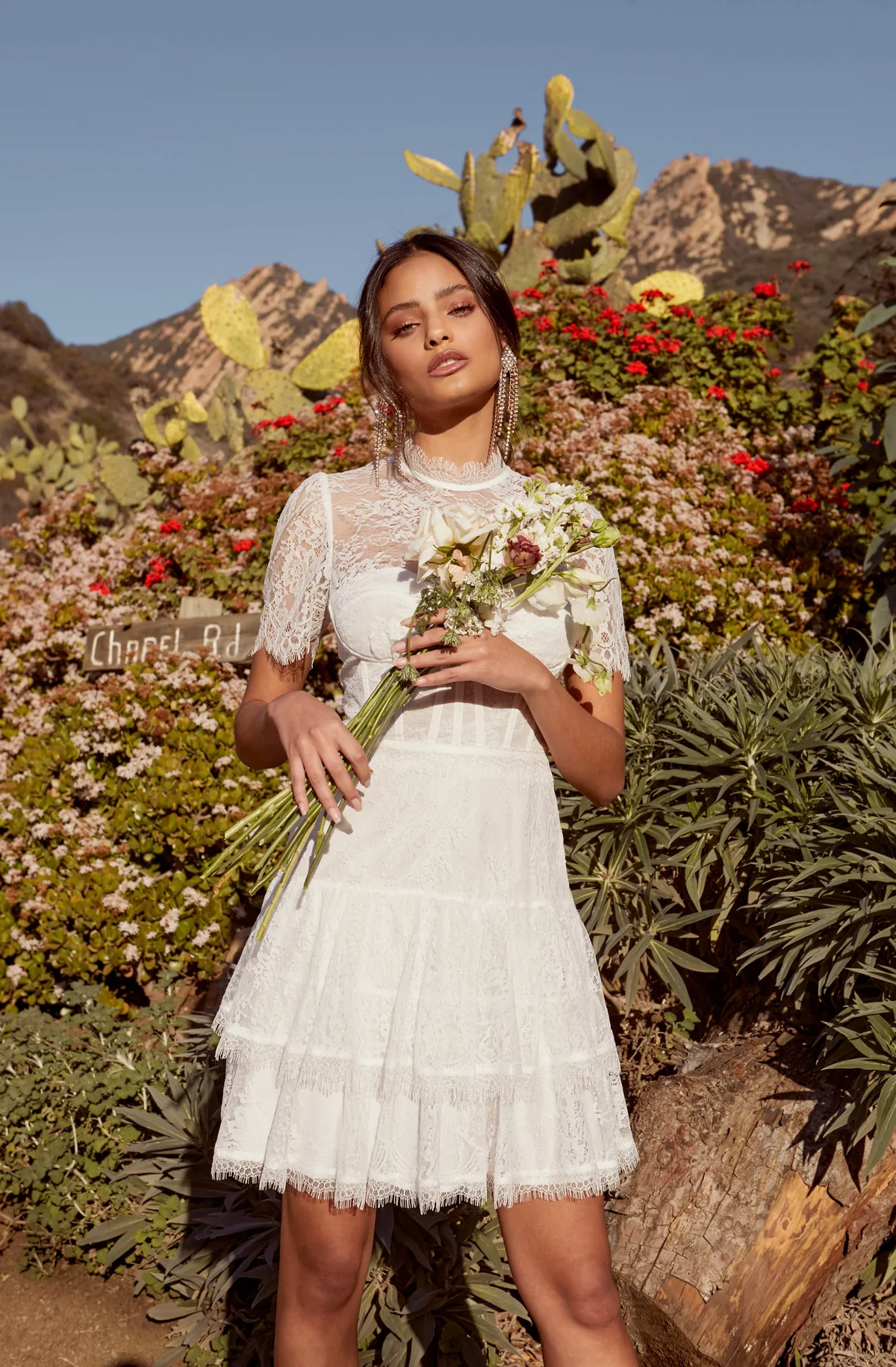 Off-the-Shoulder Mermaid Maxi Dress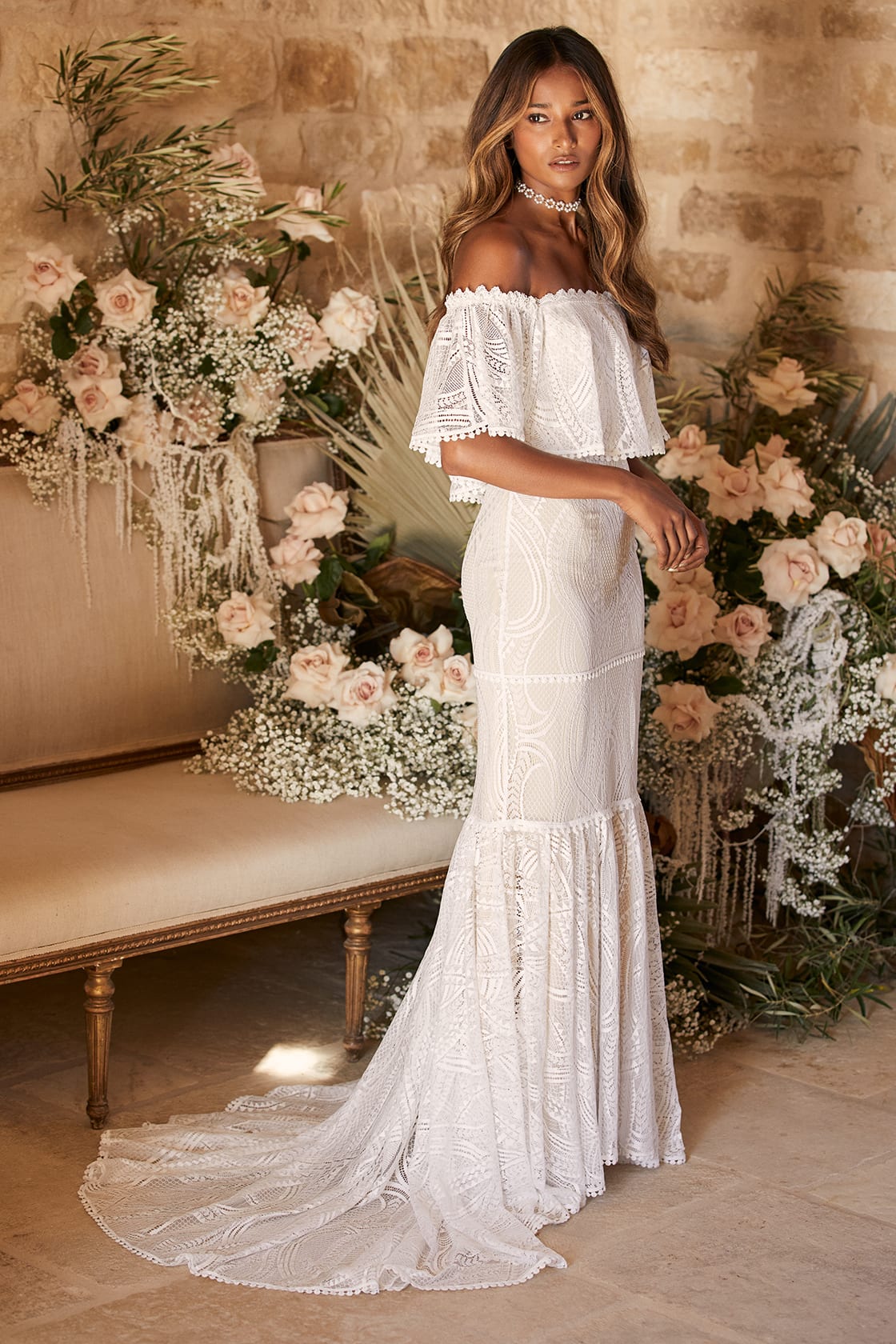 White Puff Sleeve Maxi Dress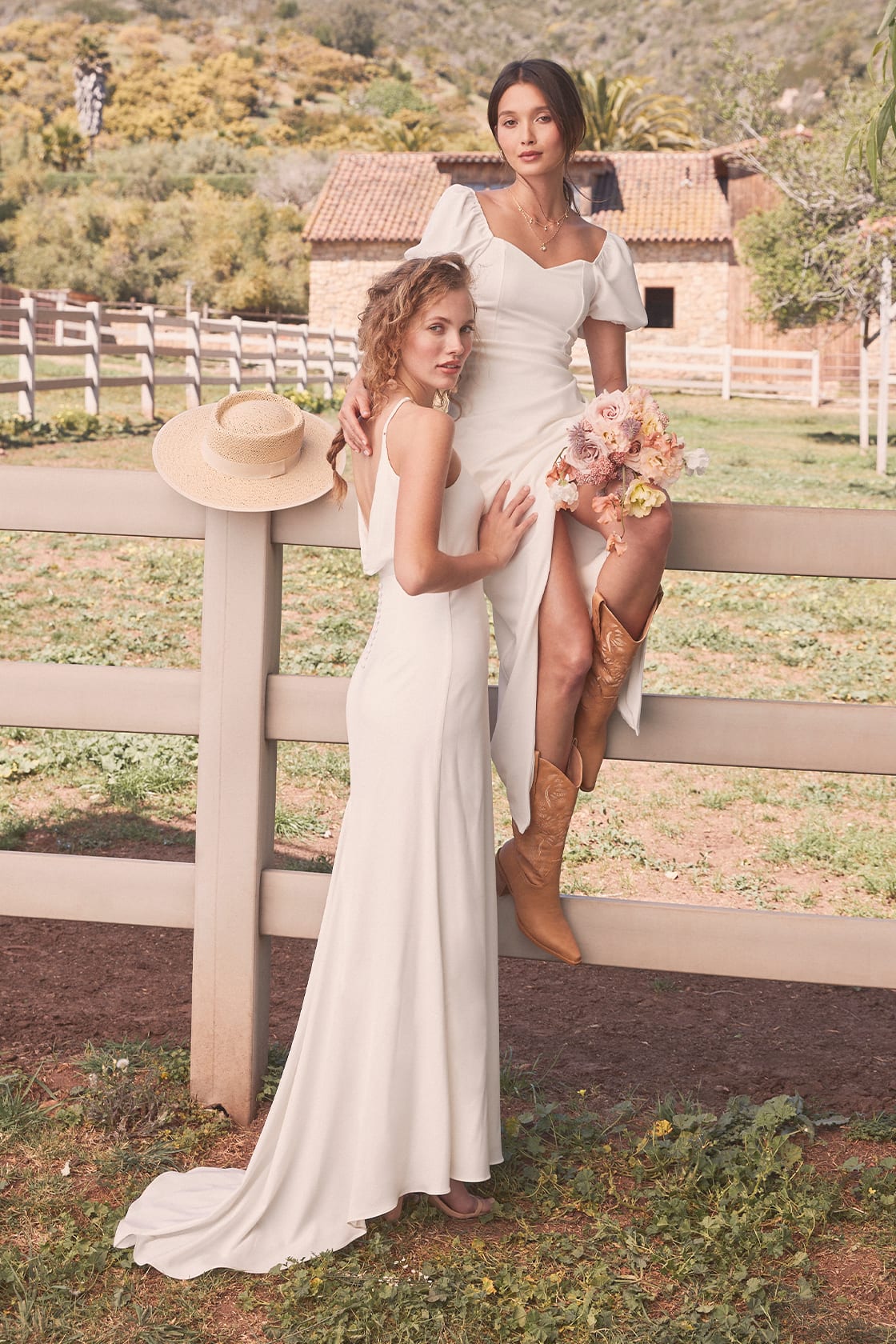 White Lace Flutter Sleeve Maxi Dress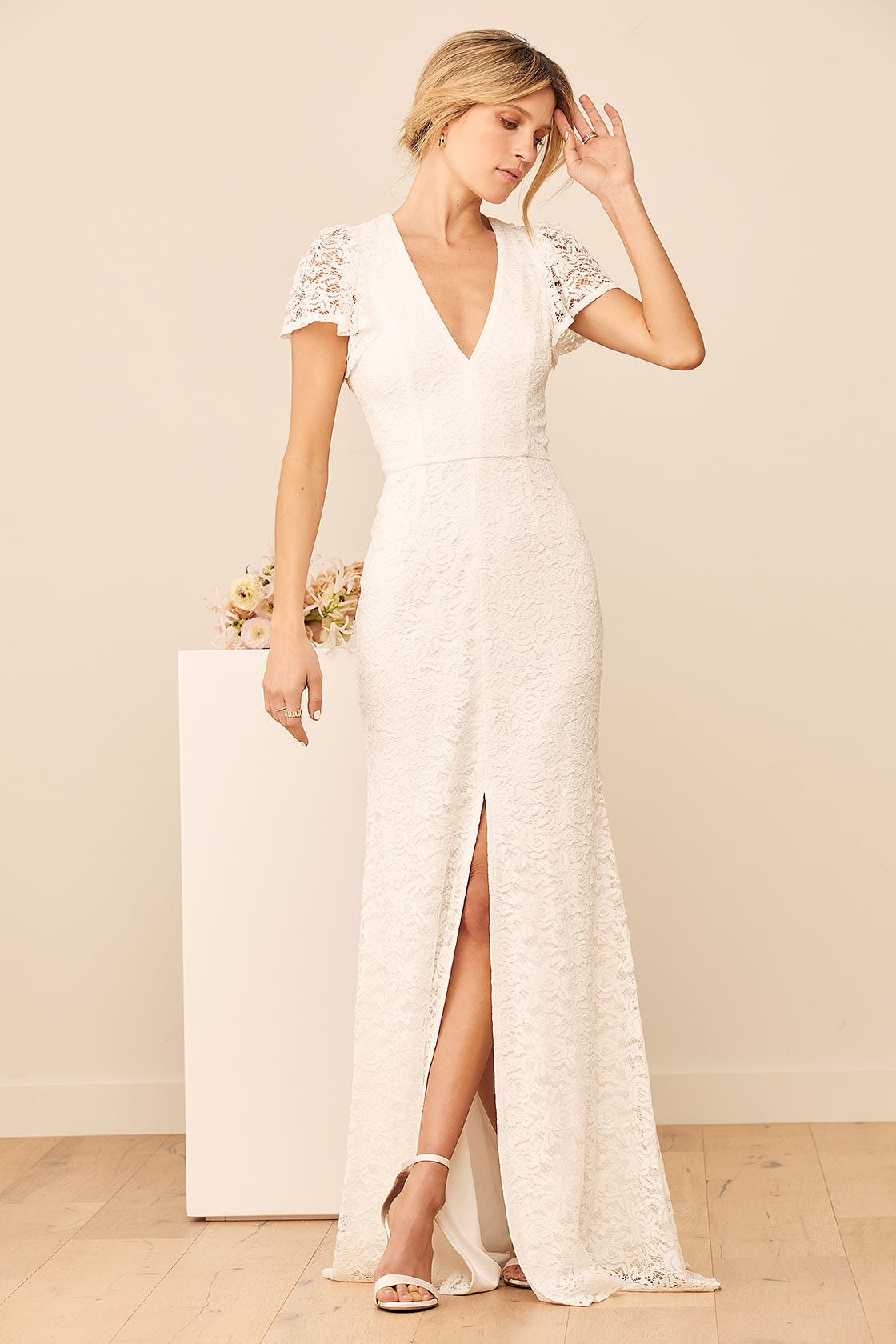 Lace Ruffled Tiered Sleeveless Maxi Dress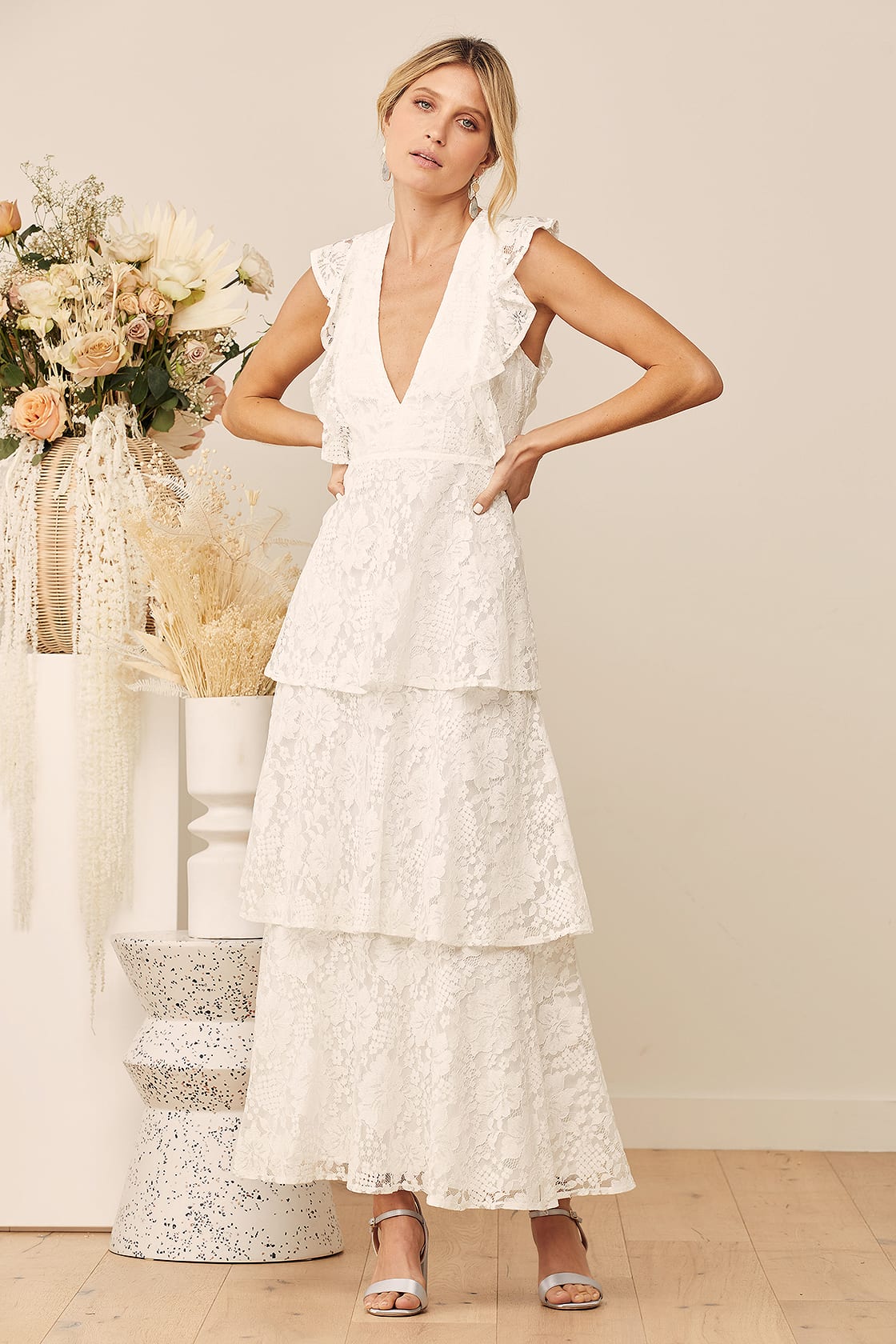 White Lace Off-the-Shoulder Midi Dress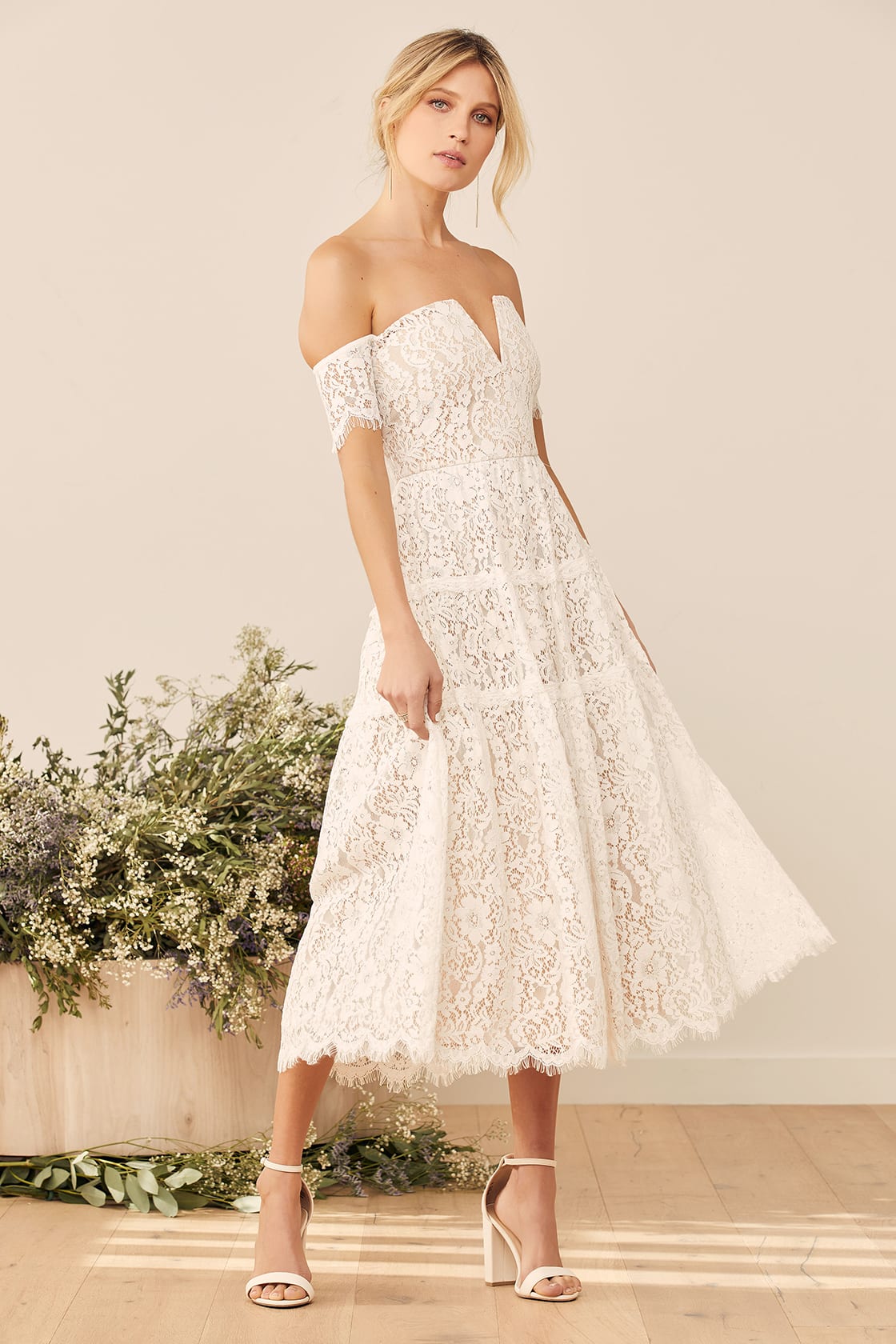 White Sequin Embroidered Lace-Up Maxi Dress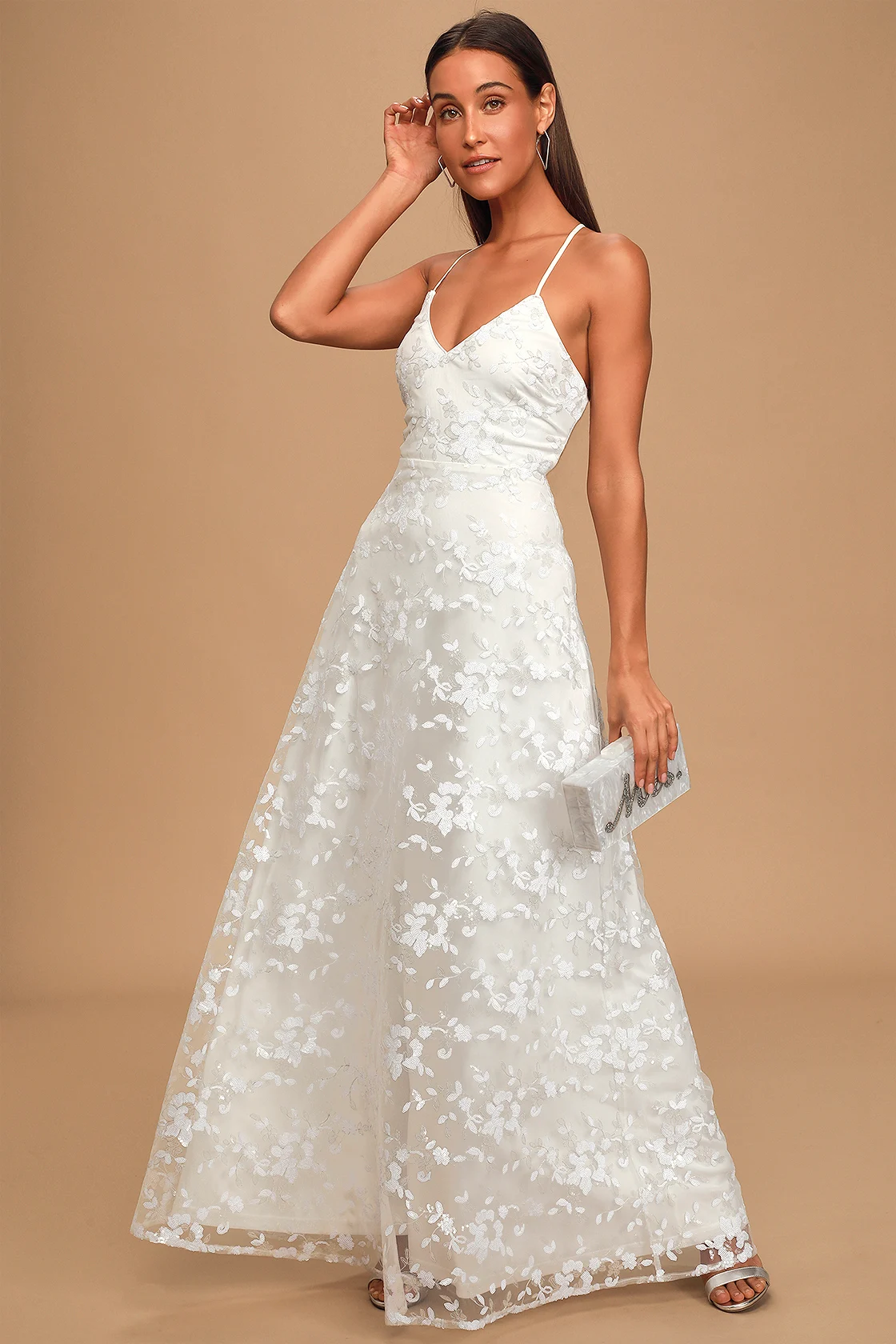 White Lace Off-the-Shoulder Maxi Dress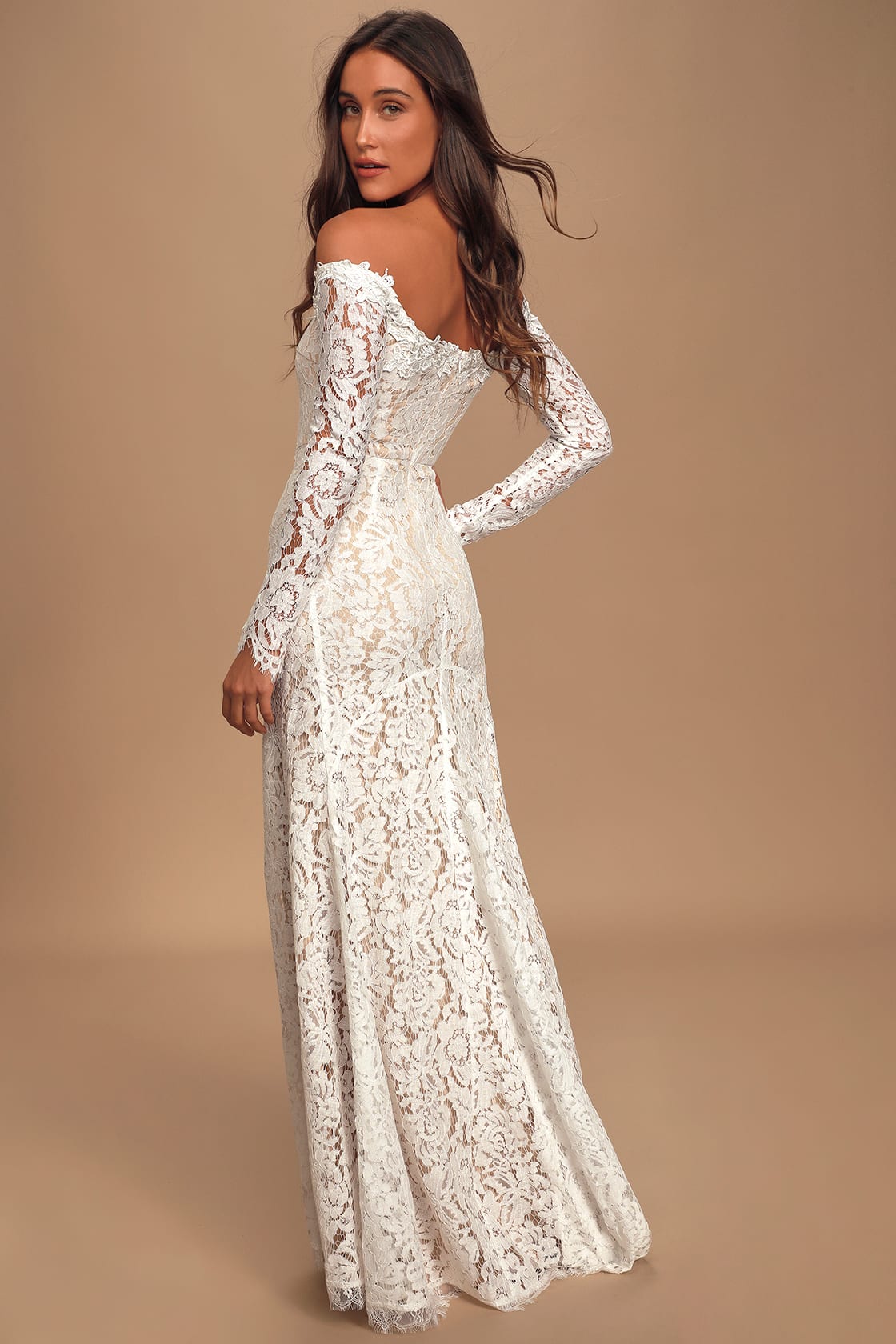 White Lace Long Sleeve Maxi Dress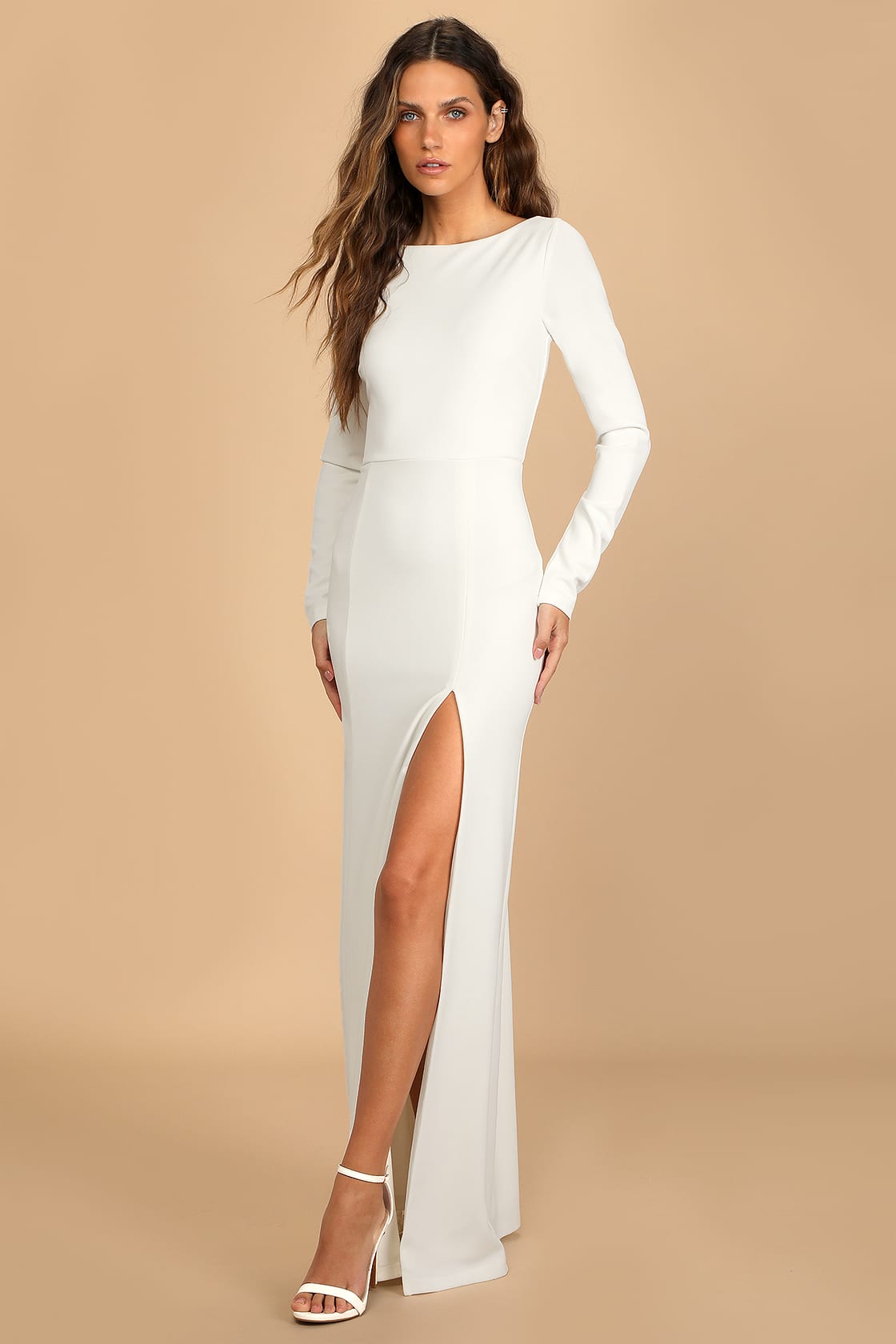 White Long Sleeve Lace Maxi Dress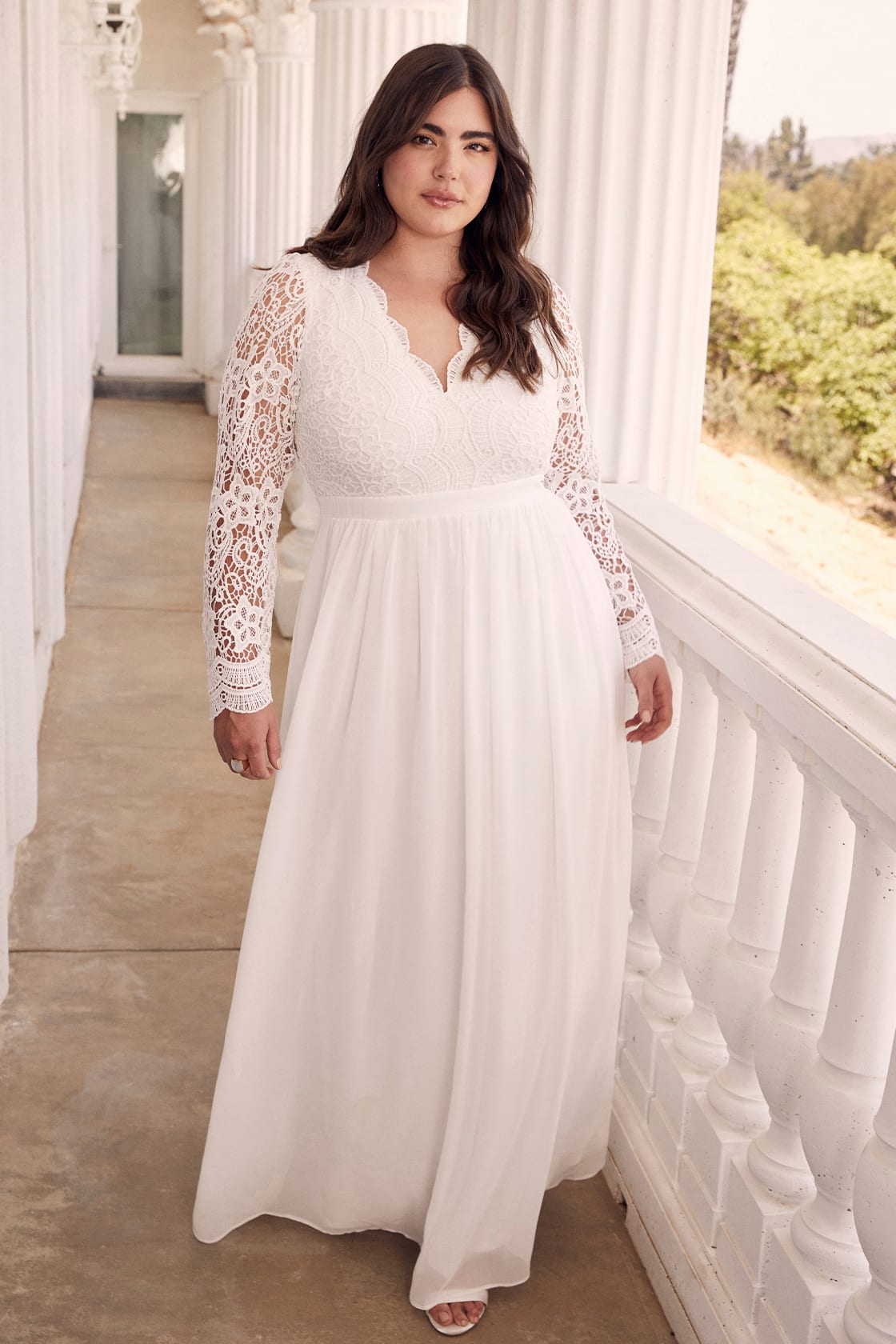 Where to Buy Casual Wedding Dresses
You can purchase these clothes right here! Select the dress you like by clicking on its image to be sent to its product page, where you can learn more about it and make a purchase.

Don't you just adore these wedding dresses? I'm really crushing on the first two outfits. Put your vote in by telling me which one you like most below!