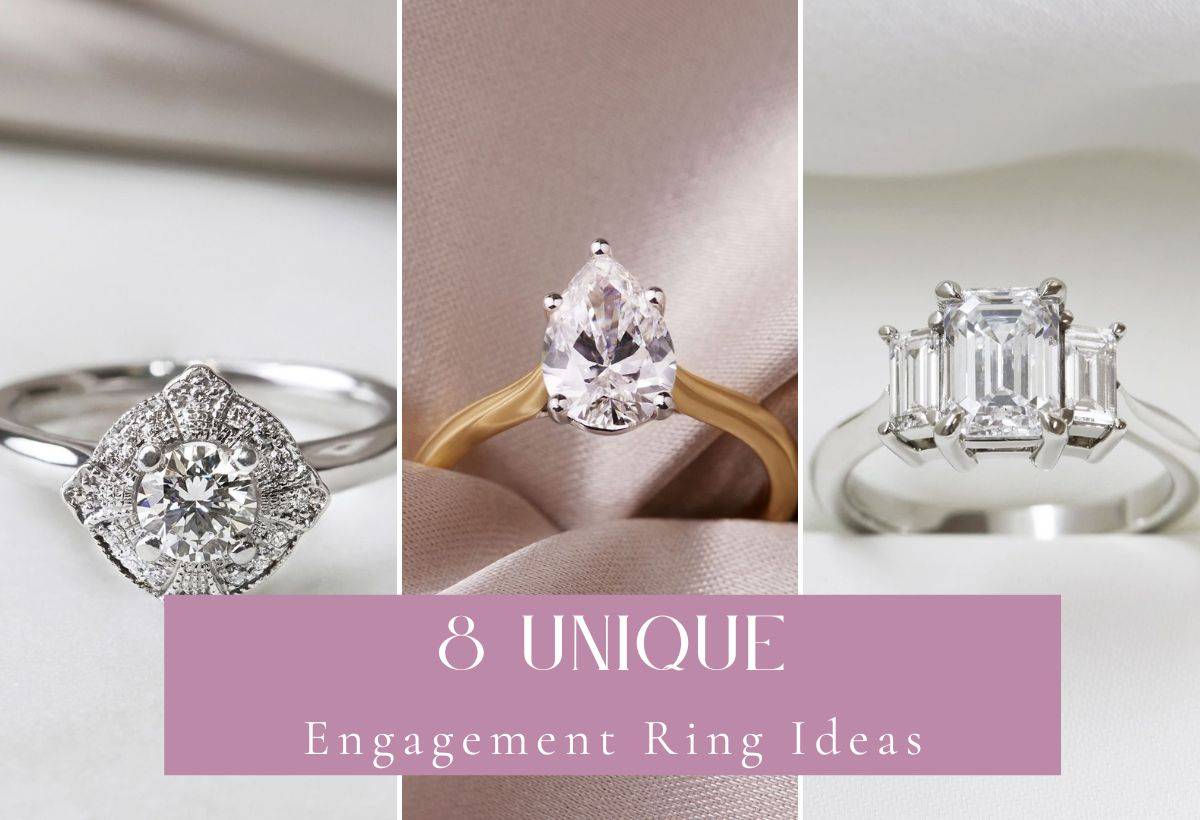 Larsen Jewellery
8 Unique Engagement Ring Ideas to Consider
Looking for a unique engagement ring for your partner? With so many traditional diamonds dominating the market, it can be hard to find something special that really speaks to your relationship.
But fear not, there are plenty of one-of-a-kind rings out there if you know where to look. Here are 8 unique engagement ring ideas to consider for your upcoming proposal.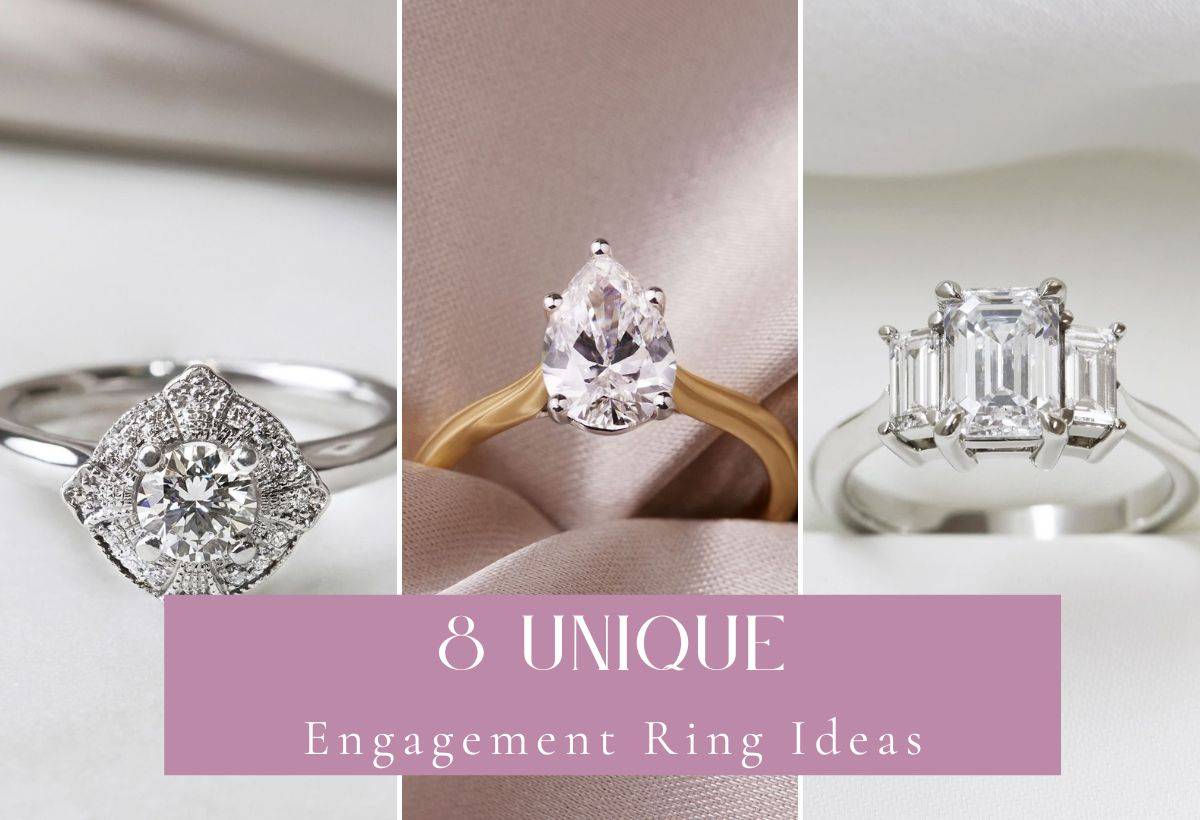 Three stone rings
Three stone rings are a sentimental and symbolic choice, featuring a trio of gemstones that can represent your relationship's past, present and future. Typically, these rings have a larger centre diamond or coloured gemstone that signifies your present life together.
Flanking it on either side are two smaller stones symbolising your individual pasts, and the paths that fatefully led you to each other. Some also interpret the two side stones as a promise for the future you will share.
Whatever the meaning, three stones in one ring make for a modern take on a classic style. And with customisable gem options, from round or princess cut diamonds to coloured gems like sapphires or rubies, you can find the perfect combination to represent your unique love story.
If the concept of a three stone ring has stolen your heart, you can browse this style and many more engagement rings at Larsen Jewellery.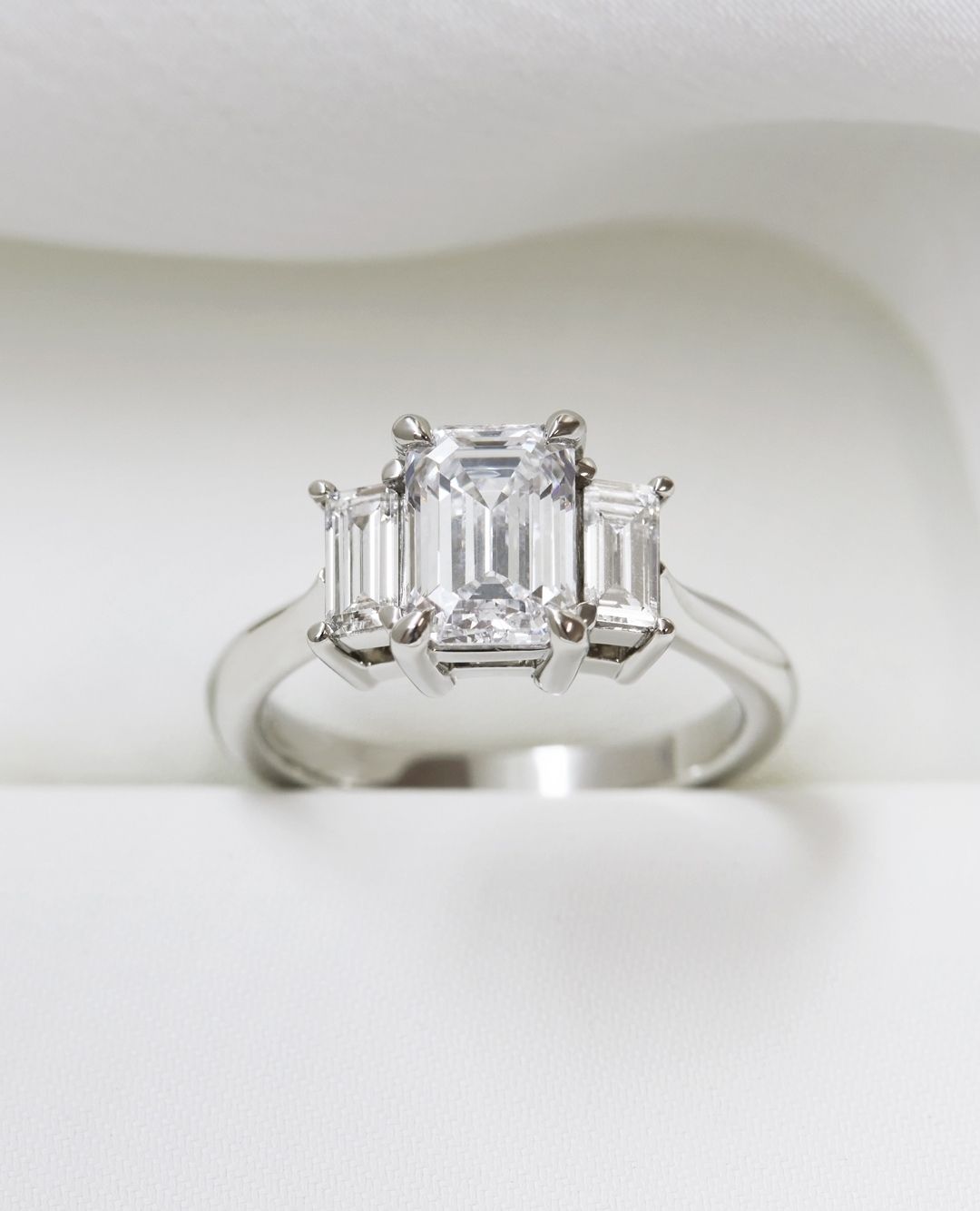 Vintage and antique rings
For the history buffs out there, look into rings from past eras for a meaningful heirloom style that tells a story. Victorian era rings from 1837 to 1901 feature ornate designs, rose gold or silver metals, and stones like rubies, emeralds, and early diamonds.
Art deco rings offer geometric shapes, filigree detailing, enamel, onyx, and platinum. Mid-century vintage rings from the 40s, 50s, and 60s include gold bands with diamond accents and unique stone cuts like asscher and baguette.
To find these glamorous, intricate, one-of-a-kind vintage styles, scout local antique stores and online vintage ring dealers. Make sure to budget accordingly, and take any ring you're considering to a jeweller first to thoroughly check its condition before purchasing. Give new life to a meaningful ring from the past eras for a truly unique engagement ring.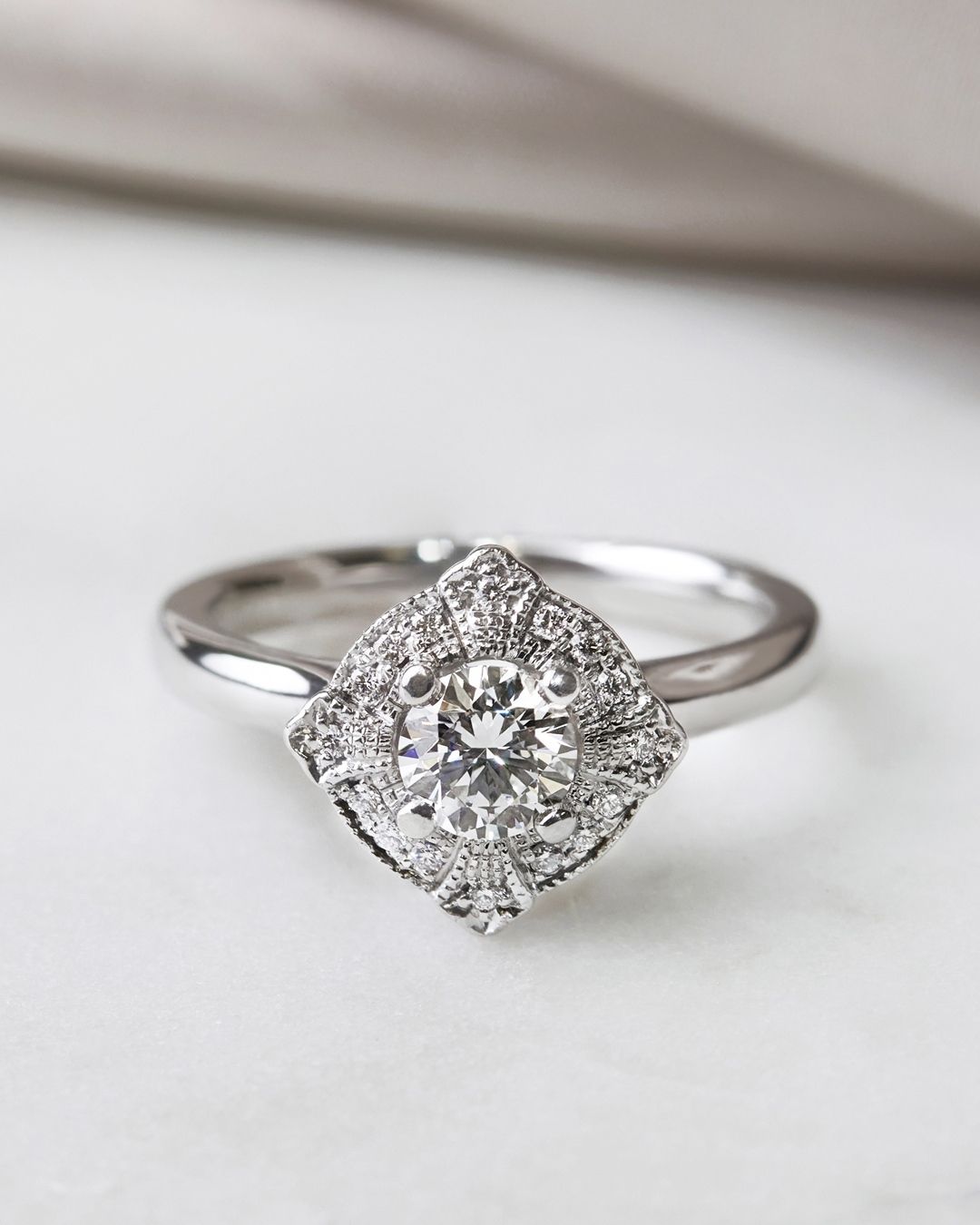 Coloured gemstones
Diamonds may be traditional, but coloured gemstones like sapphires, rubies and emeralds add a pop of personality and customisation to engagement rings. Sapphires range from rich navy hues to pale blue, while rubies offer a vivid red colour. Emeralds have an elegant green tone.
If your partner has a favourite colour, find a quality gemstone in that shade. Or use their birthstone – for example, blue sapphire for September or red ruby for July – for a meaningful touch. These brightly hued gems can stand alone as a solitaire or be surrounded by sparkling diamonds for contrast and extra allure.
Clustered multi-gemstone rings also showcase a kaleidoscopic rainbow of colours. No matter the style, coloured gems add eye-catching appeal and personalise the ring to your partner's taste.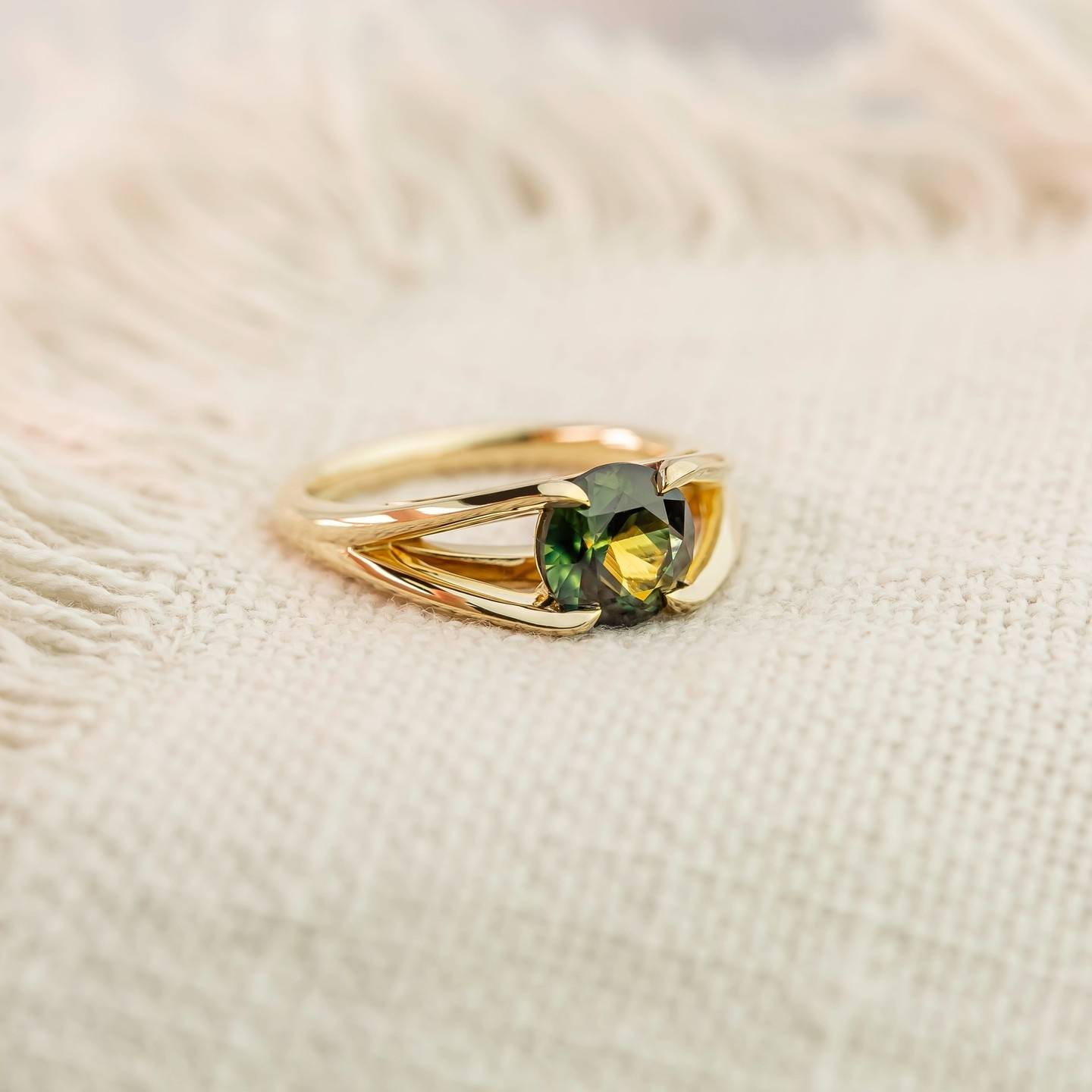 Stackable rings
For minimalists and gemstone lovers, stackable rings allow you to mix and match multiple bands for a layered, customisable set. While one carved or beaded artisan ring serves as the symbolic engagement ring, you can stack additional thin, plain or diamond encrusted bands beneath it.
Stackables work well with dainty asymmetrical engagement rings to create a more substantial layered look on the finger. Shop small independent jewellers and artisan designers for quality solid gold or sterling silver stackable bands with delicate details.
You can stack just two or three for a simple layered set. Or go all out with multiple stackable bands in varying widths, metals and gemstones for major modern flair. The options are endless for these chic and customisable ring sets.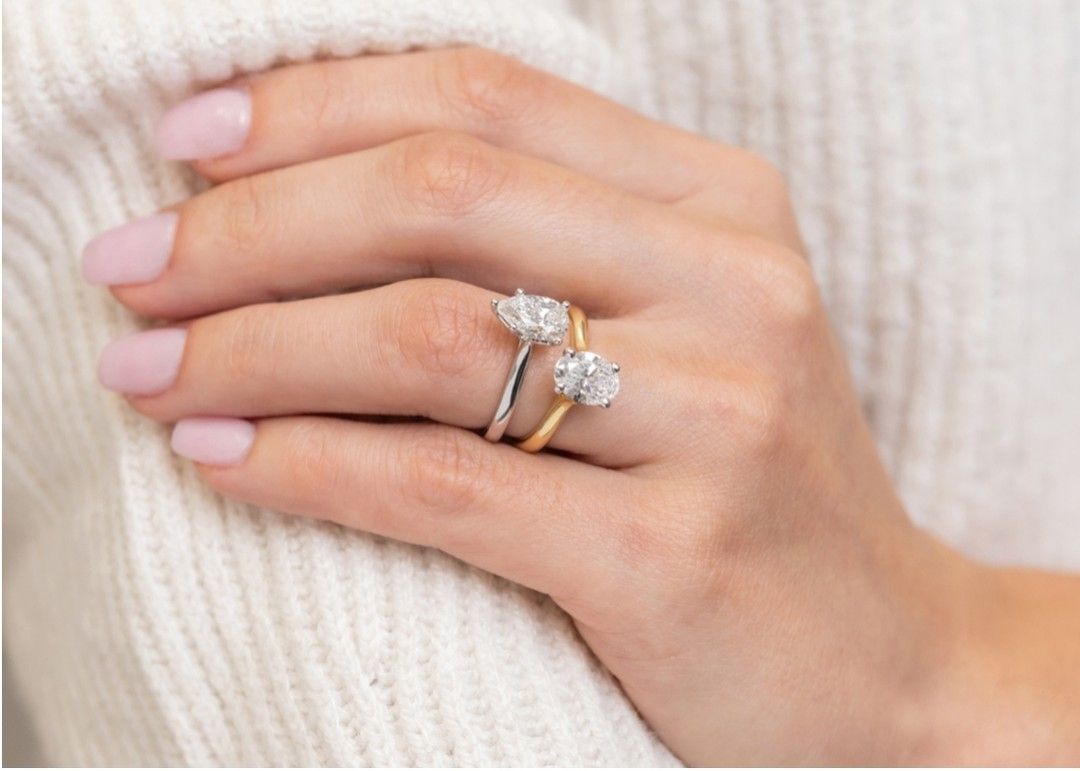 Two-tone style
Two-tone rings offer depth and visual interest by pairing contrasting metals in one design. Yellow and rose gold combined create a vintage vibe, while white and yellow gold offer a bold modern mix. Pairing platinum's sleekness with the warmth of yellow or rose gold makes for dimensional contrast that will elevate your ring.
Two-tone styles can also incorporate wood, ceramic, onyx, bone or stone elements alongside precious metals for an eclectic blend. Rings with two metal colours woven together or stacked on top of each other make the contrast obvious. Opt for engraved detailing to accent the colour variations.
No matter your metal preferences, two-tone engagement rings provide the best of both worlds for a style that's contemporary yet classic. Moving beyond just one metal type allows for stylish mixed-metal artistry.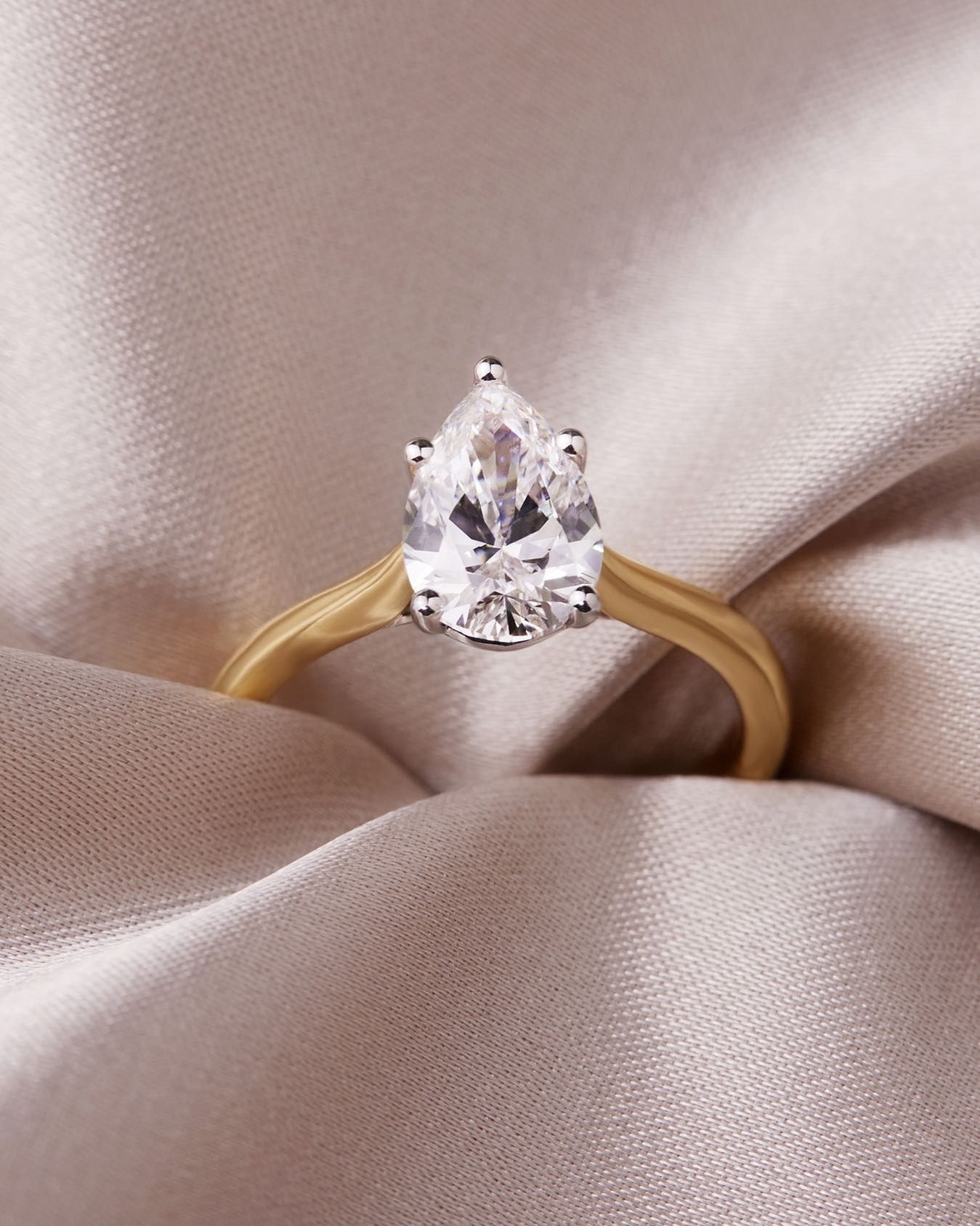 Engraved bands
Adding an engraved detail to the engagement ring makes it undeniably customised and sentimental. Opt for engraving on the inside band so the special message, fingerprints, or signature motif remain private when worn. Or choose the outer band edges or sides for a subtler visible personalisation.
Engraving possibilities are endless – from initials, wedding dates, or short aphorisms like "Forever" and "You & Me", to meaningful symbols that represent your relationship journey. Tiny etched fingerprints from you both or coordinates of meaningful locations also add special secret meaning.
No matter if you choose a simple text phrase in a script font, your facial profiles etched together, or an ornate decorative motif, this personalised engraving will make the engagement ring distinctly and sentimentally your own.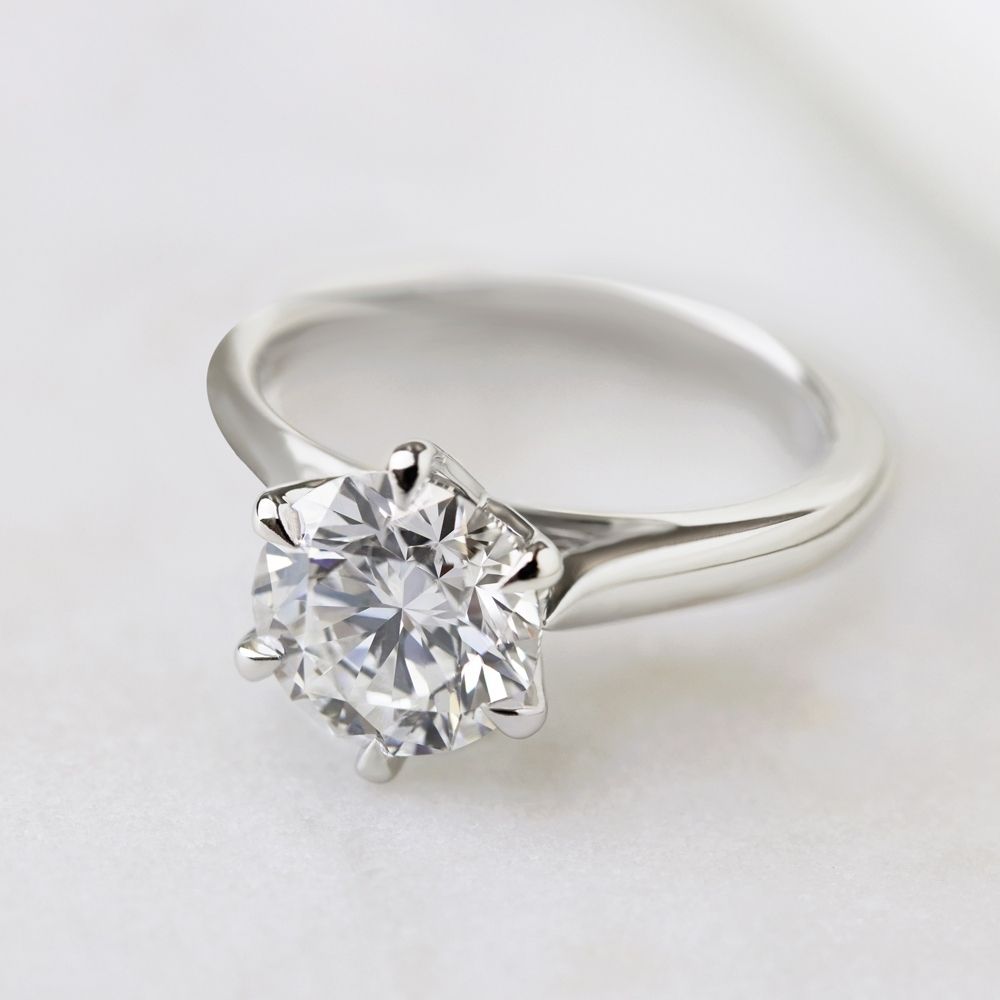 Distinctive shapes
Stray from the classic round brilliant diamond and opt for a distinctive shaped centre stone or contoured band to make your engagement ring stand out. Asscher and cushion cuts add geometric appeal, while radiant and princess cuts have a contemporary edge with their square and rectangular shaping.
For softened romance, consider oval or pear shaped diamonds and gems. Marquise cut stones have an elegant elongated shape with sharp ends. trillion or triangle cuts add architectural angularity.
You can also find rings with the band shaped in waves, zigzags, infinity loops or asymmetrical angles. When admiring the unique stone shapes within these contour cut settings, the design possibilities are infinite.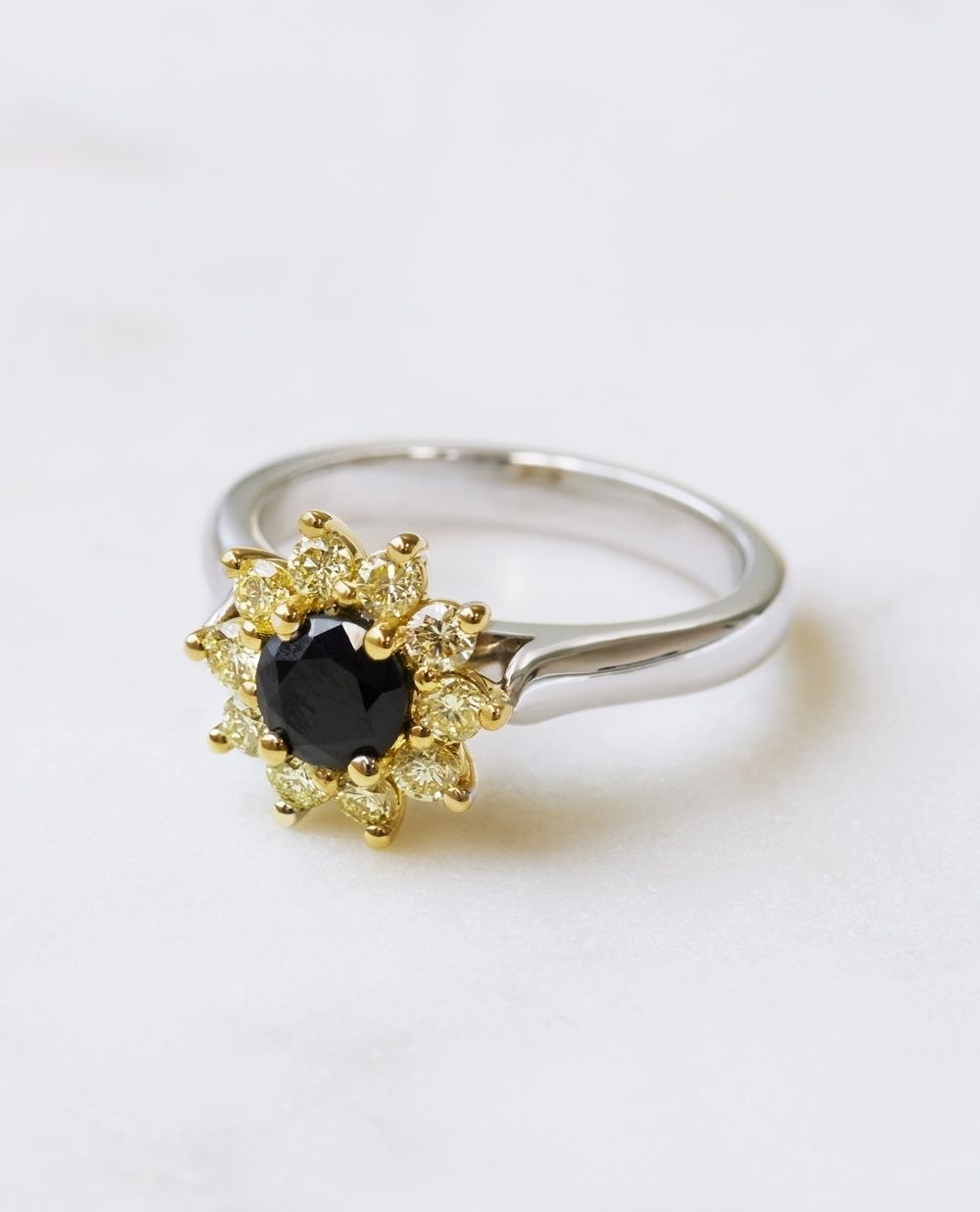 Nature-inspired rings
For those who feel most at peace in nature, there are many beautiful organic engagement rings to reflect that. Botanical bands etched with leaves, vines, or flowers epitomise natural elegance. Delicate rings mimic twigs, branches, twisting vines or wrapped lengths of grass.
Beaded and petal details, wood or stone inlays, and raw uncut gems like opal and agate add organic texture. Natural earthy hues in metals and stones complement the woodland inspiration. Some nature-style rings even incorporate actual plants, flowers, twigs or grass within resin on the band.
Park walks and forest hikes will inspire you with ideas. The options are boundless to incorporate specks of nature's beauty into a ring as unique as your love story.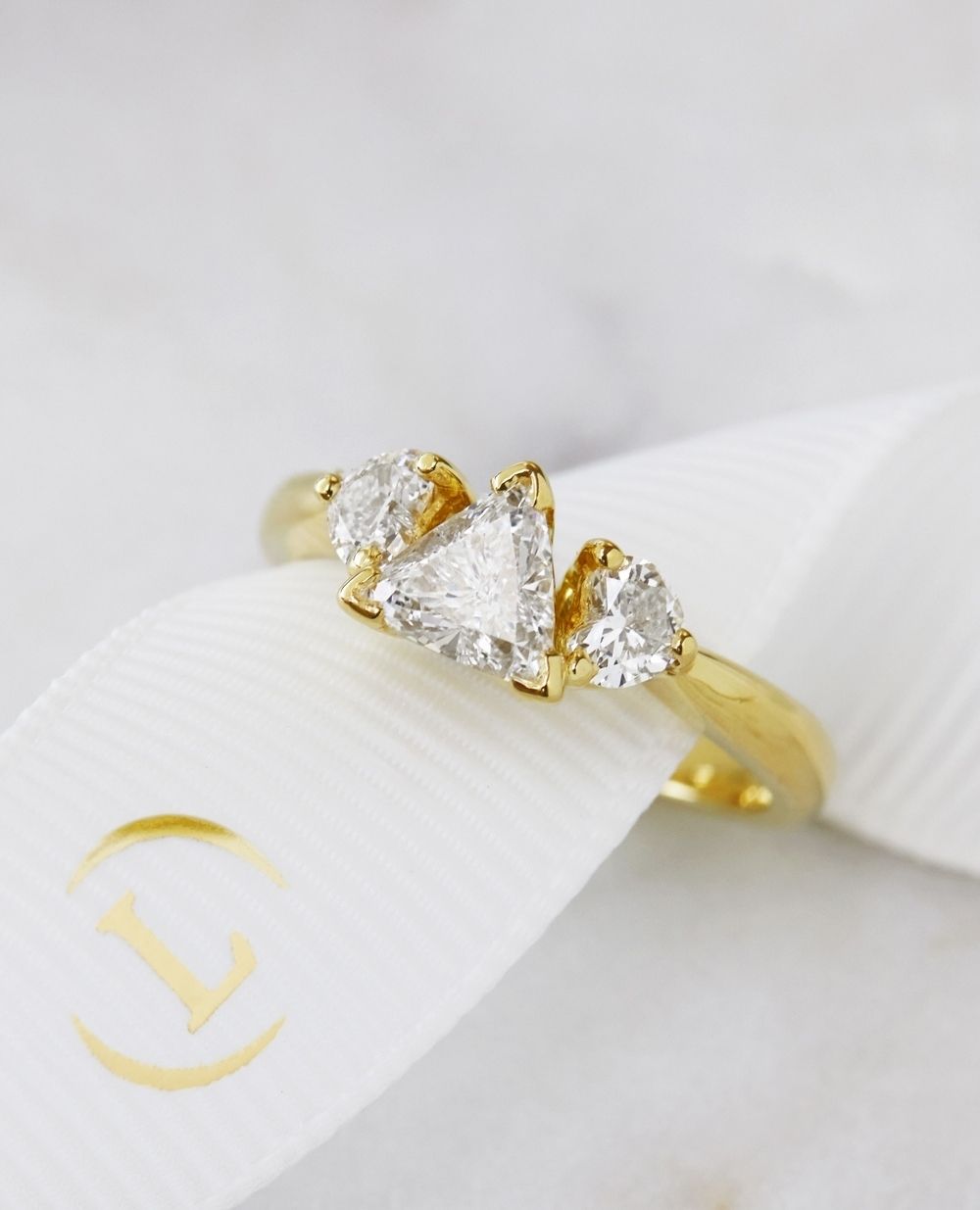 When it comes to engagements, the ring should feel as special as your partner and relationship. So avoid the cookie cutter solitaires and opt for one of these unique styles to make it a truly memorable and meaningful proposal. Your partner will not only love the ring but the thought you put into finding it too.