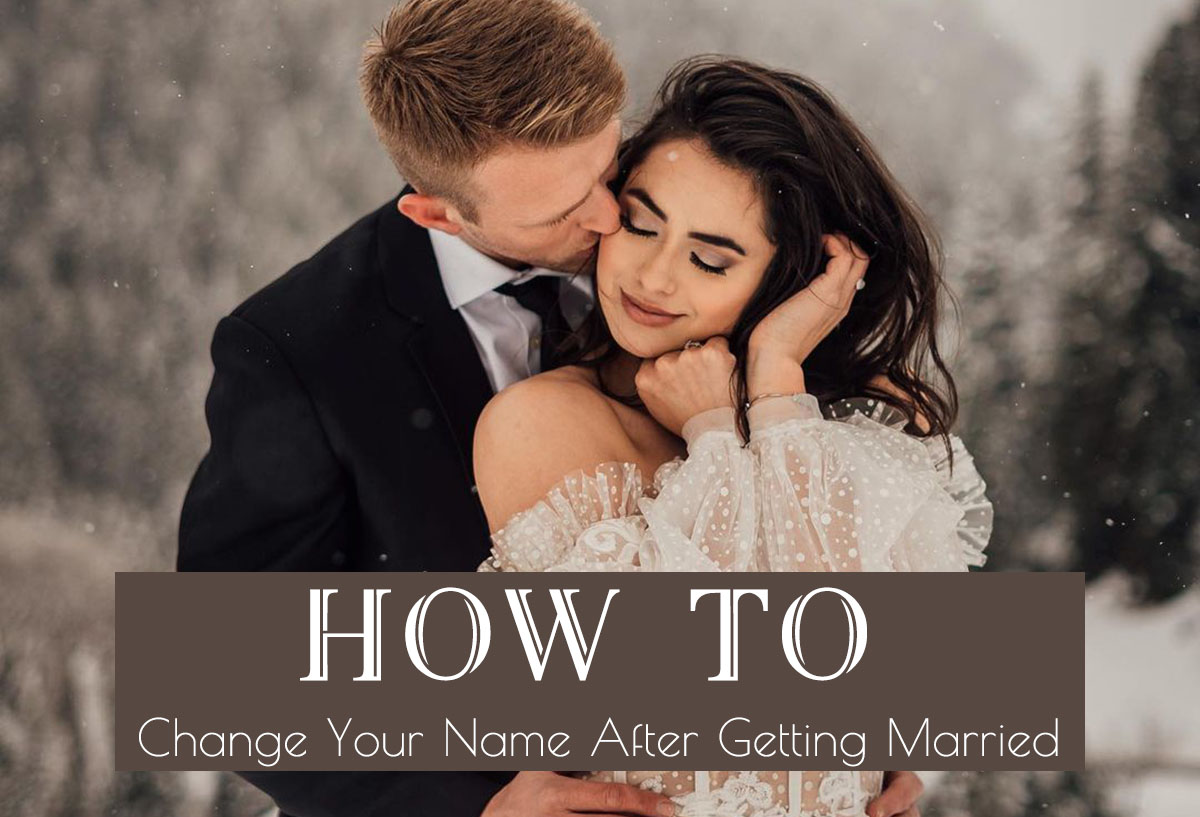 How to Change Your Name After Your Wedding
How to Change Your Name After Getting Married
The decision to change your last name after getting married might feel more intimate in today's society. The decision to take this step is not one with a right or wrong answer, but it is one that many newlyweds anticipate with joy since it symbolizes their commitment to standing unified as one.
The decision "symbolizes a union of two individuals who love each other very deeply," says relationship specialist Colie Christensen.
Though changing your name legally isn't as much fun as, say, picking out your wedding flowers or creating your signature drink, it may be less of a hassle if you know what to anticipate going in. The most significant papers to gather, the sequence in which to do things, answers to commonly asked questions, and numerous professional advice to make the laborious process of changing your last name are all outlined below.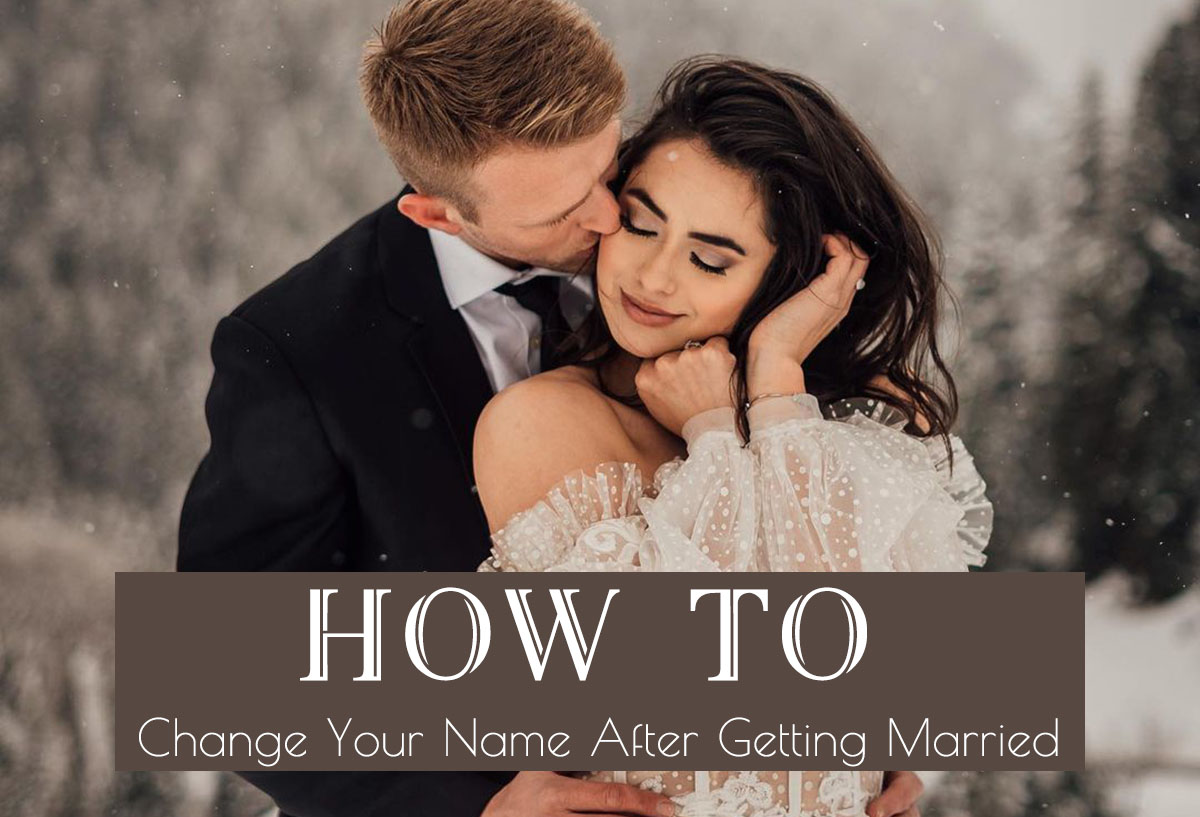 Name Change After Marriage Checklist:
1. Obtain your marriage certificate and certified copies
2. Inform relevant government departments such as DVLA and HMRC
3. Inform your bank and building societies
4. Tell your employer
5. Apply for a new passport
6. Inform the council
7. Tell your landlord or mortgage provider
8. Update any insurance policies
9. Update utilities and services such as water and electricity
10. Inform your GP and dentist
11. Tell any club or society memberships
14 Easy Steps to Change Your Name
Compile a complete list of all the occurrences of your given name. Time to make that change to your surname!
File for Your Marriage Certificate
If a friend is officiating or you're having a self-uniting ceremony, it's easy to forget the legal documentation in the midst of the wedding day's tumult and beauty. Keep in mind that getting your marriage license signed properly is the first and most important step in legally changing your last name.
Wedding planner Jamésa Alexander says that while a marriage license grants the couple permission to be married, a marriage certificate proves that the couple is indeed married. After filing the license at the courthouse where the couple was married, "it acts as proof of marriage."
Your officiant should apply for the marriage license on your behalf. The officiant must file the certificate within a certain number of days following the ceremony; however, the sooner the better. If possible, Alexander suggests having it the next working day after the ceremony. However, some couples choose to change their names on their own by filing for the certificate themselves. This is because it allows them to receive certified copies of their marriage certificate, the second stage in the name-changing procedure.
Obtain Certified Copies
You will need to provide evidence of your marriage to change your last name almost anywhere you need to do so. A notarized copy of your marriage license will suffice. Your original marriage license will remain on file with the county where you tied the knot, but the county clerk's office should be able to offer you government-issued copies that may be used to establish your marital status with employers, schools, and banks. A copy of your certificate can be acquired from the county clerk's office.
Alexander suggests getting multiple copies of your marriage certificate. Put one copy away safely and provide the other two to the organizations who need to know about your marriage and new surname.
Update Your Social Security Card
Among other things, your nine-digit Social Security number is used to verify your identity and track your earnings. Christensen says the Social Security Administration is the first place you'll need to change your name. If your SSA name doesn't match your new driver's license, it will be denied. Your passport serves the same purpose.
Either in person or over the mail, you can apply for a replacement Social Security card. (Click here to find the nearest Social Security office.) Preparing a completed application packet in advance of your in-person application will save you time. The following items must be brought to your appointment in order to have your Social Security card updated at no cost to you:
Proof of name change.If all you're doing is marrying and taking your fiance's last name, all you need is a notarized copy of your marriage license.
Proof of citizenship.Acceptable forms of identification include a current passport, original birth certificate, or a notarized copy of either.
Valid photo identification. One valid form of identification, such as a driver's license, passport, military ID, or state ID card. The use of your birth surname on the ID is perfectly acceptable.
Your current Social Security card. (Your card number will remain the same even after it's been changed.)
Click on the link for further information about the following steps in the social security procedure if you are not a U.S. citizen but will be a permanent U.S. resident after your wedding.
Get a New Driver's License or I.D.
"You will probably need to provide a photo I.D. in your new name in order to update your bank account, credit cards, investment accounts, etc.," says Christensen. After changing your Social Security card, alter your name on your most often used ID. A state or military ID works, although most individuals use their driver's license.
You must go to the DMV in person to change your name on your driver's license, so make sure you allow enough time for the trip and get a new photo taken while you're there. Most states include a name change in the renewal procedure; thus, you should complete the renewal papers before you leave. You'll need the following items when you visit the Department of Motor Vehicles:
Proof that you've updated your Social Security number, such as a replacement card or a receipt from the SSA.
Documentation verifying your physical location, as needed by law in your state. (This may include but is not limited to: bills, bank statements, insurance policies, rental agreements, and mortgage papers.)
A copy of your official marriage certificate. (You'll get this back.)
Accept a variety of methods of payment. It is advisable to bring cash or a checkbook to any office that does not take credit cards.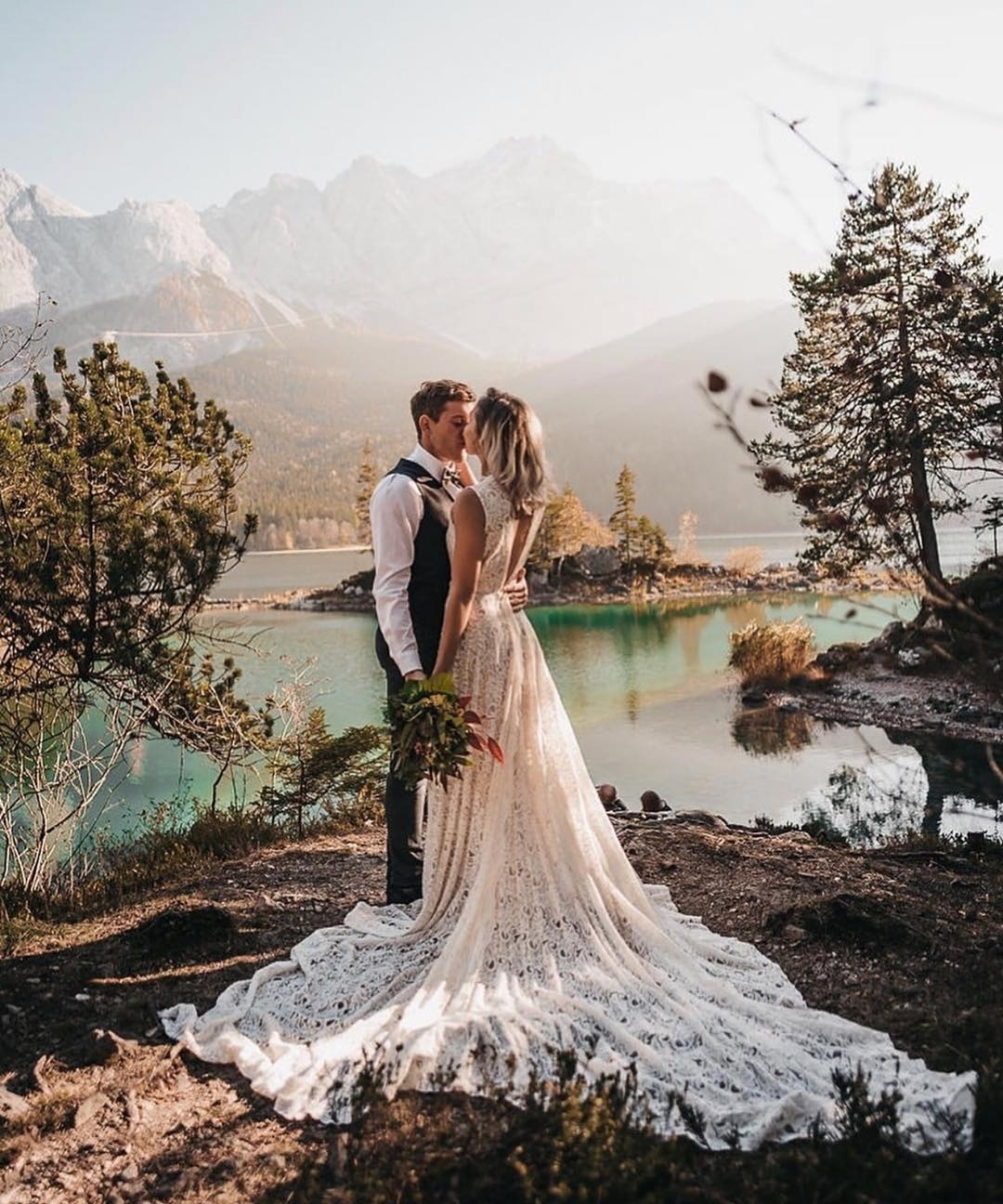 Update Your Passport
It's not a good idea to change your name on your passport until after you get back from your honeymoon, especially if you're planning on traveling internationally so soon after the wedding. Christensen insists that your identification must be a perfect match with your boarding card. As long as the name on your passport and your airline ticket are the same, you should be fine if you have any travel planned in your given name.
To make a modification to your passport, such as changing your name, you must submit an application through the mail. To apply for a passport in the United States, you must first determine which form is appropriate for your situation using the online wizard provided by the Department of State.
A properly filled out DS-5504 or DS-82
A notarized copy of your marriage certificate
A valid passport in your current passport
A fee payment check, if that's what's required. Include your entire name and birthdate in the note line of the check and make it out to "The U.S. Department of State."
The name change on a passport is free if the passport was issued within the last 12 months, according to Christensen. An additional $130 will be required if your passport was issued more than a year ago.
Update Global Entry and TSA PreCheck
With a new passport comes a new passport number, which you'll need to supply to Global Entry in order to keep your account active. You will need to visit a nearby Global Entry Enrollment Center in order to make this modification, as it is currently not possible to do so online.
If you get a new passport after your in-person visit, you can keep using the same Global Entry number you already have. A new Global Entry card can be requested through your online account if you'd want to use your new last name, but it's not required. (The digital information connecting your passport number to your Global Entry number is the most crucial.)
"After updating your name with Global Entry, your TSA PreCheck membership will be changed automatically," explains Christensen. The name change procedure can be initiated by calling 855-347-8371 or submitting an online question for those who have TSA PreCheck but not Global Entry.
Change Your Name on Your Bank Account
The way this is handled will vary from bank to bank. It is important to bring official documentation of your name change to your appointment, since certain institutions may not accept applications without it. A certified copy of your marriage certificate, your new Social Security card, your new driver's license or state-issued I.D. are all examples of needed supporting papers that you should already have. Make sure you get a debit card and checks with your new surname after the change has been made.
Change Your Name on Your Credit Cards
Credit card providers have varying procedures for changing your name to reflect your legal name change, and like banks, they may ask to see official proof. You can find contact information for customer support on the back of your credit cards and use that to find out what to do next.
Update Your Insurance
Immediately after legally changing your last name, you should change all of your insurance plans (homeowner's, health, vehicle, etc.) to reflect your new surname. Providers' policies will vary, but in all likelihood, you'll need to show them a legitimate, government-issued photo ID and/or a notarized of your marriage certificate.
In most cases, you won't need to wait for an open enrollment period to be added to your spouse's health insurance plan, or for you to be added to theirs. Make sure that your new name appears on your Social Security card and driver's license or state ID before merging insurance policies to avoid any confusion.
Update Major Independent Payments
Your monthly payments on things like your mortgage, gas, electric, water bill, auto payment, student loan payment, etc. Online portals allow most of these upgrades.
Update Your Work HR
Collie advises employees to inform their company's Human Resources department of a name change so that they may make the necessary changes to payroll and employer-sponsored benefits (such as health insurance and a 401(k) plans).
Make the Announcement Professionally
Your primary workplace contacts should be notified of your new email address with your new last name by sending an email from your updated address. You can forward your old email to your new one for six months to a year. Always respond from your new account if someone contacts you via your old one.
To assist people, get used to using your new last name, you may want to change your email signature for a while. To avoid confusion in the first six months after getting married, Christensen suggests writing your name as "FirstName NewLastName (OldLastName). An email signature may read "Jazelle Williams" before marriage, but thereafter it would read "Jazelle Ford (Williams)," as in the above example.
Update Social Media Channels
To avoid confusion, use the format "FirstName NewLastName (OldLastName)" across all of your social media profiles for at least six months after you change your legal name. You may also choose to make a permanent change to the name line to read "FirstName OldLastName NewLastName" if you are converting your former surname into a middle name. Your followers will have time to acclimate to your new last name with any method.
Update Loyalty Programs and Autopay Accounts
Services like Spotify and Netflix, as well as loyalty programs at places like Kroger and the Sephora and Ulta chains, are included in this definition. Most of these services now allow you to update your marital status online without submitting official documentation of your marriage certificate.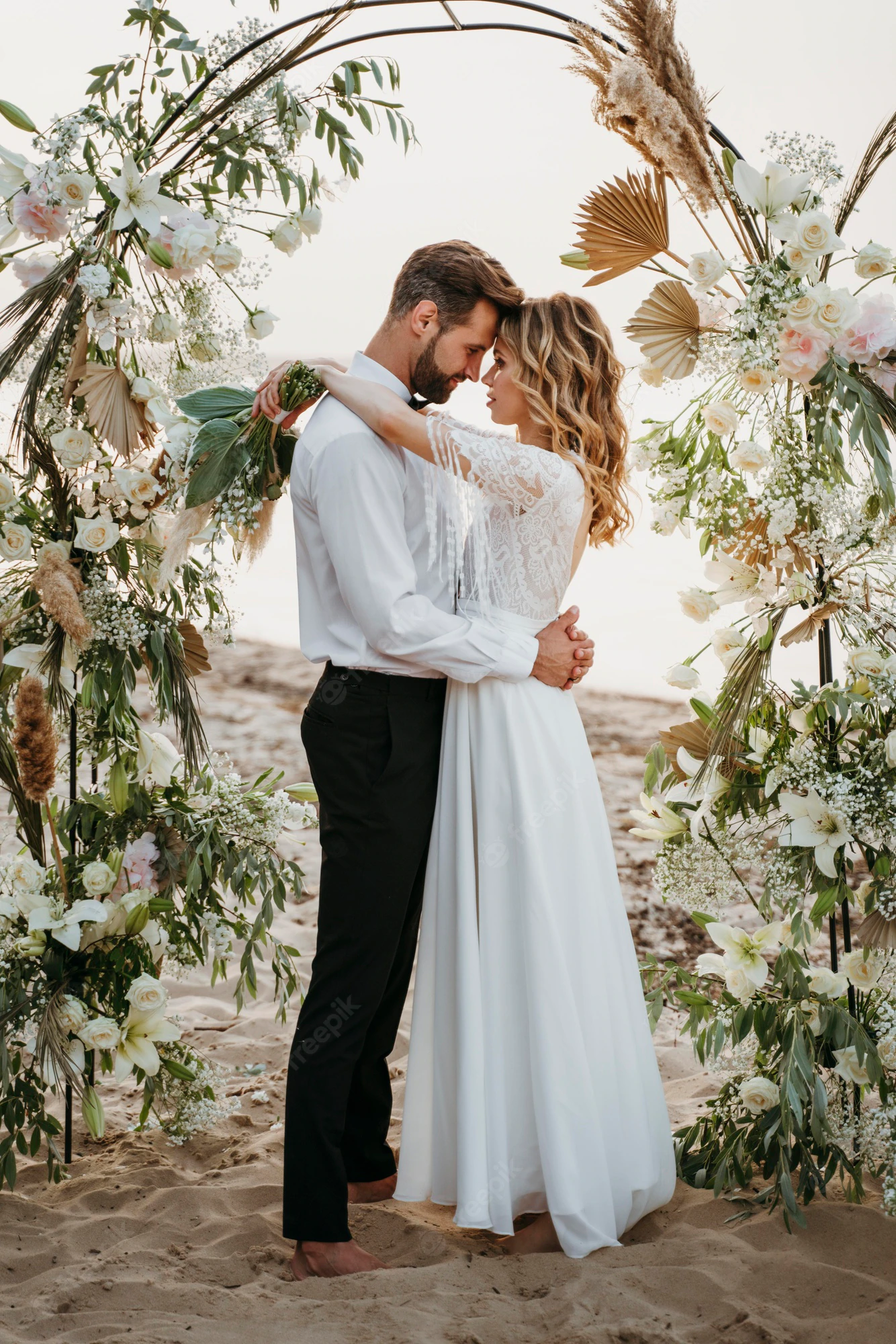 Personal accounts name change checklist:
Employer/work info – talk to your HR department
Military and government employees – contact personnel in the payroll and benefits offices
Professional licenses and associations (nursing, teaching, doctor, therapists, etc.)
Home mortgage or lease
Insurance (health, life, term, disability, car, renters, homeowners, etc.)
Investment accounts
Utilities
Medical providers (doctor's office, therapists, pharmacy, etc.)
Loyalty programs (airlines, hotels, retail stores, etc.)
TSA PreCheck and Global Entry
Cellphone
TV and internet
Online subscriptions
Email accounts
Social media accounts (Facebook, Instagram)
Gyms/fitness studios
Internet browsers (Chrome, Safari, etc.)
Children's school
Alumni associations
You'll remember other accounts and subscriptions along the way. Just update them as you encounter them. It will all come together eventually.
FAQs About Changing Your Last Name
When Should I Change My Last Name?
According to Christensen, "your marriage certificate does not expire," meaning that you can wait as long as you wish before changing your name legally. When you get back from any trips planned under your birth name, that's when you should get started on the name change procedure.
What Should I Do With my Original Last Name?
You decide! People who choose to take their spouse's surname as their own often revert to using their maiden name as their middle name after making the change. Aside from the emotional reward, there are also practical gains from taking this route. You never know when you could run across a company or organization that still has your old surname on file. Your original last name may assist simplify the procedure.
Will the Process Be Different if I'm Hyphenating My Last Name?
No. Christensen adds, "In all 50 U.S. states, hyphenating your last name is considered a typical marital last name change, thus the process is the same as if you were taking your spouse's last name."
Will The Process Be Different If I'm Choosing an Entirely New Last Name?
Yes. Christensen advises that anybody seeking to legally change their surname do so by first obtaining a court decree from their local county courthouse. You can follow this article's steps after getting that court order.
Who You Need to Notify of a Name Change
The passport office (see more details below)
The DVLA (driving licence, vehicle registration)
HM Revenue and Customs
Child Benefit
Local Authority (Council tax and electoral register)
Land Registry
Student Loans
Your employer
Your bank or building society
Your mortgage provider
Your pension providers
Credit card companies
Your phone & broadband provider
Your doctor
Your dentist
Your vet
Your gym
Your motoring organisations (breakdown cover)
Utility companies (gas, water, electricity providers)
Your insurance company (motor, home, travel, pet)
Loans companies
Magazine subscriptions
Store cards & online accounts
Any clubs or societies you are a member of