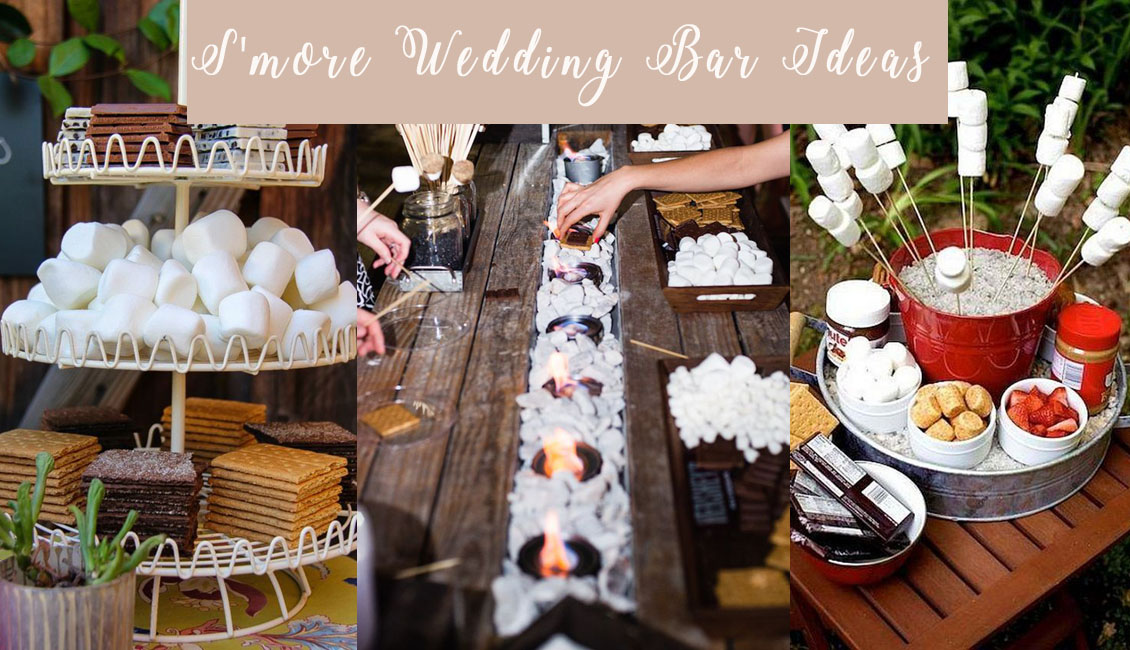 20 Best of S'more Bar Wedding Food Station Ideas 2023
What's the easiest way to keep your guests warm on your fall / winter big day? Besides blankets, it's an s'mores or a hot chocolate bar (or both in one). How can you design one? Just put lots of mugs, hot chocolate, various cookies, peppermint, and marshmallows. Use vertical hanging garlands, signs and chalkboards to attract attention to the space: you can chalk various phrases and quotes on them. Try tiered plates to save some space; don't forget candles to make your bar look awesome. Get inspired!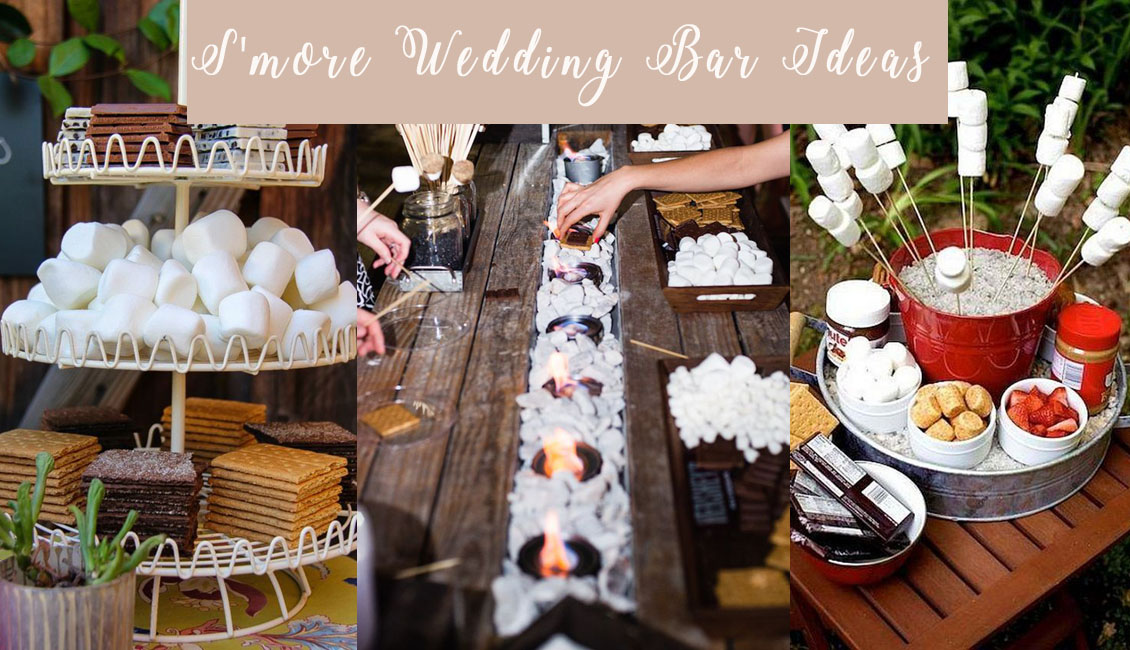 What You Need:
Long Low container
Stones
Sterno cans
Stick holders
Marchmallows
Graham crackers
Chocolate bars
What to Do:
Put a bed of stones into container.
Add Sterno cans and place equally apart.
Fill remaining space with stones.
Put all Smores ingredients in bowls.
Have a party!
Here are 6 ways to serve s'mores at your wedding.
As an appetizer
Cocktail hour is the time when your guests will want their snack on. In addition to savoury hor d'oeuvres, your table might also have a few sweet treats. Plain 'ol s'mores are a tried and true option, but why not shake things up a little? Gather your caterer to make some S'mores trail mix and serve it on paper cones that match your wedding's color scheme.
In a cocktail
If you prefer sweet drinks instead of bitter drinks, s'mores martini might just be your signature cocktail. Ask your bartender to help you create the perfect blend of chocolate and marshmallow liqueurs that will wow your guests. Top them off with a dusting of graham cracker crumbs and ta-da! You've got some tasty (and Instagrammable) drinks.
In your wedding cake
Instead of going for a traditional wedding cake flavour, you should fill your reception's star confection with chocolate, graham crackers, and marshmallows. You can also use the combination in cupcakes, cake pops, doughnuts and tarts, so you have tons of campfire-inspired eats on your dessert table.
As a late night snack
S'mores are typically served in the evening, which makes them a great snack for late night. This is an ideal DIY food station if you're hosting an outdoor wedding. Make your guests' own s'mores instead of having a caterer do it for them.
As wedding favors
Favors from foodies are always a hit. You can gift your guests with all the supplies they will need to make their own s'mores at home: a few squares of chocolate, some graham crackers, and a couple of marshmallows. Bonus: these itty bitty s'mores kits are super easy to make, so you can save a few extra dollars by making them yourself.
At your post-wedding brunch
What's your favorite way to add sweetness to your brunch? Don't forget to ask your caterer to serve s'mores pop-ups. It's definitely more decadent than your average morning meal, but wedding's are the perfect time to indulge.

S'more Bar Wedding Food Station Ideas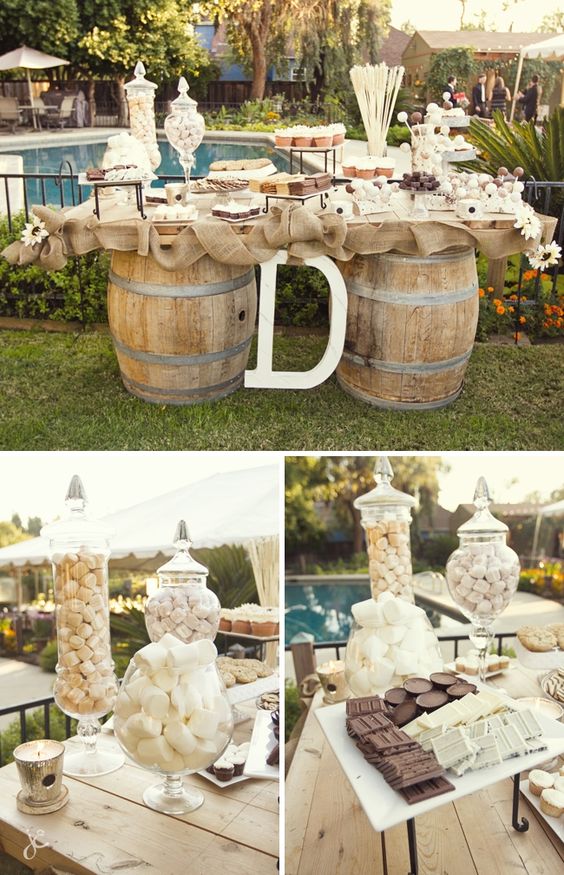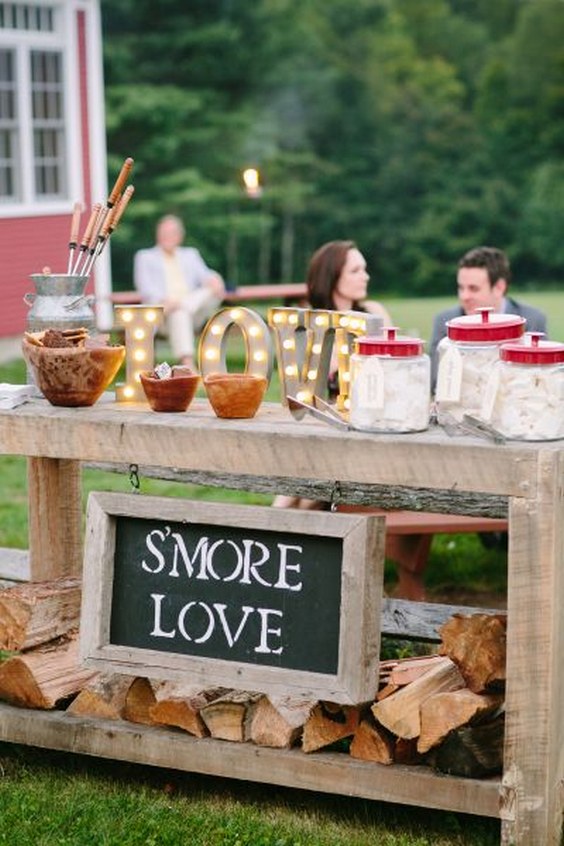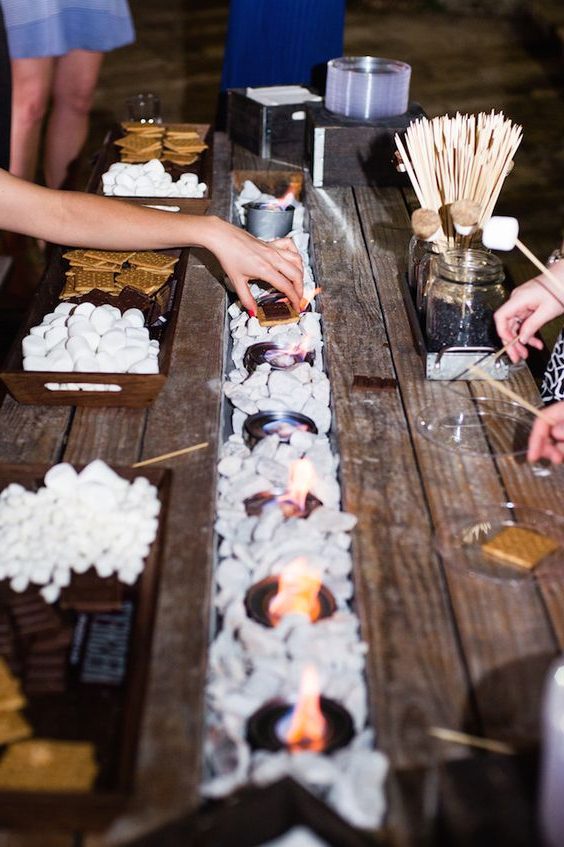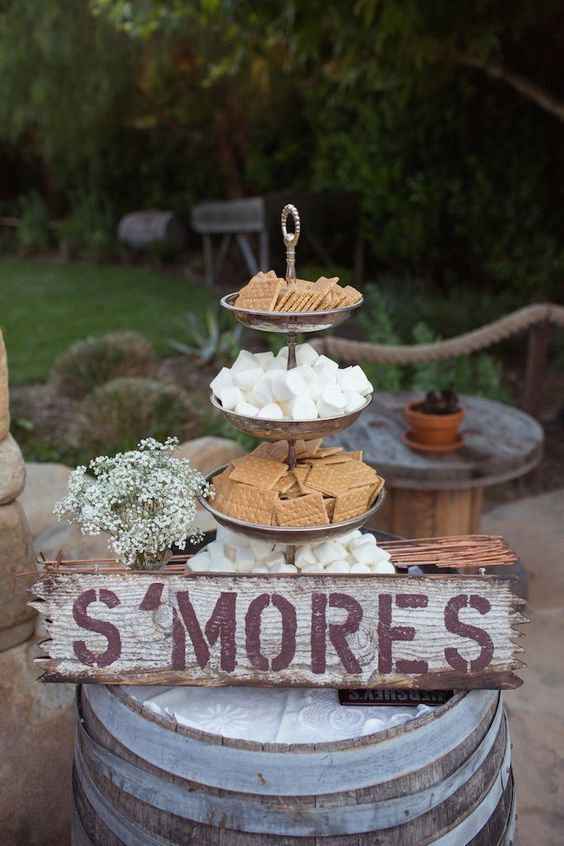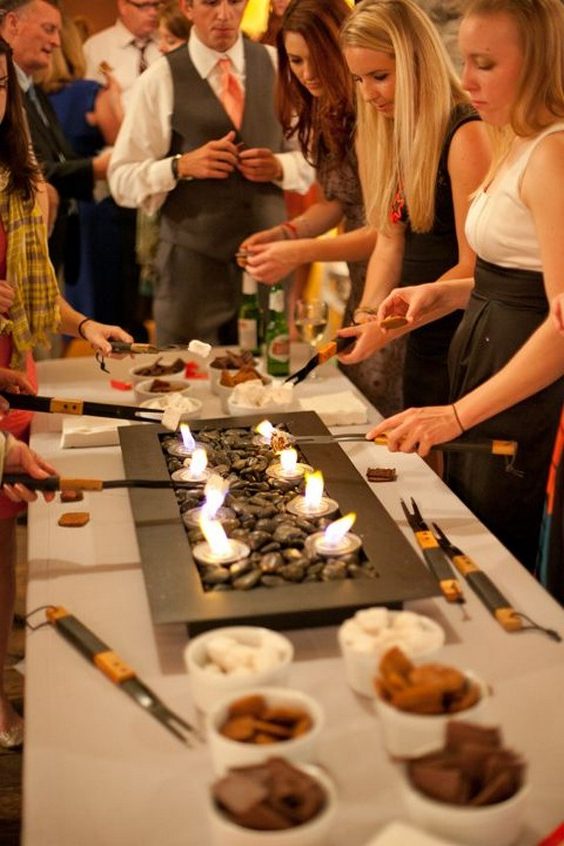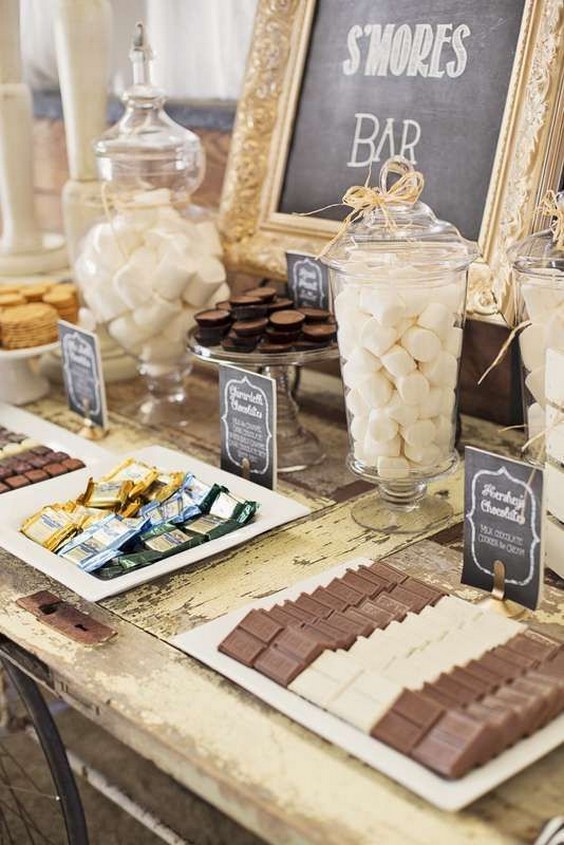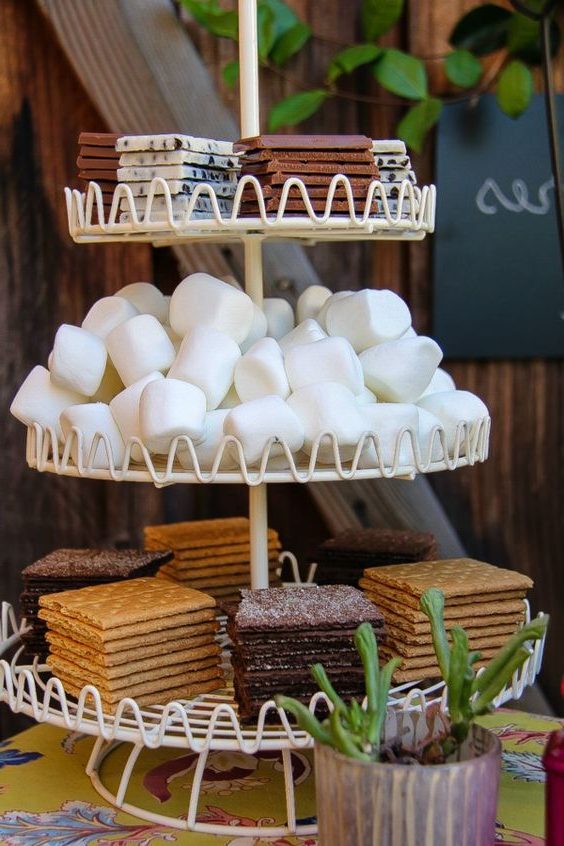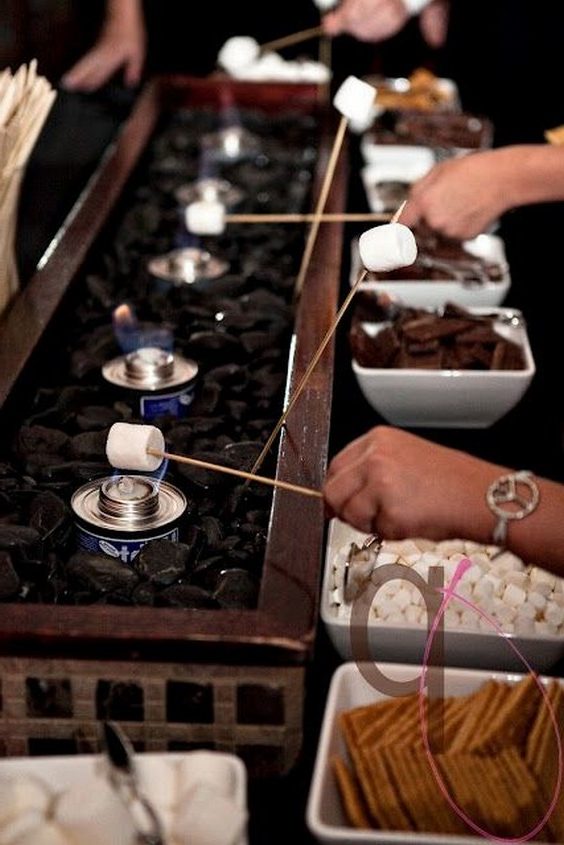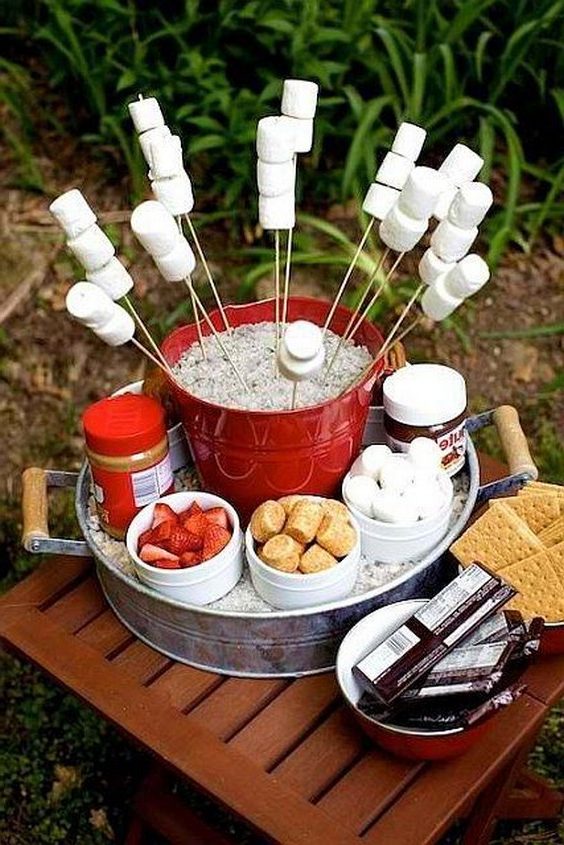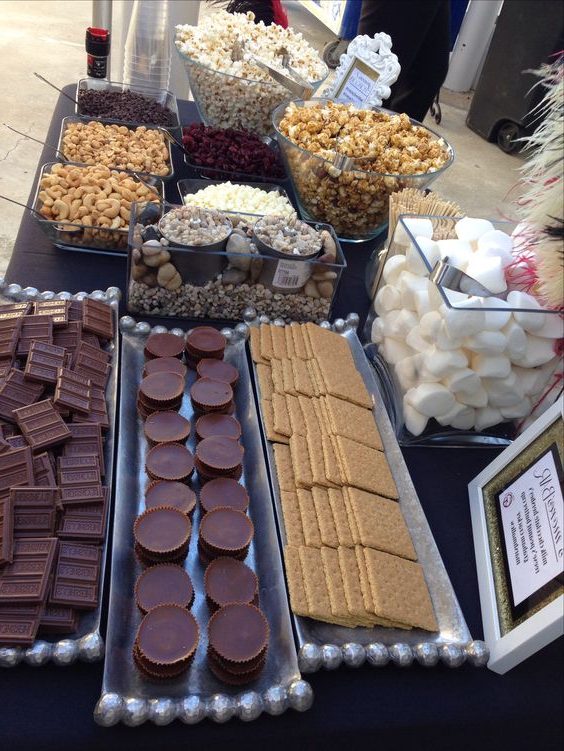 If you're looking for a wedding food station idea that is both unique and delicious, consider a s'more bar. The best part about this idea is that it can be customized to suit your needs and tastes! For example, if you want something more savory than sweet, then opt for a savory s'more bar with meat. On the other hand, if you want something more dessert like then go with something sweet like cookies or brownies. No matter what flavor combination you choose, we're sure your guests will love it! Have you tried making your own s'more bar?.
Cake Toppers & Stands