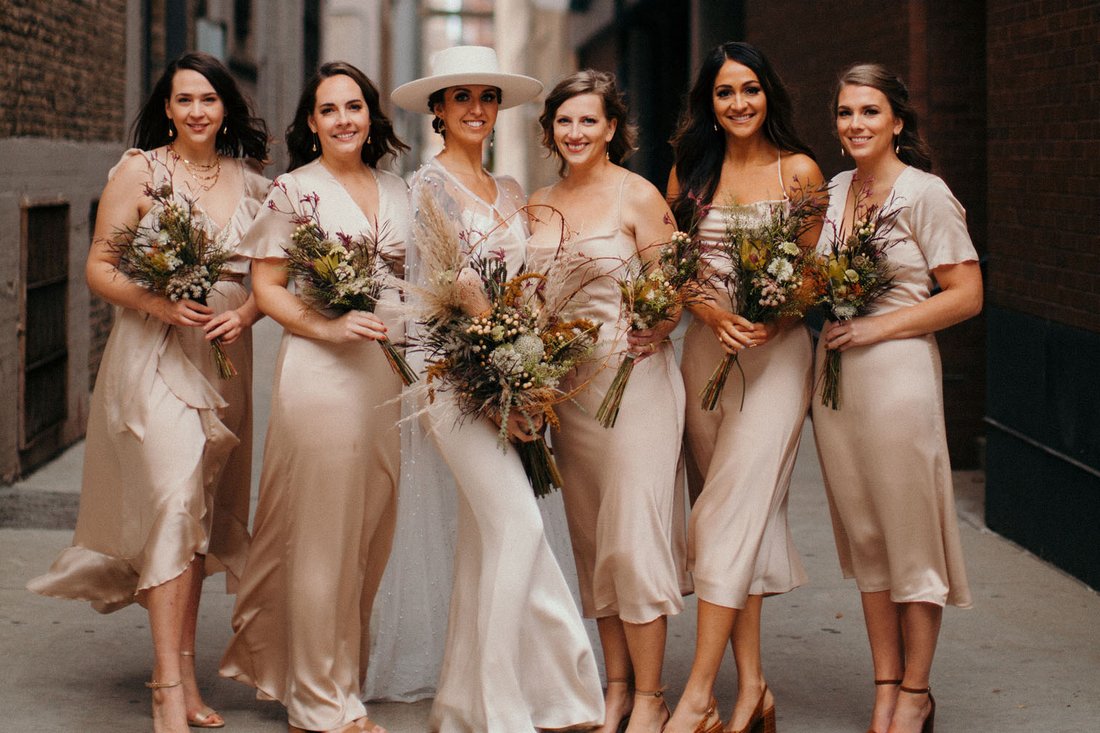 TOP 30 Satin Bridesmaid Dresses for 2023
When it comes to shopping for bridal party dresses, there are so many fabric choices to take into consideration. Should you go for traditional fabrics like lightweight chiffon and intricate lace? Or maybe you're searching for something that feels a little more glamorous and glossy? If you happen to fall into the latter category, satin bridal party dresses should definitely be on your radar.
---
What Is Satin?
A weave known as satin uses synthetic fibers. The finish is usually glossy, lustrous and smooth.
---
Satin has always been a favorite material for bridal party dresses, and it's understandable why. It has a comparable dazzling sheen to pure silk but frequently costs much less. This silky material is available in a wide range of weights, from heavyweight duchess satin to lightweight satin-charmeuse, giving it a flexible option for many kinds of weddings and seasons. A satin weave also complements a variety of designs, from formal ball gowns to seductive slip dresses with '90s influences. Furthermore, satin always looks stunning in images because of its shine and almost velvet-like appearance.
Here are the top satin bridal party dresses for every taste, season, and price range.
Champagne Satin Bridesmaid Dresses
Perfect for a casual beach or pool party, these champagne satin dresses are available in size 2 to 24. They come in multiple colors and with or without sleeves.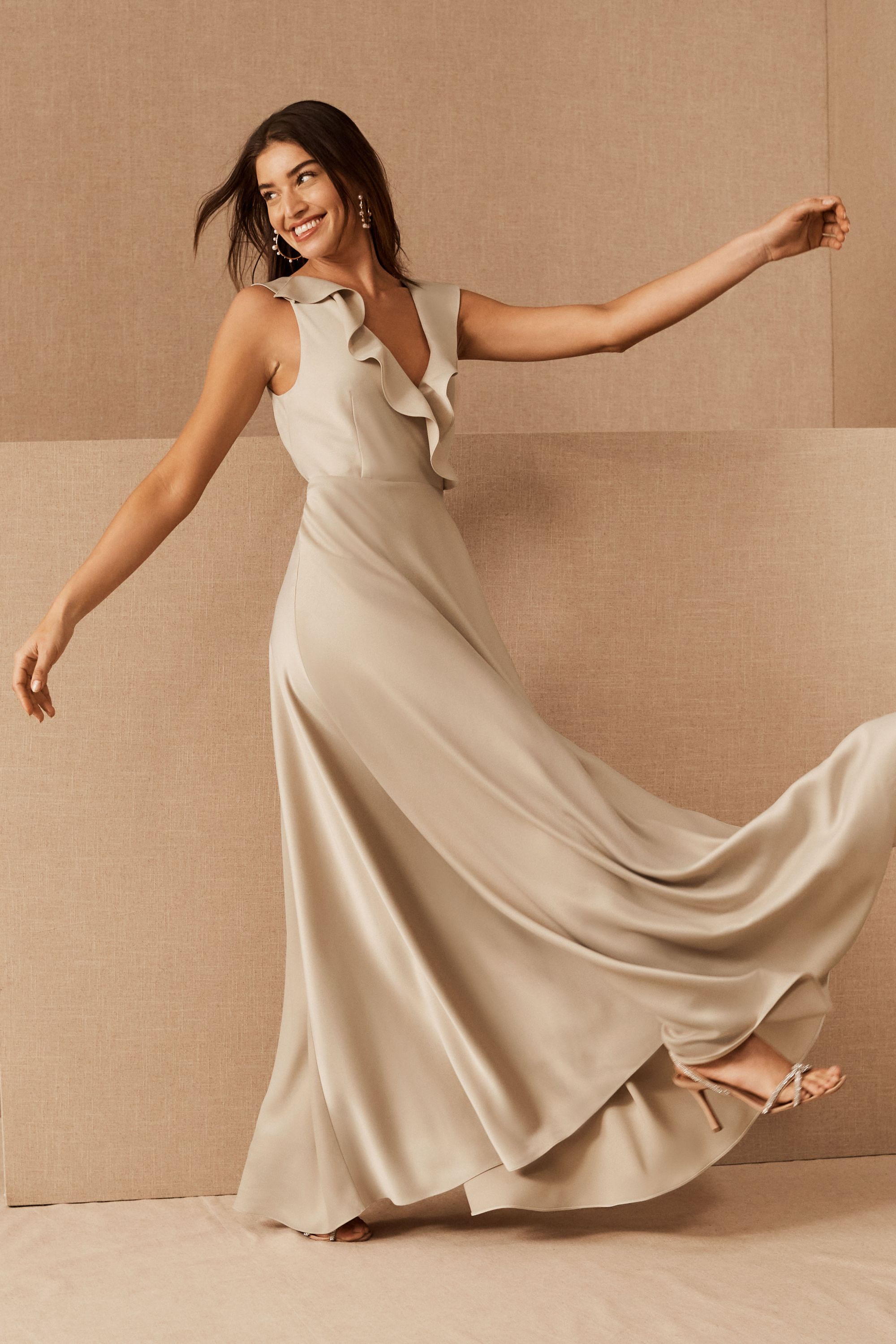 A ruffled neckline pours into a silky wrapped silhouette as a tie detail tops the flowy, floor length skirt.

Gold
Gold satin bridesmaid dresses are a great option for a wedding party. With so many styles, colors and lengths to choose from, you'll be able to find the perfect gold satin bridesmaids dress for your big day!
$69.95 SHOP THE DRESS ON Petal & Pup US

Black
Black is a great option for winter weddings and for bridesmaids who want to wear their dresses again. Black satin is also popular because it's flattering on all skin tones, so you can have your entire bridal party look like they belong together in the same way that you do.
If you're worried about how black will look against your pale skin or blonde hair, don't be! Black looks great with any combination and will go with any type of accessories (like jewelry). It's also one of the most flattering shades on everyone because it makes everyone look slimmer than they really are–even if you're curvy!
$79.95 SHOP THE DRESS ON Petal & Pup US

Emerald Green
Emerald green is a great color for bridesmaids because it's so versatile. It can be paired with any shade of pink or red, as well as purple and blue. This means that your entire wedding party can look cohesive at the same time!
If you're looking for something with a little more pizzazz than the traditional black satin dress, then emerald green may just be what you're looking for. The vibrant hue will definitely make your girls stand out from the crowd and add some much needed color to your big day.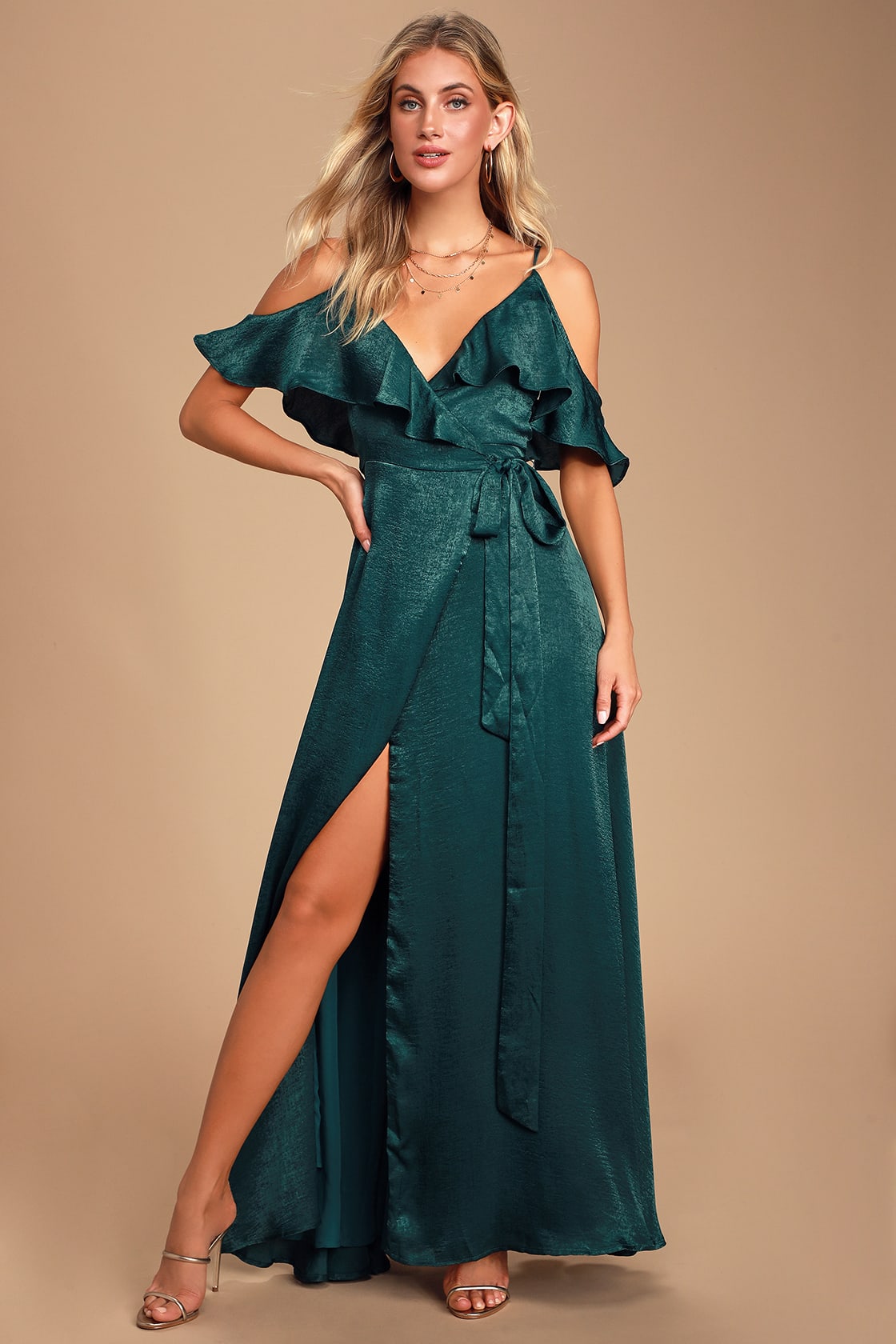 Soft woven satin shapes this beautiful gown with adjustable skinny straps, ruffled cold shoulder sleeves, and a surplice bodice (with modesty clasp).

Green Satin Dresses for Bridesmaid
Green is a colour that represents nature, growth, and fertility. It's no wonder green is often associated with weddings. Green bridesmaid dresses can provide the perfect complement to your floral bouquet and decor.
If you're looking for an eco-friendly option for your wedding day or other special occasion, consider choosing a dress made from sustainable materials such as organic cotton or recycled silk. These materials have been grown without pesticides or chemicals that could harm the environment–and they look just as good!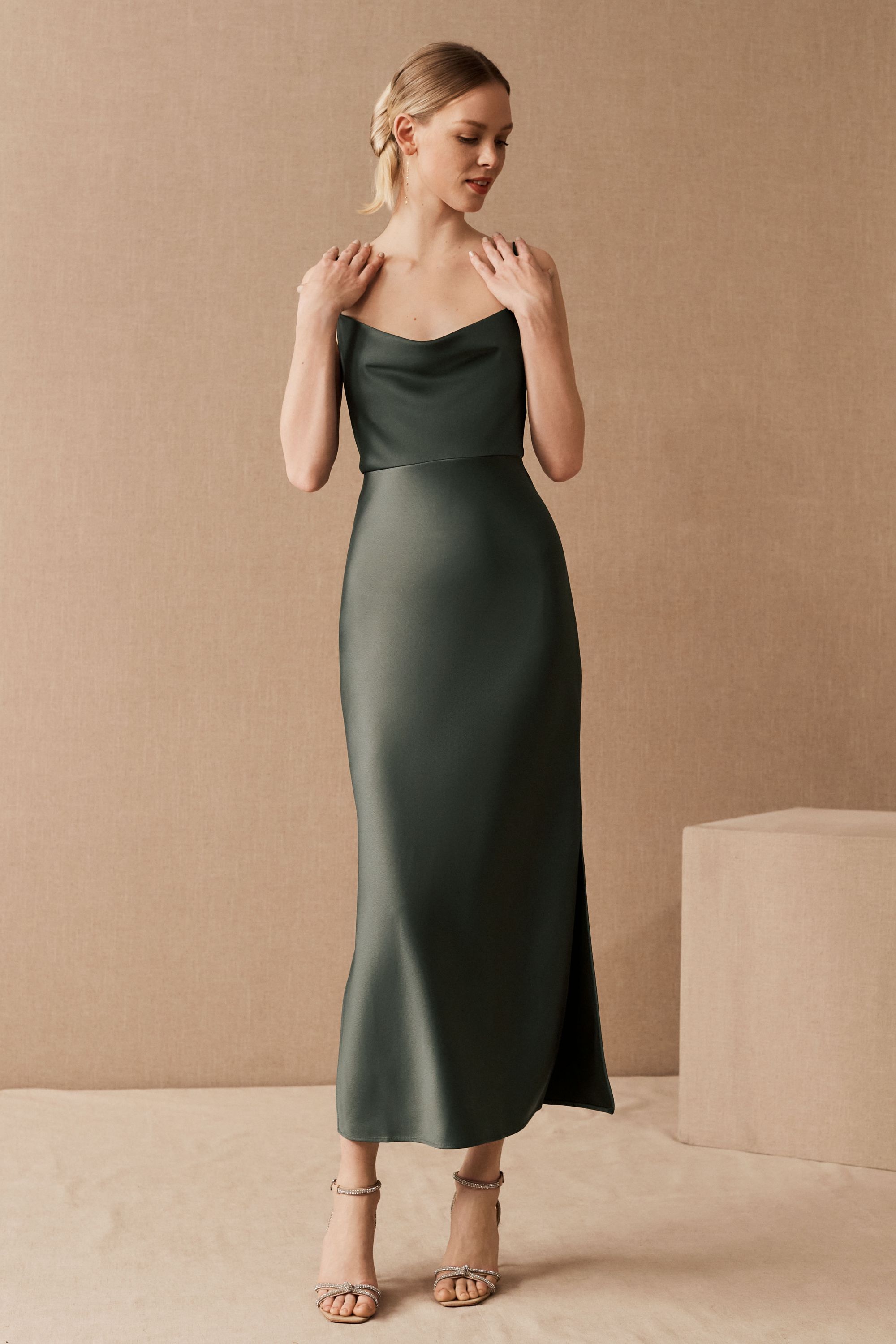 An elegantly draped cowl neckline completes this silky slip dress with a modern midi silhouette.

Rust Satin Bridal Party Dresses
Rust is a warm-toned, orange-red color that is perfect for fall weddings. It's also popular for winter weddings and spring weddings.
If you're having a summer wedding and want to add some color to your bridesmaids dresses, rust satin dresses are an excellent choice!
$79 SHOP THE DRESS ON Baltic Born

Blush Satin Gowns
Blush satin bridesmaid dresses are a great choice for a spring wedding, as they're a shade of pink that can complement any color palette. If you're planning on wearing blush yourself or have other bridesmaids who want to wear the exact same shade of pink, then it's best to go with an all-blush look. However, if your wedding theme calls for different colors and styles across the board (such as gold), then you could consider pairing this dress up with other shades like white or navy blue instead!
Blush satin gowns are flattering on any skin tone–they're especially lovely when paired with darker skin tones because they help bring out their natural glow by adding warmth through their rosy hue. Plus they'll make everyone feel like royalty in no time flat!
$54.95 SHOP THE DRESS ON Petal & Pup US
Burgundy
Burgundy satin bridesmaid dresses are a great choice for your fall wedding. The rich, warm color is perfect for this time of year and will complement your décor perfectly. Burgundy is also flattering on all skin tones, so you don't have to worry about your bridesmaids looking washed out or yellow-ish in their photos.
Burgundy satin has been around since medieval times when it was used as a dyeing agent by monks in France who were trying to make red wine (which they couldn't drink). Today's version uses dyes made from cochineal insects that live on cacti in Mexico and South America – so you can feel good knowing there are no bugs involved!
$75 SHOP THE DRESS ON Baltic Born

Rose Gold
These rose gold satin bridesmaid dresses are elegant, gorgeous, and pleat-front suits suitable for the modern bride who loves style, aesthetics, and color. These are available in a variety of styles ranging from casual gowns, to sleek and chic cocktail dresses, to vintage-inspired and romantic lace-ups, to form-fitting satin shirred dresses.
$99 SHOP THE DRESS ON BIRDYGREY

Burnt Orange
The color of your bridesmaids' dresses is a critical decision, and not just because it will help them stand out in the crowd. The right hue can set the tone for your entire wedding day–and even affect how people feel about themselves when they look in the mirror.
In this article, we'll go over some ways to choose which burnt orange satin bridesmaid dresses are right for you and your party.
$198 SHOP THE DRESS ON SHOWMEYOURMUMU

Navy blue is a classic color that can be worn with just about any skin tone. It's also one of the most versatile colors in the world, so if you're not sure what shade will look best on your bridesmaids, navy blue may be a good choice for them.
This shade has been popular for weddings since it was first introduced to Western culture during the Renaissance period and continues to be associated with royalty today–so if you have any plans on having an elegant affair with lots of formal elements (think tiaras!), then this hue will fit right in!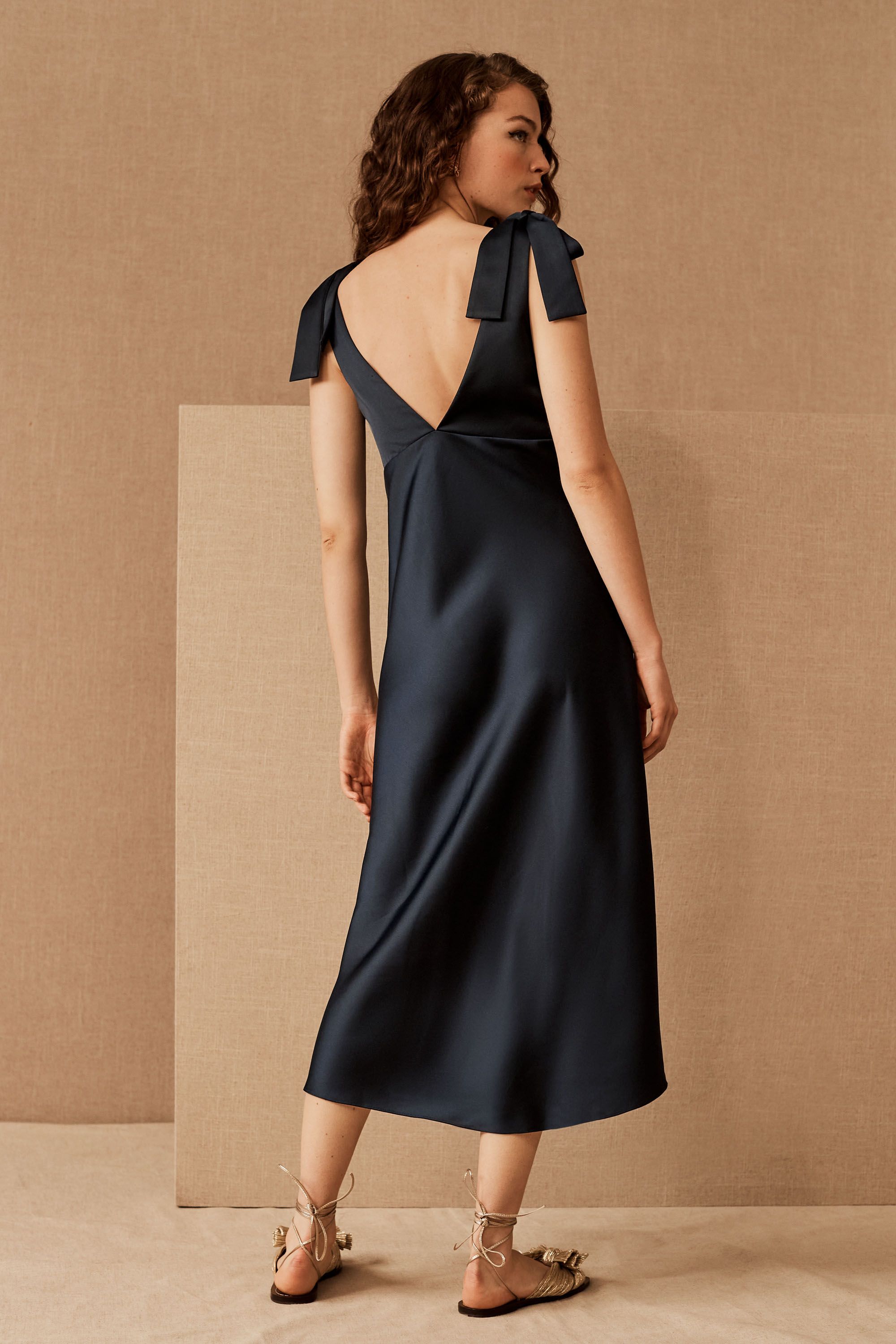 Red
The red satin bridesmaid dresses are an absolute must-have for the dance party. The best part is that satin is different than any other fabric. It drapes more elegantly than any other fabric, which means it can fit into any wedding theme. The color of these satin bridesmaid dresses is also perfect. Red gowns are simultaneously elegant, vibrant, and dramatic. These are perfect for a dressy wedding, a summer wedding, or a fall wedding.
$69.95 SHOP THE DRESS ON Petal & Pup US
Pink
Pink is a popular color for weddings and your bridesmaids will love wearing pink satin dresses.
Pink satin dresses are a great choice for bridesmaids because they look elegant and stylish.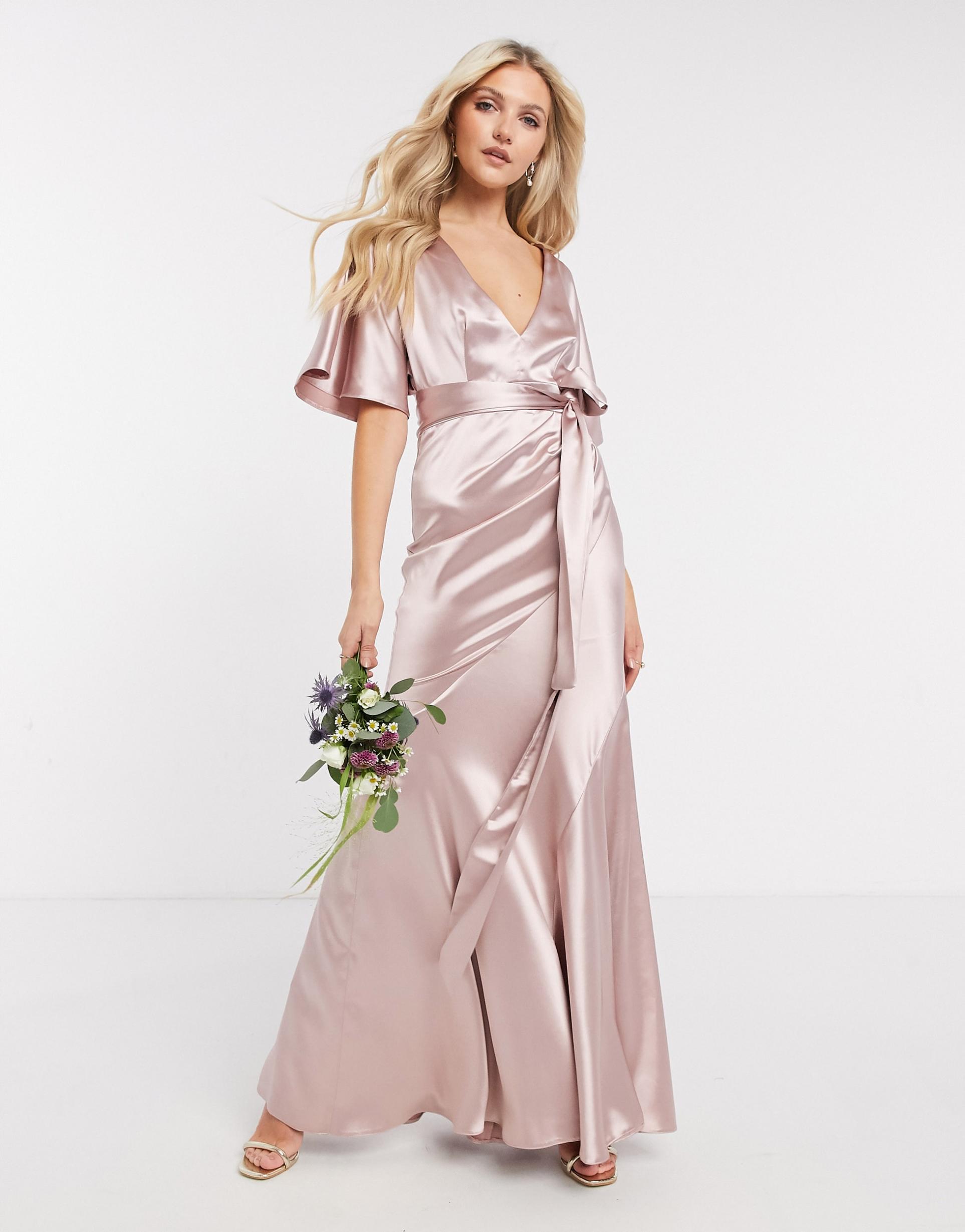 Olive Green
Olive green is a great color for fall weddings. It's also a neutral, so it can go with any other shade of bridesmaid dress and won't clash with the rest of your wedding colors. If you want to add some life to your ceremony, consider pairing olive green satin bridesmaid dresses with some flowers or even some greenery in the background.
$89 SHOP THE DRESS ON HELLOMOLLY
White
The white satin bridesmaid dresses offer a pretty detail to your elegant wedding, as they give a soft and romantic look.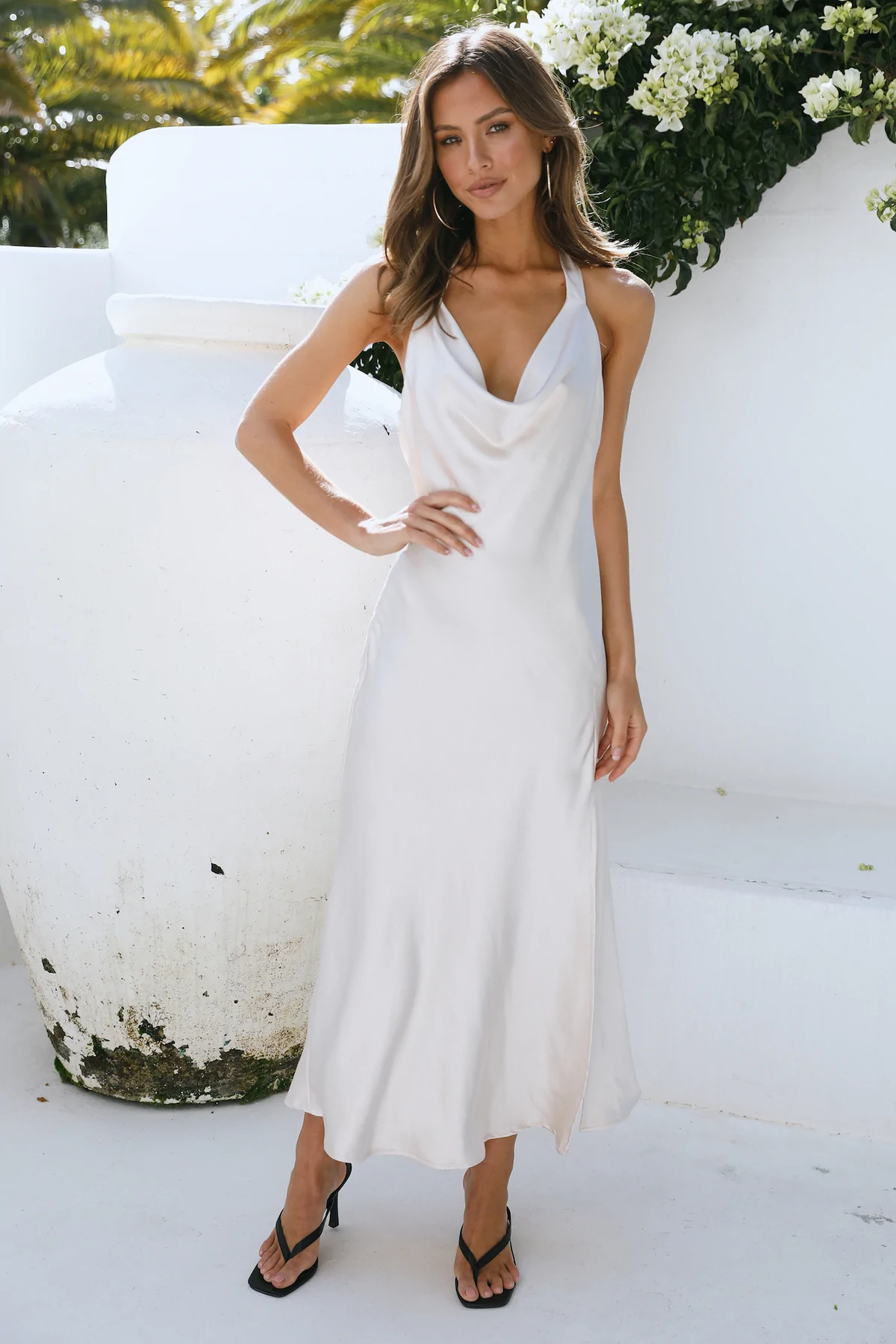 $89 SHOP THE DRESS ON HELLOMOLLY
Silver
Silver satin bridesmaid dresses are a great choice for your wedding party. This color is very popular and will look amazing in photographs, but it's also not so bright that it will overpower the other colors in your wedding. You can get silver satin bridesmaid dresses in any length you want–from short, to knee-length, to long.
$79 SHOP THE DRESS ON BIRDYGREY
Brown
A brown satin bridesmaid gown is the perfect choice for your wedding, prom or quinceanera. There are many shades of brown that can be used to create an elegant look. These dresses will make your friends look stunning while they stand by your side on this special day.
The color is rich and warm, so it can complement any skin tone. A shade like cocoa or caramel might work better than something lighter like tan or peach if you're looking for something more natural looking with just enough color variation that isn't too dark nor too light in tone (which would make your friend look washed out).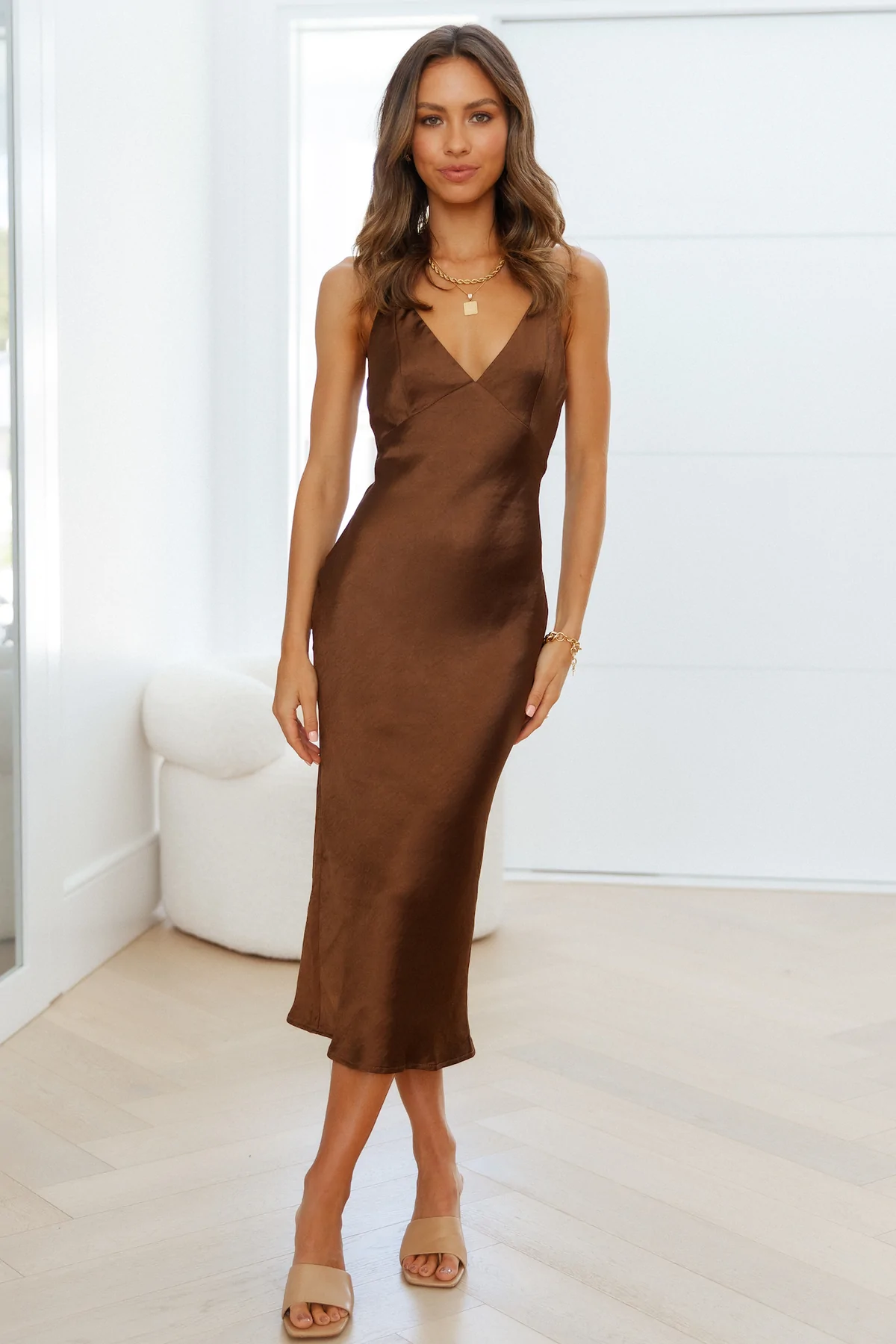 $67 SHOP THE DRESS ON HELLOMOLLY
Yellow
Yellow is a happy color. It's bright and sunny, so it's no surprise that yellow is associated with joy and happiness. Yellow also represents intellect, knowledge, wisdom and creativity–which makes it a great choice for your bridesmaids if you want to add some pop of color to your wedding while still keeping with the theme.
If you're looking for a dress that will make your girls stand out in the crowd at any event (not just their own weddings!), consider choosing one in this eye-catching hue!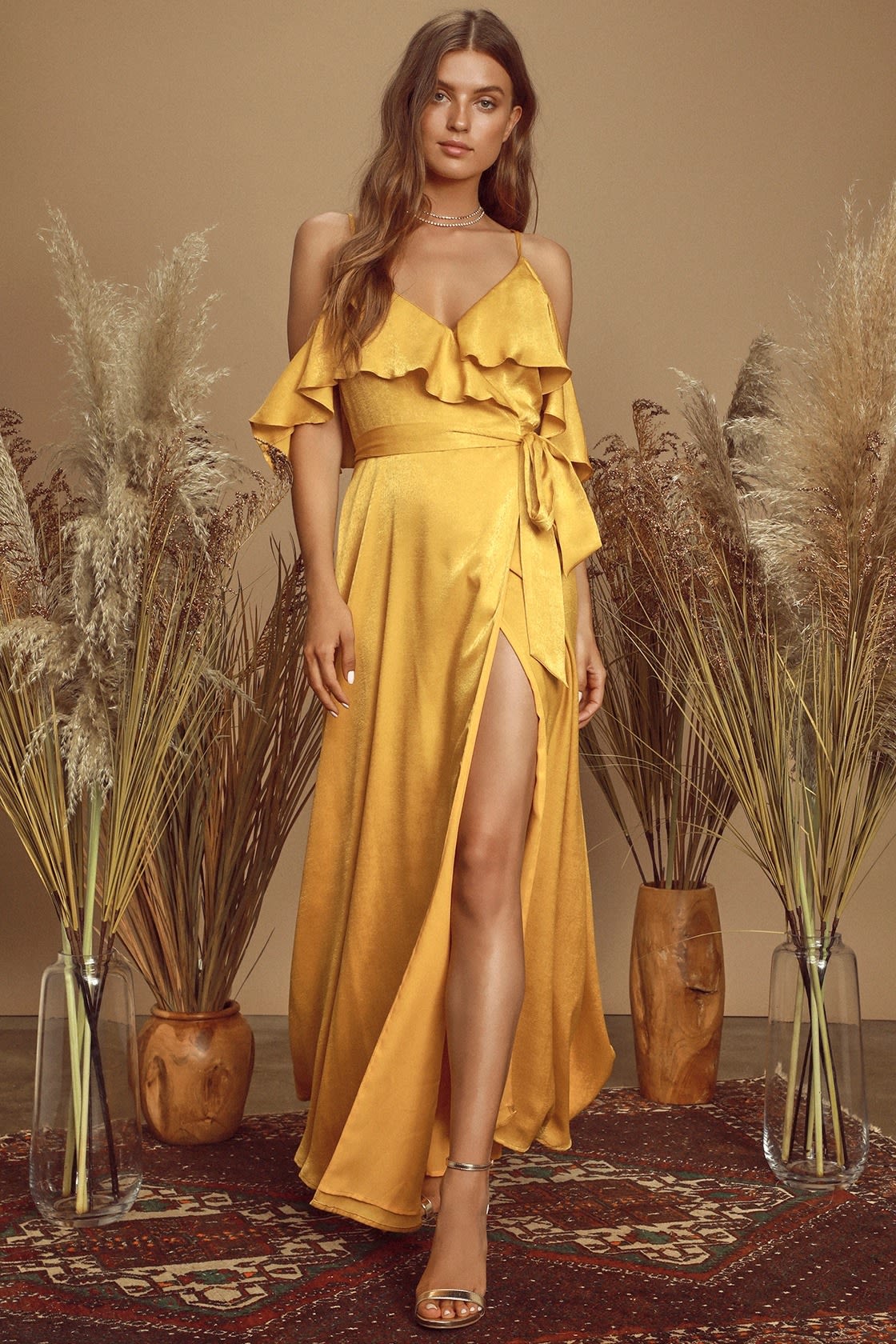 Mauve
Mauve is a great color for bridesmaid dresses, especially if you're looking for something that's not too bright or bold. It's also an option if you want your bridal party to wear different shades of pink but don't want to stray too far from the traditional color scheme. Mauve dresses work well with other colors like gold and silver because they complement each other nicely.
If you're looking for a more muted shade of purple, mauve is the way to go!
$99 SHOP THE DRESS ON BIRDYGREY
Purple
Purple is a royal color. It's also feminine, elegant and romantic, making it perfect for bridesmaids who want to look their best on your big day. Purple can be vibrant or subtle depending on how you want your ladies to dress!
If you're looking for a versatile color that can work with any type of wedding theme or venue, then purple is the way to go. It's an ideal choice if you need some help finding matching accessories as well because this rich hue pairs well with many different hues so there will always be something available in their wardrobe (or yours).
$198 SHOP THE DRESS ON SHOWMEYOURMUMU
Taupe
Taupe is a soft brown color that's perfect for bridesmaids who want to look elegant and classy. It's also a good choice if you want your wedding party to wear different shades of the same color. Taupe goes well with other colors, so it won't clash with any of your other wedding decorations (or even your dress). In fact, taupe is one of those versatile colors that can work with almost anything!
$99 SHOP THE DRESS ON BIRDYGREY
Dusty Blue
Take a look at this amazing dusty blue satin bridesmaid dress now!  This satin dress is going to be the best addition to your wedding outfit, so hurry and order this gorgeous dress now!
Ivory
If you're looking for a bridesmaid dress that is elegant, but still has the ability to be comfortable and flowy, ivory satin is an excellent choice. Ivory satin bridesmaid gowns can be worn by any body type and will look great on each of your girls! The best part about ivory satin is that it looks nice with any color scheme or theme you choose for your wedding day. If it's not in stock right now on our website, just contact us via phone or email so we can get one ordered in time before it sells out!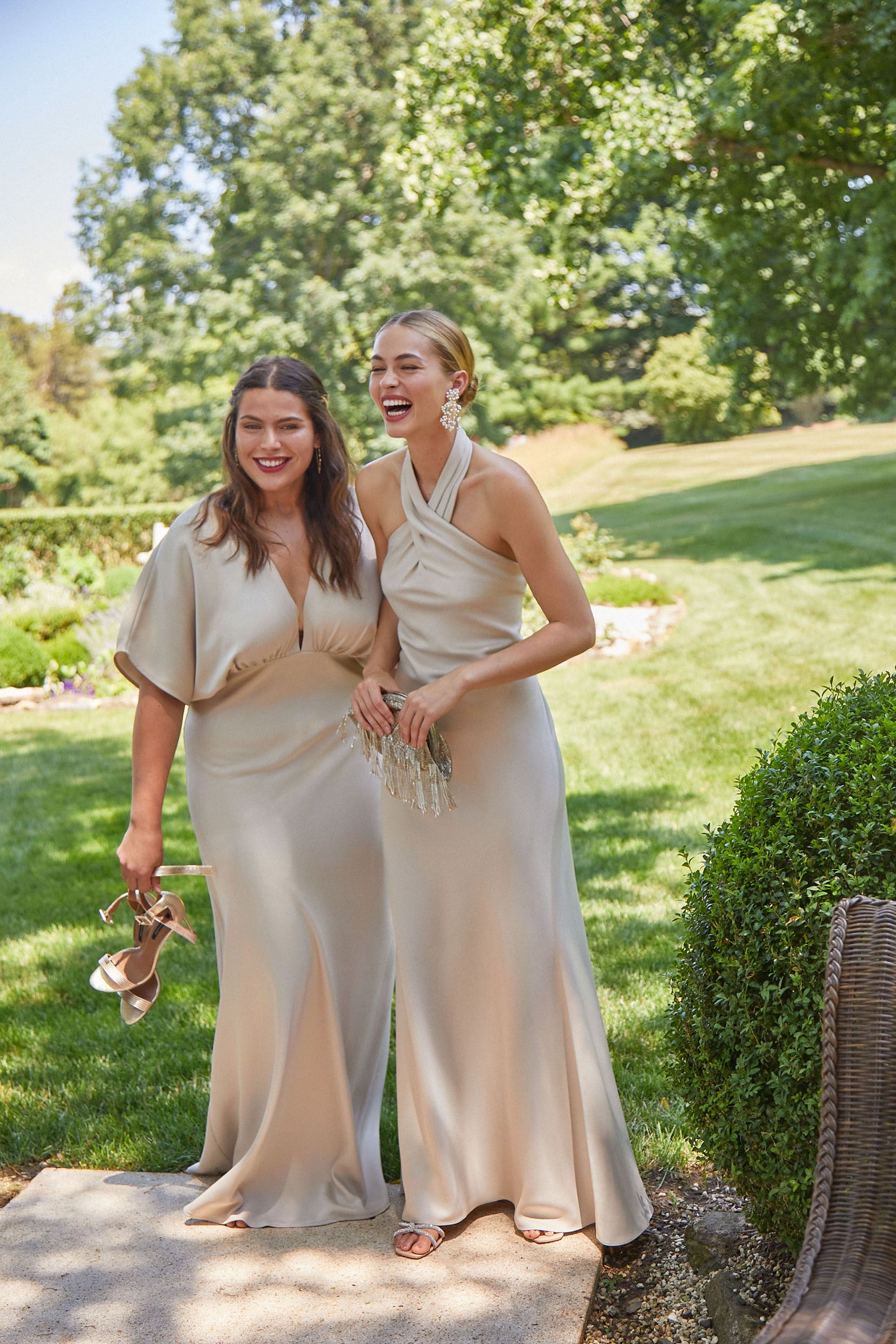 with Sleeves
Sleeves are a great option for bridesmaids who want to add some variety to their dresses without going full-on formal.
The length of sleeves can vary from short to long, sheer or opaque, and plain or embellished with lace or beading.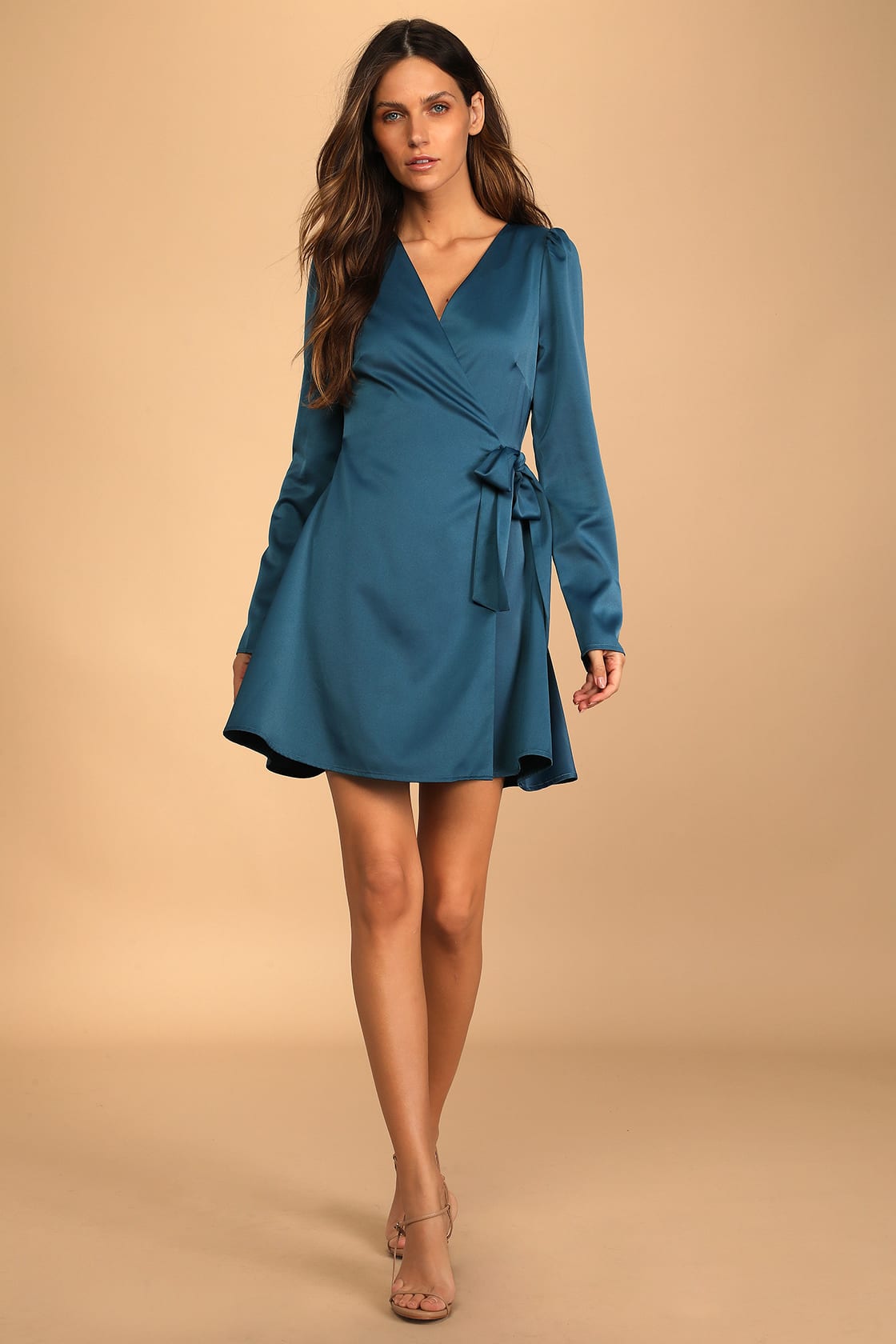 Plus Size
Plus size bridesmaids dresses are a great option for any bride who wants to make sure that all of her friends feel comfortable and beautiful on the big day. Plus size bridesmaids dresses come in many different styles, so you'll be able to find one that fits your personal preferences perfectly. This section will give you the information you need about plus size satin bridesmaid dresses so that you can choose the perfect dress for yourself or someone else!
Long

Short
Short bridesmaid dresses are great for any wedding. Whether you're looking for a short dress that hits just above the knee, or one that's more on the thigh-high side, we have what you need!
Short bridesmaid dresses are great for any body type. Our collection of short bridesmaid dresses includes styles from all over the world, so there's something here for everyone–from plus size to petite and everything in between!
Short satin bridesmaid dresses work well on women of all ages too; whether you want something youthful and flirty or sophisticated and elegant (or both!), we've got your back with our unique selection of short styles! And don't worry about height either–we've got plenty of options below 5'10" as well as those who are 6'0″ or taller so there's no need to compromise when choosing your dream dress today!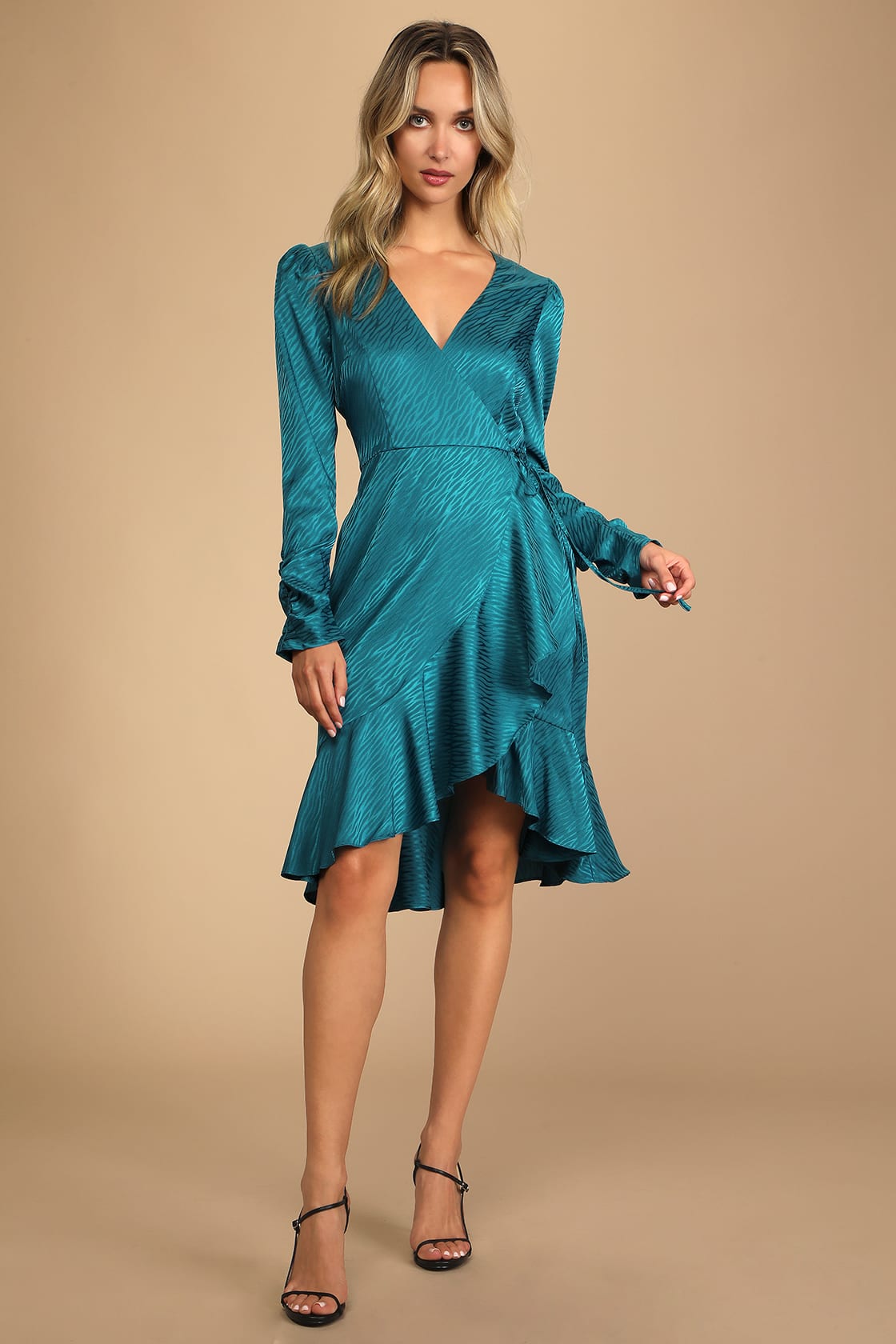 Midi
Midi length satin bridesmaid dresses are slightly above the knee, with a V-neckline and a waistband. The dress has an empire waistline and an A-line cut that flares out at the skirt. It also has pleats in the skirt, which adds volume to this style without making it look bulky or heavy.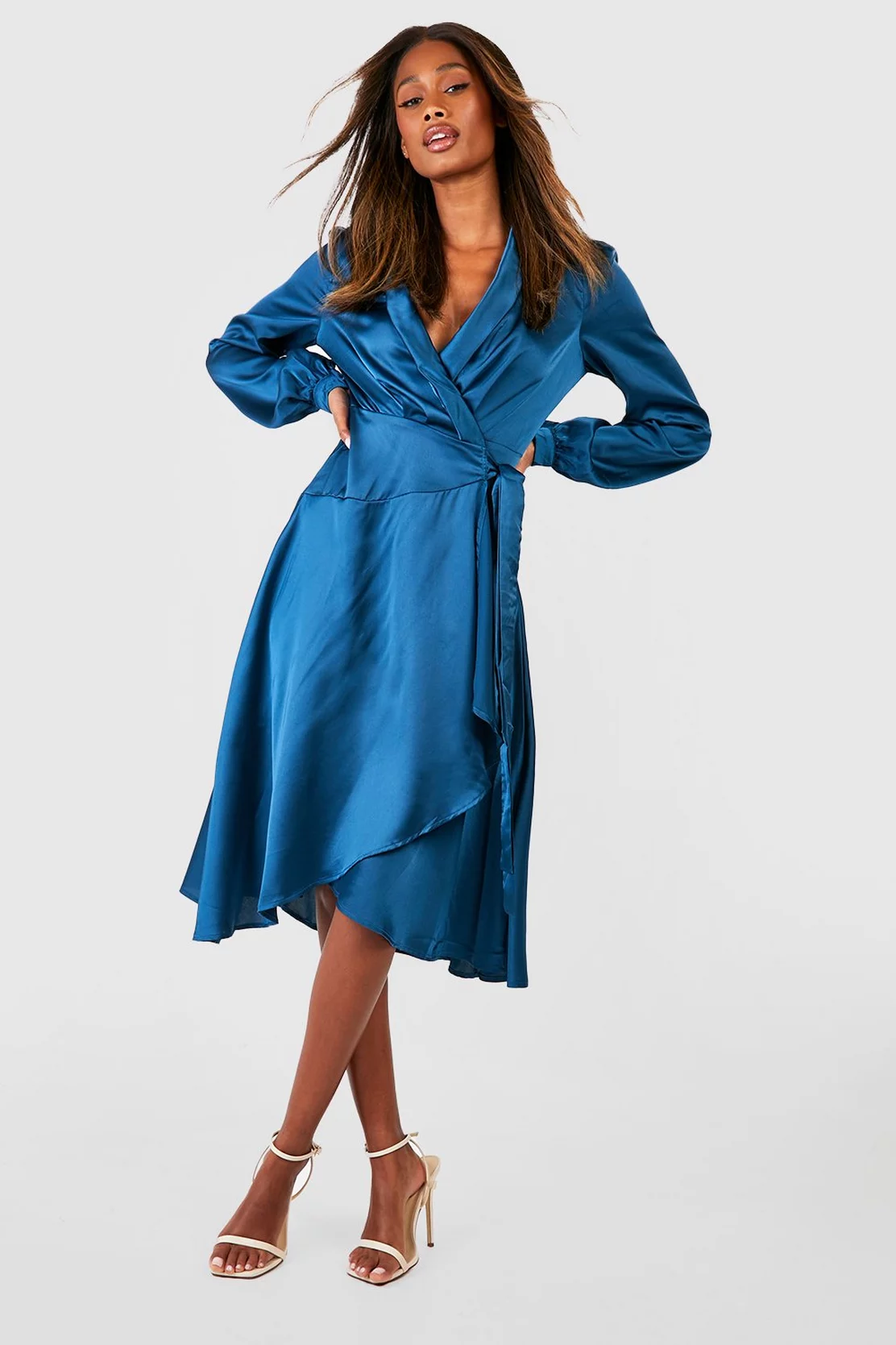 If you are looking for the perfect satin bridesmaid dress, we have the perfect dress for you. With so many styles to choose from, there is bound to be one that fits your personality and style. Be sure to check out our TOP 30 satin bridesmaid dresses for 2023 page to find the perfect match for your big day.

---
FAQ
Is satin less expensive than pure silk?
Yes. Silk costs more than any satin since it is a natural material, as opposed to satin, which is synthetic. Select bridal party dresses with a silk-satin weave for a comparable appearance and feel to silk at a much more affordable price.
Are satin bridal party dresses appropriate for every season?
Yes! There are many different hues and lightweight/ heavyweight fabrics available for satin bridal party dresses, which are quite adaptable.
Is satin a shiny fabric?
The finish of satin is often shiny, although depending on the light, some fabric types may appear more flat or matte.