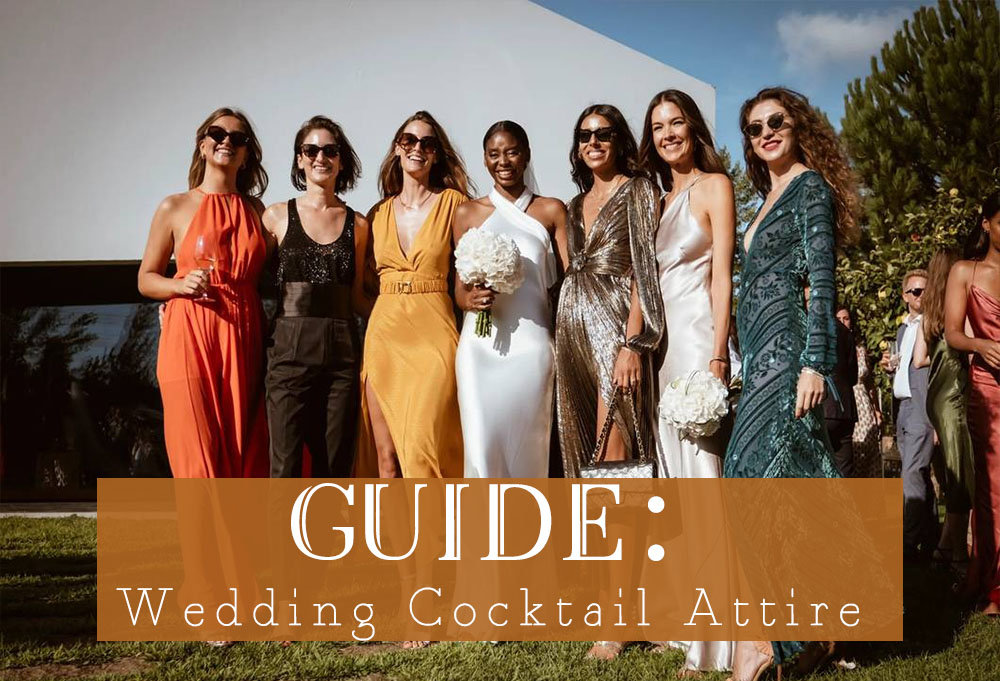 A Guide to Wedding Cocktail Attire for Men and Women 2023
What is cocktail attire for a wedding?
Cocktail attire is typically the most popular wedding dress code, but when it comes to choosing the right dress for a guest, the choice can be tricky. With the help of some etiquette experts, we've taken the guesswork out for you to choose a comfortable outfit.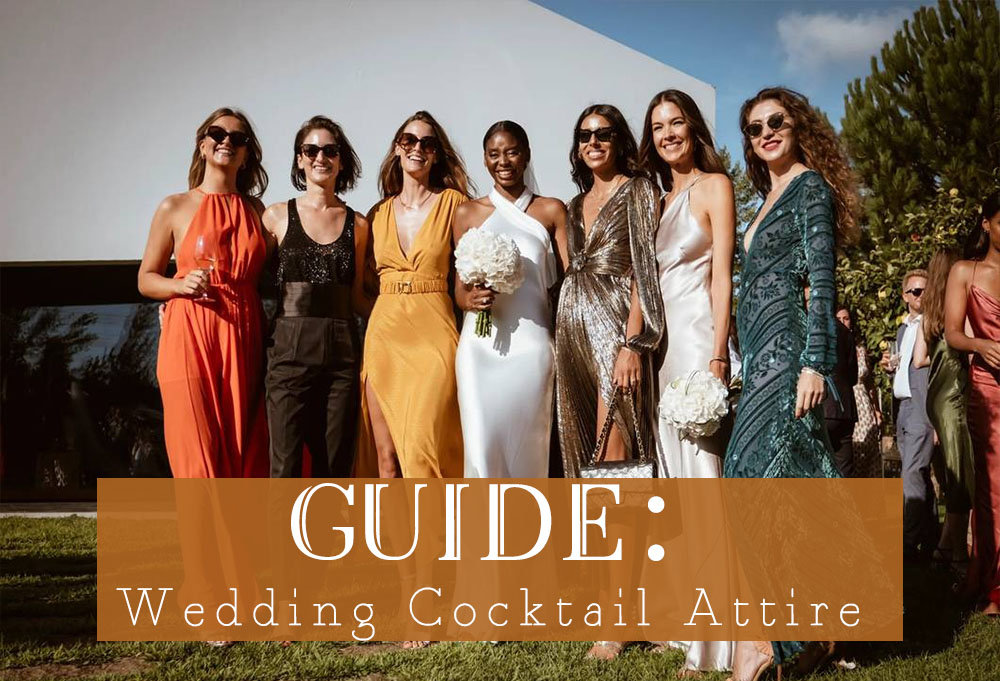 What Is Cocktail Attire?
Cocktail attire is a dress code that typically suggests dressing in a stylish and fashionable manner for a social event or party. It typically includes a combination of a suit or sport coat for men, and a cocktail dress or formal evening gown for women. The idea is to look chic and put-together, but not overly formal or stuffy. In general, the key to achieving the right cocktail attire is to choose classic, elegant pieces in neutral colors, and to accessorize with tasteful accessories.
'Cocktail attire has been designed to bridge the gap between day and night,' says bridal consultant LauraLee Baird. "It is still an occasion to dress up, but a full-length gown is not necessary. This merges the silhouette of a garden party dress (shorter) with the fabric and embellishments of a formal gown." Alena Kate Pettitt, author of English Etiquette: The Motivation Behind the Manners, says you would want to go between a formal occasion and office wear.
With all the ambiguity, cocktail attire could mean different things depending on the venue, the time of day, and the season. We've got a few helpful tips for deciphering this common wedding dress code.
Cocktail Attire for Men and Women
"The most important idea to take away from the cocktail dress code is that your goal is to create an elegant look wearing a knee-length, tea-length, or midi dress," suggests social etiquette advisor Maria Lucrecia Arguello. "This is not the time to wear a gala gown or a short mini skirt."
Daytime, think natural colors and fresh styles, and nighttime use darker hues and embellishments like sequins or feathers (so long as your dress doesn't touch the floor). Keep in mind: You want to look polished and dressy, but not so much that you take away from the bride.
You can always use your best LBD, a pair of sensible heels or dressy flats, some nice earrings, and a classy clutch for a cocktail event, no matter the venue or time of day. In addition to a traditional cocktail dress, women can also wear dressy suits or nice jumpsuits paired with heels or formal flats.
All experts agree that a suit and tie are required for cocktail attire. Dark hues are appropriate for evening events, or in cooler months, but lighter grays or blues are fine for daytime celebrations. Keep it classy with a pair of nice dark dress shoes that match your belt.
However, even with more relaxed venues (such as a beach, barn, or vineyard), a jacket and tie are required regardless of the dress code chosen by the couple. Pettitt advises that both jacket and tie must remain around during formalities. It is only acceptable to remove your jacket and tie after formalities have ended and the sun has gone down, and/or the groom or senior male attendants have removed theirs. It is traditionally required that the jacket be on during dinner, but if others shrug out before sitting for the first course, you can do the same.
Cocktail Attire For Men
This guide will let you know exactly what Cocktail Attire is, so you can enjoy yourself as you are dressed. You can make the right impression at any event with the guidelines and tips here, regardless of whether you have a cocktail in your hand.
Understanding the Cocktail Attire Dress Code
What the Cocktail Attire Dress Code Is: The Bridge Between Formal and Casual
What The Cocktail Attire Dress Code is Not
In the middle of the dress code spectrum, it is easy for anyone to become confused as to what exactly is cocktail attire. The confusion lies in the name: if you associate cocktails with fancy bars and restaurants, you would not have been remiss in thinking that a more formal ensemble, such as a tux, would be appropriate. And, for instance, if you associate drinking with a rollicking good time with friends, you might assume that a more casual look would be in order.
In reality, Cocktail Attire is intended to fill out these sartorial voids: it provides refinement and cohesion of more formal ensembles coupled with creative expression and opportunities for self-expression.
Casual clothing – such as jeans, polo shirts, or sneakers – does not belong in the Cocktail Attire dress code, as does formal menswear – like dinner jackets, formal waistcoats, or cummerbunds.
Cocktail Attire For Women
A general rule of thumb for a cocktail dress is that it cannot be skimpy, transparent, too short or too long. Basically, the stuff that falls in between the formal and casual spectrum. Anything from a classic little black dress (LBD) to an A-line, strapless, embellished, lace or long sleeves midi dresses are your safe bets. We will discuss more on this in a bit.
8 Must Know Do's and Don'ts of Cocktail Attire For Women
1. Don't Wear Skimpy Dresses/ Do Watch Your Hemline
2. Don't Wear Huge Gown That Trail Out/ Do Midi Sized Dresses
3. Don't Show Up In Jeans/ Do Wear Trousers
4. Don't Carry Huge Bags/ Do It With A Clutch
5. Don't Do Flip-Flops/ Do Heels Or Platforms
6. Don't Overdo Accessories/ Do One Statement Piece
7. Don't Go In Shoddy Or Crumpled Dresses/ Do Consider Dry Cleaning Or Steaming Your Attire
8. Don't Let Your Undergarments Show/ Dp Strapless Or Stick On Bra

Cocktail Attire Etiquette
While cocktail dress codes aren't quite as strict as white or black tie, they arent invitations to wear anything. Bride and groom expect you to dress up for the occasion, so you should reflect that in your outfit. Any tight, short, or revealing clothing is a no, as is jeans, ripped clothing, shorts, or sandals (for men).
Pettitt says that the event provides regard for itself and creates a joyful collective mood among all attendees. Dress code is not only polite, it will also ease your mood in your surroundings. If you are still feeling lost, please reach out to the mother of the bride or the maid of honor (never the bride) for further clarifications.
Also, the venue will let you know how strict you need to be in your attire. Baird suggests that the invitation for the setting of the event should be read as cocktail attire for an afternoon outdoor vineyard wedding would be less formal than that for an evening wedding at a private club.
FAQ
What should I wear to a wedding with a cocktail dress code?
For a wedding with a cocktail dress code, it's best to err on the side of dressier. For men, this might mean a suit and tie, or a sport coat and slacks with a dress shirt and tie. For women, a cocktail dress or evening gown is typically appropriate. When in doubt, it's always a good idea to ask the couple or the wedding planner for more specific guidance on what to wear.
---
What is summer cocktail attire?
For a summer wedding with cocktail attire, choose light and airy fabrics such as chiffon, linen, or organza. A floral maxi dress, a pastel midi dress, or a jumpsuit are great options. You can elevate your look with simple accessories and wedges or block heels.
---
What is semi-formal attire?
Semi-formal attire is also often used interchangeably with cocktail attire. Like a cocktail dress code, it represents the middle ground between formal wear and casual wear.
---
How long should cocktail dresses be?
Dresses should not be too short or trailing out on the floor. When stretched down, it should be below your arm's length and above your shins, like a midi dress or skirt.
---
What are the important tips for choosing cocktail dresses?
Be sure to understand the host's taste in clothing, what they might like, or the theme of the party. It's usually a good place to start. If you still have questions, just pick up the phone and talk to the host or other friends. One of the most important things is to never be seen as a party outlier in the party.