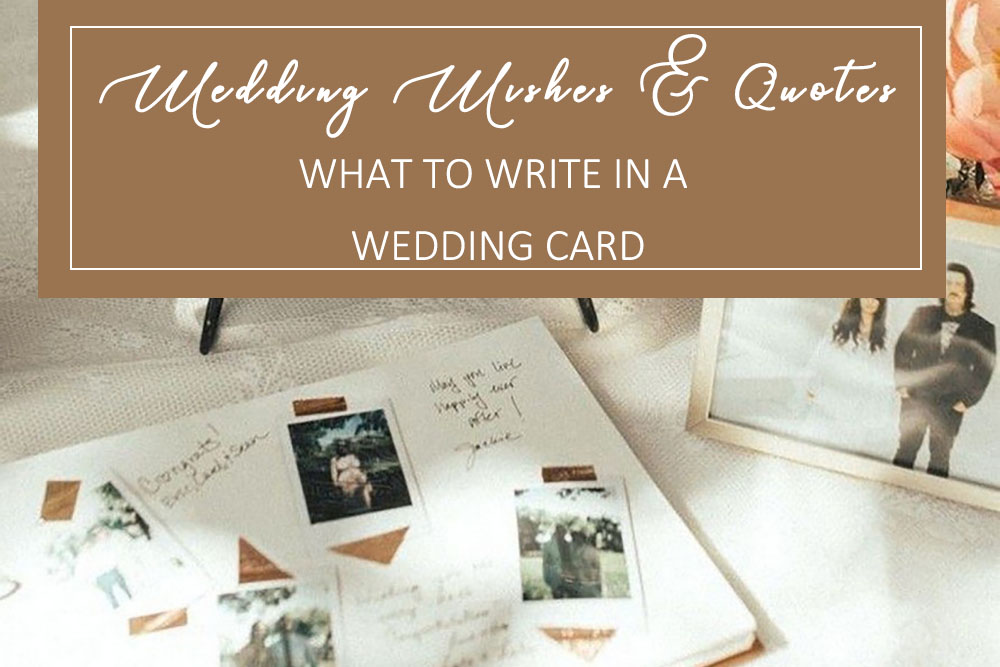 Wedding Wishes Wording & Messages: What to Write in a Wedding Card
Writing a wedding card can be a daunting task, especially if you're not sure what to say. The newlyweds have likely put a lot of time, effort and money into planning their special day and you want to make sure your congratulations are heartfelt and meaningful. But don't worry, there are many different ways to express your congratulations, and finding the right words is easier than you think.
One great place to start is by thinking about the couple and what you admire about them. Are they a funny and lighthearted couple? Are they deeply in love? Are they traditional? Once you have a sense of the couple's personalities, you can tailor your message to suit them.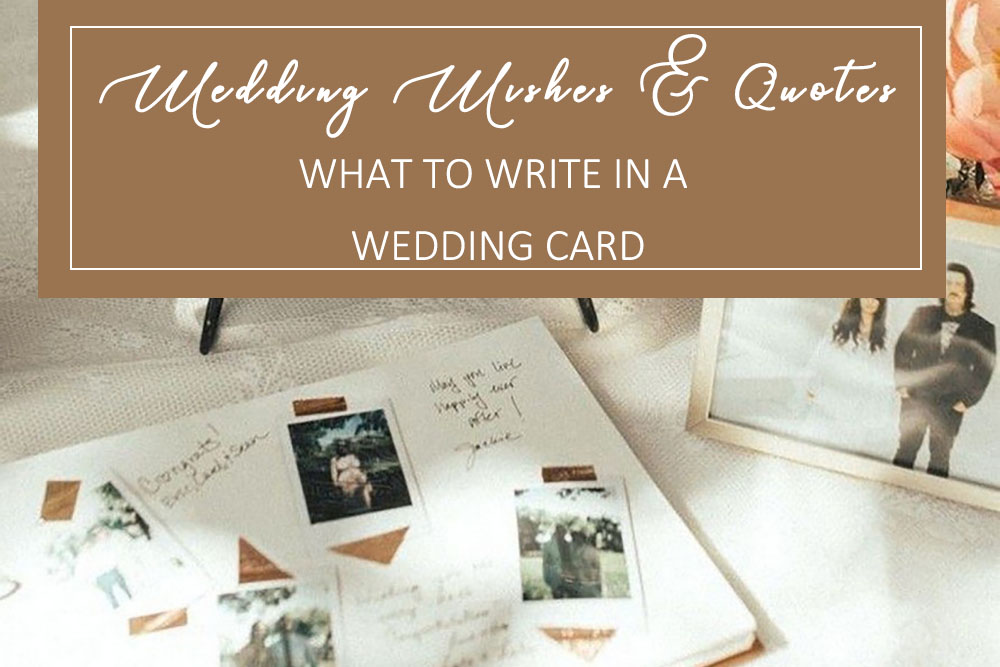 Here are some ideas to get you started:
Offer congratulations and well wishes for a happy and fulfilling marriage
Share a personal memory or story that captures something special about the couple's relationship
Offer practical advice on marriage
Share your hopes and dreams for the couple's future together
Send a quote or poem that you think sums up the couple's relationship
Offer a little humor to make the couple smile
Here are some examples:
Congratulations to the wonderful two of you!
This calls for congratulations and probably champagne.
I hope through the years you become even better friends and share every possible kind of happiness life can bring. Congrats.
May your marriage be filled with all the right ingredients: a heap of love, a dash of humor, a touch of romance, and a spoonful of understanding. May your joy last forever. Congratulations!
Your wedding day may come and go, but may your love forever grow. Congratulations to the perfect couple!
Through the storms of life, may your love for one another be steadfast and strong. Wishing you joy and happiness on your wedding day. Congratulations!
Congratulations on finding each other! Your greatest adventure has just begun.
Congratulations to you both on your very special day! May your wedding be filled with special memories you can treasure forever!
Congratulations on tying the knot!
You guys are great together. So happy for you two!
'Two become one'- what a beautiful thing. Congratulations!
Heartfelt congratulations.
Warmest congratulations and love!
Congratulations on your wedding day and best wishes for a happy life together!
Feeling so much joy for the two of you as you join your lives in marriage!
Seeing you two make promises and step forward into the future is so inspiring and wonderful.
Wishing you all the happiness and love in the world. Your love story is one for the ages, and I couldn't be happier for you both.
I'll never forget the day you two met. From that moment on, it was clear that you were meant to be together. Congratulations on your wedding day!
Marriage is about compromise, patience and kindness. Always put your love for one another first, and everything else will fall into place.
We hope that your love will continue to grow stronger and deeper with each passing day. Wishing you both a lifetime of happiness together.
Together, you are a force to be reckoned with, and we can't wait to see what the future holds for you both. Congratulations on your wedding day!
For the couple who always knows how to make each other laugh, congratulations on finally making it official. Wishing you both all the happiness in the world.
Keep in mind that even a simple message, written from the heart, will be appreciated and treasured by the newlyweds. With a little thought and effort, you can create a wedding card that is truly memorable and special.
Casual Wedding Wishes
Looking for some wedding wishes to inspire you? Look no further! These are some of the most casual and fun weddings around. So if you're looking for something a little more laid – back, these are perfect for you.
Examples:
Best wishes!
We're/I'm so happy for you!
Wishing you lots of love and happiness.
Wishing you a long and happy marriage.
Wishing you the best today and always.
So happy to celebrate this day with you both!
Best wishes for a fun-filled future together.
Wishing you fulfillment of every dream!
Time flies and things change, but I wish that your love for each other would stay unchangeable.
You've made me believe in true love. And I hope my belief will be unwavering forever, because it seems like you'll stay together until the end.
Formal Wedding Wishes
Looking for wedding wording and messages? You've come to the right place! We've put together a list of some of the best formal wedding wishes wording and messages. So whether you're looking for something simple or something a little more elaborate, we've got you covered.
Examples:
Wishing you a lifetime of love and happiness.
May the years ahead be filled with lasting joy.
Best wishes on this wonderful journey, as you build your new lives together.
Thank you for letting me share in this joyful day. I wish you all the best as you embark on this wonderful union.
Wishing you joy, love and happiness on your wedding day as you begin your new life together.
May the love and happiness you feel today shine through the years.
When you two are knotted as one, both families and friends share in oneness of their marital union; may this marriage be a bridge to usher happiness, peace and prosperity.
As you step into a new life as new couples, you become treasure to our community and the world.
Let love be the focal point of your daily life. May you find hope, peace and faith in each other's arms.
Blessed is the man who finds a wife. May the joy of your new home be filled with laughter, smiles, kisses, hugs, respect understanding and faithfulness. Happy wedlock.
Funny Wedding Card Messages
If you're looking for some funny wedding card messages, you've come to the right place! These are some of the funniest wedding card messages we've ever seen, and we're sure the newlywedd will love them as much as we do.
Examples:
Thanks for inviting us to eat and drink while you get married. Congrats!
Our marriage advice: love, honor and…scrub the toilet.
Thanks for the free booze. Best wishes on a long, happy marriage.
Marriage marks the end of a love story and the start of a wrestling match. Wishing you the very best of everything anyway.
I'll tell you the secret of a happy marriage. It remains…a secret to all! Wishing you all the best of times ahead.
On your wedding day today, you have now become two from one. Does that mean I will get two birthday gifts from you both every year?
As Bill and Ted said, 'Be excellent to each other.'
Getting married is like going to drama school. May there be more comedy than melodrama.
Marriage is so beautiful. You have finally found that one person you get to annoy all through your life.
Today I realized that life is not fair for single people like me. Until now I had to buy you a gift only once a year on your birthday. Now I have two birthdays plus a wedding anniversary to buy gifts for. Congratulations to my best friend on tying the knot.
Religious Wedding Wishes
Examples:
May God bless you and your union.
May God grant you all of life's blessings and love's joys.
Love God first and it will be easier to love your spouse second.
We are looking forward to finding out what God has planned for you two.
Your marriage will be strong because the two of you are strong in your faith.
May God's love be the glue that holds your marriage together.
We pray that God will bless your marriage and guide you in your new journey together.
May the One who brought you together bless your marriage, enrich your lives and deepen your love throughout the years.
'God has poured out his love into our hearts.' Romans 5:5
'Love is patient. Love is kind…Love never fails.' 1 Corinthians 13:4-13
Wedding Card Messages For Friends
Examples:
I'm so happy to call you both my friends.
May you bring each other as much happiness as your friendship has brought to my life–and more!
Here's to love and friendship.
We all need somebody to love, care about and trust. I'm really happy that my best friend has found this special person. Congratulations on your wedding and may your life together be a continuous honeymoon.
We've been friends since childhood and who would have thought that we all would be married one day. But it happened and today is your marriage! Wish you two trust and understanding, patience and love.
We're so thrilled to celebrate this wonderful day with you both.
Of all the big life events we've celebrated over the years, today tops the list.
The fortune-teller we saw in Vegas was right. You did meet the man/woman of your dreams. Best wishes to you both.
Wedding Wishes For A Family Member
Examples:
Welcome to the family, we couldn't be happier to have you. Best wishes to you both!
We're delighted to share this day with you.
What a wonderful day for our family and especially you two. May the joy you feel today last a lifetime.
Today, we add one more member to our family and we couldn't be happier.
I love you both. Thanks for letting me share in your celebration.
Wedding Sayings For Brother Or Sister
Examples:
For my sister who's found love. May your wedding be the first day of many years of happiness to come.
Today is the beginning of an incredible new journey looking toward the future and all that it offers. For my beautiful sister who deserves only the best, may your wedding day be everything you've dreamt of. Wishing you love, joy, and a long life spent together.
We've been together for so long, as close as sisters can be and now it's time for each of us to move in different directions. As your wedding approaches I wish for you every happiness. May you both enjoy all that this life has to offer.
To my sister who has always meant so much to me. I am so happy for the wonderful love you've found. May your marriage be everything you're hoping for. I'm wishing you all the best on your wedding day.
To my sister, my friend, my childhood confidante. Now you're all grown up and about to be a bride. Even though you'll soon be walking down the aisle married and starting a new life with your husband, you'll always be my sister and forever in my heart. So, I'm wishing you much joy on your wedding day and many years of happiness in your marriage.
Brother, thank you for showing me what it means to have someone to count on. Take care of her, and be well.
I know that the two of you will do great things in this world together. You are my brother, and a fine man; andy person with whom you would share your life cannot help but be equally excellent, and two such people cannot help but make us all better for being.
We may have struggled as we grew up, yet now we stand together and are better for it. You and your love may struggle as you grow together, and you may struggle more than you and I ever did- but you will grow closer for it.
We have shared good times, brother, and we have share times less good. And now I have gotten to share with you the joy of finding love and confirming it for all to see. I am sure there will be better yet- but what a thing to have to try to top!
I cannot be happier as a brother than I am to see you so happy now on your wedding day. Be brave in your new life together, for there will be challenges, but you will overcome them.
Wedding Sayings For Son Or Daughter
Examples:
Walking you down the aisle is something that seemed so far away from the day you were born. It is my privilege to give you away to such a deserving and loving guy. My heart feels whole with the new son-in-law I am gaining. I have faith that you two will take care of each other and raise a beautiful family.
I have never seen you look as beautiful as you do in a wedding dress. There is something angelic about my sweet daughter all grown up. You've got touches of your mother in you, but you've always had my smile. Best of luck on the future adventures and memories with your new husband. I love you.
The first date you went on, we worried about our little girl. You've matured into a fine young lady that can take care of herself. It's no longer our job to worry now that you've taken a great husband. Be wonderful to one another, and don't forget to do the little things.
The day you announce your engagement, I thought your dad was going to have a stroke. You have to forgive him for being so quick to assume the worst. Your new husband has found a place in our hearts like a son of our own. Love one another as best you can with every single day that the sun rises.
I spent the majority of our life teaching you how to be a great woman. There are times that I am in awe of how much you know about life. You seem to have it all figured out, but marriage is a different type of lesson. It will turn out great as long as you are always supportive, forgiving and patient.
I am so happy to see that you have grown into the man I had always wished you would be. Now as you move forward into the unknown with a sense of adventure, I wish you both so much happiness and hope you know how much you are loved!
We are so happy to be adding this wonderful young woman into our family! It's so wonderful to see how happy she makes you, and how happy you make her. So congratulations on this very special occasion and may you have only peace and love in your hearts for the rest of your lives.
You are reaching a milestone in your life as you marry your beautiful bride. I couldn't ask for a better daughter-in-law and am so happy to see the wonderful man you have become. She is truly a gift. I love you both.
Seeing you as a little boy and now a grown man is a very unique sight. You have become responsible, gifted and a generous young man and now you have the chance to marry your one true love. May you both be blessed on your future together, and please know how much we will always love and support you both.
As you move forward into the next part of your life, please know that I will always love you as my little boy. But I also know that each passing day brings more wisdom and growth. So, I proudly pass my little boy on to the woman that will make you whole. I love you.
What To Say In A Wedding Card To A Coworker
Examples:
Best of luck to you during this special time of life. We cannot wait to see the way that marriage improves your life and how a spouse makes you a better person.
You're giving hope to all of the single people left in the office. Best wishes to you and your new spouse with your new life together.
A marriage is a perfect union when two people become a team.
We've seen such a change in you at the office and we're so happy that you're happy. Congratulations on your marriage and we wish you the best during this new stage of life.
So happy you've finally found the one that completes you and enhances you as a person. Wishing you the best during this special time in your new life.
Thank you for inviting me to share in this day with you and your family.
I am so glad that I have gotten to know you at work and I wish you and your new husband/wife a long happy life together.
Wishing you success-and most of all happiness-in your marriage.
What a wonderful day to celebrate my coworker. All of the best to both of you in marriage.
Everyone at the office is so happy for you. Congrats!
Wedding Card Closing
Examples:
With Love,
Lots of Love to you Both,
Congratulations Lovebirds,
Congrats Newlyweds,
Love Always and Forever,
Best Wishes for Your Future,
Take Good Care of Each Other