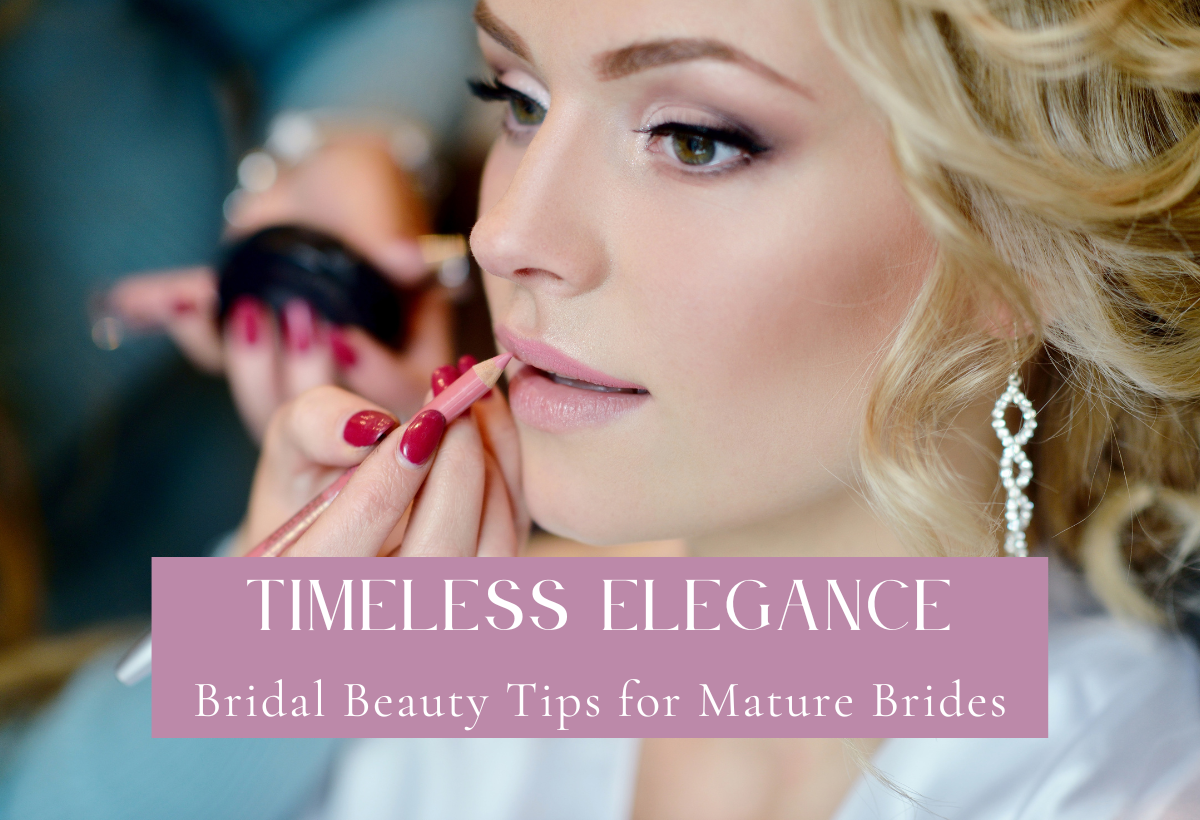 Your wedding day is a momentous occasion, a celebration of love, commitment, and the start of a beautiful journey. For mature brides embarking on this remarkable chapter of their lives, achieving a look that exudes timeless elegance is a cherished aspiration. It's a desire to radiate confidence, grace, and sophistication while embracing the unique qualities that come with age.
In this guide, we delve into the realm of bridal beauty and style tailored specifically for mature brides. From makeup tips that enhance your natural beauty to hairstyle ideas that complement your age and personality, from skincare and anti-aging strategies to selecting the perfect wedding dress, we explore the elements that culminate in a bridal look that is both age-appropriate and undeniably elegant.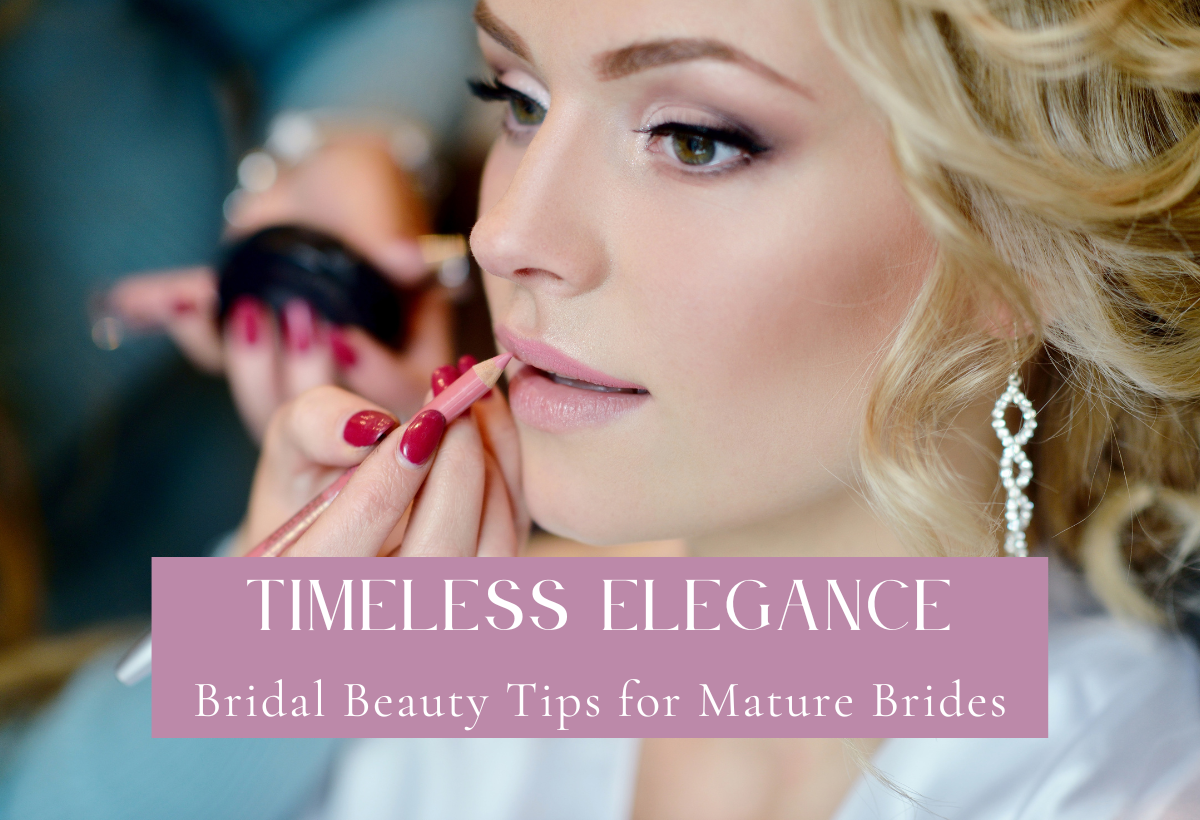 Makeup Tips for Mature Brides
For mature brides, achieving a flattering and age-appropriate makeup look is a top priority on their wedding day. They seek makeup tips and techniques that accentuate their natural beauty and ensure a radiant and confident appearance.
Here are some makeup tips for your special day:
Opt for Lightweight Foundation

: Choose a lightweight, liquid foundation or a tinted moisturiser that offers buildable coverage. Avoid heavy, matte foundations, as they can settle into fine lines and make your skin appear drier. Blend the foundation evenly for a natural, dewy finish.

Focus on Eyes and Lips

: Emphasise either your eyes or lips, but not both, to maintain a balanced look. For a timeless and elegant appearance, consider defining your eyes with soft, neutral eyeshadows and a smudge-proof eyeliner. Pair this with a natural or slightly muted lip colour to avoid an overly dramatic effect.

Focus on Luminosity:

Incorporate luminous makeup products to achieve a youthful glow. Opt for a liquid or cream highlighter applied strategically to your cheekbones, inner eye corners, and nose bridge. This subtle touch reflects light and minimises fine lines. Remember, less is more with highlighter for a natural radiance that enhances your bridal look, making you feel confident as you step into your special day.
Remember that makeup should enhance your natural beauty and make you feel confident on your wedding day. It's a good idea to have a makeup trial with a professional makeup artist who understands the specific needs of mature skin and can create a look that suits your style and preferences.
Hairstyle Ideas for Your Special Day
Selecting the perfect hairstyle for your wedding day is a decision that deserves careful consideration, and this holds especially true for mature brides. The quest for the ideal hairstyle is often fueled by a desire to strike the perfect balance between age-appropriateness and personal style. 
Some elegant hairstyles to consider for your special day include:
Soft Chignon:

A soft, low chignon is a

timeless and elegant choice

for mature brides. This classic updo can be customised to suit your style, with loose tendrils framing your face for a soft and romantic look. It works beautifully with various hair lengths and textures and complements both vintage and modern wedding themes.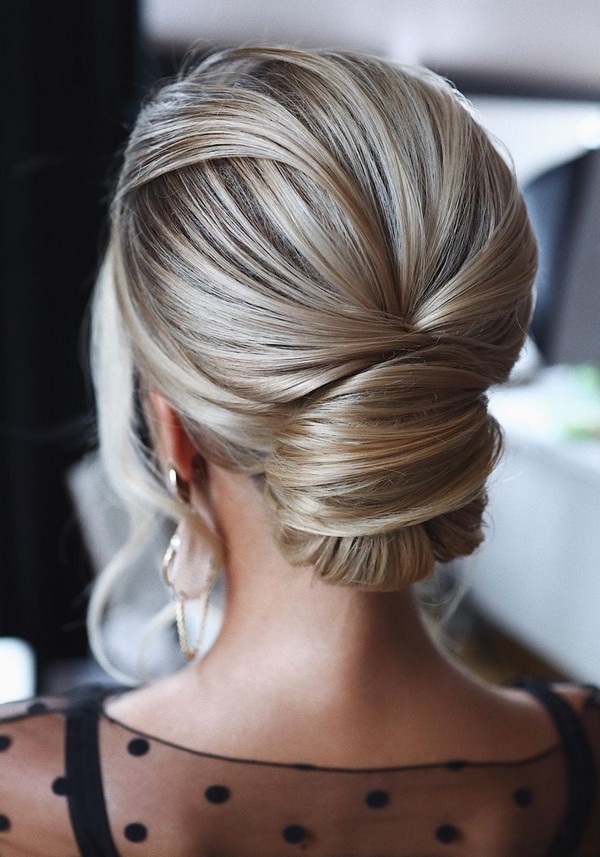 Sleek Bob with Hair Accessory:

If you have shorter hair, consider a sleek bob hairstyle. You can add sophistication and bridal charm by incorporating a stylish hair accessory, such as a delicate headband, a vintage-inspired hairpin, or a floral clip. This look is chic and understated, perfect for a mature bride seeking a modern yet timeless appearance.
Half-Up, Half-Down with Waves:

This versatile hairstyle combines the elegance of an updo with the flow of loose waves. Leave some of your hair down while securing the upper section in a half-up, half-down style. The waves add a touch of romance and can be enhanced with a beautiful hair comb or tiara for a touch of bridal glamour. This look is flattering for medium to long hair and complements various gown styles.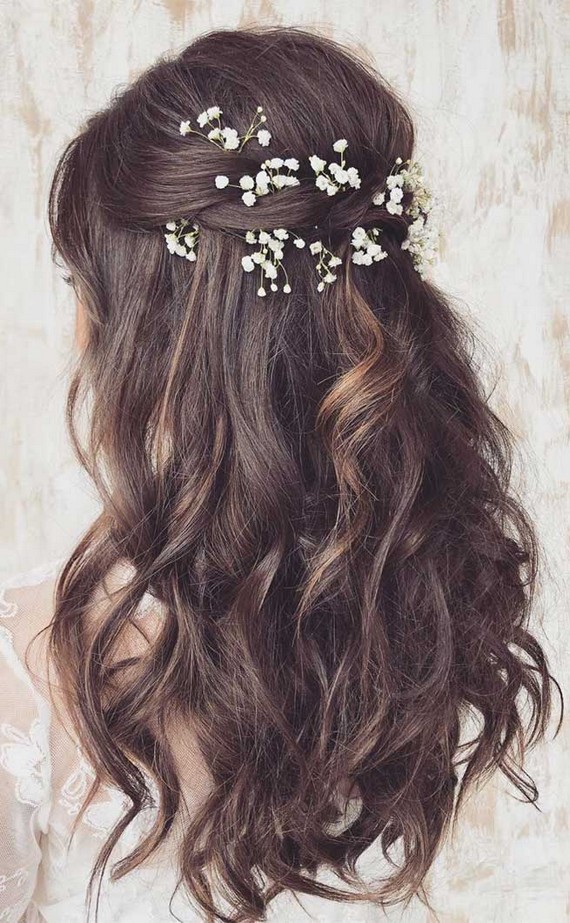 These hairstyle ideas offer a range of options for mature brides, allowing you to choose the one that best matches your personal style and wedding them while achieving a timeless and elegant look.
Skincare and Anti-Ageing Tips Leading Up to the Big Day
For mature brides, achieving radiant and youthful skin is often a top priority leading up to their wedding day. Preparing your skin for the big day is a journey that goes beyond makeup; it begins with a robust skincare routine and thoughtful anti-aging measures. 
Some ways to level up your skincare routine before your wedding day include:
A consistent skincare regimen:

Cleansing, exfoliating, and moisturising, tailored to the specific needs of mature skin, can work wonders.

Investing in quality skincare products:

Incorporating ingredients like hyaluronic acid, retinol, and antioxidants can help reduce fine lines, improve skin texture, and create a luminous complexion. 

Collaborating with a dermatologist or skin care specialist:

Personalised guidance can also be a game-changer. Treatments

like anti wrinkle injections from Victorian Cosmetic Institute

can help give your skin a boost in the lead up to your big day. It can also ensure you walk down the aisle with the confidence that comes from having radiant and age-defying skin.
Fashion and Dress Selection for the Special Bride
The quest for the perfect wedding dress is a pivotal part of every bride's journey, and for mature brides, the focus often revolves around finding a gown that embodies timeless elegance. 
Here are some things to consider when it comes to your wedding dress and fashion choices:
Dress selection

: It's all about striking the perfect balance between sophistication and personal taste. For mature brides, silhouettes such as A-line, sheath, or empire waist dresses often prove to be flattering choices, offering both comfort and grace. 

The choice of fabric, neckline, and embellishments:

These play a significant role in achieving that timeless and elegant look. 

Reflection of personality:

Ultimately, the wedding dress should enhance her natural beauty and make her feel like the radiant and confident woman she is on this unforgettable day.
Grooming and Spa Treatments
In the midst of the whirlwind of wedding planning, it's essential for mature brides to take a moment for themselves and indulge in pre-wedding grooming and spa treatments.
The benefits of grooming and spa treatments include:
Physical transformation:

They provide a sanctuary for relaxation and rejuvenation. 

Pampering from head to toe:

From facial rejuvenation to body scrubs, massages to manicures, these spa experiences are designed to pamper your body and soothe your mind. 

Feeling your best:

Pre-wedding grooming isn't just about looking your best; it's about feeling your best. 
These moments of self-care are a gift to yourself, allowing you to enter your wedding day with a renewed sense of confidence and a radiant, timeless elegance that reflects not only your outer beauty but also your inner serenity.
As you prepare to step into the next chapter of your life, remember that feeling your best is as important as looking your best. The treatments you choose will not only enhance your outer beauty but also nurture your inner well-being, leaving you with a radiant, timeless elegance that mirrors the serenity within. 
So, embrace this journey of self-care, pamper yourself, and savour the moments of calm and tranquillity. As you walk down the aisle, you'll do so with a glow that is both ageless and timeless, a reflection of the beauty and confidence that mature brides bring to their wedding day.