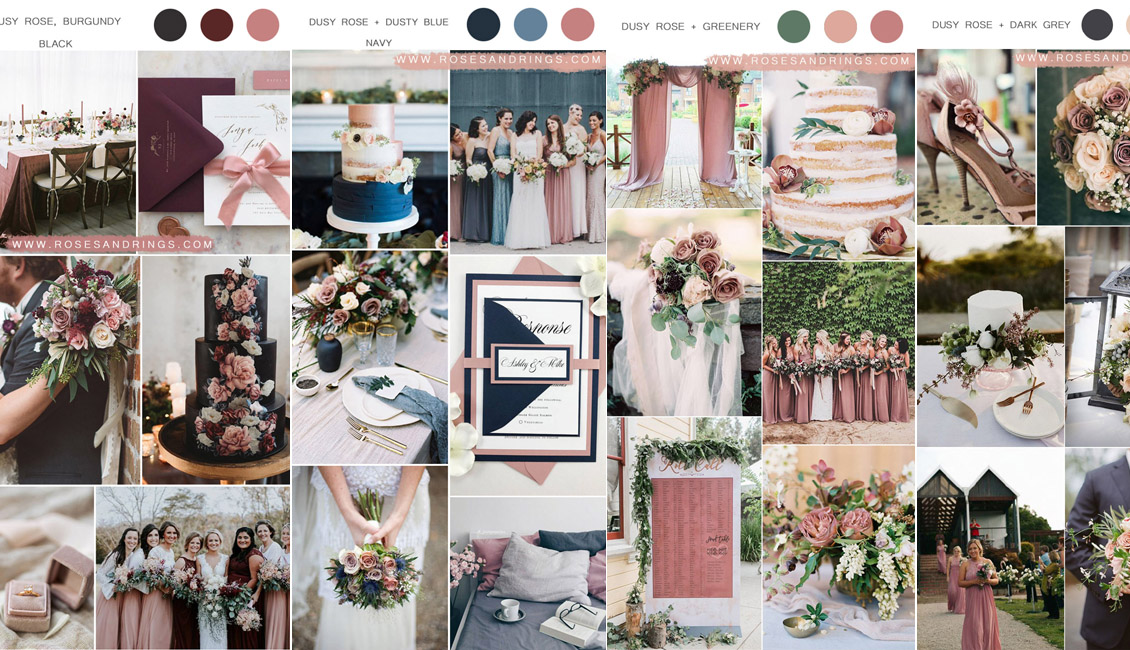 Top 9 Dusty Rose Wedding Color Palettes for 2023
In fact, dusty rose is really taking over for the wedding trend. The plain and humble pink just makes it a perfect wedding color for any wedding decoration, even for wedding dresses. Whether you want to follow the trend or simply want to stay low, the dusty rose wedding decorations below will make your wedding a feast of eyes and it will leave your guests great impressions for the years to come. Scroll down to get inspired!
Dusty Rose, Burgundy + Black
If you're looking for a gorgeous and classic wedding color palette, this might just be the one for you. With a neutral backdrop and plenty of Dusty Rose hues, this palette is perfect for a romantic wedding ceremony and reception ensemble. Don't forget to look at the matching Dusty Rose bouquet and headpiece and everything else it takes to make this pretty hue perfect on the big day.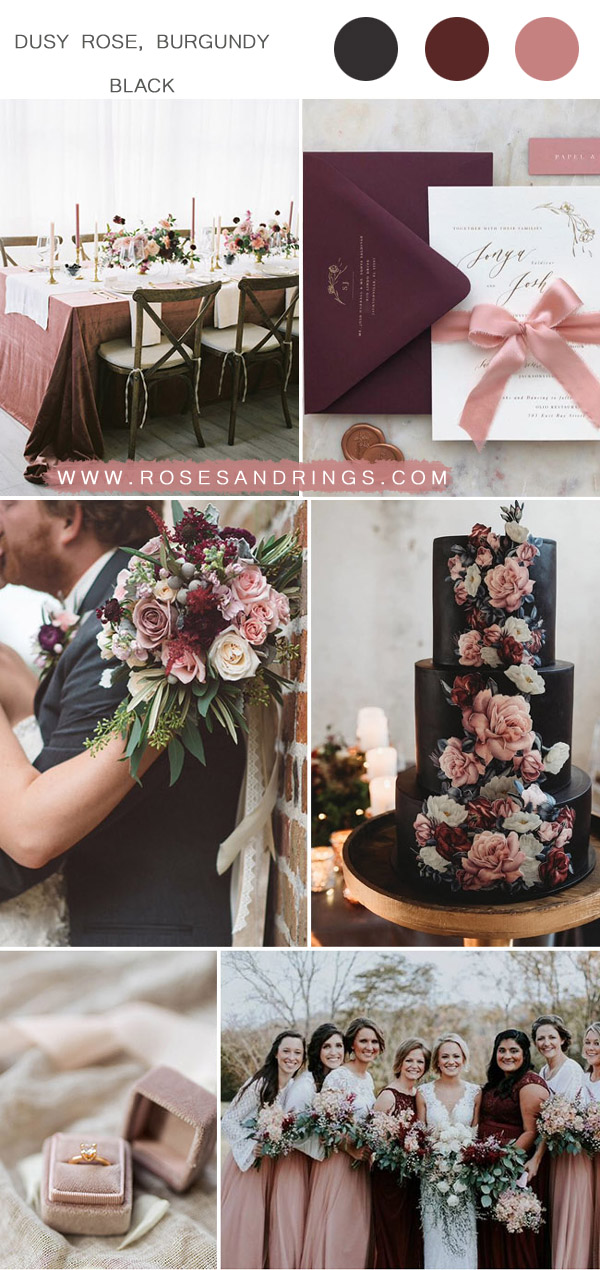 Dusty Rose + Greenery
This color palette is just the right amount of green" and "not too much" to accent the shades of dusty rose; the soft tones will put your guests at ease while still looking gorgeous. To achieve the desired effect, you'll need to begin with a red base and add green to it in stages – first adding a darker, more green tone. A muted, mossy tone in the backdrop will be perfect for the bride who wants to have a neutral and natural feel on her special day.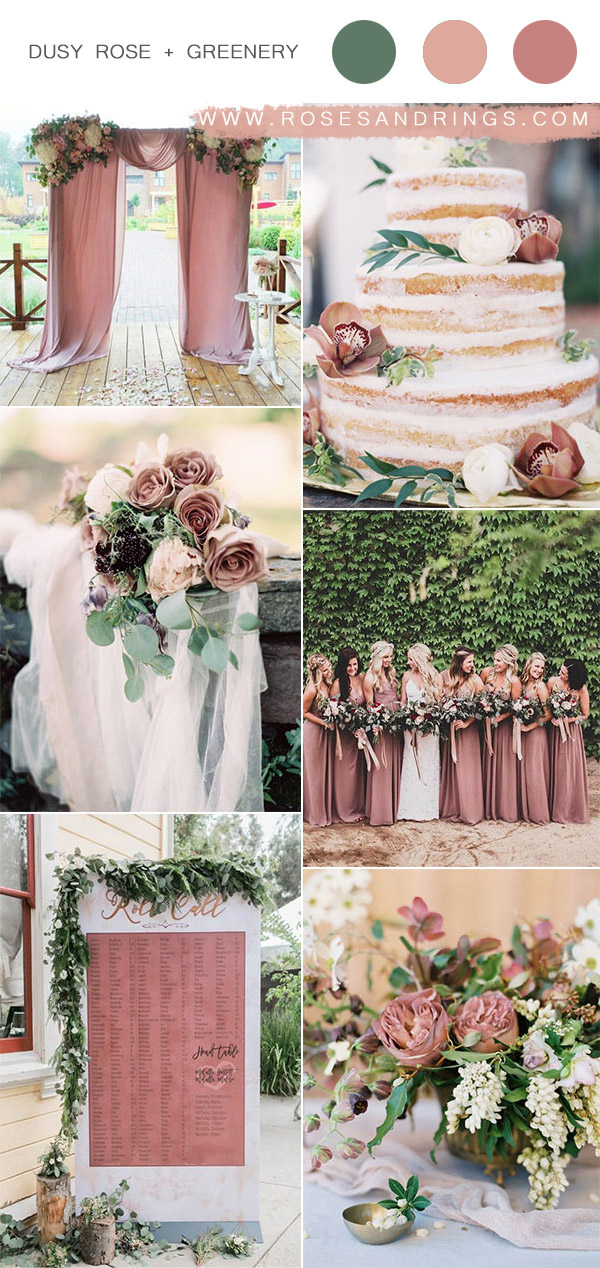 A dusty rose color palette is the perfect choice for a fall wedding, with earthy tones and muted tones. The colors in a vintage, dusty rose wedding is what takes this theme to the next level. Flowers and bridesmaids' dresses will all be earthy, with varying shades of pink, brown, and dark blue tones giving this vintage wedding a timeless feel.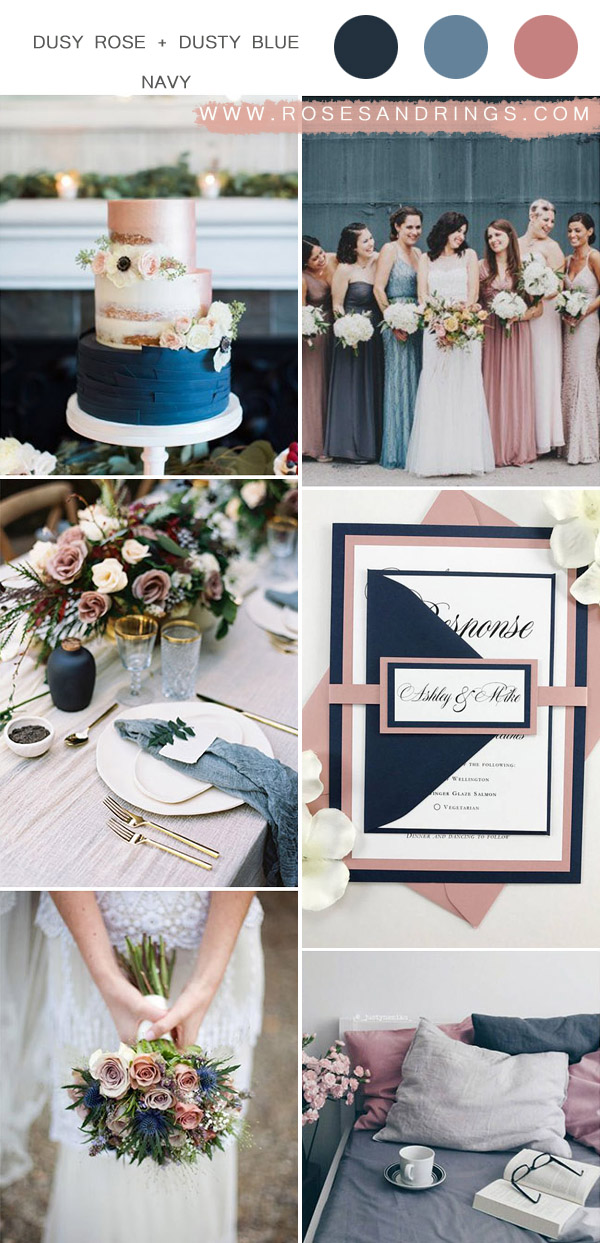 Dusty Rose + Dark Grey
An earthy, dusty, and neutral color scheme can be used to marry two colors in the dusty rose and dark grey color palette that can be a stunning addition to any dark, vinted wedding ceremony.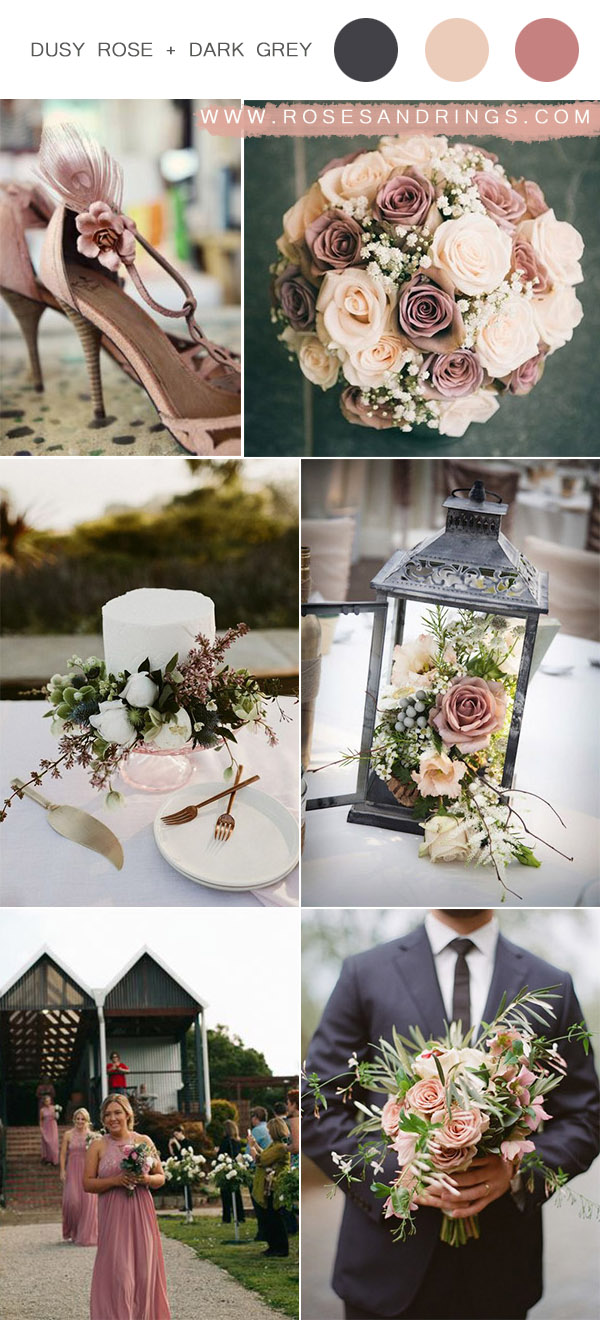 Dusty Rose + Light Grey
With soft pastel colors and a sweet feel to it, this combo is perfect for a day wedding. The neutral colors of this design will also be easily changed for a spring or summer wedding. This look is also very versatile and can be paired with many different colors for the tables and chairs.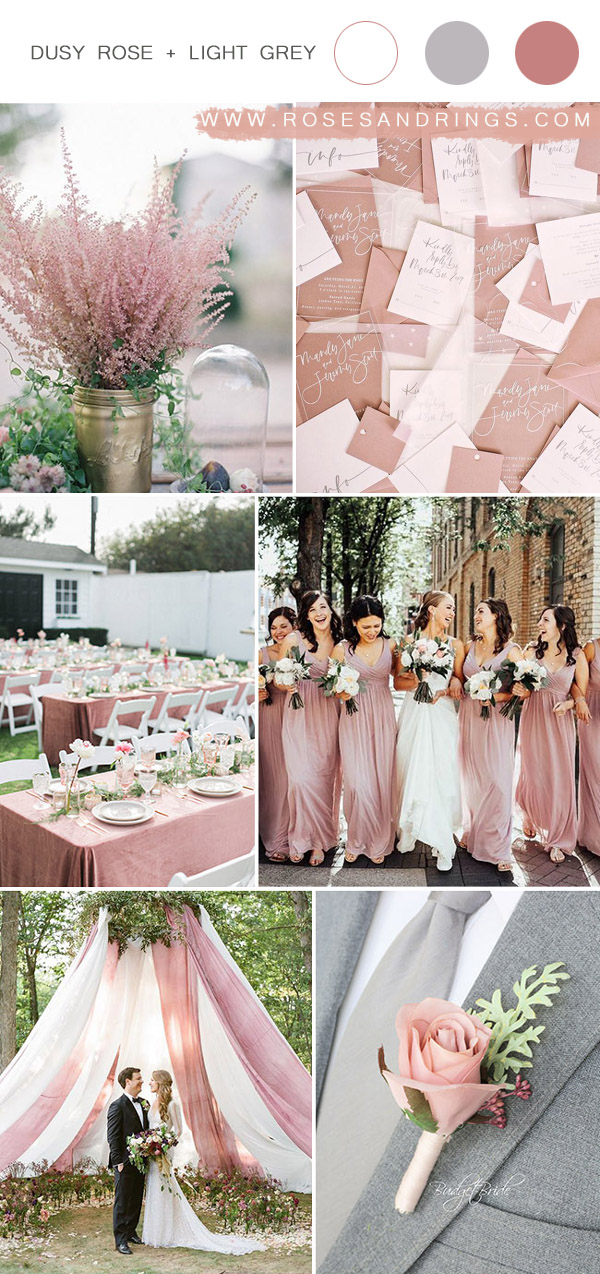 Dusty Rose + Ivory
The pale, calm color of the dusty rose speaks for itself, and the various shades of ivory offer a charming contrast to this dusty, antique color. A small pop of champagne or copper can lend paler tones to the palette and make it a perfect fit for that soft and romantic wedding look on a budget.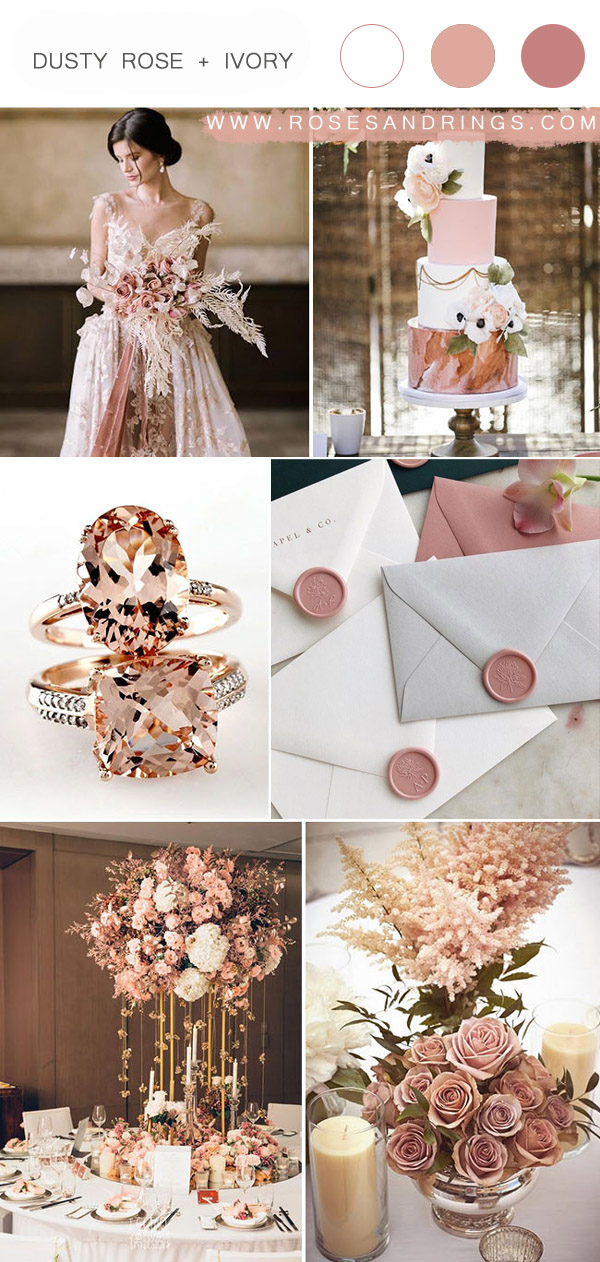 Dusty Rose + Gold
Dusty rose details paired with gold accent tones can create a romantic and classic look. The gold elements could be in the form of circular platters, boxes, and vases. For the centerpieces, a vase with simple roses can work, or a single, elegant gold rose.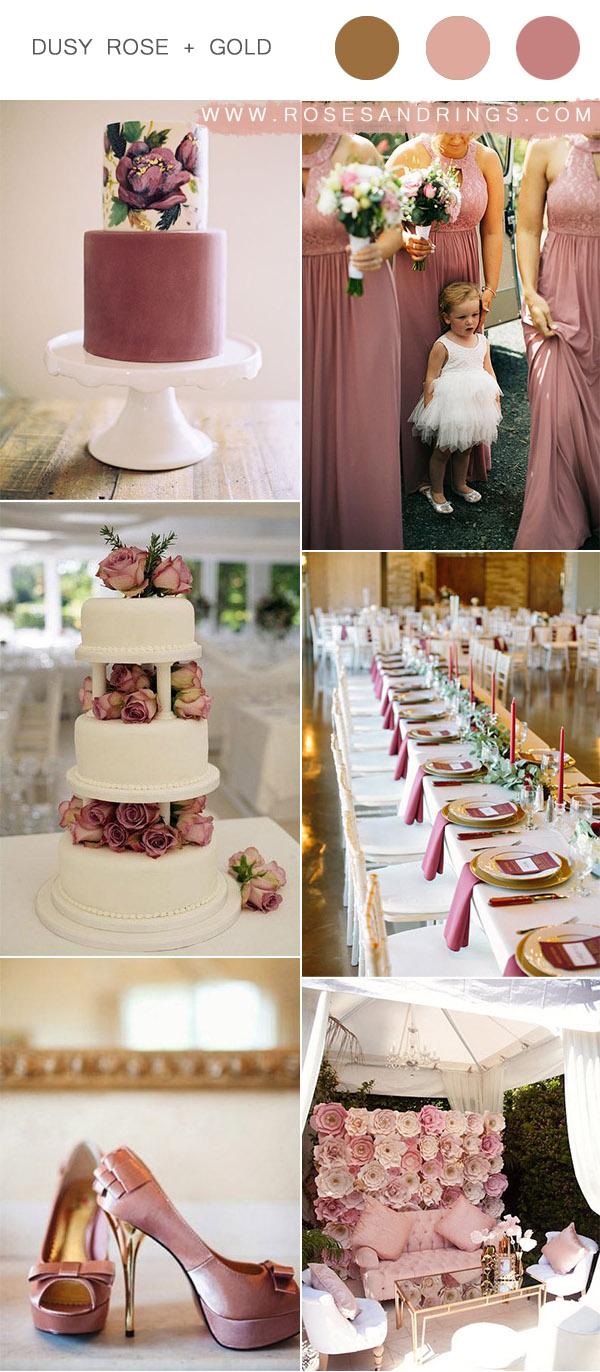 Dusty Rose + Greenery
A dusty rose style is a perfect pick to match your country style wedding. This gives your venue a warm and comfortable feel as it blends well with greenery. With a white tableflats, ivory chairs, and lemon trees, this tone is likely to give your event a soft and whimsical ambiance. Even better, this color scheme is perfect for a summer wedding, which is why professional planners would choose it for their clients.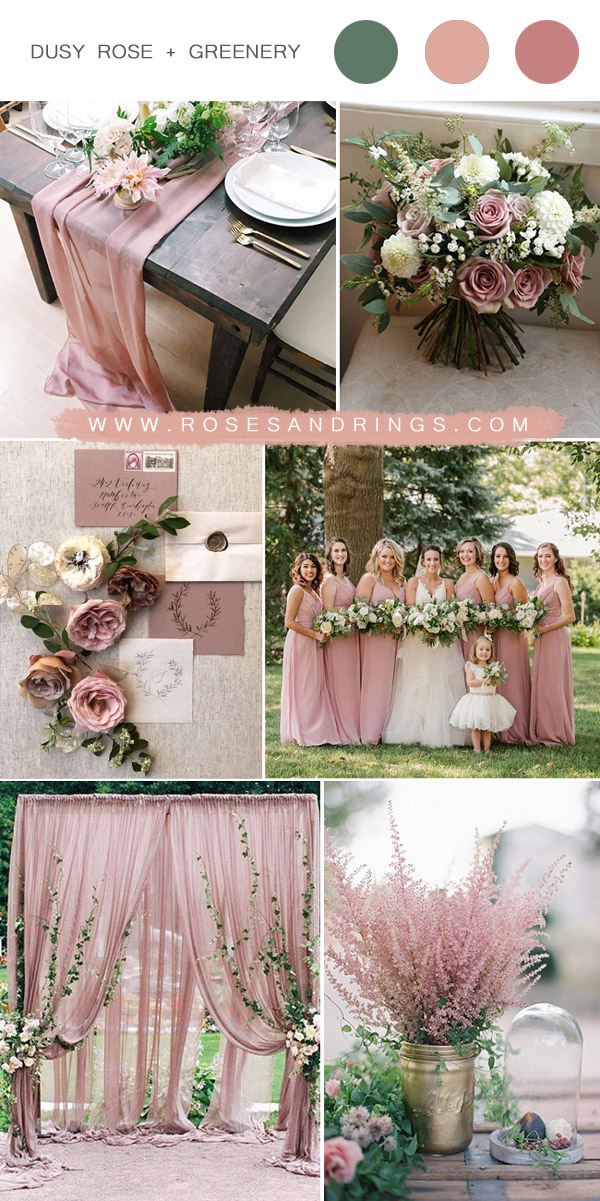 Dusty Rose + Sage Blue
This color palette has a dark wedding color that is reminiscent of autumn. The colors are earthy and deep, yet can also be paired with other colors of the season. This color palette is best for brides who want a calm and serene type of wedding color that is unique and modern.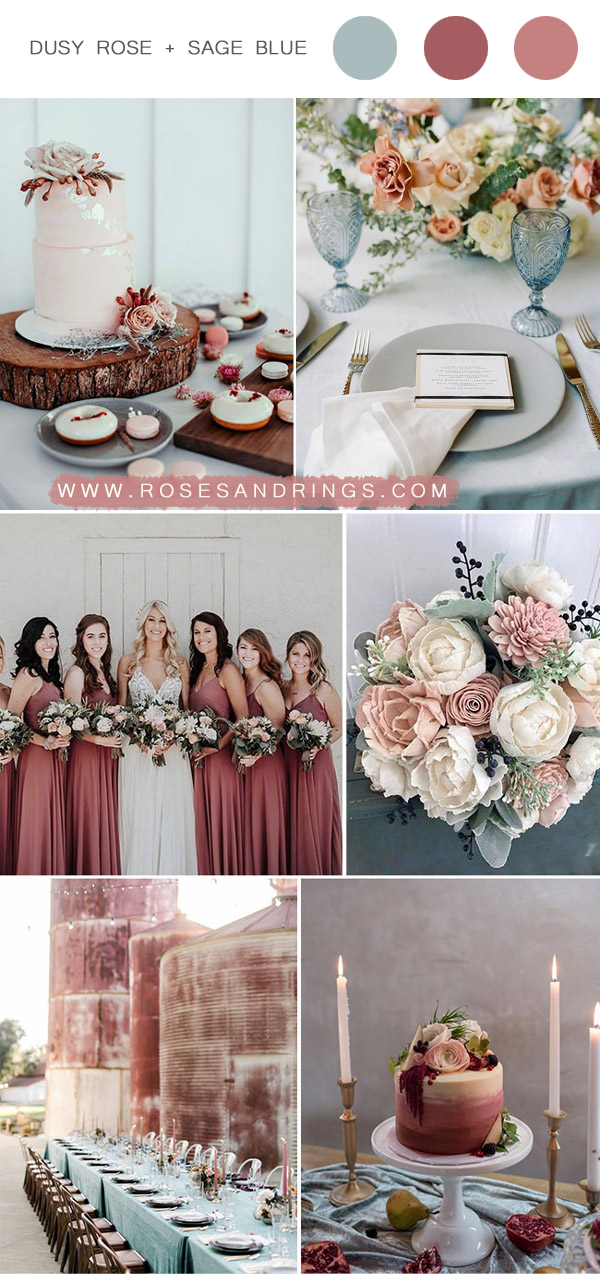 The dusty rose wedding color palette is a beautiful and classic option for brides. This article has provided you with nine different options for how you can use dusty rose in your wedding decor, from invitations to flowers on the altar. We hope this has helped give you some ideas for what will look best on your big day! If not, don't worry – our team of experts are here to help you find the perfect color scheme for your wedding day.
FAQ
What are some popular color combinations for dusty rose weddings?
Popular color combinations for dusty rose weddings include navy blue, grey, ivory, gold, and sage green.
What kind of wedding style does dusty rose color scheme suit best?
Dusty rose color scheme suits a variety of wedding styles, such as rustic, bohemian, vintage, and garden.
What kind of wedding invitations match well with dusty rose color scheme?
Wedding invitations that match well with dusty rose color scheme include minimalist designs with simple calligraphy, floral designs with watercolor accents, and vintage designs with lace or botanical prints.
What kind of wedding cake looks good with dusty rose color scheme?
Wedding cakes that look good with dusty rose color scheme include simple buttercream cakes with floral accents, semi-naked cakes with fresh berries, and fondant cakes with metallic accents.
What kind of groom and groomsmen attire works well with dusty rose color scheme?
Groom and groomsmen attire that works well with dusty rose color scheme include navy or grey suits, white or ivory dress shirts, and brown or burgundy leather shoes. Dusty rose boutonnieres or ties can add a subtle pop of color.
Is dusty rose color scheme suitable for an outdoor wedding?
Dusty rose color scheme is suitable for an outdoor wedding, particularly if the wedding is set in a garden, park, or vineyard. The soft and romantic color palette complements the natural beauty of the surroundings.