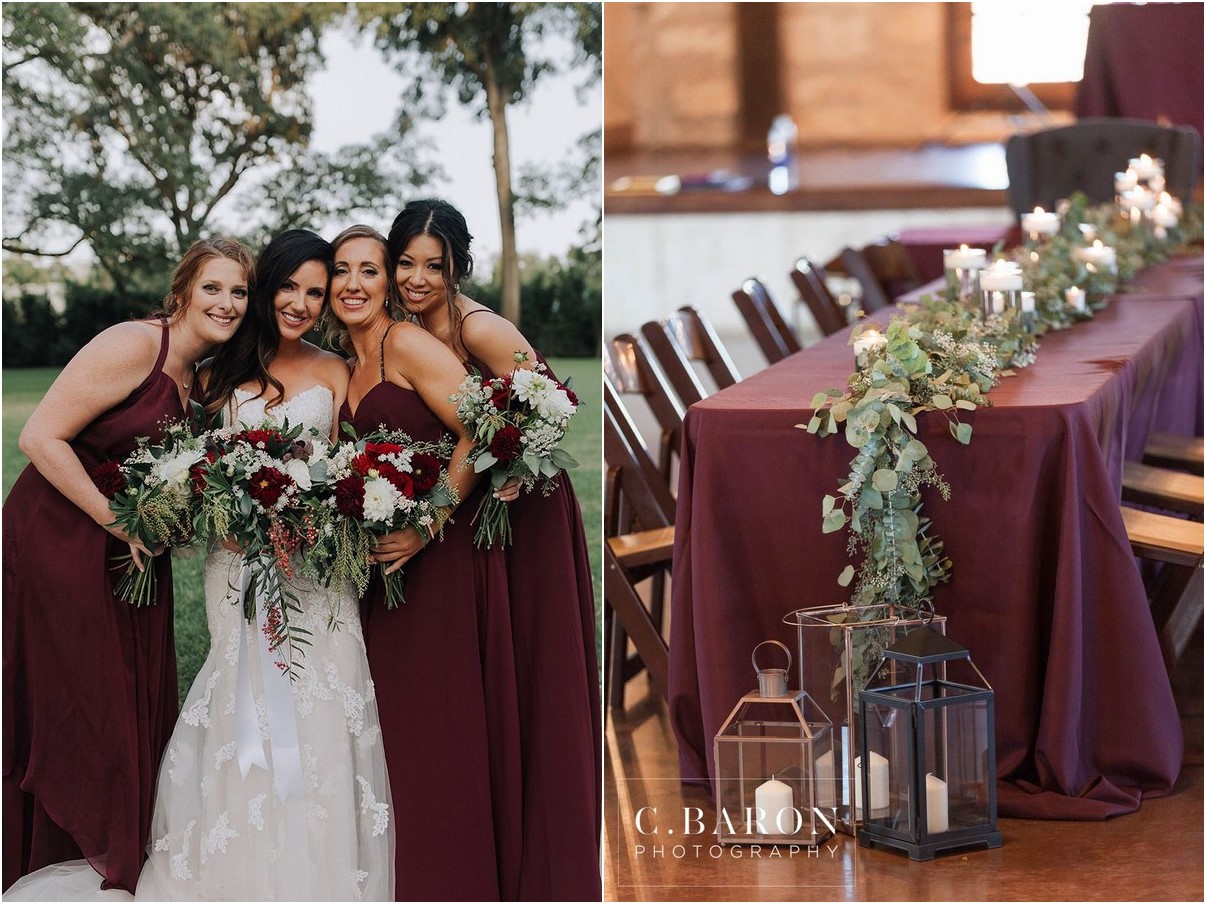 Top 20 Burgundy Wedding Color Ideas for 2023
Burgundy is a beautiful and classic choice for fall and winter weddings. Consider dressing your bridesmaids in burgundy for a striking contrast against your white dress. You can also add some burgundy accents to your own look with bold lipstick, nails, and shoes.
If you're feeling daring, you can even opt for a burgundy wedding dress. For your groom, consider coordinating with a burgundy boutonniere and tie. When it comes to decor, try incorporating burgundy through elegant floral arrangements and accents.
To balance out the dark and classical feel of burgundy, consider pairing it with light and refreshing colors such as grey, gold, green, or ivory.
Use the ideas below for inspiration as you plan your burgundy-themed wedding.
Burgundy + Green Wedding Color
Burgundy is a deep red color that stands out from the rest. It's perfect for fall weddings, but can also be used in spring. This color is great for winter weddings, as well as evening weddings.
Burgundy has been around for a long time, so you don't have to worry about making it trendy—unless you want to! Sometimes it goes by other names like wine or maroon and there are many variations within this family of colors including deep purples, bright oranges and even browns!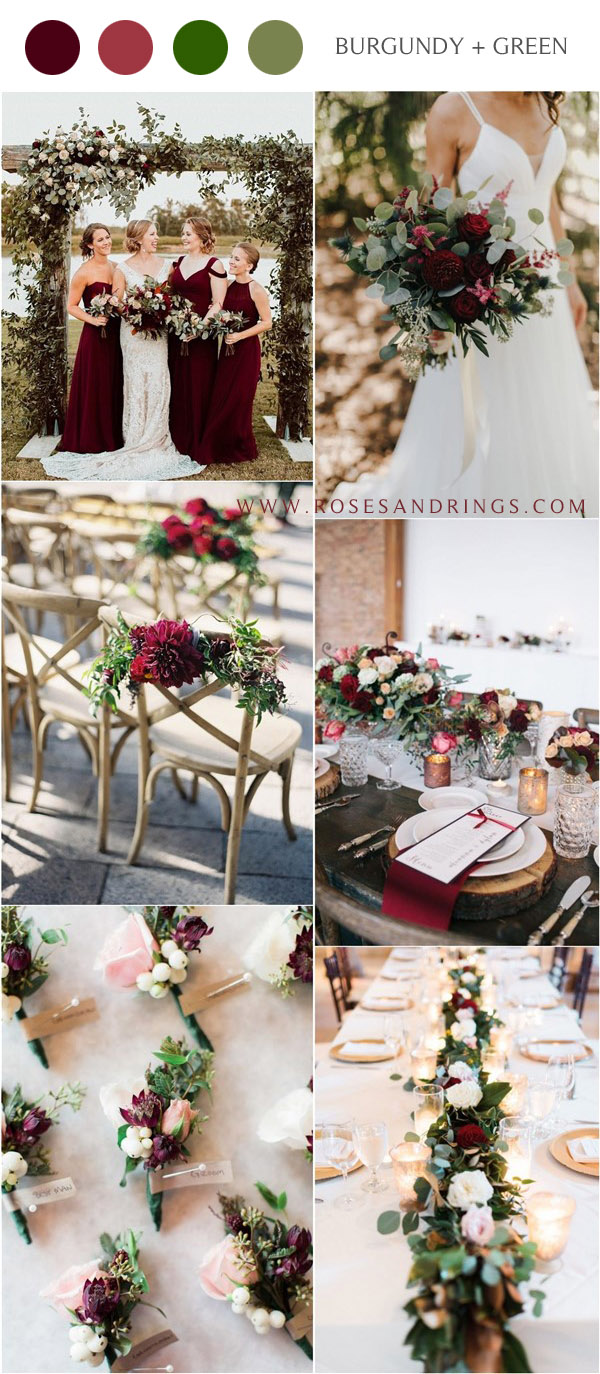 Burgundy Bridesmaid Dresses
Burgundy is a fantastic wedding color for bridesmaids. Burgundy dresses are versatile and can be worn for other occasions, which means your girls will feel comfortable wearing them again. They can also pair with other colors like black, navy blue and emerald green!
Burgundy dresses are flattering on all body types. If you have an hourglass shape or pear shape (hips wider than shoulders), you'll want to choose a dress that is fitted around the waist and flares out at the hips – this creates balance between your body's two main points. If you have an apple-shaped figure (smaller waist with bigger hips and thighs), opt for something that's fitted on top but skims over your bottom half without clinging too much.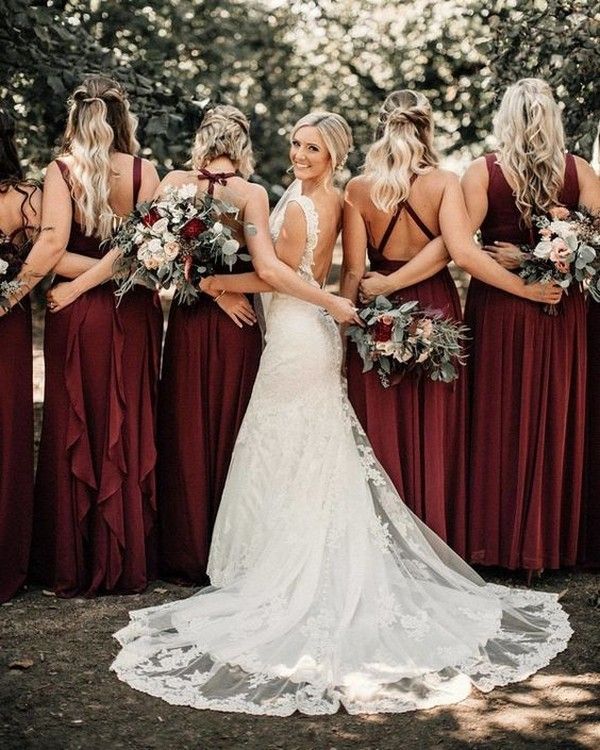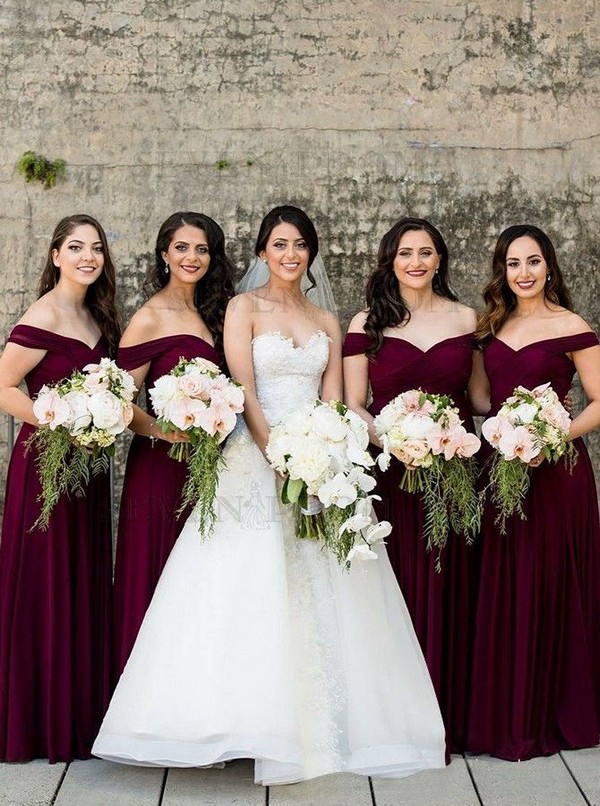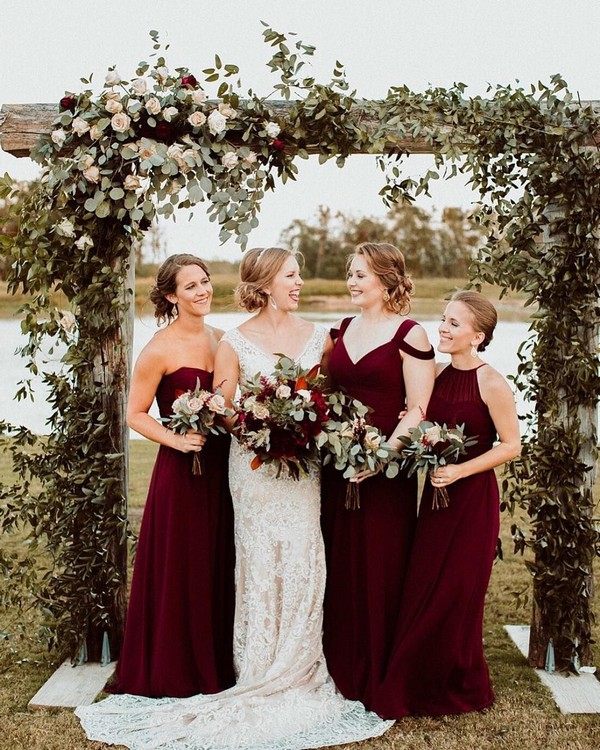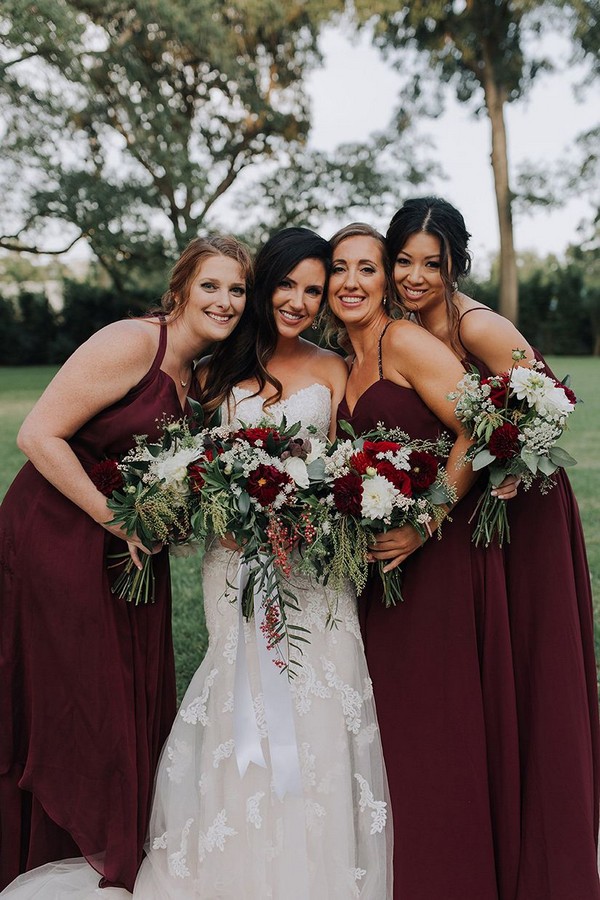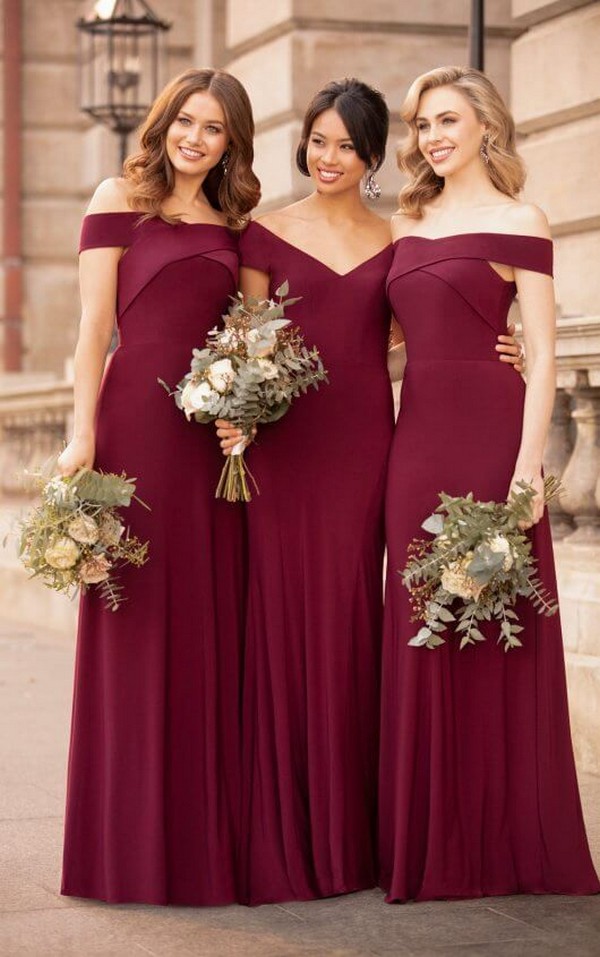 Burgundy Wedding Backdrops
Burgundy is a great color to use as a backdrop for your wedding. It can be used in all three parts of the day: ceremony, cocktail hour, and reception.
Burgundy backdrops are a great way to add some drama to your reception. For example, if you want to create an intimate setting for dinner or dessert then consider using burgundy drapes or fabric on the walls behind the tables as well as bringing in some burgundy colored chairs with gold details instead of having white chairs everywhere. You could also use burgundy table runners with black and white striped napkins folded into triangles with gold napkins rings on each place setting. You can find
so many ways that you can use this color palette depending on which direction you choose to go!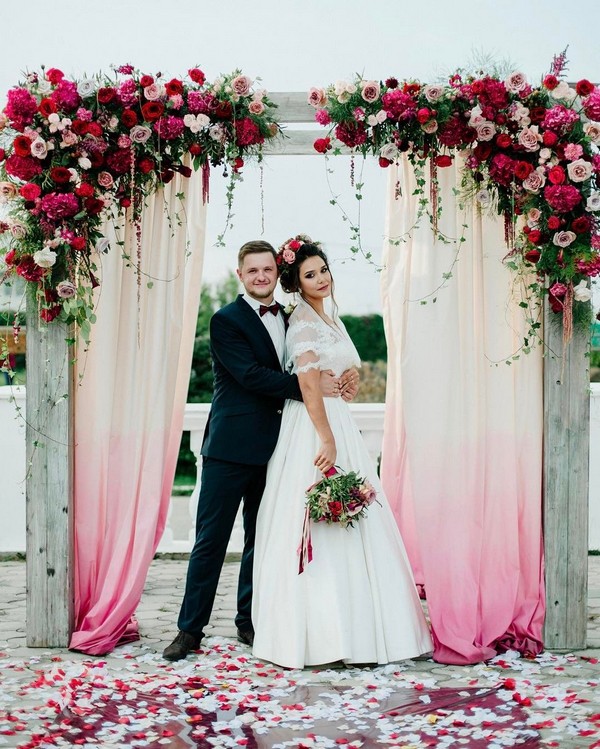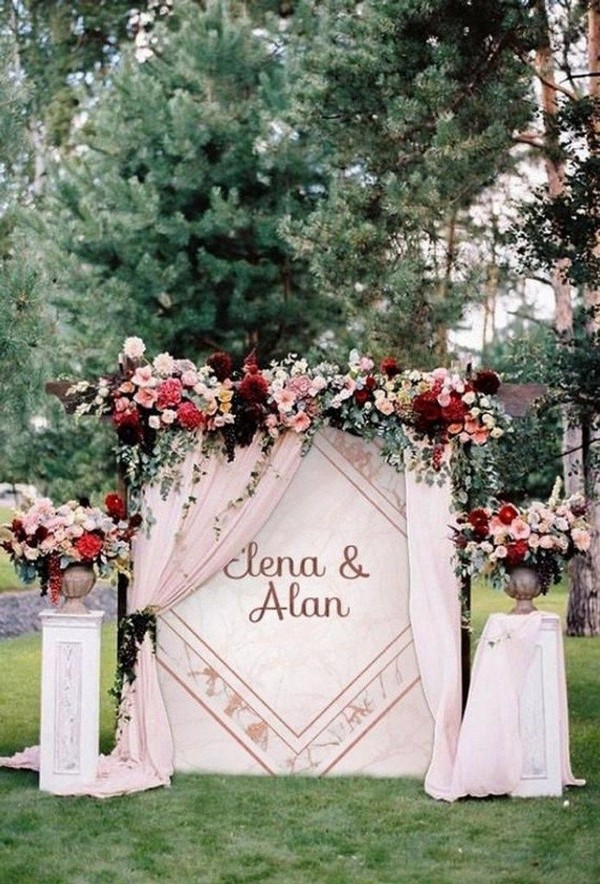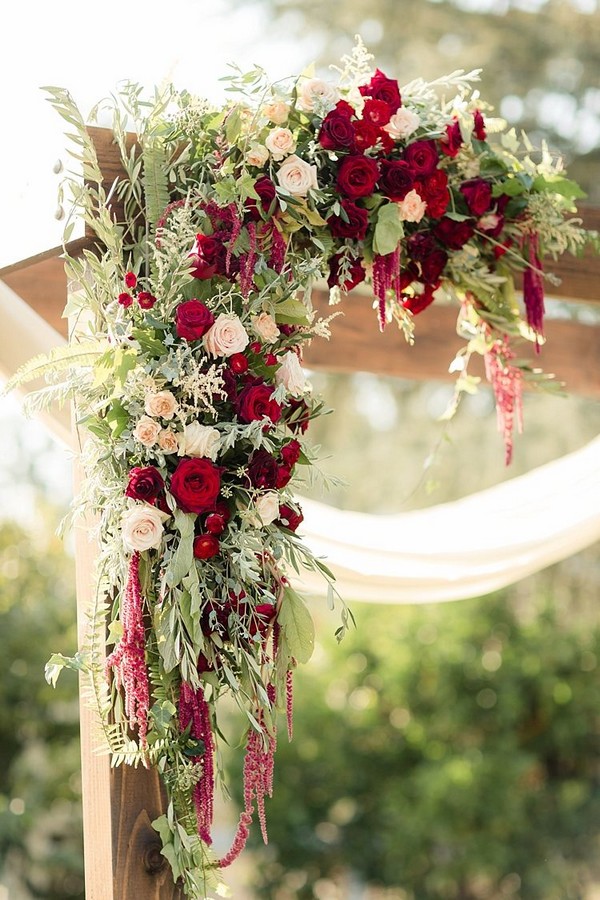 Burgundy Wedding Bouquets
Burgundy flowers are perfect for any season and can be used in bouquets, centerpieces and other wedding decor. They're a great choice for fall weddings or winter weddings, but they can also work well for spring or summer events. The deep shades of red that burgundy brings out will help create the romantic look you want on your big day!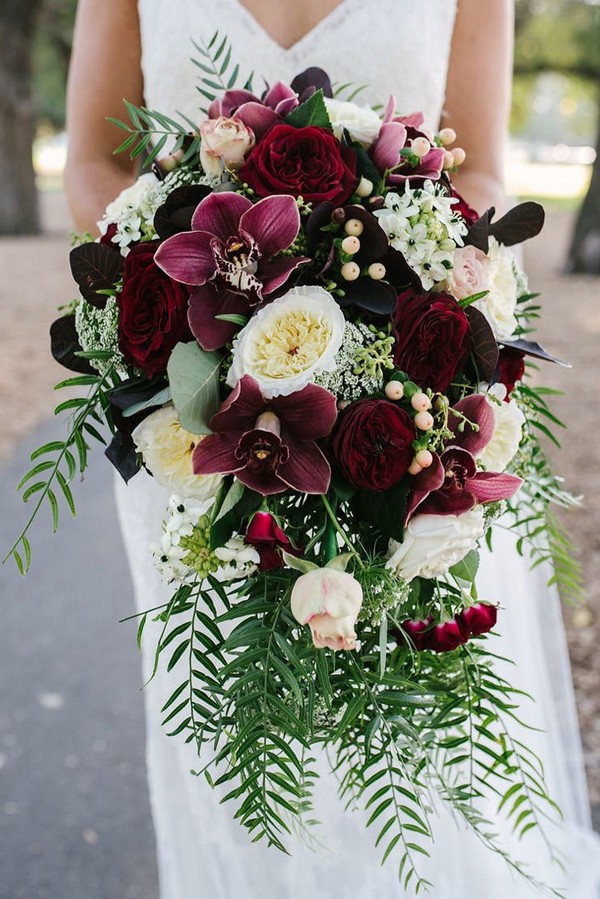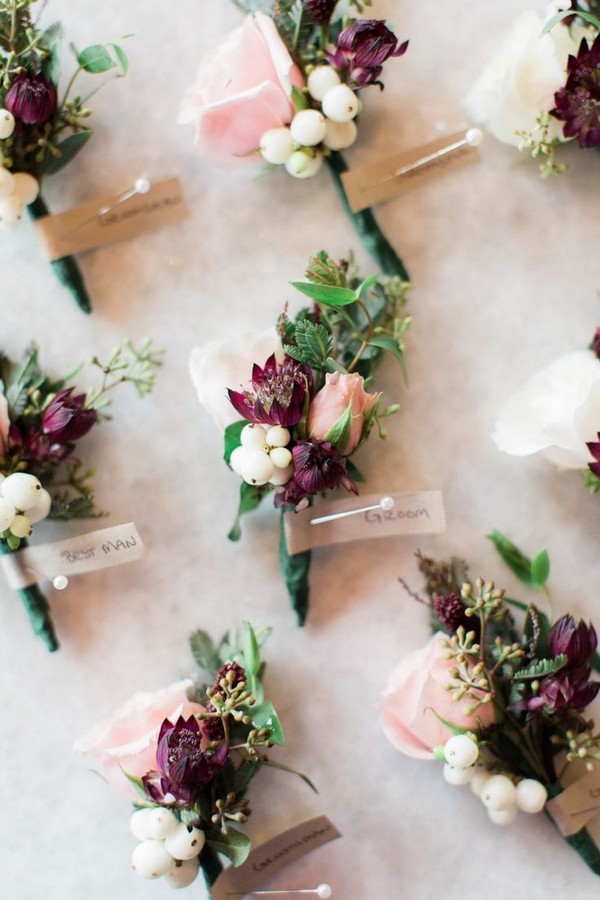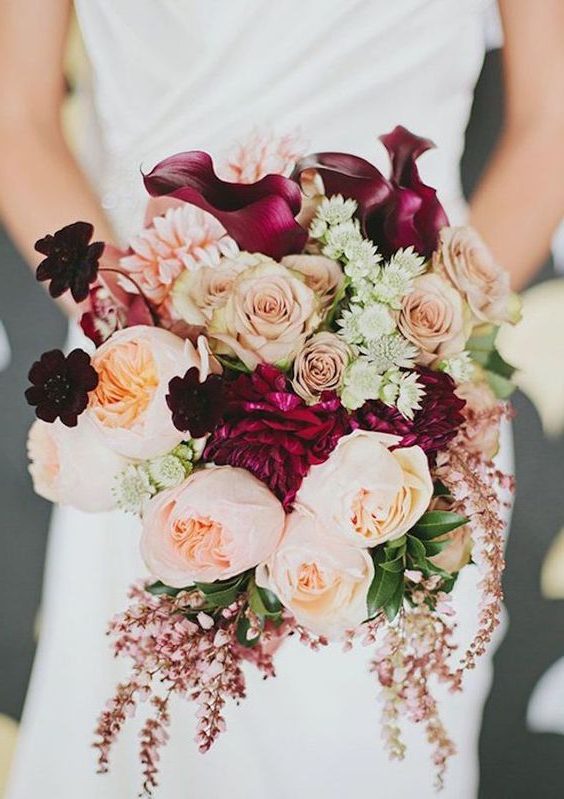 Burgundy Wedding Table Ideas
The first thing to consider when deciding on your table color scheme is the amount of burgundy you want to incorporate. Do you want a little or a lot? The answer depends on what type of look you're going for. If your wedding is at an outdoor venue, then it may be best to choose something more subdued so that it doesn't compete with the natural beauty of the surroundings—but if you're looking for a bold statement piece at which everyone will be staring, then go all out with deep wine tones!
Then there are other ways to bring in this deep red hue into each table setting:
Burgundy tablecloths and napkins add some drama and classiness without being too overwhelming (which is good since burgundy tends towards being somewhat heavy).
Flower centerpieces with burgundy flowers in them will complement any kind of wedding cake design; these can be placed anywhere from atop tables down to around each chair depending on how much space you have available.
A runner down the middle of each table adds another element while still keeping things simple enough not make guests feel overwhelmed by too many colors competing against one another at once…