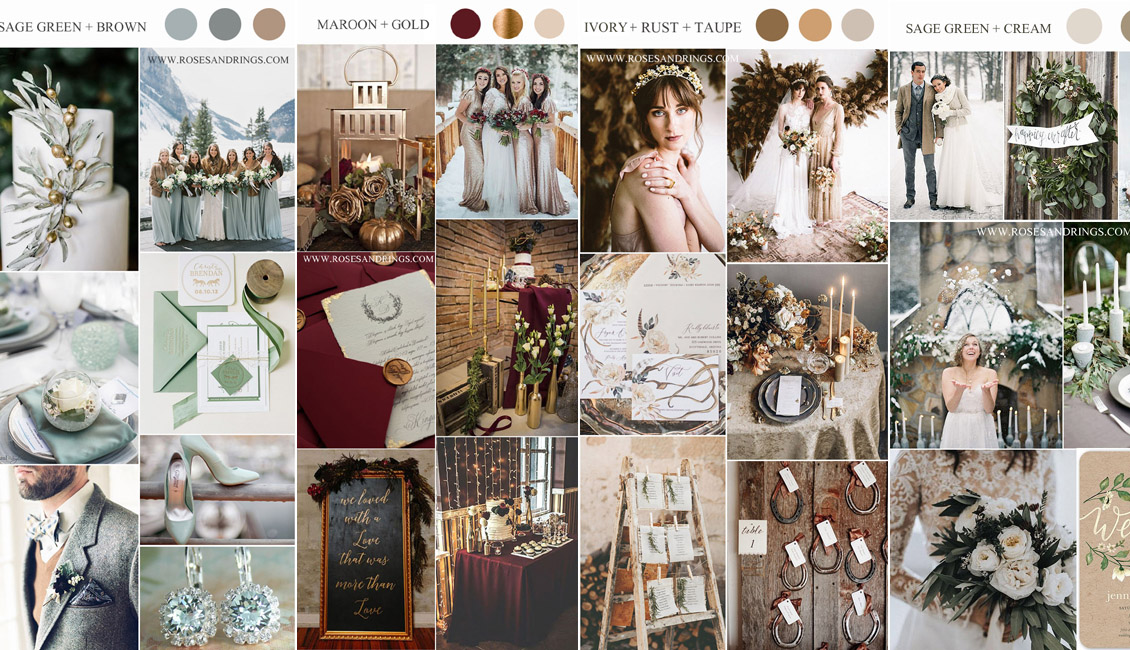 Top 10 Winter Wedding Color Palettes for 2023
The winter months are the least popular time of year to get married, but in reality, winter weddings are seriously underrated. Think about it: the entire season is filled with a sense of enchantment and magic (especially when it snows), and it's also filled with holidays, which can bring an added sense of 'togetherness' to your big day. If you're getting married during this season, choosing the right winter wedding colors is an important part of your planning process.
We've hand-picked some of our favorite winter wedding color palettes to get you started.
Brown + Nude + Cream
Best winter wedding color combinations include brown, an earthy color, with nude and cream designed to highlight the senses. The brown tones come from the natural shades and textures of the earth and the winter elements, such as snow and the dark of the outdoors are mixed with the nude, which is soft in appearance but still noticeable. These four tones are a great way to dress up a winter wedding with a romantic touch.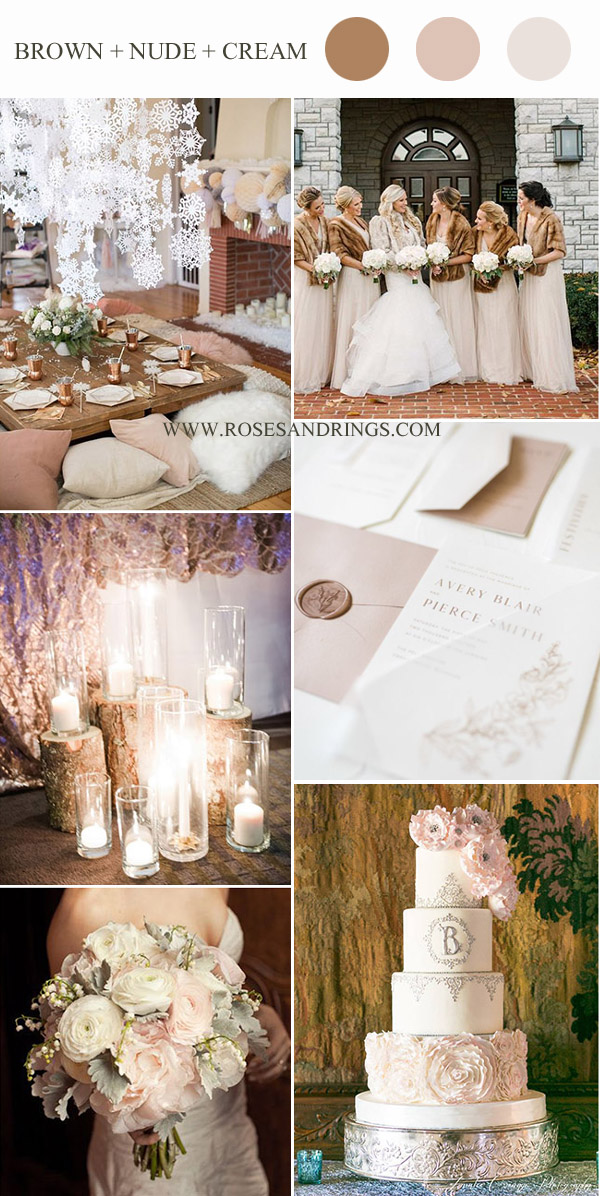 Sage Green + Cream
This color palette pairs green with white and cream, which creates a soft and elegant look. This is great if you are getting married in the fall or winter.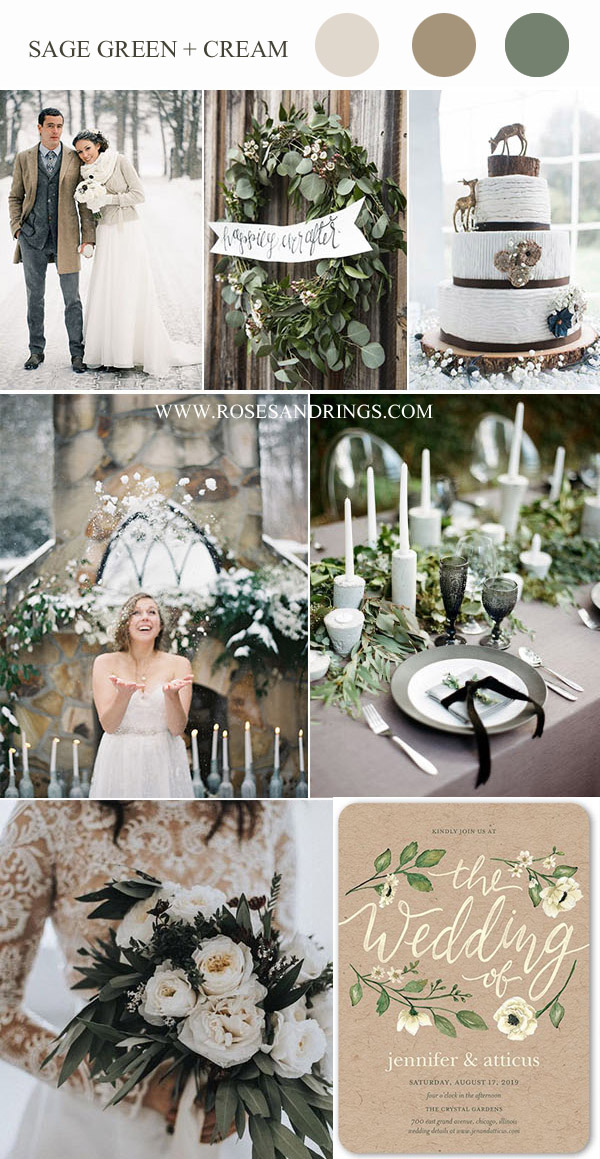 Mauve + Grey
These wedding colors can incorporate both dark and light hues, making them versatile for use in winter weddings. Additionally, they can also be paired with white, making them great for a colorful and romantic winter design.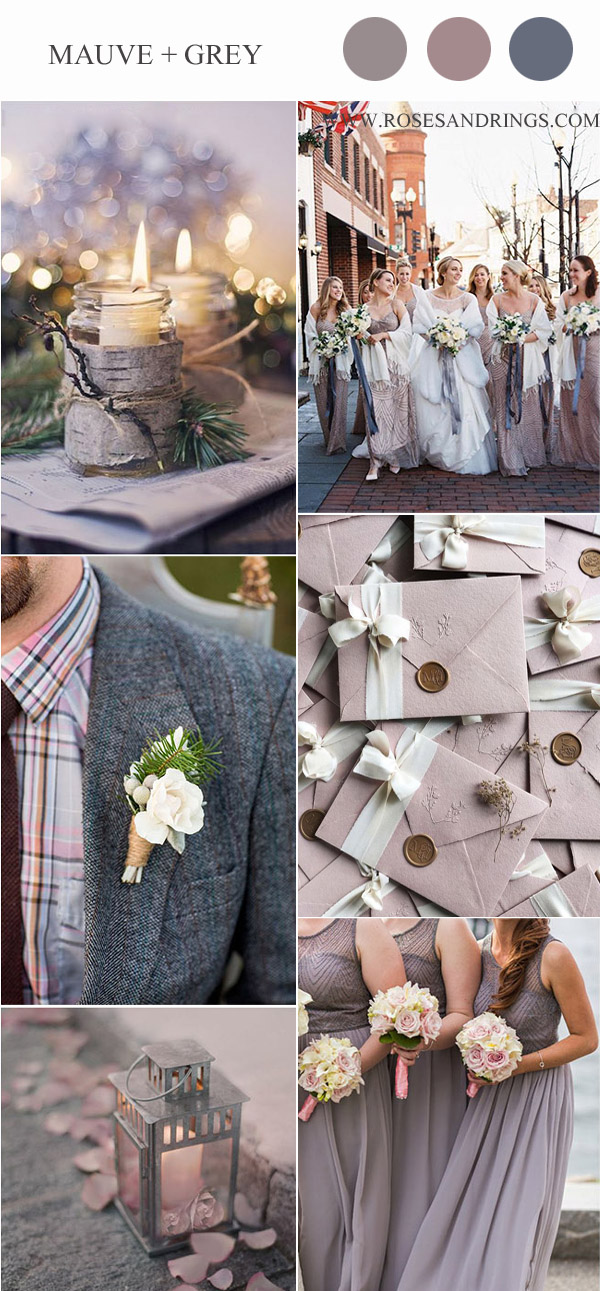 Sage Green + Brown
For weddings that you want to be grassy, earthy, and natural, the sage green color would be an exquisite accompaniment. It would look great with browns, reminiscent of pine trees in deep forests and natural landscapes.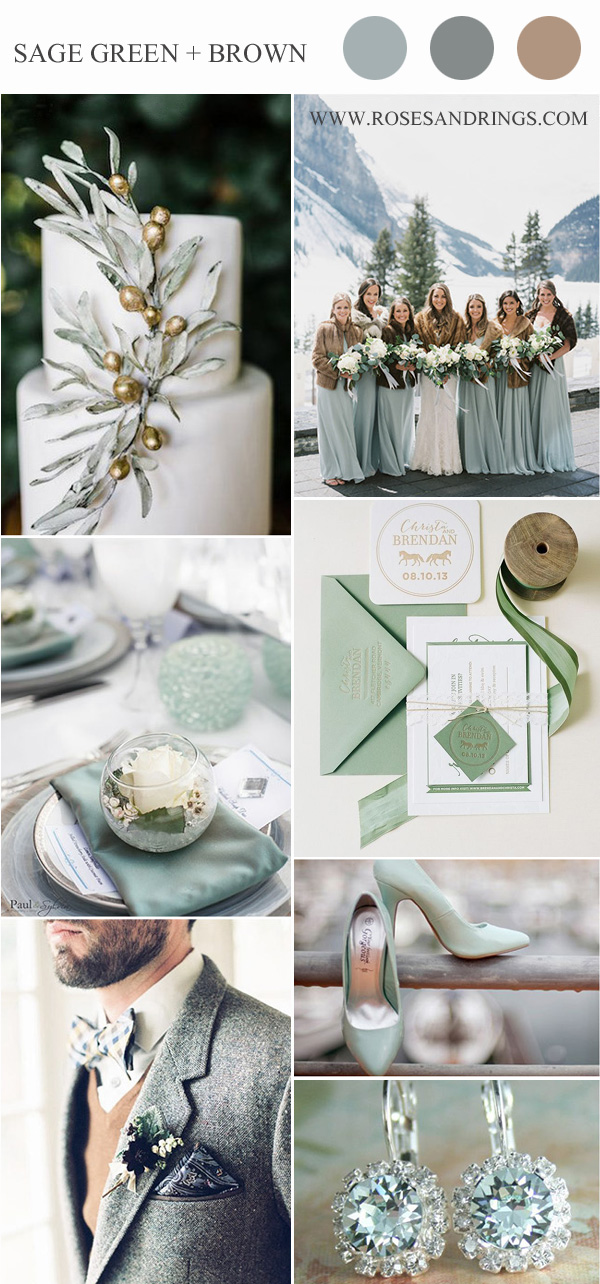 Wine + Green + Black
This is a classic color scheme for a Winter wedding. It is crisp and cool, yet creamy and elegant. The green is complimented by the wine color and the black is a contrast but keeps the colors fresh. It is a perfect choice if you are hosting a winter wedding.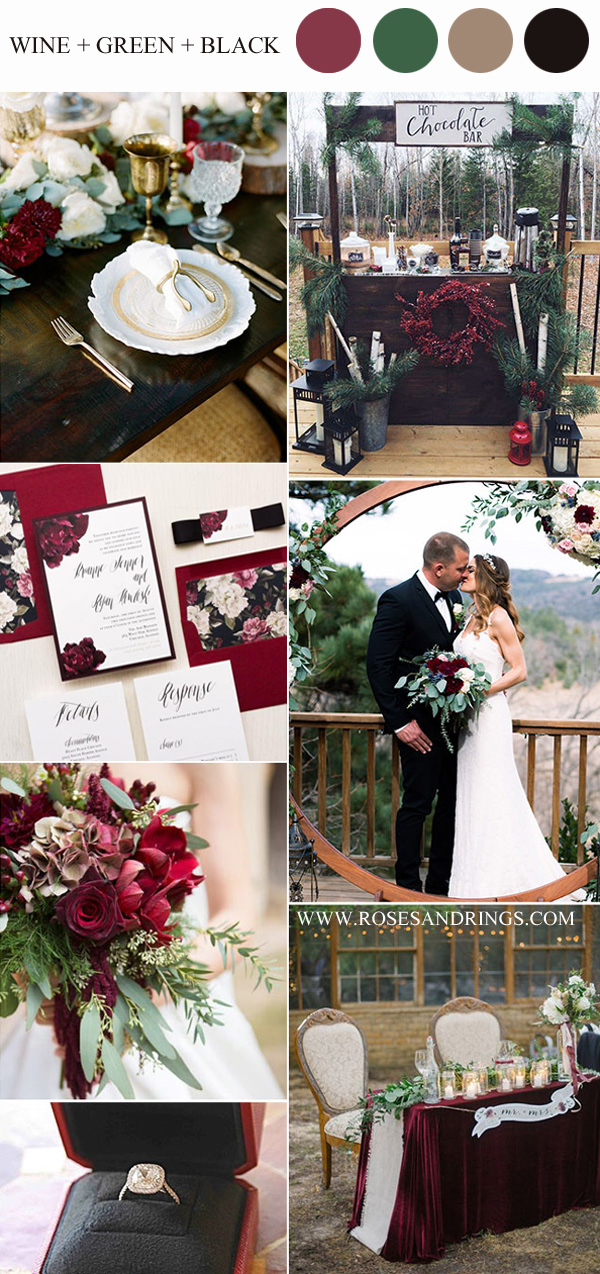 Dusty Rose + Berry
A dusty rose wedding might be enough to get those winter blues out of you. This color combination can be romantic, yet still toned down enough to still feel cozy. Pair this color with berry accents to emphasize the pink tones in the wedding.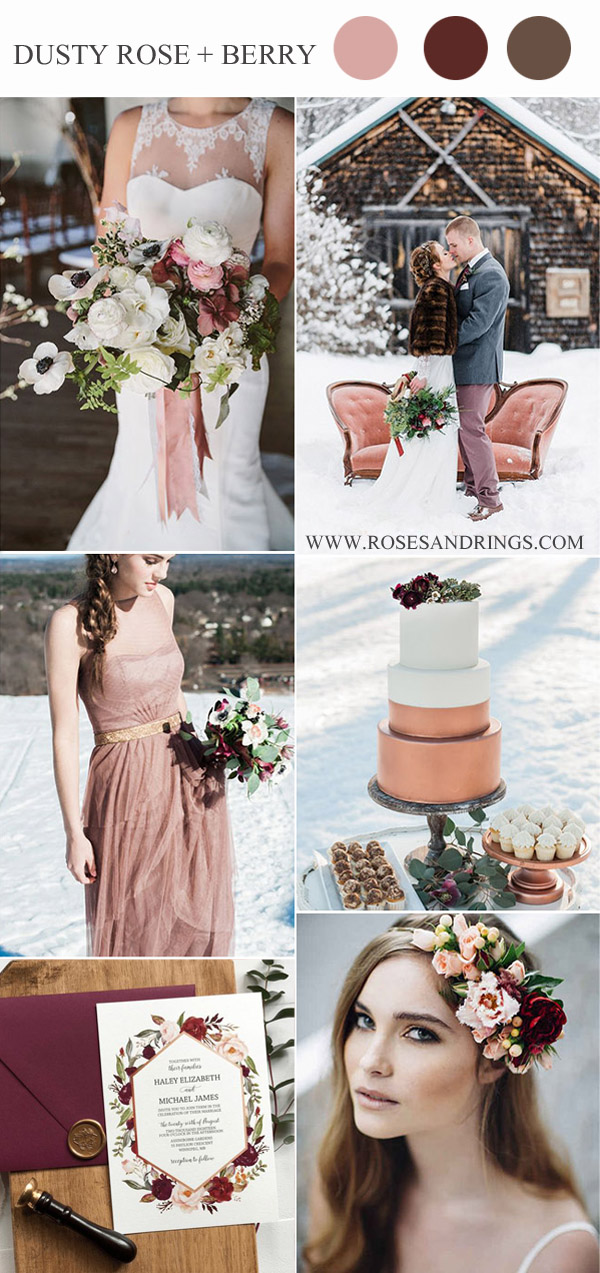 Airy Blue + Silver
Airy blue is a striking hue that looks sensible and refined. Pair it with silver accents to highlight the edgy chic appeal. Winter weddings in white and silver make for a fresh and fresh-faced style. Flowers and jewels in silver or white make for a perfect winter wedding palette.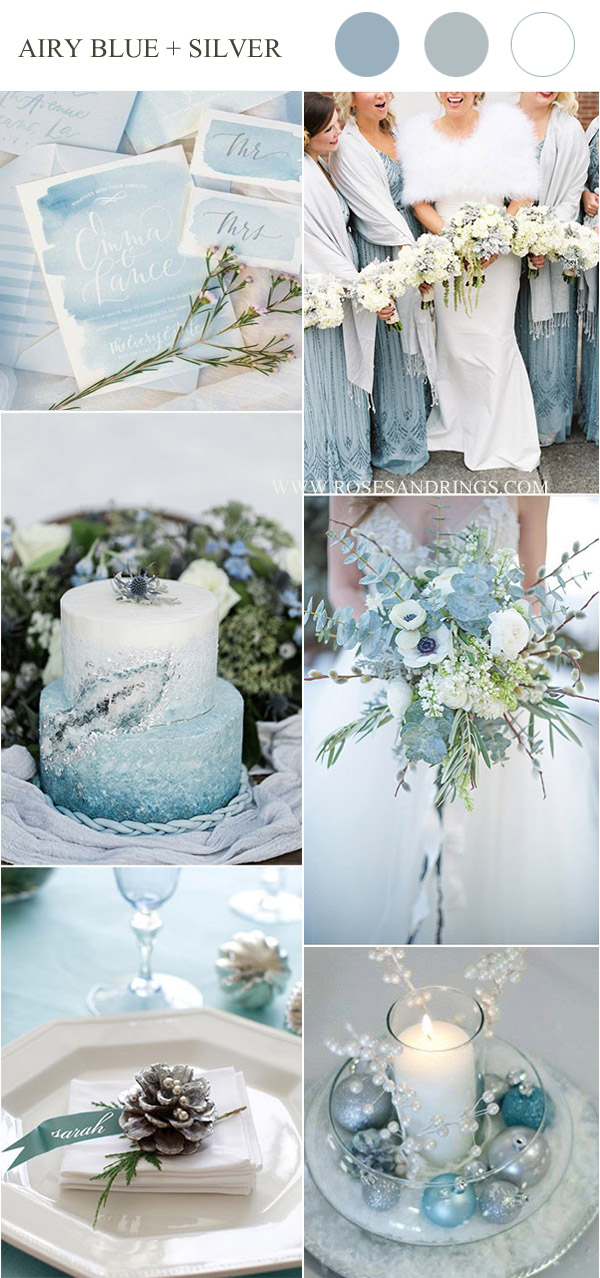 Neutral Grey
This grey palette lets you avoid both clashing and boring neutrals whereas the sheer variety of shades in the palette makes a gray palette a happy natural fit for any occasion.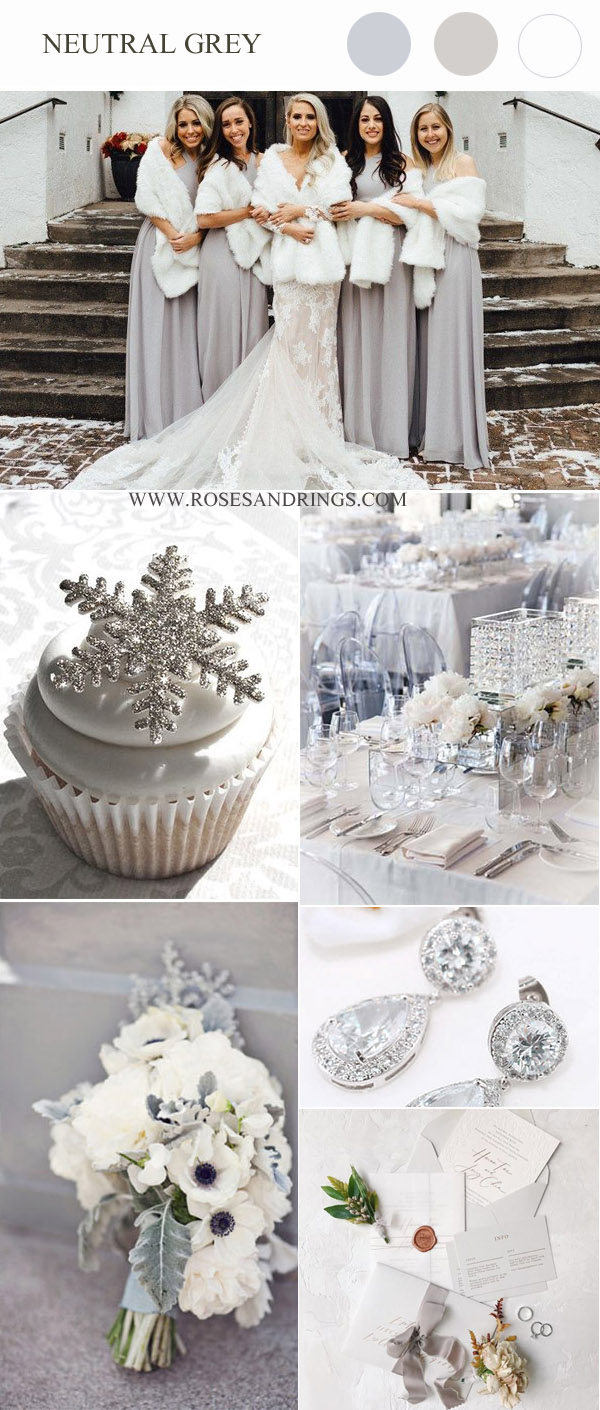 Ivory + Rust + Taupe
The ivory, rust and taupe wedding color palette is a standout with a strong sense of elegance. This palette looks beautiful with any lighting and is perfect for an occasion with a winter backdrop.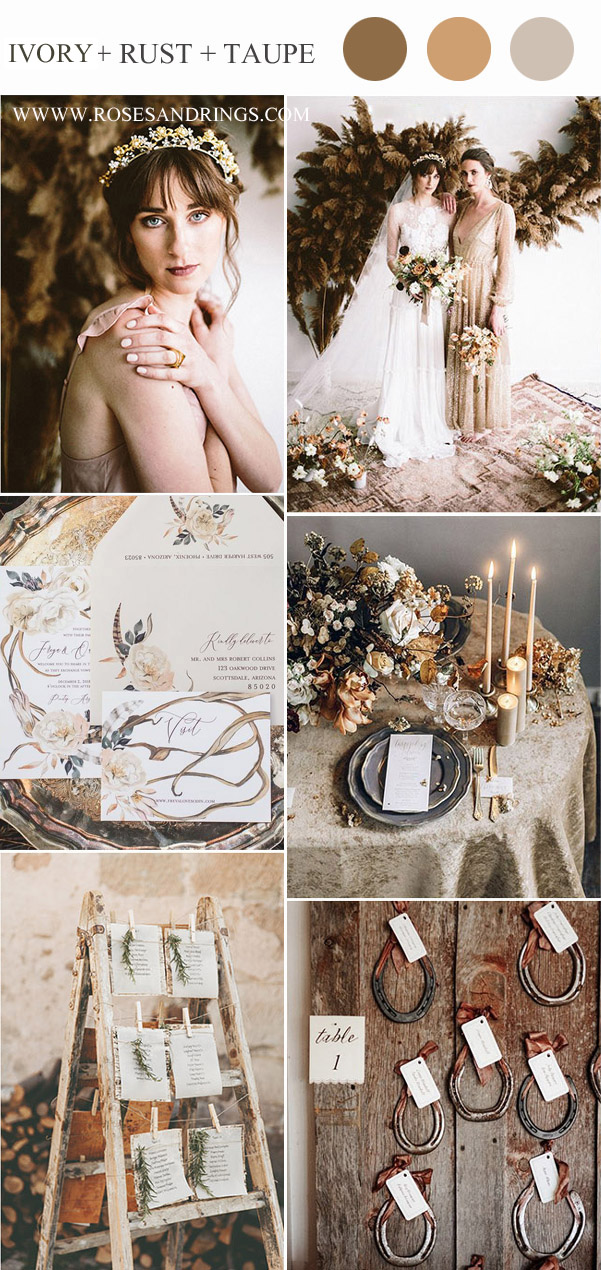 Maroon + Gold
Maroon and gold are colors that go well together and give off a regal vibe. These colors would work well for a winter wedding since they are warm colors and have a touch of glamour.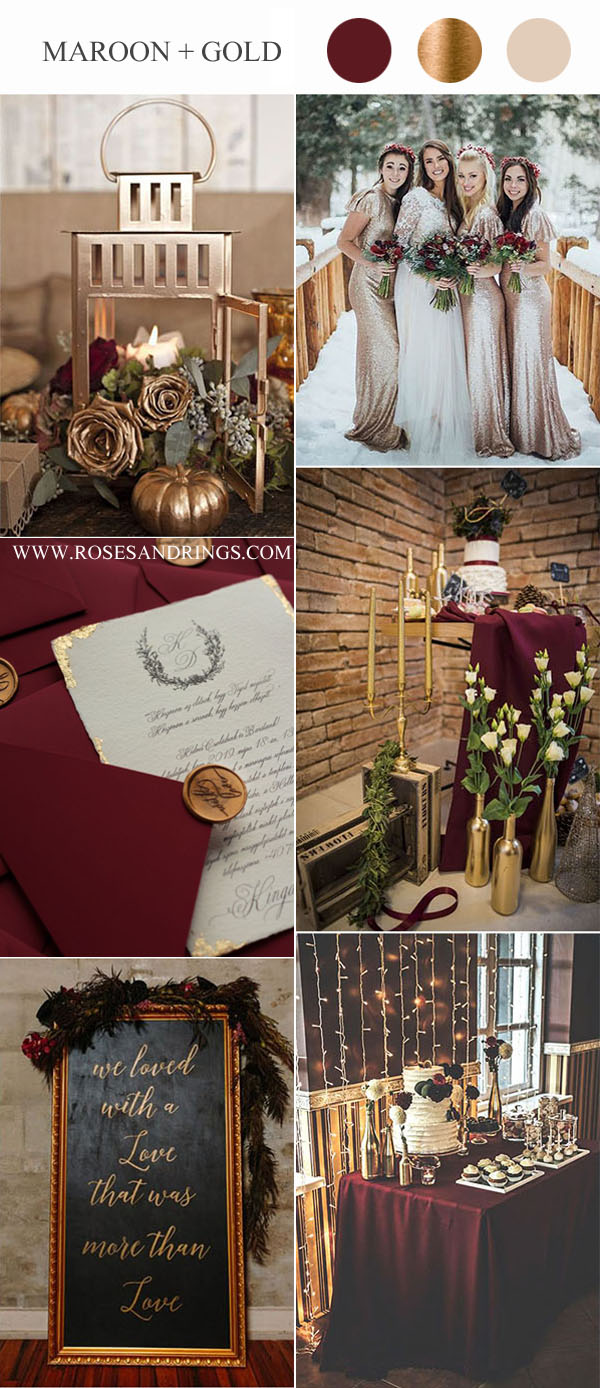 The best way to find your perfect winter wedding color palette is by experimenting with different hues and shades. You don't have to be limited by the colors that are currently trending or what other couples are using; instead, let your creativity take over and create something truly unique! If you're still unsure of what colors will work best for your nuptials, we can help by providing our top 10 Winter Wedding Color Palettes list above.
FAQ
What are some popular color schemes for winter weddings?
Popular color schemes for winter weddings include deep jewel tones like burgundy, navy, emerald green, and plum, as well as icy shades like silver, white, and light blue. Metallic accents like gold and copper can also add a touch of glam to a winter wedding color palette.
Can I incorporate non-traditional colors into my winter wedding?
Absolutely! While traditional winter wedding colors tend to be dark and moody or light and icy, you can incorporate any colors you like into your wedding day. For example, rich jewel tones like magenta or deep purple can add a unique and unexpected touch to a winter wedding color palette.
What kind of fabrics are best for winter weddings?
Winter weddings call for heavier fabrics that will keep you warm, such as velvet, wool, or faux fur. You can also opt for a dress with long sleeves or add a shawl or cape to your bridal look for extra warmth.
Are winter weddings more affordable than weddings in other seasons?
Winter weddings can be more affordable in some cases, as venues and vendors may offer lower rates during their off-season. However, keep in mind that the holiday season can be a busy time for many vendors, which could drive up prices.
How can I incorporate winter elements into my wedding decor?
Winter elements like evergreen boughs, pinecones, and seasonal blooms like amaryllis and paperwhites can add a cozy, seasonal touch to your wedding decor. You can also incorporate winter motifs like snowflakes, stars, or twinkling lights into your decor.
Should I plan for inclement weather at a winter wedding?
It's always a good idea to have a backup plan in case of inclement weather, especially if your wedding ceremony or reception will be held outdoors. Be sure to communicate your plan with your vendors and wedding party in advance to ensure a seamless transition if you need to move indoors.
What kind of food and drink are best for a winter wedding?
Winter weddings call for hearty, warming comfort foods like soups, stews, and roasts. You can also offer hot drinks like cider, hot chocolate, or mulled wine to keep your guests warm and cozy. Don't forget to include some sweet treats like cookies or s'mores for a fun winter dessert option!