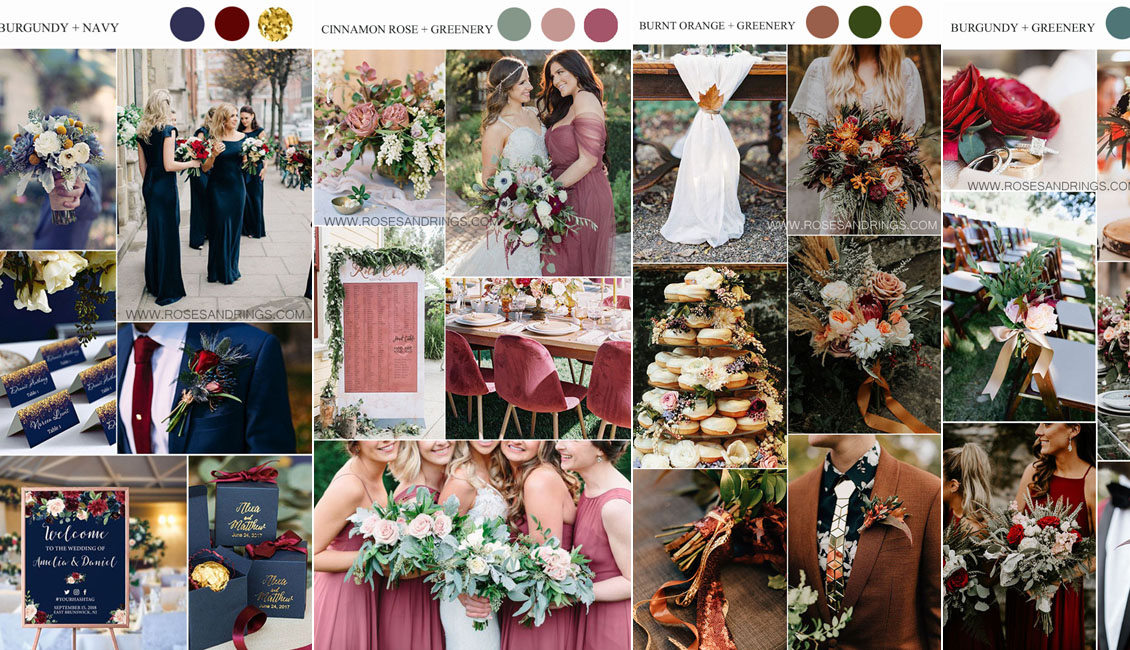 Top 8 Fall Wedding Color Palettes 2023 You'll Love
Enjoy our latest fall wedding color palette, inspired by the undertones of the harvest season, featuring Navy Blue, Cinnamon Rose, Bronze, Burgundy and Purple! Capturing a very distinct and captivating autumn style, this look is perfect for late summer and fall weddings. It maintains an eloquent balance of warm and cool hues with elegant and rustic characteristics. The strong contrast between colors provides a bold yet soothing quality. Classic and sophisticated Navy Blue makes an excellent foundation color.
Here are some color palettes from real wedding. Read it, you will find the best color for your fall wedding.
Burgundy and Greenery Wedding Color Ideas
Burgundy and green are two very sweet color sets that evoke memories of holiday memories. This refined and elegant color palette is perfect for fall and winter weddings.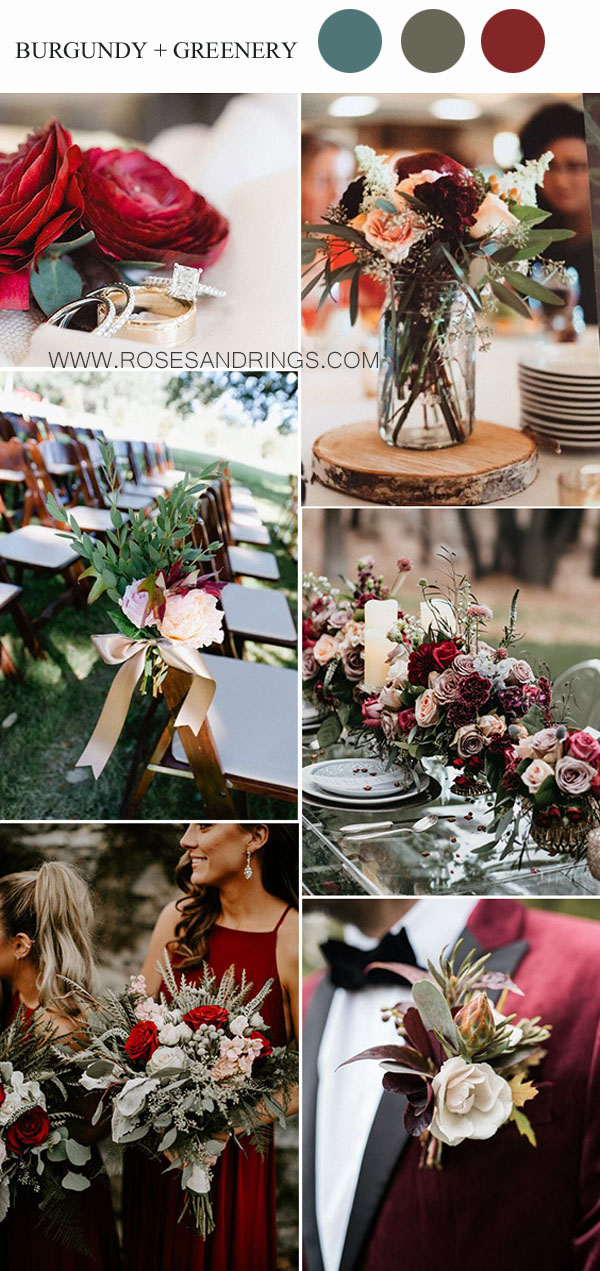 Burnt Orange and Greenery Wedding Color Ideas
Burnt Orange is a zesty orange hue. Perfect for a fall wedding, this hue is paired with accents of dark green and touches of gold. Look at the graphic below for other ideas and inspiration. Bottom line: Burnt orange is a playful color that creates a warm inviting atmosphere. Plus, it's easy to gather fall foliage for the perfect autumnal wedding setting.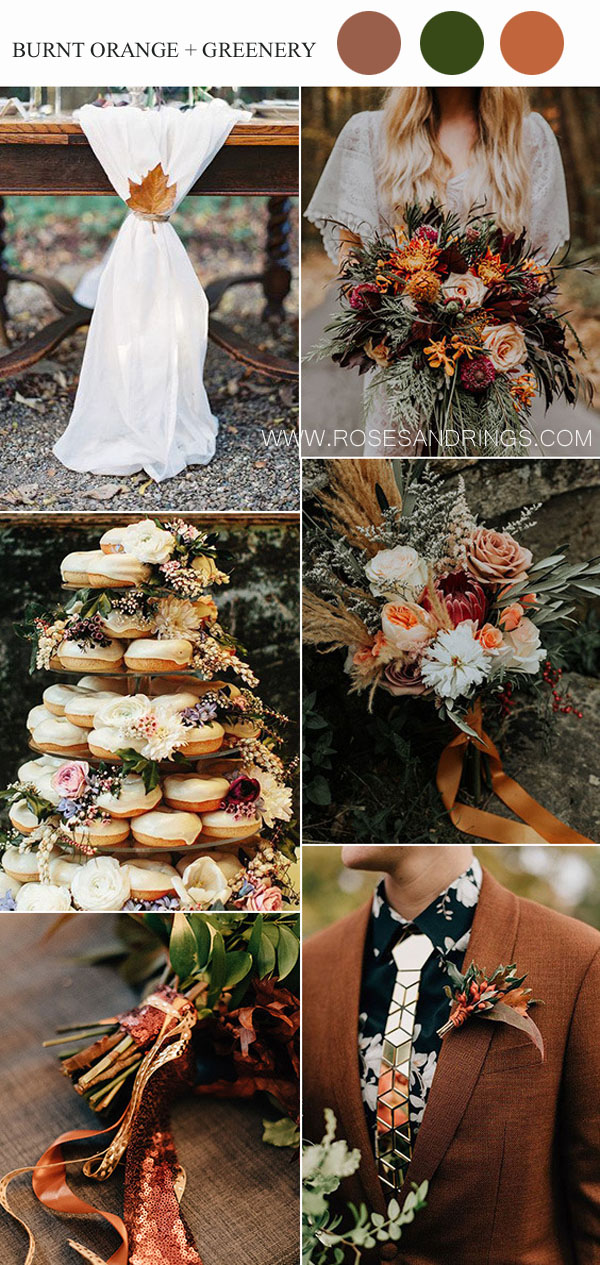 Cinnamon Rose and Greenery Wedding Color Ideas
This is the perfect time of year to incorporate warm, cinnamony colors into your color palette for an autumn wedding that both inspires and makes you feel cozy at the same time. The combination of dusty rose red and green is an especially beautiful accent for fall weddings and would look gorgeous in a mixture of warm wood tones and creams.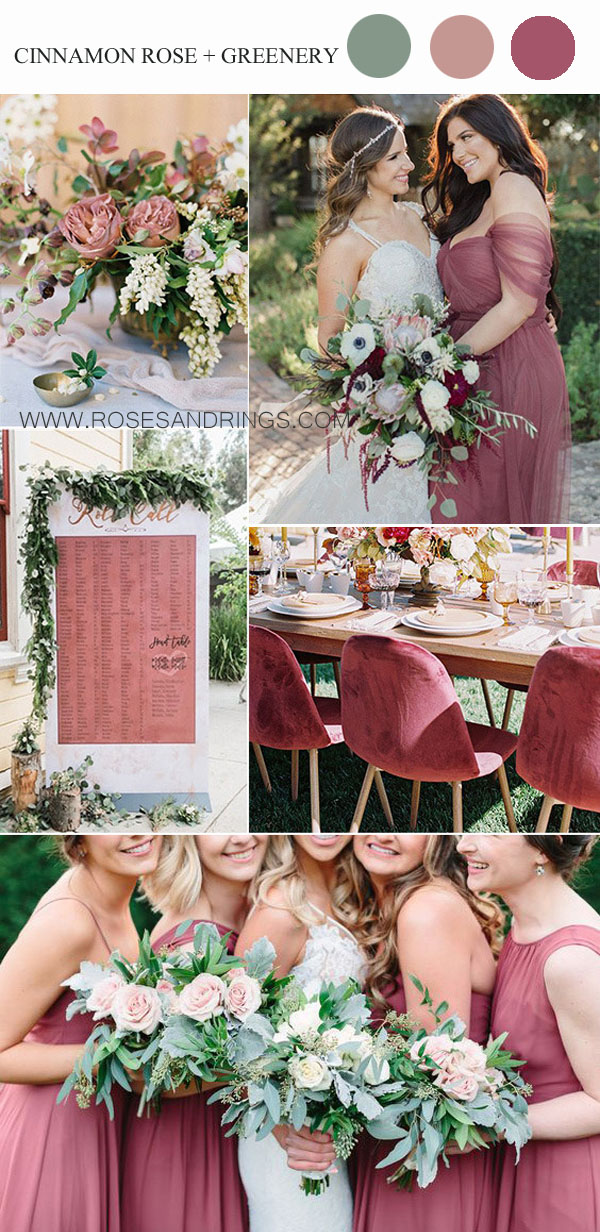 If your style is formal and traditional, then a dark navy, gold and burgundy color palette is perfect for you. This coloration creates a mood that is regal and safe for a wedding ceremony and reception. The classy shades will also make the most of your special day decor with or without delicate lace or frills.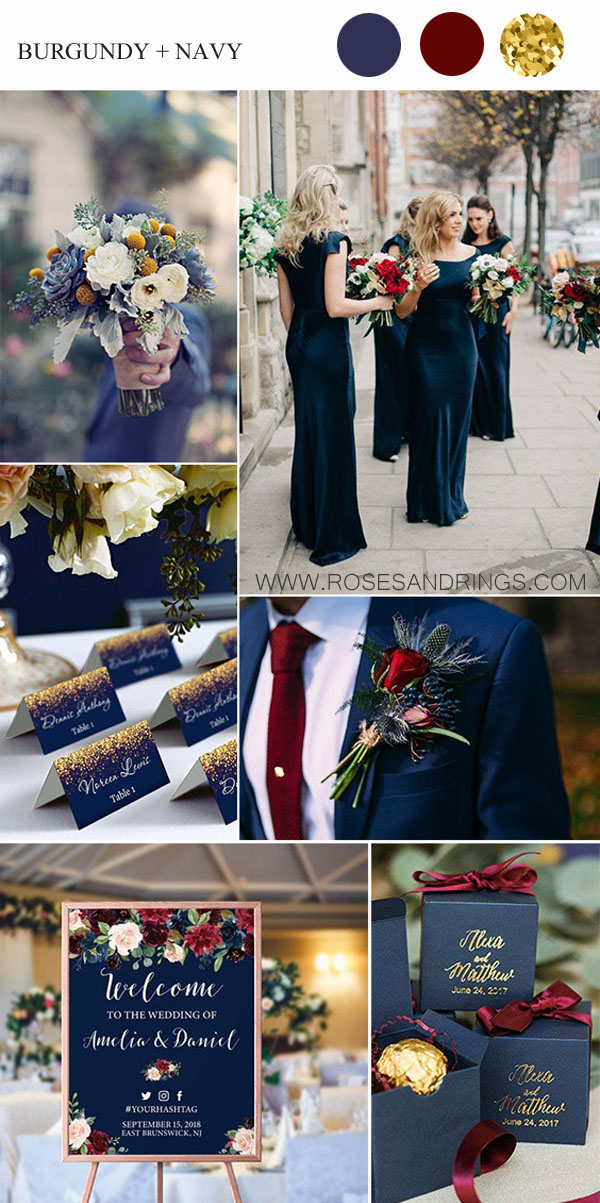 Dusty Blue and Burgundy Wedding Color Ideas
Conveying the feeling of being relaxed and happy, these colors are sure to evoke these feelings. The dusty blue and burgundy colors blend well together and the color combinations create a warm and inviting aesthetic. Now that the autumn colors are starting to make themselves known, it's time to consider which colors will be a hit for your fall wedding. With so many colors to choose from, it's only a matter of time before you find the colors for your wedding!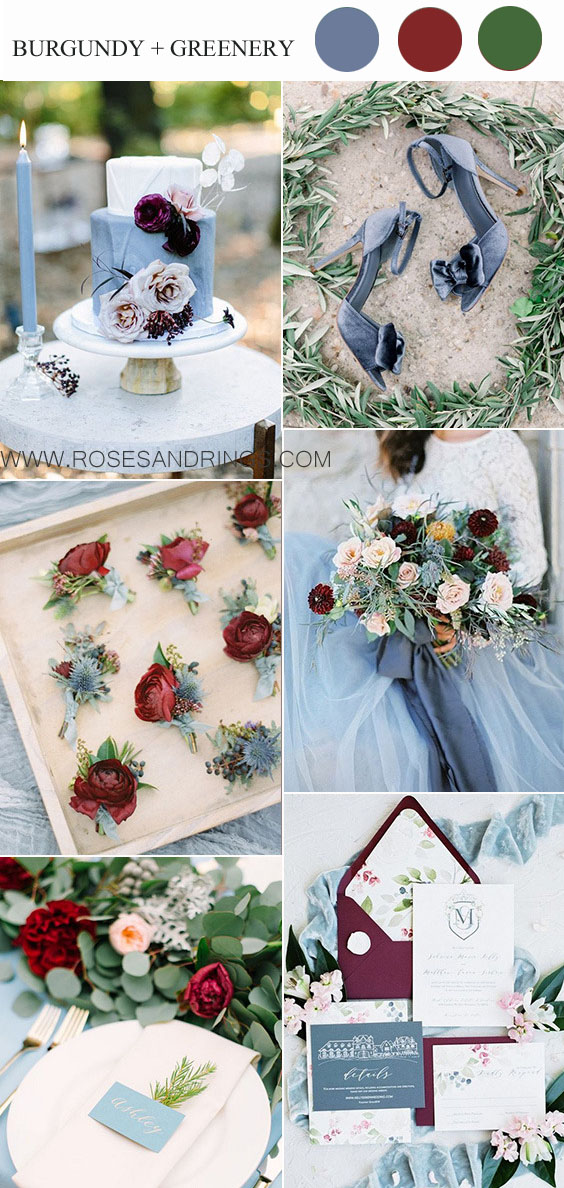 If you're looking for a modern, yet classic fall wedding, look no further than these dusty rose and navy blue color combinations. These hues are the perfect mix of nature and fall leaves, the crispness of chilly autumn mornings and the warmth of comforting evenings.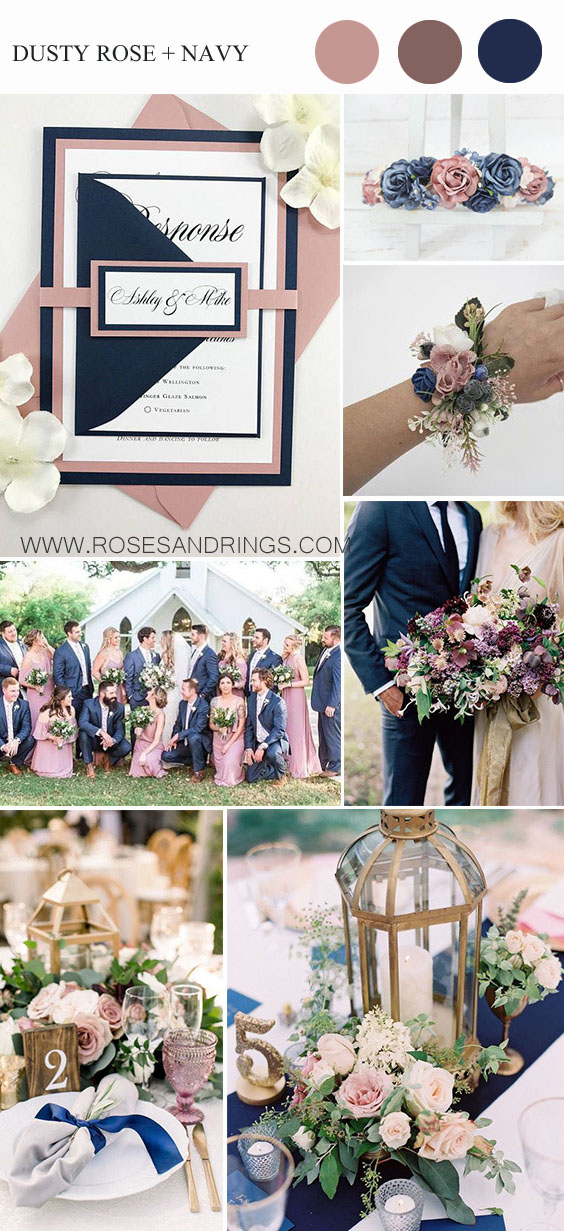 If you're hoping to have a wedding with a fall feel, look no further. This color combon features a mix of autumn colors like navy, greens, white, and emerald to give your event that true fall ambiance. Pair your fall colors with natural tones like greenery, flowers, and white to either accent or dominate the fall colors to your liking. It's easy to create a fall wedding when you create a fall wedding palette!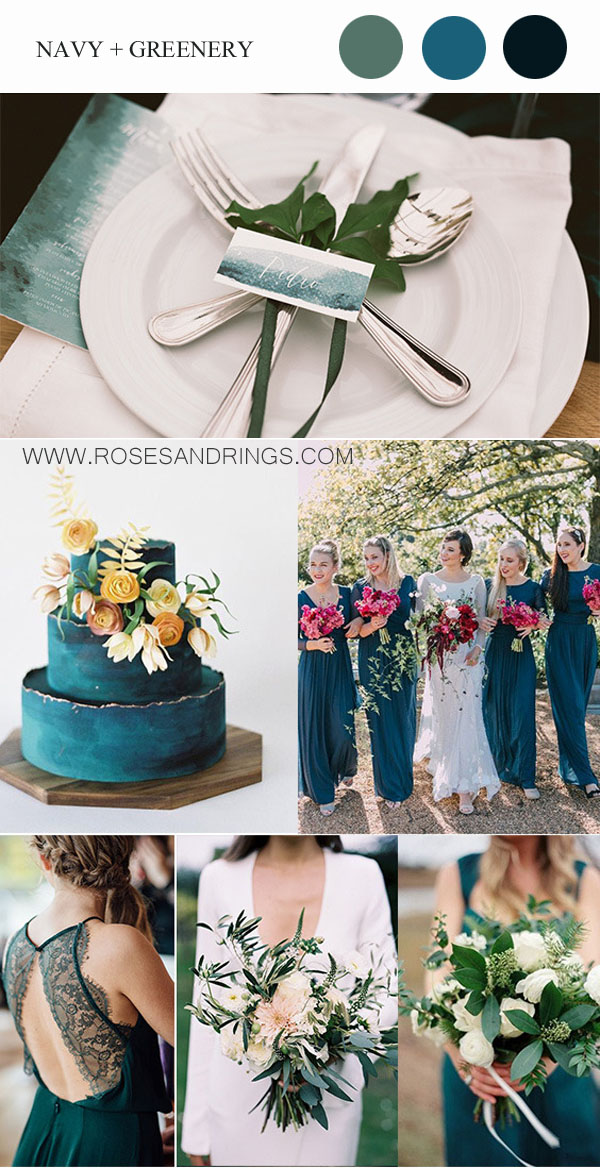 Purple, Brown and Greenery Wedding Color Ideas
Your fall wedding is incomplete without beautiful autumn-inspired colors. These fall color palettes are ideal for a garden-inspired ceremony, rustic fall theme, or for an outdoor fall wedding. Whether you are planning a sophisticated or an edgy fall wedding, you are sure to find a color palette that complements your fall wedding design. For your autumn wedding, let's make sure to lavender with a brown to balance with the soft green and deep purple of the season.