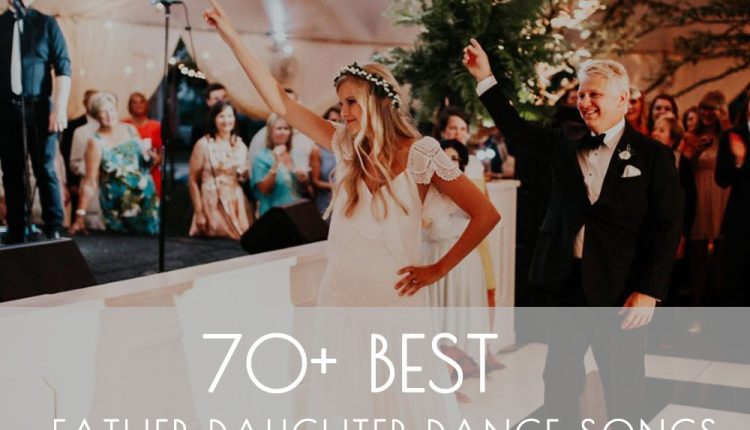 70+ Best Father Daughter Dance Songs for Weddings in 2022 [List]
Father-daughter dance songs come in a really wide range of styles.
We asked over 250 brides and wedding DJs what they thought were the best father-daughter dance songs for 2022.
Check out the top father-daughter dance songs that are bound to make you and your dad shed a tear or two.
Here is what we cover:
The Standards Father-Daughter Dance Songs
"The Way You Look Tonight" by Frank Sinatra
"What a Wonderful World – Louis Armstrong
"Unforgettable" by Nat King Cole and Natalie Cole
"Dream a Little Dream of Me" by Ella Fitzgerald, Louis Armstrong
"They Can't Take That Away from Me Me" by Ella Fitzgerald, Louis Armstrong
"You Are My Sunshine" by Johnny Cash
"Misty" by Ella Fitzgerald
"Nothing Can Change This Love" by Sam Cooke
"You've Got a Friend in Me" by Randy Newman
"The Way You Look Tonight" (Father of the Bride version) by Steve Tyrell
Instrumental And Classic Father Daughter Dance Songs
Tim McGraw – My Little Girl
John Mayer – Daughters
Ben E. King – Stand By Me
Frank Sinatra – I Wish You Love
The Beatles – All You Need Is Love
Beethoven – Moonlight Sonata
Pachelbel – Canon in D
Schubert – Ave Maria
Flute and Guitar – What a Wonderful World
Bach – Air on G -String
Scott Keo – Beautiful Memory
The Best Rock Ballads For Father Bride Dance
Bad English – When I See You Smile
The Rolling Stones – Wild Horses
Led Zeppelin – Thank You
Journey – Faithfully
Aerosmith – I Don't Want to Miss a Thing
Eagles – Love Will Keep Us Alive
Bruce Springsteen – Jersey Girl
Motley Crue – Home Sweet Home
Eric Clapton – Wonderful Tonight
Billy Joel – Lullabye
Fun Country Father Daughter Dance Songs
Billy Ray Cyrus – Ready, Steady, Don't Go
Zac Brown Band – I'll Be Your Man (Song For A Daughter)
Heartland – I Loved Her First
Neil Young – Long May You Run
Slim Dusty – Waltzing Matilda
Martina McBride – In My Daughter's Eyes
Paul Simon – Father and Daughter
Natalie Grant – I'll Always Be Your Baby
Johnny Cash version – You Are My Sunshine
Tim McGraw – My Little Girl
Kacey Musgraves – Love Is A Wild Thing
LANCO – Born to Love You
Indie Wedding Songs For Father Daughter Dance
Mitski – Two Slow Dancers
Snail Mail – Let's Find An Out
Modest Mouse – Sleepwalking
Mumford & Sons – There Will Be Time
Yeah Yeah Yeahs – Maps
Grouplove – Tongue Tied
Otis Redding – That's How Strong My Love Is
Foster The People – Houdini
Michael Bublé – You've Got A Friend In Me
The Pretenders – Evaporate
The Fontaines – Love Someone
Walk The Moon – Tightrope
Popular Pop Daddy Daughter Dance Songs
Frank Ocean – Moon River
Calum Scott – What I Miss Most
Ellie Goulding – How Long Will I Love You
Adam Levine – Lost Stars
Bruno Mars – Count On Me
Taylor Swift – Delicate
Beyoncé – Daddy
Meghan Trainor – Dance Like Yo Daddy
Coldplay – Sky Full of Stars
Vance Joy – Riptide
Walk the Moon – Shut Up and Dance
Sia – The Greatest
Unique Father-Daughter Dance Songs
Amy Winehouse – To Know Him Is To Love Him
Daniel Caesar – Blessed
Paul Simon – Father and Daughter
Jay-Z ft. Blue Ivy – Glory
Sade – By Your Side
Upbeat Father-Daughter Dance Songs
Steven Curtis Chapman – Cinderella
Guns and Roses – Sweet Child of Mine
Tom Petty – American Girl
Meghan Trainor – Dance Like Yo Daddy
Steppenwolf – Born to Be Wild
Short Father-Daughter Dance Songs
God Only Knows by The Beach Boys
Sweet Pea by Amos Lee
Stairway to the Stars by Ella Fitzgerald
What a Wonderful World by Louis Armstrong
My Girl by The Temptations
Forever by The Beach Boys
Ain't That Love by Ray Charles
Gracie by Ben Folds
You Send Me by Sam Cooke
You Are the Sunshine of My Life by Stevie Wonder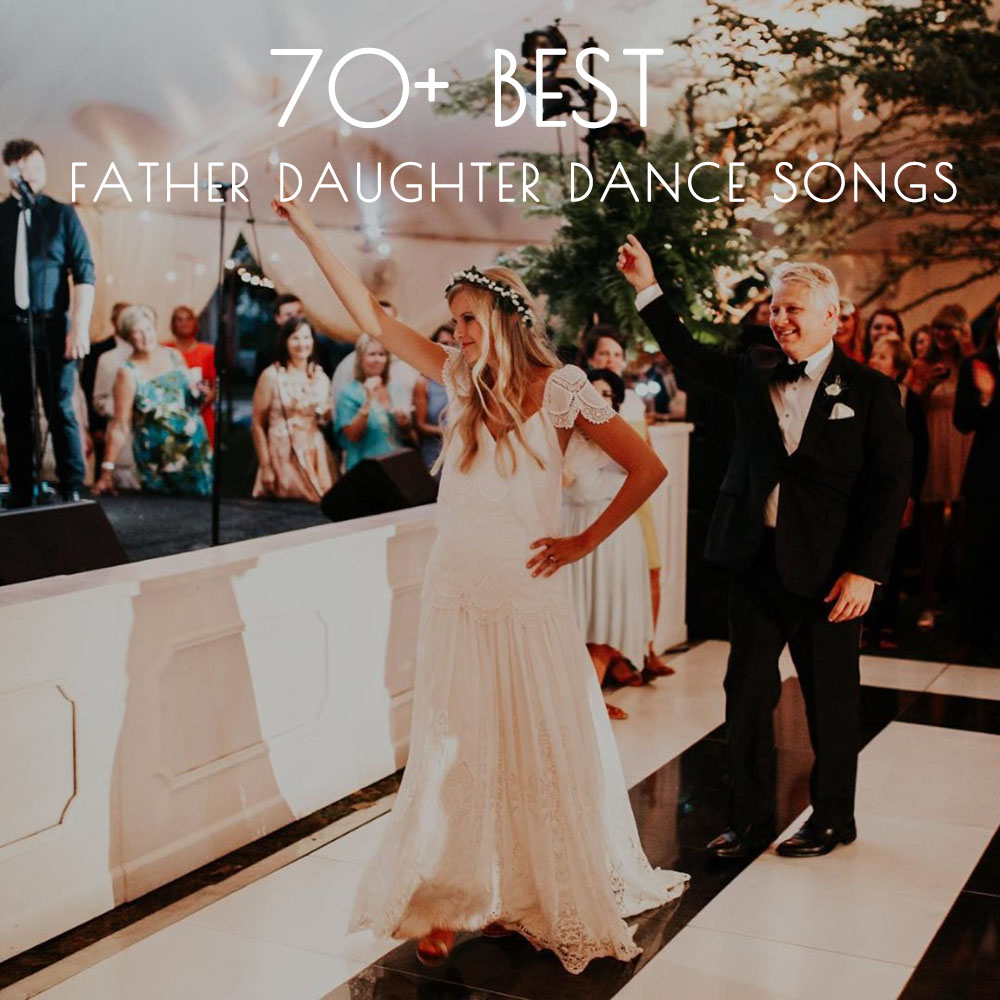 Traditionally, the bride and groom will share the official First Dance from beginning to end. For the second dance, if we're sticking with tradition, the bride and father of the bride will begin the song, with the new husband stepping in about half-way through. This is a symbolic gesture showing the father accepts the new husband and welcomes him as the head of the new family.
Many couples are modernizing tradition so that the groom and father of the bride each get a full song, but still, want to maintain the symbolism. In this case, the father takes the first dance with a happy bride. Once this is finished he visually/physically invites the groom to step in for the second dance, and enjoy their first dance as husband and wife.
In a lot of today's ceremonies tradition takes a back seat to happy memories. It's often a far better decision to have a full song for both dad and your new husband, but dad still gets to go first.
You probably wouldn't want to choose a 20 minute epic for the daddy-daughter dance but there really is no formal rule as to how long the dance should last. Short father-daughter dance songs are recommended since dad may have some trouble keeping up with you or mastering 9 minutes of choreography.