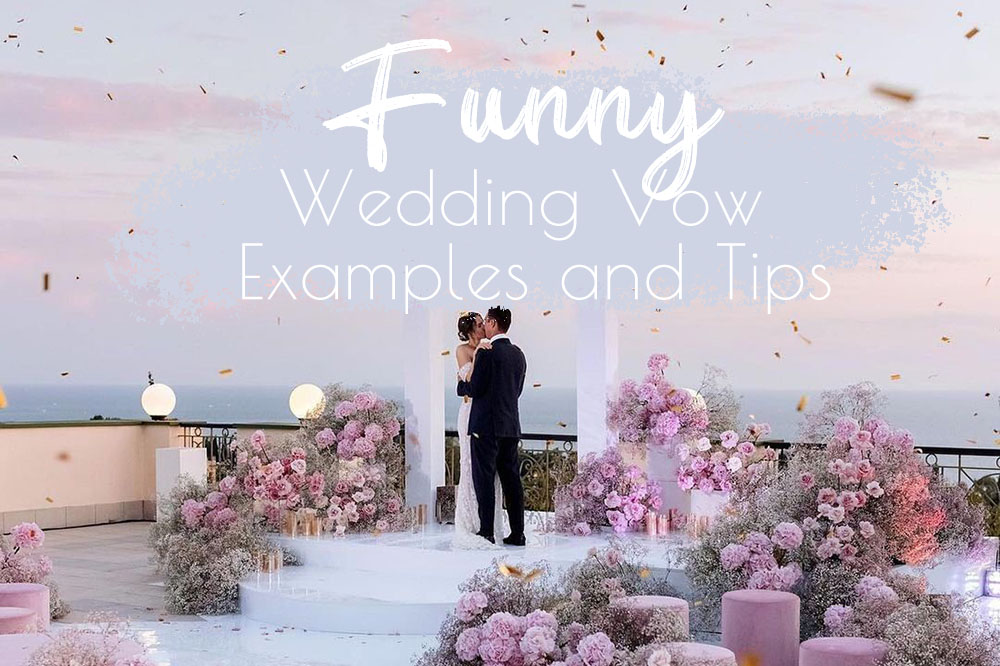 Have you ever been to a wedding and thought to yourself, "What a funny couple! "? Well, now is your chance to tell us all about it! We've put together a list of some of the funniest wedding vows out there. So go ahead and share your favorite ones with us! And if you're looking for some tips on how to make your own wedding vows more funny, we've got you covered there too.
How to Write Funny Wedding Vows
Now that you have sold on the idea of writing funny wedding vows, you probably think about how you can add humor to your wedding promises. After all, you don't want to make your lovely partner feel awkward with your inappropriate jokes. Adding humor in your wedding script is art. And in the following eight steps, we'll give you a sneak peek into how you can master that art.
Tip 1: Write your vows in three parts
Imagine this: you vow to your partner that you won't order prawns the next time you go out for dinner. While your partner laughed, your guests exchanged nervous looks. The best thing to go about it is to tell a short story of how the specific funny thing turned funny for the couple.
Make sure that your story is not needlessly long. Share important details such as the first time you met, and other important things. After you've told your story, you should say a few things about your partner, and then promise them to give the best of everything in the world and to live a lovely life together.
Tip 2: Start with a meaningful message and twist it up
You should start your vow with something emotional and meaningful. You can add a funny phrase somewhere in the middle. All you have to keep in mind is that you don't have to make your guests go laughing hysterically. Be subtle yet funny.
Tip 3: Include funny and cute nicknames
One of the emotional yet funny ways to say your vows out loud is to use funny nicknames. But, before you use them, you should discuss them with your partner and settle on a few names.
Tip 4: Feel free to borrow from other sources, but tread lightly
You can borrow quotes and phrases from movies or TV shows, but ensure that your vows are not missing your voice. So, use those references just a little and keep your wedding script original.
Tip 5: Don't make fun of your future spouse
Make sure that you are not making fun of your spouse. You can joke about a few of their habits, but do remember that you will be saying these jokes out loud. You don't want your spouse to feel embarrassed in front of so many people – most of whom they are meeting for the first time.
Tip 6: Don't add inside jokes
As we mentioned above, there are some jokes that your partner will get easier, but your guests won't. While it is okay to share one or two funny stories, you cannot let your stories to hijack your wedding vows. Make sure that you don't add many inside jokes in your wedding vows.
Tip 7: Don't add too many jokes
Your entire vows list doesn't have to be full of jokes. You have to add your meaningful and emotional side as well. The 'jokes' are thrown in as a surprise for your guests for a small bit of laughter.
Tip 8: Don't end on funny
Your wedding vows don't have to be cruel jokes that you enjoy while watching Comedy Central roasts. Also, you are not attending an open-mic event where you have to make your guests laugh at the expense of your partner. Be subtle and always add an emotional and sentimental message that tells your partner that they mean the world to you.
Funny Wedding Vows for Him
A man's wedding vows are an expression of his love and commitment to his wife. They are also a chance to make a promises that are meaningful and funny. Here are some funny wedding vows for him that will make her laugh and smile.
"I vow to learn all shades of lipstick that you use."
"I promise to never ask you to watch the TV show you don't like." 
"I promise to try to figure out what you mean by 'Anything' when I ask your food preferences."
"I promise to love you forever. And even if I die, my ghost will be there to watch over you. Just don't get scared when you see your things getting knocked over." 
"I promise to do the work after the fifth time you remind me to get it done."
Funny Wedding Vows for Her
When it comes to writing your own wedding vows, keep your partner's preferences in your mind and their habits to make your vows hilarious yet sentimental. For example, if your partner is always making jokes, then your vows should reflect that. However, if your partner is more serious, then you'll want to add a few sentimental touches to your vows. No matter what, remember to keep your wedding vows personal and unique to your relationship.
"I vow to not ask you to take more than a hundred pictures of me when we're vacationing."
"I promise to help you with the taxes."
"I vow to not ask you not to leave your wet towel on the bed unless you leave your wet towel on the bed."
"I promise to not call you more than twice when you're out on a game night with your friends."
"I vow to not raise my eyebrow when you buy your next console."
Funny Wedding Vows for Unisex
Tying the knot doesn't have to be a serious affair! Add some levity to your special day with funny wedding vows for unisex. Whether you're looking for traditional vows with a twist or something completely off-beat, we've got you covered.
"I promise to fight all the spiders that come our way."
"I vow to take the dog out for a walk."
"I vow to remember all the important dates."
Funny Gay Wedding Vows
When two grooms exchange their wedding vows, they often want to inject a little bit of humor into the proceedings. After all, a wedding is a joyous occasion, and what better way to celebrate than by making your guests laugh? Here are some funny gay wedding vows that will have your guests laughing along with you.
"I vow to call you YAS Queen! for the rest of my life."
"I promise to always pick up good clothes for you when we shop. Because honey, your taste is not as sassy as your partner's."
"I vow to be your 'plus one' forever."
"I promise to always see you with my love-tinted queer eyes."  
"I vow to always consider you my pride." 
Funny Lesbian Wedding Vows
When two brides say "I do", it's twice the love and twice the fun! These funny lesbian wedding vows will have you and your partner laughing all the way to the altar.
"From now on, I promise that you don't have to tell your parents that you're having a sleepover at your BFF." 
"I vow to always stand by you and fight the world together." 
"I promise to unclog the drain for you."
"I vow to watch the re-runs of your favorite show with you."
Other Funny Wedding Vows Inspiration
Wedding vows are often serious and traditional, but they don't have to be! If you're looking for some fun and unique inspiration for your own vows, look no further than pop culture. You can use funny wedding vows from movies and TV shows, or give sports references. Either way, your guests will be sure to get a good laugh.
Dog Lovers
When it comes to your wedding vows, why not inject a little humor and personality? If you're a dog lover, why not incorporate your furry friend into your big day? Here are some funny wedding vows for dog lovers that will make your guests laugh and your spouse smile.
"I promise to love and cherish you as much as I do our dog, Spot. From this day forward, I will lint roll the chairs whenever your parents visit. I will love you in sickness and in health, as long as you take care of the vet visits. I promise to cuddle with you as much as I do Spot and pick up treats for you whenever he gets some, too."

"I vow to always calm down our pet everytime he's back from the vet."
Board Game Lovers
Your partner loves to play Clue, Taboo, and the love of the internet Monopoly, so why not make their wedding vows a little bit more fun? With these funny wedding vows for board game lovers, you can add a little bit of humor to your special day.
"I promise never to keep score… even when I am clearly winning."
Sports Fans
Think about how you can incorporate your partner's favorite sports team into your wedding vows. You can show your support for their team by incorporating some light-hearted humor into your vows. For example, you could say something like, "I promise to be by your side during every game, whether we're watching at home or at the bar. I'll always be your biggest fan, and I'll always be cheering for your team."
"I Michael, take you, Jessica to be my lawfully wedded wife and chief tennis doubles partner, for richer, for poorer, for better, for worse, in sickness and in health, for when we win and the very, very rare occasion when we lose. I promise to love, honor, and cherish you, to return your serves, and do my best not to foot fault. This I vow to you."

"I promise to love you as much as the Chicago Cubs and not hold your black-and-white striped dress against you. From this day forward, I will listen to all of your complaints about the mall if you say them during the off season and promise to retire my baseball cap and face paint for public outings. I will love you in sickness and in health, from this day forward, until death parts us or you become a White Sox fan."

"I vow to get all your wishes fulfilled as quickly as Usain Bolt completes his lap."
From Movies
You've seen them on the big screen and laughed along with the characters as they recited their wedding vows. But did you know that you can use those same funny vows to show your love and appreciation for your partner? Just think about how much fun you could have reciting lines from your favorite movies!
"I love that you get cold when it's seventy-one degrees out. I love that it takes you an hour and a half to order a sandwich. I love that you get a little crinkle in your nose when you're looking at me like I'm nuts. I love that after I spend the day with you, I can still smell your perfume on my clothes. And I love that you are the last person I want to talk to before I go to sleep at night."

–When Harry Met Sally
"Love is patient, love is kind, love means slowly losing your mind."

-27 Dresses
"We finish each other's…."

"Sandwiches"

-Frozen
Friends: Monica and Chandler

Monica: For so long I wondered if I would ever find my prince, my soulmate. Then three years ago, at another wedding, I turned to a friend for comfort. And instead, I found everything that I'd ever been looking for my whole life. And now here we are, with our future before us, and I only want to spend it with you, my prince, my soulmate, my friend. Unless you don't want to. You go!

Chandler: I thought this was going to be the most difficult thing I ever had to do. But when I saw you walking down the aisle, I realized how simple it was. I love you. You are the person I was meant to spend the rest of my life with.
From Television Shows
Television shows can be a good source for you to search for some inspiration for your hilarious wedding vows. You can find some funny wedding vows from popular television shows that will surely make your wedding day more memorable
"But love doesn't make sense! I mean, you can't logic your way in or out of it. Love is totally non-sensical. But we have to keep doing it, or else we're lost, and love is dead, and humanity just packed in. Because love is the best thing we do."

–How I Met Your Mother
"The most exciting, challenging, and significant relationship of all is the one you have with yourself. And if you can find someone to love the you that you love, well, that's just fabulous."

–Sex and the City
From Books
If you love novels, then you know that some of the most romantic and heart-warming moments come from the characters' wedding vows. Well, it turns out that you can find many such inspiring wedding vows in some well-known books. Whether you're looking for something sweet and sentimental or funny and light-hearted, there's bound to be a book out there with the perfect wedding vows for you.
"I'm in love with you, and I'm not in the business of denying myself the simple pleasure of saying true things. I'm in love with you, and I know that love is just a shout into the void, and that oblivion is inevitable, and that we're all doomed and that there will come a day when all our labour has been returned to dust, and I know the sun will swallow the only earth we'll ever have, and I am in love with you."

–The Fault in Our Stars
"Yes, I need you, my fairy-tale. Because you are the only person I can talk with about the shade of a cloud, about the song of a thought — and about how, when I went out to work today and looked a tall sunflower in the face, it smiled at me with all of its seeds."

-Letters to Vera
A small canvas and a few paintbrushes are all you need to turn your hilarious vows into a work of art. This is a fun way to commemorate your special day and to have a lasting reminder of your love for each other.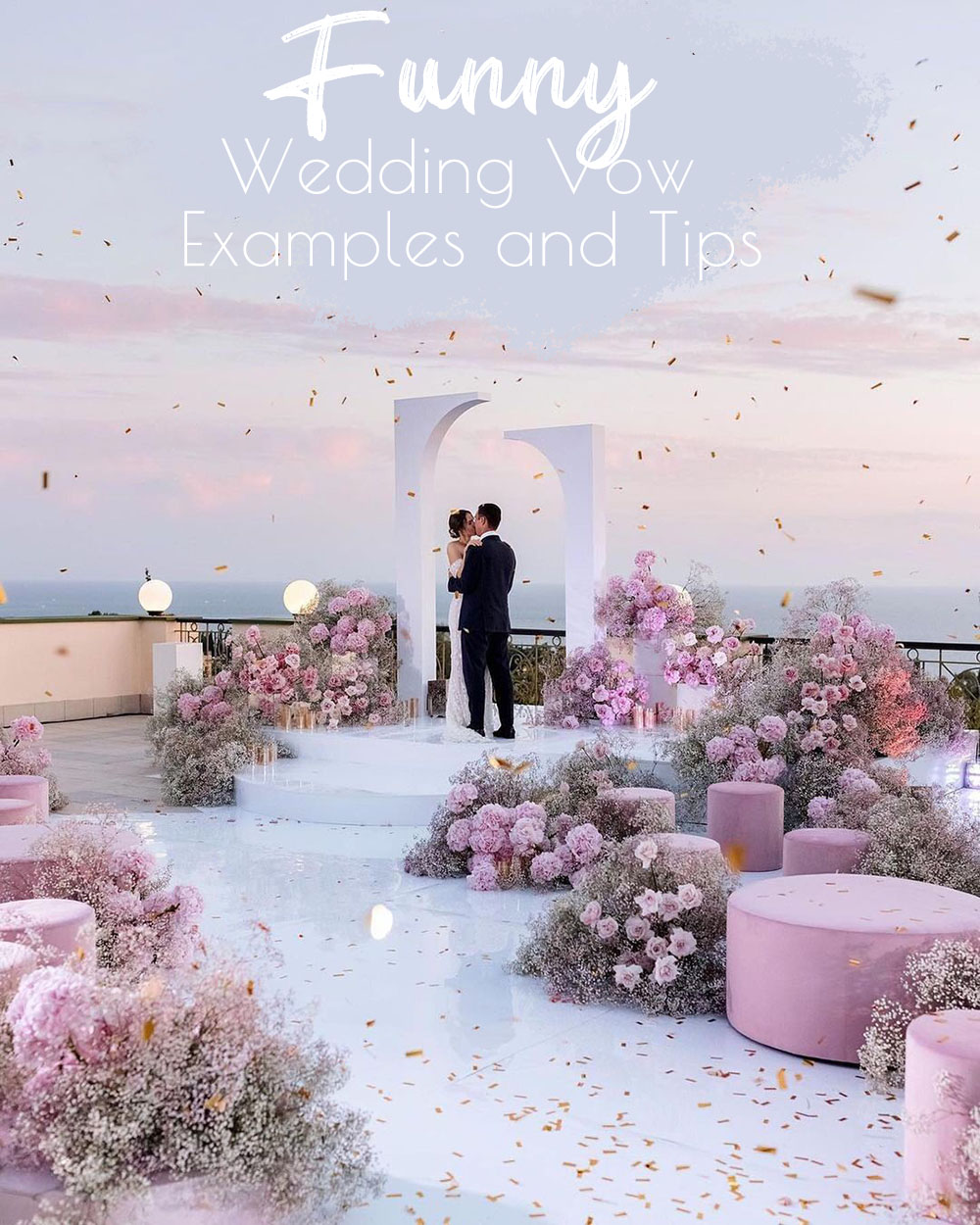 You May Also Like:
Wedding Vow Books & Signs

F.A.Q
Are funny wedding vows appropriate for all weddings?
No, funny wedding vows are not suitable for all weddings. If you're having a formal or traditional wedding, you may want to stick to more traditional vows. However, if you're having a casual or non-traditional wedding, funny wedding vows can be a great way to add some humor and personality to your ceremony.
How long should funny wedding vows be?
Funny wedding vows should be long enough to express your love and commitment to your partner while still being lighthearted and humorous. Aim for a length of about one to two minutes.
What if my partner doesn't have a sense of humor?
If your partner doesn't have a sense of humor, you may want to tone down the humor in your vows or skip them altogether. It's important to make sure that your partner is comfortable and happy with the vows that you're making.