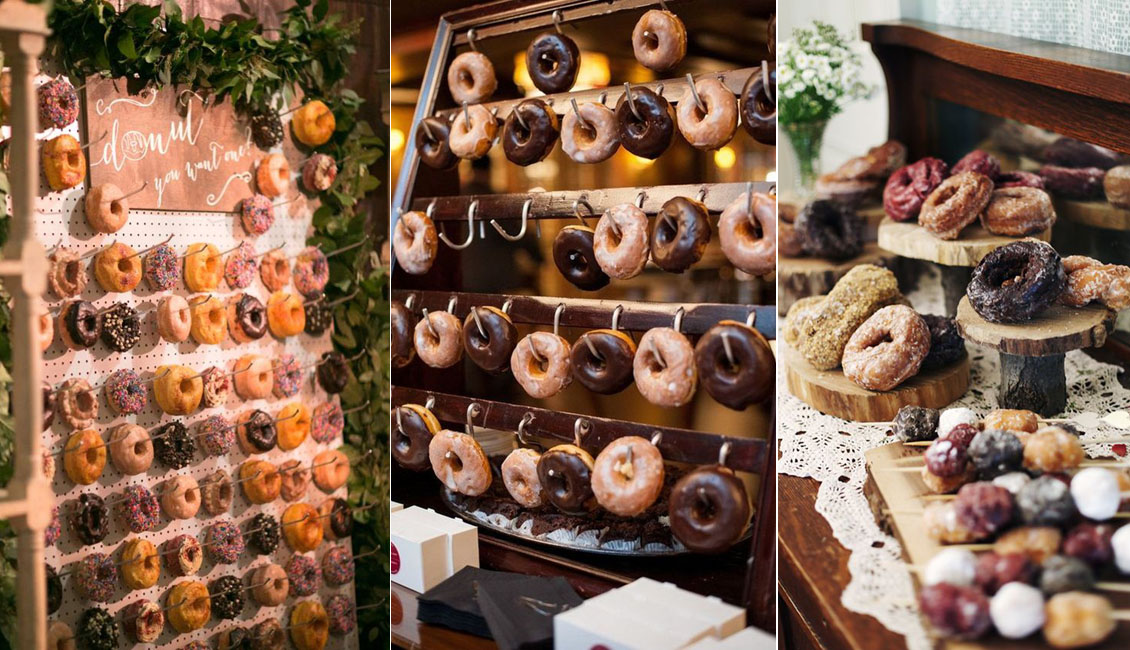 20 Adorable Wedding Donut Bar Ideas 2023
Donut wedding cake ideas
Donuts are loved by everyone! They are delicious and budget-savvy, so you should definitely serve them at your wedding! Don't forget to display them right according to your wedding style. You can even make a beautiful cake from donuts and decorate it with flowers, for example. Try to be original and get inspired!

How do I display my wedding donuts?
Here are 12 wedding donut displays worth stealing.
Hang them on a donut wall
Create a donut wall inside your reception venue to shine the spotlight on your display. With a variety of flavours and styles, you'll have something that's more like a modern art installation than a dessert station (guaranteed Instagram).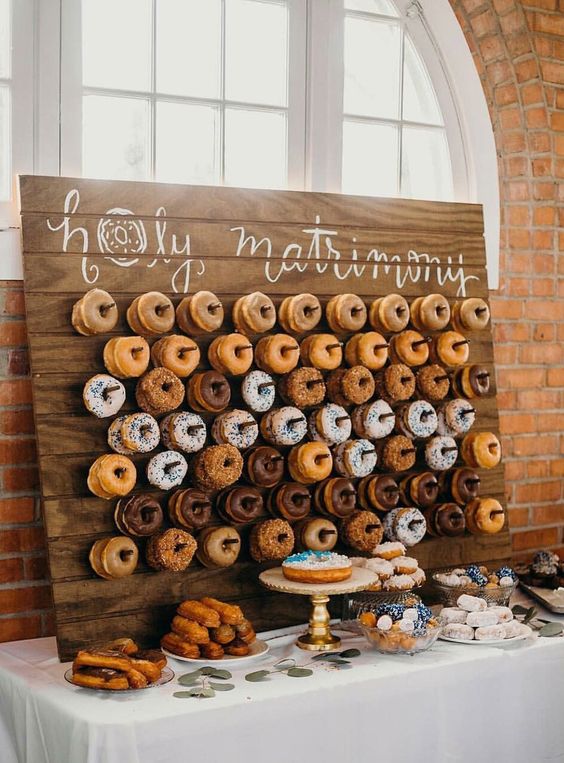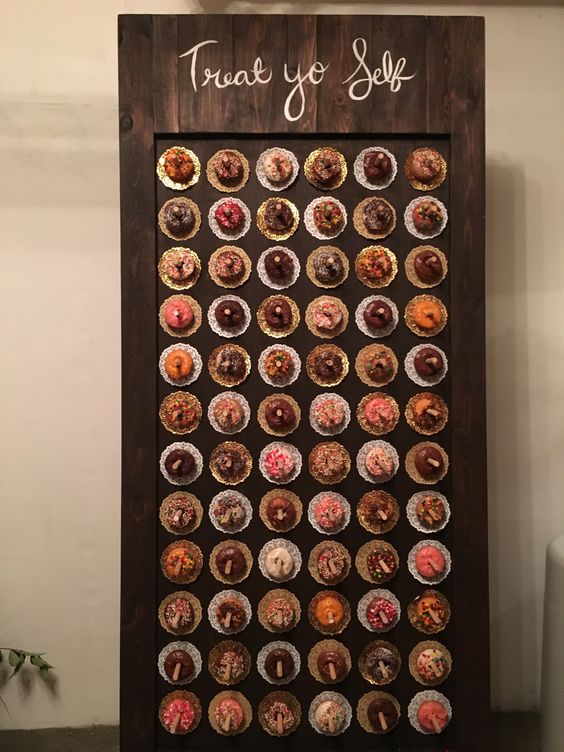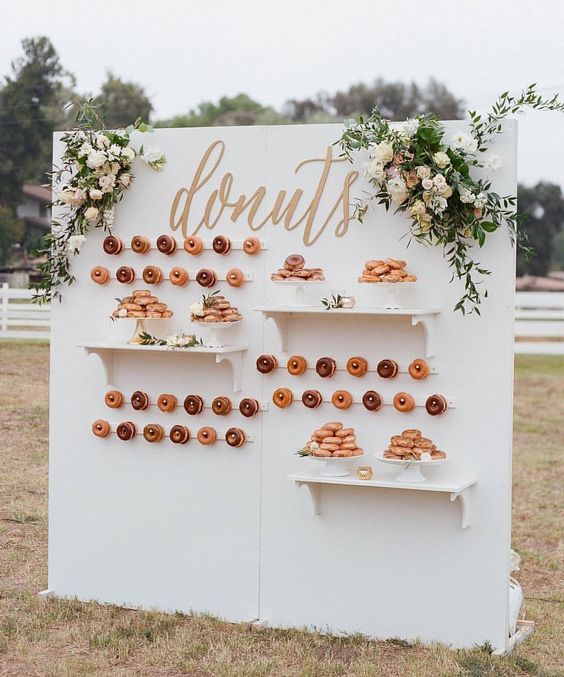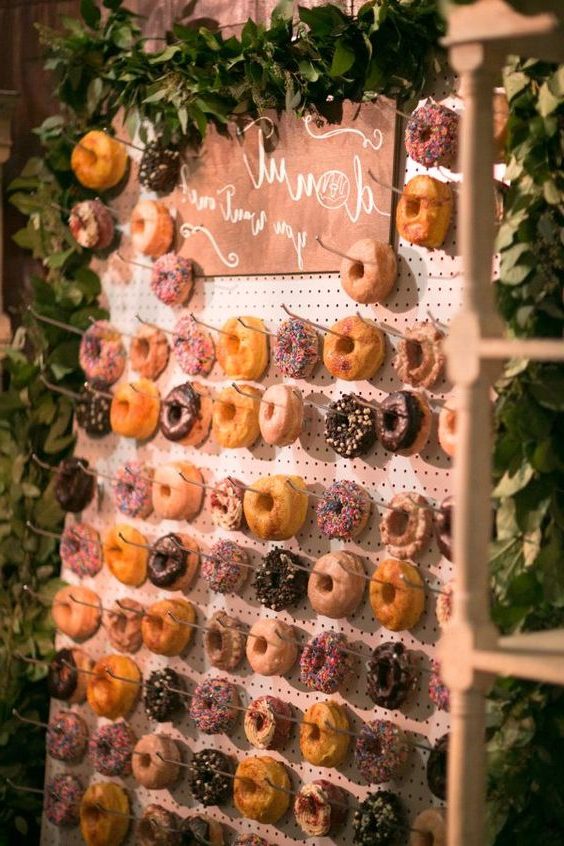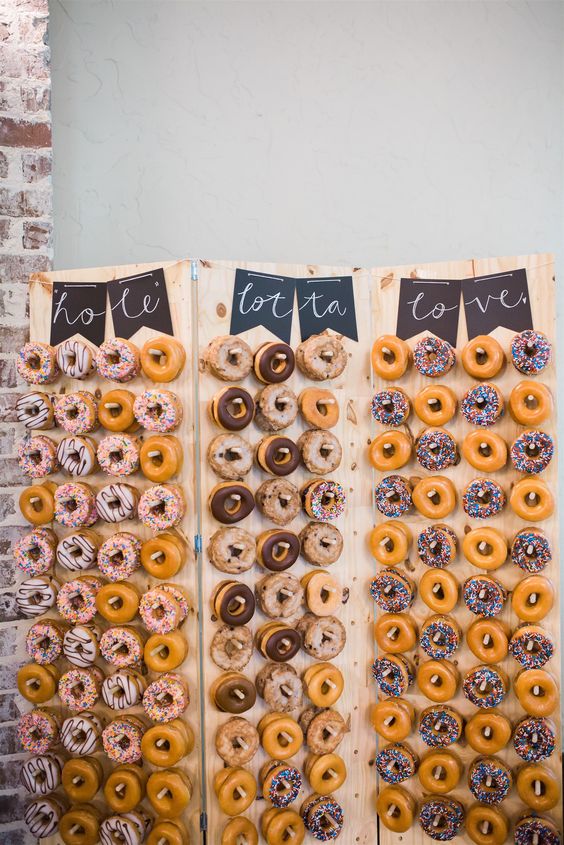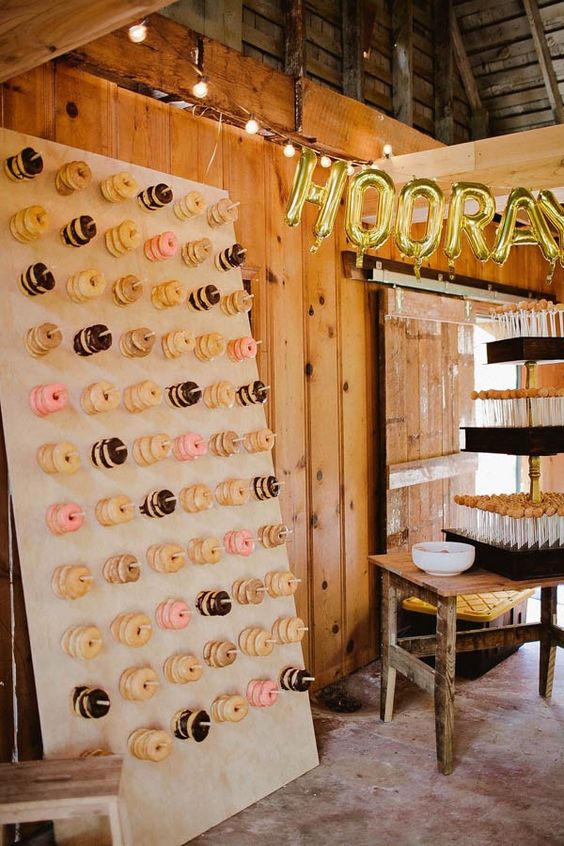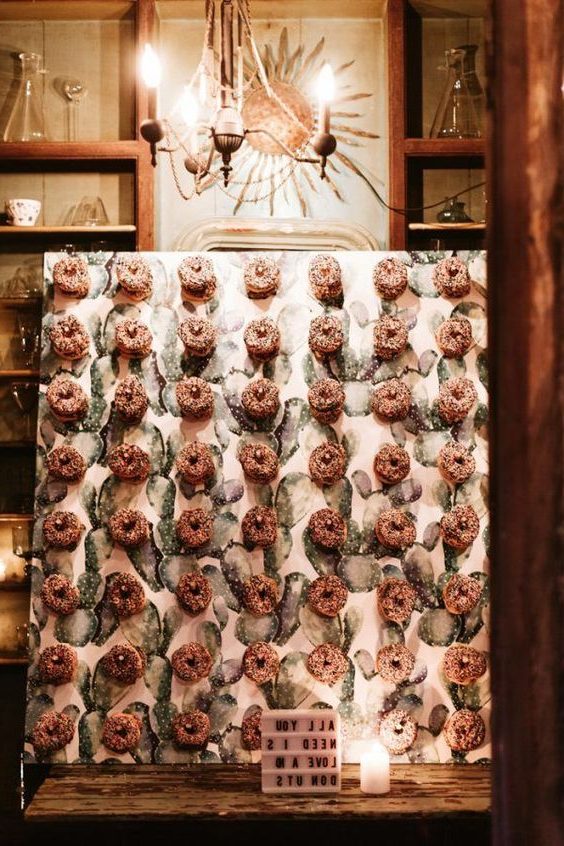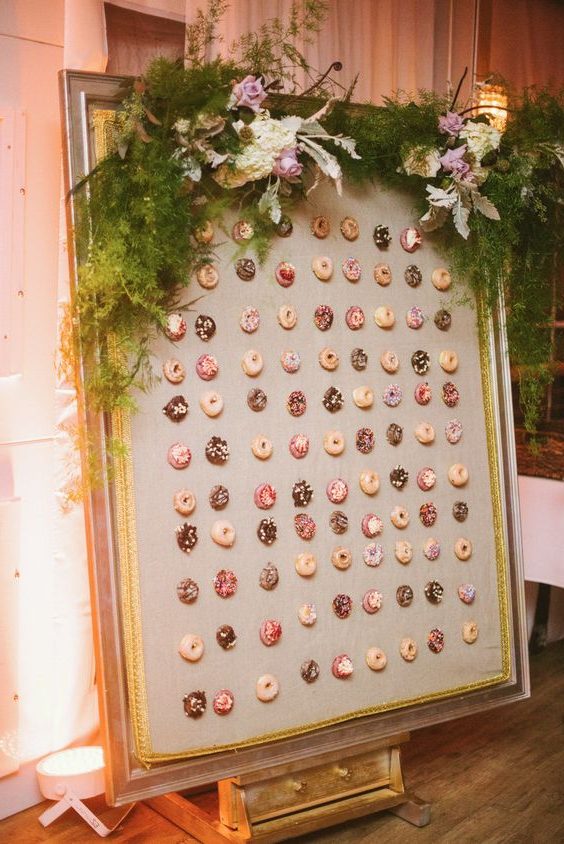 Replace a tier of your wedding cake
Can't choose between a traditional wedding cake and donuts? This time you don't have to choose! With the addition of a neatly stacked pile of donuts, you get the best of both worlds by replacing one of your confection's tiers. Take a shot of this dessert display before devouring it to give your photographer a sense of what it smells like.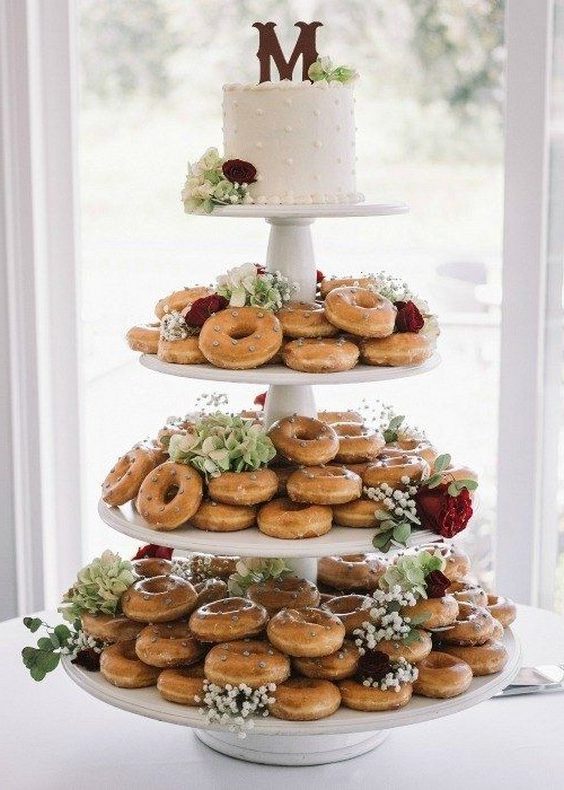 Arrange them on a stand
You can spice up your sweet table with something a bit different by going for donuts instead. Stack donuts on donut stands and you'll end up with something as impressive as any four-foot cake.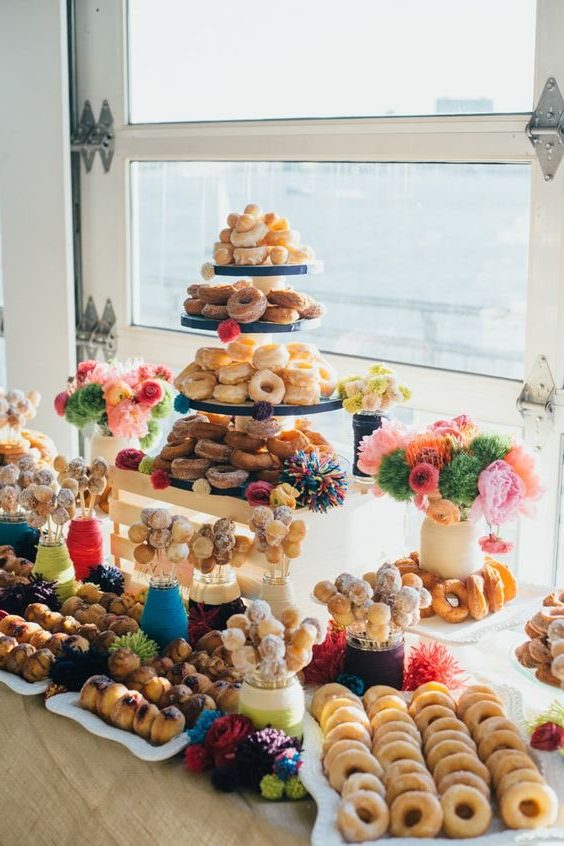 Use them as wedding cake decorations
There are many bakers who decorate their cakes with fondant designs, sugar decorations, and flowers, but you don't need to follow the rules. Add a few timbits (or full-size donuts) to your tiers if you want something truly unique. This one might also function as a donut wall to dress up your wedding cake table.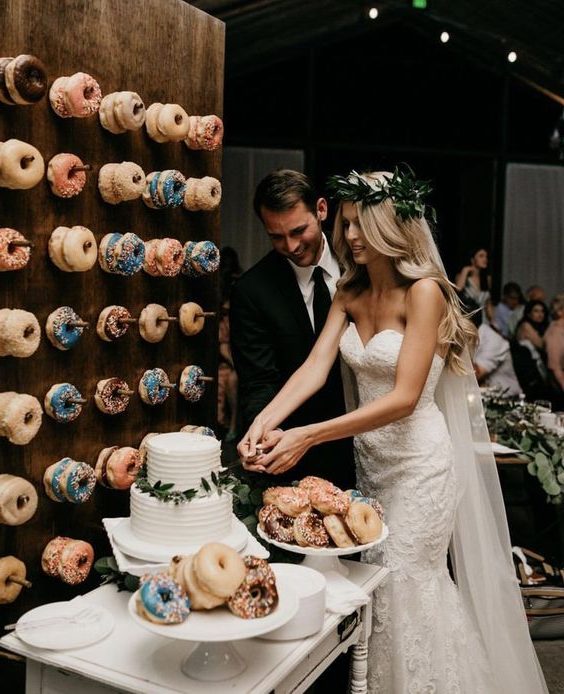 Craft them into a tower
Do you enjoy macaron towers and croquembouche? This option is absolutely perfect for you. You can change traditional french pastries for donuts, and voila! It's a chic and indulgent dessert that's just as delicious as it is amazing.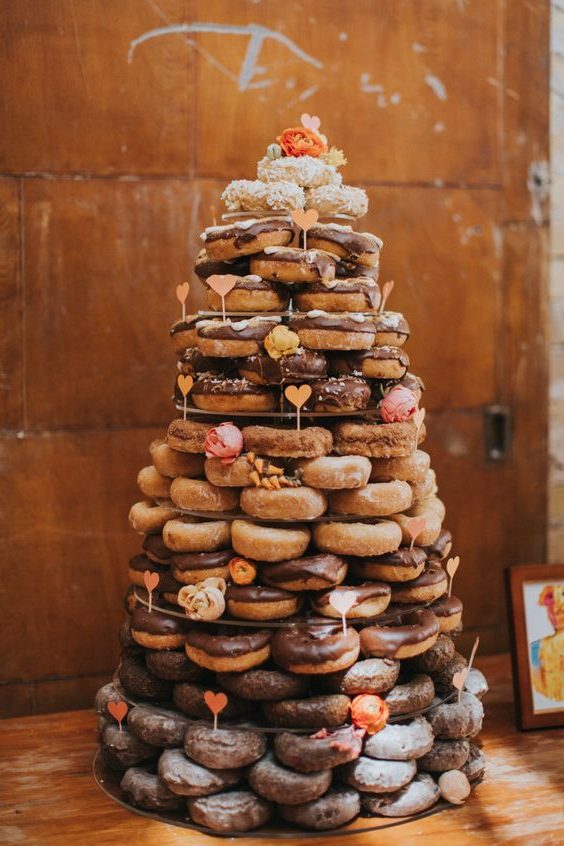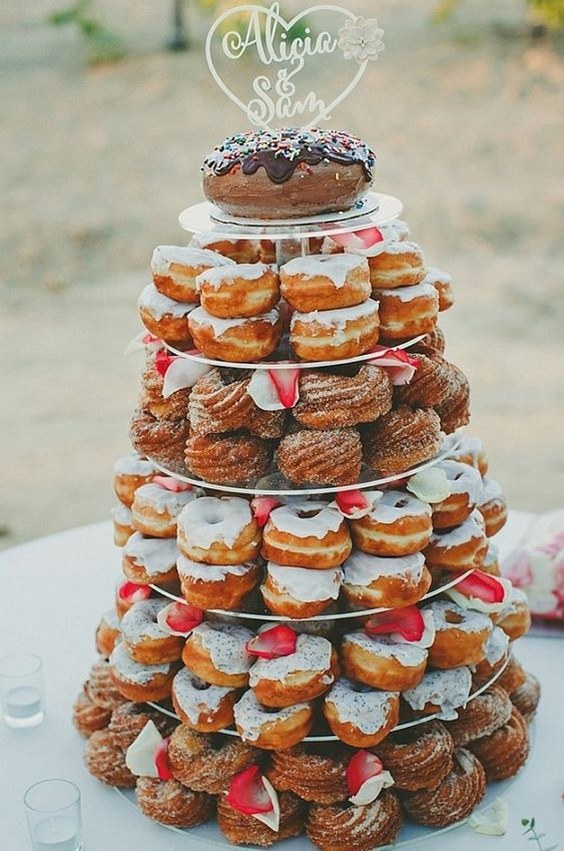 Set up a donut bar
Set up a dedicated donut bar if donuts are the star of the wedding dessert menu. The donut display is a perfect choice for a rustic wedding theme! Make this one with tree trunk slabs and branches!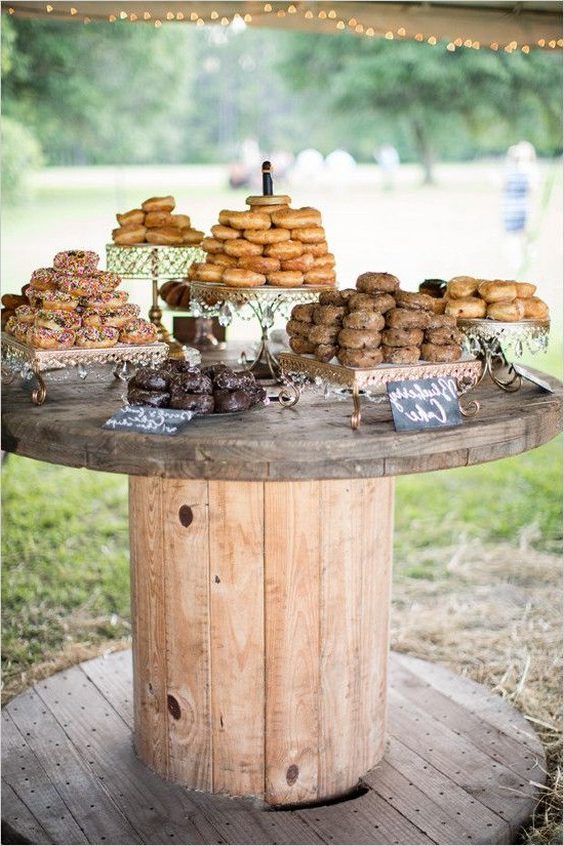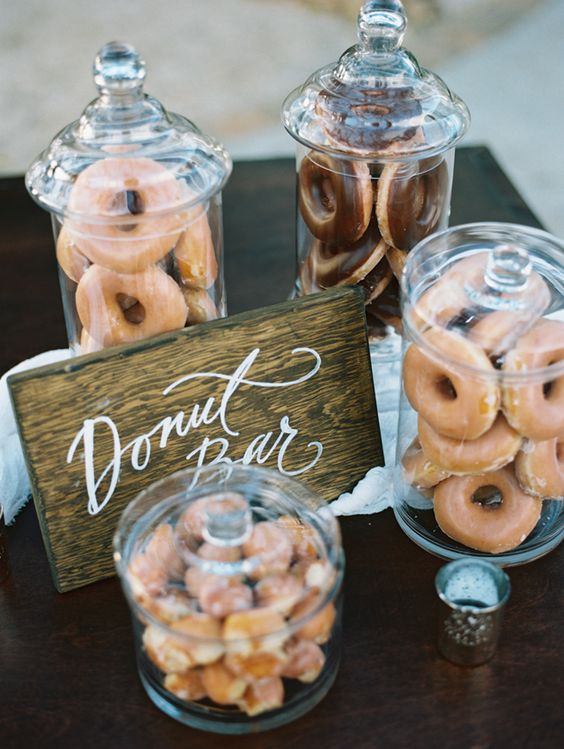 Combine them with a candy bar
Don't worry if you're planning on offering your guests pick 'n mix sweets – donuts are just a part of one impressive display if it's your intention! Adding treat bags can double as foodie wedding favors.
Lay them out on trays
If donuts aren't on your dessert table, you can opt for the tried and true method of displaying them on trays. You can still make them look extra festive with the right supplies if this doesn't sound like the most creative option. Find some cute dishes and platters that match your theme, and they'll look just as impressive as any tower.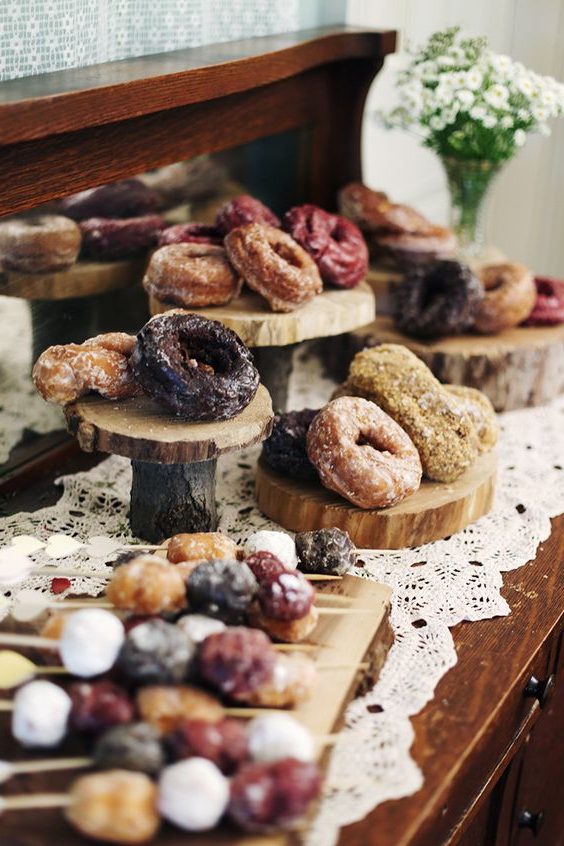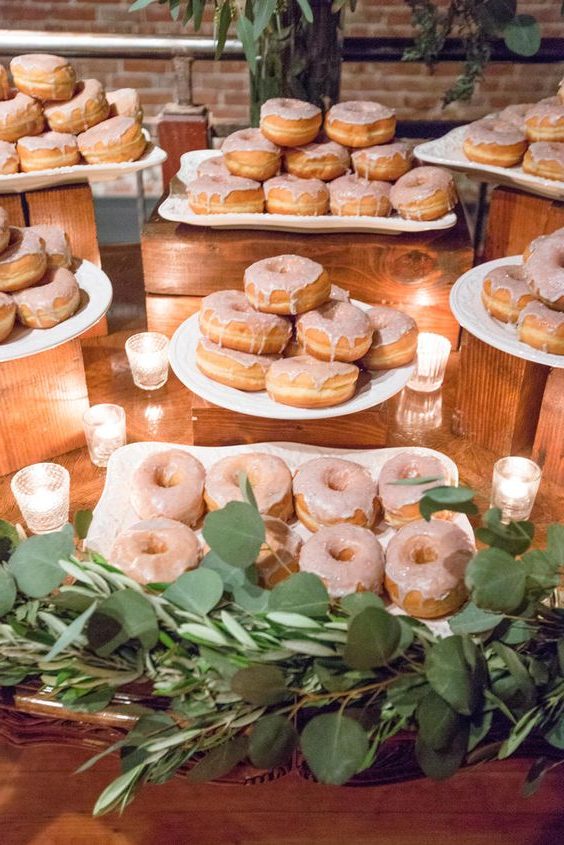 Stack them on pegs
There are plenty of options for those who want a donut display that feels more interesting than your average party platter. Donuts can be placed on top of each other so that both guests can grab them easily. Keep similar flavours on the same peg so people don't get confused about which flavour they're trying!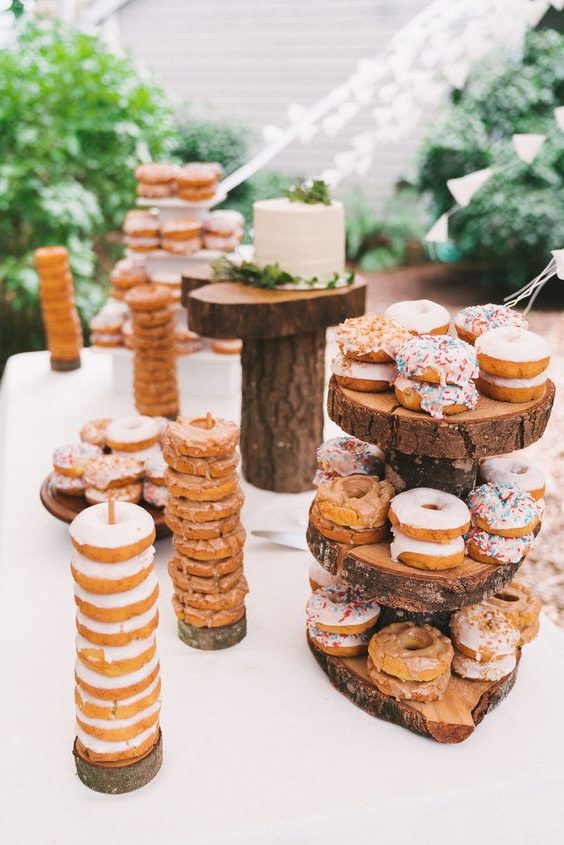 Serve them with a drink
Here's a cute donut display idea for those who enjoy milk with their treats! Use a single-serving bottle of milk (or shake) as a snack for an ideal late snack.
Order a giant donut cake
The multi-level concept can be expanded to include having your baker make a giant donut cake that you can cut into. This dessert display is a donut-lovers dream. You can provide individual donuts stacked up on tiered platters.
Add them to the top of your cake
A topper is needed on every wedding cake. Add a few donuts to the smallest tier of your confection rather than miniature renderings of you and your partner. You can even personalize them, as with this couple, so they look like brides and grooms.




Donut bars are a fun way to incorporate your favorite dessert into your wedding menu. They're also a great way to incorporate your guests' favorite foods and beverages into one cohesive menu. If you're looking for some inspiration, take a look at these 20 adorable wedding donut bar ideas!
Cake Toppers & Stands


FAQS
What is a wedding donut?
A wedding donut is a type of dessert that is often served at weddings instead of or in addition to traditional wedding cake. It is a donut that is typically decorated with frosting, sprinkles, or other toppings and can be customized to match the wedding colors or theme.
Are wedding donuts a popular trend?
Yes, wedding donuts have become a popular trend in recent years as couples look for unique and creative ways to personalize their wedding. They offer a fun and tasty alternative to traditional wedding cake and can be a great option for those who prefer a dessert that is less formal.
Can wedding donuts replace the wedding cake?
Yes, wedding donuts can replace the traditional wedding cake as the main dessert at a wedding. Many couples are choosing to serve a variety of different flavored donuts instead of a large wedding cake, as it offers guests more options and can be a more budget-friendly option.
Can wedding donuts be displayed in a traditional cake tier?
Yes, wedding donuts can be displayed in a traditional cake tier, with each tier featuring a different flavor or type of donut. This can be a fun and unique way to present the donuts and create a focal point for the dessert table.
What are some popular flavors of wedding donuts?
Some popular flavors of wedding donuts include classic glazed, chocolate frosted, maple bacon, raspberry filled, and lemon poppyseed. Many bakeries offer a variety of different flavors and toppings to choose from, allowing couples to customize their wedding donut display to their liking.
How should wedding donuts be displayed?
Wedding donuts can be displayed in a variety of ways, depending on the couple's preference and the size of the wedding. They can be arranged on a large dessert table or on tiered stands, or even hung from a donut wall for a unique display. Many couples choose to incorporate flowers or other decorations into the display to create a cohesive look.
How many donuts should be ordered for a wedding?
The number of donuts needed for a wedding will depend on the size of the wedding and the amount of other desserts being served. As a general rule of thumb, it is recommended to order 1-2 donuts per guest, or more if the donuts are the main dessert being served. It's always better to order a few extra to ensure that there are enough for everyone to enjoy.