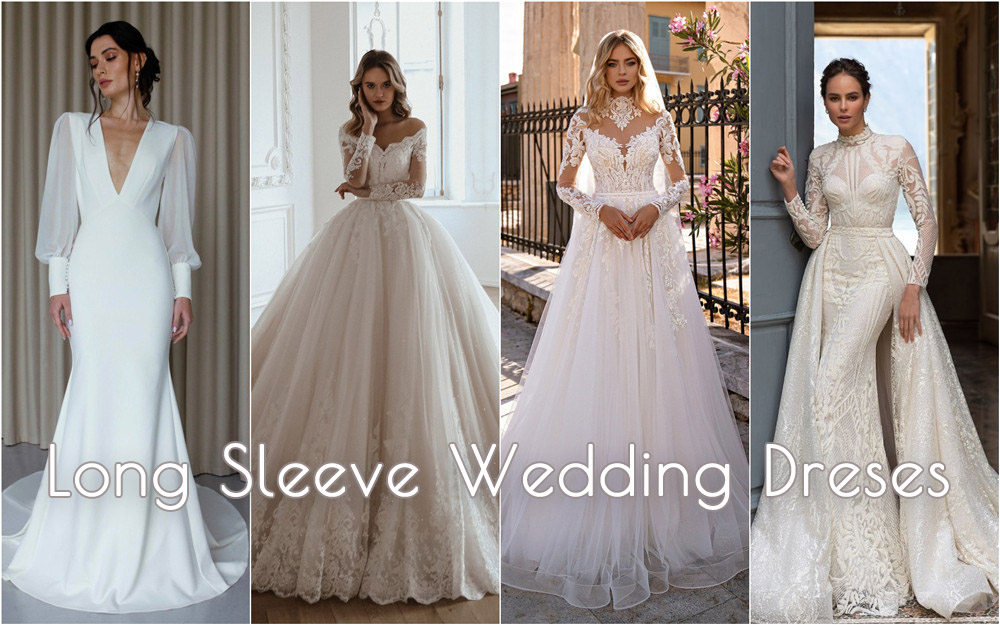 30 Best Long Sleeve Wedding Dresses of 2023
Long sleeve wedding dresses are perfect for the bride marrying in the winter or early spring months, or for those who prefer a slightly more traditional look, but a quick scan through the wedding dresses of the past shows just how stylish and timeless they can be too.
Some of the most fashionable women in history have chosen to conceal their arms to say their I-dos and have looked pretty darn incredible whilst doing so.
The right sleeve choice can bring a touch of elegance, delicacy or even drama to your look and with fitted lace, loose satin and button adorned opaque fabric being just a few of the many sleeve options out there, you'll have little trouble finding one to suit your style and the special occasion.
We've gone and picked out the best long sleeve wedding dresses that are as stunning as they are ready to shop so that come W day, all you'll need to do is get dressed and enjoy. You're welcome.
Lace Long Sleeve Wedding Dress
The lace long sleeve wedding dress boasts lace on top that falls elegantly down the middle of the dress and then falls down either side of the dress. This particular design is perfect for brides who want to look like they are glowing with shades of gold as they walk down the aisle. This dress also features off the shoulder strapless neckline, a cinching waist, and ball gown pleated skirt.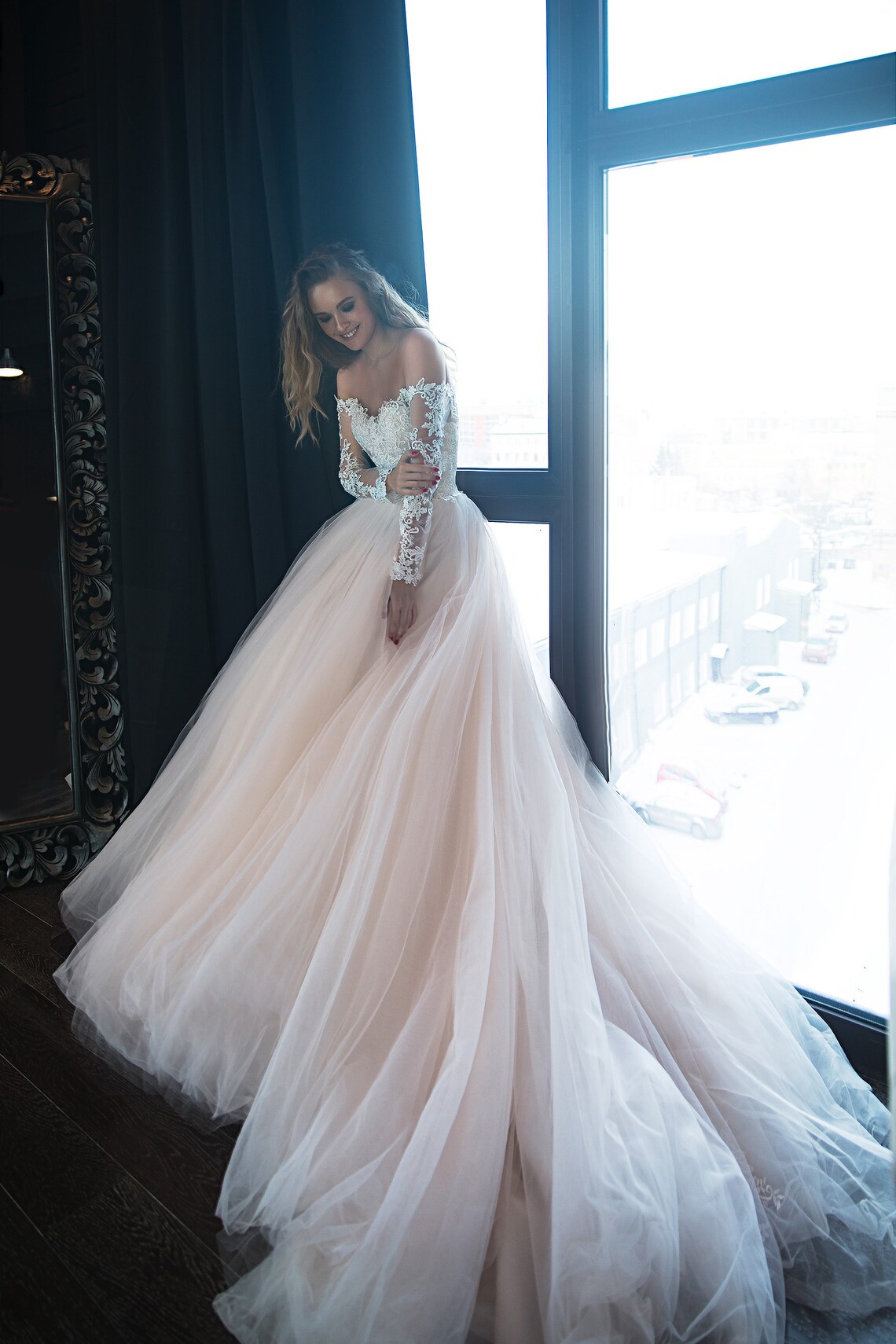 Off the Shoulder Long Sleeve Wedding Dress
A long sleeve wedding dress is a must-have when planning your wedding ceremony. If you're anxious about how to stand out from the crowd, these lace long sleeve wedding dresses can be the key for you. Have a look at our selection to find the perfect lace long sleeve wedding dress. From versatile silhouettes to unique designs, our long sleeve wedding dresses will help you create a stylish and impactful image that's perfect for your big day.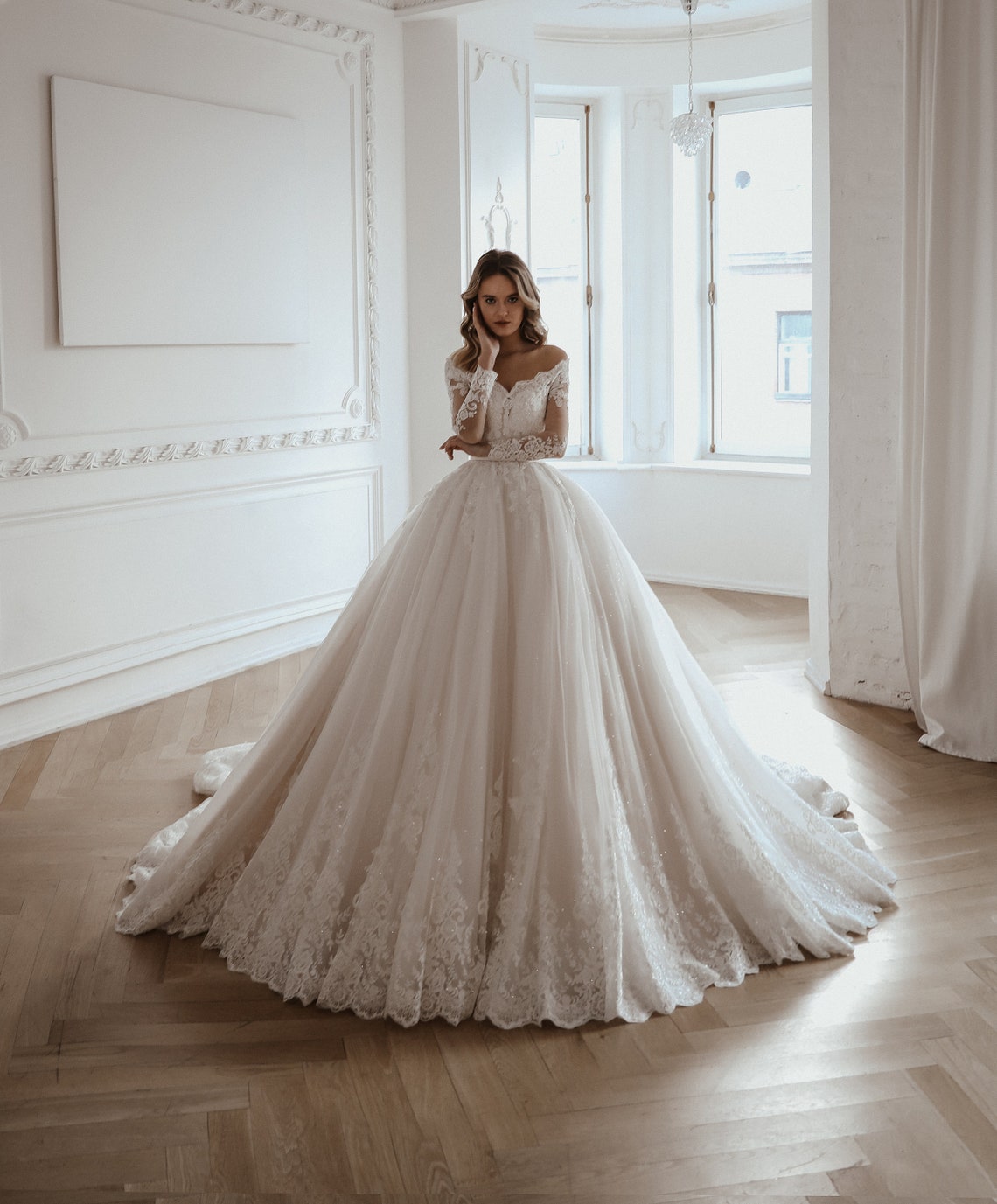 Plus Size Long Sleeve Wedding Dress
No matter what size you are, long sleeves are a timeless classic that will fit in your wedding look, formal or not! Long sleeves allow you to showcase your elegant features while adding elegance to your dress. If you are worried about your sleeves taking away from your gown's body shape, consider a long sleeve Ayish or a long sleeve chiffon dress that will give you the perfect fit without taking away from your gown's beauty. Happy shopping!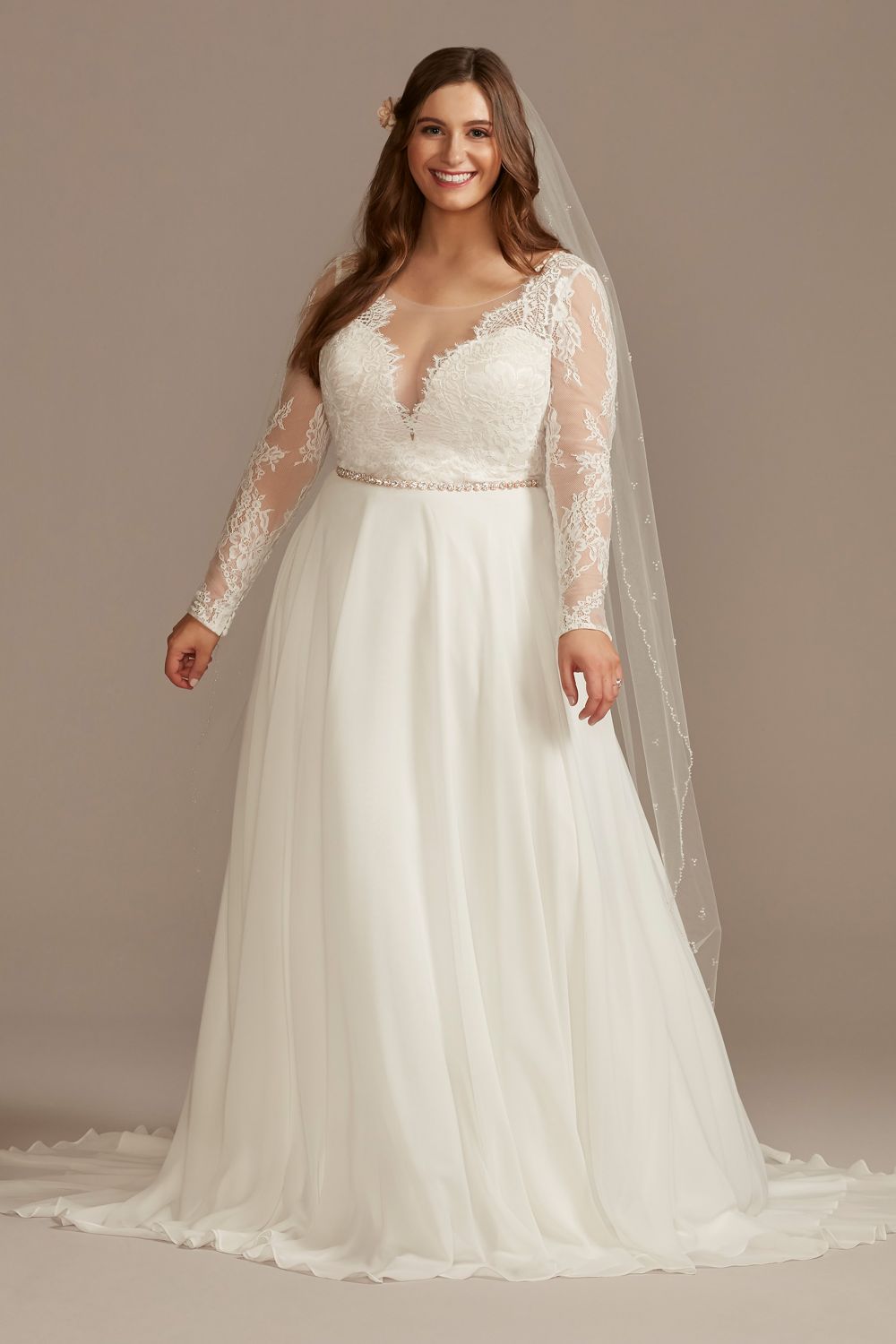 At once alluring and ultra-romantic, this long-sleeve wedding dress is full of eye catching details like a lace bodice with a scalloped V-neck and V-back, and a flowing chiffon skirt that creates dreamy movement with every step.

White Long Sleeve Wedding Dress
An all white long sleeve wedding dress works with everything. It's classic, timeless, and really pretty. Pair it with a flattering pearl necklace, put some sparkly shoes on, add a few chic accessories and you're good to go!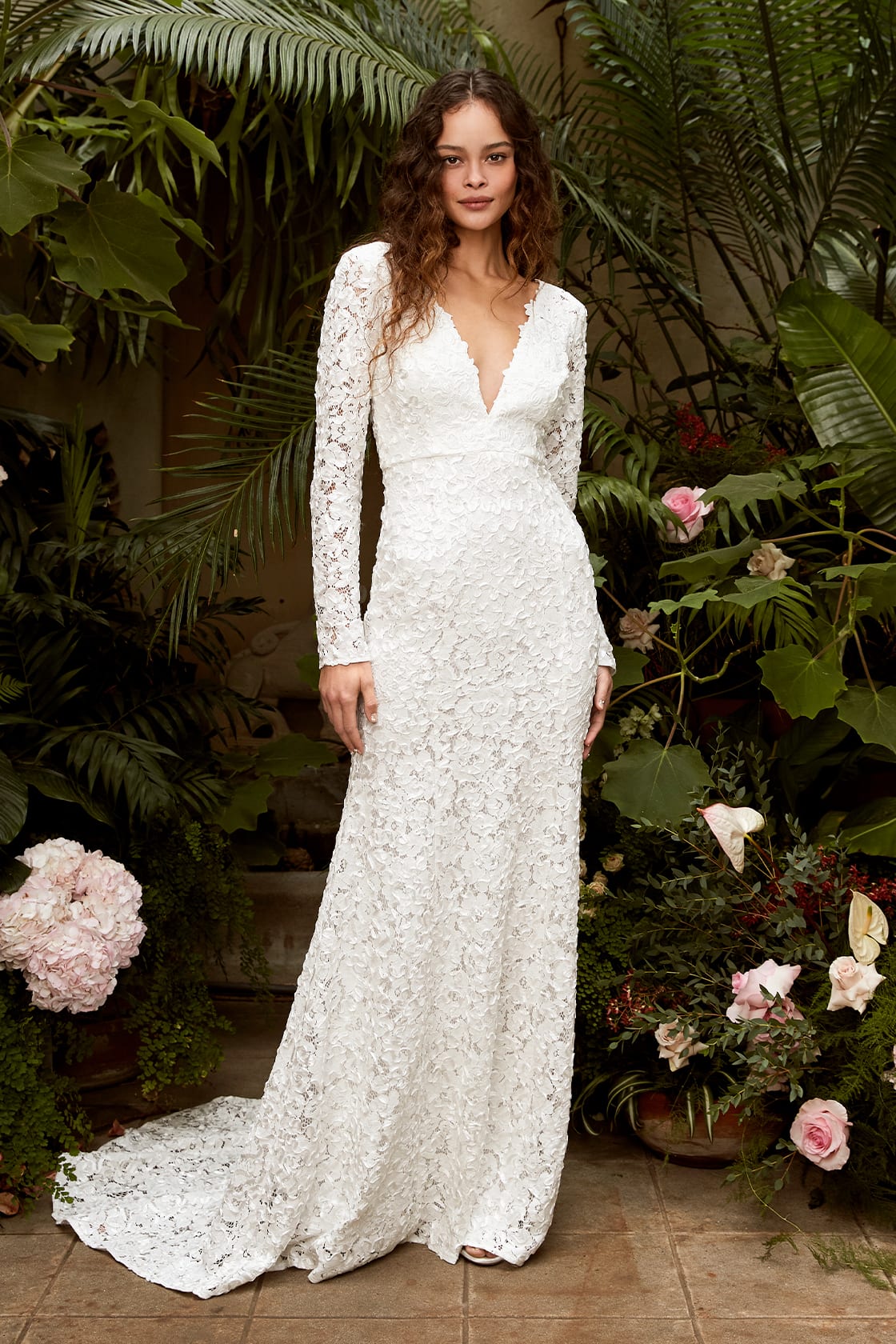 Go with what your heart says and get the Lulus Following Your Heart White Lace Long Sleeve Maxi Dress! Stunning floral lace, with white satin ribbon throughout, shapes this dress that has a plunging V-neckline (with no-slip strips), long sleeves, and a fitted bodice. A high waist tops a cascading mermaid maxi skirt with an elegant train at the back. Hidden back zipper/clasp. Crochet lace trims the neckline for an exquisite finishing touch.
Boho Long Sleeve Wedding Dress
Soft, romantic, and romantic-romantic, this style will wow your guests as your easy elegance. The white sweet vines and floral accents make for a sophisticated beauty for any bride.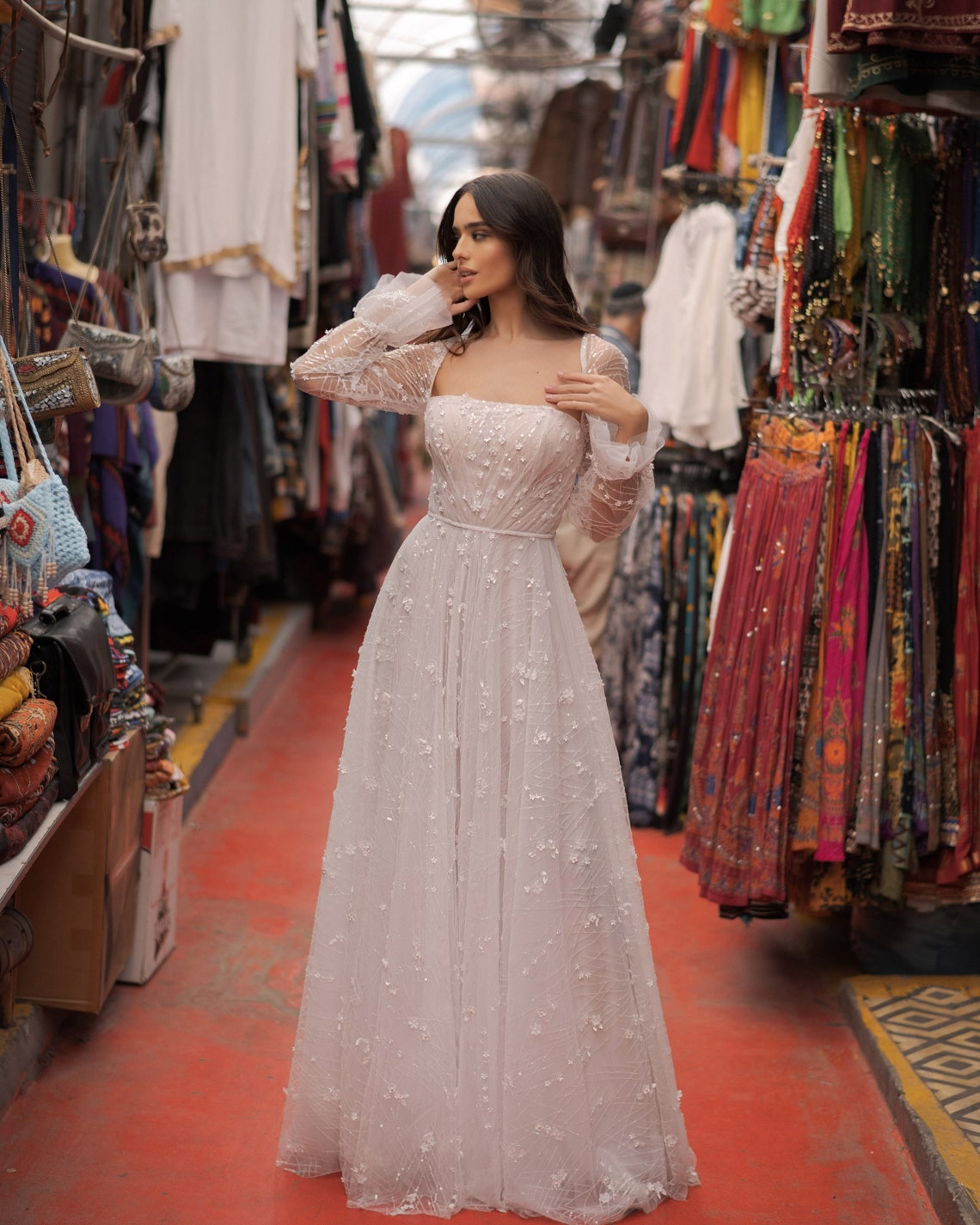 Simple Long Sleeve Wedding Dress
If you are looking for a dress but don't know what style to order, try out this simple yet elegant long sleeve wedding dress.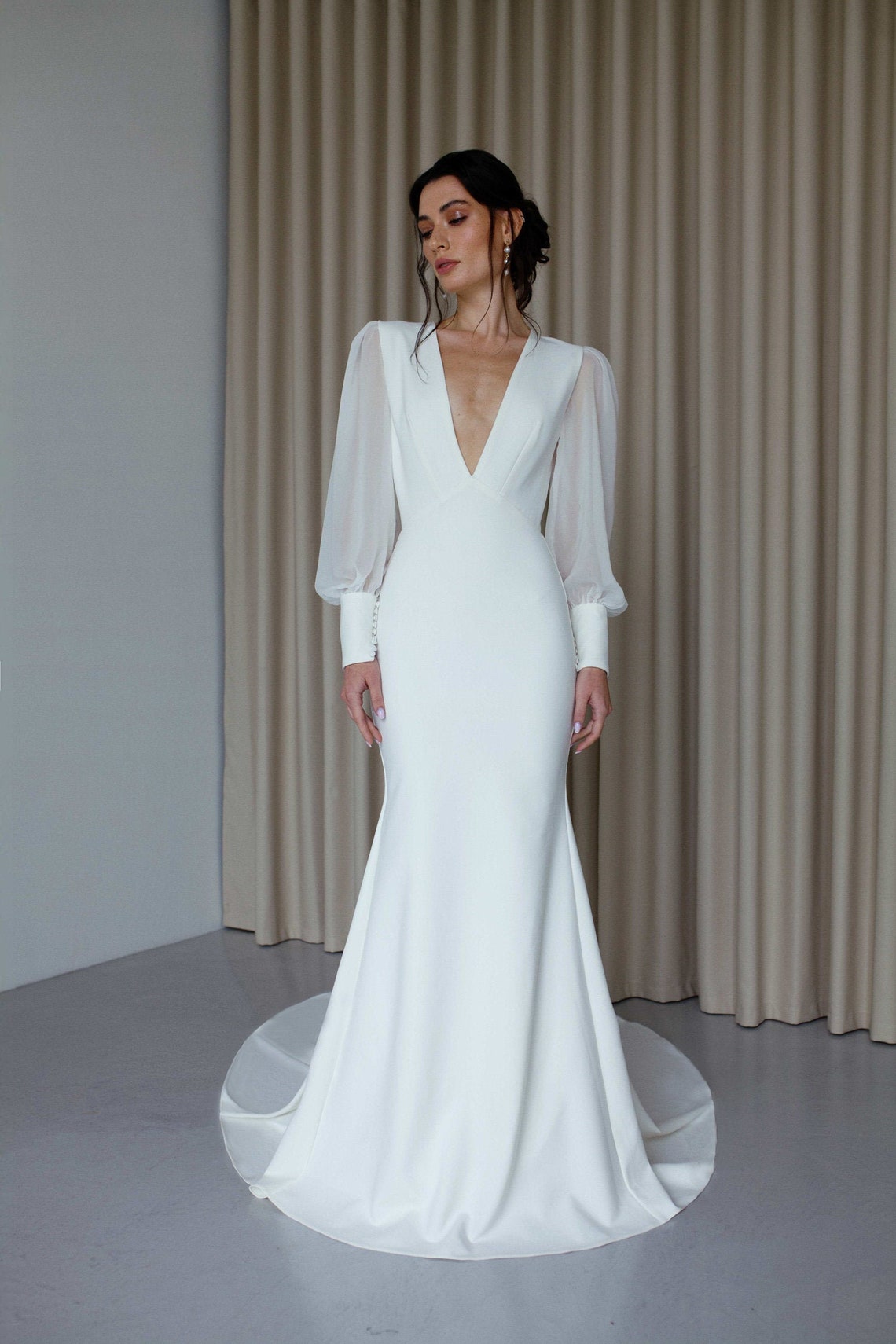 deep V neck delicately connects with raised waistline seam and complemented with sheer chiffon sleeves, open back, and long train.

Mermaid Long Sleeve Wedding Dress
The mermaid silhouette is a definite winner for the long sleeved wedding dresses! This dress is perfect for daring ceremonies that typically last the whole evening. The deep plunging neckline shows off your collar bone and cleavage, while the scalloped hem draws attention to the beautiful natural flare of your legs. The mermaid ball gown has an open back, making it an irresistible choice for the bride who wants to be both daring and natural at the same time!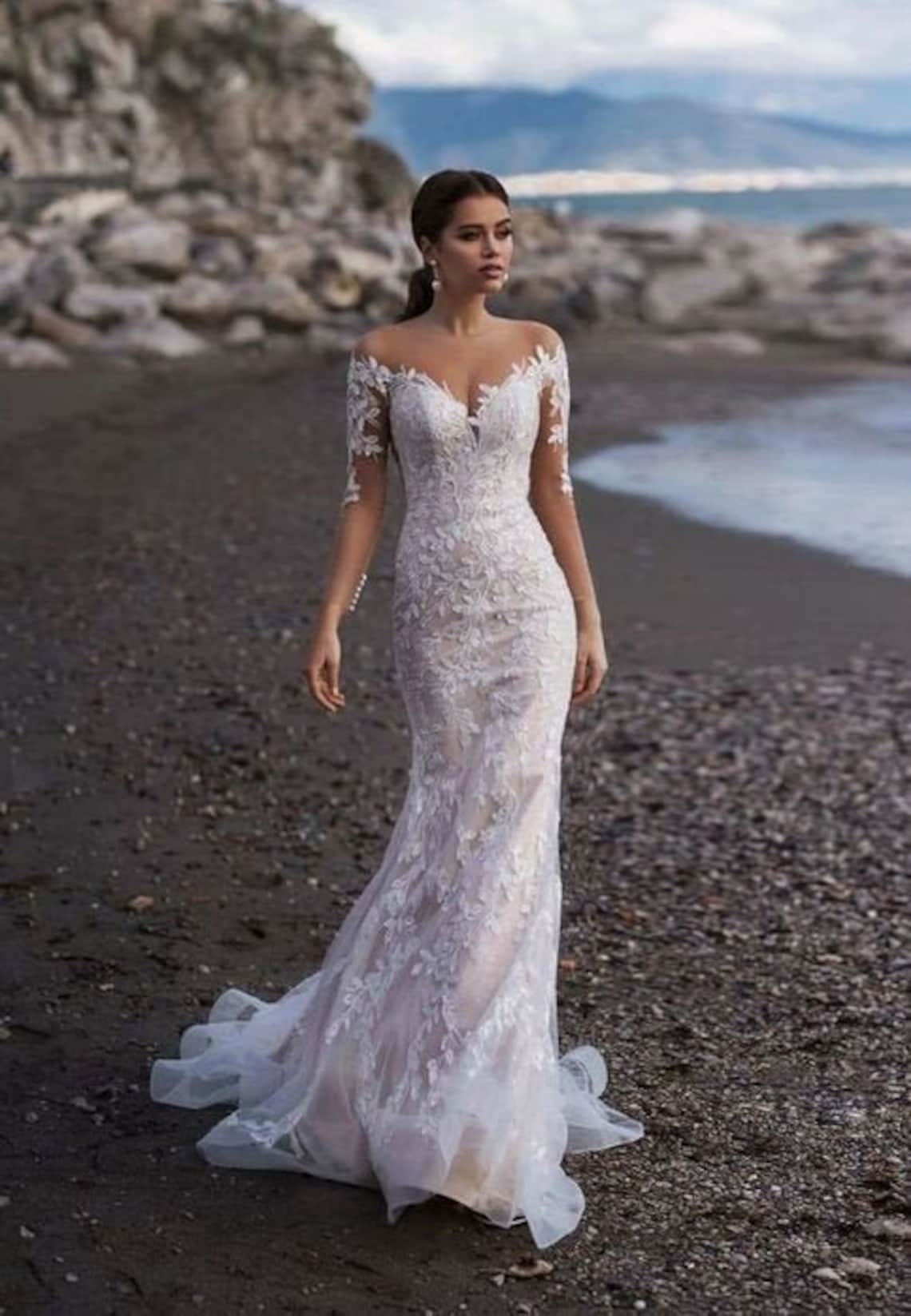 Wedding dress with off-the-shoulder design for her with a small bust, showing off her slender shoulders, helping to create a feeling of a fuller bust but still keeping the sophistication for her. The long-sleeved style cleverly hides the rough hands, helping the bride's figure become more elegant and graceful.
High Neck Long Sleeve Wedding Dress
A long-sleeve wedding dress is almost always adorned with a rich, lacy detail that dresses up the silhouette, and creates a more dramatic look.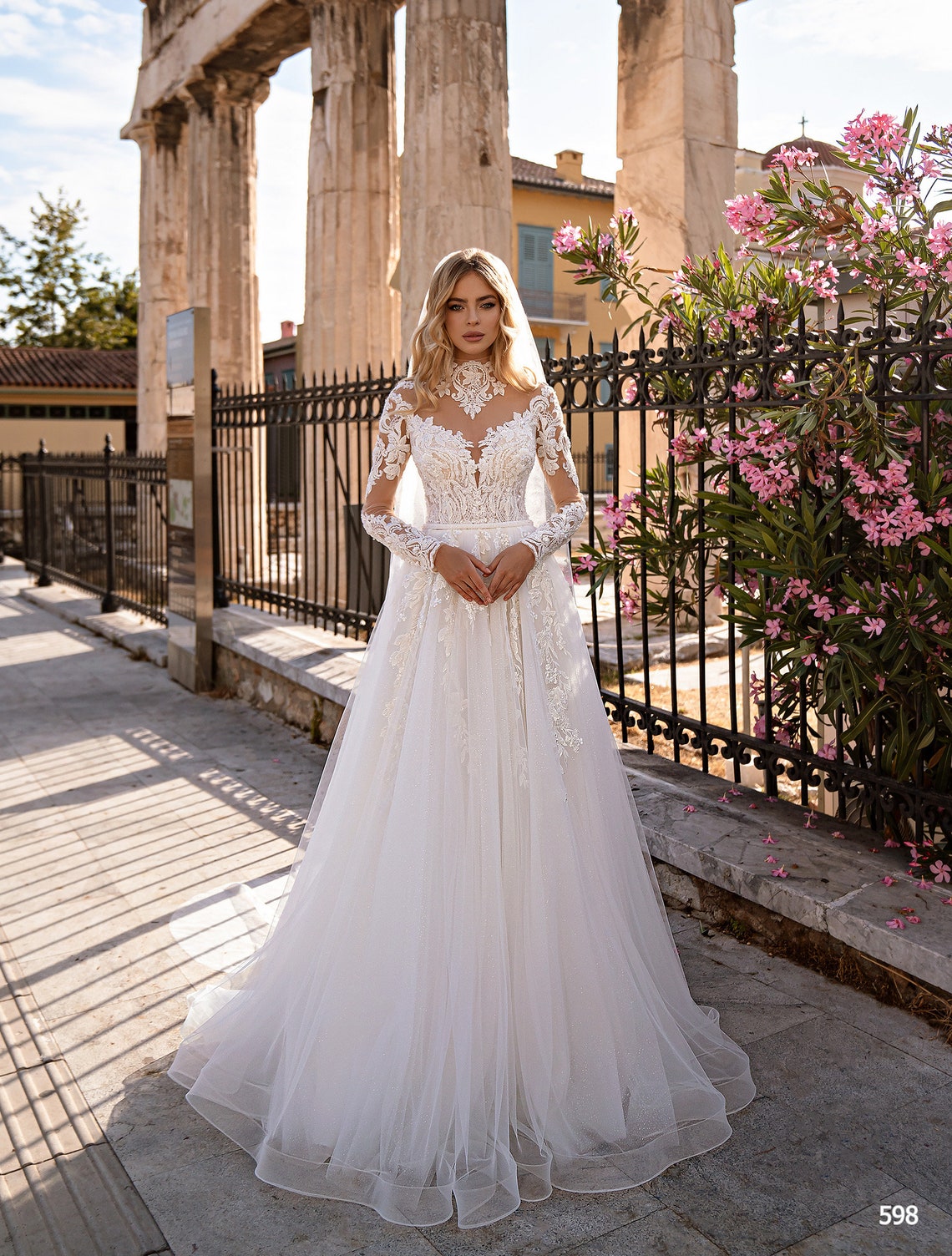 Stunning wedding gown decorated by beaded flowering guipure with sequins and crystals,which spills over into the sparkle skirt with a train. Corset from organza and Chantilly lacewith an attractive nude color sleeves, decorated with lace. The belt from the Swarovski crystals.
Vintage Long Sleeve Wedding Dress
Standing out from the crowd with a statement wedding dress is a challenge, but it's important to consider what you want to communicate about who you are on your wedding day. There's no doubt that the dress will be a standout and make the most of your petite figure.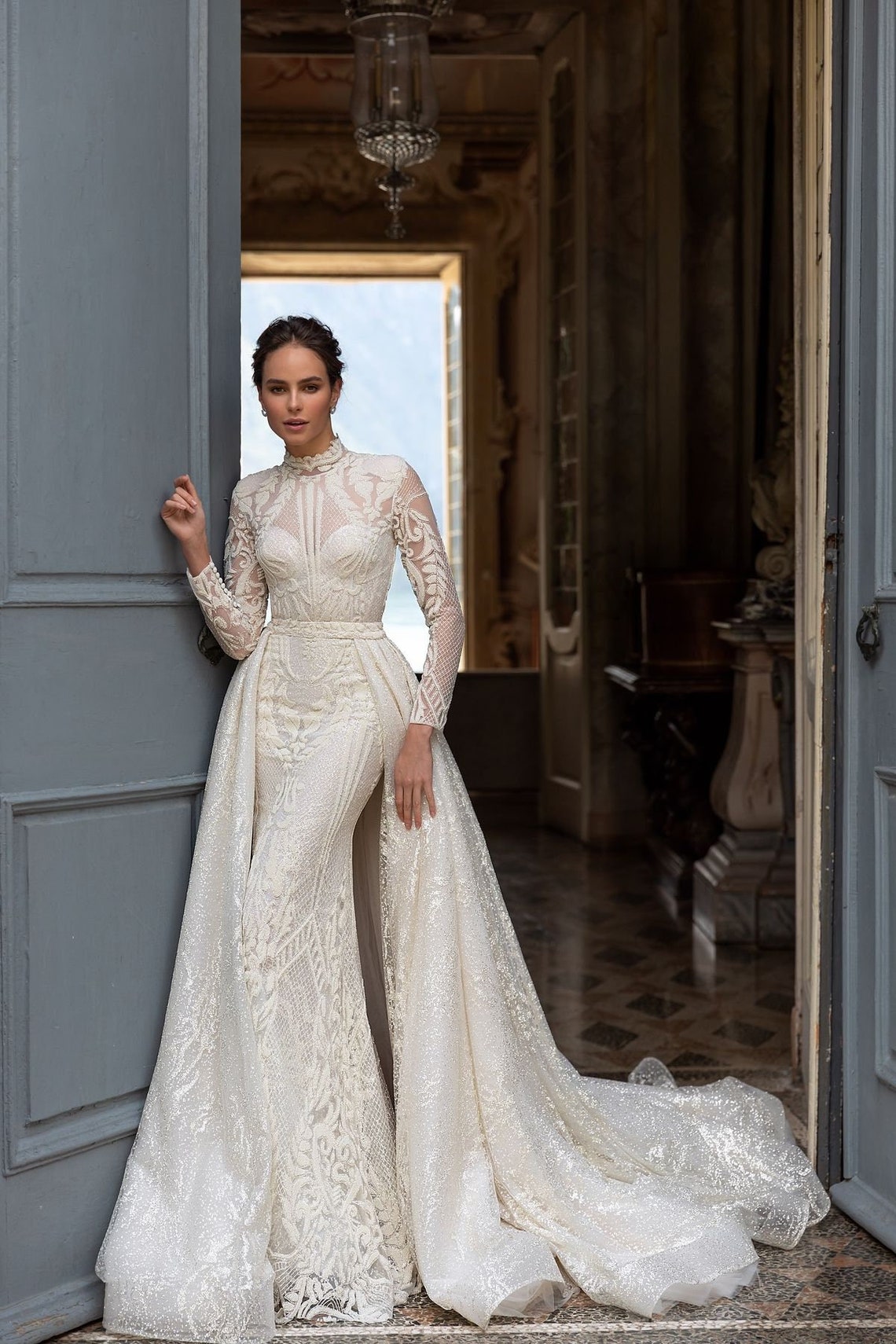 Black Long Sleeve Wedding Dress
The black long-sleeve long-dress in the image above is one of the most popular black long-sleeve dresses for weddings on Etsy.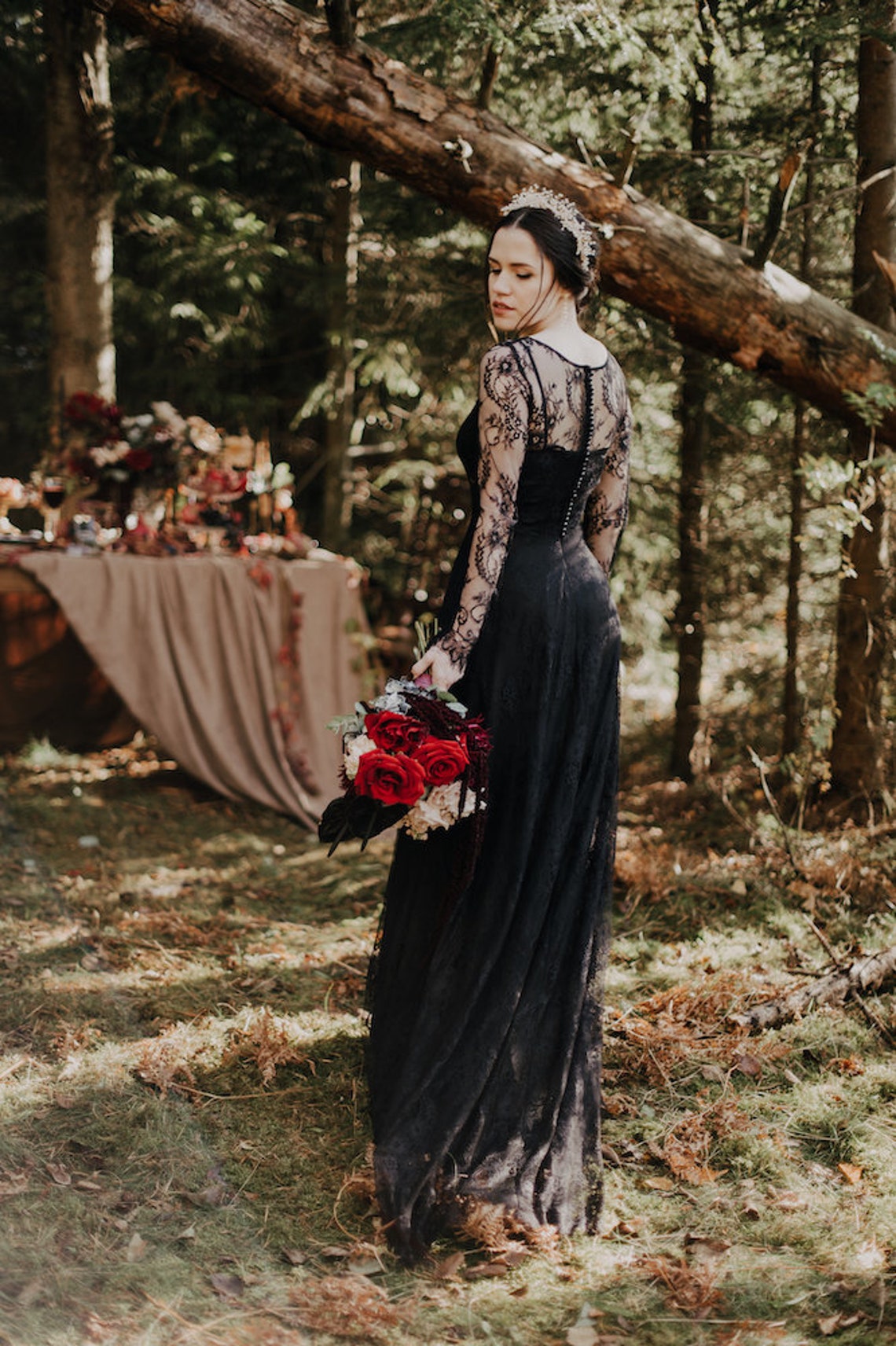 Back lace wedding dress, long sleeve black wedding dress. Black maxi dress. Black boho dress.

Bridesmaid Dress Ideas