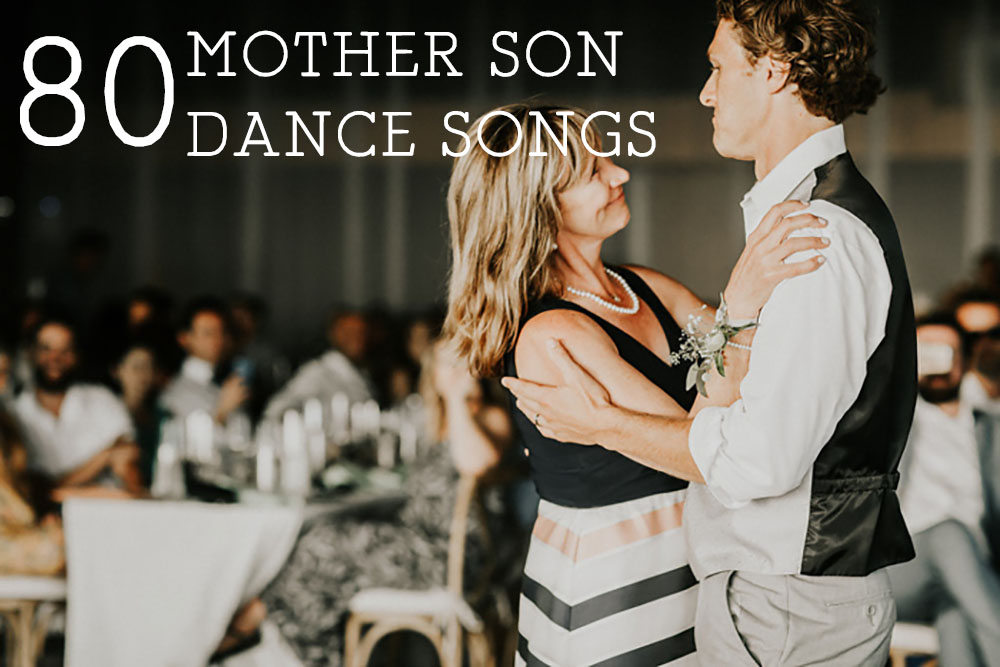 80 Mother Son Dance Songs for Your Wedding Day [2023]
What would be more special than having your mother dance with you on your wedding day? If you're looking for 80 mother son dance songs, you've come to the right place. Wedding day memories are made when families come together to celebrate the love between two people. So why not make it extra special by having your mom dance with you? Here are 80 mother son dance songs that will help make your day perfect.
What Are Good Songs for a Mother Son Dance?
The mother and son wedding dance song is an important part of choosing the right songs for your wedding band to play throughout the ceremony. The perfect song can be the sweetest devotion any man can pay to his mother on his wedding day. So, check out our list!
We'll start with some general great tunes from all genres and decades. Then, we'll narrow things down a bit in case you really have your heart set on a super-specific genre.
Although the first dance is usually a slow down-tempo tune, that doesn't mean the groom has to waltz with his mother. Uptempo mother-son dances are always a crowd-pleaser!
Upbeat Mother-Son Dance Songs
Here are some of the most uplifting mother-son dance songs for your special day, including songs from top artists and composers to remind you of how special you two are. There are plenty of mother-son songs to choose from, and you can sample the songs to get a feel for which ones are perfect for you.
Unique Mother and Son Wedding Dance Song
When it comes to wedding receptions, you want to make sure to make your guests feel like they are in on the celebration. Below are some of the Mother and Son Wedding songs that can make your wedding day unique. They can be alternative, contemporary, and the perfect combination of both! You deserve a perfect wedding reception, so start planning now for a wedding that has your guests talking about for years to come.
Country Songs for the Mother-Son Dance
Country songs are perfect for this occasion, as they can convey emotions and sentiments of the day in a celebratory, yet heartfelt manner. Opt for one of the following 50 country tunes to play on your wedding day for the traditional mother-son dance.
Classic Rock Mother-Son Wedding Dance Songs
Here are classic rock songs from surf rock to pop-punk which include songs from bands like Black Sabbath and The Ramones. This list includes a variety of mother-son songs from different decades.
Mother of the Groom Dresses 2023

Frequently Asked Questions about Mother-Son Wedding Dance Music
Who picks the mother-son dance song?
The song for the mother and son dance is typically picked out by the groom or the groom's mom.
Ask your mom if there is a special song that she would like to dance to. You can even send her the link to this article to help her with making a decision.
If you are completely overwhelmed by the process of choosing a good song, you can ask your DJ to narrow it down for you (or they can even make the decision for you).
---
What song should I choose if I am dancing with my stepmom?
If you have a close relationship with your stepmom, any of the songs from this list will work.
If you are doing a dance with both your mom and your stepmom, just try to pick a song that reflects your unique relationship with each of those special people in your life.
---
What does the mother son dance symbolize?
Dancing with your mom on the wedding day is a special moment that you don't want to skip.
This special dance is a great way to honor the special bond between a son and his mother.
You and your mom will cherish the photos forever (I speak from experience).
---
What is a good mother-son country song?
A country song with lovely lyrics can create a tear-jerking moment when the groom and his mom dance at the wedding. Such country songs include The Best Part Of Me (Lee Brice), Humble and Kind (Tim McGraw), If I Didn't Have You (Thompson Square), etc.
---
What are the worst mother-son dance songs?
Inappropriate tracks can ruin the mother-son wedding dance. Avoid romantic songs like You Look Wonderful Tonight (Eric Clapton). Stay away from Mother-in-Law (Ernie K-Doe) for sure. Don't offend your wife while trying to be funny by choosing songs like Gold Digger (Kanye West).