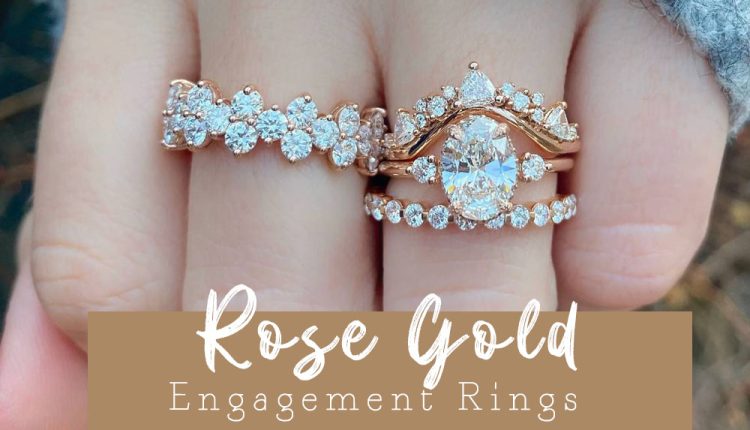 20 Rose Gold Engagement Rings for Every Bridal Style 2022
Pink-colored metal is now officially a classic as an engagement ring. Achieved by adding copper alloys to gold, rose gold is an up-to-date and contemporary alternative. For Sentimental brides find the rose gold as "love" says Madeline Fraser, CEO of Gemist. "White gold for friendship and yellow gold means fidelity, so rose gold has a more romantic quality to it, especially when it comes to an engagement ring."
Celebrities have opted for rose gold engagement rings, with a rose gold engagement ring, you are sure to stand out with its sparkles in a sea of yellow gold and platinum. Rose gold rings are durable and always beautiful with everything from traditional diamonds to colored gemstones.
Are you sold yet? If so, here are our 20+ favorite rose gold engagement rings for your consideration.
What to Look For When Buying a Rose Gold Engagement Ring
Tint
Rose gold can come in a variety of tints, making it suitable for all skin tones. Those who prefer millennial pink and hardly pink hues can opt for the lighter 14k metal, and those who prefer rosy shade can opt for the dark and dustier 18k rose gold.
Stone
White diamonds are a stunning complement to rose-gold settings, but champagne, gray, and raw diamonds are still welcomed as well as colored gemstones. "They're complimentary colors so they work together perfectly," says Fraser when it comes to an unexpected combination with green emerald gemstones. If you need more pink, then look no further than pink sapphire, pink tourmaline, morganite, and spinel are your right options.
Setting
You have free range to choose a style of Rose gold with your taste. For a super-romantic rose gold engagement ring suit with an antique style or setting with filigree or floral design to show feminine and sweetness. A sleek solitaire or two-stone ring in rose gold is stunning for skews modern. If you are a fashion-forward twist, then contemporary elements such as an east-west setting are a great choice. All is up to you!
1. Classic Solitaire Diamond Twist Shank Engagement Ring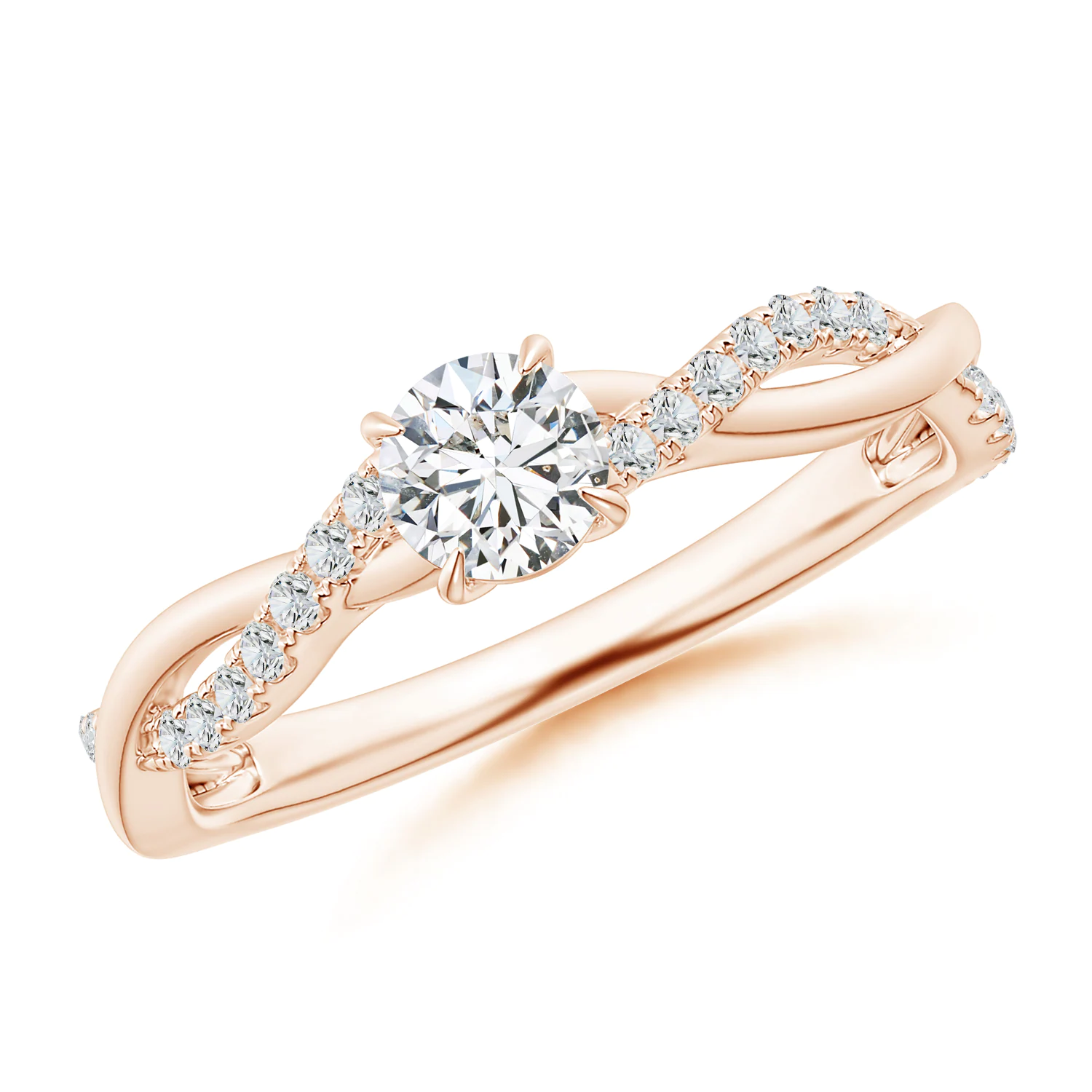 2. 14K Rose Gold Pavé Twist Diamond Engagement Ring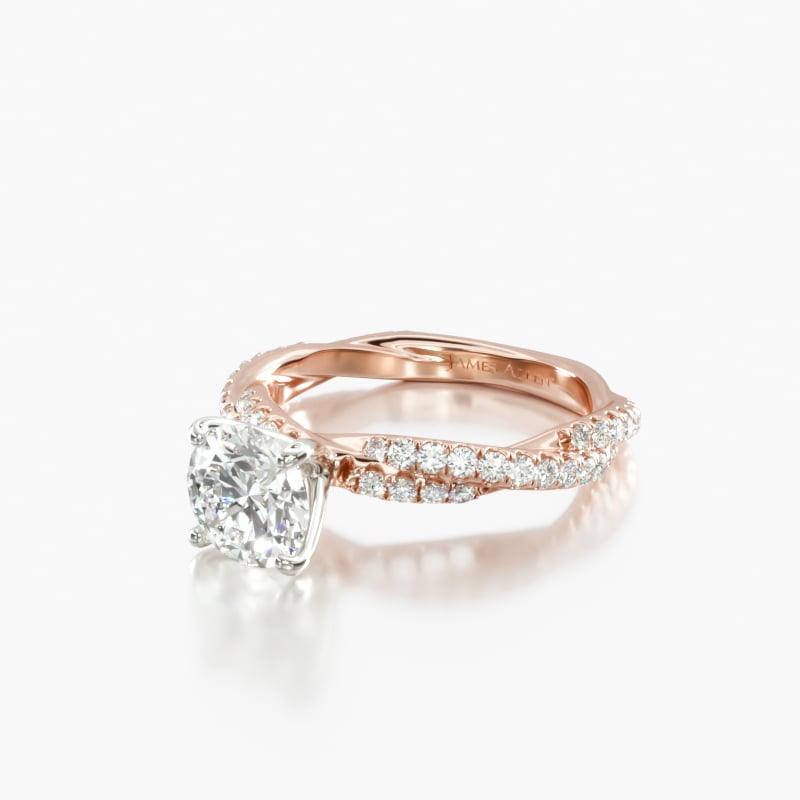 3. Tacori Round with Cushion Bloom Engagement Ring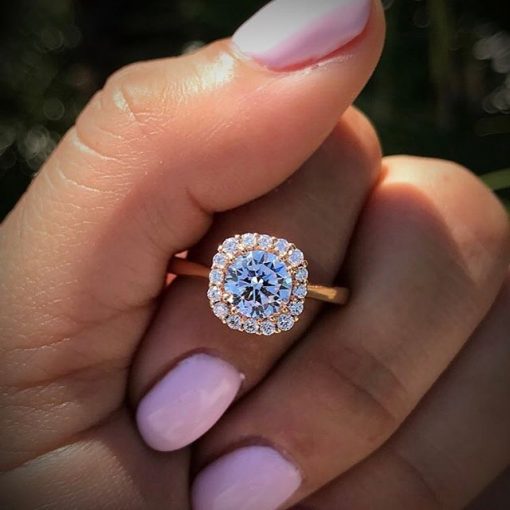 4. Oval Moissanite Rose Gold Engagement Rings Set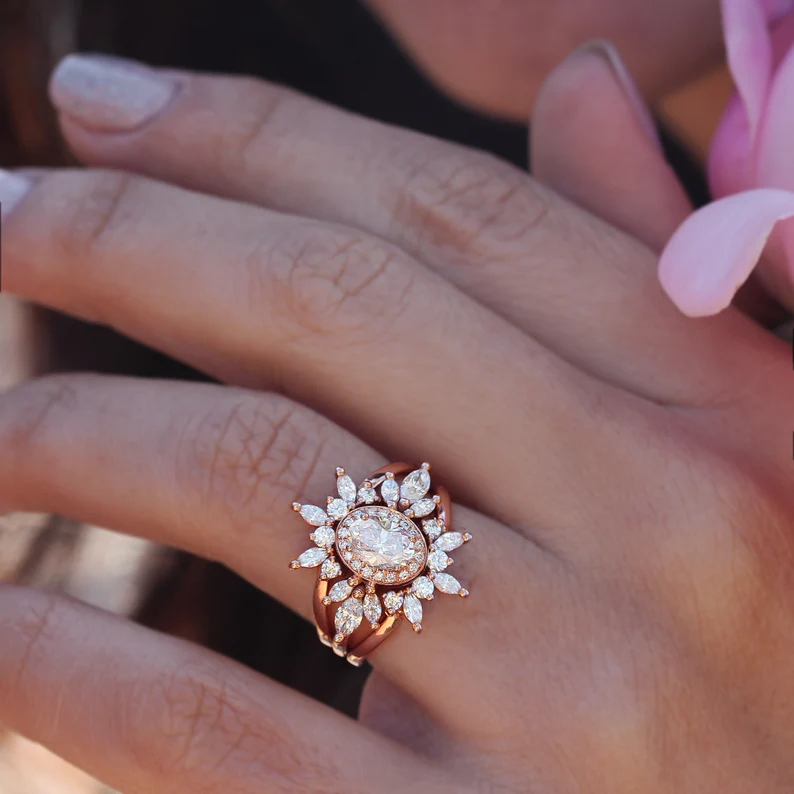 5.  Emerald cut Moissanite Wedding Three Ring Set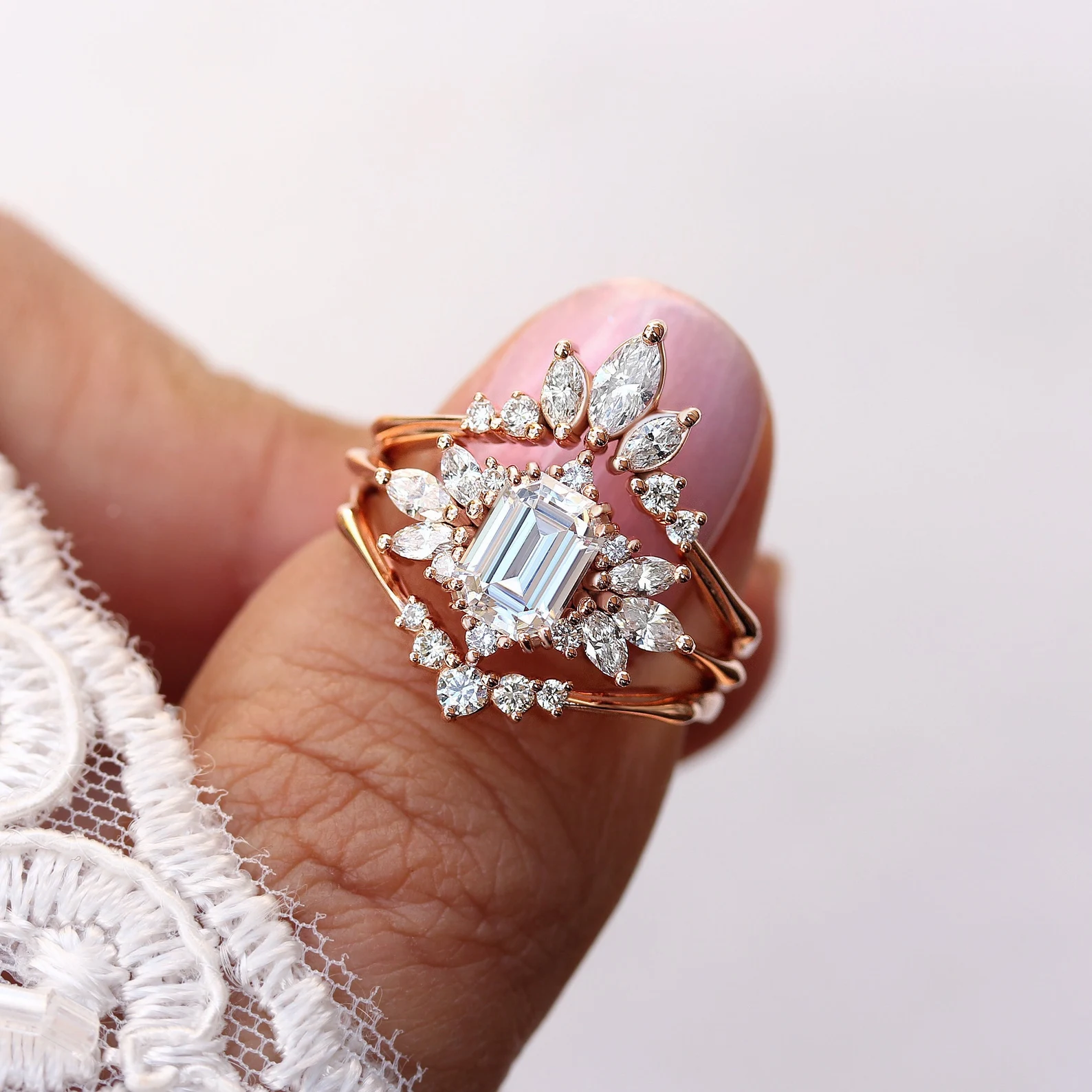 6. Joy Diamond Engagement Ring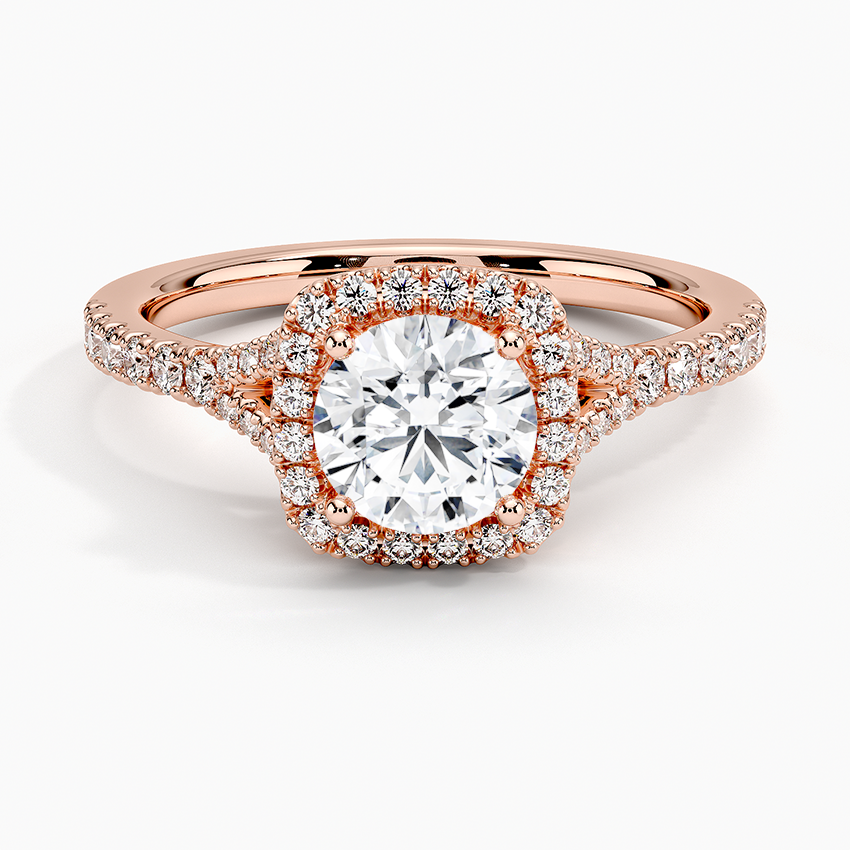 7. 14K Rose Gold Engagement Ring Diamond Double Frame Bridal Set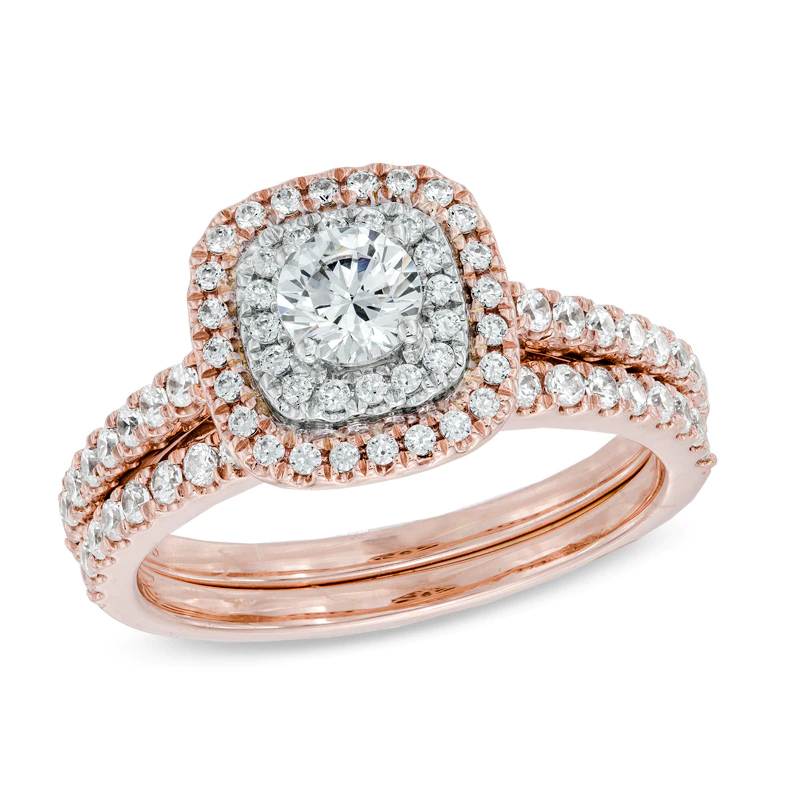 8. 3.30 Carat Radiant Cut Rose Gold Engagement Ring Diamond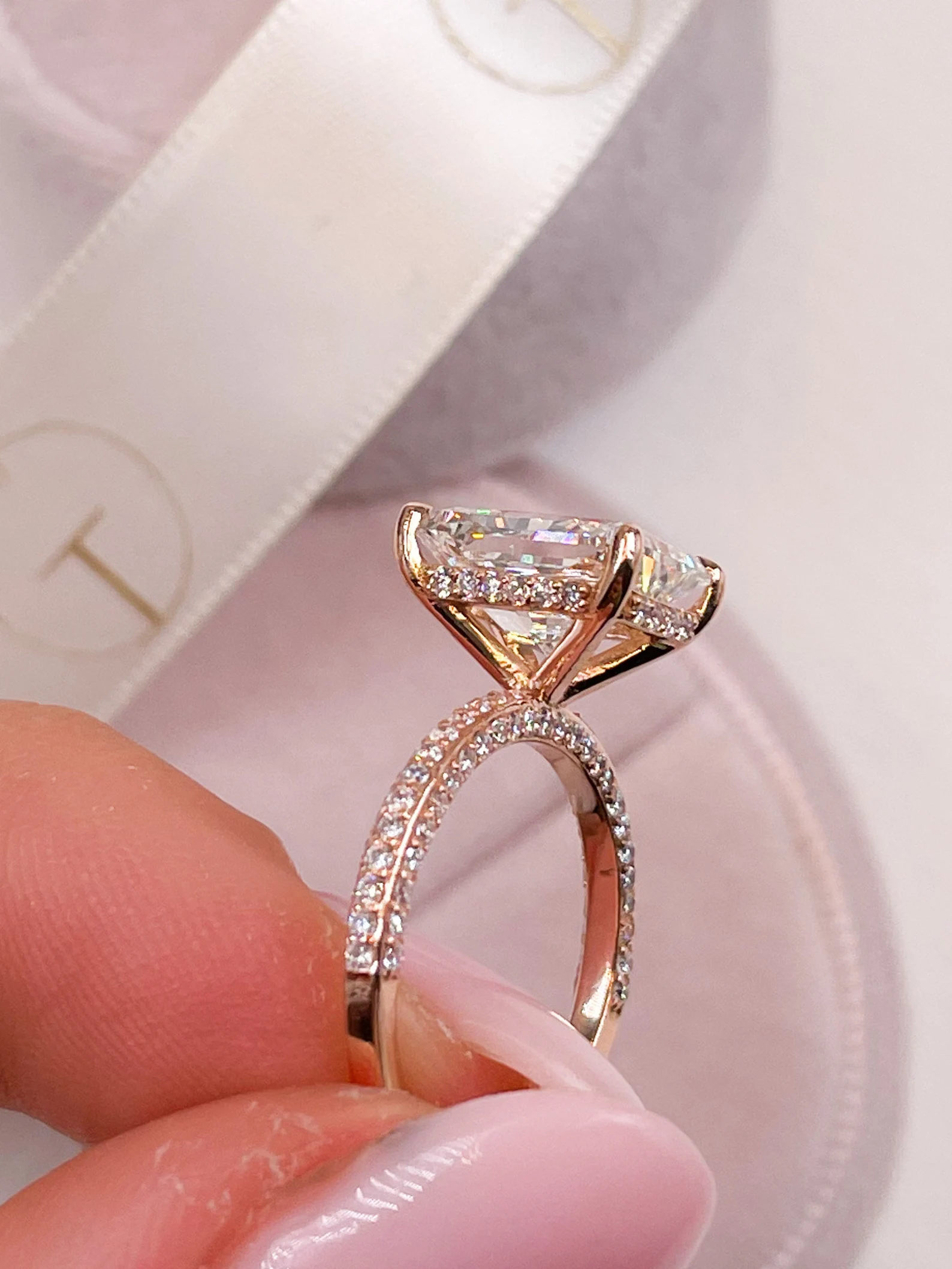 9. 14k Rose Gold flower Morganite Diamond Antique Art Deco Engagement Ring
10. Salt and Pepper diamond engagement ring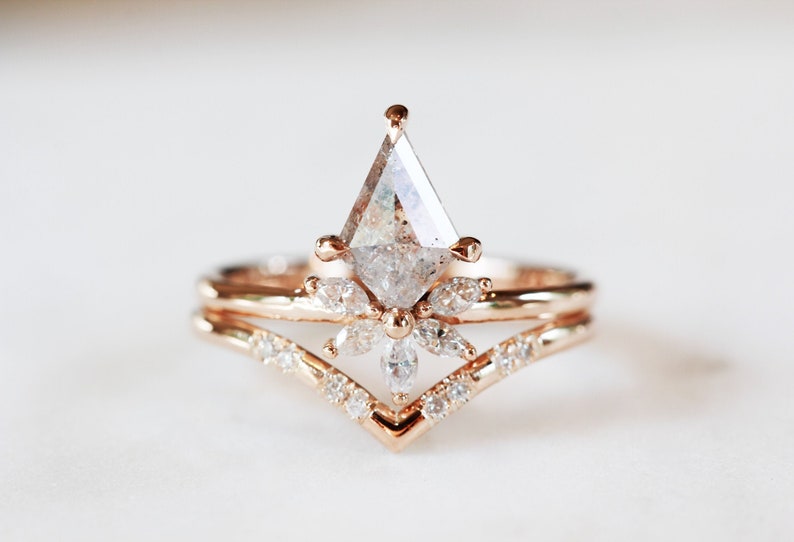 11. Rose Gold Round Cut White Sapphire Halo Engagement Rings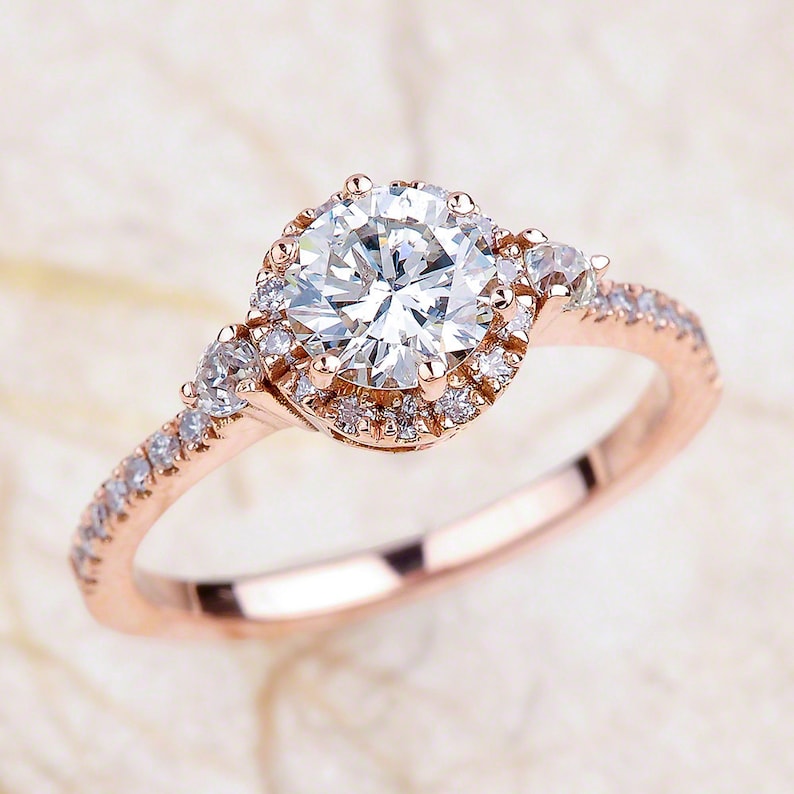 12. Halo Pear Diamond Ring with Curved Diamond Band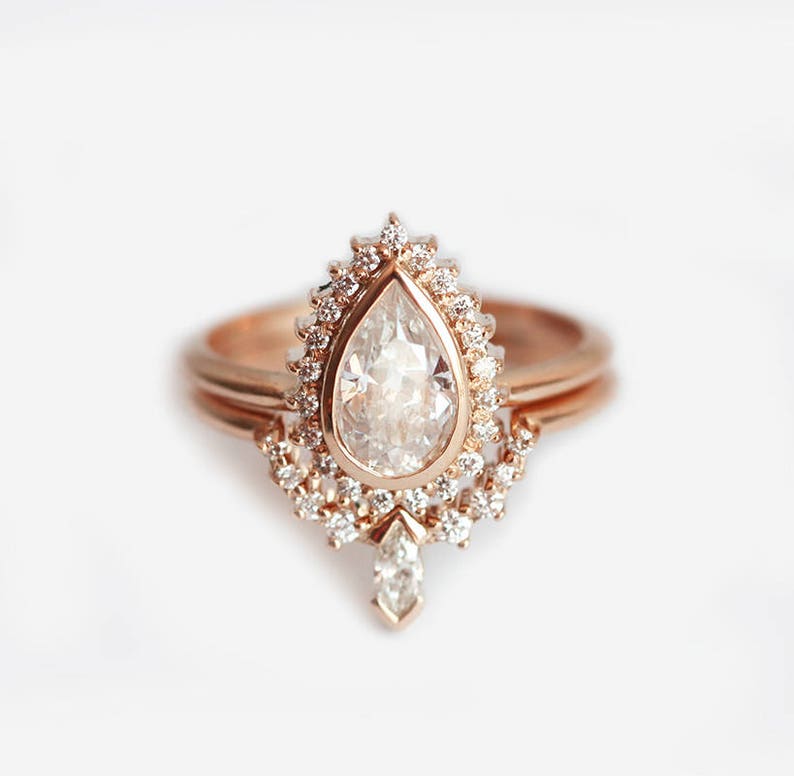 13.  Cushion Cut Halo Vintage Morganite Rose Gold Engagement Ring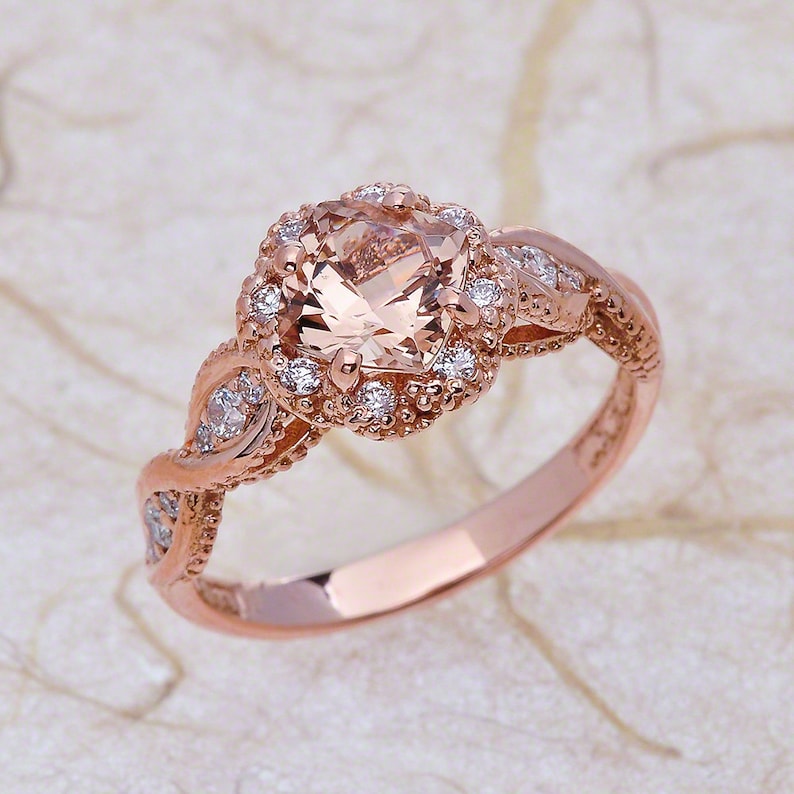 14. Round Cut Diamond Halo Rose Gold Engagement Ring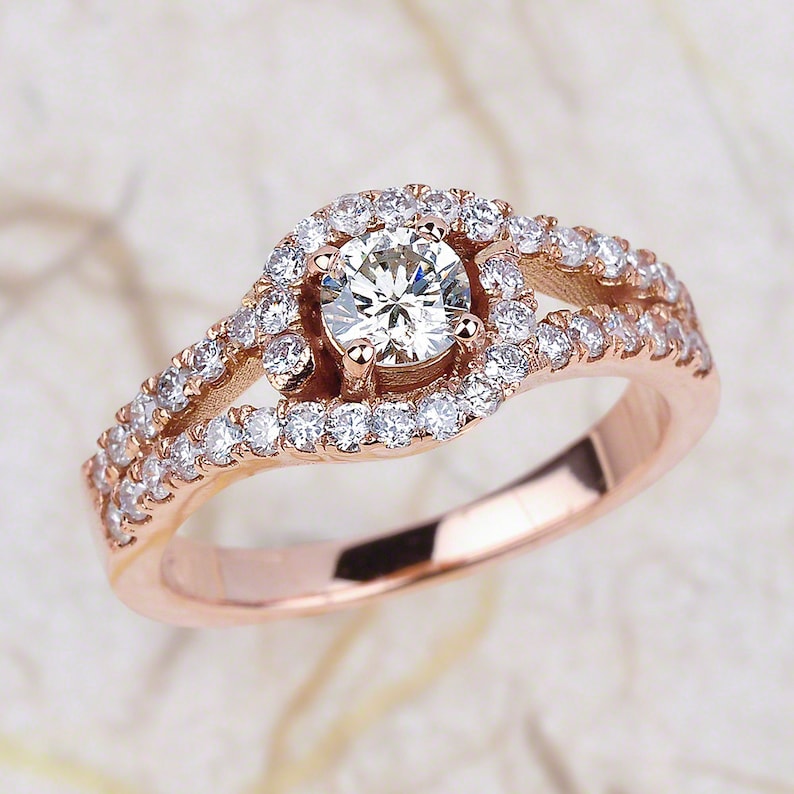 15. Rose cut white diamond engagement ring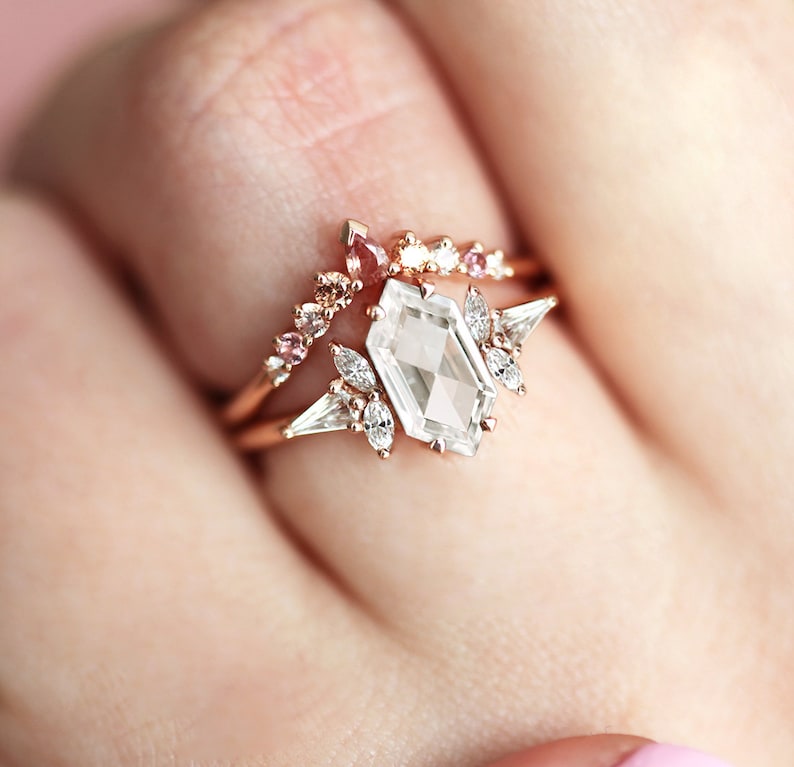 16. Rose Gold Engagement Ring with Round Diamond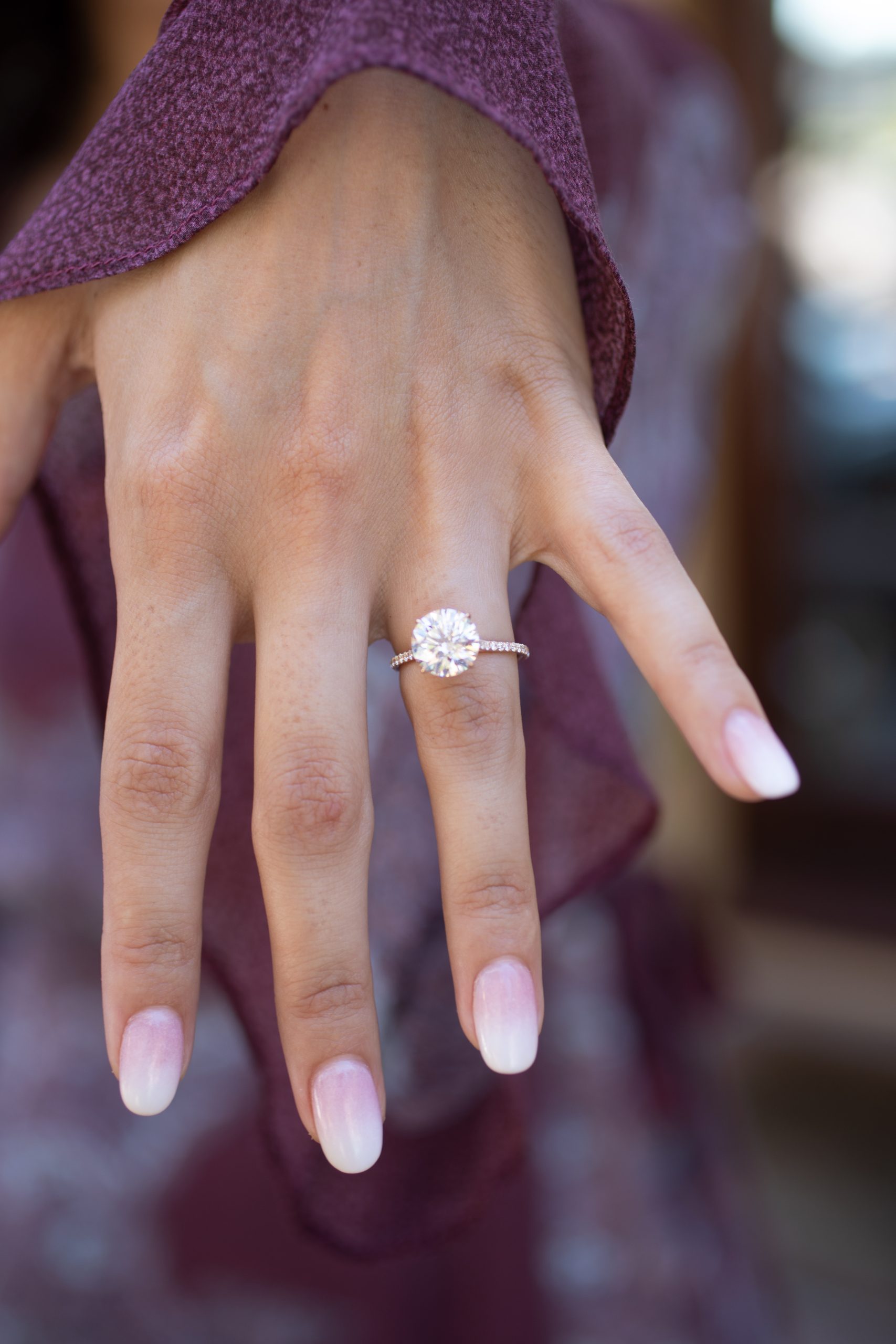 17. Vintage Halo Rose Gold Engagement Rings Wedding Sets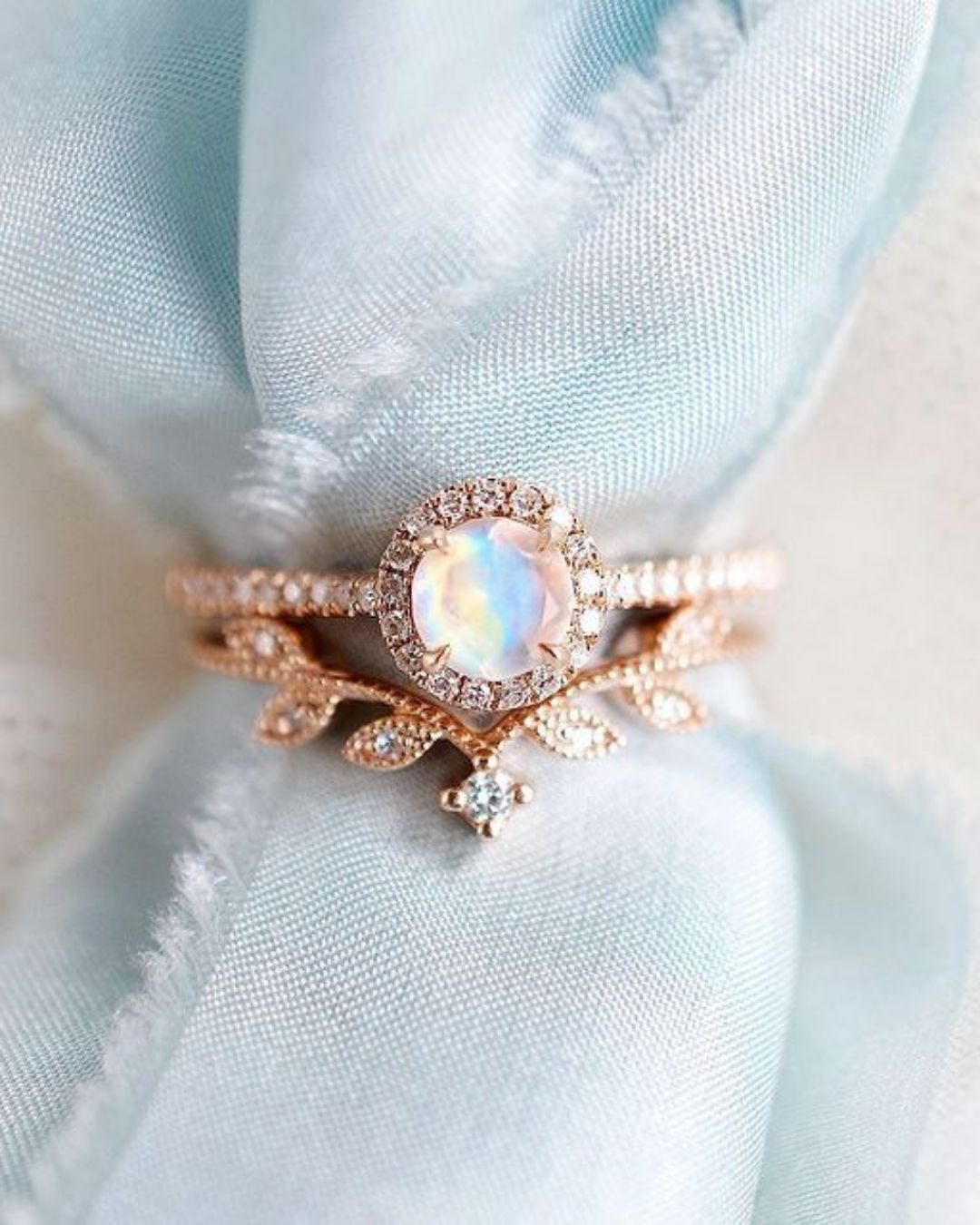 18. Floral Rose Gold Engagement Rings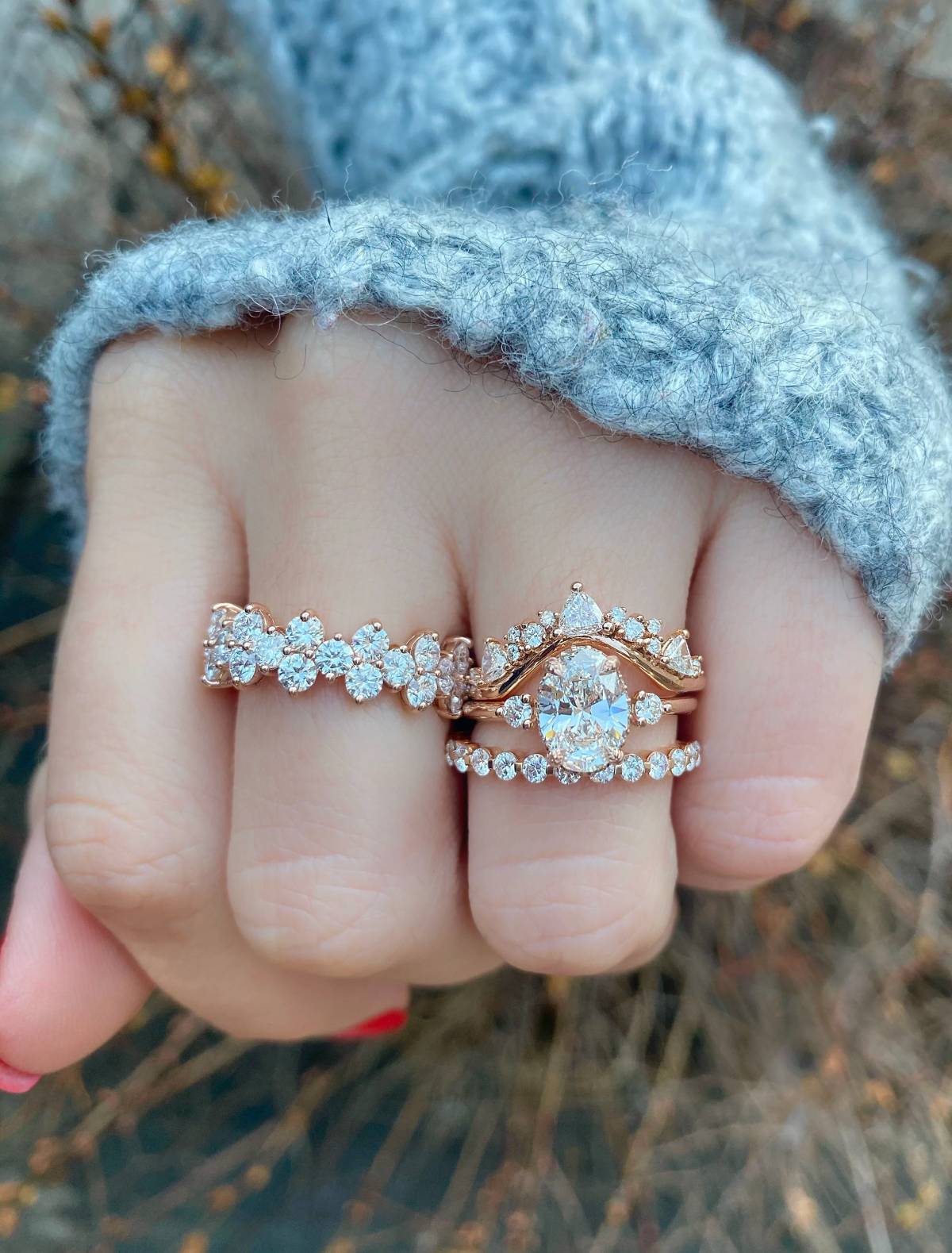 FAQs
When caring for your rose gold ring, it doesn't need special cleaning. A gentle toothbrush after soaking in warm and soapy water is enough to clean it.
Yes, rose gold metal is an excellent option for a ring. "Because it copper contains, it will withstand a little bit more wear and tear. Not many dings and scratches in it over time," says Fraser.
Rose gold will generally have a similar price as yellow gold has. And the more carats you need, the higher the price will be.