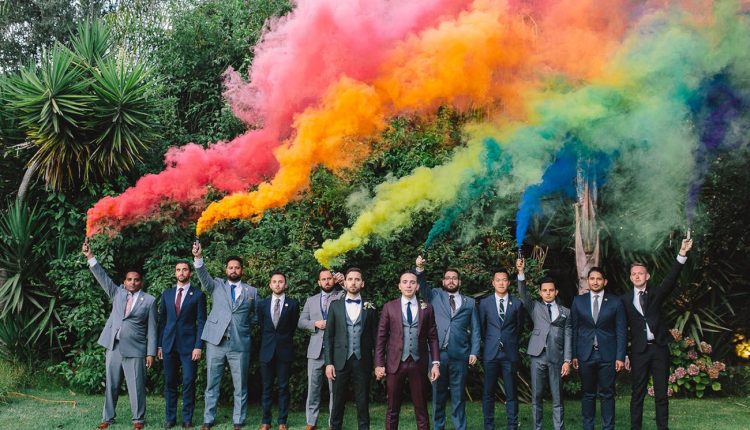 24 Colorful Smoke Bomb Wedding Photo Ideas
If there's one trend that's the bomb in weddings right now (literally), it's smoke bombs. These fun props take off in gorgeous clouds of color, creating a dreamy backdrop that's completely ethereal. Not only do they put on an epic show that promises to make your wedding photos unforgettable, they also offer a playful way to add a nontraditional and unexpected element to your wedding, bringing it alive with a burst of color.
Choose from every color imaginable, tailoring a smoky effect to your personality as a couple; employ a bold magenta to make a big statement or mix a purple and turquoise for a dreamy mix. Mix and match it to your theme or opt for a hue that contrasts from your environment to stand out. Even a lack of color looks just as stunning—a swirling white has an enchanting, mystical effect. Set them off in the distant background for a billowing backdrop in the forest with an otherworldly vibe or throw them in the air after saying "I do" for a celebratory walk down the aisle. Love the idea of the smoke swirling around you and your partner? Suggest to your photographer that they have an assistant use a fan to move the smoke in one direction.
Of course, there are a few things you'll want to take into consideration, specifically your environment—make sure you use your smoke bombs outdoors and take note of the temperature that day as well as the wind before lighting them. And don't forget to first check with your venue that it's okay to use them on the property, and that your photographer is adequately prepared to shoot with them. Remember: Smoke bombs can stain, so keep a distance from them if you care about preserving your dress.
But most of all, make sure you first take a look at these gorgeous couples for some inspiration.