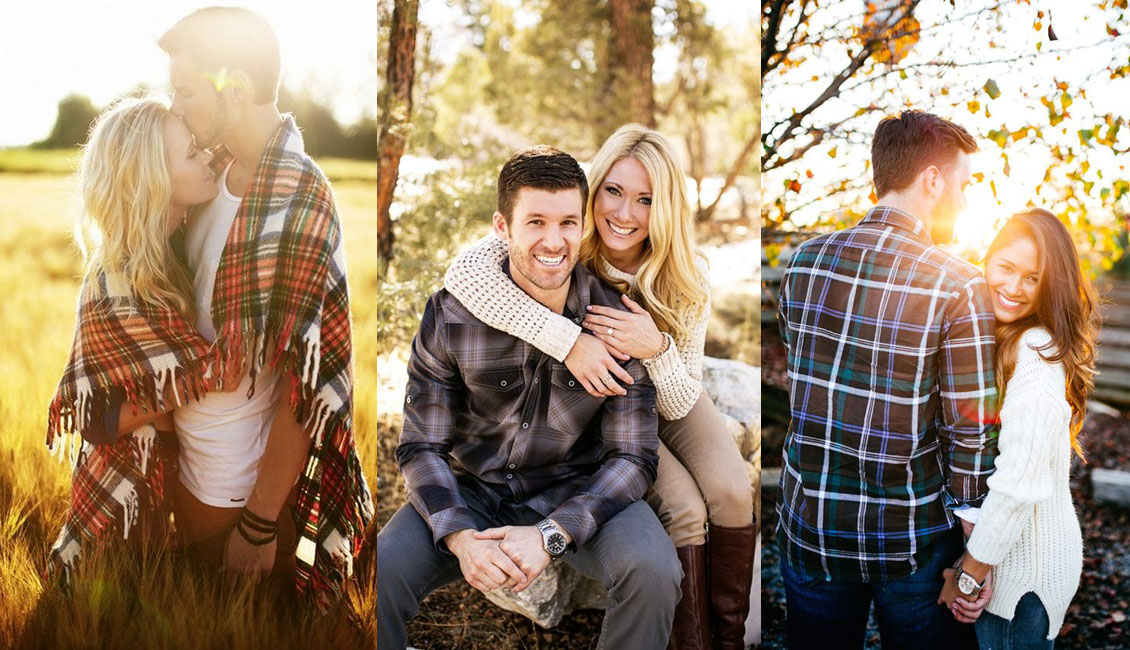 30 Super Captivating Fall Engagement Photos 2023
Fall is one of the best times to get engaged! The colors are beautiful, the weather is perfect, and there are so many fun activities to do. There are so many captivating ways to capture the season, from the leaves to the cozy sweaters. But don't just take our word for it. Check out these 30 amazing fall engagement photos that will make you want to head to the pumpkin patch ASAP.
Locations
When it comes to finding the perfect location for your fall engagement photos, the options are endless. Whether you're looking for a scenic backdrop of leaves in full autumnal colors or a more urban setting with crisp fall air, there's bound to be a location that suits your style. To help you narrow down the choices, we've rounded up a few of our favorite fall engagement photo locations.
Country
– Bottle up the charm of a simple country scene.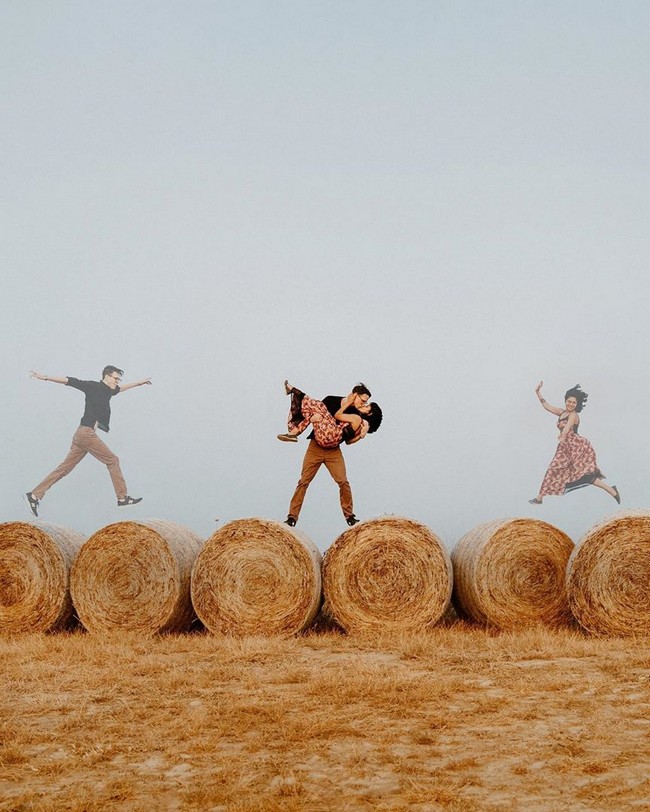 Mountain
– Striking vistas turn your snapshot into true art.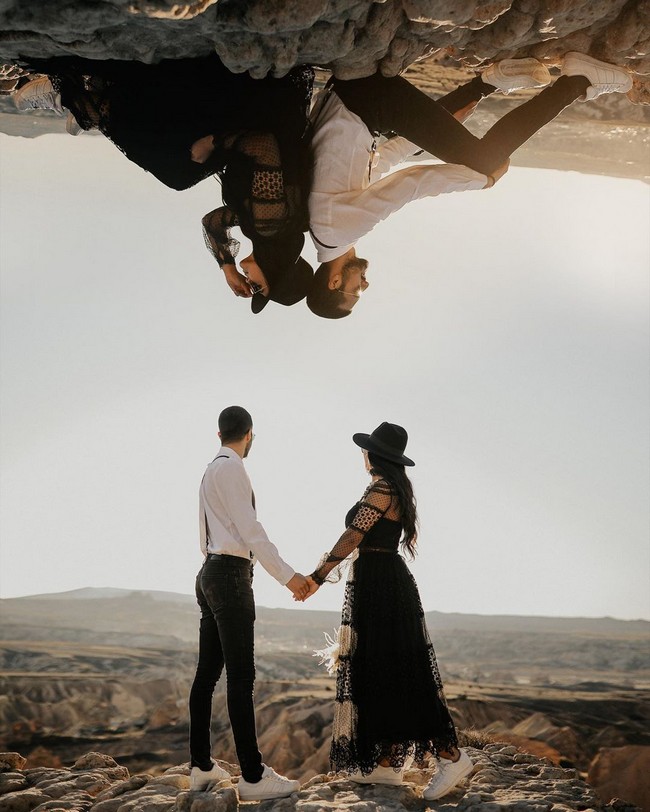 City
– A city never disappoints when it comes to fun backgrounds and skylines.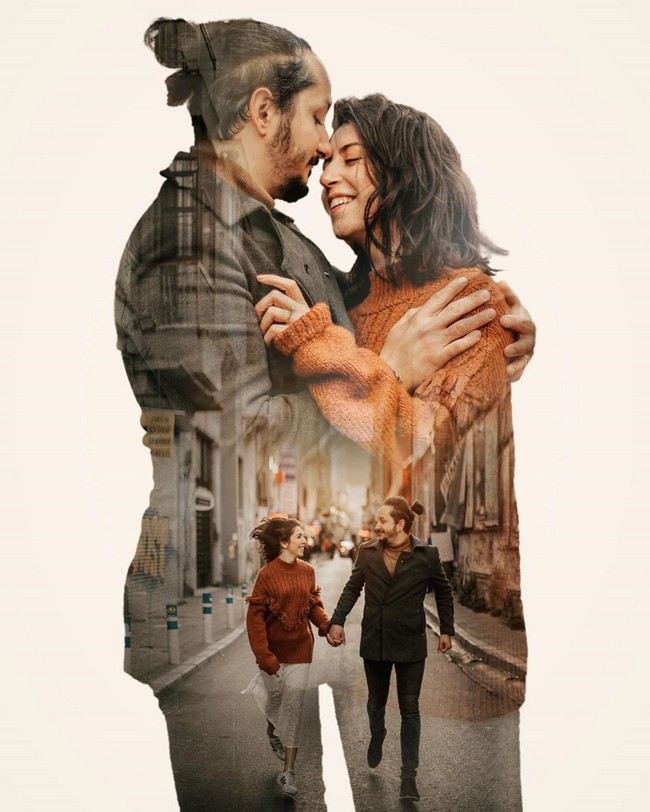 Desert
– Head out to the sand for some hot photos.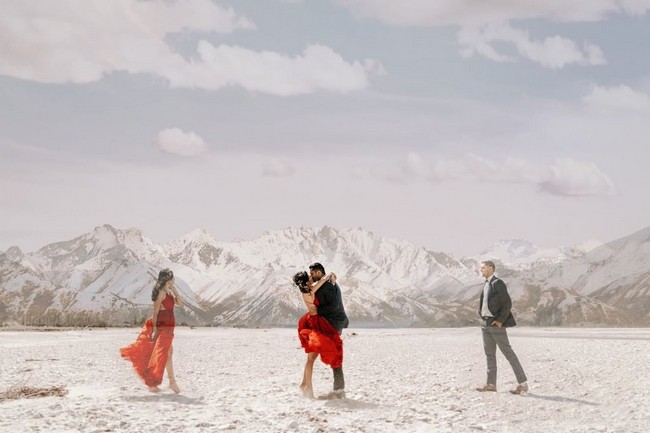 Highway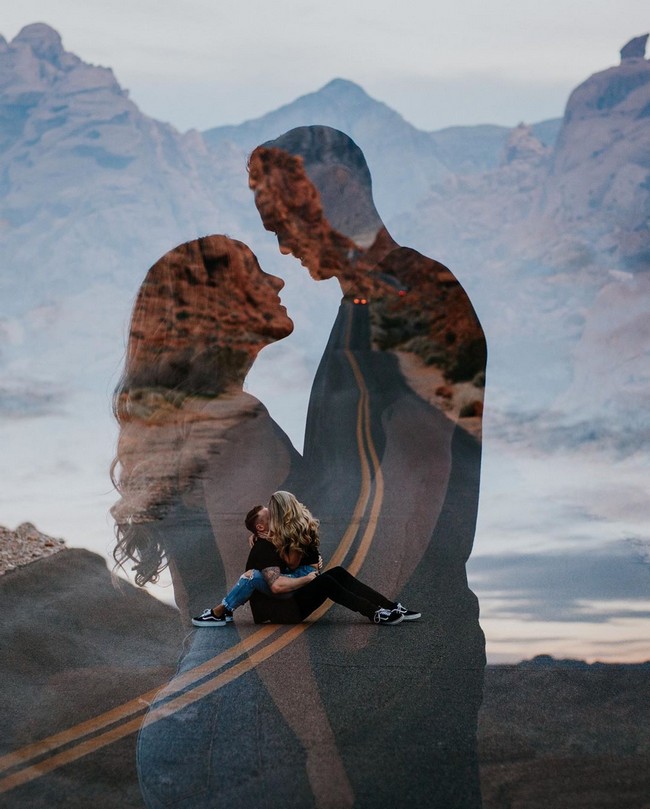 Beach
– The natural elements of a beach shoot always produce beautiful pictures.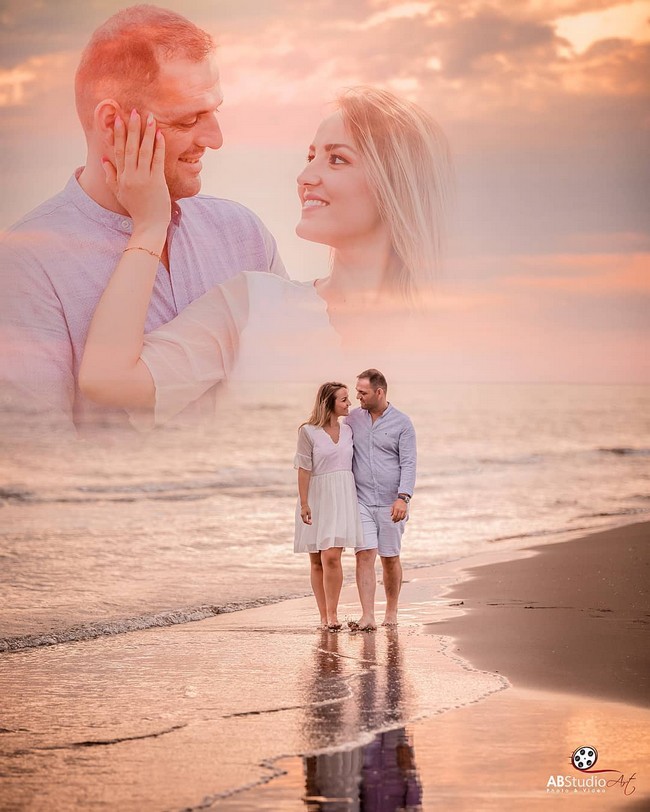 Forest
– Get lost in the woods together – but not really. You need to know your way out!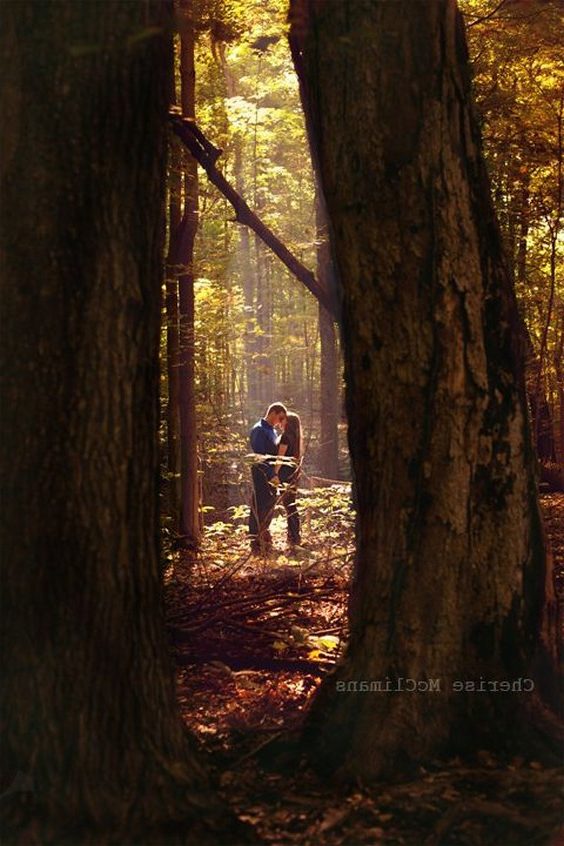 Kitchen
– Bring your photographer home to capture a romantic kitchen dance.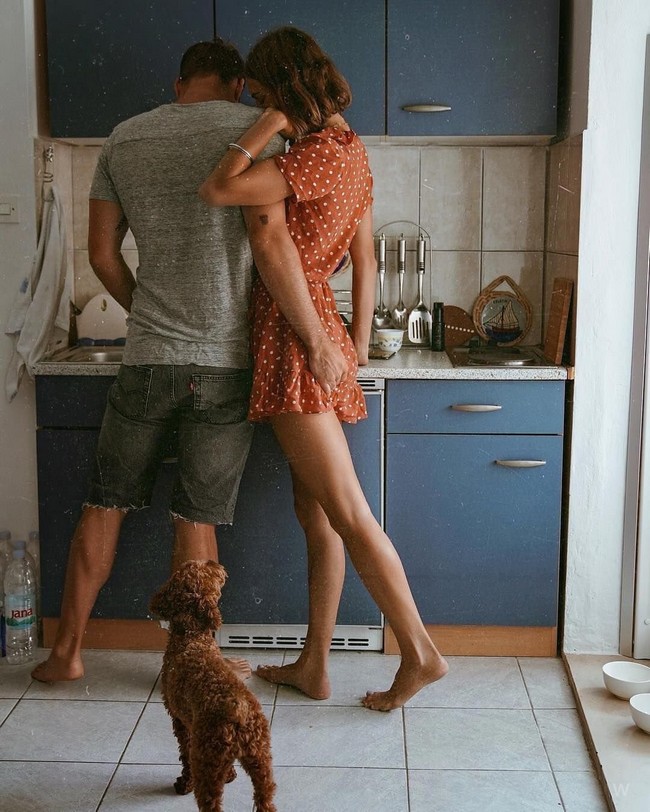 Comfy Chair at Home
– While at home, cozy up in a comfy chair or couch.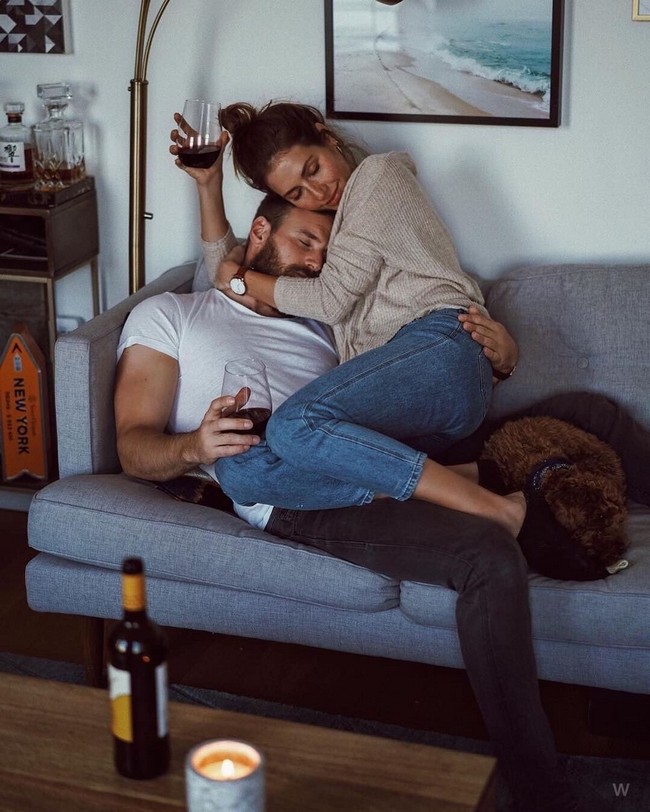 In Bed
– Lastly, take it to the bedroom. Nothing crazy, but your room is your fortress. Feel your strongest and most confident together on your bed.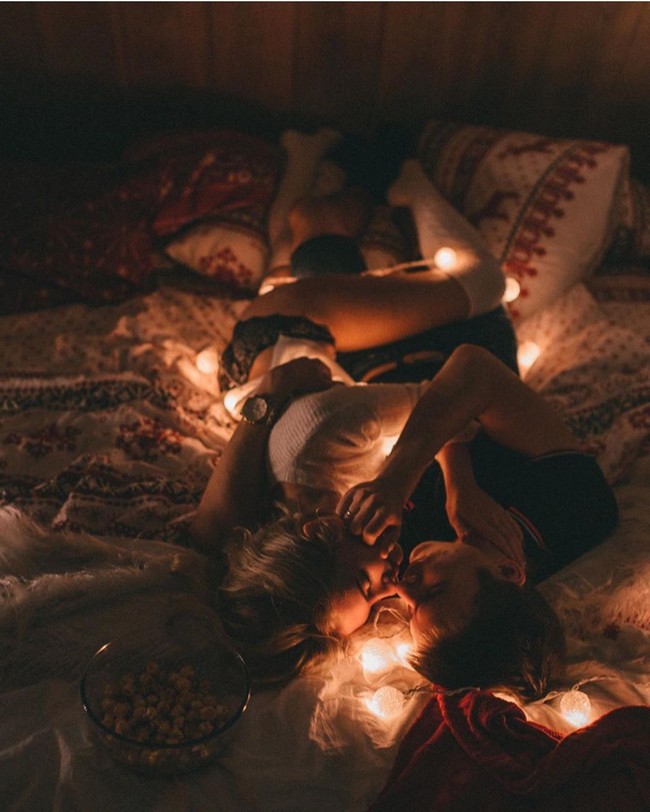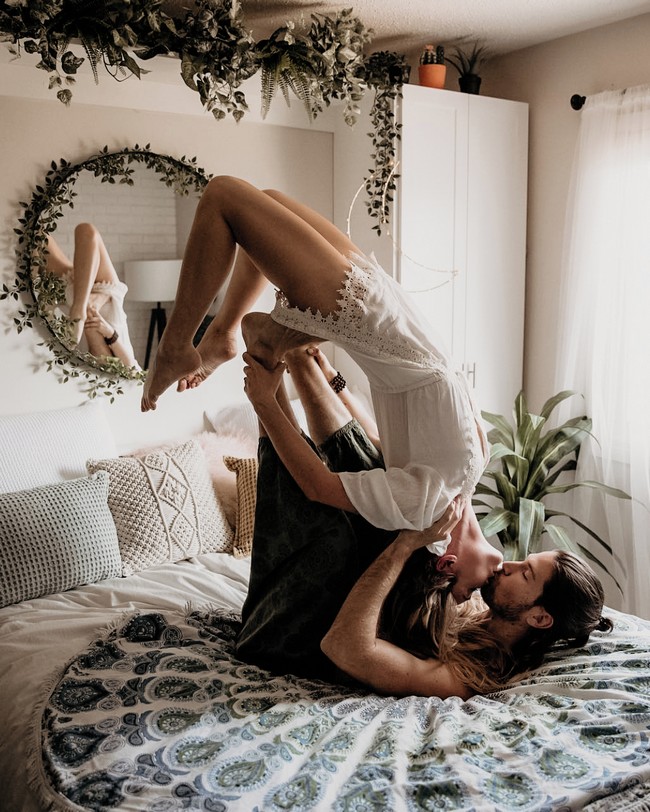 Poses
When it comes to engagement photos, there are endless possibilities for poses that will make your photos both memorable and unique. But with so many options, it can be tough to decide which poses will work best for you and your fiance. If you're looking for some inspiration, check out these ideas for fall engagement photos. From scenic outdoor shots to cozy indoor moments, these poses will help you capture the magic of your relationship.
Nose to Nose
– The best couple poses have chemistry. Keeping your faces close will be sure to help that.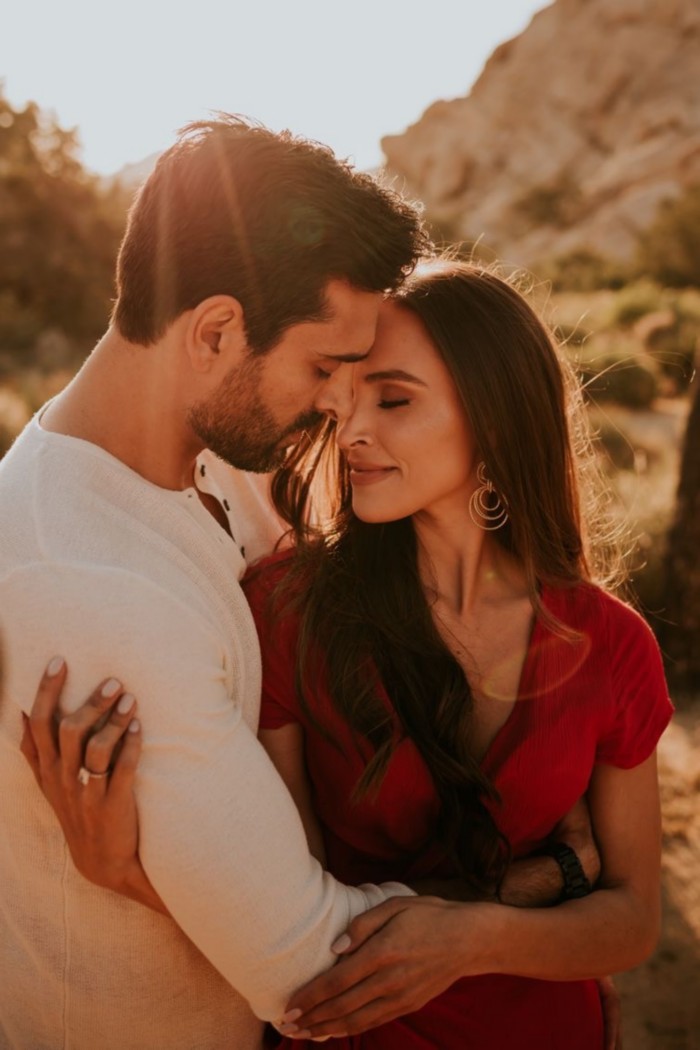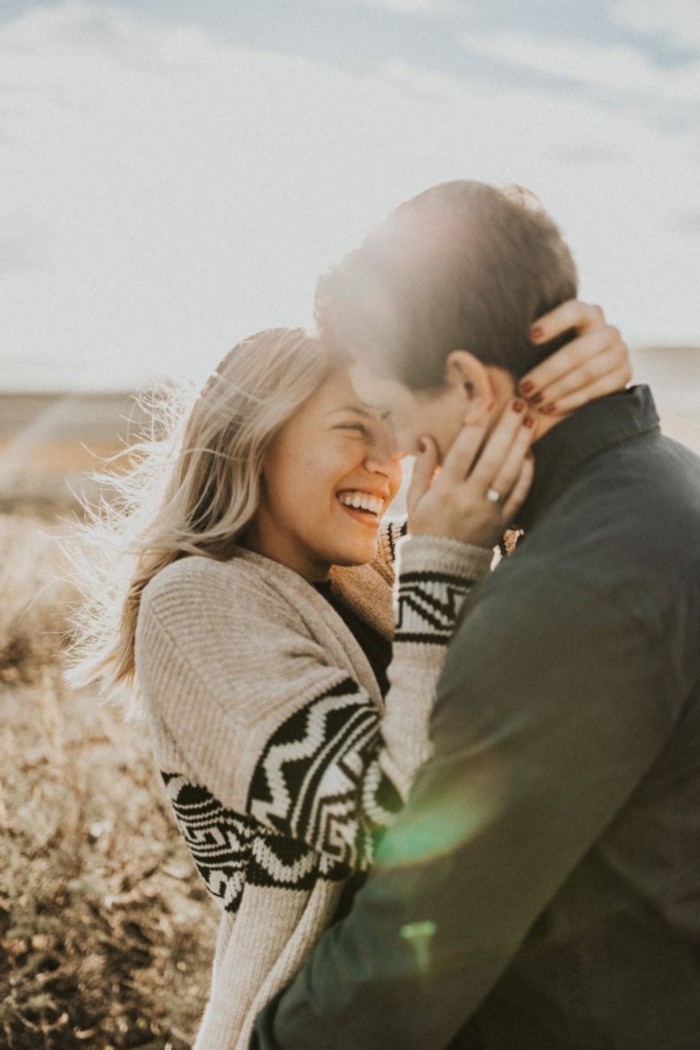 Head on Shoulder
– One of our favorite cute couples poses – especially if there is a height difference!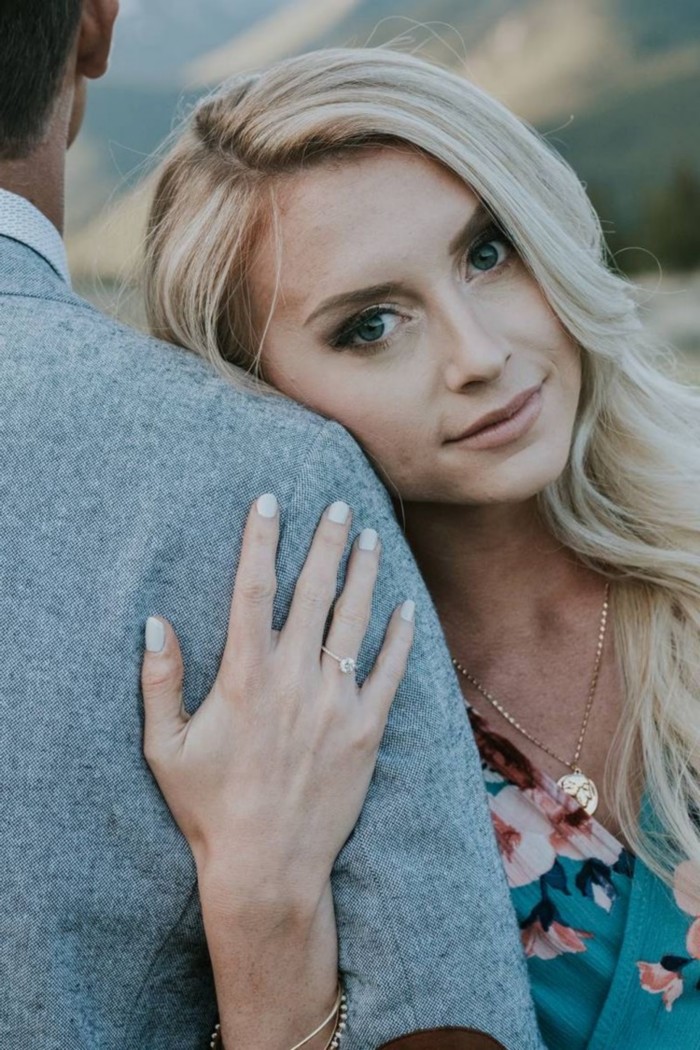 Kiss Her Hand
After scouring through Pinterest for the perfect pose for your engagement photos, you finally found one! You're thinking of going for the classic "Kiss Her Hand" pose. You can imagine how sweet and romantic it will look, but you're not quite sure how to execute it. Here are some tips on how to get the perfect "Kiss Her Hand" engagement photo.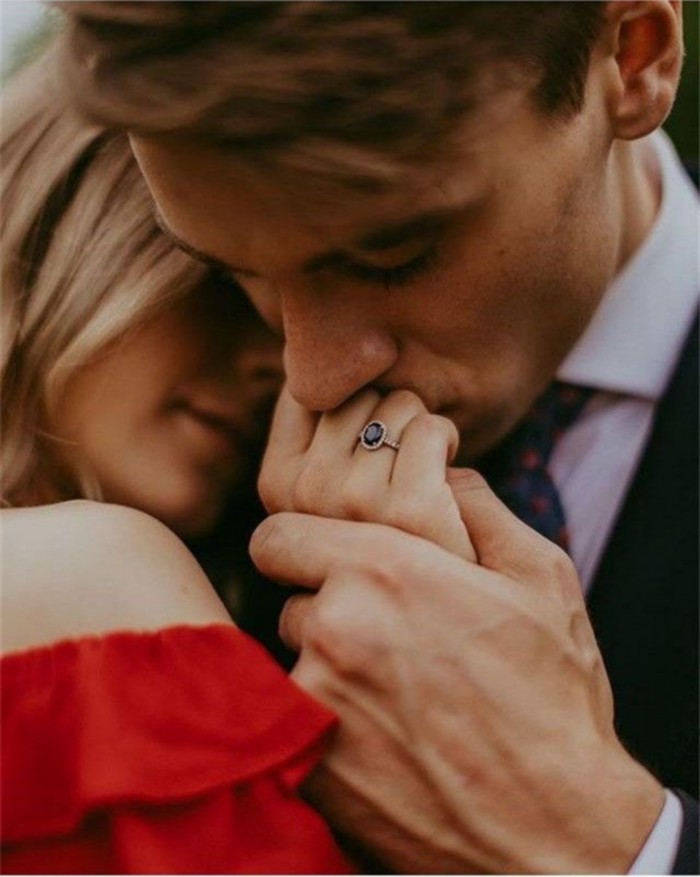 Only the Girl Looks
– Focus on the eyes of the girl in this couple picture idea.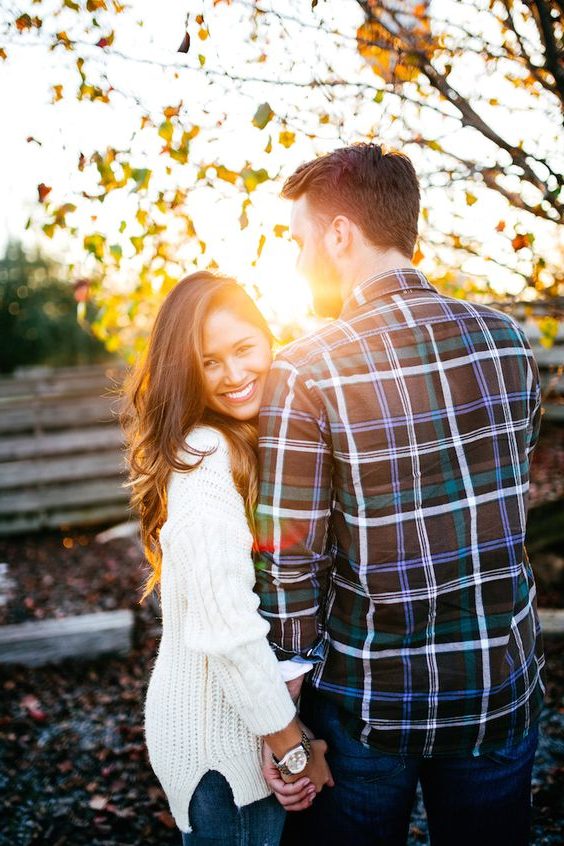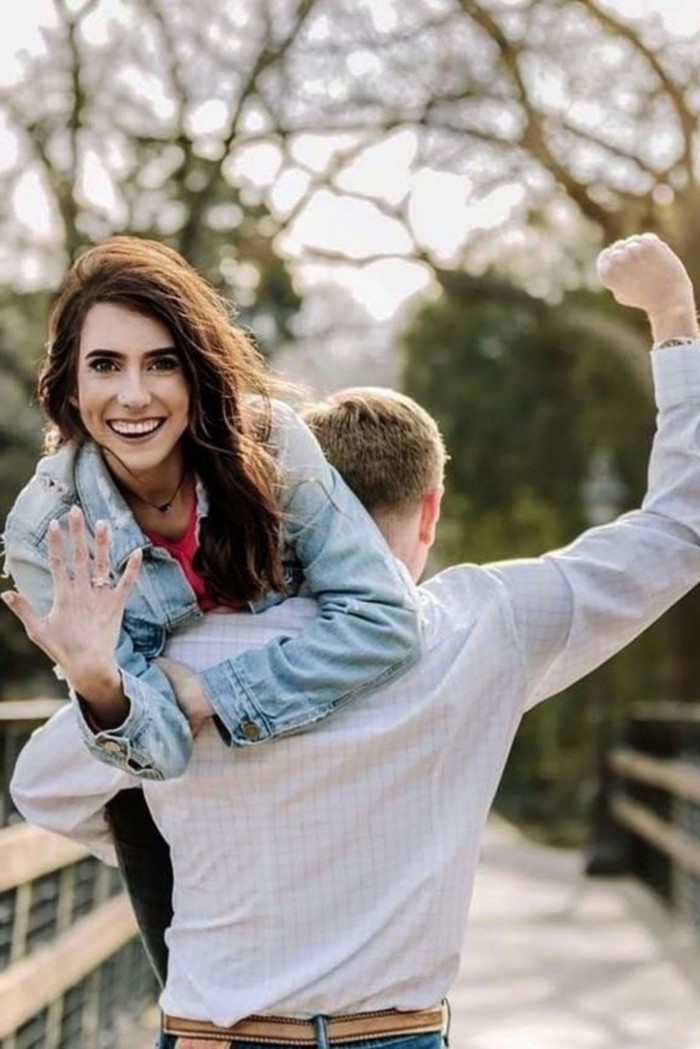 Showing Off the Ring
– You can show off your pretty ring even if you've been married for years!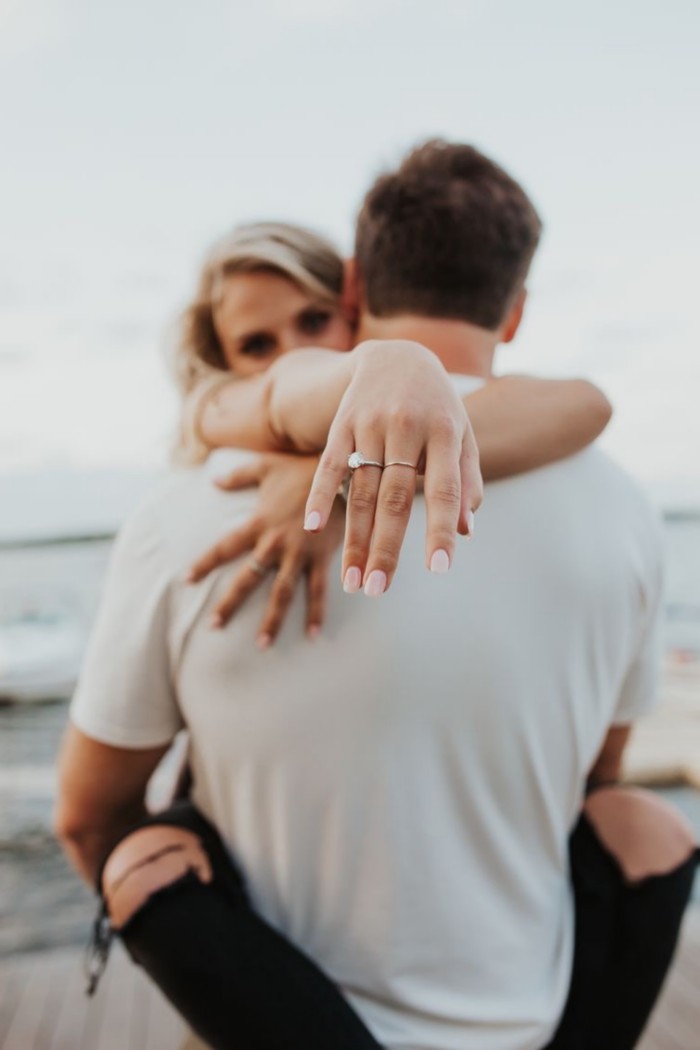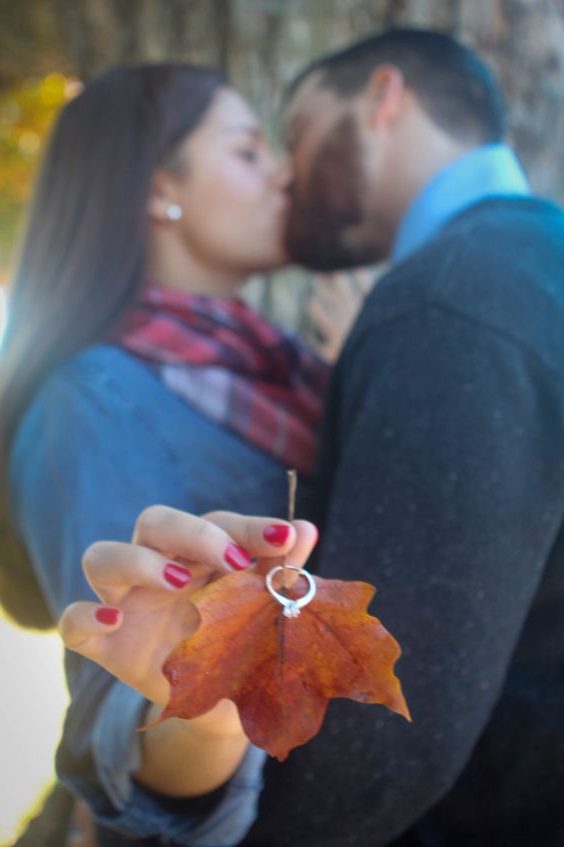 Forehead Kiss
– Why are forehead kisses so tender? Capture that love.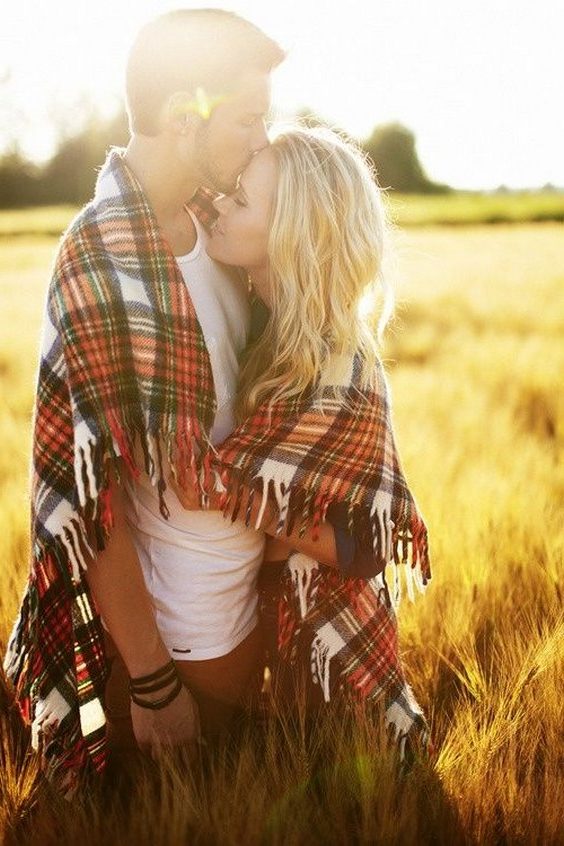 Holding Hands
– Hold those hands and look carelessly in love!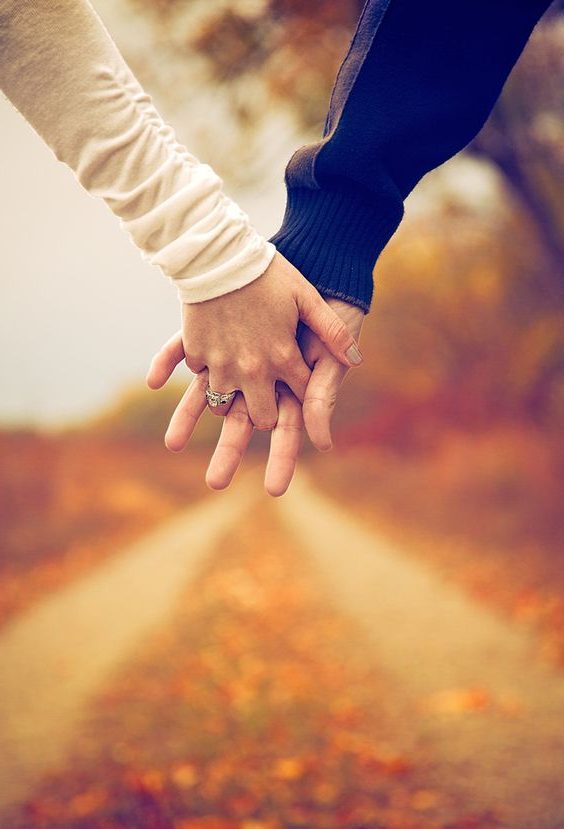 Grab His Clothes
– This feels like such a passionate pose. Utilize your love!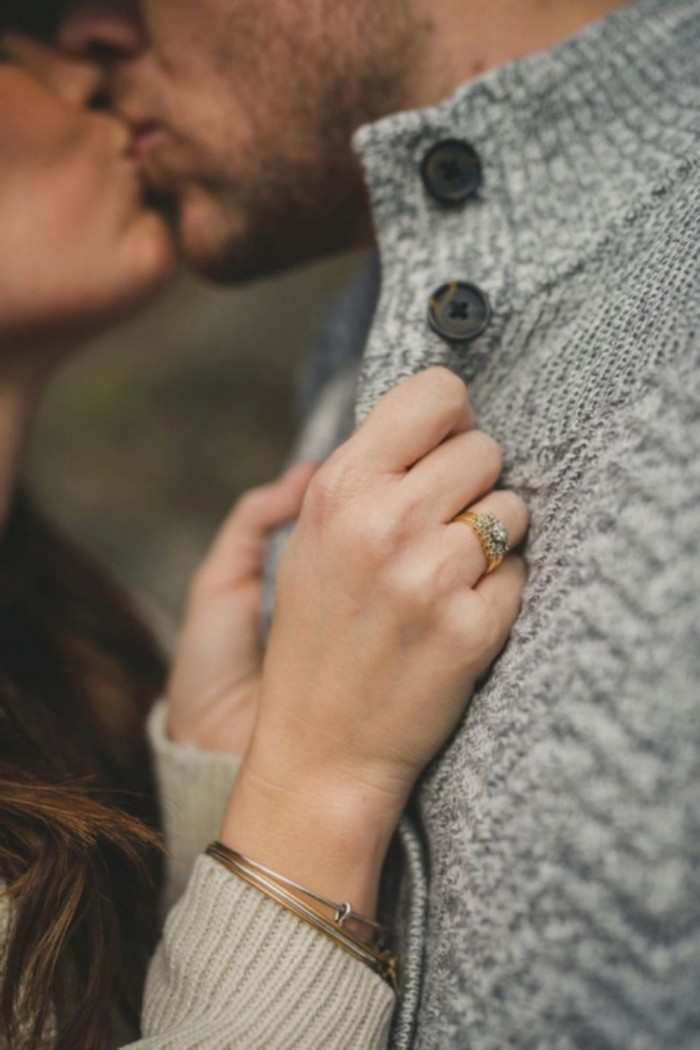 Heart Of Autumn Leaves + Showing Off the Ring
From incorporating fall colors into your wardrobe to using leaves as props, we've got plenty of ideas to help make your photos extra special. And don't forget to show off that ring! After all, what's an engagement photo shoot without a little bling?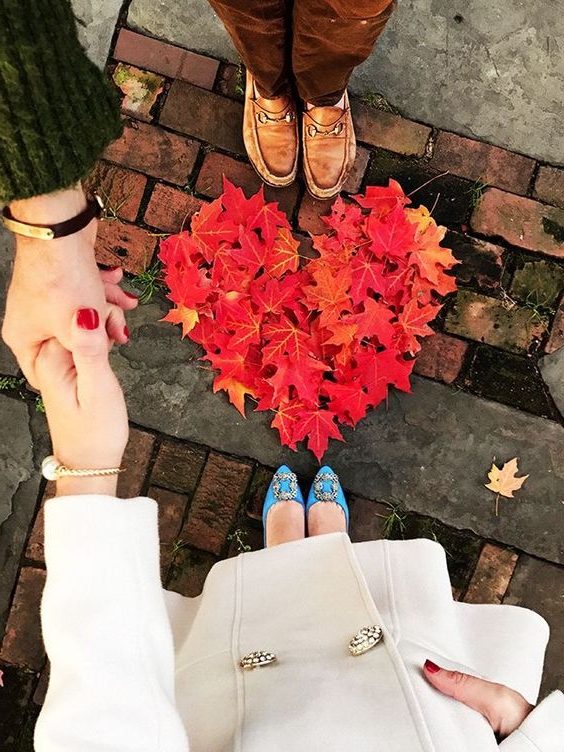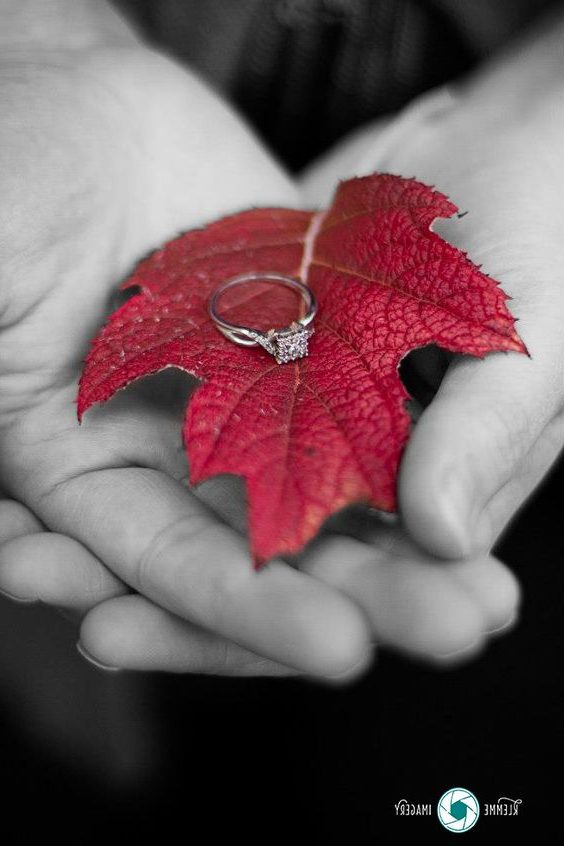 Save The Date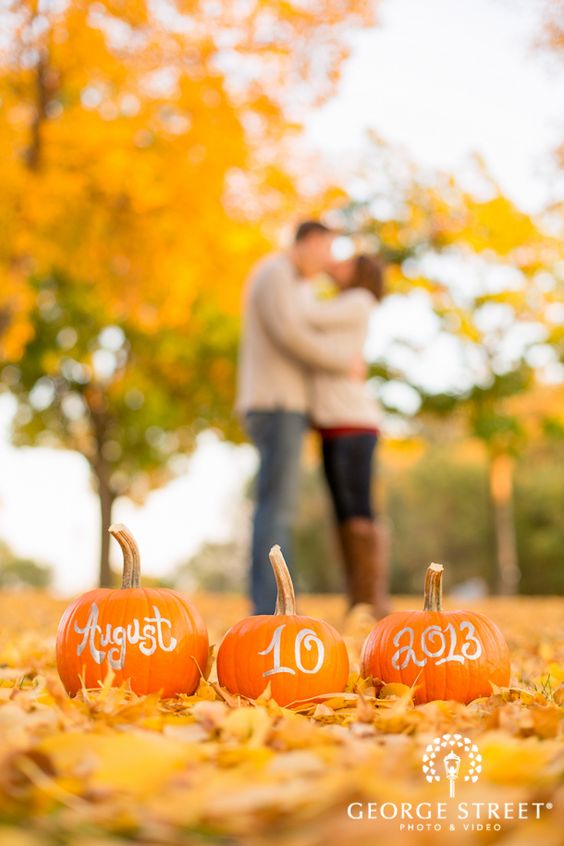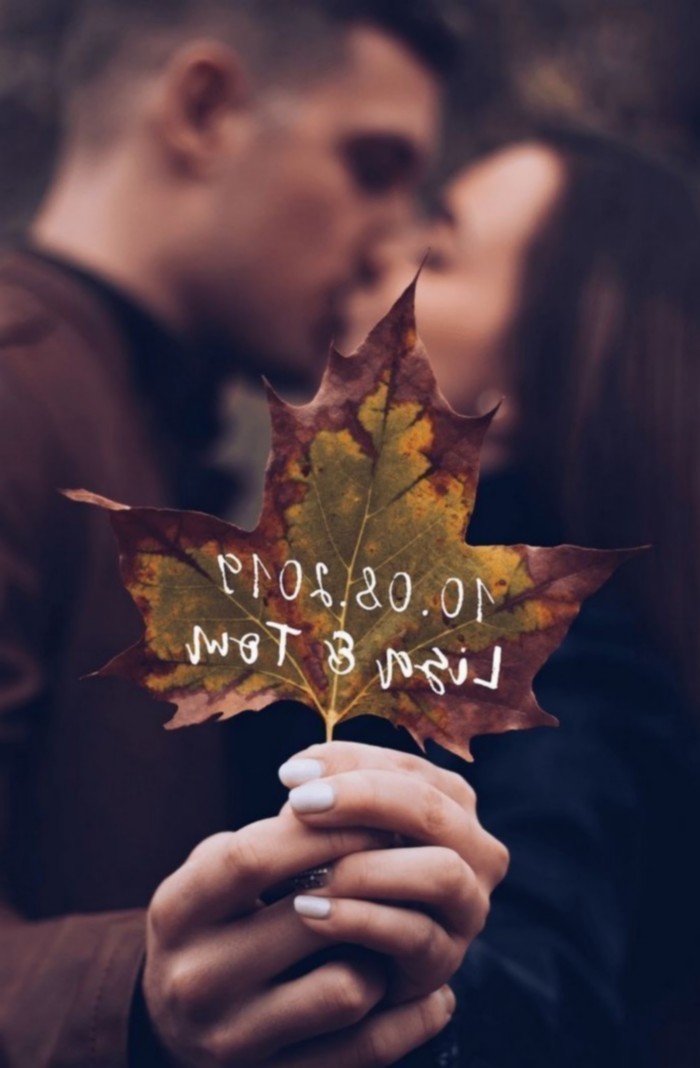 Lift
– Is there anyone who doesn't want to be lifted up into the air by their babe?!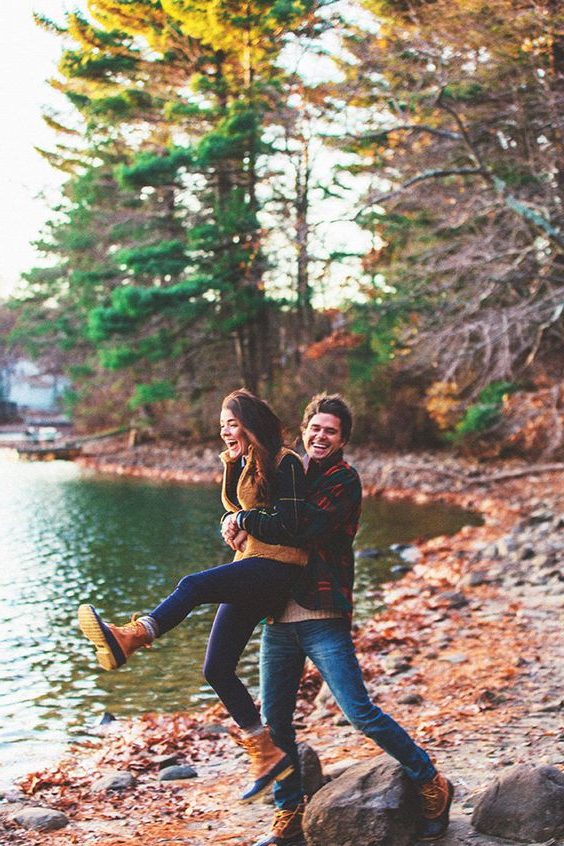 Top of Head Kiss
– Very similar to the forehead kiss, it works well to bring some levels to your couple poses.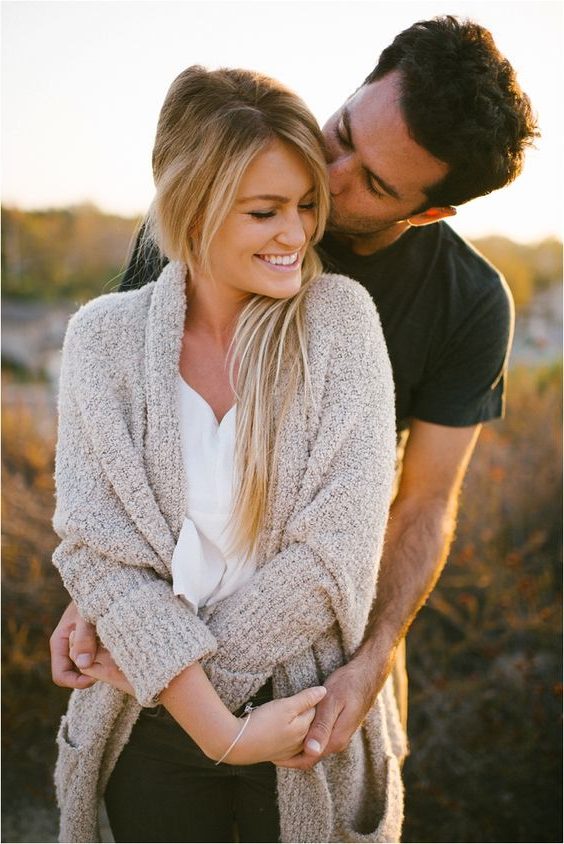 Letters
– These large letters can be found at your local craft store or online.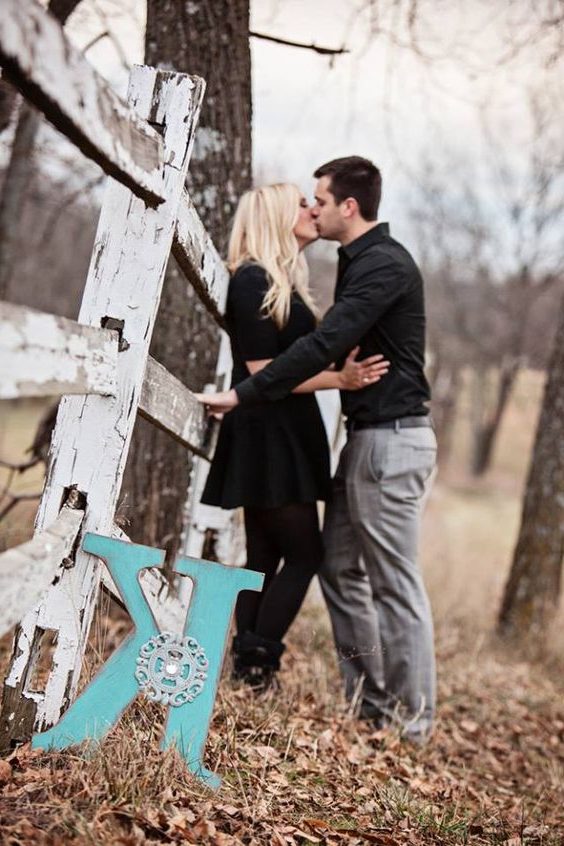 Foot Pop
– This is a romantic picture cliché, but it's adorable, so go for it!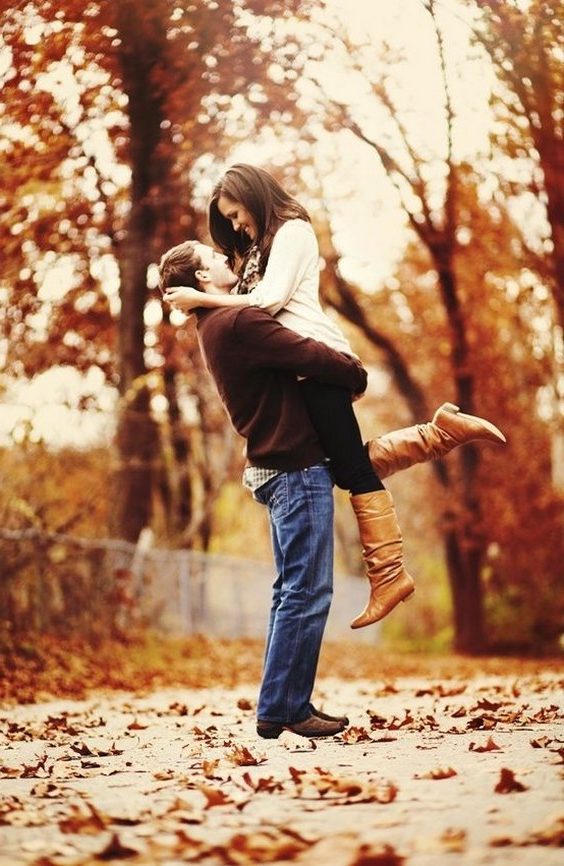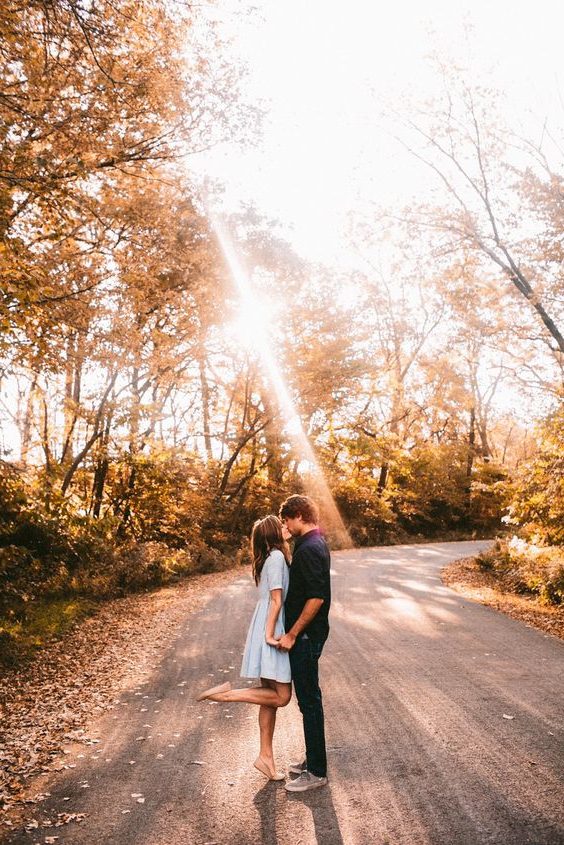 Sitting On Lap
– Have a seat on your sweetie's lap.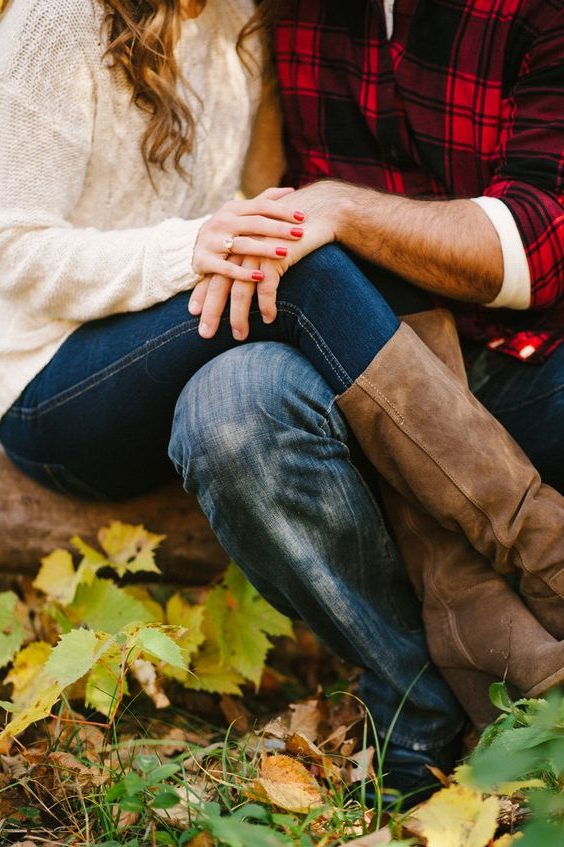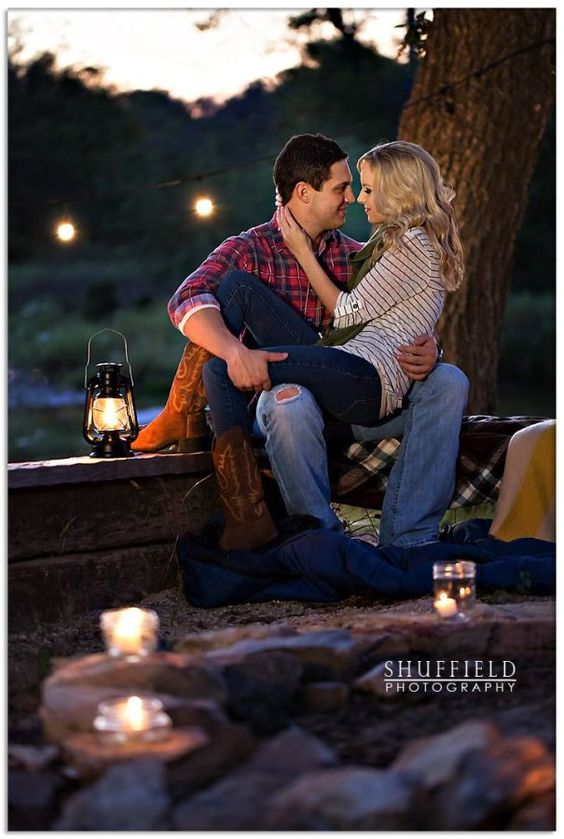 Arm Around Neck
– This is a natural pose that demonstrates both comfort and connection.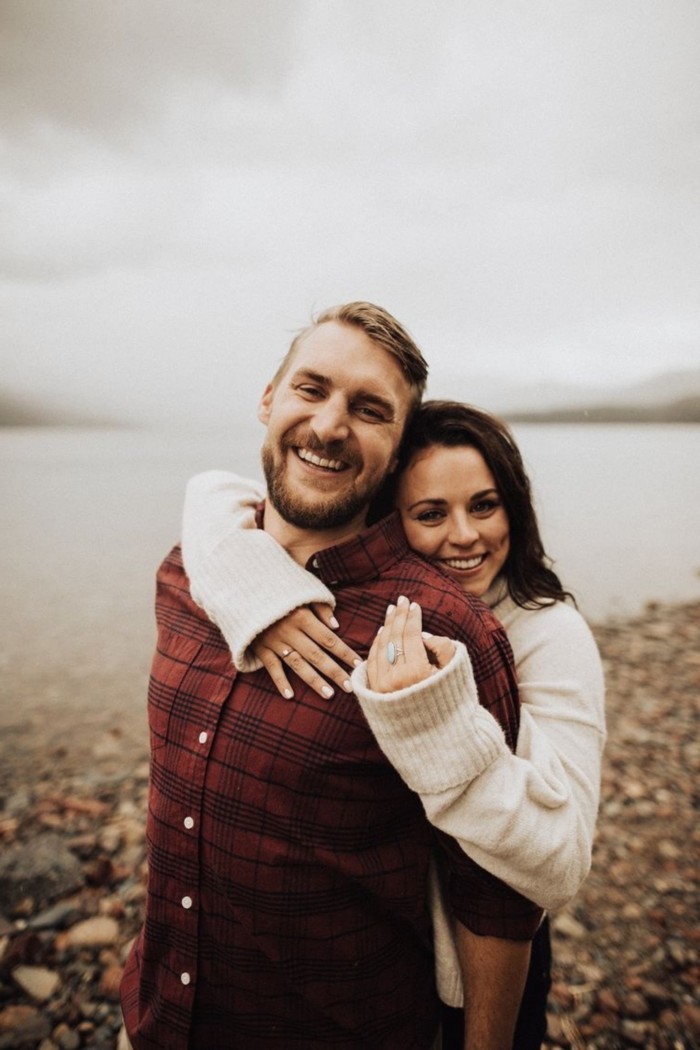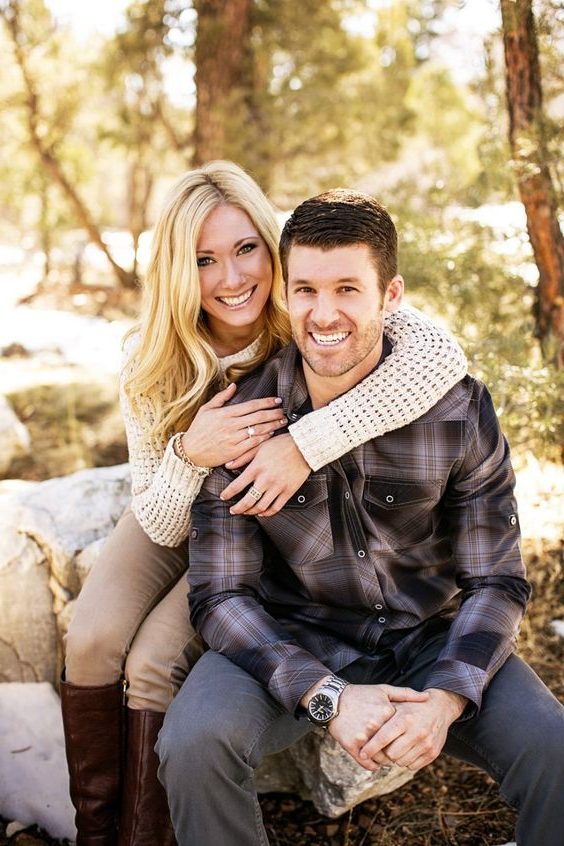 Arms Around Waist
– Allow yourselves to just focus on each other with this sweet arm hold.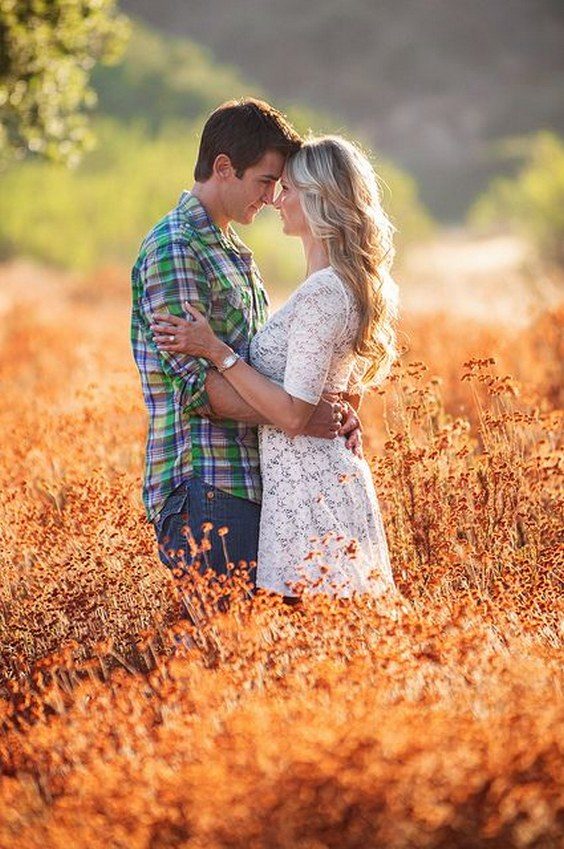 Kissing Couple Poses
– If you're that close to your sweetie's face, follow through with a sweet smooch! Make sure your lipstick doesn't transfer!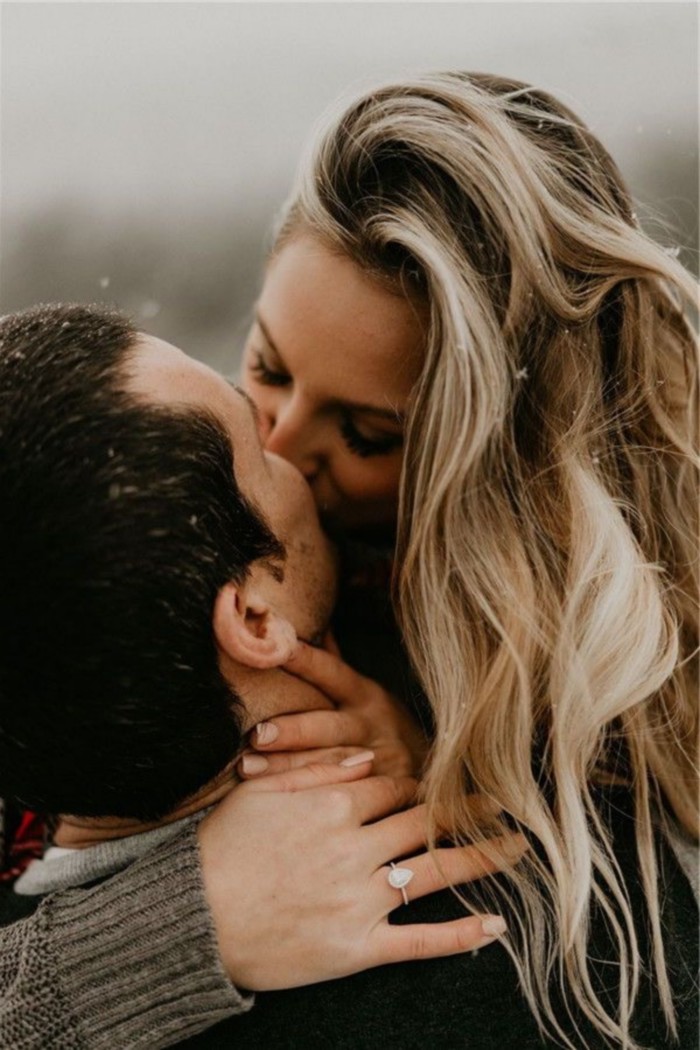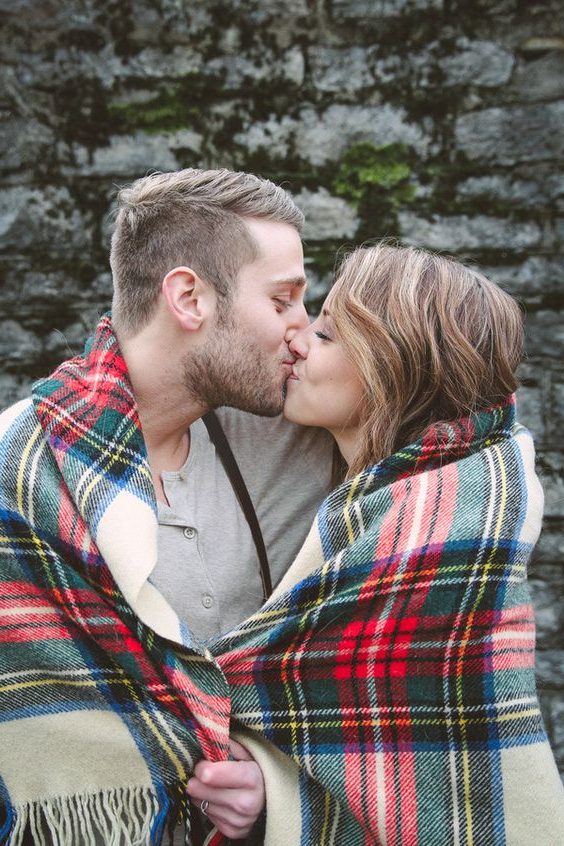 Props
This is the perfect time of year to get some great Fall engagement photos! There are so many fun props you can use to make your photos unique. You can use pumpkins, leaves, hay bales, or even your pets! Get creative and have fun with it!
Pets
– Of course if you are a pet owner, then you don't want to forget your furbabies! Don't forget to have them groomed and picture ready as well.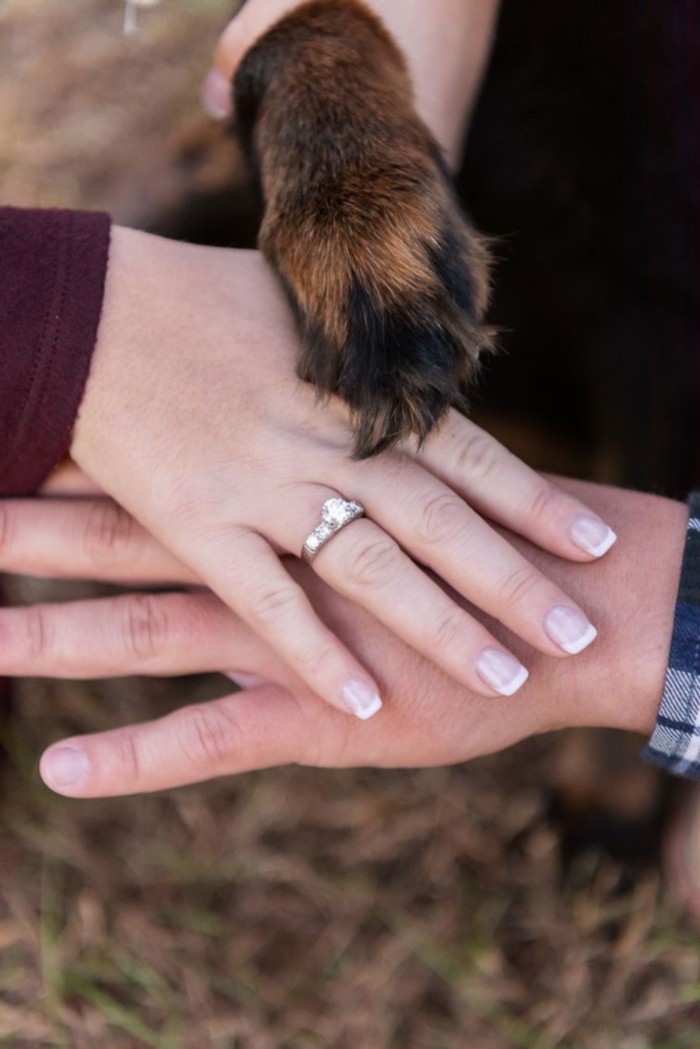 Lights
– Twinkle lights or candles can provide a romantic glow.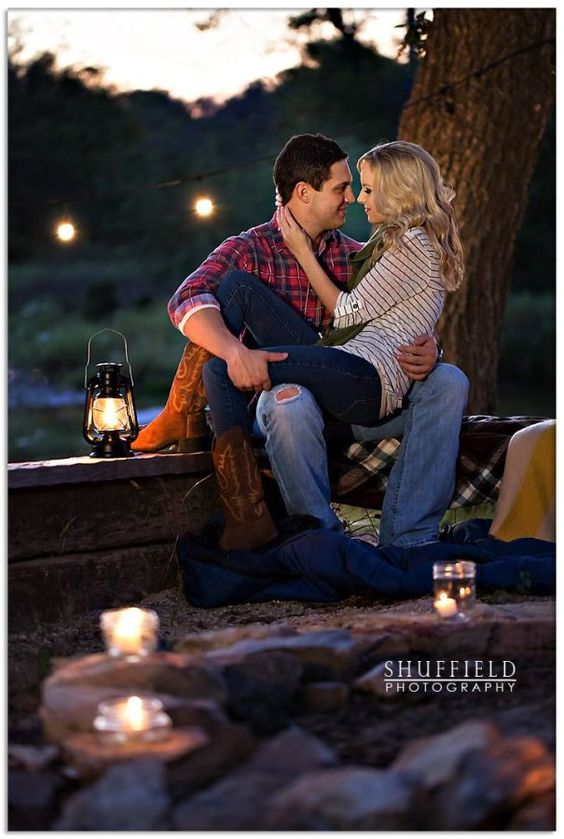 Blanket
– Cozy up on a blanket, or wrap together.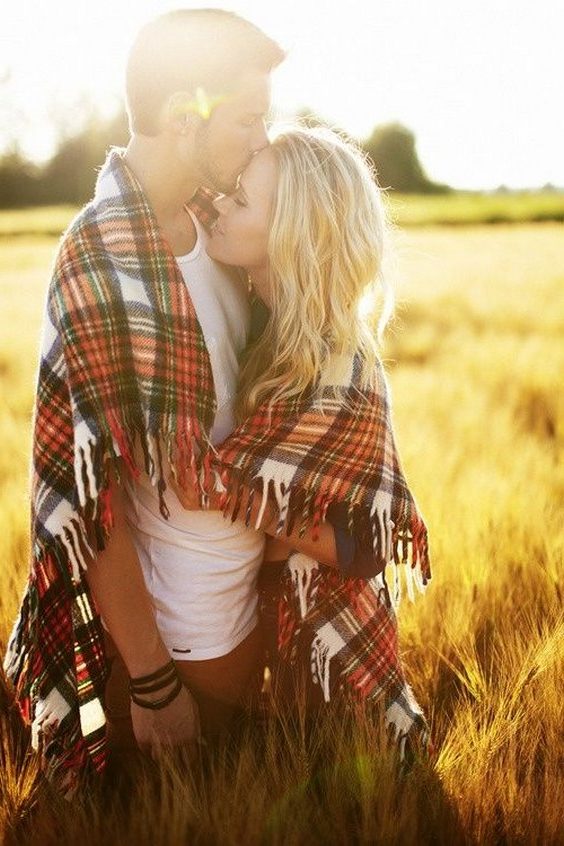 Fall Engagement Photo Outfits

The fall engagement photos are in, and they are so beautiful. The colors of the leaves are changing, the crispness of the air, and the love these two have for each other. It's hard not to get emotional looking at these photos. We hope you enjoyed seeing these 30 Super Captivating Fall Engagement Photos as much as we did! If you want more inspiration from other couples, check out our blog archives or Pinterest feed for more ideas on how to take stunning engagement photos during the fall season.
FAQS
What are some popular fall engagement photo locations?
Some popular fall engagement photo locations include parks, orchards, vineyards, forests, and other natural settings with colorful foliage.
What should I wear for fall engagement photos?
Dress in layers, wear warm and cozy clothing, and choose colors that complement the fall season such as burgundy, navy, or burnt orange. It's also a good idea to avoid busy patterns or prints that can clash with the natural scenery.
How do I incorporate fall foliage into my engagement photos?
Incorporate fall foliage by taking photos among the trees, using leaves as props or in foreground, or positioning yourselves in front of colorful fall landscapes. You can also incorporate fall-themed props such as pumpkins, hay bales, or autumn flowers.
What time of day is best for fall engagement photos?
The best time of day for fall engagement photos is either early in the morning or in the late afternoon when the lighting is soft and warm, and the sun is low in the sky.
How do I prepare for fall weather during engagement photos?
Bring warm layers such as sweaters, jackets, or scarves to stay warm and comfortable during the photoshoot. It's also a good idea to bring an umbrella or rain jacket in case of rain.