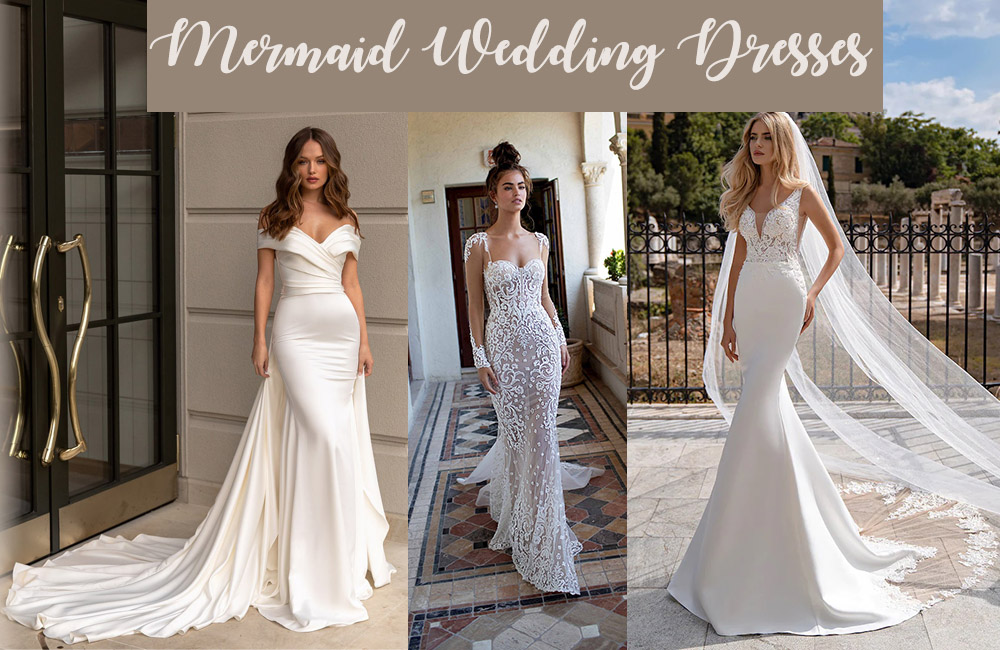 Top 20 Mermaid Wedding Dresses for 2023
To be honest, since childhood, every girl dreams of a princess image at least one time in her life. We know how to embody it in a reality. Why wouldn't you try on mermaid wedding dresses? It is also called "Fish" dress, because of its resembling a fishy tail. "Mermaid" wedding dress is completely coating the bodice tight tapering on a knee. You will find diverse mermaid silhouettes in this selection. From the most simple gowns to the most complicated outfits. See the ideas below and find your favorite style!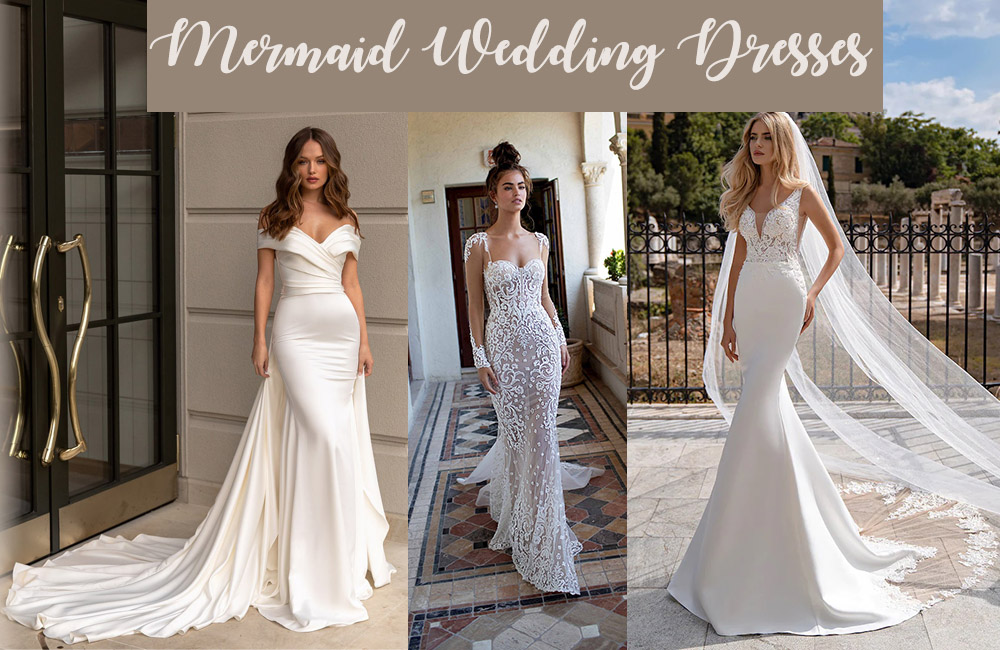 Lace Mermaid Wedding Dress
Lace is one of the most popular fabrics for wedding dresses and bridal accessories. Lace adds texture and dimension to a dress, while still allowing the bride to feel comfortable on her big day. You can incorporate lace into your wedding dress by having it cover the bodice or skirt or both parts of the ensemble. When choosing a lace material for your bridal gown, make sure that it matches with your overall design aesthetic as well as being appropriate for an outdoor setting if you're having an outdoor ceremony.
Mermaid wedding dress Airis by Olivia Bottega $1043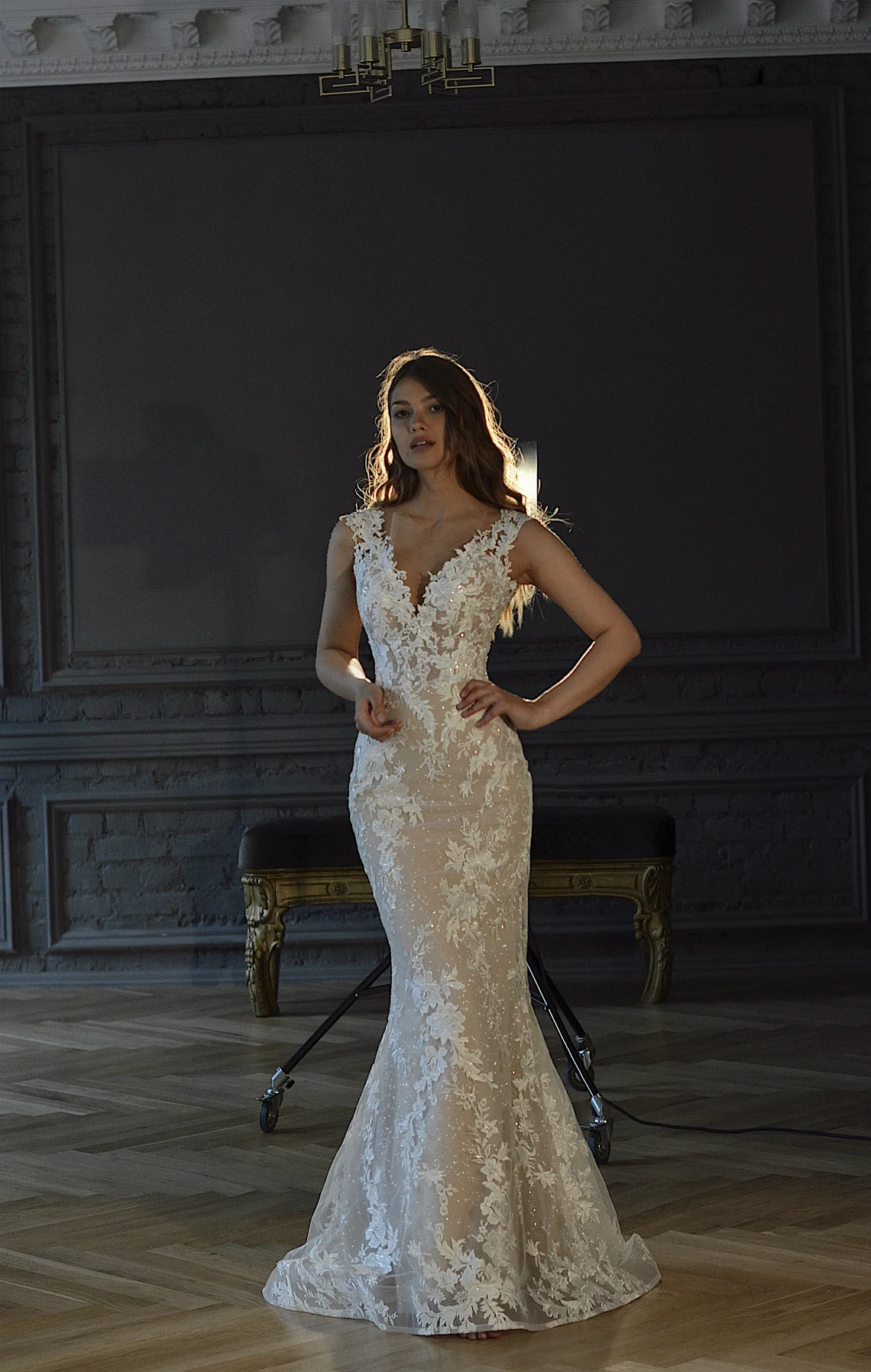 Mermaid Wedding Dress With Sleeves
Adding sleeves to a mermaid wedding dress is an easy way to add interest to the design. Sleeves can be made out of lace, tulle, organza or other fabrics and are a great option for brides who want the comfort of a sleeved gown but don't want their arms covered up by a sleeve.
Long Lace Sleeves Design Wedding Dress with Light Champagne Underlay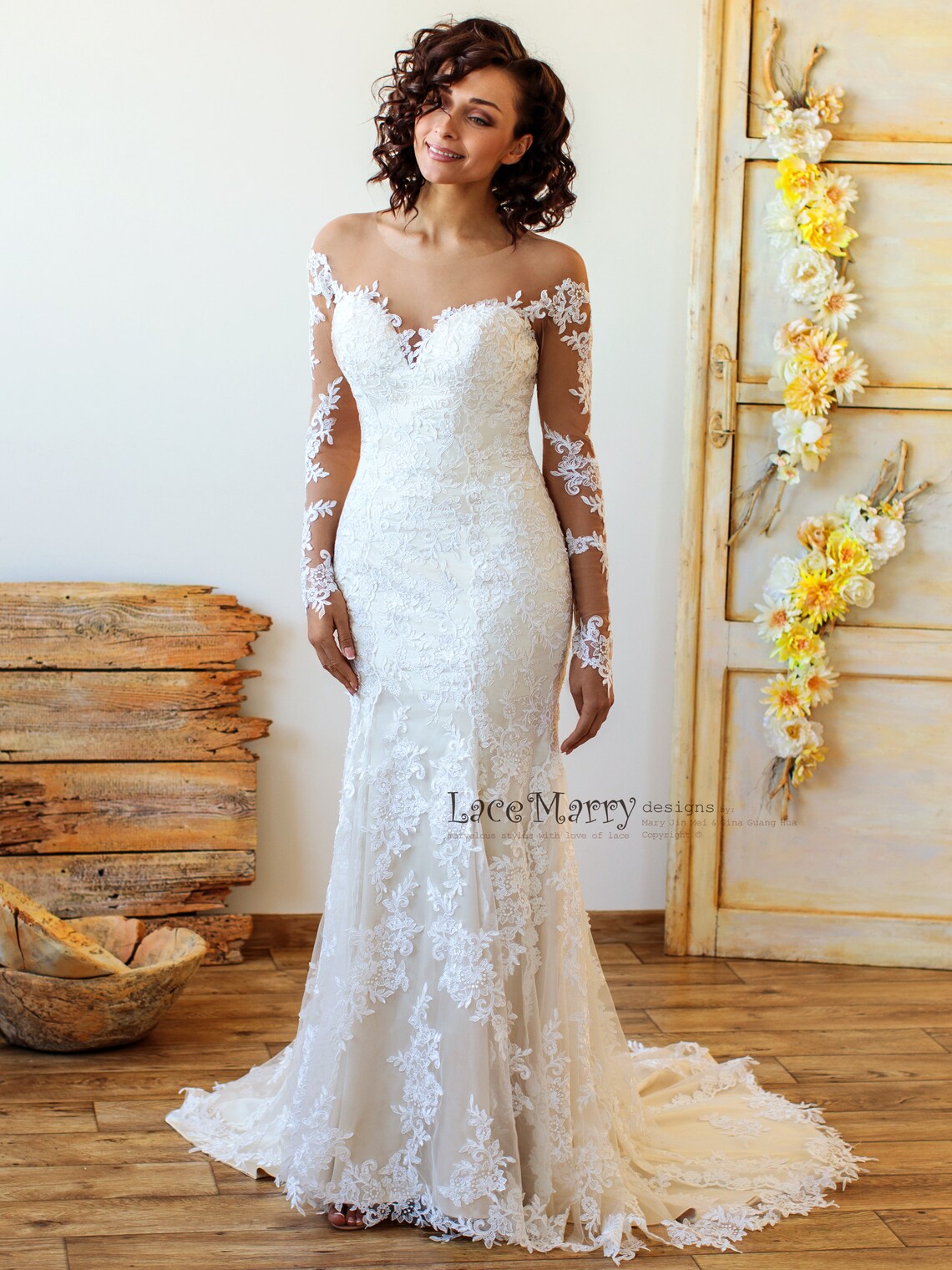 Long Sleeve Mermaid Wedding Dress
Long sleeve wedding dresses are timeless and elegant. Long sleeve wedding dresses can be worn to any season, making them perfect for any bride!
Long sleeve wedding dresses are classic and elegant, so you'll look beautiful on your big day no matter what other styles you try out along the way.
Mermaid wedding dress with glamorous sheer back $700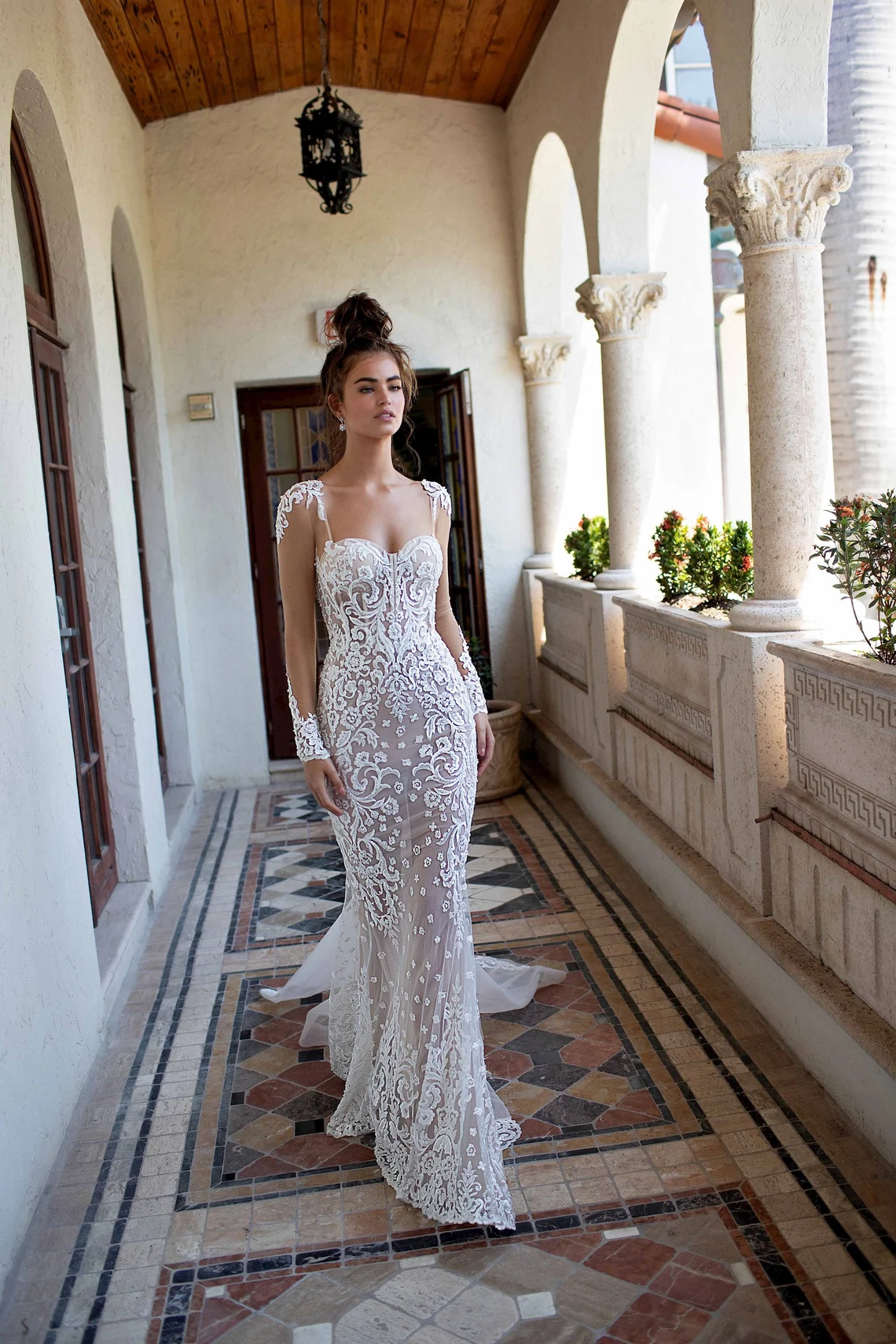 Black Mermaid Wedding Dress
Black is the classic color that will go with anything. If you want to wear this dress as a wedding gown, then it's perfect! Black mermaid dresses are elegant and stylish. You can wear them on any occasion, including weddings and other formal events.
The black color makes your dress look more elegant and mysterious. You'll look like a true princess in this gorgeous mermaid gown!
Black Satin Mermaid Gothic Wedding Dress $700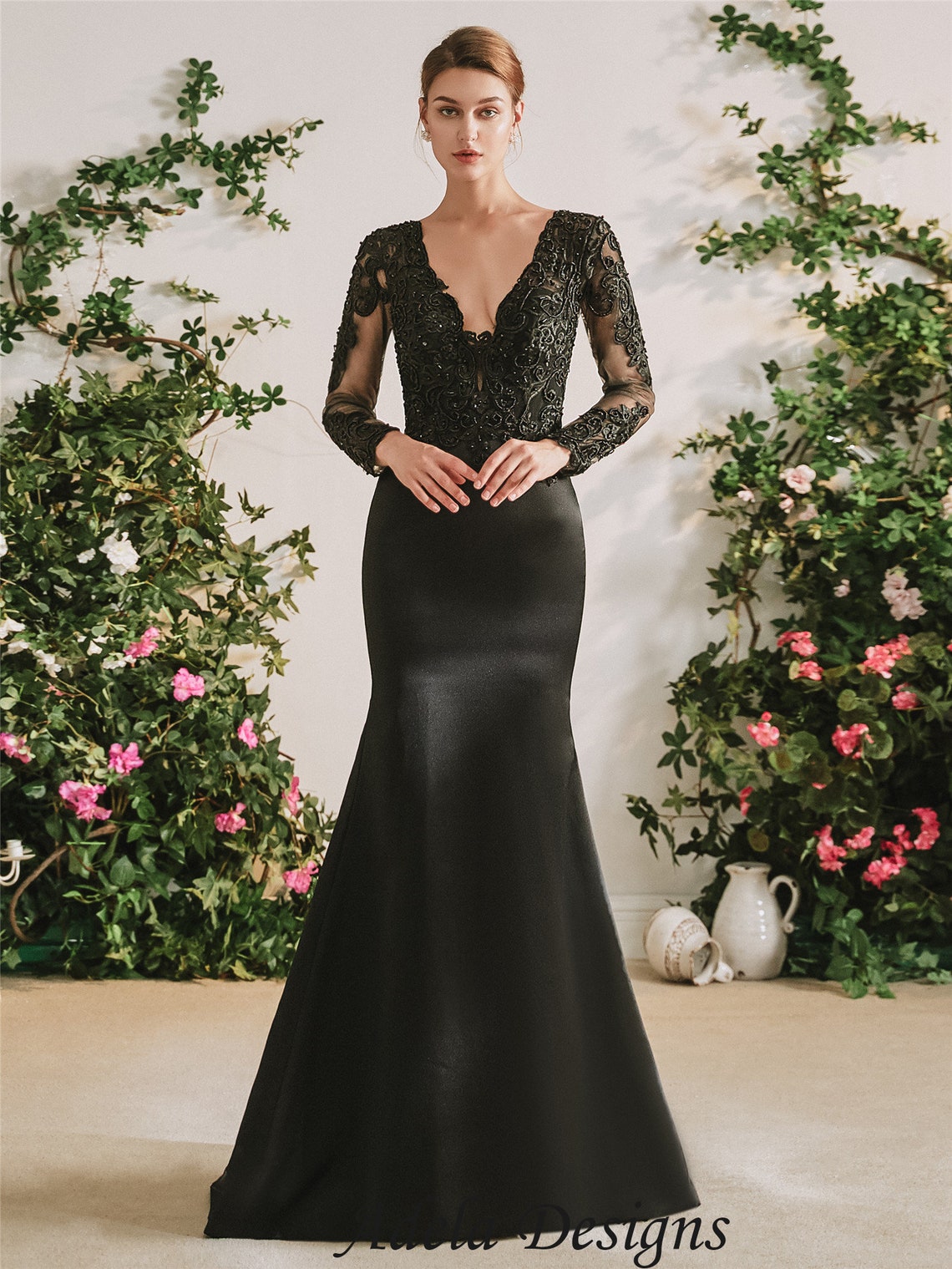 Plus Size Mermaid Wedding Dress
Plus size brides can still look beautiful in a mermaid wedding dress too. Plus size brides should choose a mermaid wedding dress that is true to their body type, and one that makes them feel confident.
There are many plus size designers out there who create beautiful gowns for larger women, but it's important to remember that no matter what your shape or size is, you should choose something that makes your heart sing.
Off the Shoulder Lace Sleeve Plus Size Gown $1399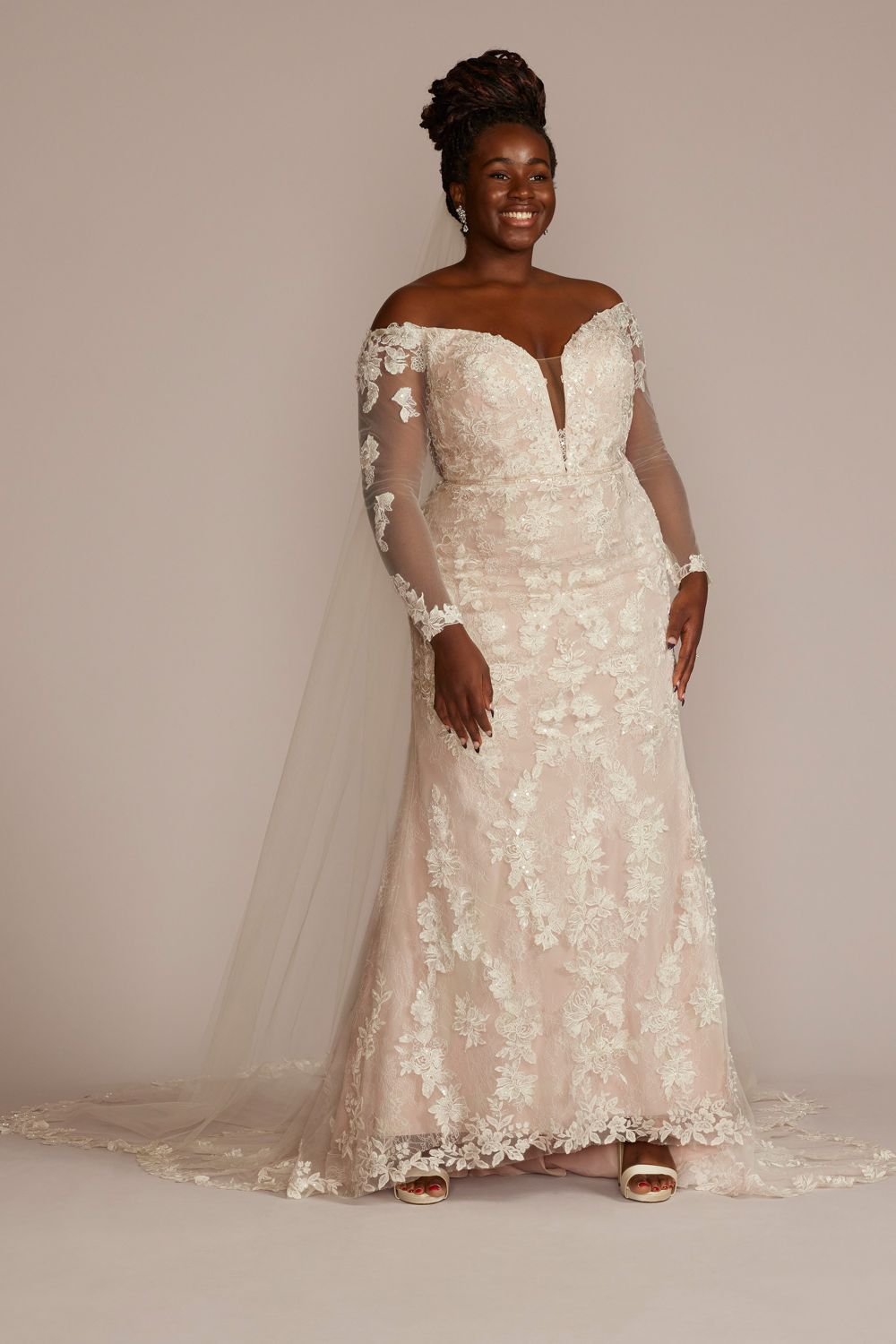 Mermaid Wedding Dress With Long Train
If you're looking for a mermaid wedding dress with a long train, we have what you need. A mermaid train is basically a long piece of fabric at the back of your dress that flows over your feet as you walk down the aisle. It can be made of tulle, chiffon or lace—or even all three!
Mermaid wedding dress  $930.6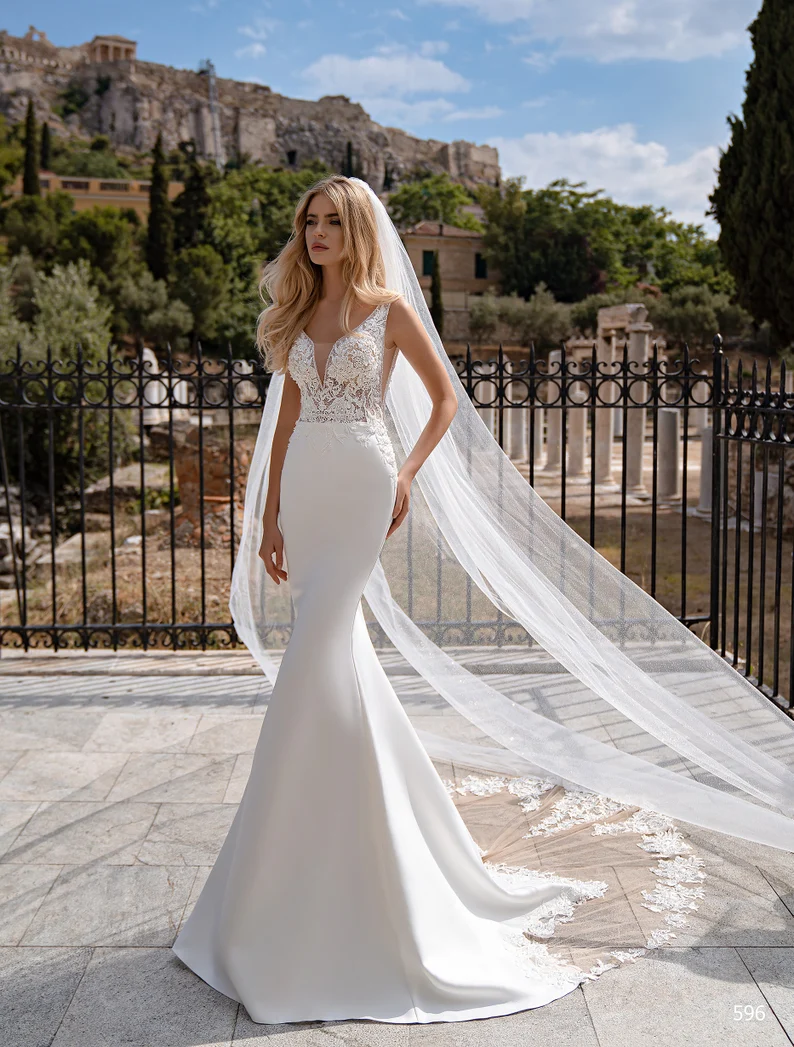 Sweetheart Mermaid Wedding Dress
For a classic look, you can't go wrong with this sweetheart mermaid wedding dress. The soft and romantic neckline is perfect for beach weddings, while its classic style makes it ideal for garden weddings as well.
corset mermaid wedding dress $899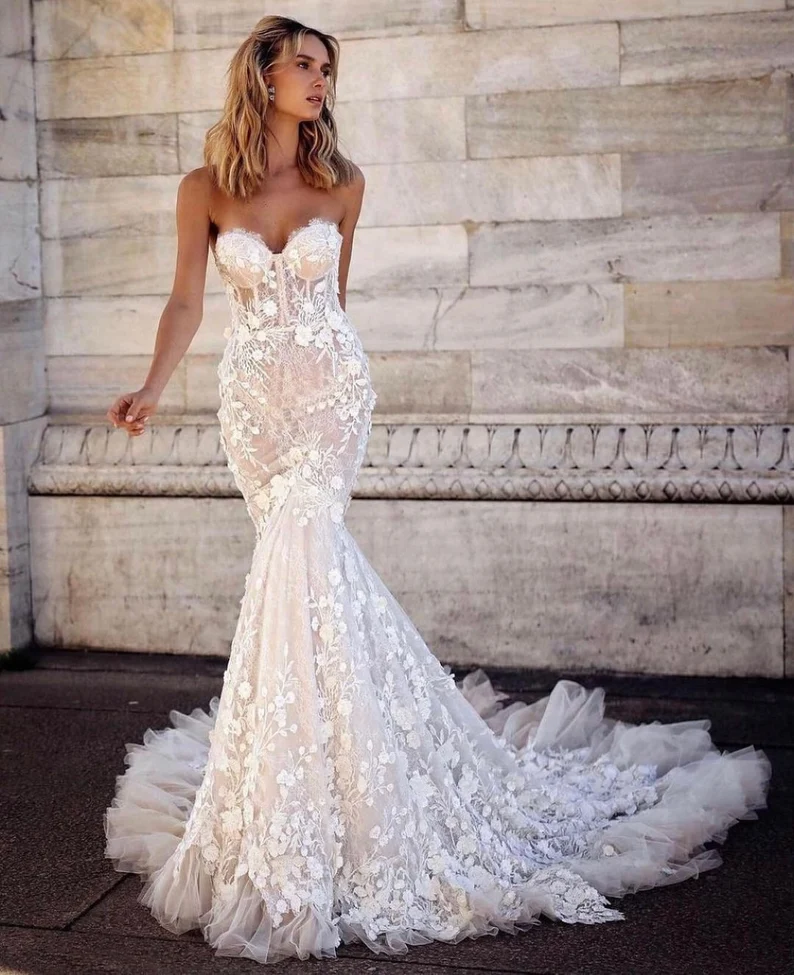 Elegant Mermaid Wedding Dress
What is elegance? Elegance is the quality of being graceful, refined and tasteful. For any wedding to be successful and memorable, it has to have elegance. A mermaid wedding dress is a great way to add elegance to your special day. The best place to look for a mermaid wedding dress is at a bridal store or boutique that specializes in these types of dresses.
When shopping for this type of dress, you should look for one that fits well and makes you feel beautiful on your big day. You can also choose from many different styles and designs so that you find something that suits your personal taste as well as your body shape or size.
Mermaid wedding dress 5305 $1140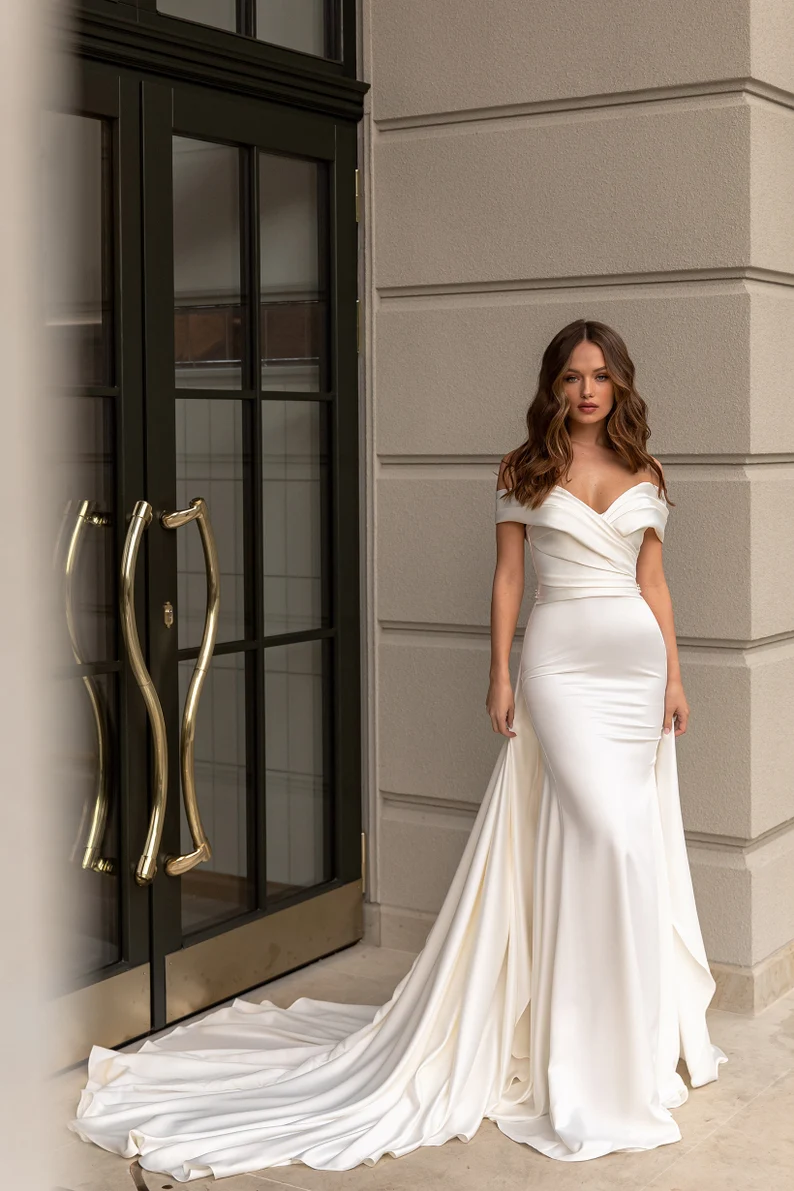 Off The Shoulder Mermaid Wedding Dress
This gorgeous wedding dress is the perfect choice for you if you love off the shoulder style and want to show off your wedding day look in a fresh, new way.
This simple satin gown features a sweetheart neckline and lace cap sleeves that end at the elbow.
The bodice has an illusion tulle overlay with soft ruching throughout and buttons down the back closure.
There is a full petticoat overlay underneath which adds volume to this otherwise slim silhouette.
Cathedral wedding dress $712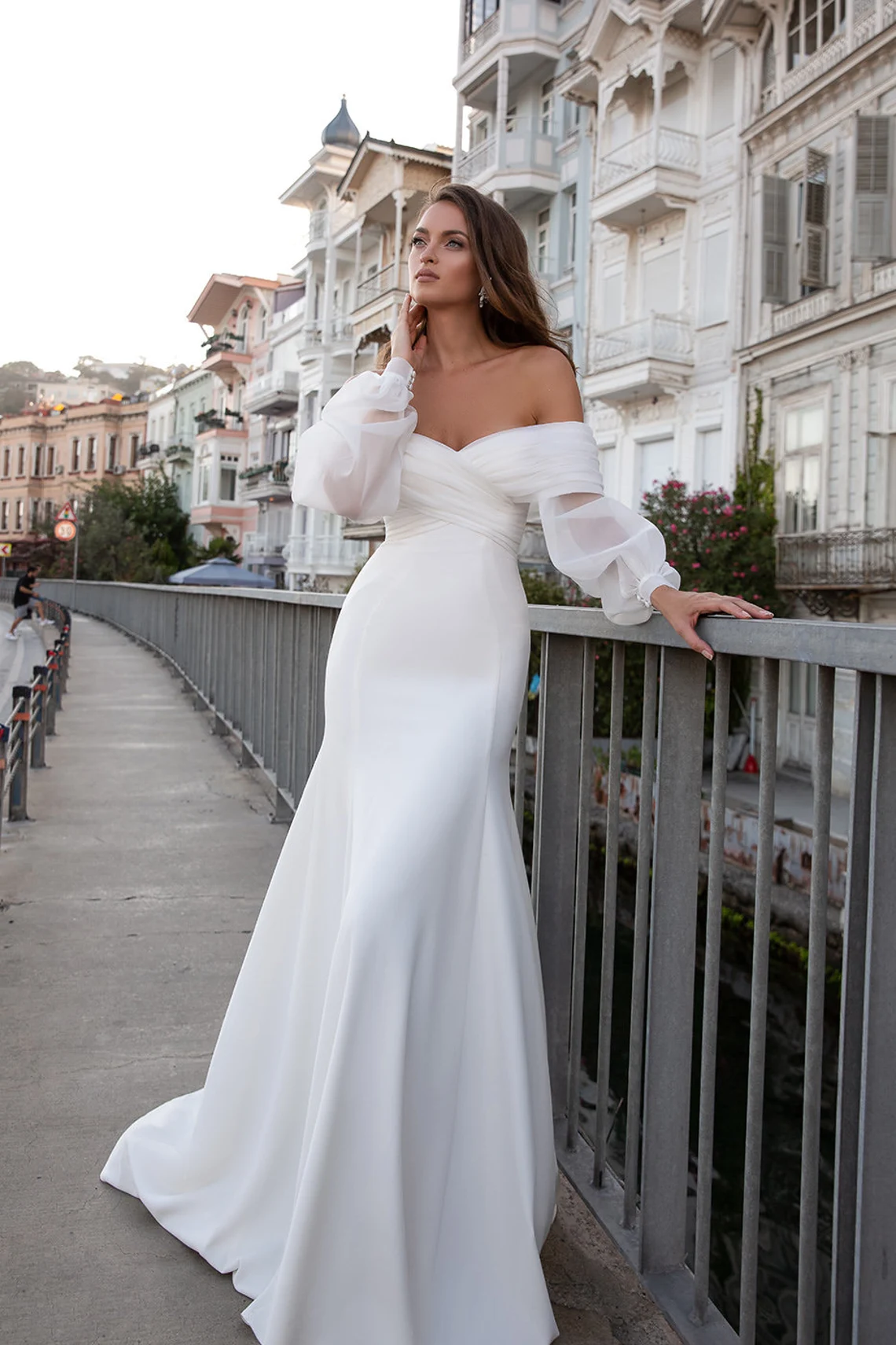 Satin Mermaid Wedding Dress
Satin is a very versatile fabric that looks great on all body types. The satin mermaid wedding dress we carry is very flattering and comfortable, making it a great choice for your big day. It's not as formal as silk or taffeta dresses might be, but it still looks beautiful in photos and will make you feel like a princess!
Deep V Neckline Wedding Dress $749.99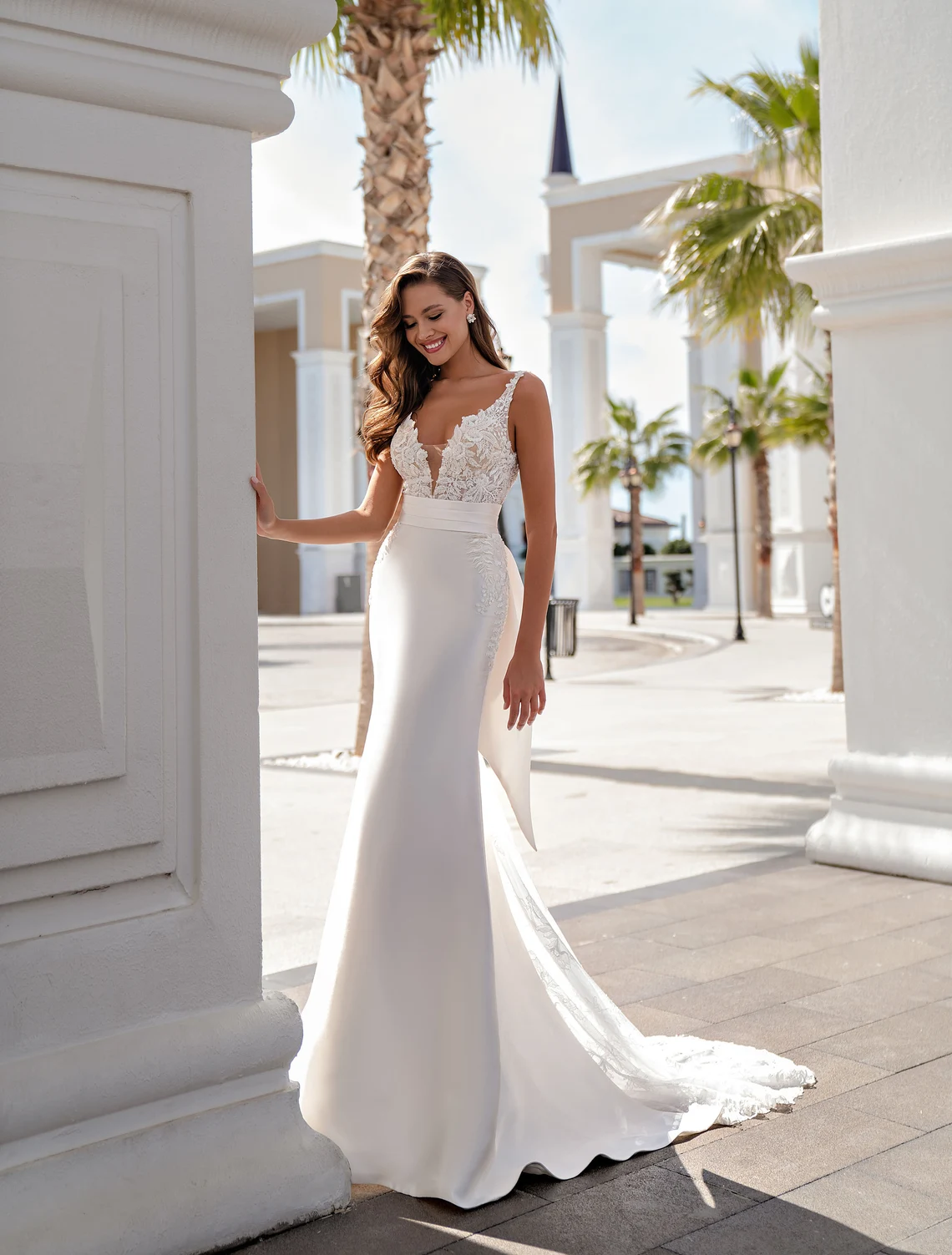 Strapless Mermaid Wedding Dress
Mermaid wedding dresses often have a strapless bodice, which adds to the elegance of this style. This type of dress will give you an elegant look and is perfect for any formal occasion.
Exclusive Sparkling Wedding Dress $690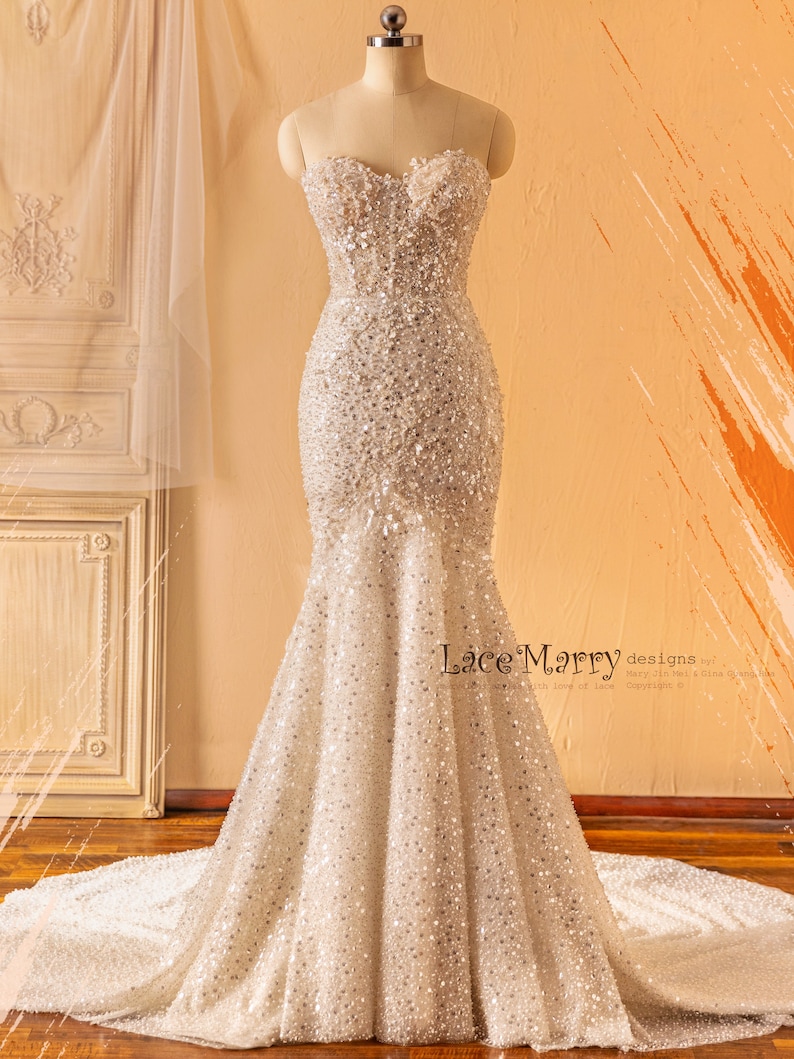 There are many types of mermaid wedding dresses available on the market today. The most important thing to consider when purchasing your dress is that it fits your body type and style perfectly. You should also make sure that it can be worn again for other occasions and by someone else in the future!