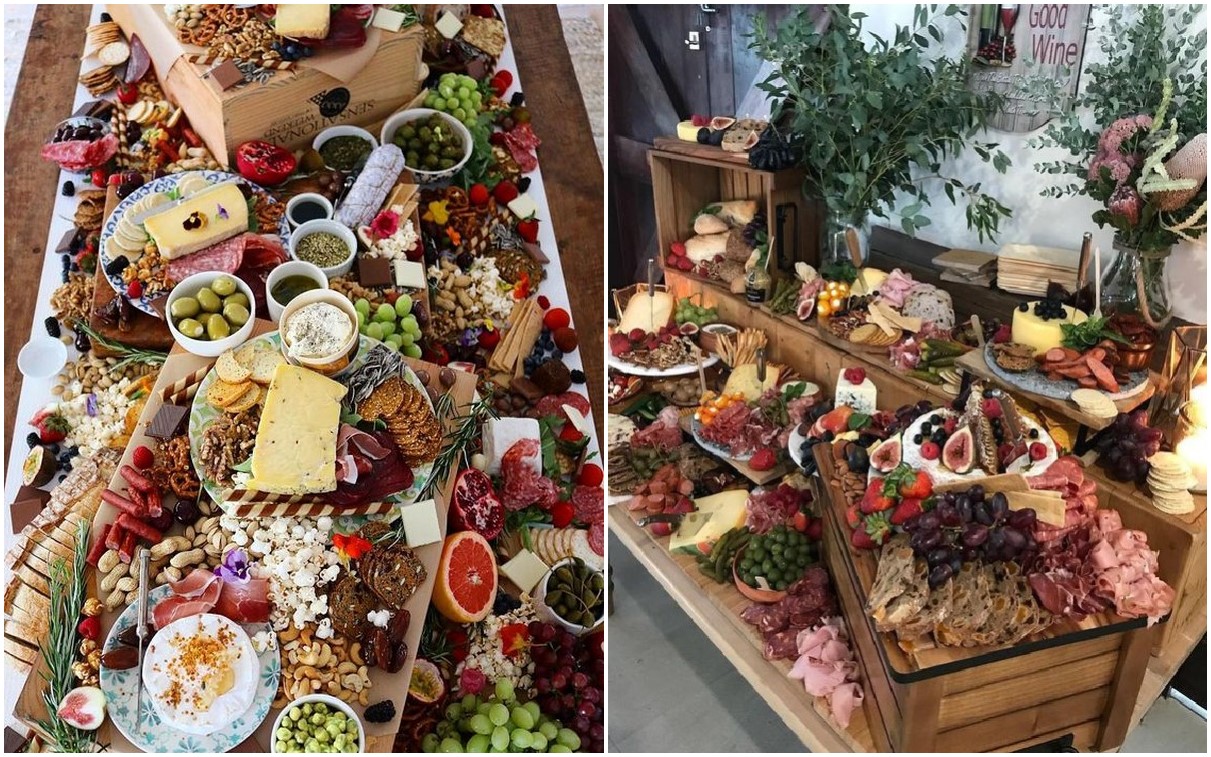 20 Epic Wedding Charcuterie Table Food Ideas & Tips 2023
Charcuterie is a French word that refers to cooked, cured or smoked meats made primarily from pork, such as bacon, ham, sausage, etc. Charcuterie and cheese boards have been trendy at parties for some time now, but it's still out of the ordinary and impressive when found at a wedding. Popular on a charcuterie board are meats such as lachsschinken, proscuitto, salami and soppressata.
Pâtés are often included, as are hard and soft cheeses such as goat cheese, brie, gorgonzola, sharp cheddar and Manchego. Fresh baked warm baguettes are the bread of choice, while fresh fruits and nuts compliment the cheese selected. Dates, figs, grapes and pears are a perfect addition and look pretty on the table. Nuts such as walnuts or almonds and sprigs of rosemary and olives are also optional accompaniments to a well appointed charcuterie board.
We've rounded up some examples from real weddings that show different ways to display the fare and unique boards that hold the charcuterie. The wedding above and directly below doesn't include a wooden board at all. The bread is the board with the meats, cheeses and fruit resting on top. And make sure to scroll to the end where you will see the most amazing charcuterie board ever. We'd like to have been a guest at that wedding!
FAQ
What foods pair well with a charcuterie board?
Add a combination of fresh and dried fruit that pairs well with your meats and cheese. Fresh fruits like berries, grapes, apples, pears, or cantaloupe and dried fruit like figs, dates, or apricots all work well.
How do you make a charcuterie board for a wedding?
Tip 1: Decide if Charcuterie Will Be an Appetizer or Main Dish.
Tip 2: Determine How Much Food You'll Need.
Tip 3: Choose Your Flavor Profiles.
Tip 4: Have Plenty of Bread.
Tip 5: Add Sweetness.
Tip 6: Use Food Accents That Double as Decoration.
Tip 7: Arrange Your Board
Tip 8: Don't Forget Utensils!
Tip 9: Pair With Drinks
How much charcuterie do I need for 50 guests?
If Charcuterie (cured meat) is being provided as an appetizer, 3 oz of meat per person is sufficient. 6 oz per person when the charcuterie is the main course. Varying non-meat additions will help the platter to go farther.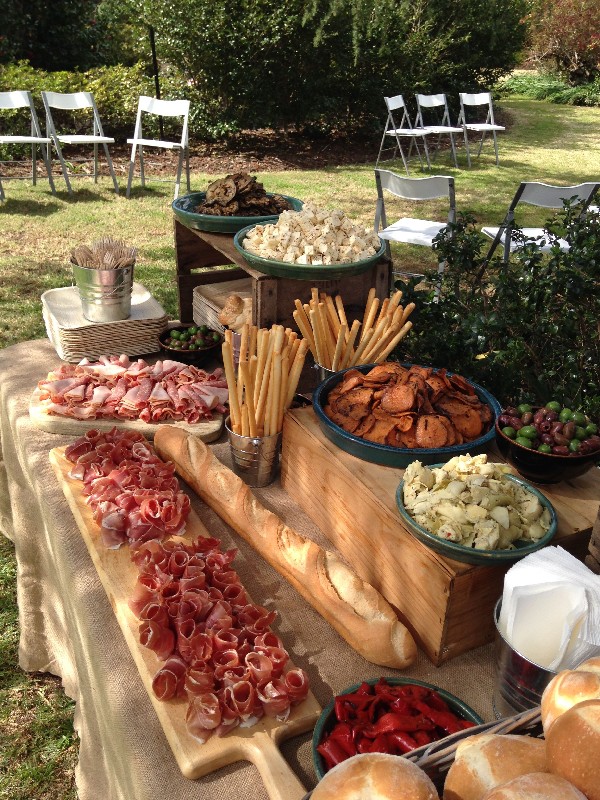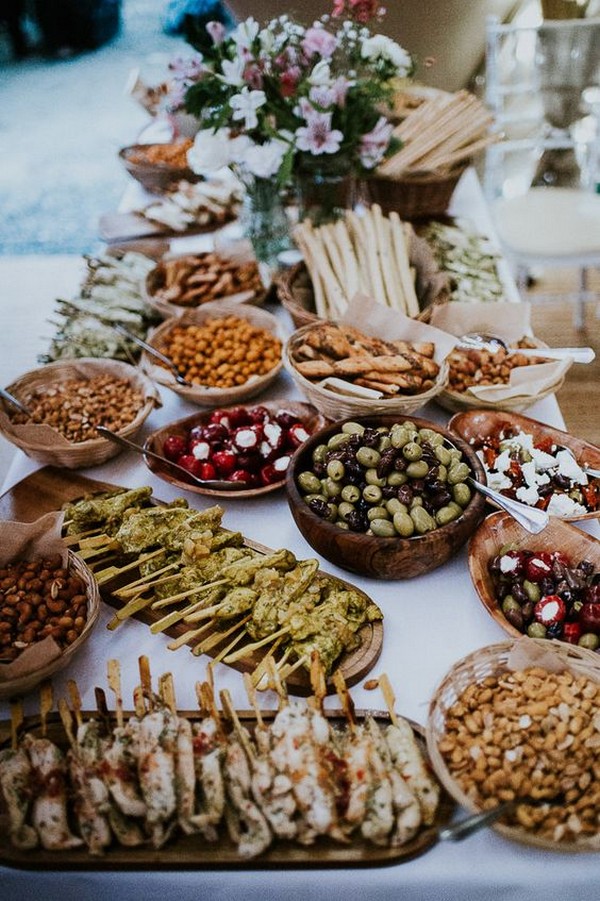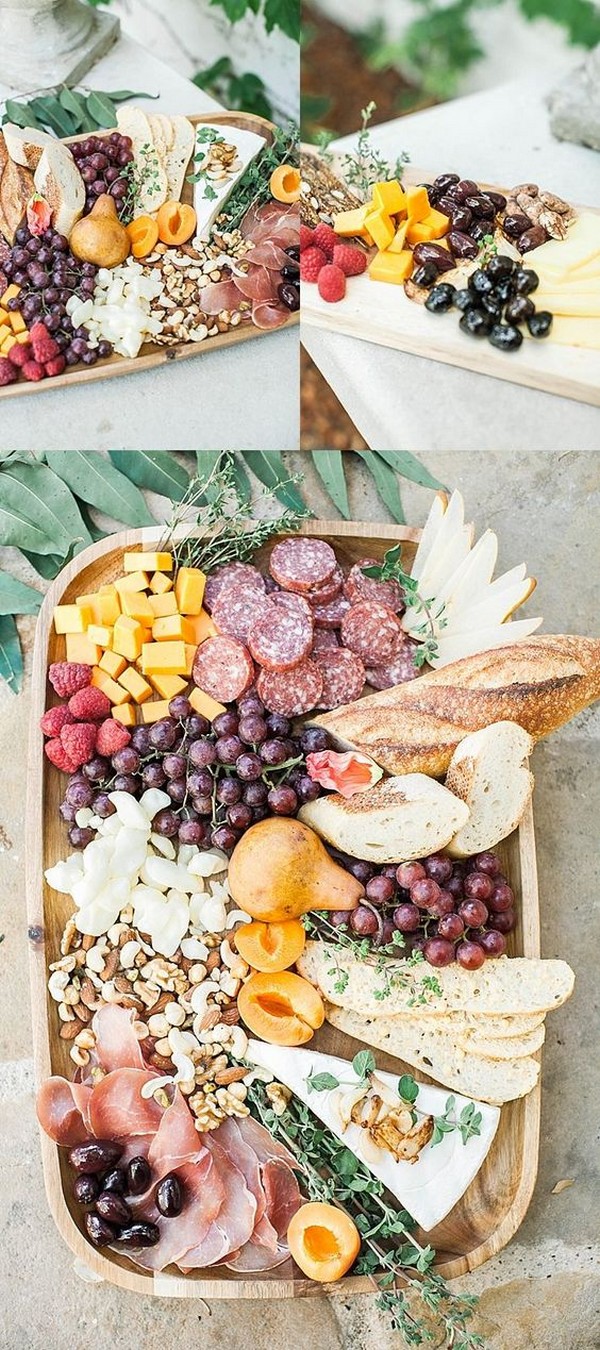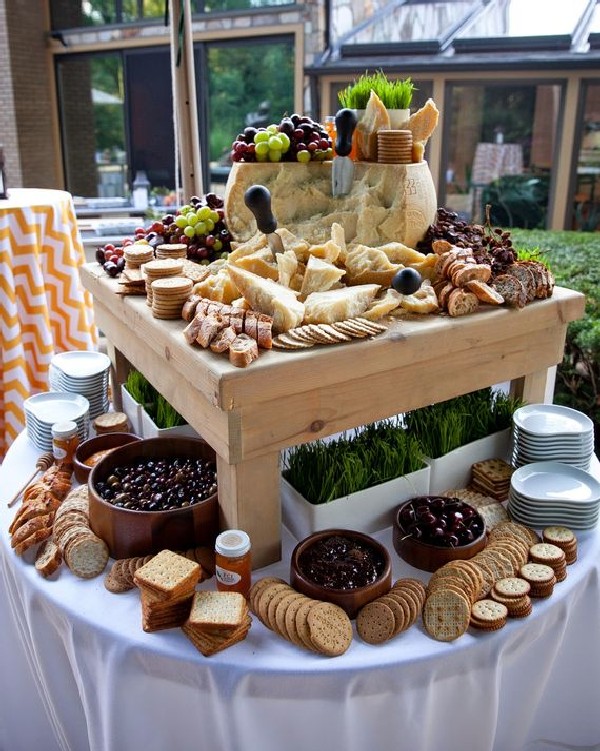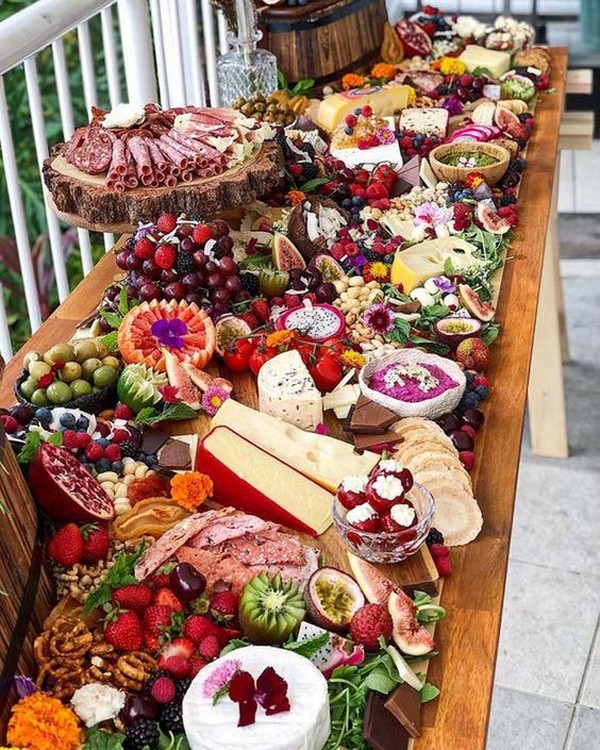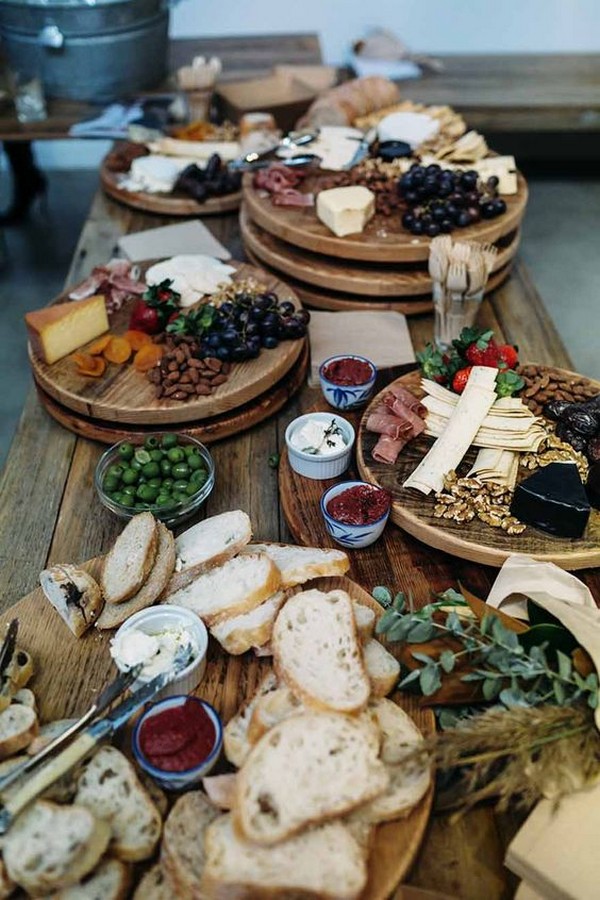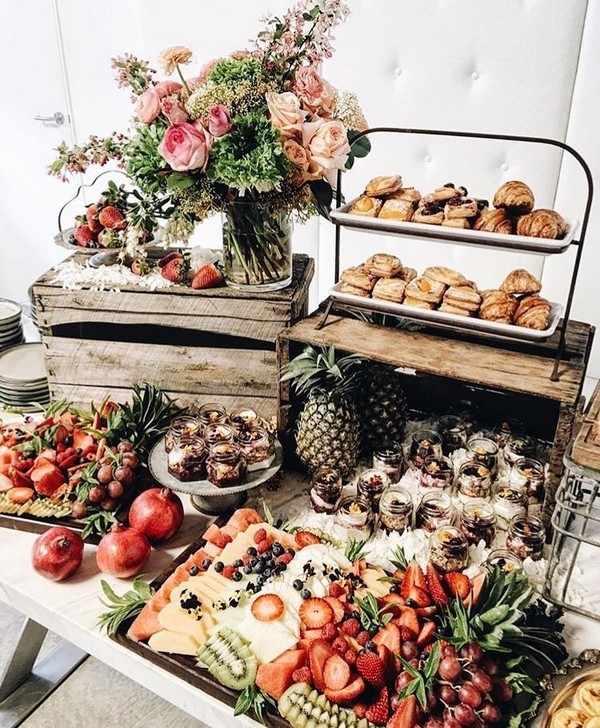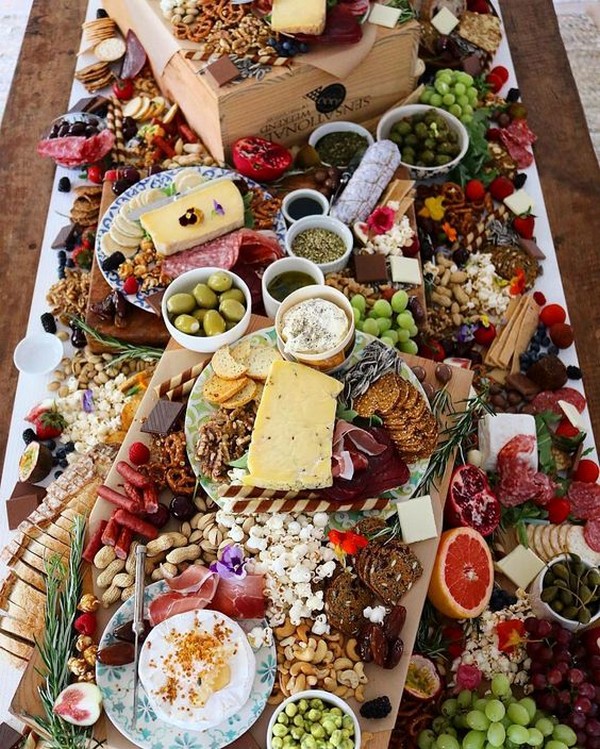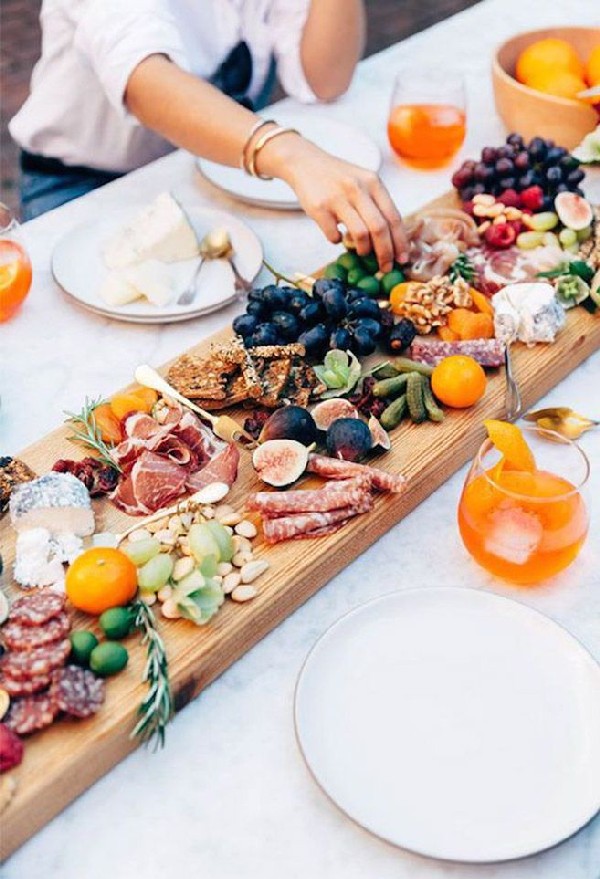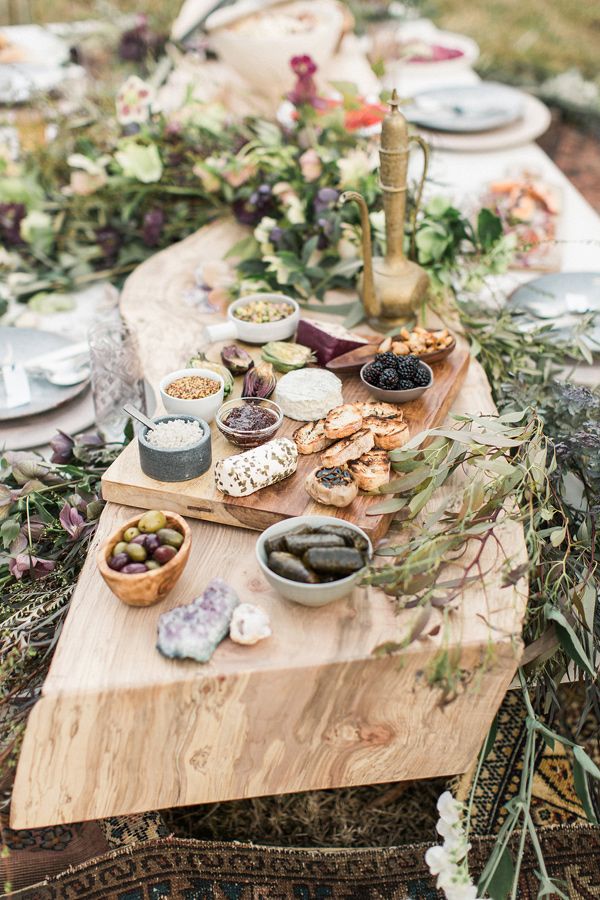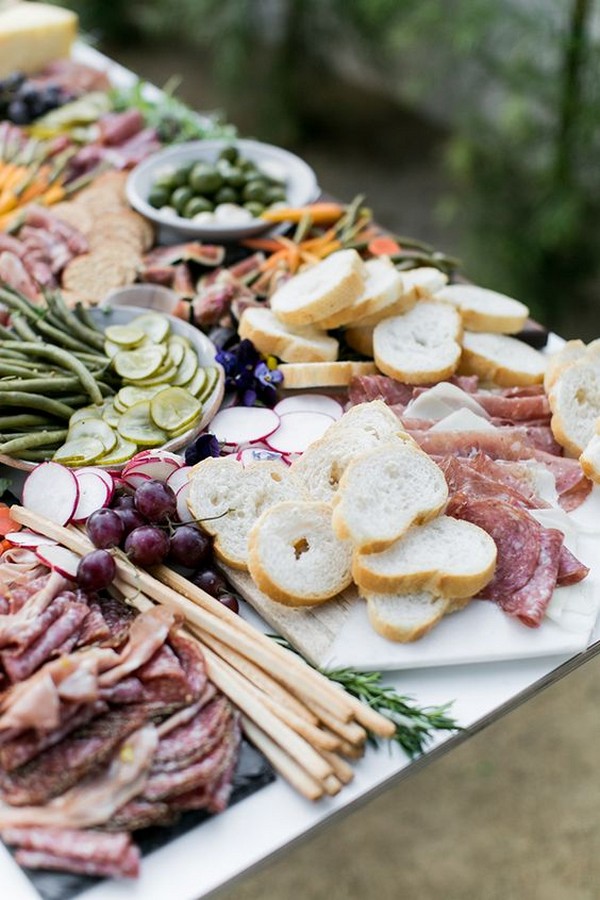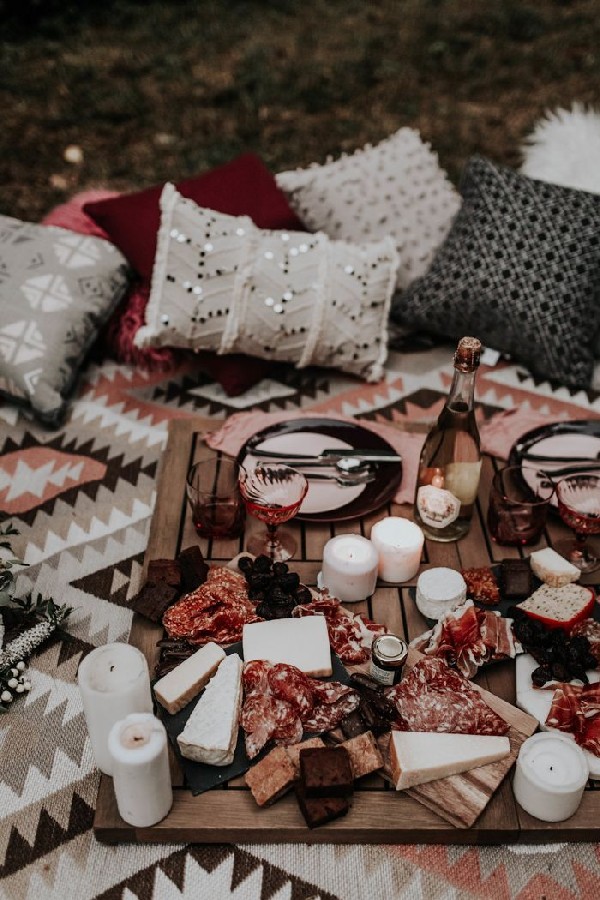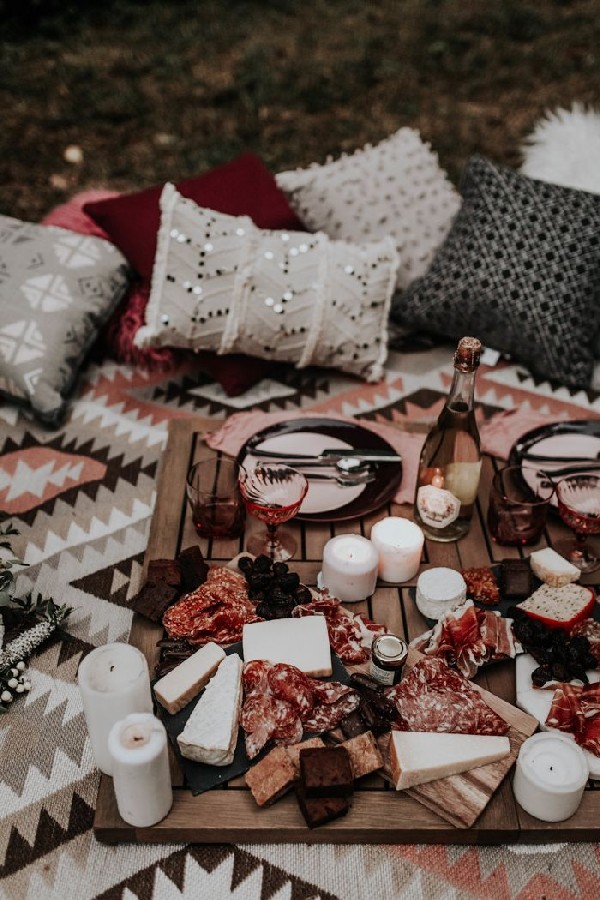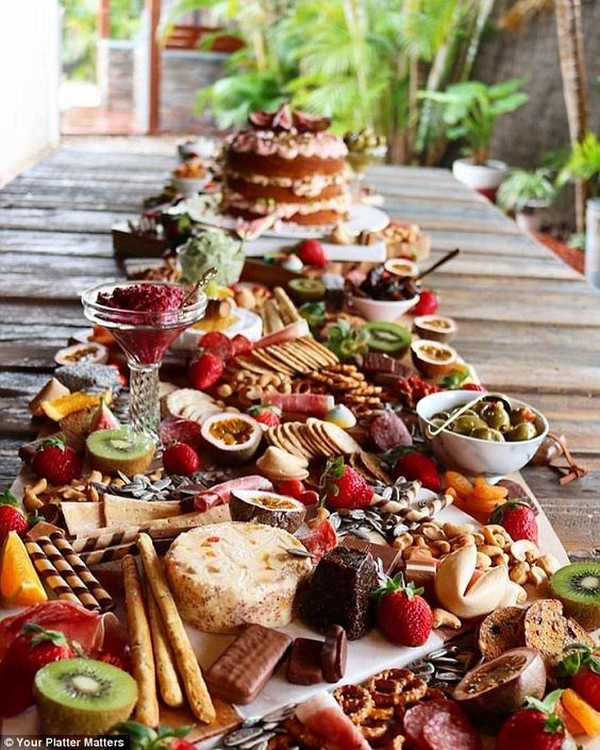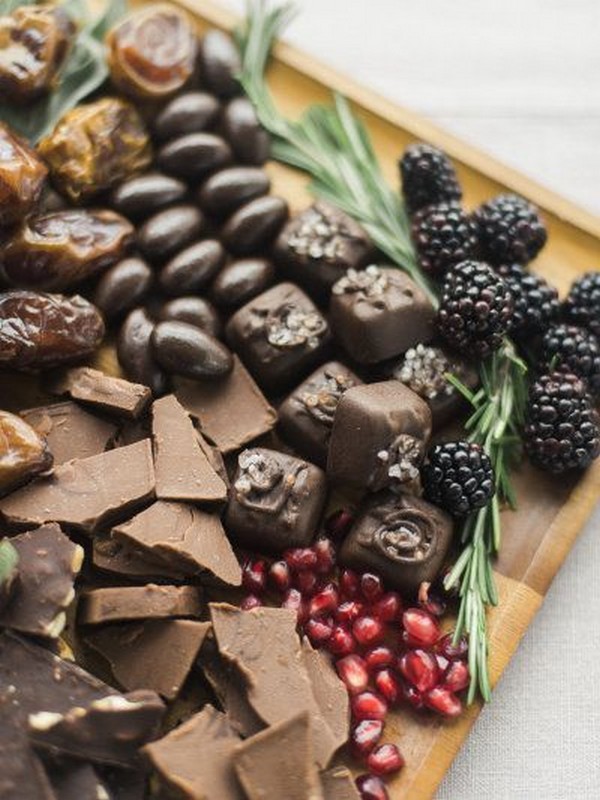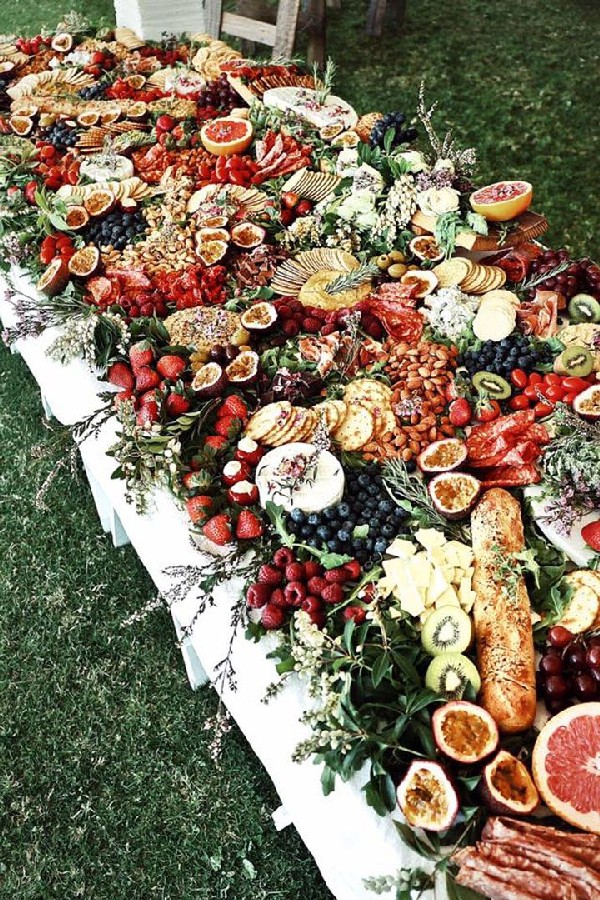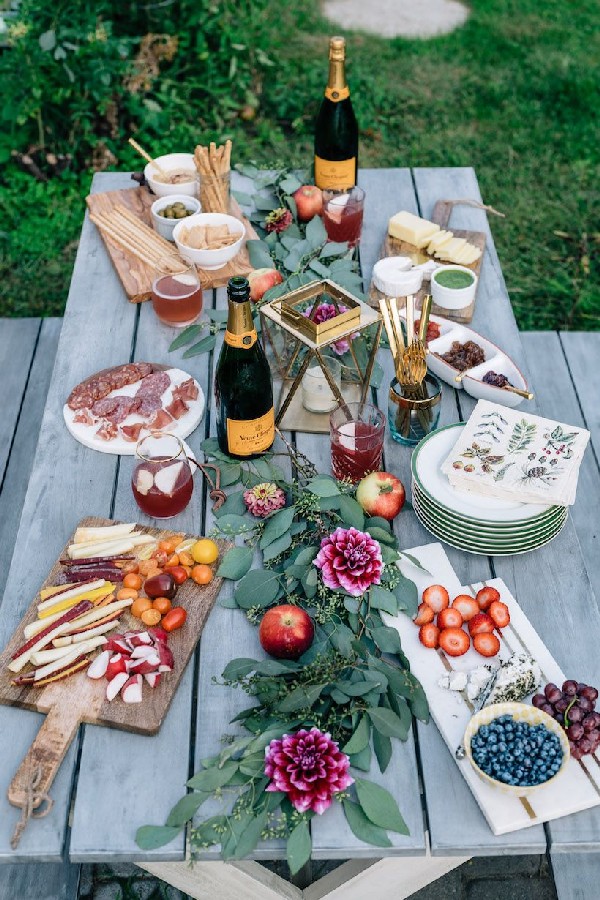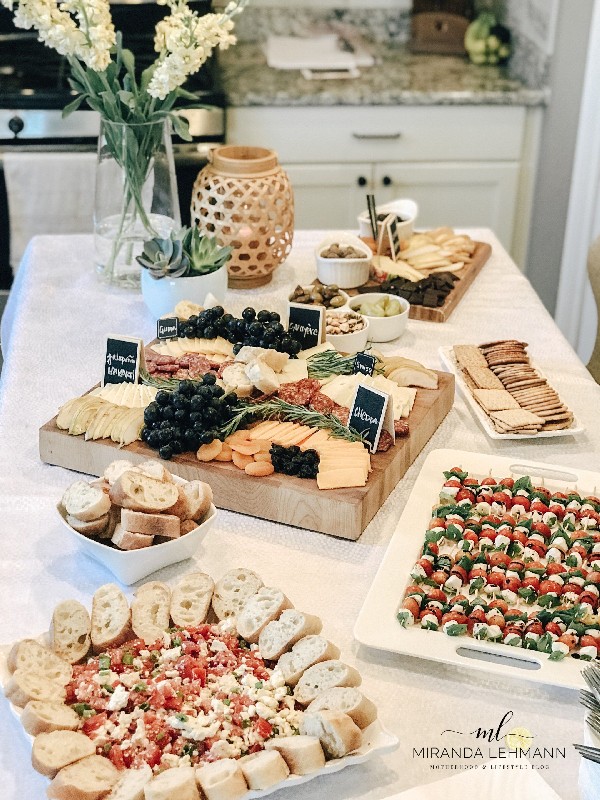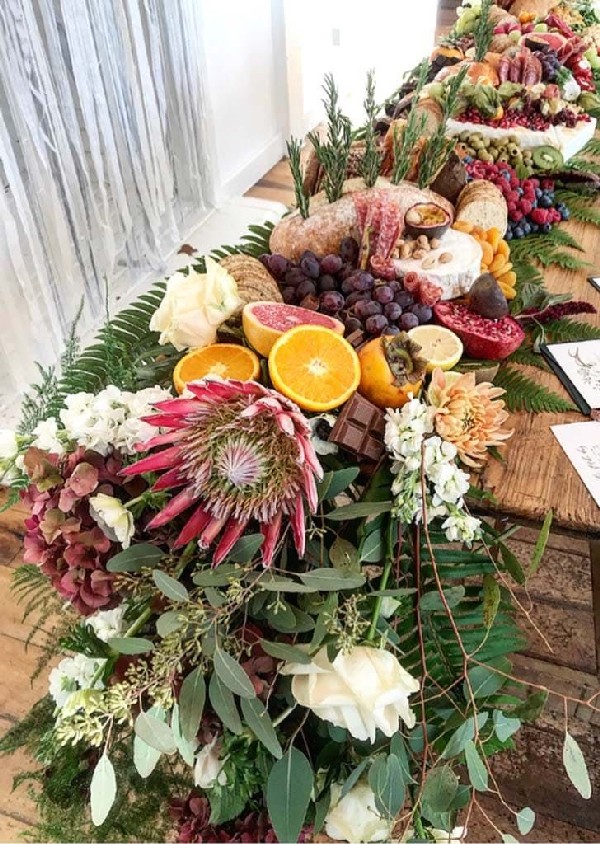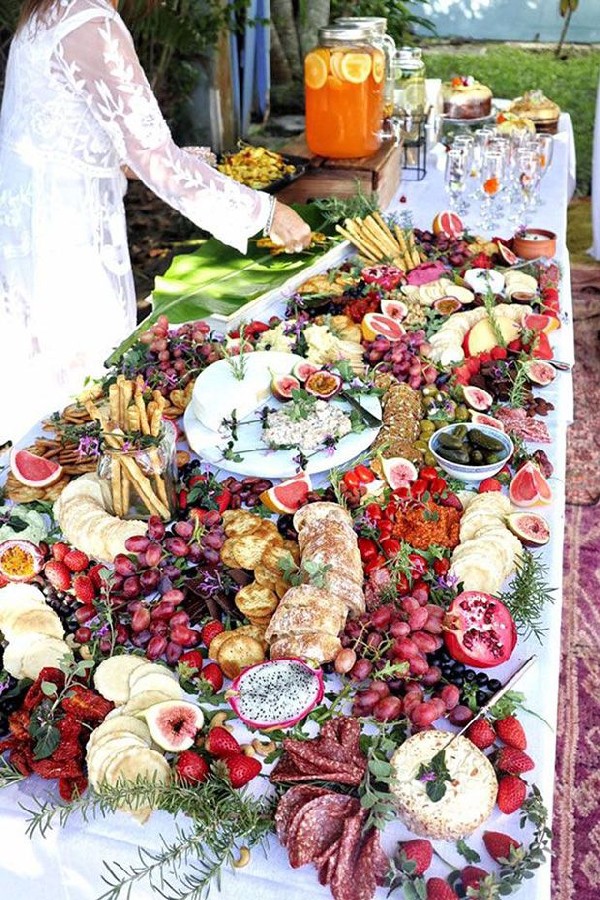 What is a charcuterie table?
A charcuterie table is a spread of cured meats, cheeses, crackers, bread, fruits, nuts, spreads, and other savory bites that are artfully arranged on a large platter or board. It's perfect for grazing and socializing, and it's a great way to provide a diverse range of food options for guests.
Is a charcuterie table a good idea for a wedding?
Absolutely! A charcuterie table is a great addition to any wedding, whether it's an outdoor summer wedding or a cozy winter wedding. It's a crowd-pleaser that provides a range of delicious and visually appealing food options for guests.
How much food should I provide for a wedding charcuterie table?
The amount of food you need to provide for a charcuterie table will depend on the number of guests you have. As a general rule of thumb, plan for at least 2-3 ounces of meat and cheese per person, and provide a variety of other bites to round out the table.
What types of food should I include on a wedding charcuterie table?
The beauty of a charcuterie table is that there are no hard and fast rules when it comes to what you should include. A good rule of thumb is to provide a variety of flavors, textures, and colors. This could include a variety of meats like salami, prosciutto, and ham, different types of cheeses like brie, cheddar, and gouda, a variety of crackers and breads, fresh fruits and veggies like grapes and cherry tomatoes, and spreads like honey or jam. You can also add accents like nuts or pickles to round out the table.