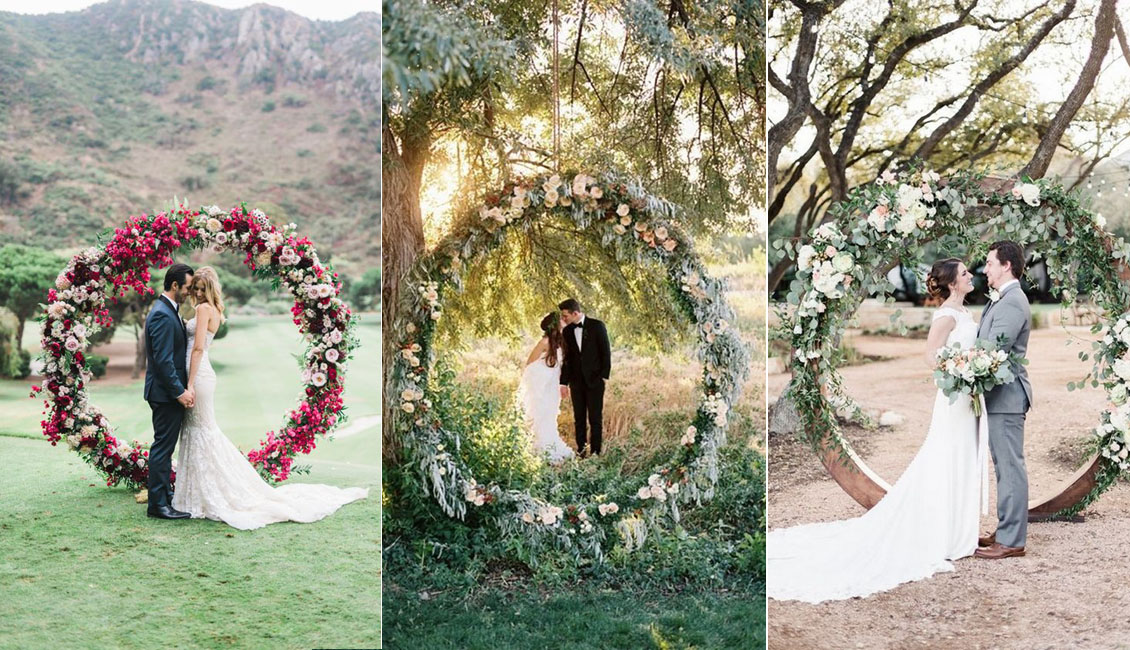 Top 20 Wreath & Circle Wedding Arches & Backdrops
Floral wreaths with greenery are a stunning and unique addition to any wedding. Whether you're going for a woodland, boho, garden, rustic, or coastal theme, a floral wreath can add a touch of whimsy and romance to your big day. The best part about floral wreaths is that they can be customized to suit your wedding colors and style. From blush and lilac to bold red and fuchsia, there are endless color combinations to choose from.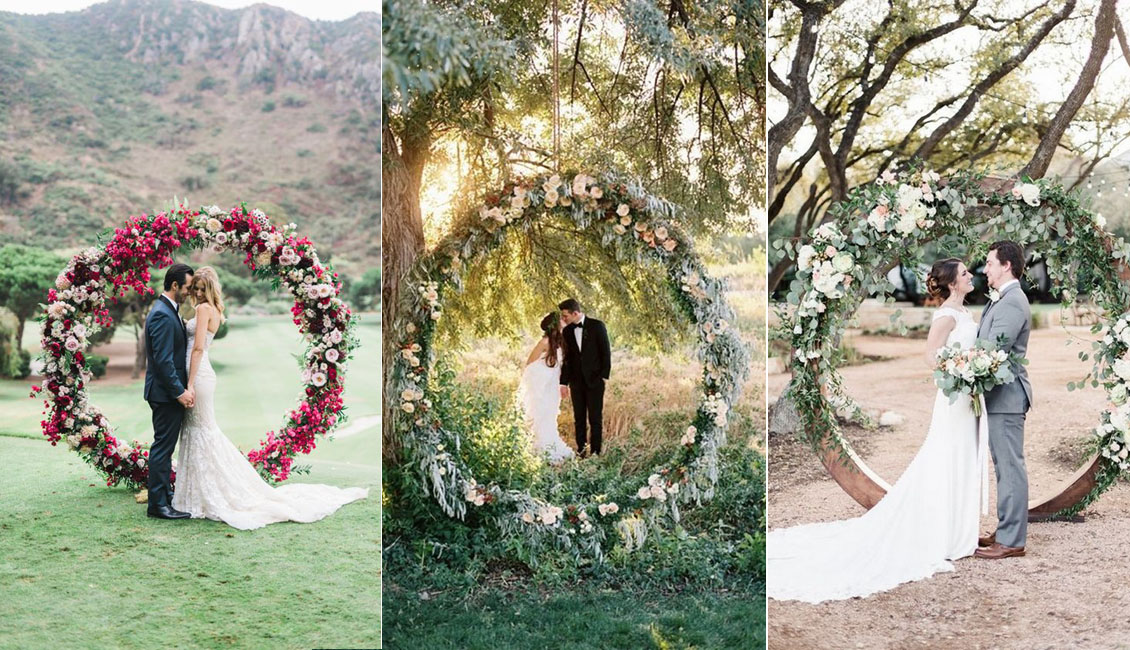 The wreath itself can be made from a variety of materials, such as grapevine, driftwood, or even paper flowers. If you want a more glam feel, consider a fully flower-covered wreath with crystals hanging inside. This will add a touch of sparkle and shine to your wedding décor.
One of the best ways to incorporate a floral wreath into your wedding is to use it as a backdrop for your ceremony and photos. This will create a beautiful and memorable setting for your vows and pictures. You can also have the bride swing on the wreath for some unique and playful photos.
A floral wreath is a beautiful and versatile choice for any wedding. It adds a touch of whimsy and romance to your big day and can be customized to suit your personal style and theme.

Boho greenery wedding wreath backdrop idea
Get the perfect backdrop for your boho-style wedding with this gorgeous greenery wreath! Featuring lush greenery and vibrant florals, this gorgeous display is perfect for creating a beautiful background for your special day. With tons of different shades of green and a mix of various floral elements, this wreath will bring an atmosphere of natural beauty to any space.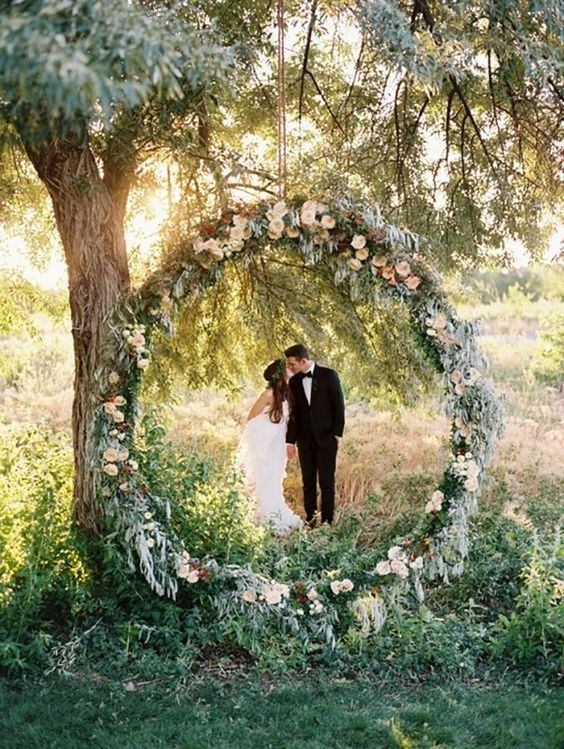 Garden floral and wood circular wedding arch
Add the perfect touch of elegance to your wedding day with this gorgeous garden floral and wood circular wedding arch. The arch is made of natural wood and adorned with soft and romantic garden flowers in white, pink, and peaches. It will be the perfect backdrop for exchanging your vows and a timeless addition to your lasting memories. Make it even more special with personalized decorations and accessories.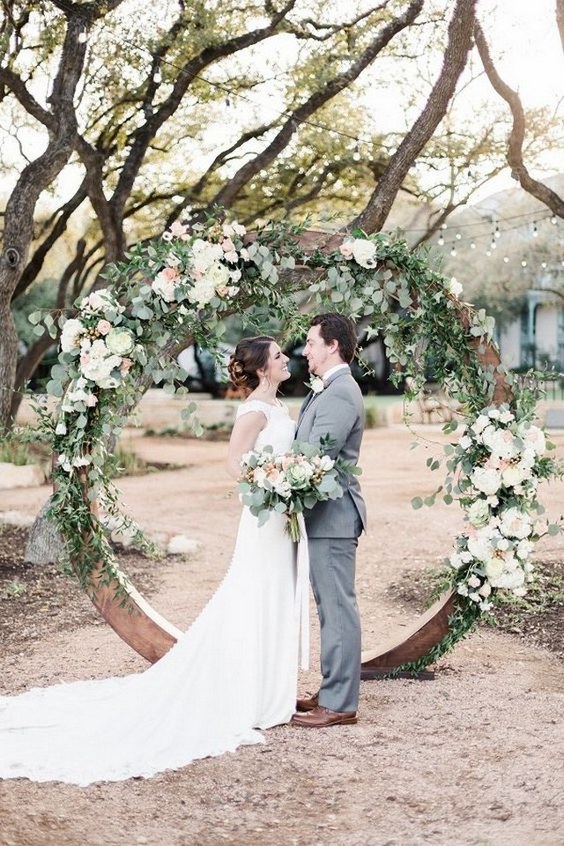 Giant Floral Wedding Ceremony Wreath
Add a unique, colorful touch to your wedding ceremony with a giant wreath! This handcrafted wreath is made up of lush, vibrant florals that will make an eye-catching backdrop for your special day. It will bring elegance and beauty to your wedding ceremony and create unforgettable memories.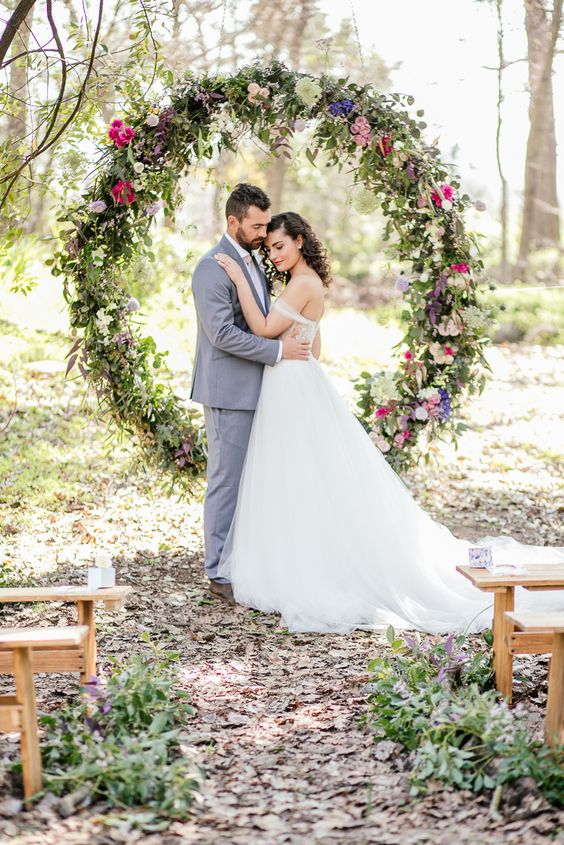 Greenery wedding wreath backdrop
Create a stunning backdrop for your wedding day with this beautiful greenery wreath. The perfect addition to any wedding ceremony or reception, this elegant piece is sure to make a statement. Crafted with lush foliage for added texture, this circular wreath is an easy way to add a touch of natural beauty to your special day. Perfect for holding flowers, candles, or other special décor pieces, this wreath is a timeless piece that will make your wedding day unforgettable.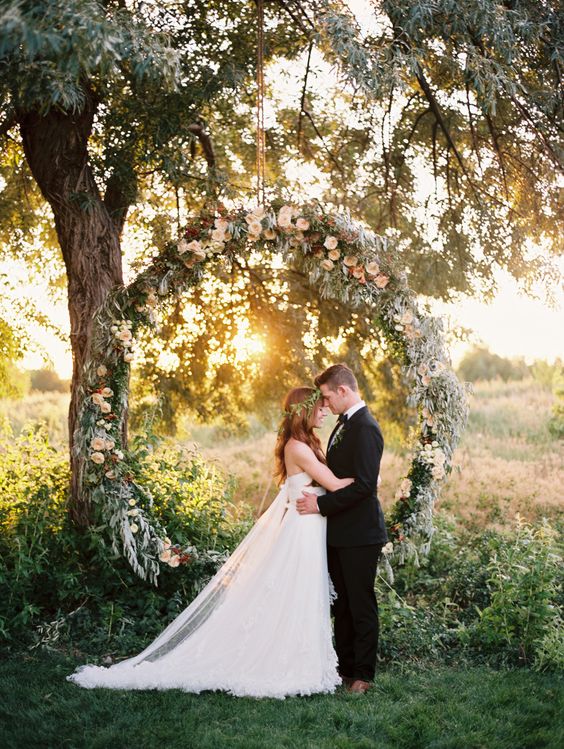 Green and white circle floral arbor
Create a stunning wedding backdrop with this green and white circle floral arbor. The perfect combination of natural greenery and lush white blooms creates a romantic and timeless setting for photos, and the unique design lends a unique and special touch to any outdoor ceremony. Crafted with care and attention to detail, this elegant arbor will be the perfect backdrop to your special day.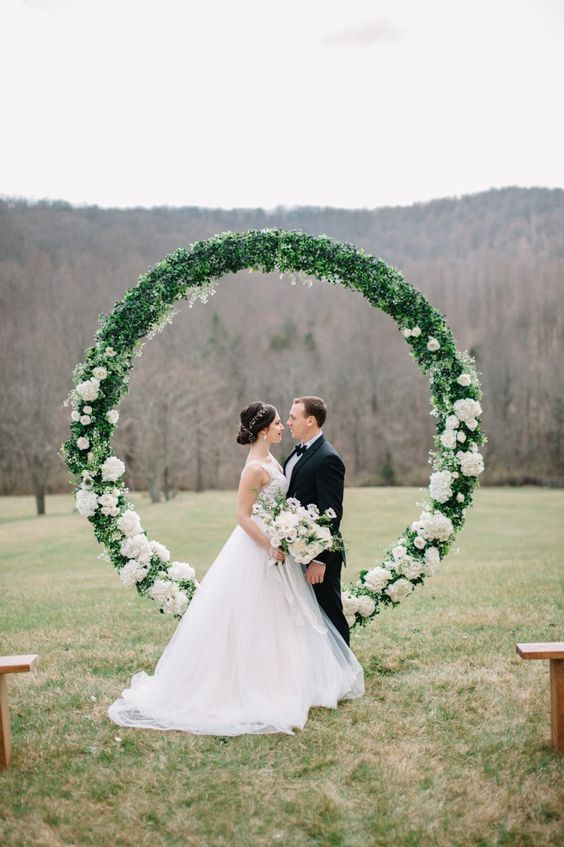 Wood circle greenery and pampas grass wedding ceremony arch
Add a rustic and romantic touch to your wedding ceremony with this beautiful wood circle arch decorated with greenery, pampas grass, thistle, and other dried botanicals. This arch will create an eye-catching focal point for your special day, and will bring your ceremony venue to life as you commit to your everlasting love. Perfect for any outdoor wedding venue, this design will bring an earthy, yet modern and glamorous aesthetic to your wedding ceremony.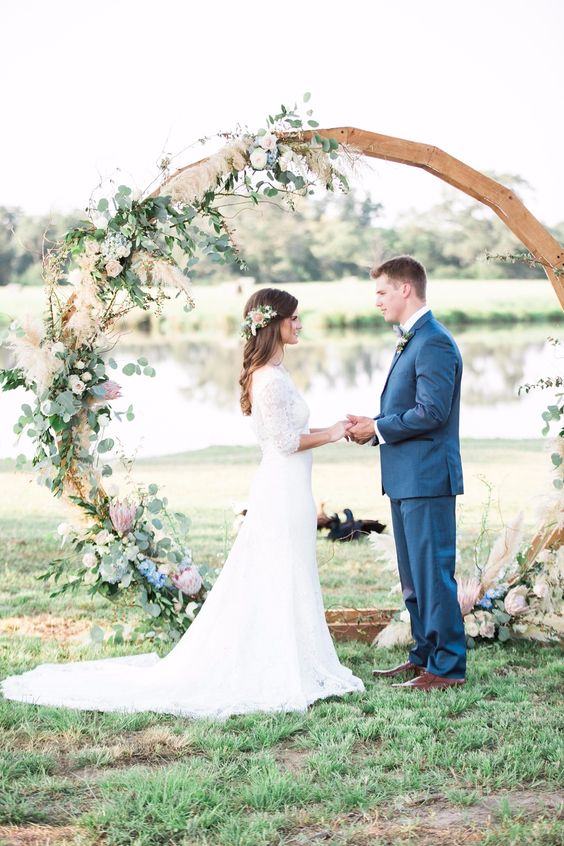 Boho maroon flowers circle wedding arch
Step into a bohemian paradise at your wedding ceremony with this stunning maroon flower circle wedding arch. This unique and eye-catching design is perfect for a romantic outdoor ceremony as it combines softness and elegance to create a truly unforgettable experience. Crafted from vibrant maroon flowers, this arch will provide a lovely backdrop for exchanging your vows. The perfect way to make your special day even more memorable.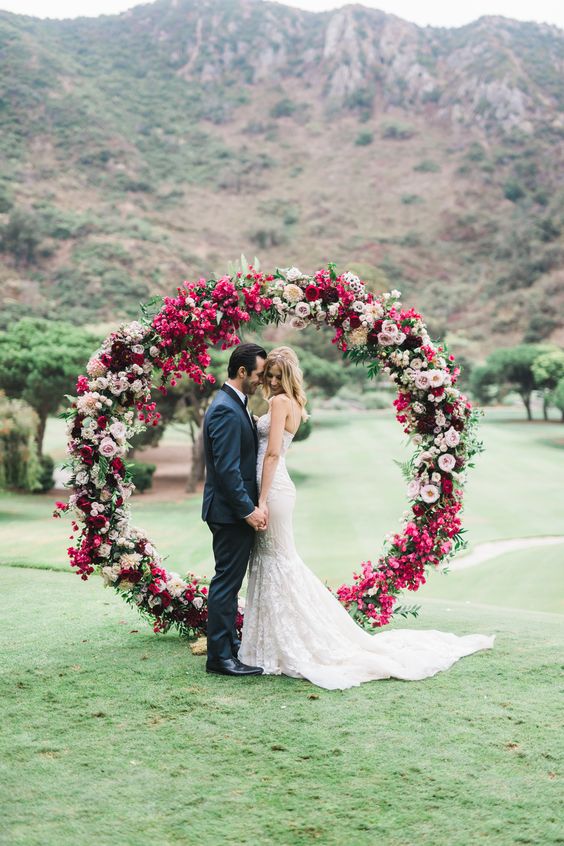 Moody Baltic Sea greenery wedding wreath
Add some rustic charm to your wedding day look with this handmade greenery wreath, featuring eucalyptus and other greenery foraged from the Baltic Sea. Whether you pair the wreath with a simple dress for a bohemian vibe, or use it to complement a more formal style, this piece will add an edgy, romantic touch to your wedding look. Each wreath is unique, crafted with love, and sure to make you stand out from the crowd.
Red flower and greenery circular wedding backdrop
Let your special day blossom with this stunning floral and greenery backdrop. Perfect for your wedding reception, ceremony, or photo booth, this circular backdrop is made up of lush red flowers and lush greenery, creating a beautiful and romantic atmosphere. Create a lifetime of memories with this eye-catching and vibrant piece, sure to make any special day one to remember.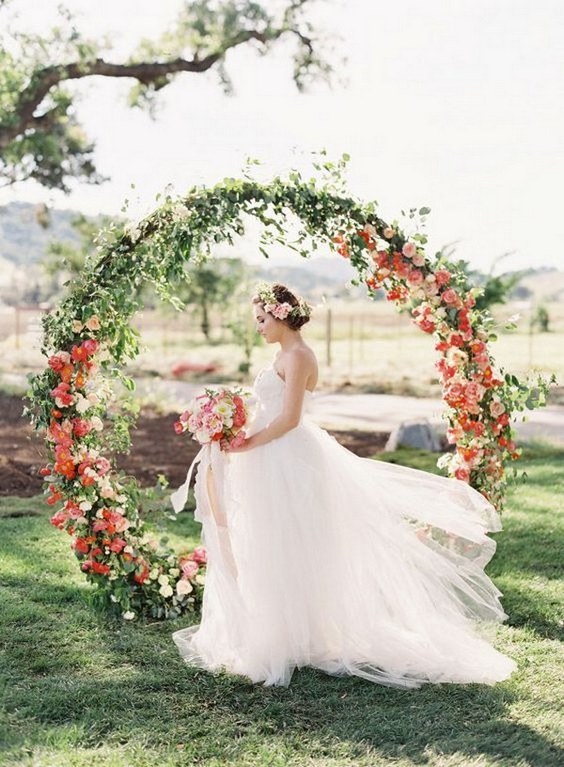 Next 11~12 Wreath & Circle Wedding Arches