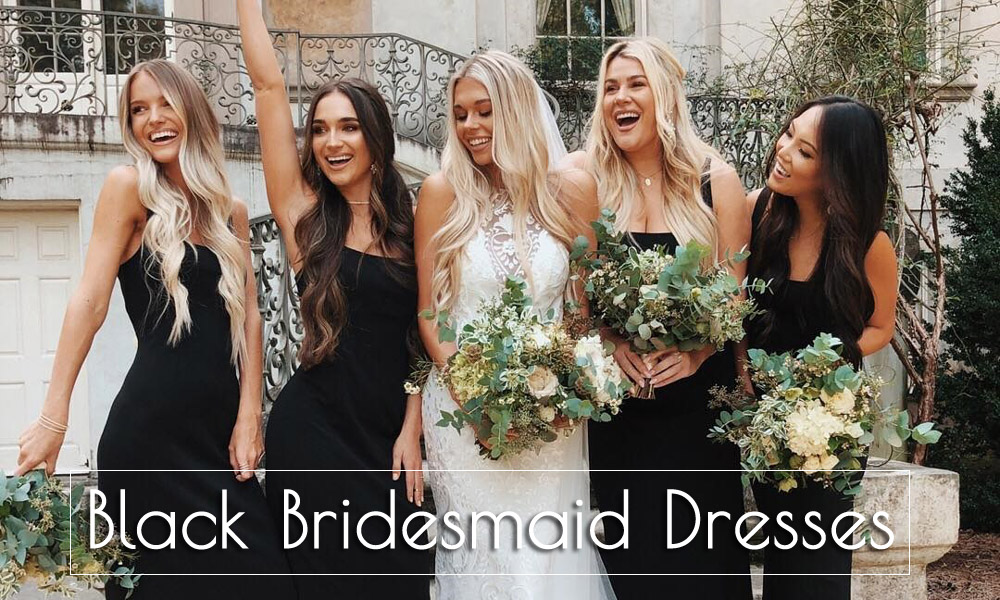 30+ Black Bridesmaid Dresses for 2023
If you are looking for a color of bridesmaid dress that will complement your wedding look, black is a classic and stylish choice. Black bridesmaids dresses create a sleek and modern look for your bridal party, and they are versatile enough to match any wedding theme or color scheme.
There is no need to worry about bad luck, as black is not considered to be unlucky for a bridesmaid to wear.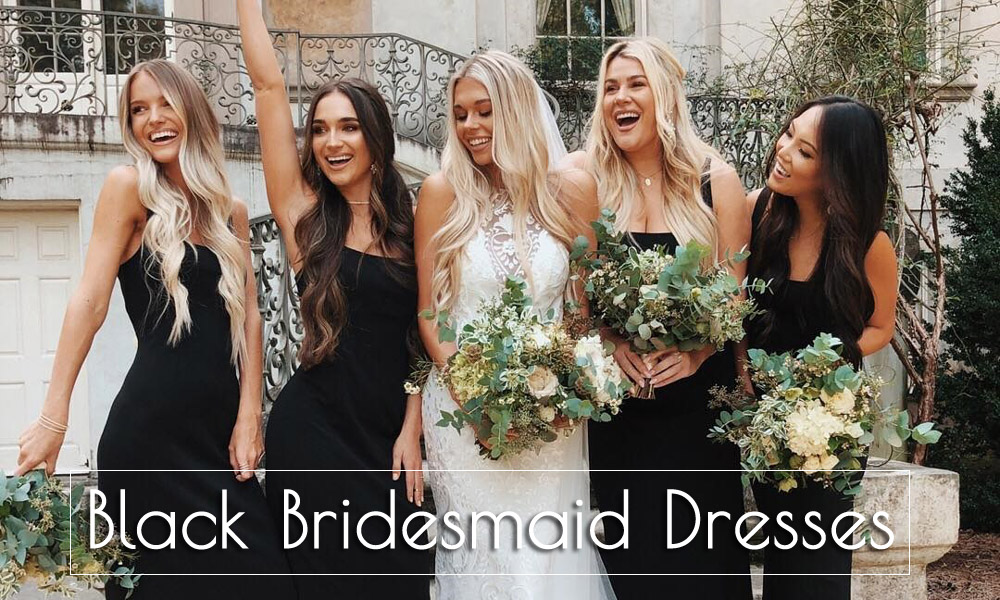 Whether you choose a formal or casual style, black bridesmaid dresses are always chic and alluring.
Here are some beautiful black bridesmaid dresses to inspire your own all-black bridal party look.
Spaghetti Strap Black Bridesmaid Dresses
Spaghetti strap black bridesmaid dresses are a beautiful and elegant option for a formal or outdoor wedding. These dresses are characterized by their thin straps, which provide support without covering up too much of the shoulders and arms. They are also versatile, as they can be dressed up with heels and statement jewelry or dressed down with sandals and minimal accessories. Here are some beautiful spaghetti strap black bridesmaid dresses to inspire your own all-black bridal party look: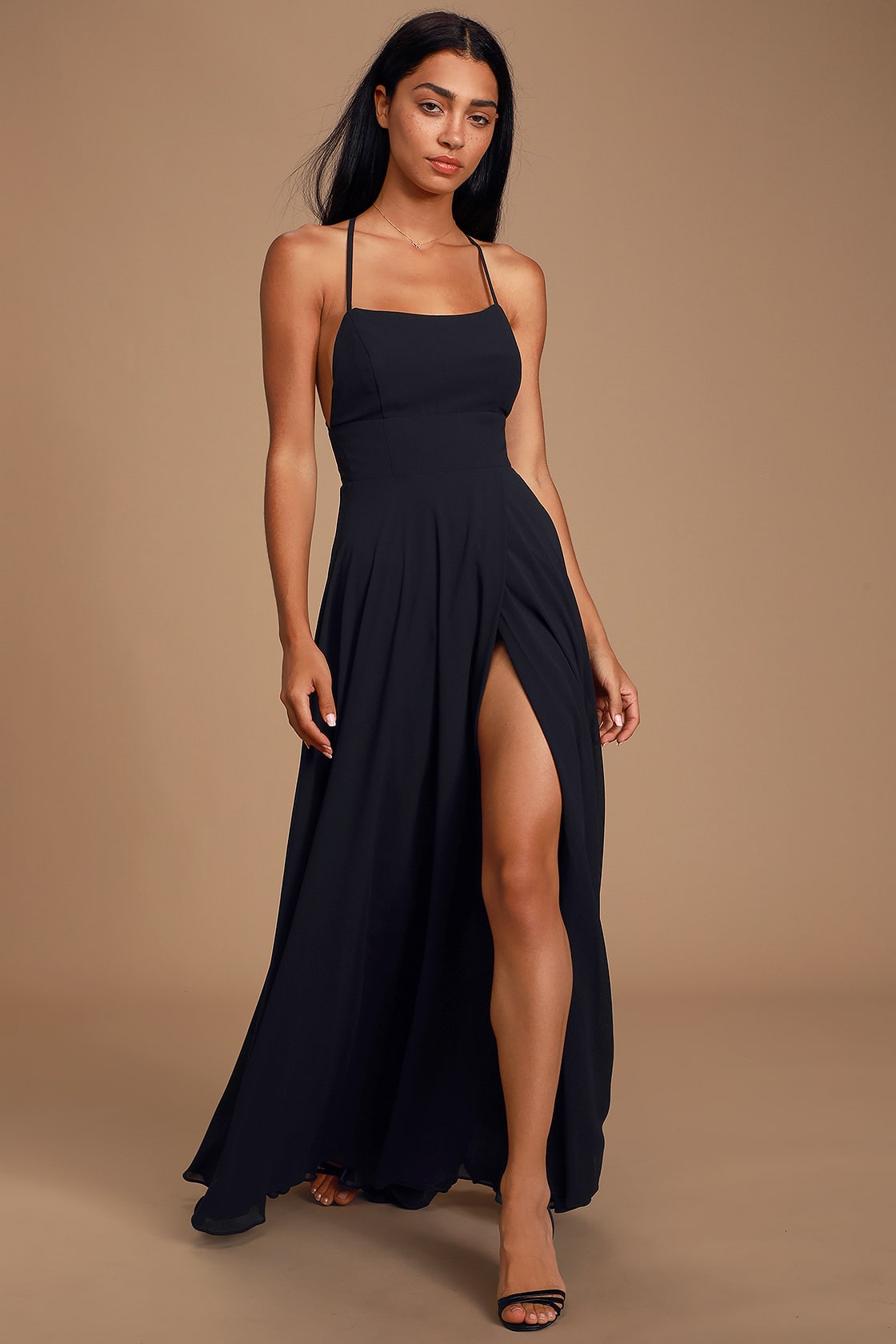 Black Bridesmaid Dresses with Long Sleeves
These dresses are characterized by their full-length sleeves, which provide coverage and warmth without sacrificing style.
Off the Shouder Black Bridesmaid Dresses
Off the shoulder black bridesmaid dresses are very popular. They're a great choice for many occasions and they can be worn by women of all shapes, sizes and ages. If you have a body type that tends to rip dresses at the shoulder seam, off-the-shoulder styles are perfect for you because they drape beautifully over your shoulders without putting any stress on them.
Off-the-shoulder black bridesmaid dresses are available in many colors and styles; for example, some have straps that come down over one shoulder or tie around your neck like a halter top; others are strapless or sleeveless with long sleeves; still others feature cap sleeves or ruffles around their necksline.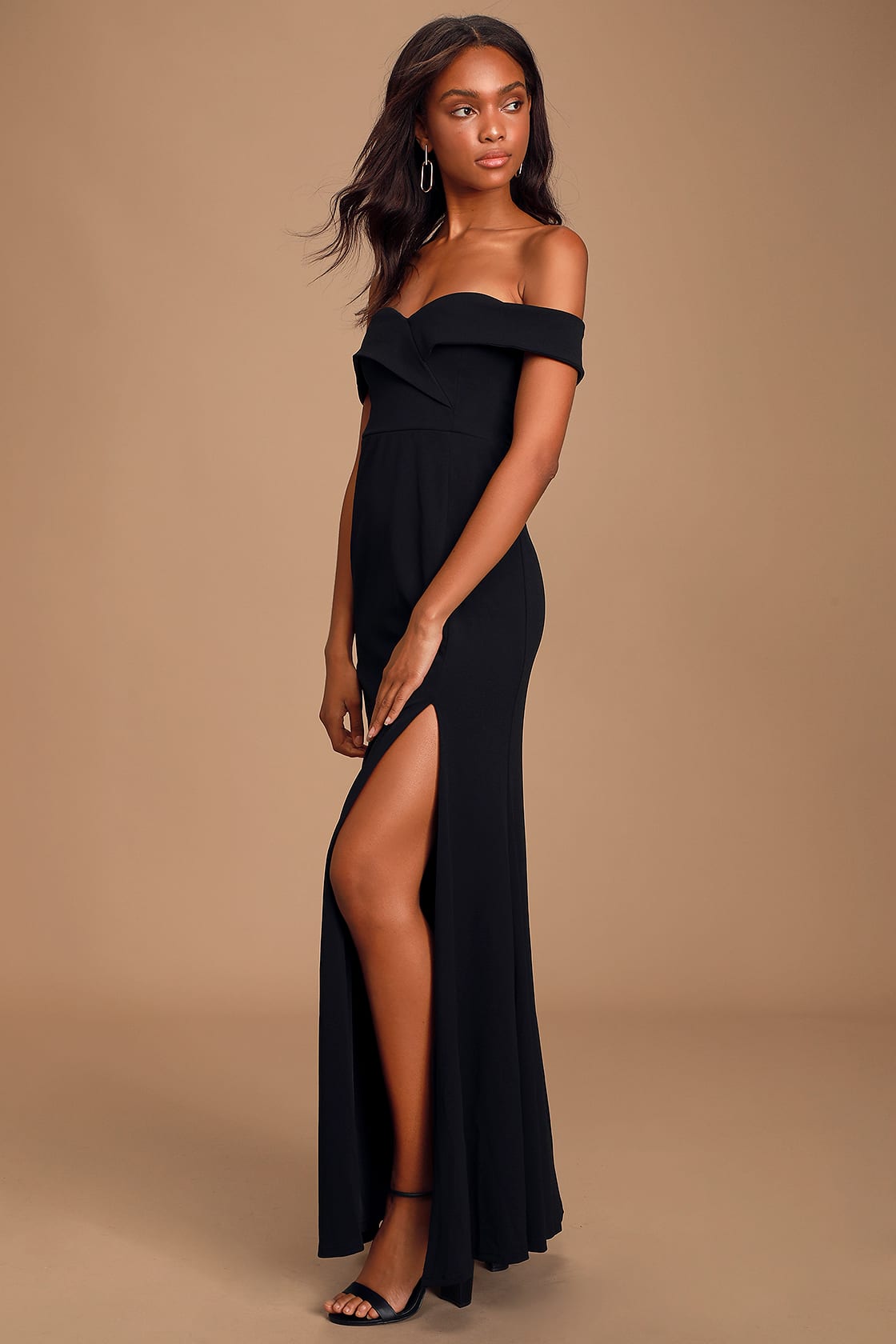 Flutter Sleeve Black Bridesmaid Dresses
If you're looking for a way to spice up your bridesmaids' dresses without making it look like they're wearing Halloween costumes, flutter sleeves are an excellent option. This complementary style can be paired with any neckline and will always look great on any body type. Flutter sleeves are a great choice for a casual wedding or even an outdoor ceremony if you're worried about the weather being chilly. With so many options available in this style of bridesmaid dress, there's no reason why it wouldn't work perfectly at your event!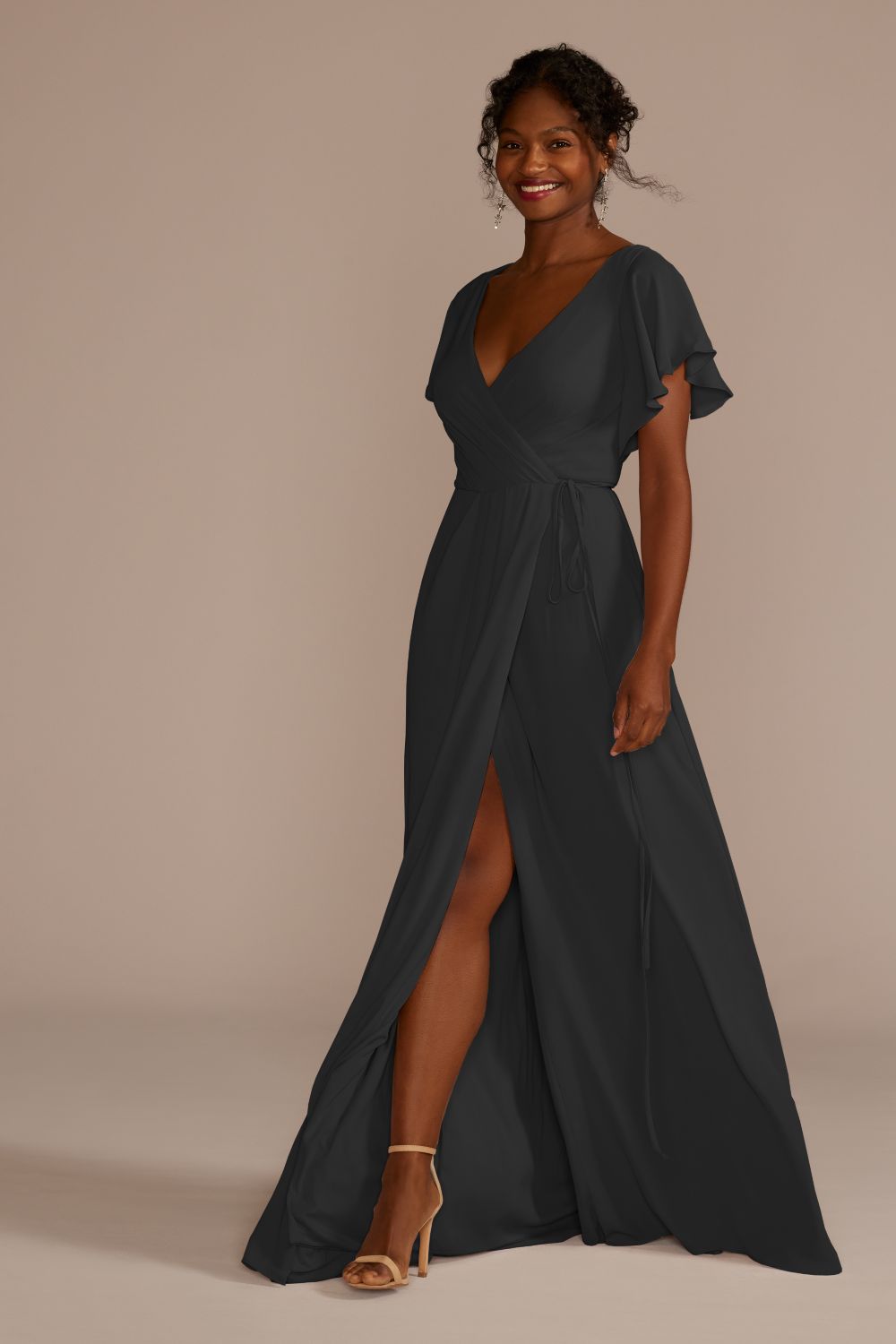 V-Neck Black Bridesmaid Dresses
V-neck dresses are a great way to show off your shoulders. They are also a great way to show off your cleavage if you have it.
V-neck dresses are the best of both worlds: they cover up any unwanted body parts and accentuate the ones you're proud of.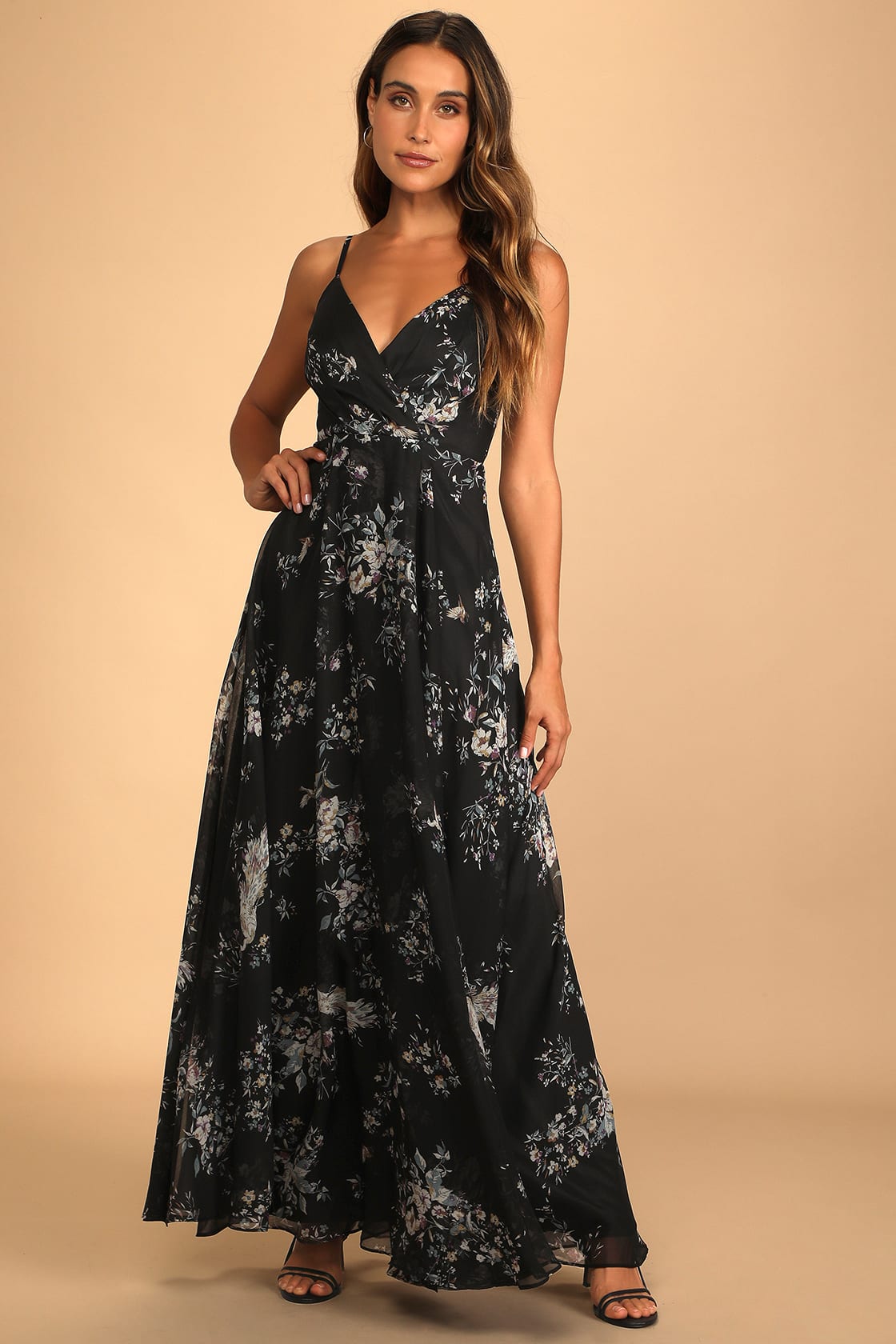 Slip Black Bridesmaid Dresses
Slip dresses are also known as sheath dresses, and they're made of a single layer of fabric. They're very popular for bridesmaids because they make your body look slimmer and taller. If you want to make sure that everyone feels gorgeous in their dress, slip dresses are definitely the way to go!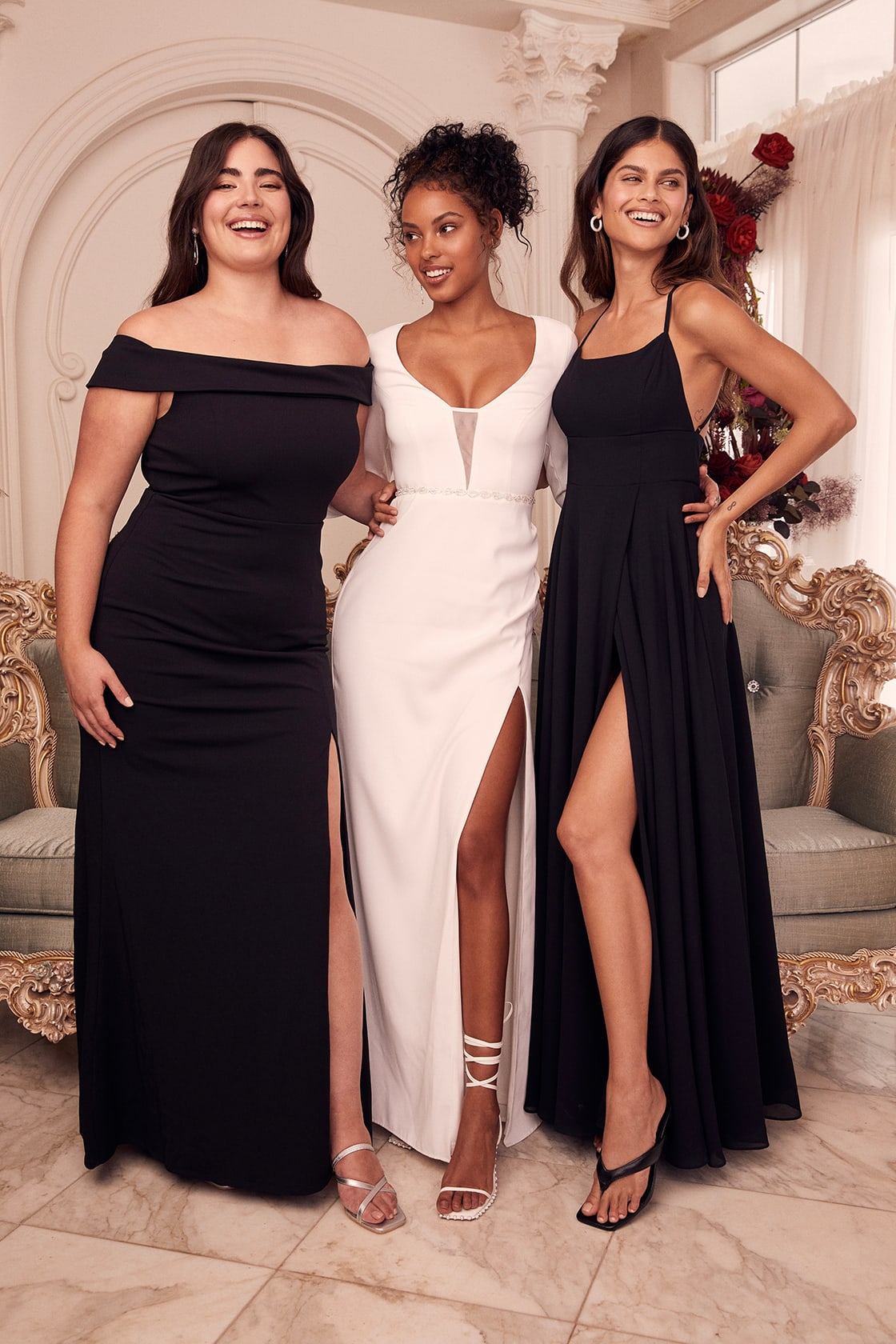 Short Black Bridesmaid Dresses / Little Black Dresses / LBD
Short bridesmaid dresses are an excellent option for summer weddings. They're also a great choice for destination or beach weddings, because they can be worn with sandals or flip flops and won't drag in the sand. If you're having your wedding outdoors, as many couples plan to do this year due to the warm weather, then going with short bridesmaid dresses is probably your best bet.
You may be wondering what kinds of body types work well in short bridesmaid dresses? The truth is that they look good on all women! Short bridesmaids' dresses come in so many different styles that there's bound to be one that will suit everyone at your wedding—from the petite to the curvy bride-to-be herself!
---
Black Bridesmaid Dresses 2023
(most of them under $100)

Whether you are looking for simple bridal party dresses or show stopping gowns, your bridesmaids are sure to look stunning in any one of these outfits. An all-black wedding is sophisticated and modern.