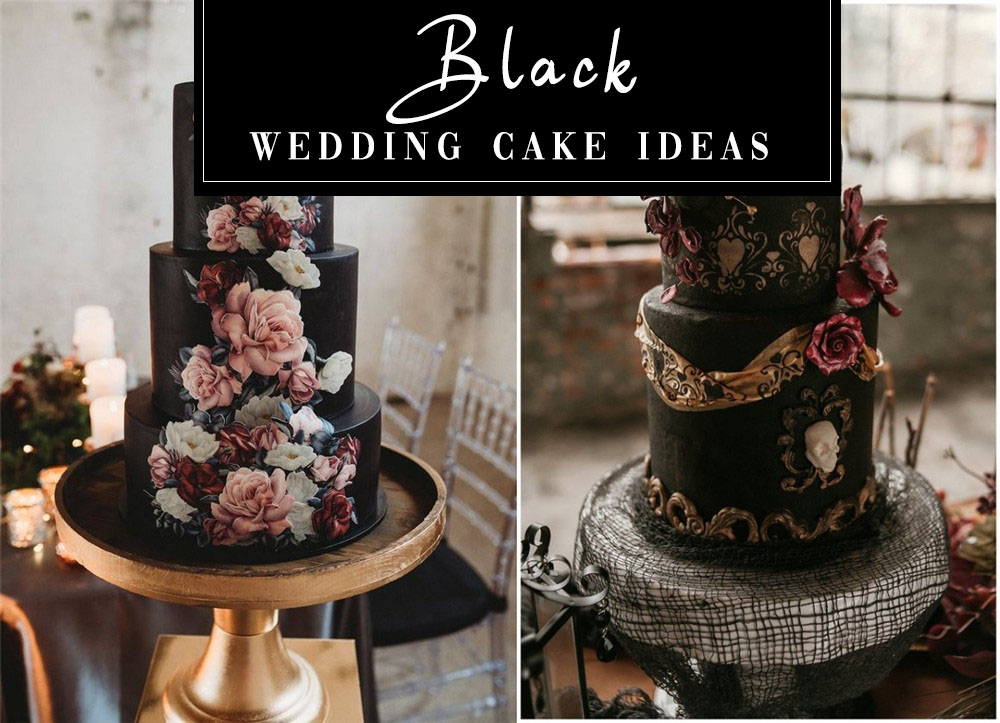 20 Best Black Wedding Cakes for 2023
If the traditional white wedding cake isn't your wedding style and aesthetic, there's no reason to stick with it. It's one of the best ways to go bold with color when you see the look of a black wedding cake.
A black wedding cake can be dressed up with sequins or glitter for a glamorous event or simply be the perfect accompaniment to a rustic fall soiree. This is a great way to match dark, romantic, moody décor or create a bold focal point.
Often, black wedding cakes are made with fondant, allowing any frosting to still ice the cake. A lot of bakers use fondant because they create cakes of a particular style. Plus, more often than not, guests will usually take the fondant off of their cake slice. For others, food coloring may be used for the icing on their cakes, but be careful that the black color incorporated will not stain anyone's teeth. You should double-check with your baker to ensure that the beautiful black color of your cake doesn't fade with every bite.
Ready to go all-in on a bold showstopper? Read on for 25 of our favorite black wedding cakes.
Red and Black
A red and black cake is best suited for a Halloween party or black-tie wedding and creates a dark, mysterious effect. A deep red cake with black details has a regal and classic feel to it and would be perfect for a royal event or a halloween theme party.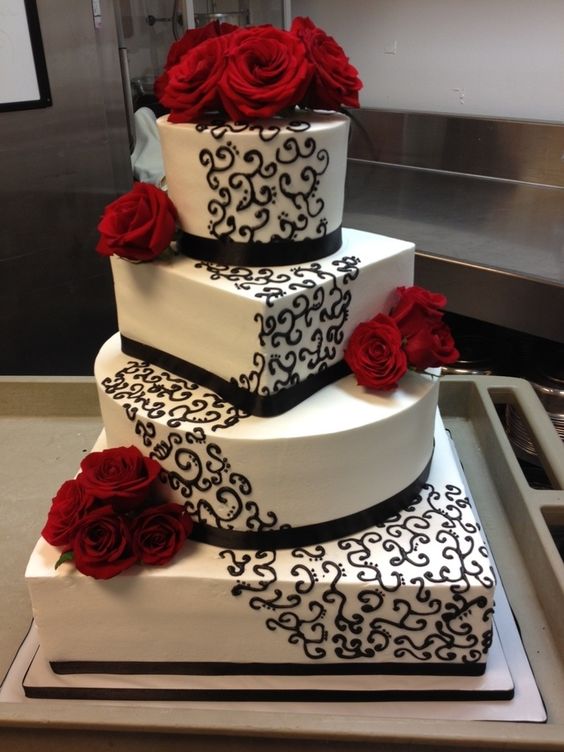 Gothic Black
The Gothic Black cake structure is dark and the contrast in the cake's design has stark and elegant black and white elements. This cake design is ideal for a wedding graced with black and gold themes.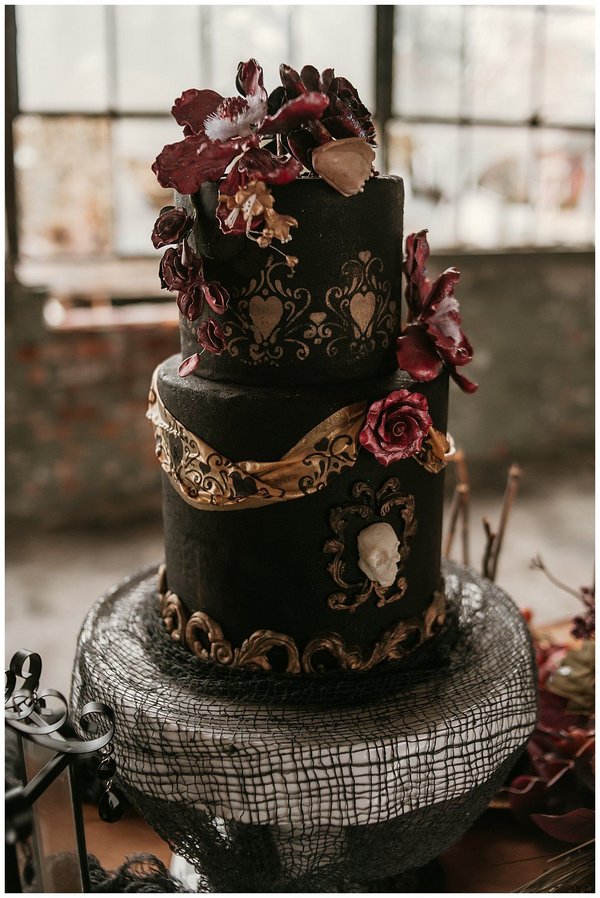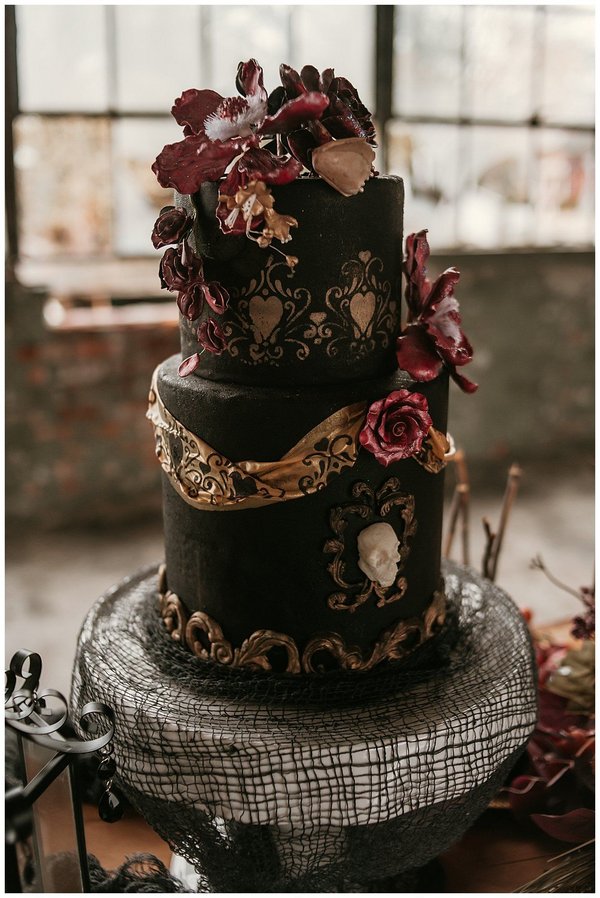 With Red Roses
The best black wedding cake is the one which can not only look beautiful but also have the pinnacle of both killer design and baking. The most commonly seen is the simple and elegant black wedding cake with red sugar roses or fresh rose flowers.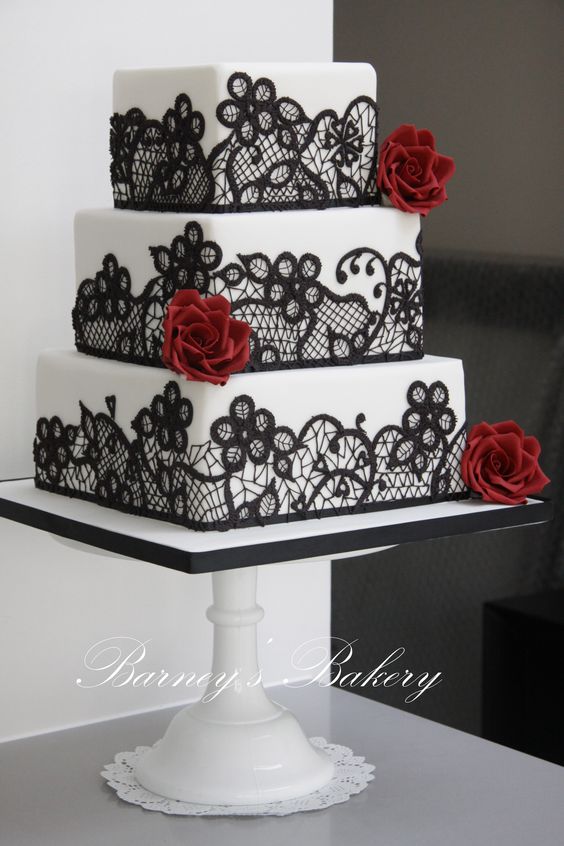 Purple and Black
Black, being one of the more popular colors in weddings, is also one of the best options for cake colors. Combined with other colors like purple, black is sure to stand out but still create a harmonious look for your cake and your wedding venue.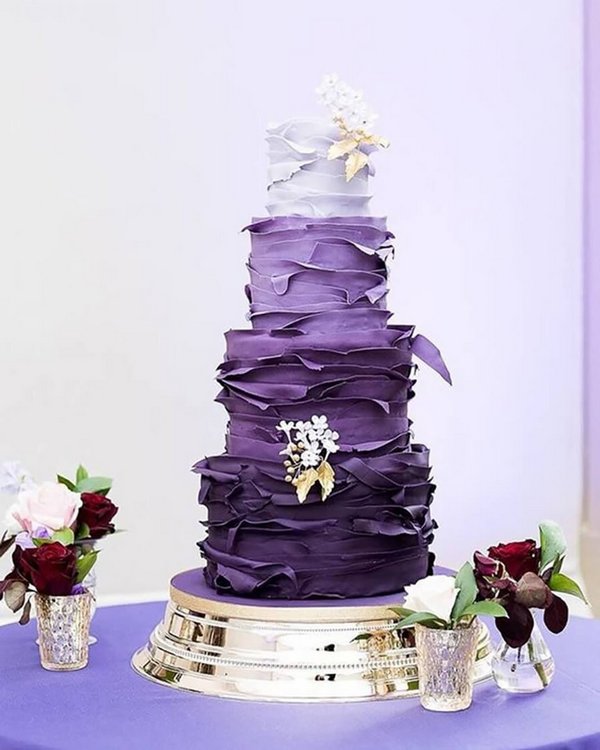 Rose Gold and Black
A rose gold cake with black buttercream frosting, an exquisite duo of elegance and power.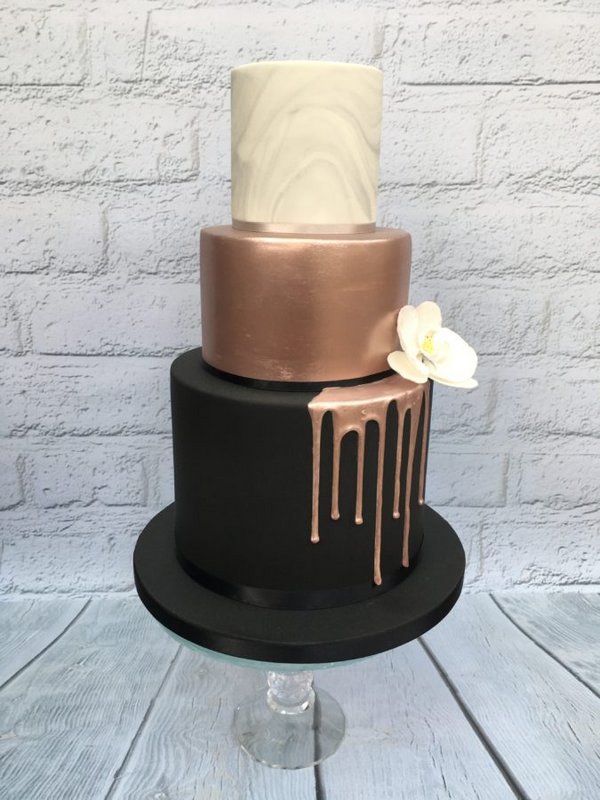 Burgundy and Black
Two shades of red, black and burgundy cake with delicious raspberry buttercream.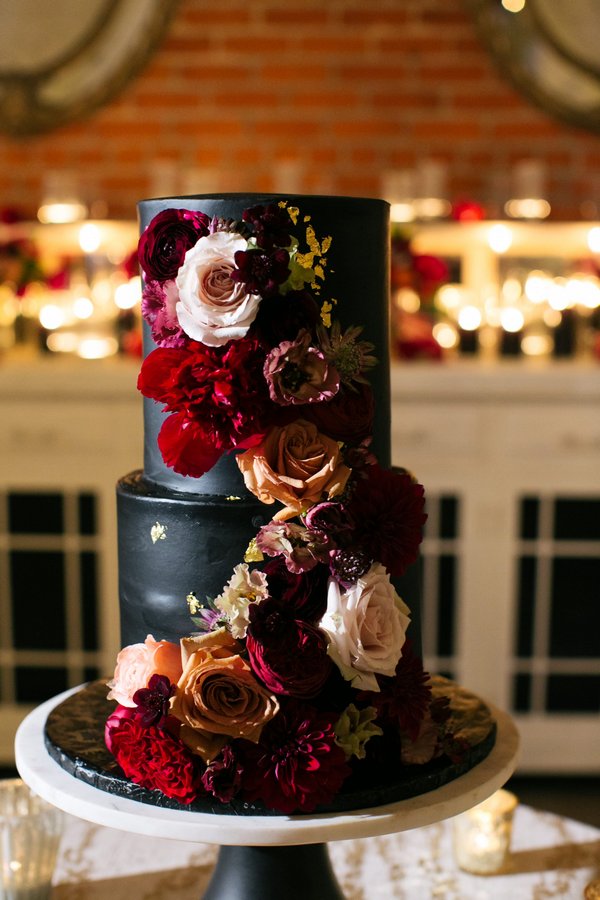 Pink and Black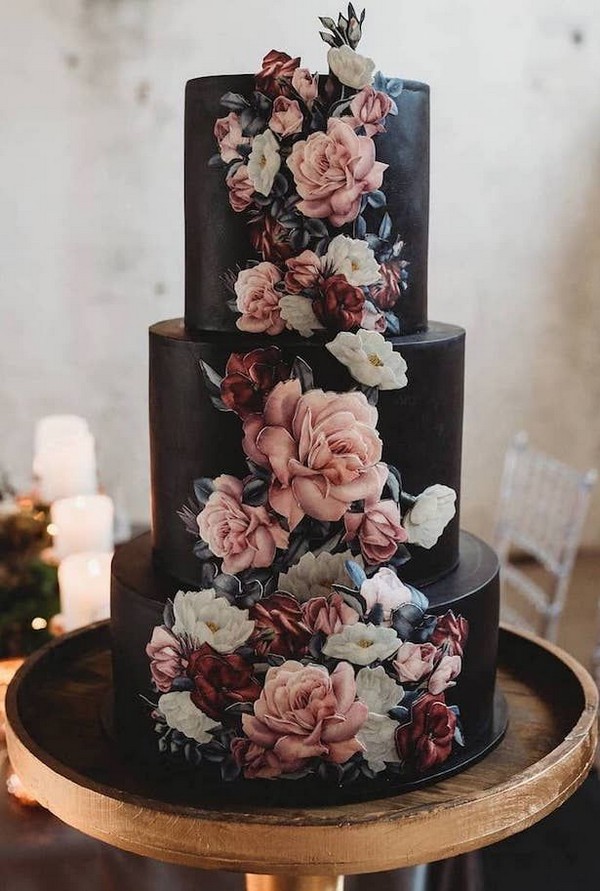 White and Black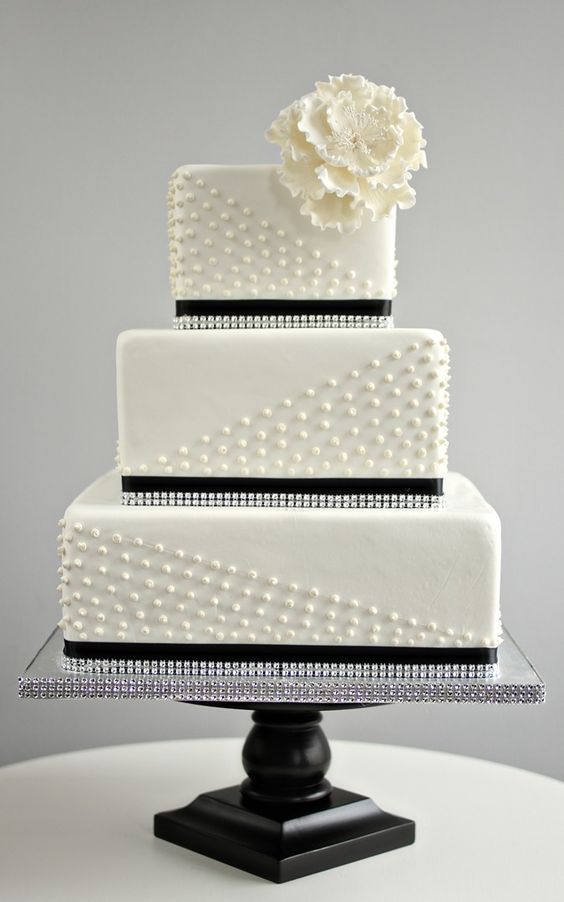 Gold and Black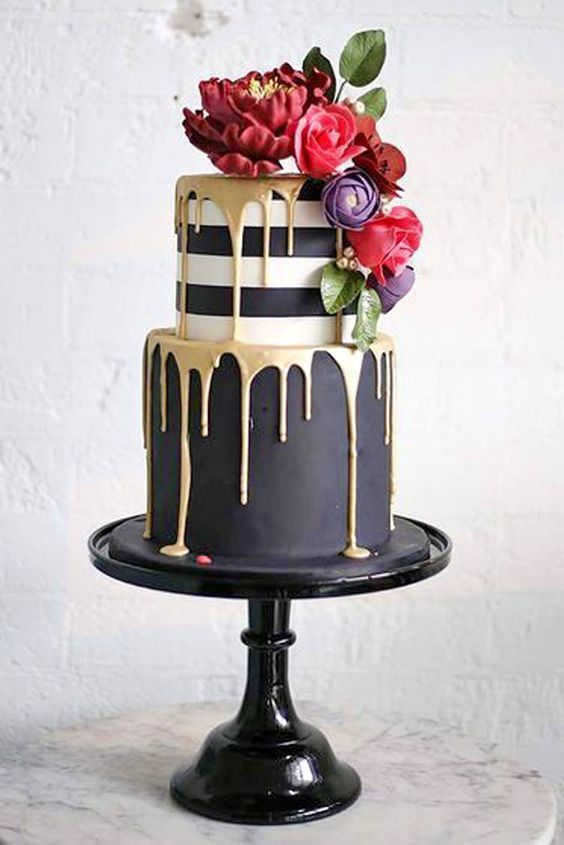 Silver and Black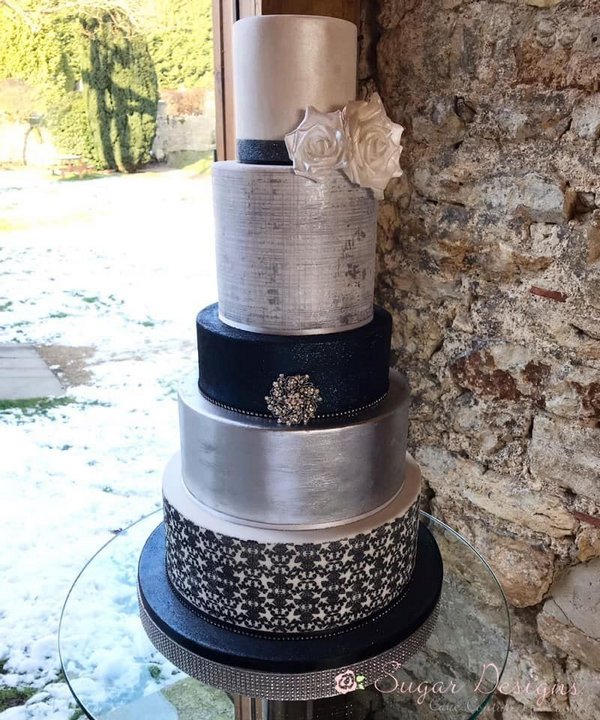 Blue and Black