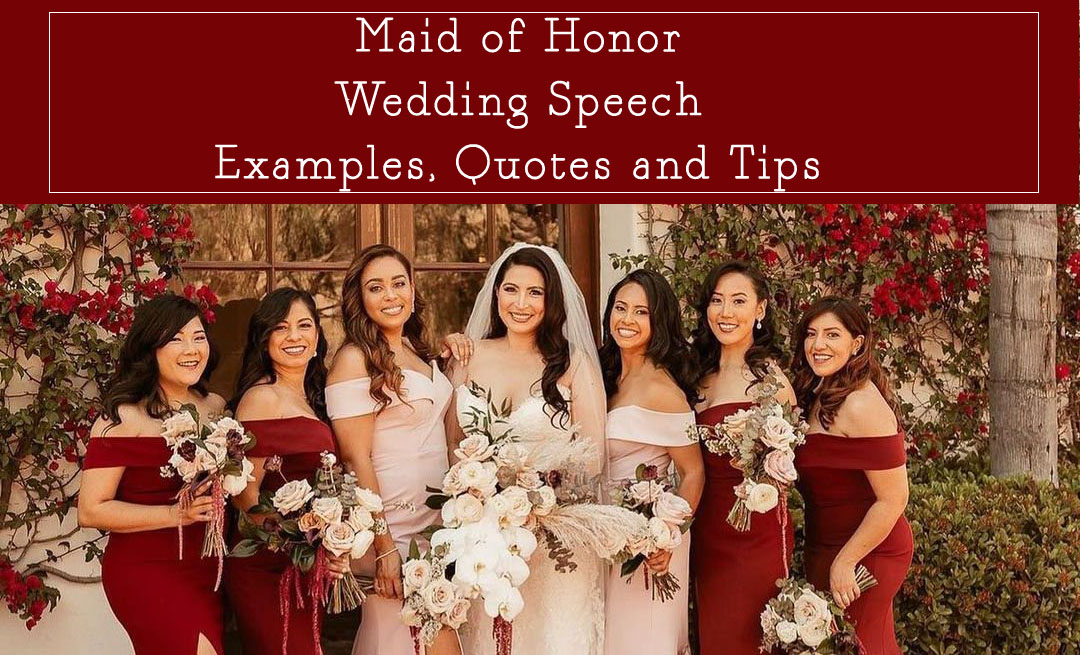 20+ Maid of Honor Wedding Speech Examples, Quotes and Tips
When it comes to giving a maid of honor speech on your best friend's big day, you want to make sure you knock it out of the park. After all, this is one of the most important speeches you'll ever give! Thankfully, we've got you covered with a few maid of honor speech examples, quotes and tips.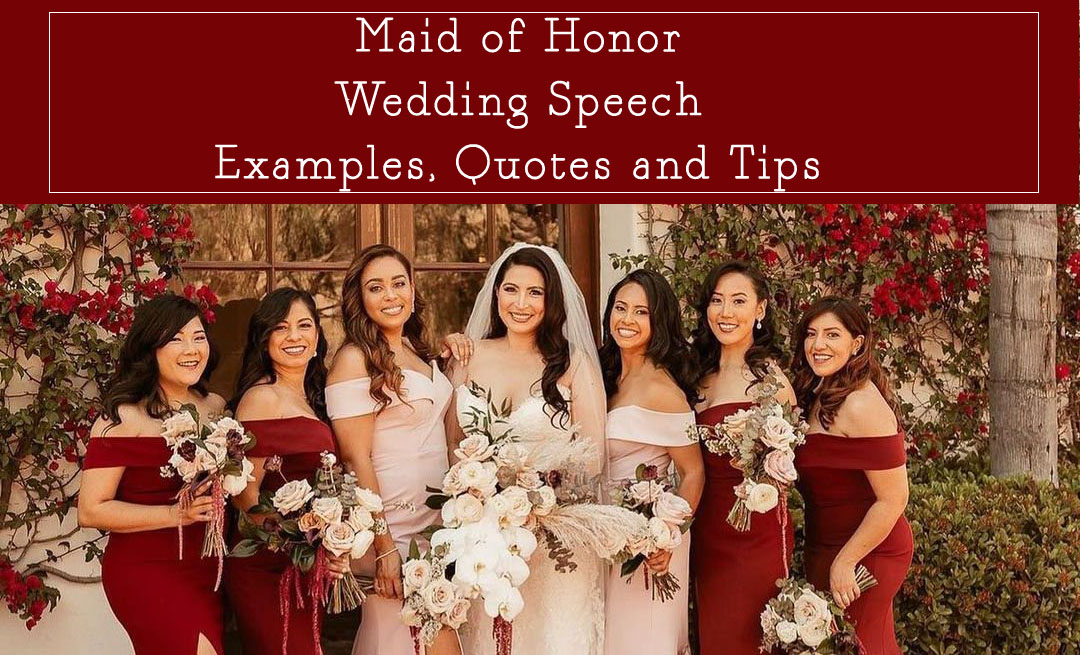 How To Write The Best Maid Of Honor Speech Ever
If you're planning to deliver one of the best maids of honor speeches of all time, you'll definitely have to check out this list of DOs and DON'Ts before you get started.
Do: Open your speech with a self-introduction and your relationship with the bride. There are guests at the wedding who might not know you very well. Let them know how much you mean to each other.
Don't: Feel the need to be comical. A sweet, emotional story means so much more than a bunch of silly, inside jokes that everyone might not get. There will be a time and place for your special BFF humor, but leave it for the after-party.
Do: Tell everyone what an amazing person the bride is, how she is ALWAYS there for you, whenever, wherever! Also, it would be a nice opportunity to thank the rest of your girls for being a big part of the special day.
Don't: Make the bride look bad by saying things like "We thought this day would NEVER come." That might sound funny at the hen party, but the wedding reception is not the place.
Do: Share her love story and how she met the groom and maybe an amusing (but not humiliating) anecdote or two about their courtship. The newlyweds would love to hear such tribute to their love.
Don't: Compare the groom to her former boyfriends. That might bring up some bad feelings and memories and it is definitely not the time or place.
Do: Describe what you love about the groom, his greatest attributes, and how much he means to the bride. You may want to include how the bride has changed(for the better of course) since she met the groom. Speak from your heart and mention how she became happier etc. It's time to get emotional!
Don't: Be trite and say things to the groom along with the lines of "Call me when you get divorced." You don't want people throwing objects or start booing.
Do: Make the toast about BOTH the bride & groom, not just amusing stories of the bride. Usually, it's a good idea to start the speech by talking about the bride and finish the speech by talking about her and the groom as a couple.
Don't: Get sidetracked and make the speech all about you. It's HER day, not yours!
Do: Wish them a happy future, filled with love, a lifetime of joy, and so forth.
Don't: End your speech with phrases like "Cheers" and "Drink up!" You want to end on a sentimental note, not a cheesy one!
Do: Wrap it up with an inspirational or sentimental quote. Let everyone know that the speech is over: give a toast to the couple or congratulate them on their wedding.
Don't: Forget to prepare a great closing line. Do NOT end your maid of honor speech abruptly and awkwardly.
10 Maid Of Honor Speech Tips
Overall, here are some guidelines to make your Maid of Honor Speech shine like diamonds:
Write it out in bullets rather than complete sentences: this will help your speech flow better. Rather than reading your speech word for word from a piece of paper, practice your speech enough times so that it's pretty well committed to memory. The bullet points will keep you on point while your memory of what you want to say will keep the pace natural and more entertaining.
Keep it short: no one wants to hear you ramble on forever.
Practice your speech aloud beforehand: Record it and play it back, read it to a friend, this way it will flow more naturally. You might want to read it to other bridesmaids because they know the bride well and can help you change the speech.
Speak slowly & clearly: Most people tend to talk faster when they are nervous.
Don't forget to breathe: Pause and take a breath at the appropriate moments. Recording yourself is a great strategy to get it right!
Have a relaxed stance: Don't stand with your knees locked, stand up straight and relaxed. Breath in and out before the speech and try to calm down a bit.
Stay sober! You may think a few drinks will make you feel at ease, but it will only derail you and slur your words. The bride will never forgive you for being trashed during your speech. You are her best friend, and for the guests, you represent the bride. Don't let her down!
Make eye contact with the happy couple: don't just stare at your notes. Occasionally lock eyes with the bride and groom so they know your speech is from the heart and not just words on a sheet of paper.
SMILE! Even if you are a bundle of nerves, even if you don't feel like it – fake it till you make it. Did you know a smile releases hormones of happiness that help you relax?
Don't be afraid to show emotion: let the bride know how much you mean to her.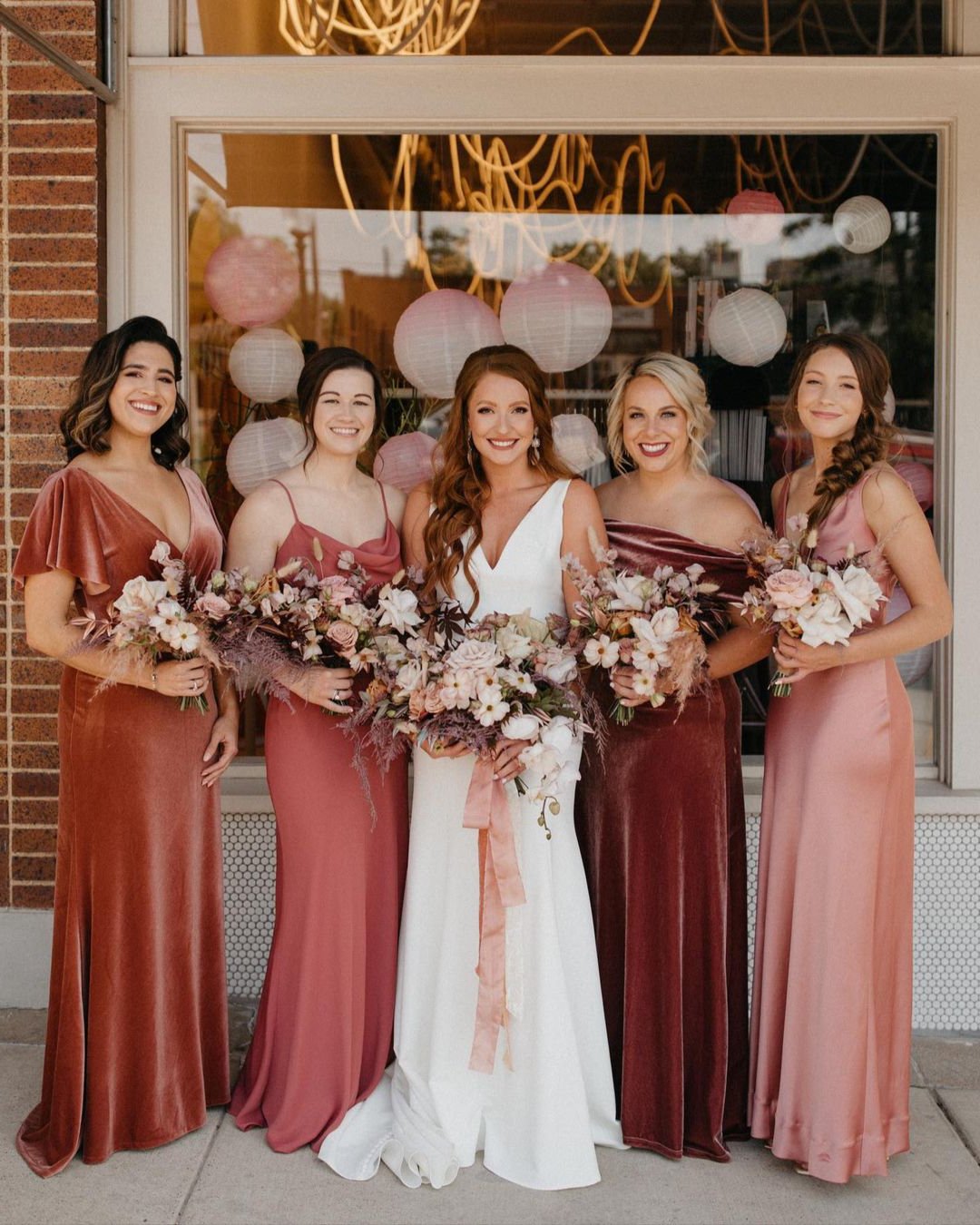 How Long Should Your Maid Of Honor Speech Be?
Your speech should be about 3-7 minutes long. That is enough time to give enough insight, but not too long where guests may get distracted or have side conversations.
Maid Of Honor Speech Examples For Best Friend
Once in a while, in the middle of an otherwise ordinary life, love bestows on us a fairy-tale, a romance that is true and pure. I have never seen another couple as in love as these two people here who have been married today and I am so honored to know and love them. Congratulations to you both and to the beautiful future that lays ahead of you.
Love is not always perfect, but when the right people are together, they will always fight to make it work. Nothing in the world can tear them apart. These two people sitting in front of me are the epitome of true love and I am so lucky to have been a part of this special day and bear witness to this proclamation of love. Let us toast to the happy newlyweds.
When I first met [bride's name], we were both just young girls. Even then, I knew that she was someone special. She is one of the kindest, most generous people that I know. And now, she is no longer a girl but a woman who has met her equal, another person in this world that is as deserving of her as she is of him. Together, they make a wonderful pair and I know that they will make each other so happy in their new life together.
As some of you know, I am fiercely protective of [bride's name.]  I would do anything for her and she is one of the most important people in my life. Over the years, we have laughed together, cried together, and had so many amazing memories. I am truly blessed to have someone like her in my life.

Since I am so protective of her, you can imagine how skeptical of [groom's name] I was when he first came into the picture. I wondered what his intentions were. Was he good enough for such a unique and special person?

I soon learned that [groom] is just as amazing as [bride.] He worshipsher and would do anything to see her smile. They complement each other in the most perfect way. They are two twin souls that were destined to find each other. And I could not be happier for the two of them.
 They say that a successful marriage requires falling in love many times, always with the same person. Many of us have been lucky to fall in love before. But real love is when you are able to fall in love with that same person over and over again.
I know I am not alone when I say that it is a joy to see bride and groom fall in love with each other, day after day. The beauty of such a love is something that words cannot fully describe.
With bride and groom, I see this kind of love. For all the time that they have spent getting to know each other, they still continue to fall in love as if they are still in the honeymoon stages. To never get tired of one's smile, the little gestures of thoughtfulness that they show that they still care, even after all this time. That is real love.
Helping to plan the wedding has been an absolute whirlwind full of emotions both good and stressful. Planning a wedding takes lots of work and lots of people made this beautiful day happen. [Bride] and [groom,] thank you for taking me on this journey with you. It has been a beautiful day and we all still have plenty of dancing and celebrating to do.
Hello, everyone. For those who do not know me, I am a good friend of [bride.] We have known each other for [number of years] years. After all this time, I feel like I know [bride] inside and out. And after knowing [groom] for [number of years] years, I am proud to say that I can call him a good friend as well.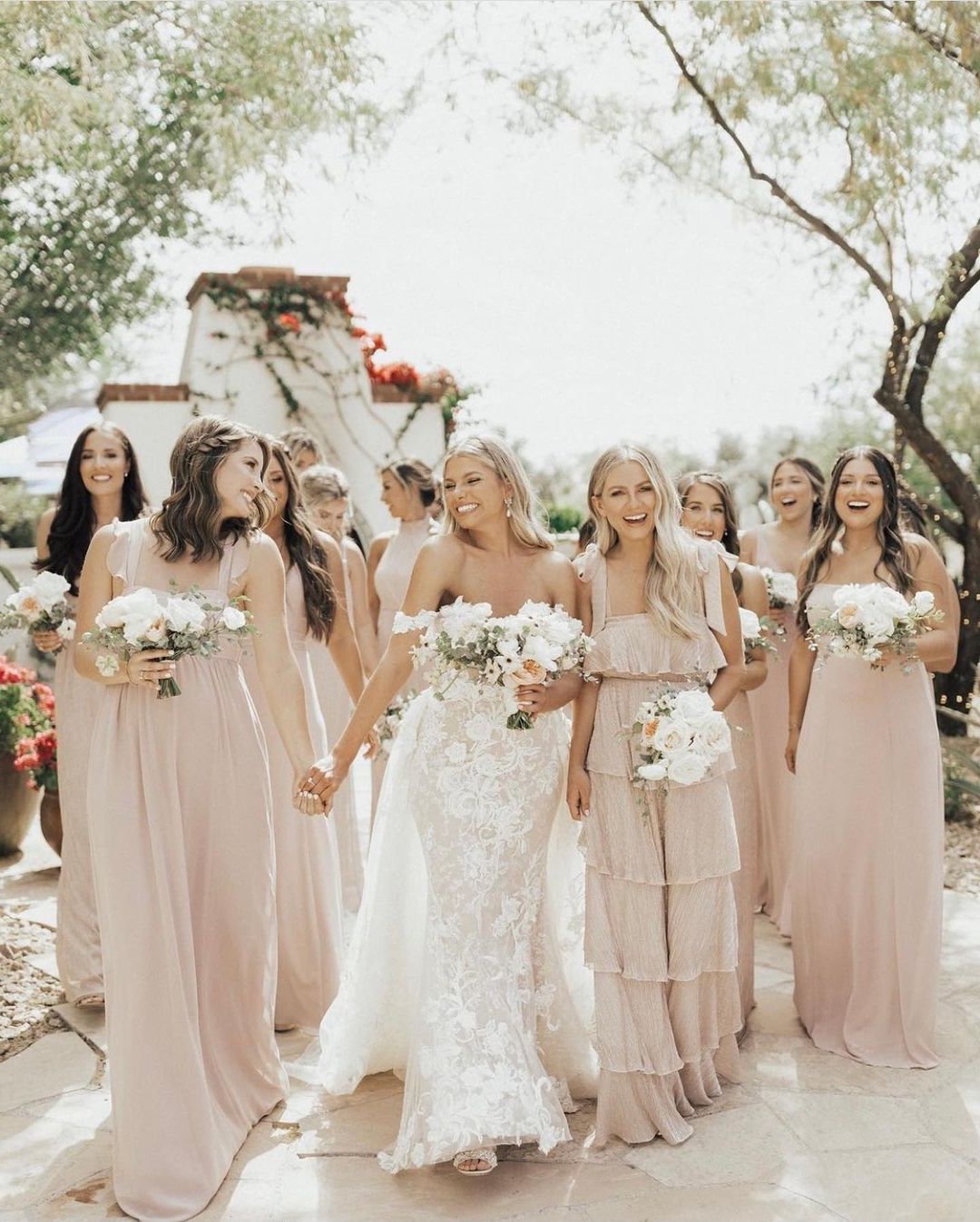 Maid Of Honor Speech Samples For Sister
It is best to write a speech for your sister or bridesmaid that she will enjoy. For example, one speech your sister would enjoy is in honor of her wedding. You will talk about the happy experience you had witnessing the day and how happy you were to be by her side. This is another great speech for your sister that showcases your personality and your relationship with her.
5 Tips To Improve Your Sister Of The Bride Speech
Make it personal.
Share profound memories – the good and the slightly embarrassing.
Practice. Practice. Practice. And start writing it early.
Gush about your sister and let everyone know how and why she is so unique to you and others.
Always thank the guests for coming.
Hello, everyone. Thank you all for coming together to celebrate the love that [bride and groom] share. Many of you know that I am [bride's] older sister. As most older sisters are, I have always been overprotective of her, even before she was born. When she was born, she was my baby sister.

I was determined to look after her, take care of her, and protect her, though I did push her around a little bit. But if someone else messed with her, then they had to answer to me.

As we grew older, the need to protect her didn't go away. I wanted to always have her back at school and throughout her relationships and friendships with people. I always wanted her to know that I'd be there for her, especially when things got tough.

And then one day, [bride] met [groom.] I came to realize that this person really, truly cared her. Not only did her care about her, he loved her. From the way he looks at her to the way he always tries to make sure that she is okay, there is no mistaking his love.

And I will admit, it was hard to let go of my sister a little. We have always been inseparable. But I am so happy that she found someone who cares about her so much. I know that [groom] will keep her happy. And she will keep him happy as well.
Hi everyone, I am [bride's] sister. As many you all know, the two of us come from a big, happy, wacky family. Through all of the years together, my many siblings and I have loved each other with everything that we had, but we would also often fight each other with all of our strength, especially when it came to sharing, taking turns, and agreeing on who got to be in charge.

Throughout the years there have been a lot of laughs and a few fights, but my brothers, sisters, and I have always maintained our shared belief that a family is life's greatest blessing of them all.

When [bride] finally introduced all of us to [groom], I was a little worried for him. Maybe we would be too big of a family or we would scare him away. But he was brave and he ended up fitting right in, and now I can proudly say that he is one of us. He belongs to our clan now and I certainly hope he feels that way.

Welcome to the family, [groom.] To [bride] and [groom,] may they keep our family growing one day.
As [bride's] older sister, I have always felt responsible for her. I wanted to protect her from everything and growing up, I always tried to keep her safe by my side. For a while she was so much small than me, after all. But then she grew, and grew, and next thing I knew it, we weren't little girls anymore. Sometimes I can't believe how much she has grown, how old we're both getting.

And when I met [groom,] I was a little skeptical. I still felt like the overprotective big sister, and sometimes I still do, but I quickly learned that [groom] was the real deal. But I am glad that she found such a wonderful person to spend the rest of her life with.

I know that these two newlyweds will be happy together. And [groom,] you take good care of my baby sister.
Hello everyone, I am [bride's] sister. I don't think I surprise anyone when I say that I love my sister. She is worthy of all the love in the world and I am beyond thrilled that she has found that in [groom.] They are so like each other and so perfectly matched. I know that [groom] will take care of her and that [bride] will take care of him.
As [bride's] sister I am pretty used to having her all to myself. We always played together as children and sometimes we did fight. And as we grew older, we continued to hang out all the time. I got so used to having her all to myself.

When [groom] came into the picture, it took some getting used to. I never had to really share my sister before. And [groom] was someone new, I didn't know him that well at the time.

Time passed and as I got to know [groom,] I learned that he was a pretty cool guy. I even think of him as a friend now, though now that he is married to my sister, he is my brother now too.

Over time I realized that [groom and bride] share a really special bond. I've seen the way they look at each other, as the rest of you have, and when I see how real their love is, it makes me hope that one day I find someone like that. I am glad that [groom] is in my life, and more importantly, I am thrilled that he and [bride] found each other.

I like to think of it this way: I have not lost a sister. Instead, I have gained a brother, and an amazing one at that. Welcome to the family, [groom.] Let us all raise a glass to the happy newlyweds.
As the younger sister, I've always admired Beth and tried to be just like her. There was the time, I begged my mom to make me the same Halloween costume as her and the time I auditioned for the softball team, even though I hate sports. But I've never wanted to be more like my sister than today with how happy and deeply in love she looks.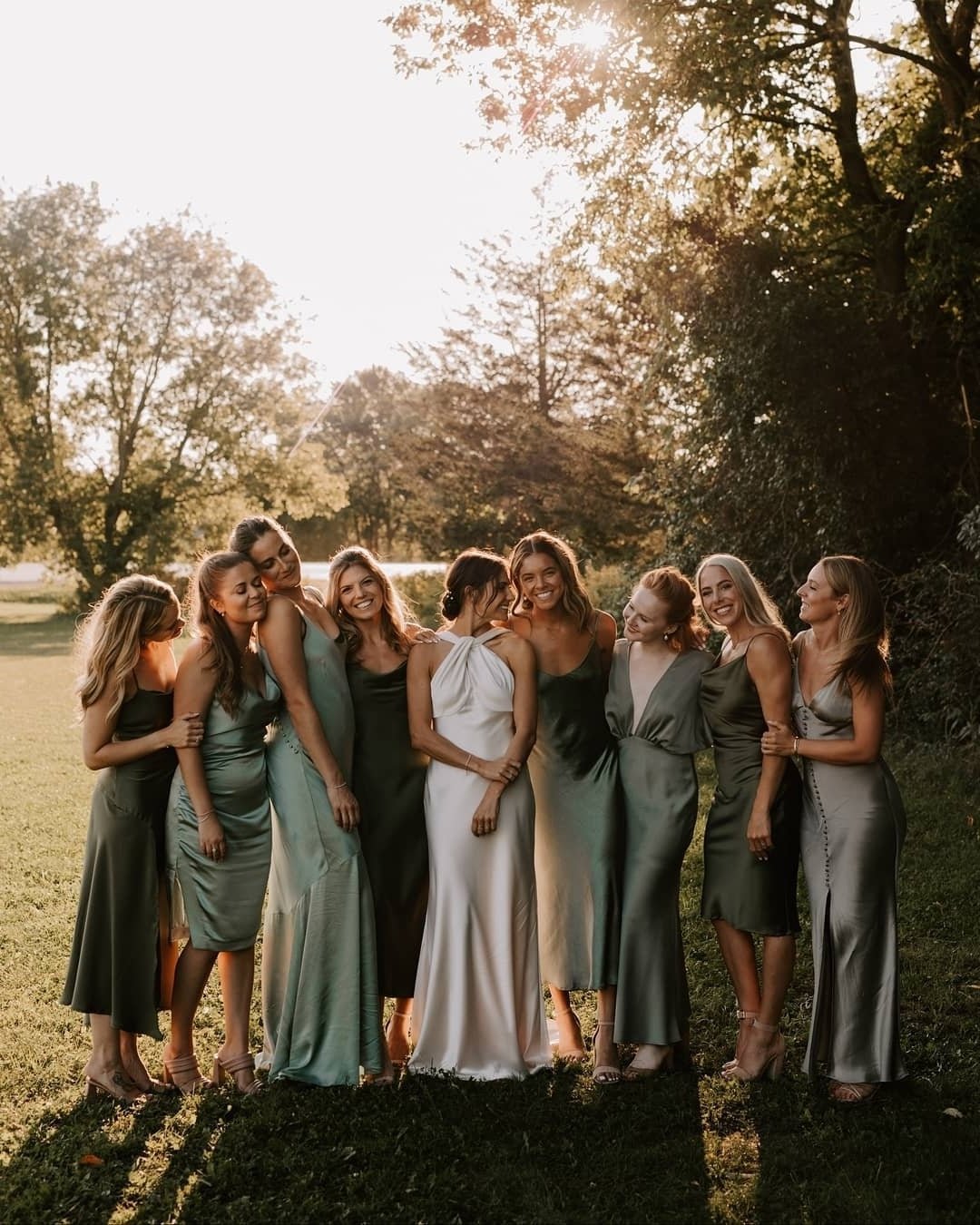 I hope you enjoyed reading about the Maid of Honor Wedding Speech examples and tips. If you have any questions or would like help crafting your own speech, please let us know! Our team is ready and waiting to help bring your Maid of Honor wedding speech to life.
Maid Of Honor Bridesmaid Dresses
The Maid of Honor is an important role in any wedding. After all, she is the one who will be standing next to the bride on her big day. And while the Maid of Honor may not be the star of the show, she still needs to look her best. That's why we've put together a collection of the best Maid of Honor bridesmaid dresses, so you can find the perfect look for your big day.