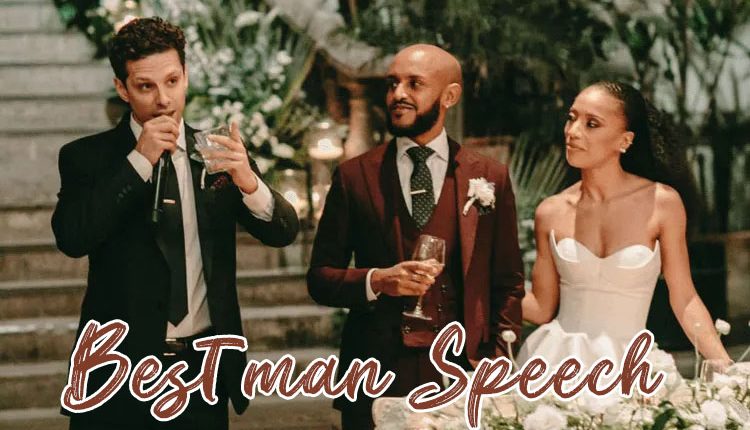 Best Man Speech Examples, Template Ideas [2022]
Best man Speech Examples, Template Ideas, Jokes, and Everything You Need to Know
When it comes to your best man speech structure, here's a few house rules we recommend you stick to…
Have a killer opening line and introduce yourself as the best man
Thank the other speakers (the father-of-the-bride, the groom, etc.)
Make a joke about the groom, or tell a short, funny story about him
Compliment the bride
Congratulate the happy couple
Read messages from guests who couldn't make it, if there are any
Propose a toast to the bride and groom
Tips for Writing a Best Man Speech
Use these tips to help you write your toast as the best man! These best man "do's" will lead you to a successful best man's toast.
Make It Personal
Everyone loves hearing a speech straight from the heart. Whether it be a story about how you met the groom, an inside joke, or even an embarrassing moment, a best man speech is a great opportunity to show how well you know the groom and why he chose you to be his best man. A problem many people run into when giving a speech is not being themselves.
When giving a speech, and even just in general, don't try to be someone you're not. So if you usually aren't the comedian of the group, save it for another time. And if you don't have any particular story to tell about the groom, don't force it. Our best advice is to speak directly to the groom and bride in a way that feels more like a conversation than a formal speech.
Take Your Time
During speeches people often speak very quickly and feel like the slightest pause or stutter lasts for an eternity. The reality is that the audience has a much different sense of time than the speaker.
Before you begin to speak, take a deep breath, control your heart rate, and just be yourself. Anything less than three minutes might seem a little short and over five minutes is pushing the upper limit.
Find a pace and cadence that works for you. No one is expecting you to cover the groom's entire life story in three to five minutes, so instead just focus on what's meaningful for his wedding.
Even though you may have tons of stories between you and the groom, your best bet is to pick one or two stories and spend the bulk of your time on those. Details provide a lot of great context to stories that others may not be familiar with and make the speech more enjoyable for everyone.
Use Humor (Carefully)
Jokes and wisecracks are commonplace in many speeches and especially in a best man speech. Let's face it, despite the joyous occasion, weddings can be tense. Having to speak in front of a large group of people, some of whom you may have never met before, is a valid reason to have a little angst.
However, not only will a well-timed joke or funny story wake your audience up, it will also give you an opportunity to settle in and relax as you continue to speak.
The tricky part about using humor in a best man speech is that you run the risk of crossing the line. A good rule of thumb is to keep things fairly conservative in the comedy department. Save the raunchy stories for the bar with your friends. At a wedding you're speaking in front of mothers, fathers, siblings and sometimes children.
Speak to Both the Groom and the Bride
As the best man, you have a close friendship with the groom. Hopefully, you feel close with the bride as well, but this is not always a given. Regardless, it's important to speak to both the groom and his bride in your speech.
It's okay to focus mainly on your friendship with the groom, but be.sure to circle back to the bride and their relationship. The wedding is about the bride and groom as a couple, so you should address both of them!
If you're not close with the bride, try to speak to how happy she makes the groom or how you can tell they complement one another.
Although you may be best buds with the groom and have endless stories to tell, the main relationship to focus on is between the bride and groom. Happy wife, happy life doesn't just apply to the couple.
On a bride's wedding day the last thing she wants is an eccentric best man to steal the show. Plus, being the best man, it's likely the groom's new wife will be in your life for the foreseeable future, so it may be smart to get on her good side early.
Practice, Practice, Practice!
Once you've written your speech, practice saying it out loud! The more you practice, the better you'll do on the big day.
Practice giving your speech to friends, the other groomsmen, or even to your mirror. This will help with areas you may fumble over, improve your timing, and give you more confidence when it's time to do it for real.
What Not To Do In A Best Man Speech
There are a few things you should avoid in your best man speech. Keep these "don'ts" in mind while writing your best man speech to avoid offending anyone or misspeaking!
Beware of the Bride
It doesn't matter if you're great friends with the bride, or even if you're positive that she knows you're joking, make sure to steer clear of any material that could potentially embarrass or even offend the bride.
A way to potentially avoid this is to run your speech ideas by the bride or groom to be sure there are no red flags come wedding day. Some topics to avoid would likely be other women in the groom's past and also any information shared with you in confidence.
Don't forget, while you as the best man have the spotlight for a few minutes, the day is about the bride and groom.
Don't Rely on Notecards
Notecards can be a lifesaver if used properly. However, they can also make the speech seem dull and manufactured. I'm sure everyone can recall a speech read from note cards that seemed inauthentic to say the least.
Using notecards to keep the structure of your speech, share a quote, or even keep you from losing track of where you were going with a thought is fine. Anything beyond that, such as reading from a card for minutes on end is a no-go.
Out of everyone else, you were chosen by the groom to be his best man, the least you can do is speak from the heart. A great way to not be reliant on note cards is to practice and recite your speech before the big day.
The more often you practice and the earlier you prepare your speech, the more comfortable you will look and feel in the spotlight.
Take it Easy on the Groom
No matter how close you are with the groom, his wedding is not the time to bust his chops. Remember, this day is a day that will be highlighted in the lives of him and his bride.
No couple wants the highlight of their wedding day to be the joke the best man told about the groom peeing his pants. This is especially important because guys have a tendency to playfully tease each other more than women at times.
It is truly best to save the typical banter for after the wedding to allow the groom to have his prince charming moment with his bride. If you and the groom have a funny, back and forth relationship, self-deprecating humor is a much safer route. Instead of making the groom the goat of the story, share something that happened between the two of you where you took the hit.
Don't Wait Until the Last Minute to Write
Procrastinating your toast will only make you more anxious, and it gives you less time to practice and refine your speech. Don't wait until the week before the wedding to start writing your speech.
Start brainstorming and writing down ideas a few months before the wedding. That way, you have plenty of time to write your speech and even edit or refine it.
Don't Get Drunk
If you have a tendency to become stiff and anxious in public, you may try to remedy this by having a few drinks. We could not advise against this more strongly.
Not only do you want to avoid any freudian slips, the groom would surely appreciate your kind words coming from a place of soberness. No one wants to hear the best man slur through his speech! Save the drinks for after your toast.
What To Include in Your Best Man Speech
First and foremost, congratulate the couple. Nothing is more awkward than a best man speech where nothing is said about the newlyweds. This is a great time to tell them how proud you are of them as well as how much you love them.
Even if you think that it doesn't need to be said, you can never go wrong with a little extra praise on a couple's wedding day.
Next, introduce yourself. Not everyone is going to know who you are just because you're the best man. Take a moment to share your name and how you know the happy couple. Then, dive into whatever material you have planned following our best man speech do's and don'ts.
Stories, memories, life lessons, these are all great topics to focus on throughout your speech. It's often helpful to pick a theme or an overarching idea that focuses your speech.
The theme could be something about love, friendship, or even something more specific that you can connect to the wedding day. This will give your speech some structure.
Finally, raise your glass and propose a toast, to love, to happiness, and to forever. At this time you may have a seat and exhale knowing that you have successfully completed your speech.
Best man speech template
For those not even sure where to start, this fail-safe best man speech template is a good way to get you started.
Ladies and gentleman, boys and girls, I'd like to say thank you to (groom's name) for warming up the crowd with his (brief/kind) words about his new wife (bride's name) and her bridesmaids. I was (shocked/honoured/horrified) when (groom) asked me to be his best man, but here I am. And where do I begin?

I first met (groom) when we were (at school/at university/working for the same company, etc), where everyone called him (silly nickname – if not, make one up), and we immediately became the best of friends.

Since then, things have grown progressively (better/worse). We've been through a lot together, including (drinking/partying/holidays/puberty), and most significantly of all, when we were (age) and (groom) got into (funny anecdote).

Things didn't get better, when (years) later, he also (another funny anecdote). And of course, there was the stag night, which – from what I recall – ended with (another funny anecdote).

It was (years) ago, when (groom) met (bride), which ended up being the (best/worst/we'll come back to you) thing that ever happened to him. After dating for (years), (groom) finally plucked up the courage to ask (bride) to marry him, and the rest is history.

So, I ask you all know to join me in a final toast to the future happiness of the bride and groom. To Mr and Mrs (surname); may their life together bring them (much happiness and many children/much more happiness and many more children).