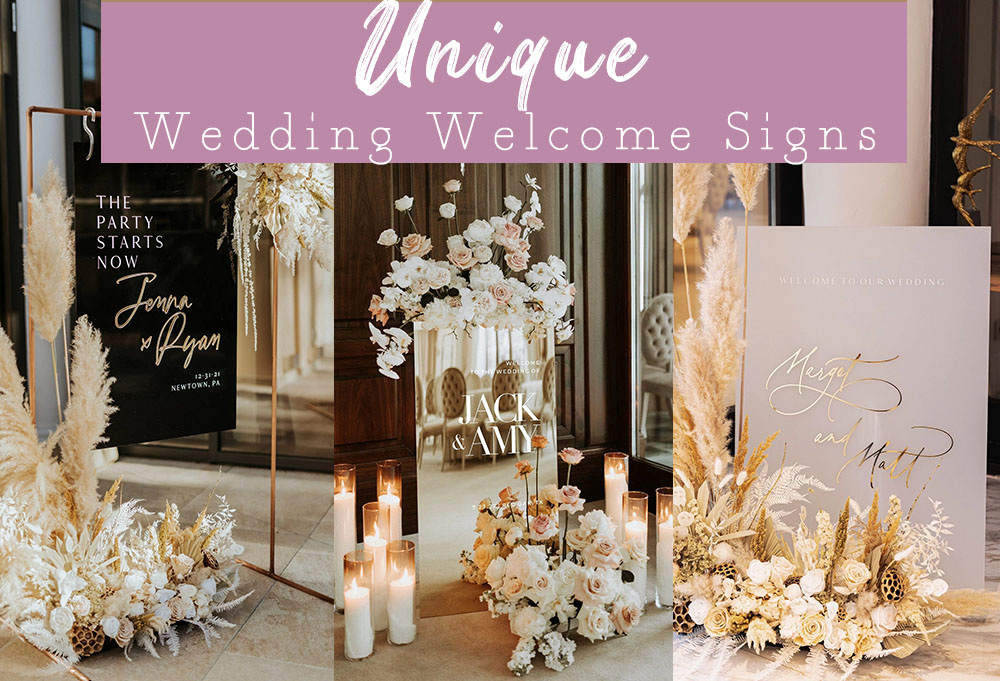 60 Best Wedding Welcome Signs 2023
Are you looking for wedding welcome sign ideas? You've come to the right place! Welcome signs are a great way to add some personality to your wedding day.
Welcome To Our Wedding Sign Guides
Here are some of our favorite welcome wedding sign ideas:
1. Use a chalkboard or paint a piece of wood.
2. Make it personal by adding the names of the bride and groom, as well as their wedding date and location, to create a custom sign that only you would use again.
3. Consider lettering styles — calligraphy, cursive or block — and fonts like Times New Roman or Century Gothic for an elegant look that doesn't feel too formal for your big day.
4. Stick with one color scheme or mix them up for something unique! You could even use multiple colors on one sign (for example, black lettering on white background).
5. Use your wedding colors as inspiration for a color scheme to coordinate with your wedding theme and décor.
6. Be sure to include important information like the time of your ceremony, so that guests can get there before it starts!
7. Try incorporating a graphic element like flowers or leaves in your design to add interest and style.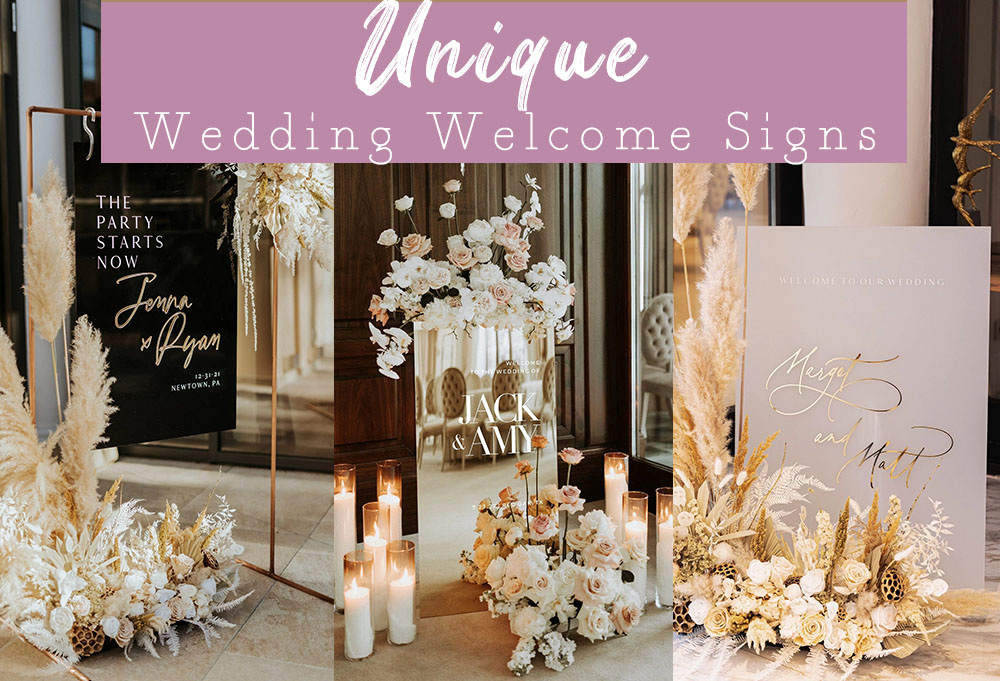 Wedding Welcome Sign Wording Ideas
Whether you decide to get creative or go with traditional verbiage, feel free to have fun with your signs. Although there are a few tried and true favorites for wedding sign sayings, you can also branch off and come up with your own. Here are some practical and fun statements for your wedding day signage.
Welcome to our wedding.
We're so glad you're here!
Welcome to our forever.
Happily ever after starts here.
Welcome to the wedding of __ and __.
Welcome to our beginning.
__ and __'s wedding. September 18, 2023.
Welcome to our happily ever after.
Thank you for celebrating with us.
Welcome to our unplugged ceremony.
The best day ever!
This way to love, laughter, and happily ever after.
Choose a seat, not a side.
The beginning of forever starts here.
The start of bliss shouldn't be missed. We're glad you're here.
Come on in. This is the way. Thank you for coming to our big day.
Frequently Asked Questions
Where do you put the welcome sign at a wedding?
A wedding welcome sign works best at your ceremony space near the entry way; imagine a place where guests will really see it. We recommend you use the sign again at the reception, same place (right at your entryway).
What size is a normal welcome sign?
Welcome Signs: Varies a lot. Make sure it is appropriately sized for the room and the easel it'll be on. Common sizes are 16×20", 18×24", and 24×36".
Etsy Welcome Wedding Sign Ideas
Diy Wedding Welcome Sign
When you're planning a wedding, it's easy to get caught up in the details of your big day. But it's equally important to remember that your guests are coming from out of town, and they'll need some help finding their way to the venue. A welcome sign is a simple yet elegant way to direct guests to the wedding party entrance or reception site.
Here are 2 DIY wedding welcome sign ideas that you can make yourself:
1. Create a custom welcome decal: You can purchase a blank welcome sign at any craft store, then use vinyl-cutting software like Silhouette Cameo or Cricut Make the decal using any image you choose — a map, silhouette of your state or country, or even something fun like an emoji. Or order one pre-made from Etsy or Zazzle! But be sure to keep it simple so it doesn't take away from the rest of your decorating scheme.
2. Hang signs from trees: Use twine (or ribbon) and clothespins to hang signs from trees outside your venue. This will help direct guests in case they miss other signage on their way in!
Here are some welcome sign for wedding template we like on Etsy
Wildflower Wedding Welcome Sign Template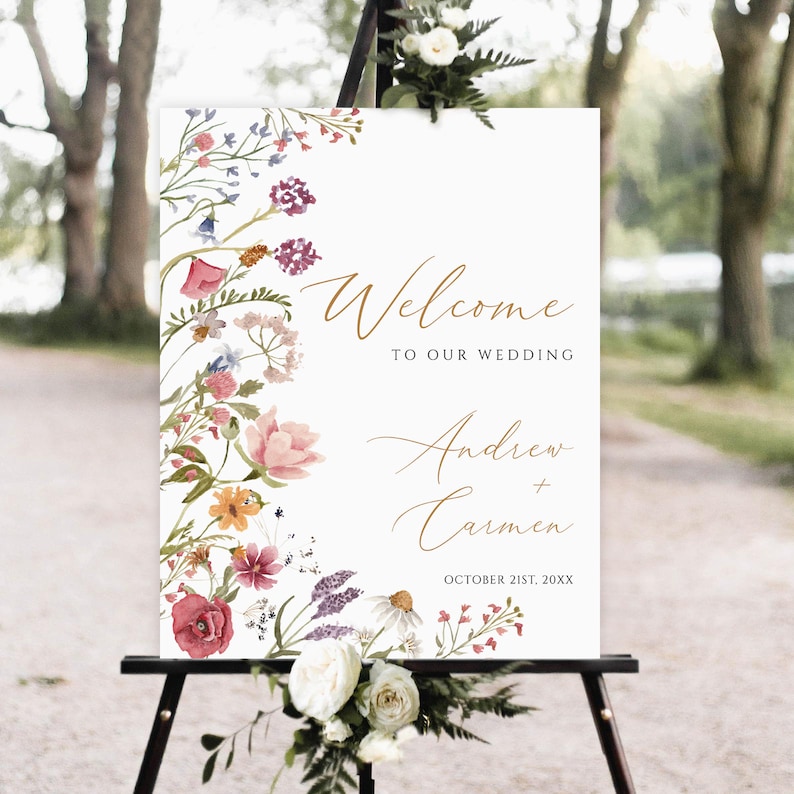 Printable Greenery Eucalyptus Wedding Welcome Sign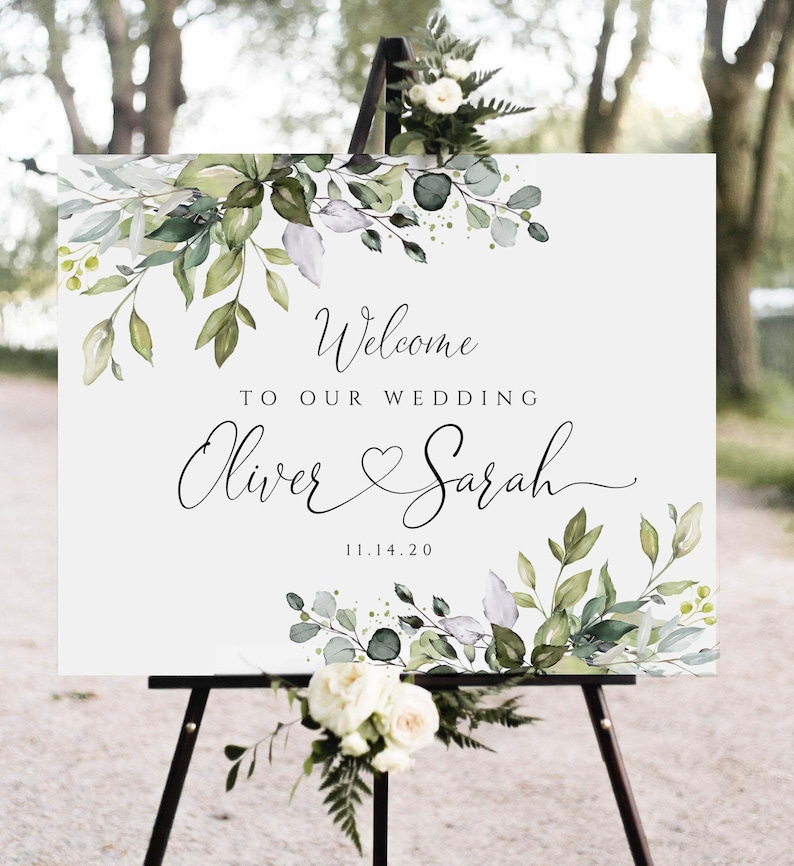 Welcome to Our Wedding Wall Decal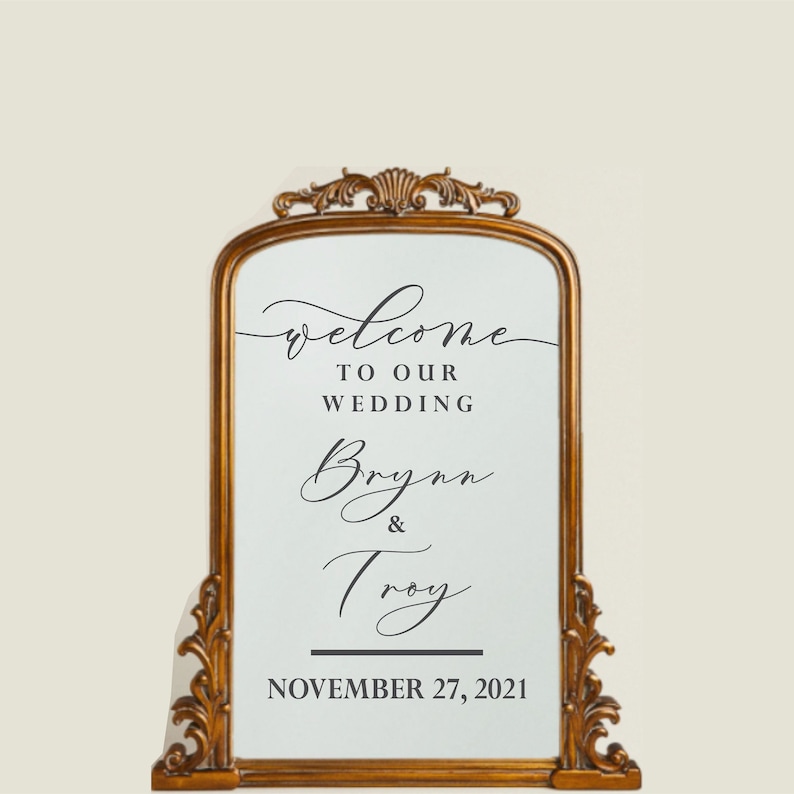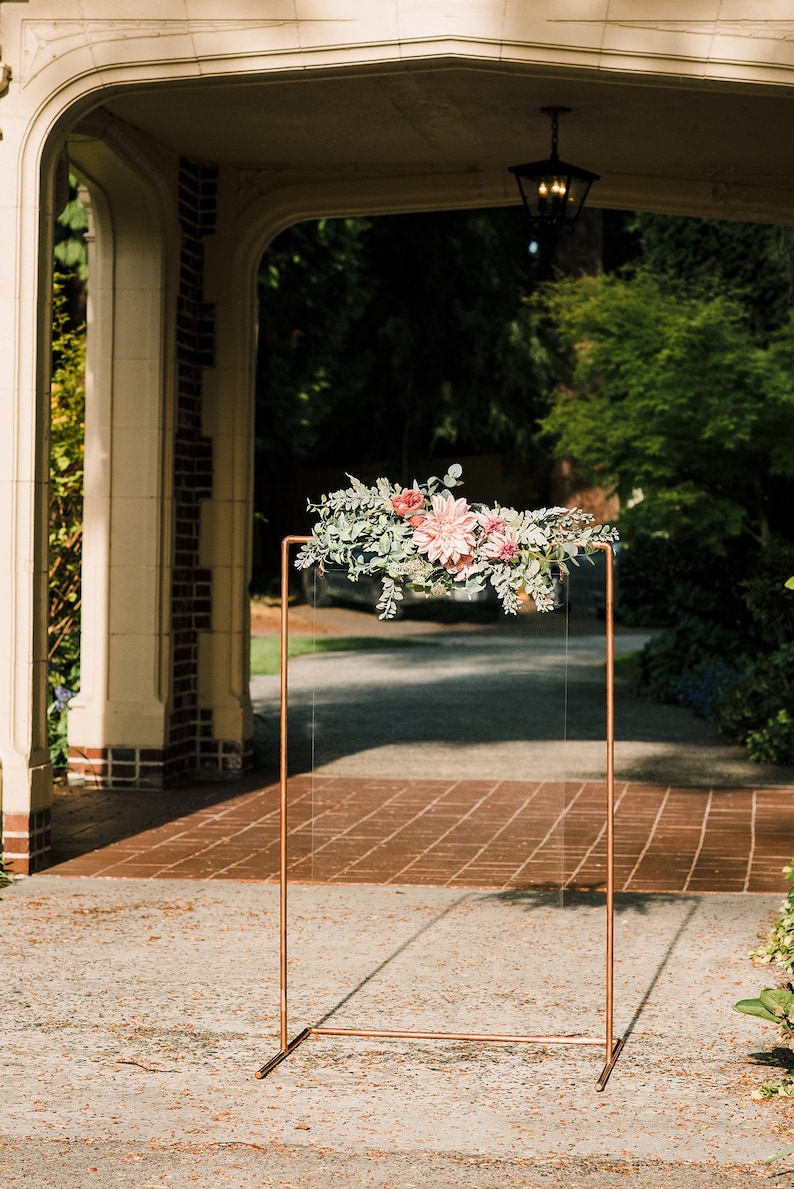 Frosted Bohemian Acrylic Wedding Sign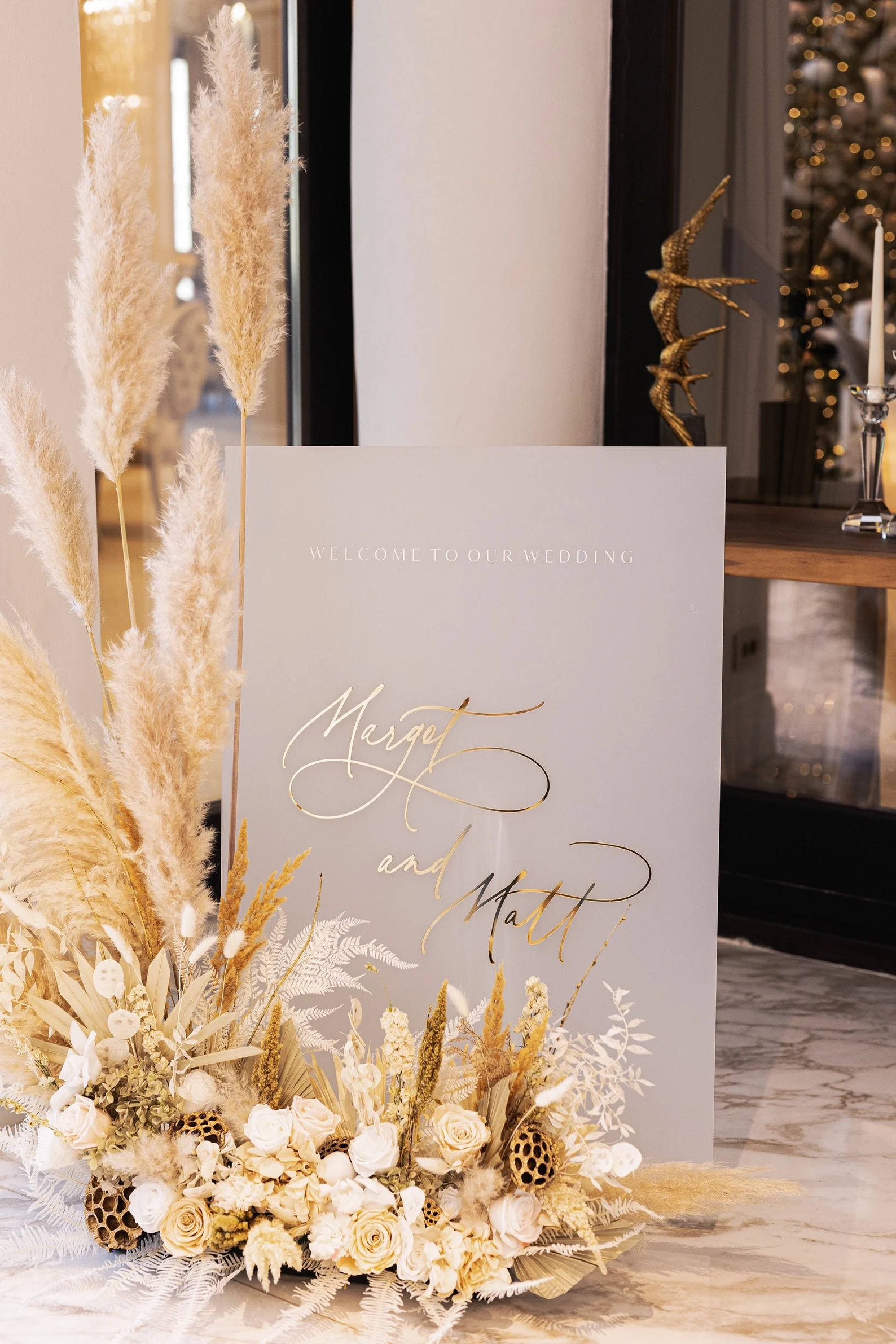 Black Acrylic Wedding Welcome Sign with 3D Gold Mirror Names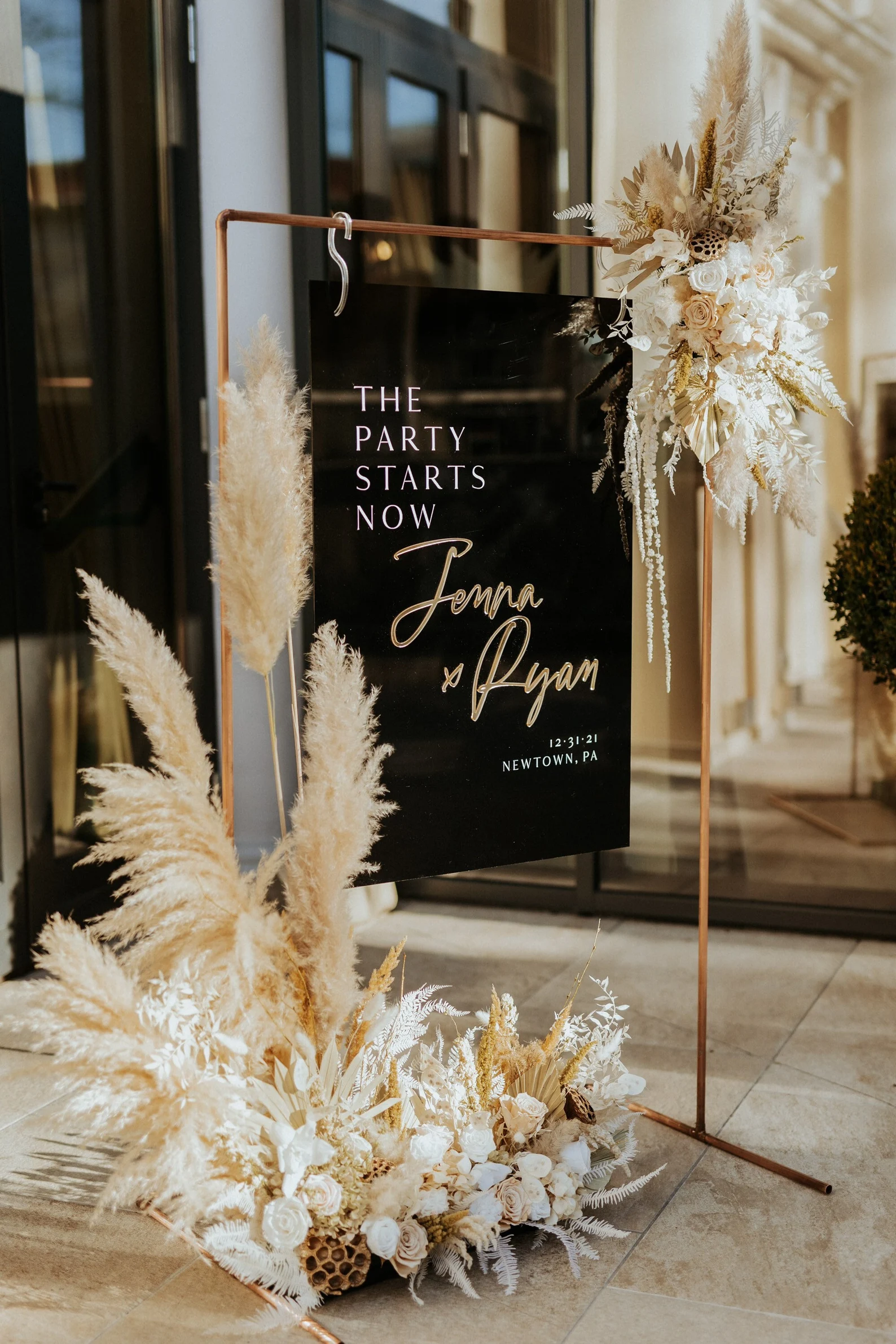 Acrylic Last Name Wedding Sign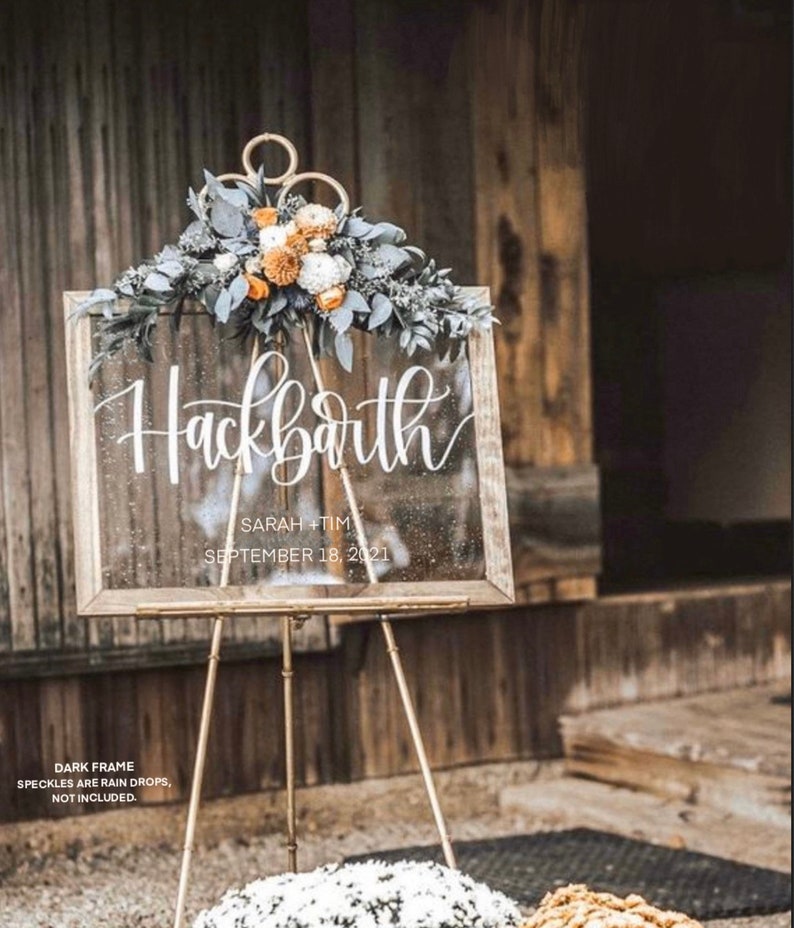 Modern Clear Acrylic Pink Brushed Painted Wedding Welcome Sign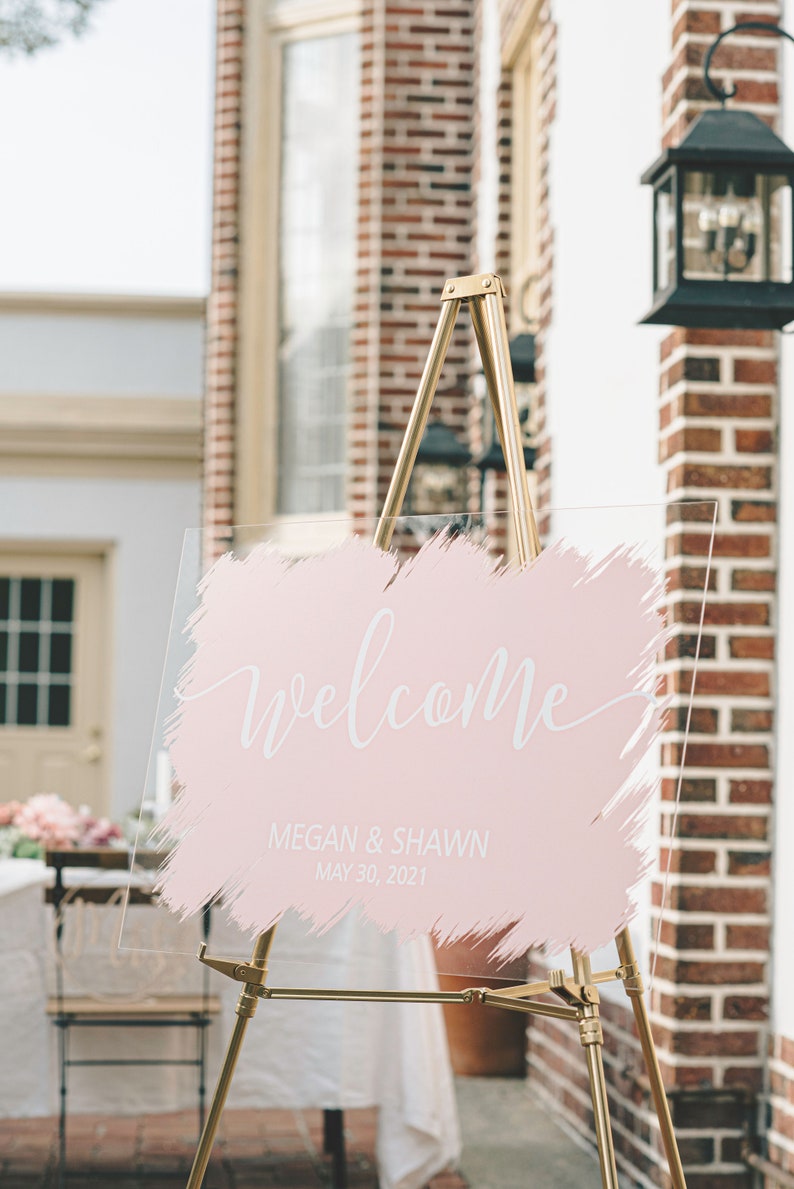 Wooden Welcome Wedding Signs
Rustic Vertical Wedding Welcome Sign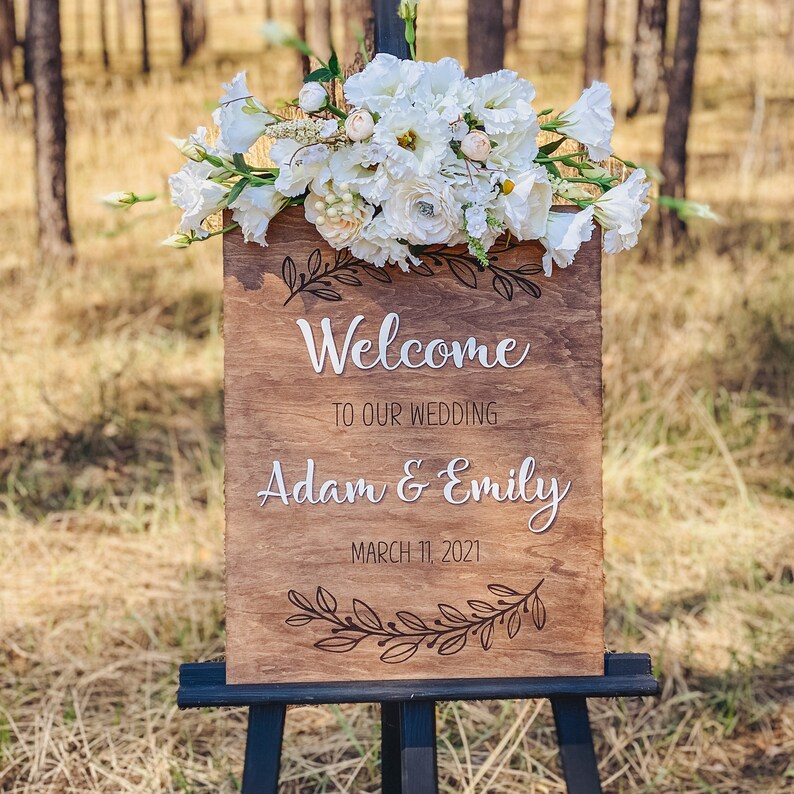 3D Wooden Heart Name Wedding Sign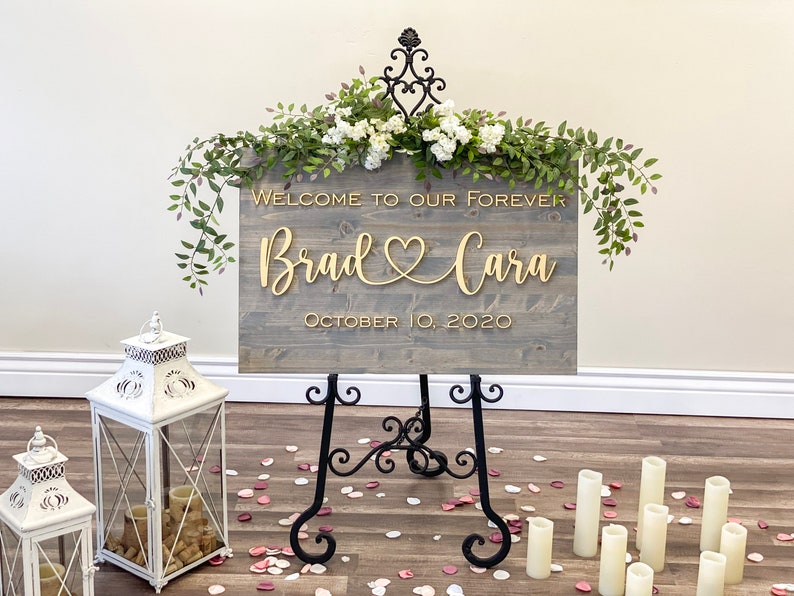 3D Wooden Welcome to our Wedding Sign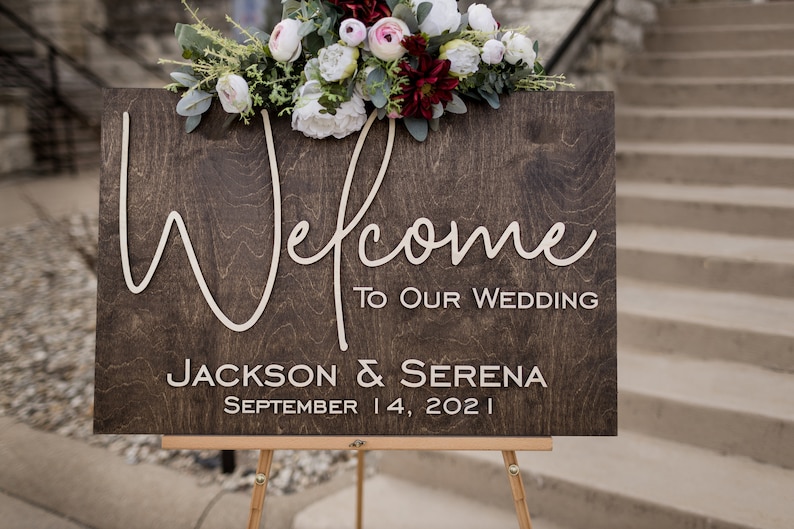 Mirror Welcome Sign For Wedding
Gold Mirror Acrylic Wedding Sign
Elegant Mirror Acryli Welcome Sign for Wedding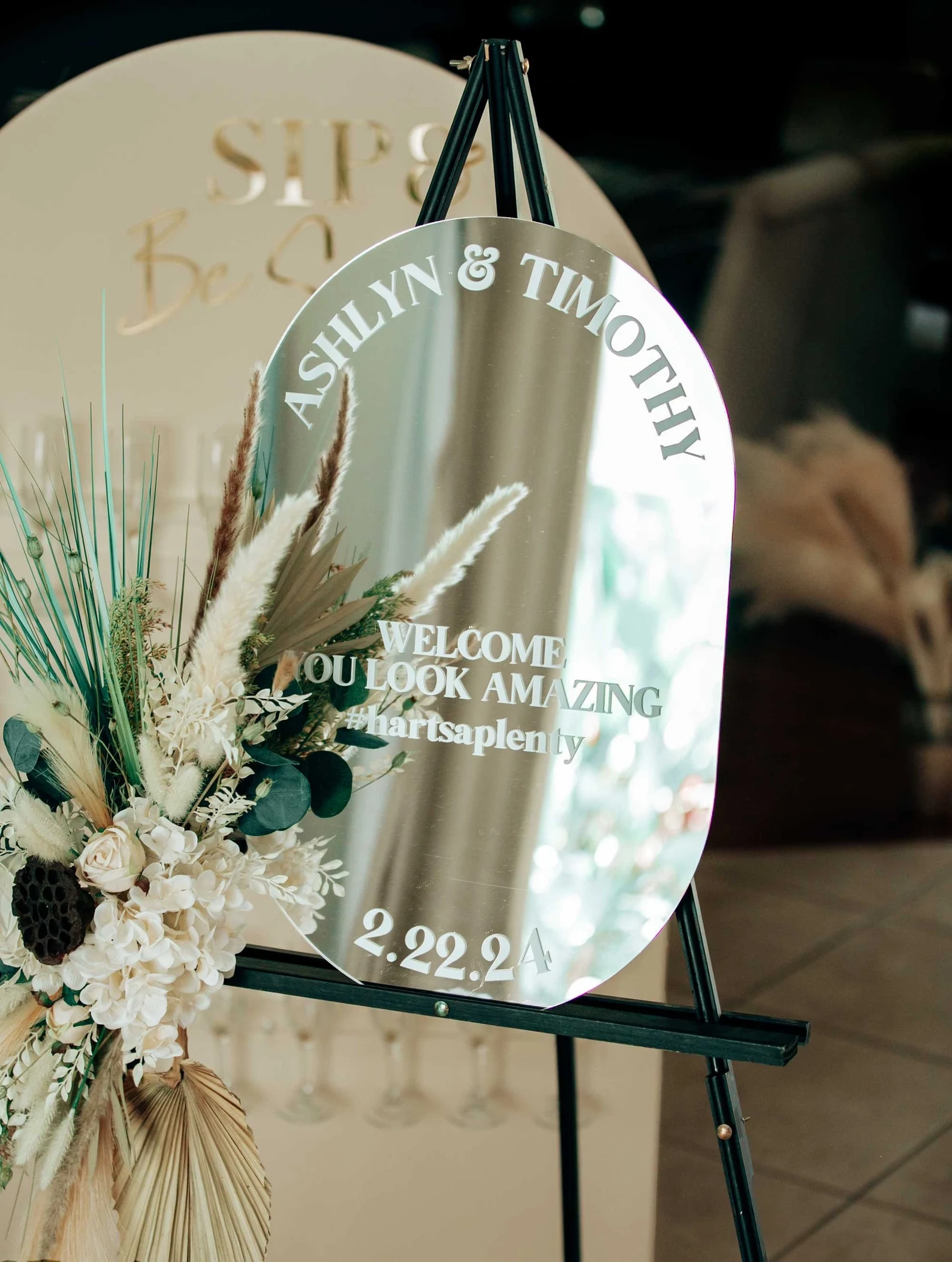 Mirror Wedding Welcome Sign Decal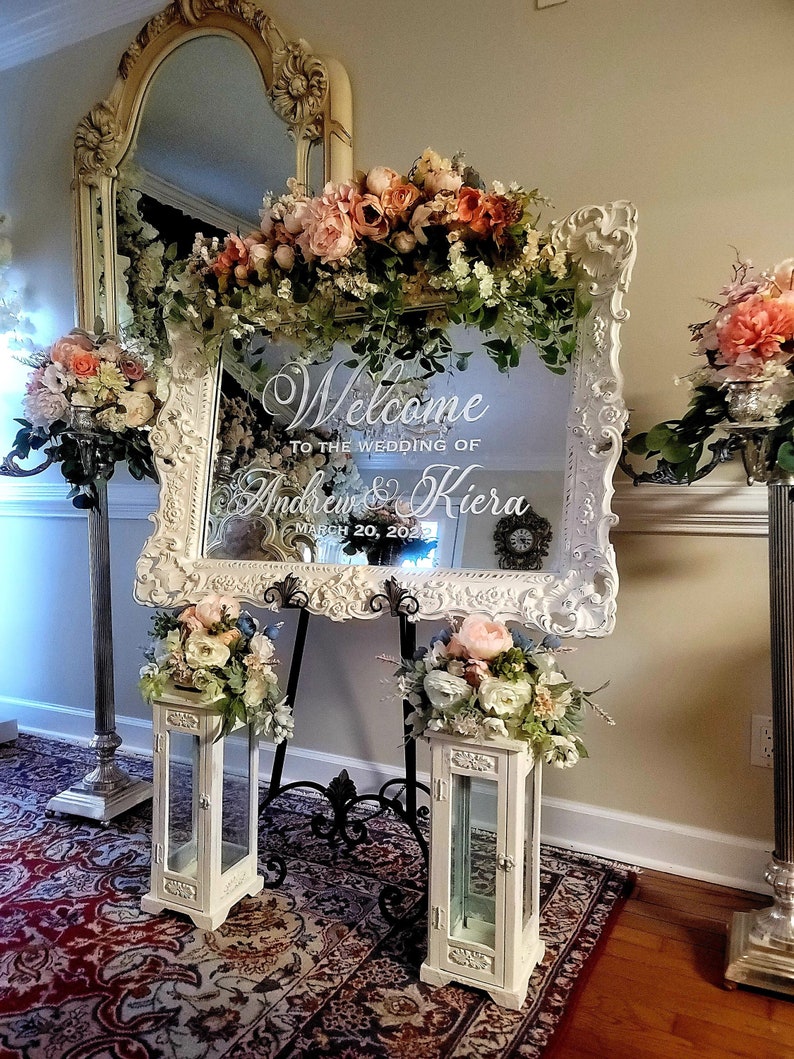 Chalkboard Wedding Welcome Sign
DIY Chalkboard Wedding Sign Decal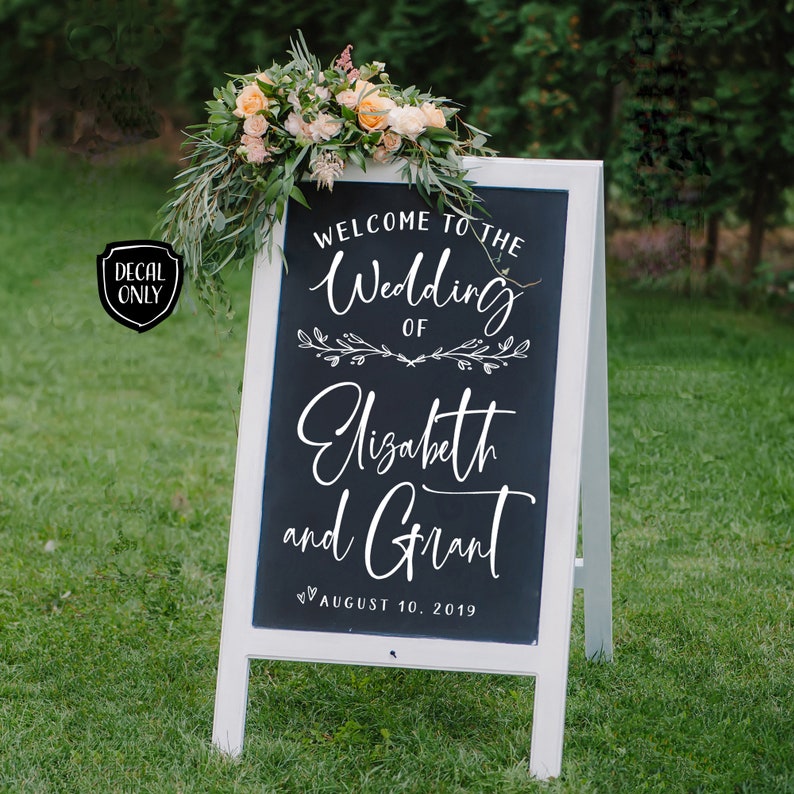 Personalized Welcome to our Wedding Printable File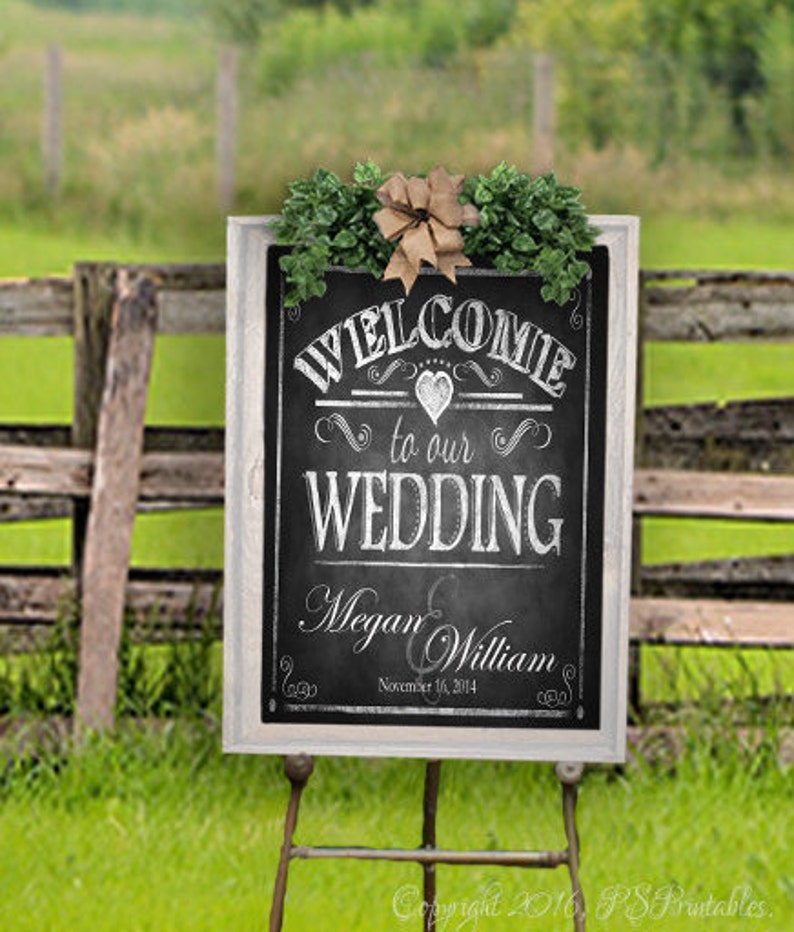 Unique Wedding Welcome Sign Ideas
Terracotta Arched Wedding Welcome Sign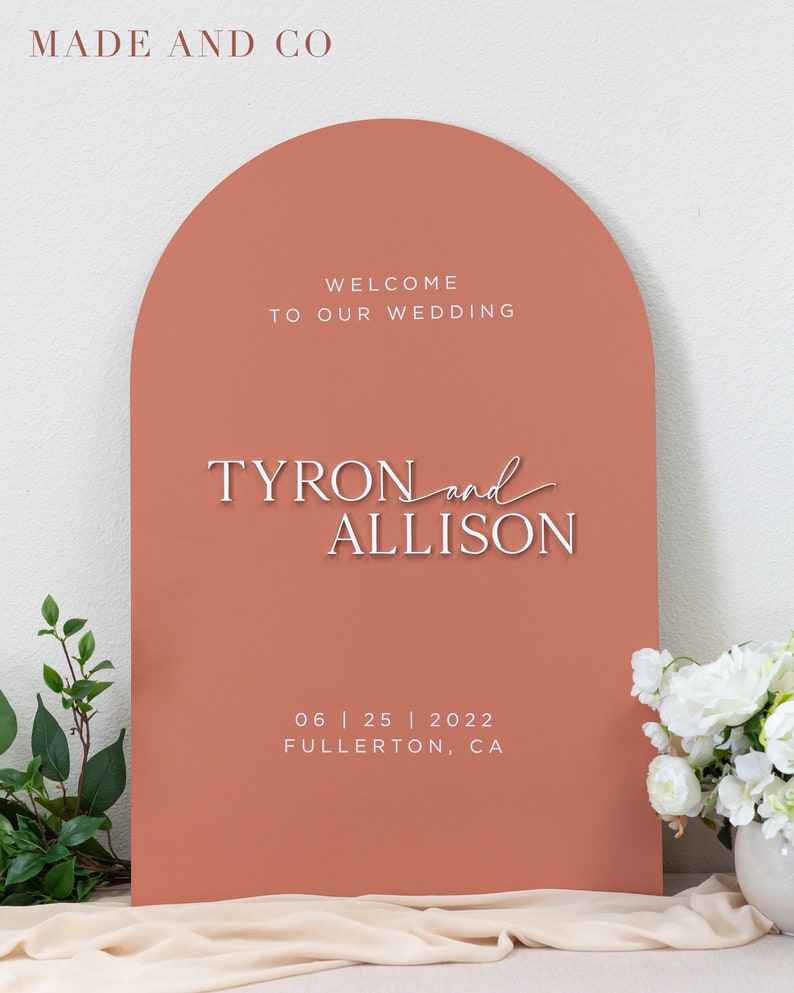 Rustic Black Wood Round Wedding Sign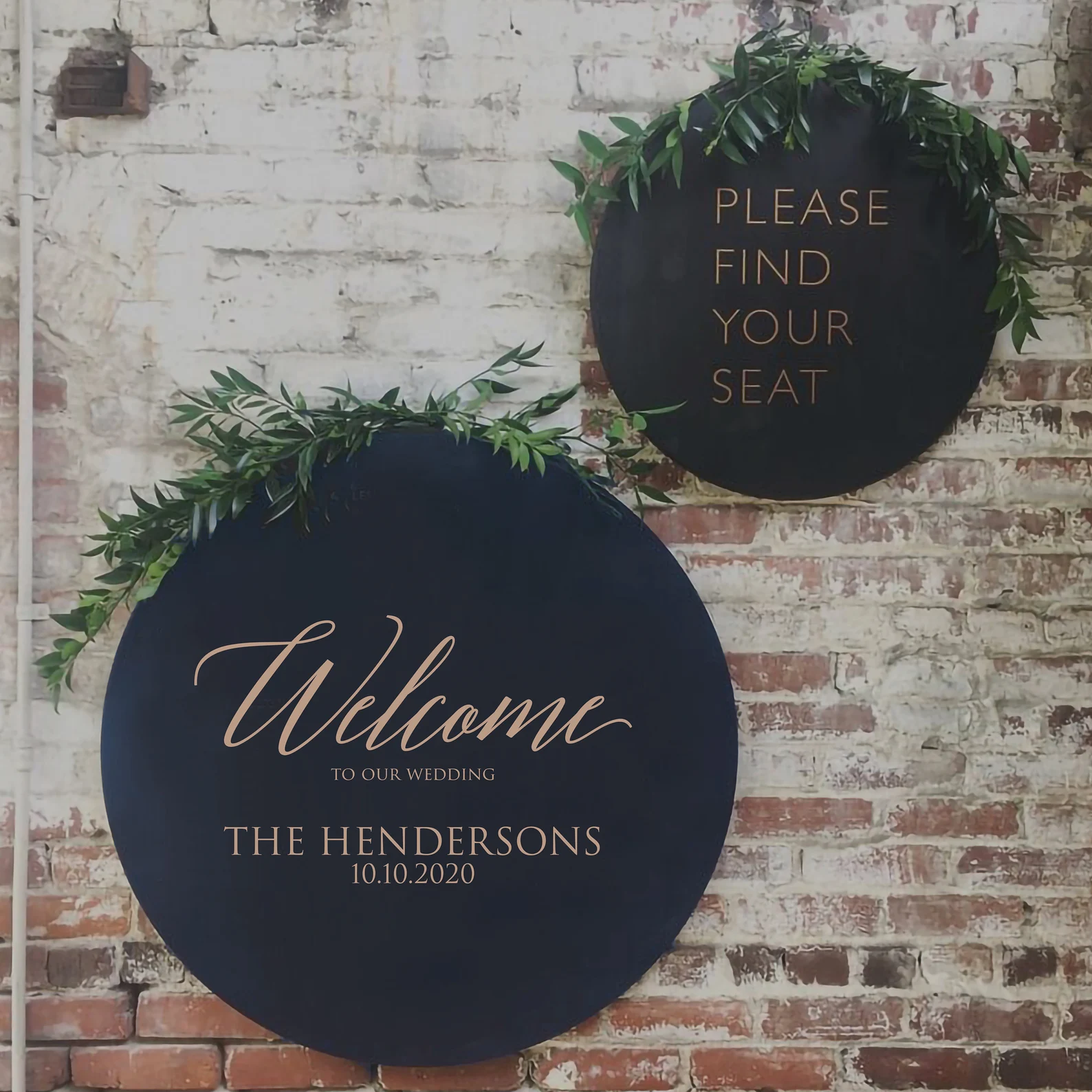 If you have any more ideas, let us know and we'll add them to the list. We're always looking for new ideas of welcome sign for wedding .