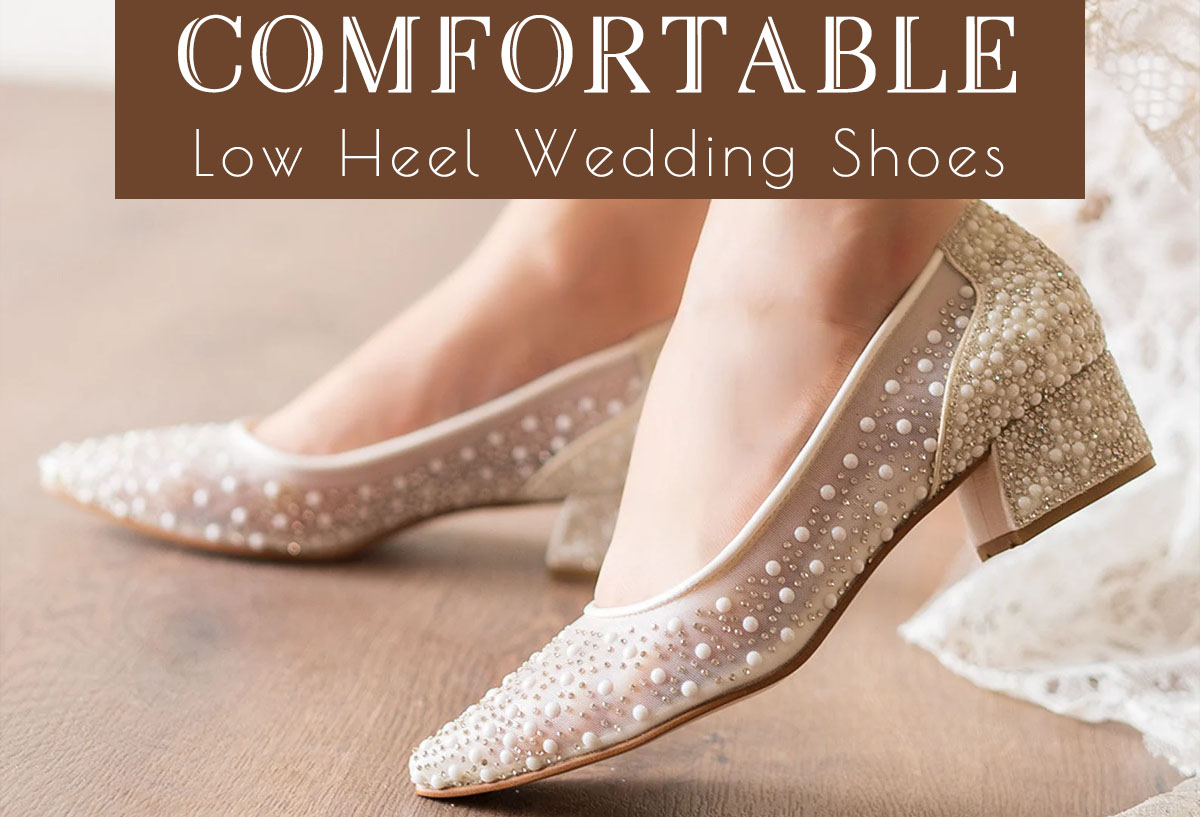 30 Most Comfortable Low Heel Wedding Shoes 2023
Brides who don't want to wear heels on their wedding day have lots of beautiful options! Low heel wedding shoes are a great way to stay comfortable while looking amazing. From gladiator sandals to strappy wedges, here are the best low heel wedding shoes to consider.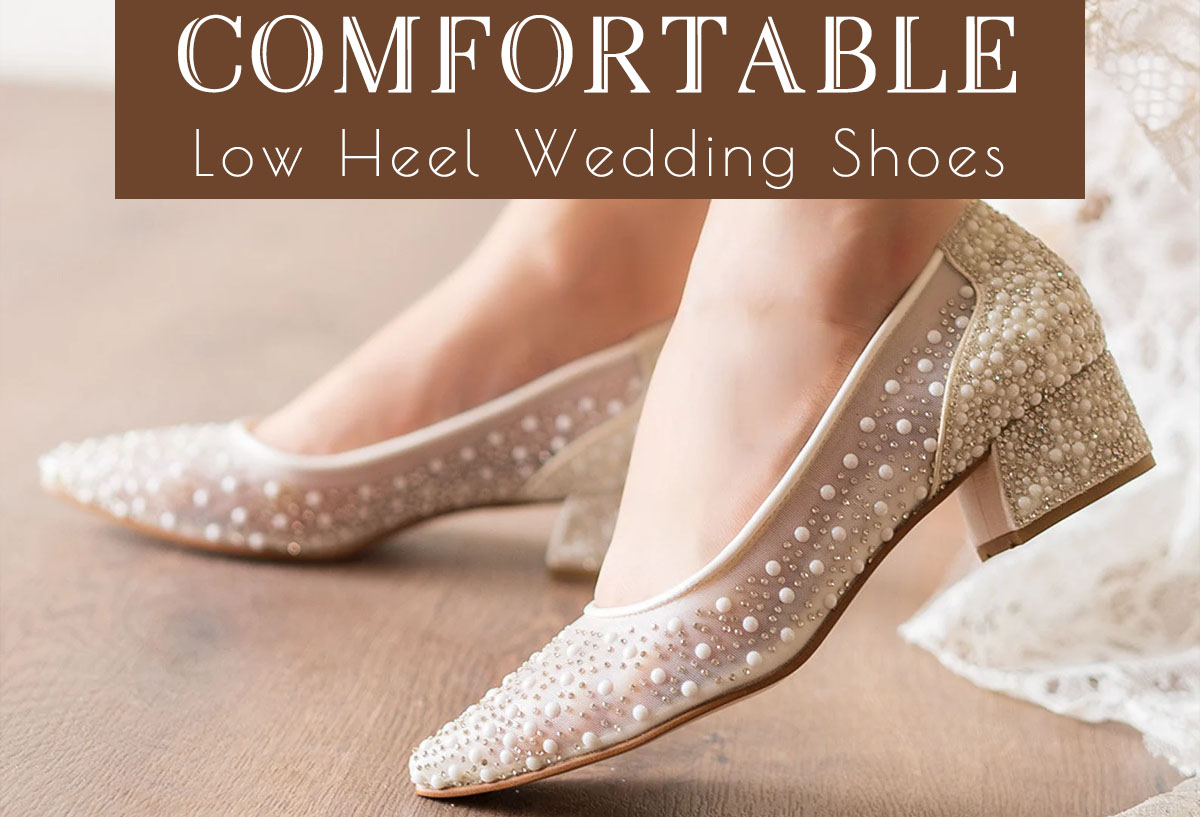 Silver Low Heel Wedding Shoes
If you're looking for a low heel wedding shoe that's both elegant and versatile, try silver. Silver is the perfect color for a wedding because it can complement any color scheme you choose. The neutral hue will also let your dress take center stage, so you'll be able to wear these shoes again after your big day, too!
So whether you're planning on getting married or just want to look fabulous at someone else's nuptials, here are some of our favorite pairs of silver low heel bridal shoes:
Jimmychoo silver sequins wedding flats
These flats are the perfect accessory for your big day! They feature dazzling silver sequins that will make you sparkle from head to toe. The soft, comfortable material will keep your feet feeling great all night long. dancing. Whether you're getting hitched or attending a wedding as a guest, these shoes are sure to make a statement.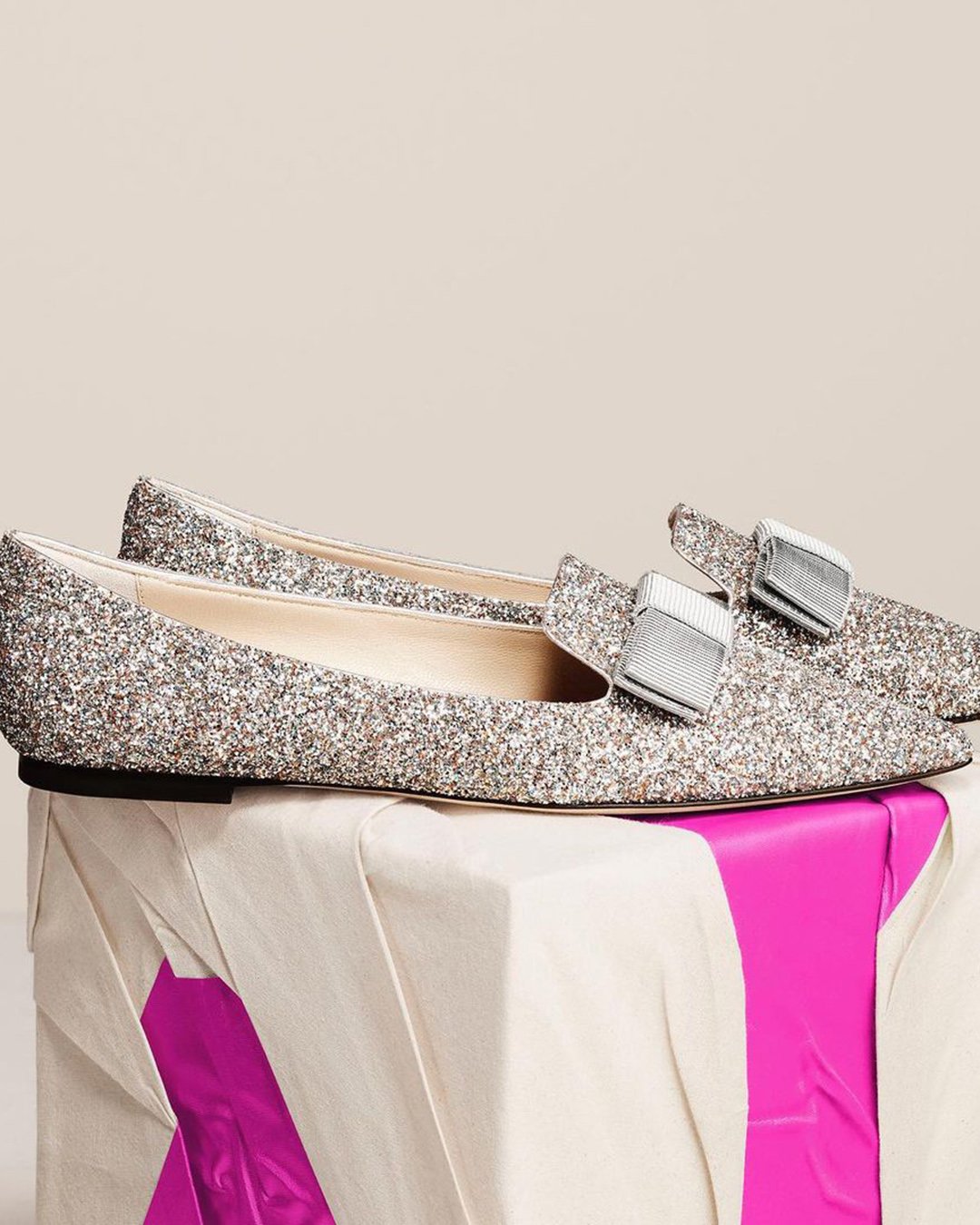 Silver shoes with block heels
These silver shoes are absolutely stunning! They have a stone platform and thick heels that make them perfect for a night out on the town. You'll love the way you look and feel in these shoes!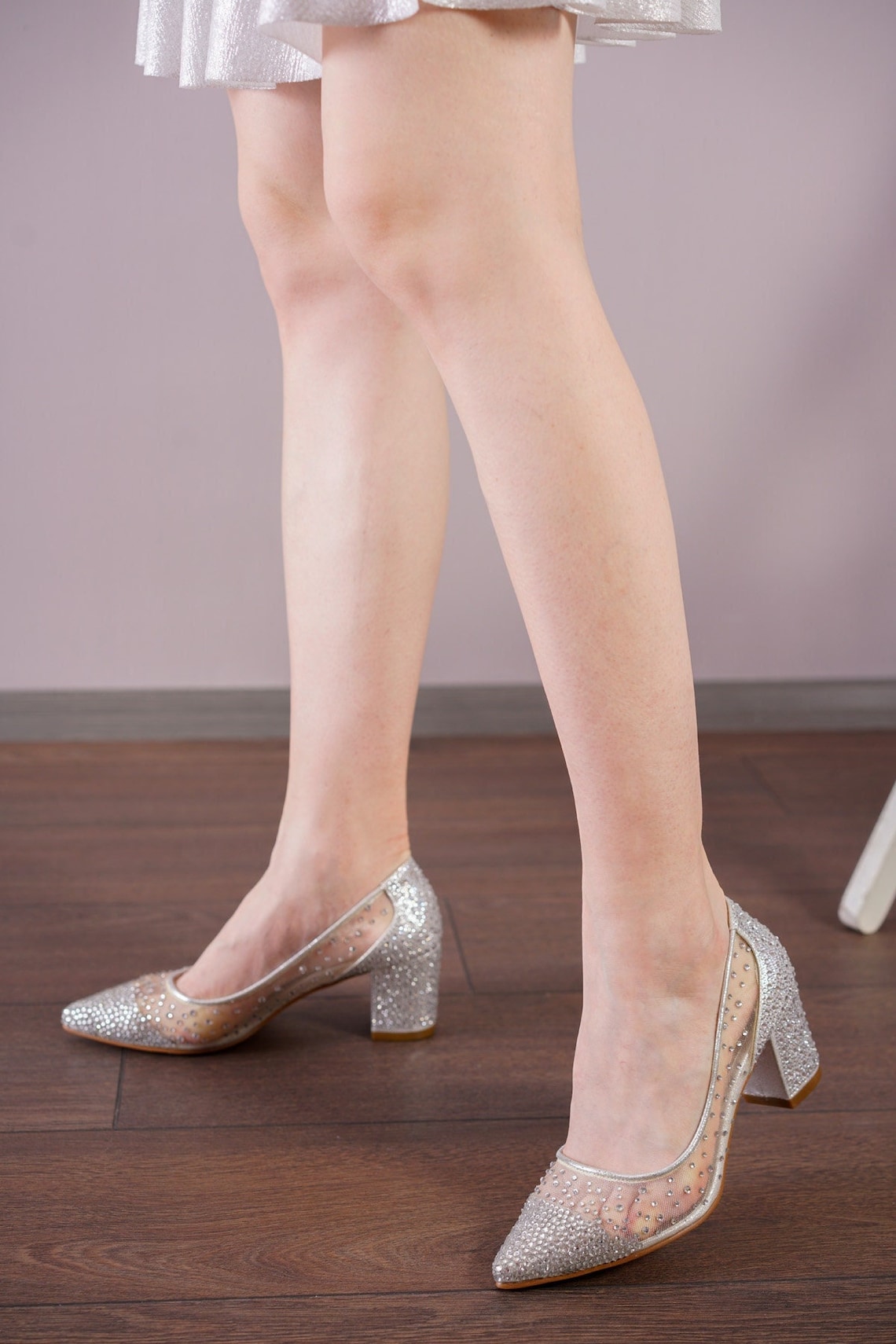 Silver satin pointy toe flats
These eye-catching flats are perfect for a night out! They feature a satin upper with a pointy toe, and a sparkling teardrop ankle strap. They're sure to add a touch of glamour to any outfit!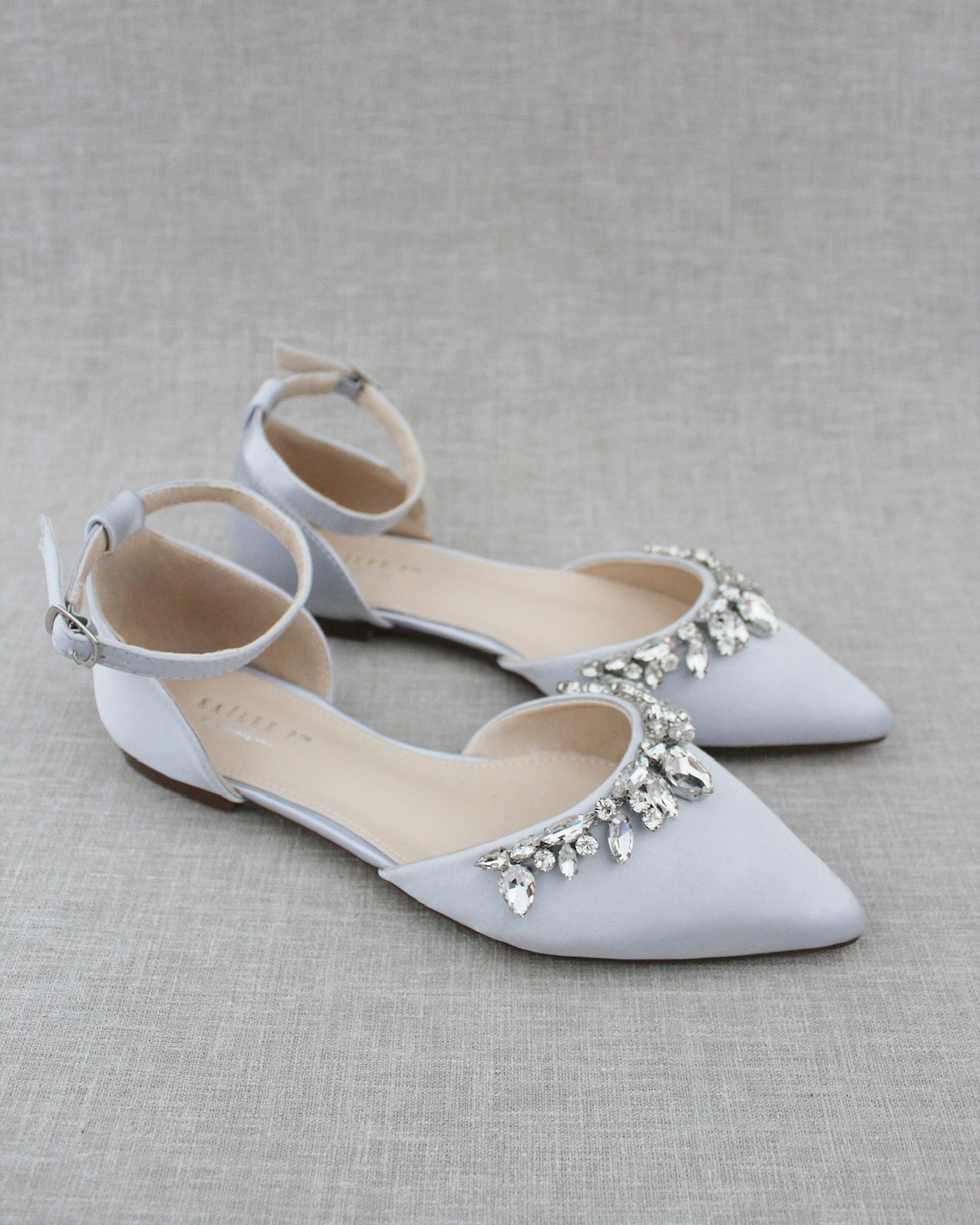 Gold Low Heel Bridal Shoes
Gold is a classic color and goes with everything, these gold heels are no exception. They're simple and elegant, with a small heel that will keep you comfortable while still looking fabulous. They are also perfect for special occasions outside of weddings. If you're looking for something simple but fancy, this pair is just what you need.
Lace gold block heel sandal
This sandal is the perfect mix of elegant and stylish. The lace gold block heel sandal is perfect for any special occasion. The heel is the perfect height to give you a little extra height without being too high. The lace detail on the sandal is beautiful and adds a touch of elegance. The gold block heel completes the look of this sandal and makes it perfect for any outfit.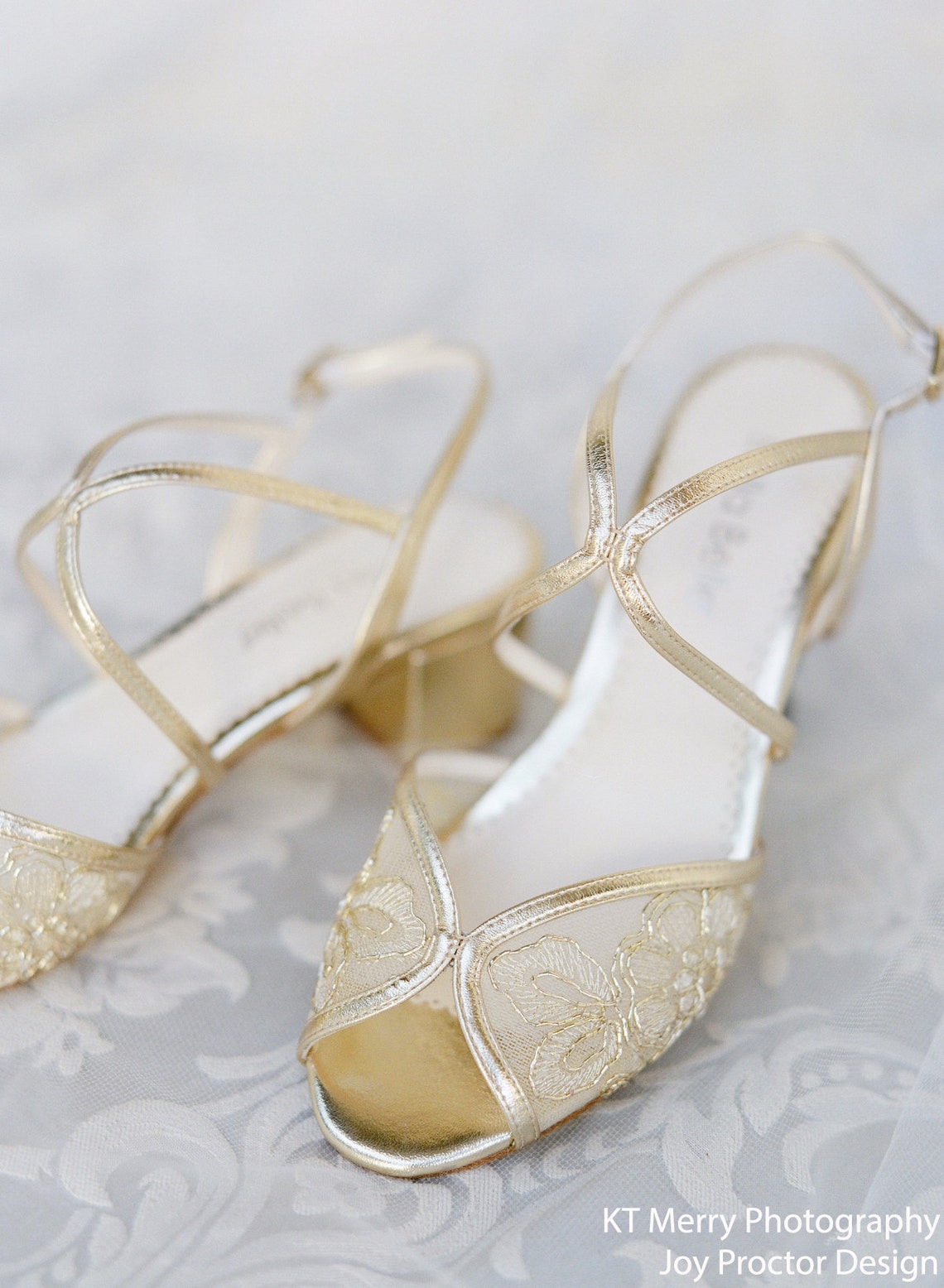 Nude pearl-stone embellished shoes
This is a beautiful and elegant ankle strap tulle with pearl embellishments. It is perfect for any special occasion. The nude color is perfect for any skin tone. The pearl embellishments add a touch of luxury. The tulle is soft and flows beautifully.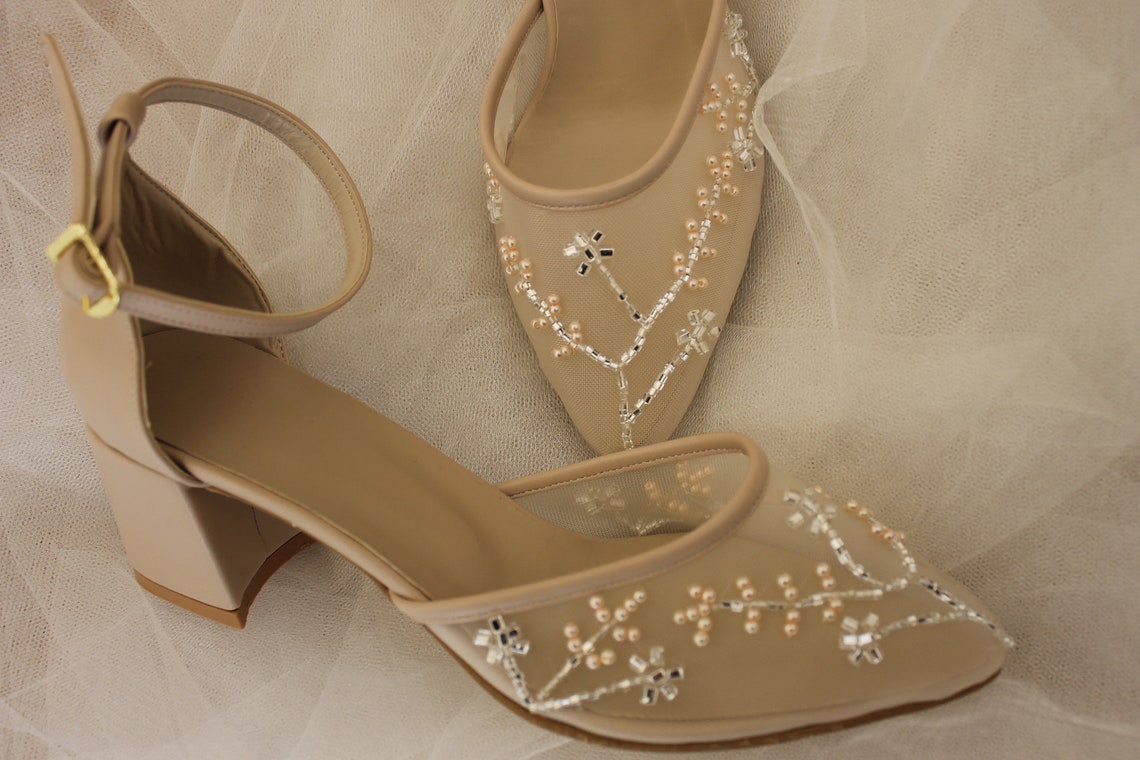 Ivory Wedding Shoes Low Heel
Ivory is a great color for brides who want to wear white but don't want to look like the bride. It's also an easy way to add some subtle romance and femininity into your wedding day look. Ivory is also a neutral color that can be worn with any color, making it one of our favorite low heel bridal shoes!
 Ivory wedding sandals
These beautiful white wedding shoes are handmade with intricate ivory detailing. They're perfect for a summertime bride who wants a little bit of boho flair with her wedding dress. The delicate bow knot adds a touch of femininity, while the block heels provide good support and stability.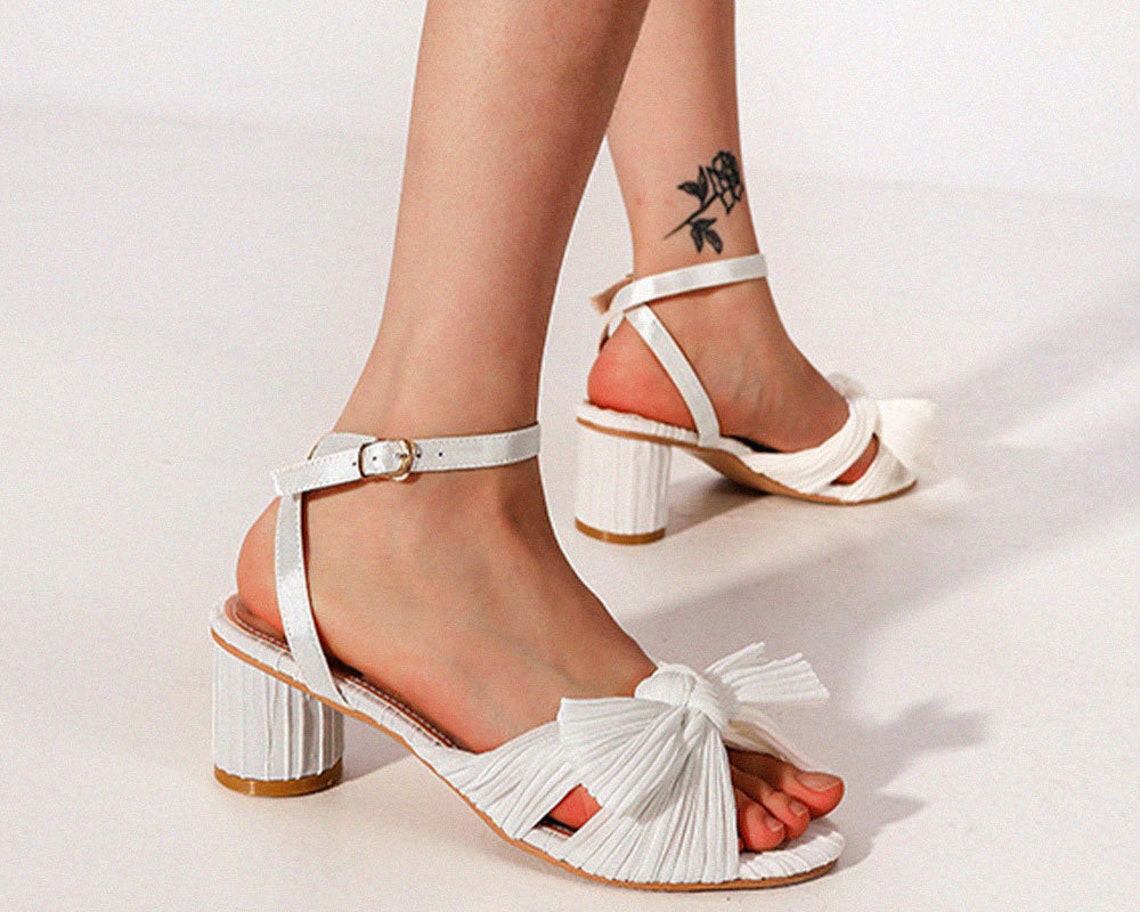 Tulle shoes with pearl embroidered stone detailed
The tulle fabric is covered in delicate pearl embroidery, and the stone detailing adds a touch of elegance. The shoes are finished with a satin ribbon tie and a pearl button closure.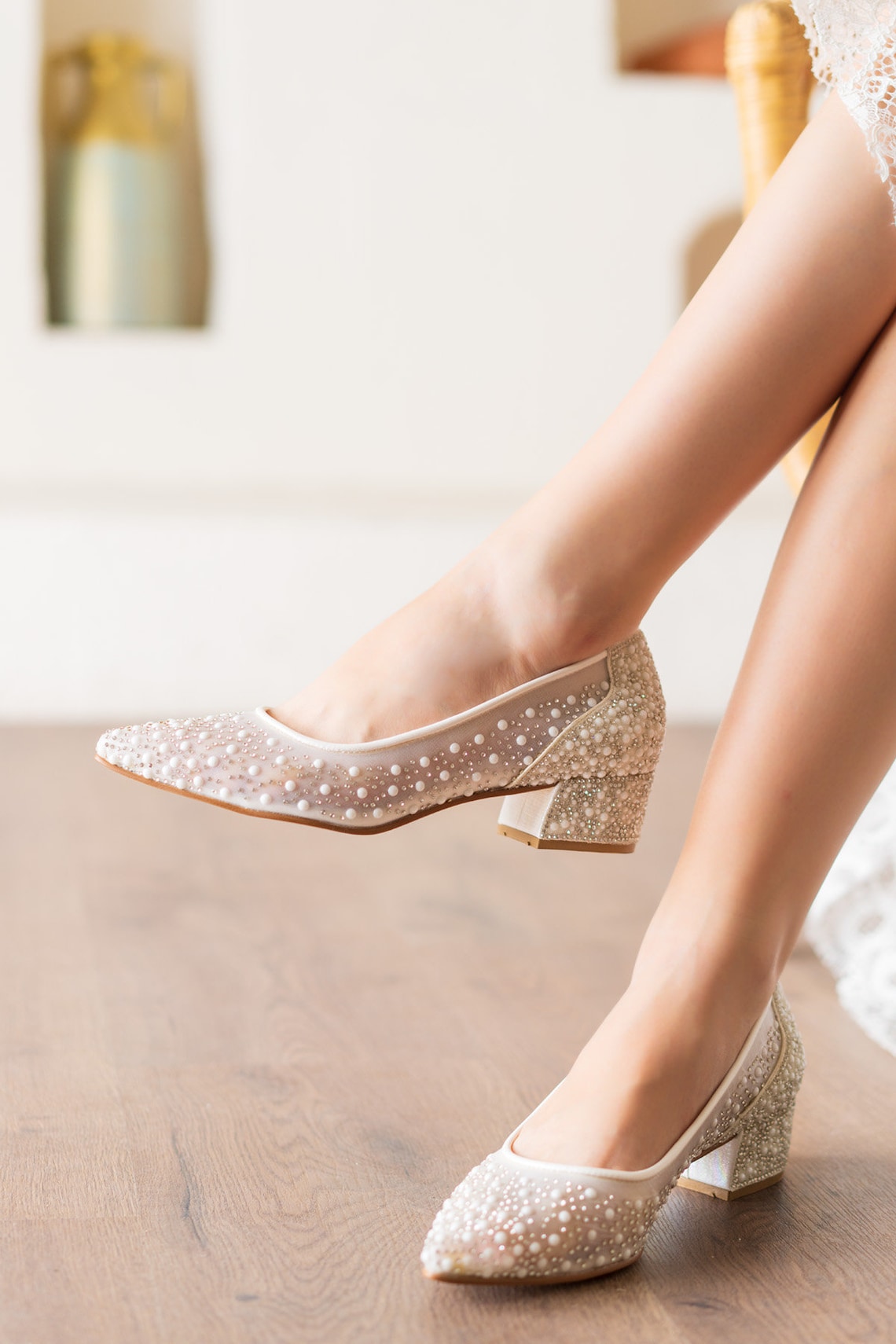 Short heels with tulle lace embroidery
These beautiful wedding shoes are the perfect choice for the bride who wants a touch of elegance and style. The short heels are covered in tulle lace embroidery, giving them a delicate and feminine look. The HİGH: 4 CM ensures that you will be comfortable all day long, whether you are walking down the aisle or dancing the night away.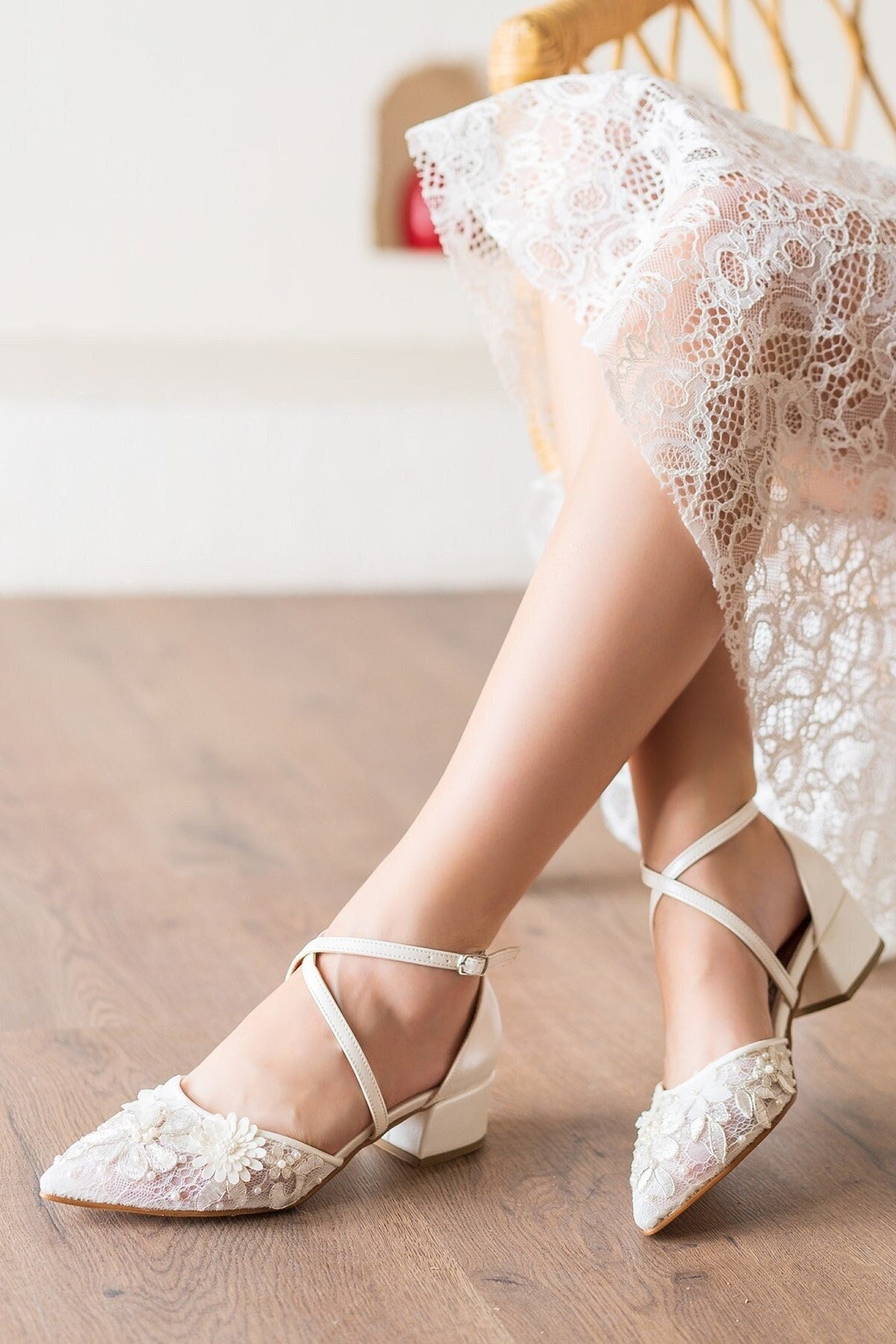 Criss cross pearl embellished wedding heels
These elegant wedding heels are perfect for the big day! They feature a criss cross design with pearl embellishments for a touch of glamour. The low heel makes them comfortable to wear all night long, and the sleek white color goes with any wedding dress.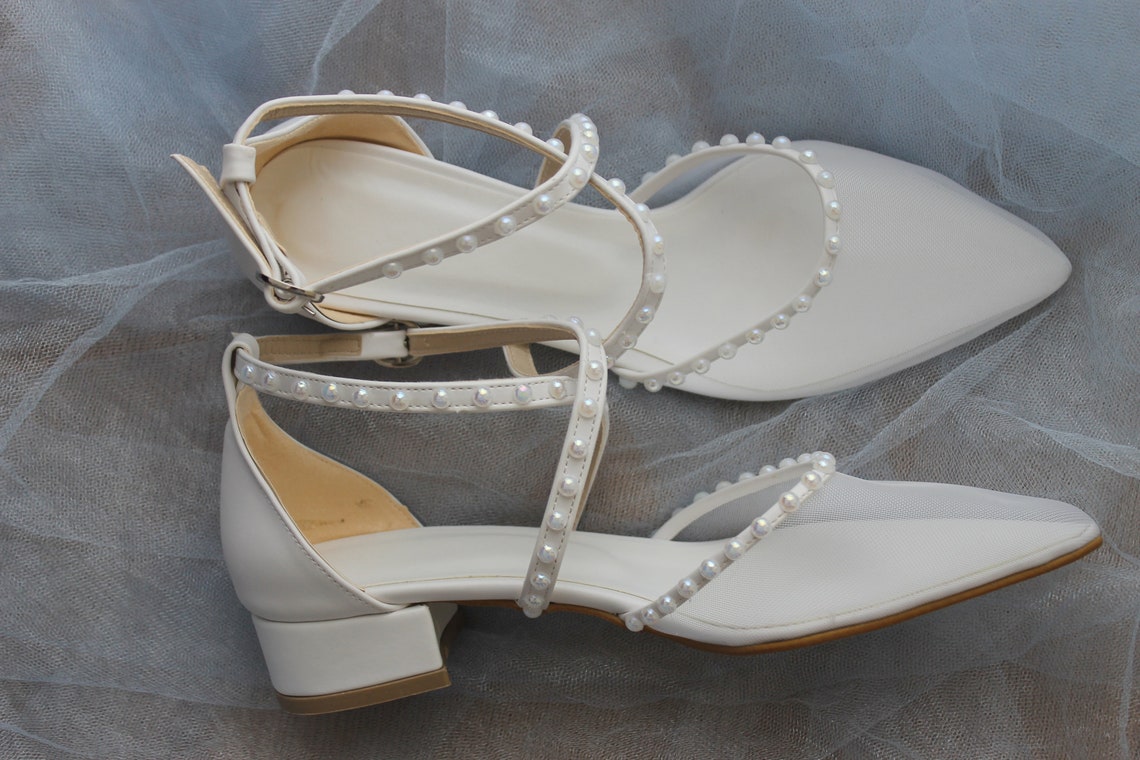 Low Block Heel Wedding Shoes
If you're looking for a cute wedding shoe with a lower heel, then we have the perfect pair for you. With clear rhinestones and an ankle strap, these shoes are so stunning that no one will be able to take their eyes off of them. Plus, they're super comfortable!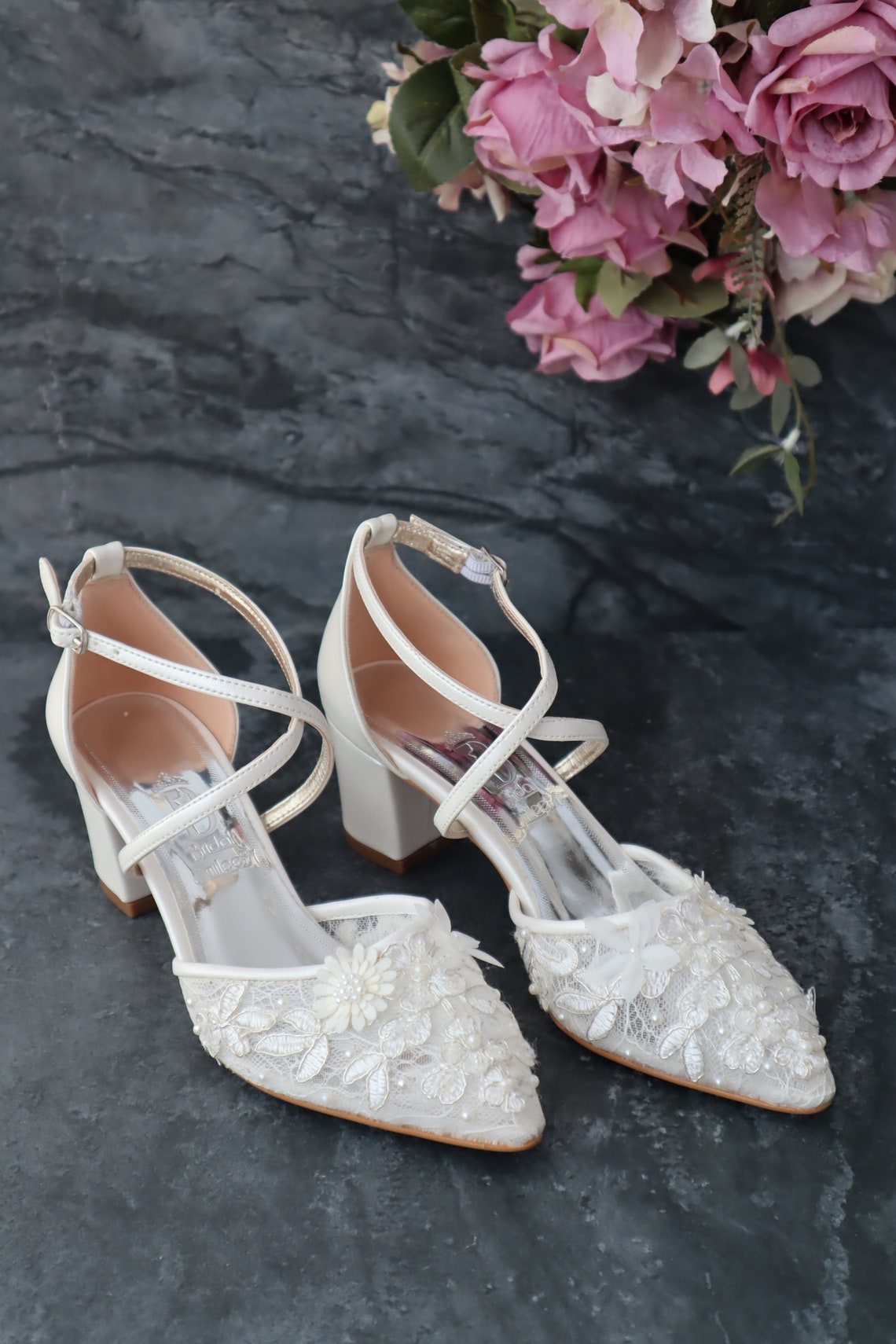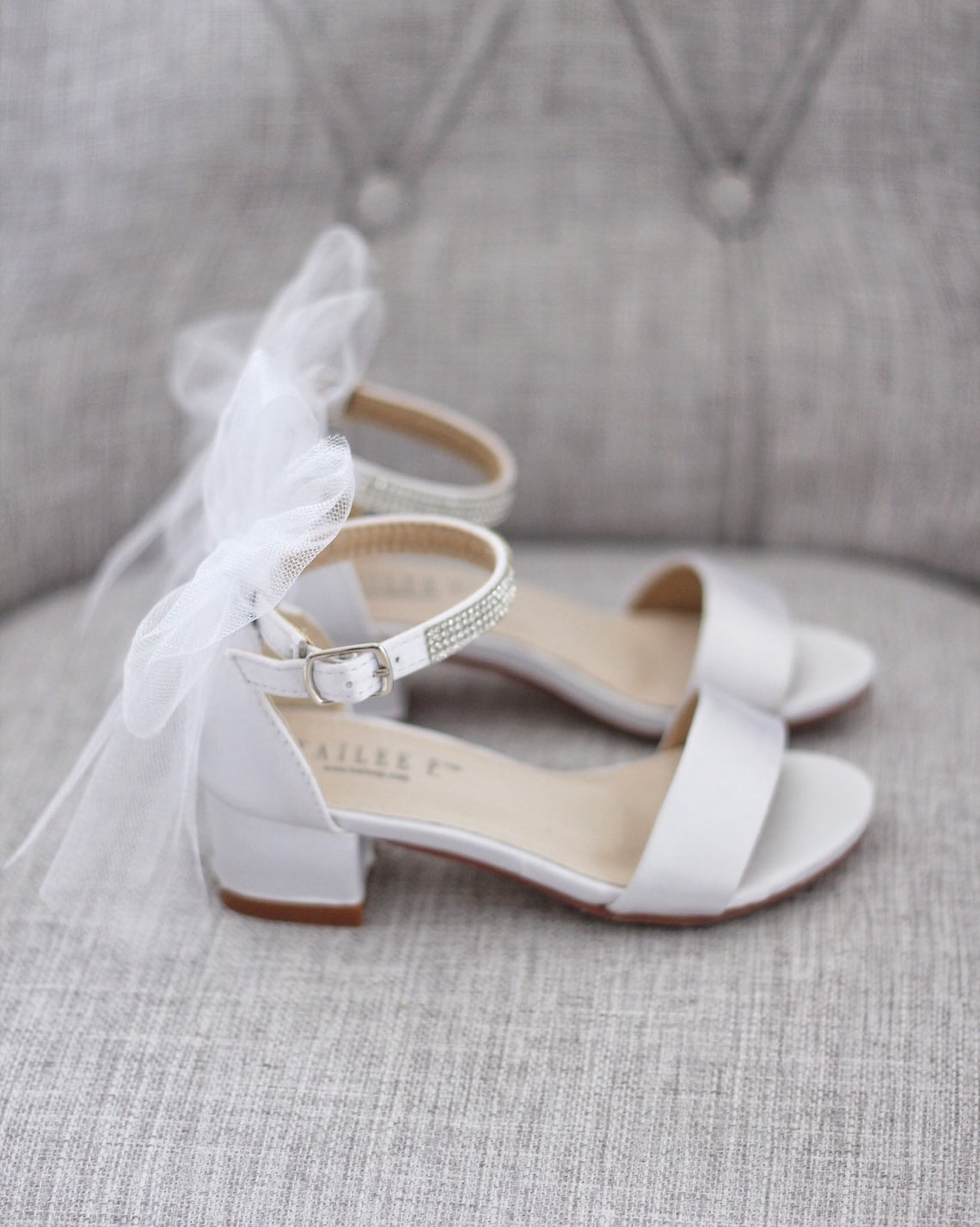 Wide Width Wedding Shoes Low Heel
If you have wide feet or calves, finding comfortable shoes is hard enough. Finding a pair of stylish, wedding-worthy shoes can be even tougher. That's why we've done the hard work for you and found 20 pairs of low heel wedding shoes that will fit your feet and feel fantastic on them!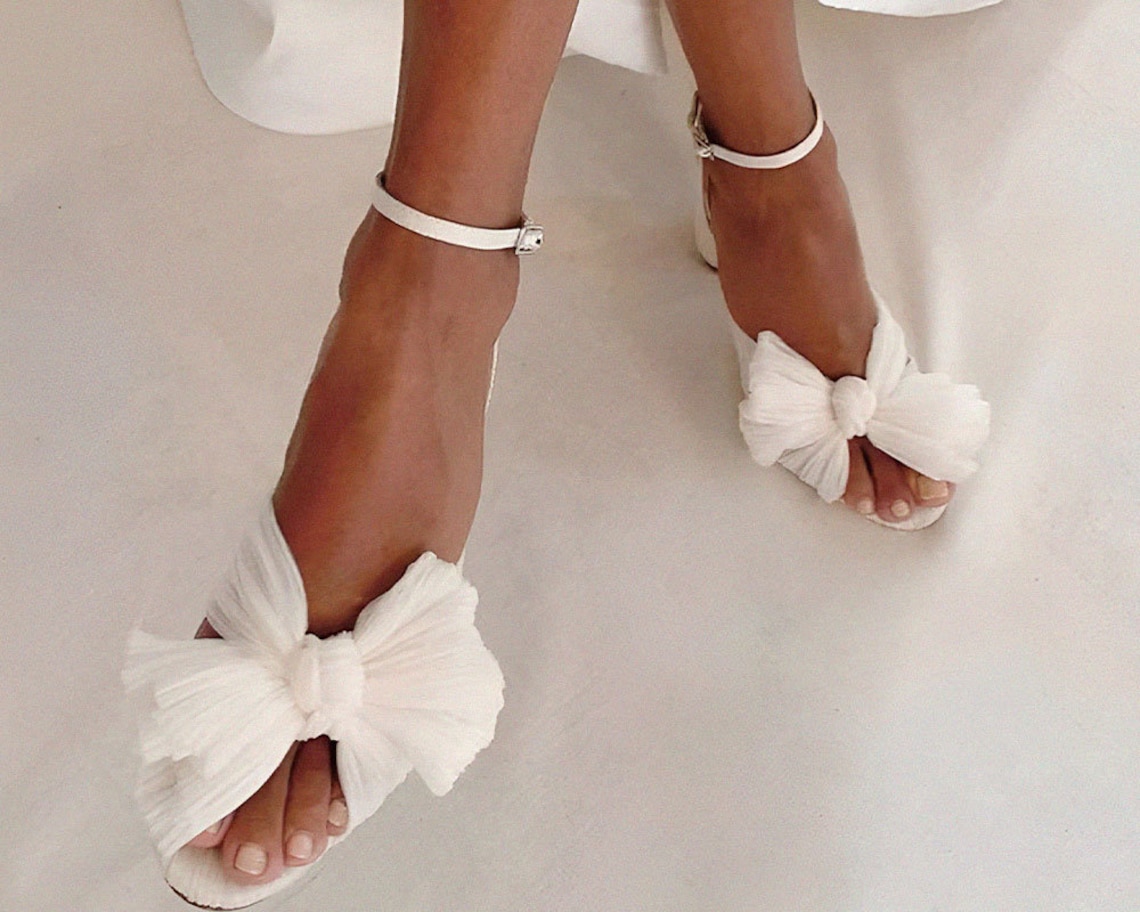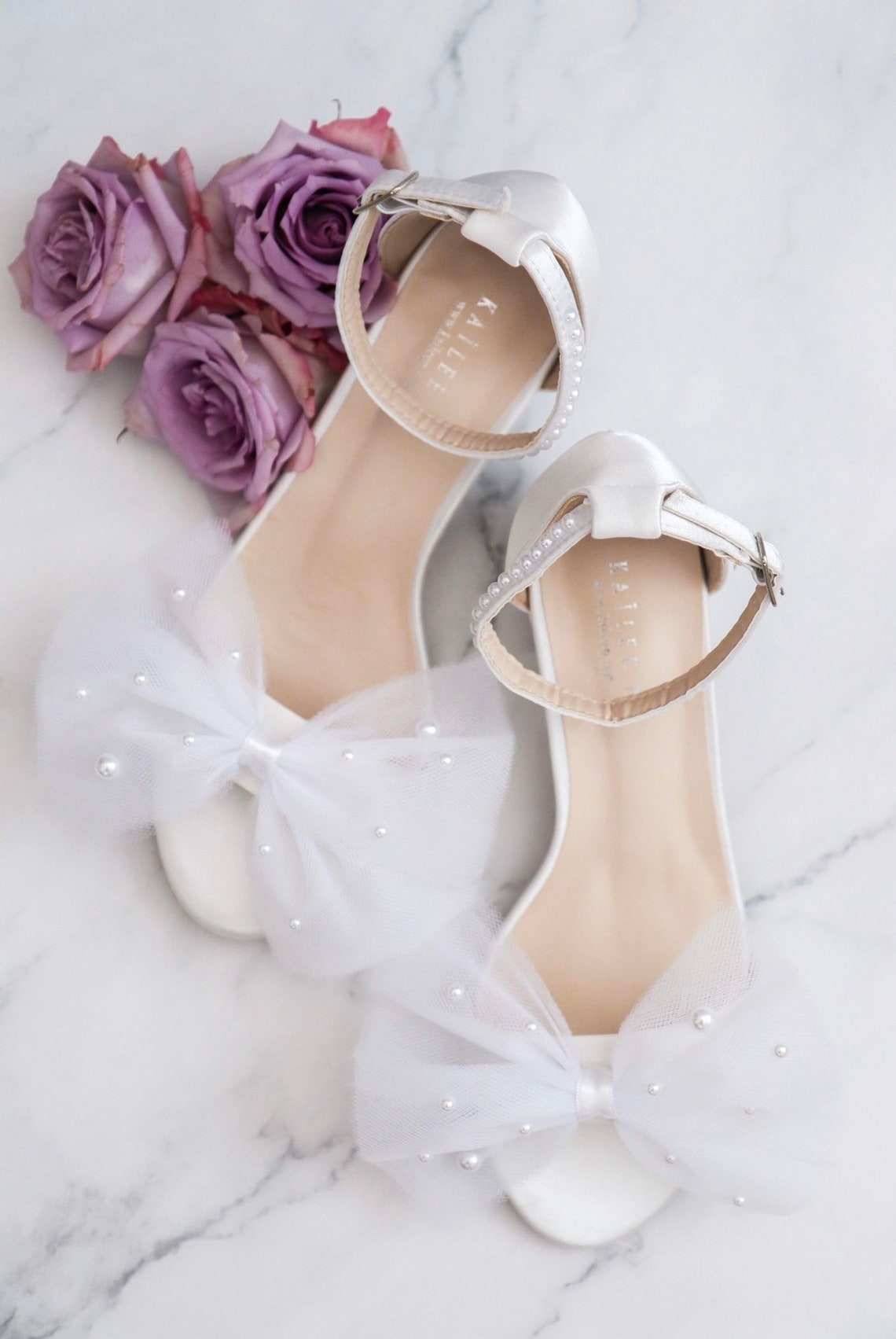 Low Heel Black Wedding Shoes
It doesn't matter whether you're going for a timeless look or want something more stylish. These black wedding shoes are flawless and will look amazing with any wedding dress.
Black satin block sandal with wrapped satin
The black satin upper is adorned with a wrapped satin detail at the vamp, while the block heel provides sophisticated height. The cushioned footbed ensures hours of comfortable wear. Whether you're attending a wedding or a gala, this sandal will have you looking and feeling your best!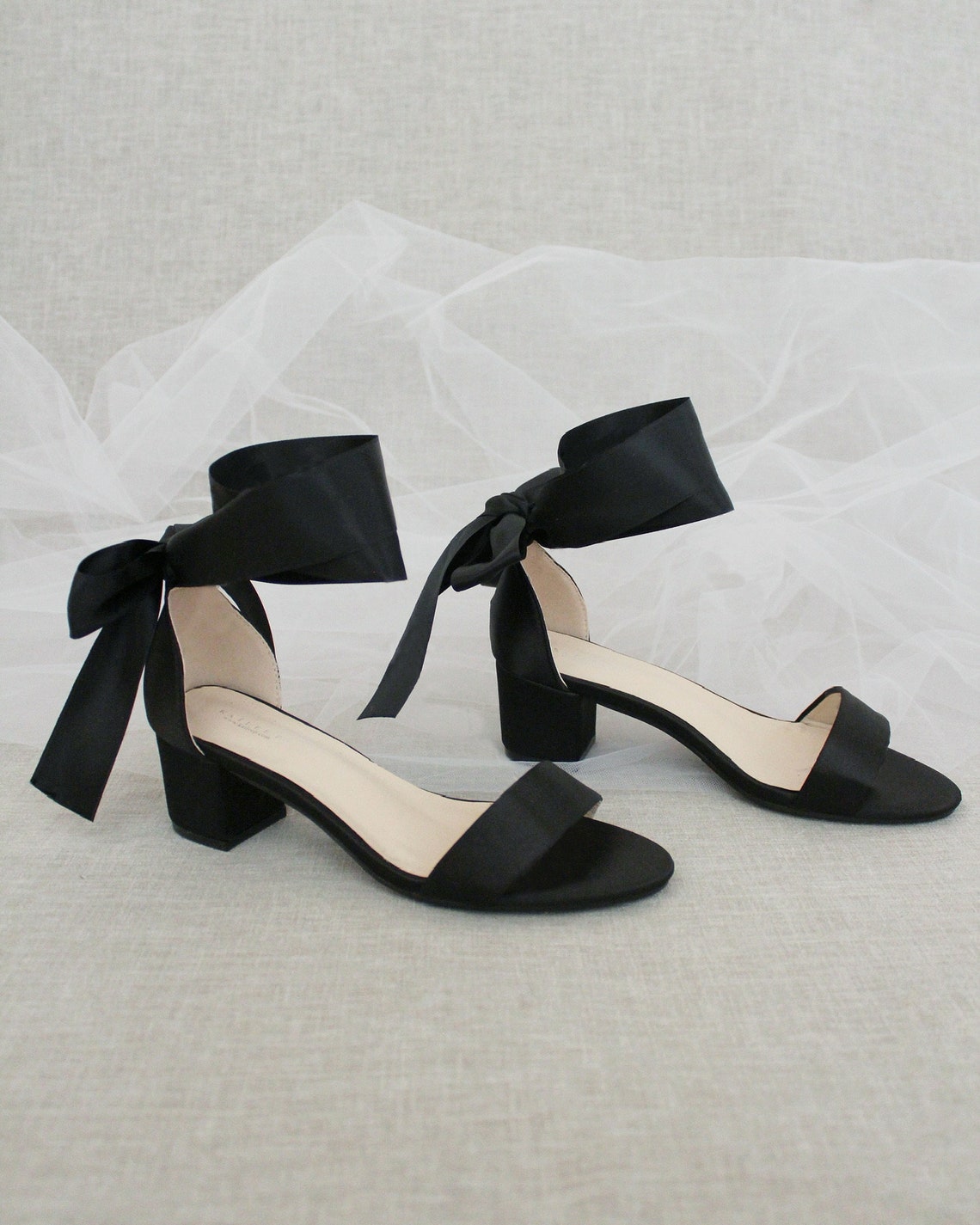 Black satin block sandals with Floral rhinestones
Elegant and eye-catching, these black satin block heel sandals are perfect for any special occasion. The sandals feature a beautiful floral rhinestone design on the toe strap, and a comfortable block heel.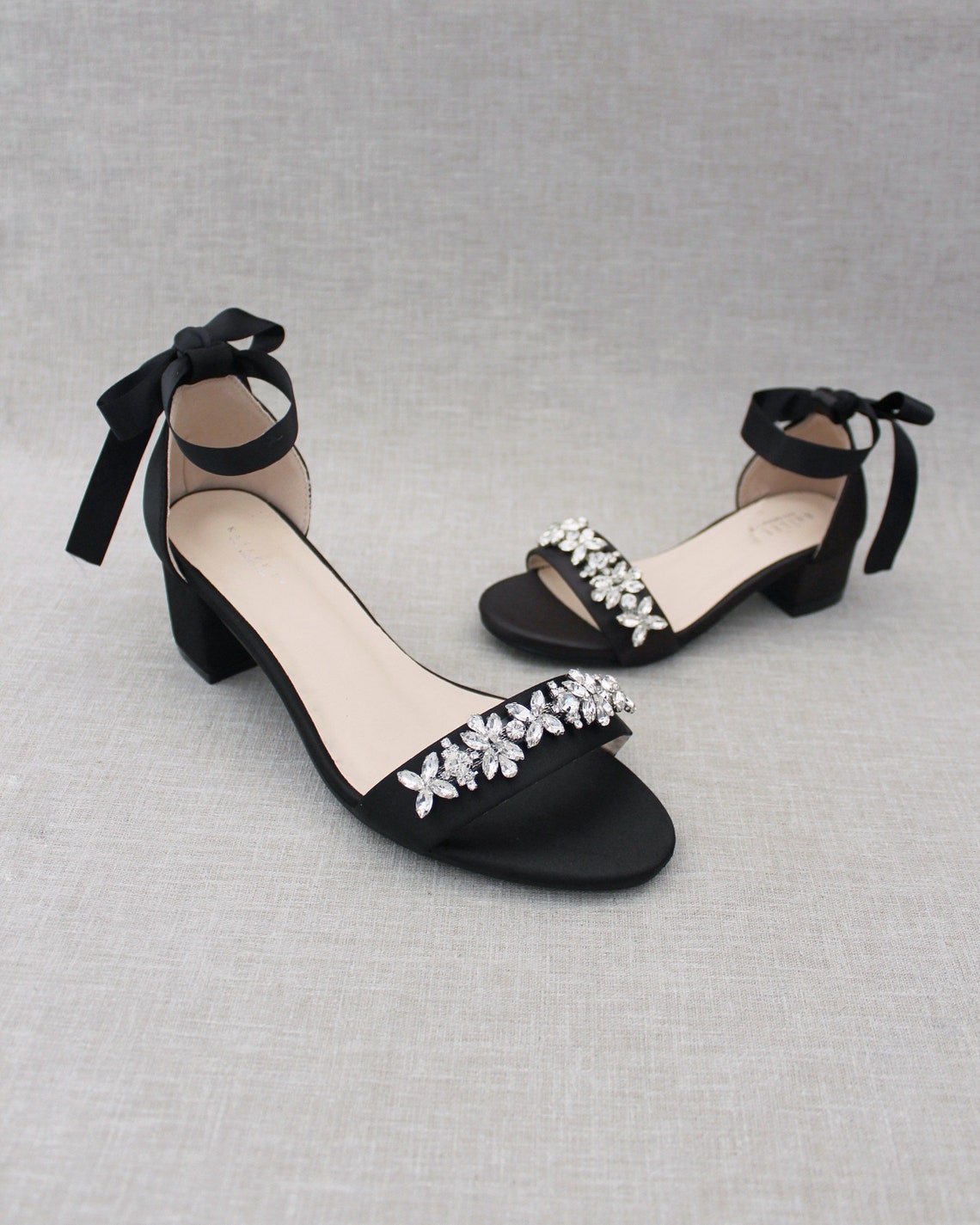 Black rock glitter pointy toe flats
These darling flats are perfect for dressing up or dressing down any outfit! They feature a pointed toe, an ankle strap, and an organza bow for a touch of girly flair. The black rock glitter fabric will add a bit of sparkle to your step.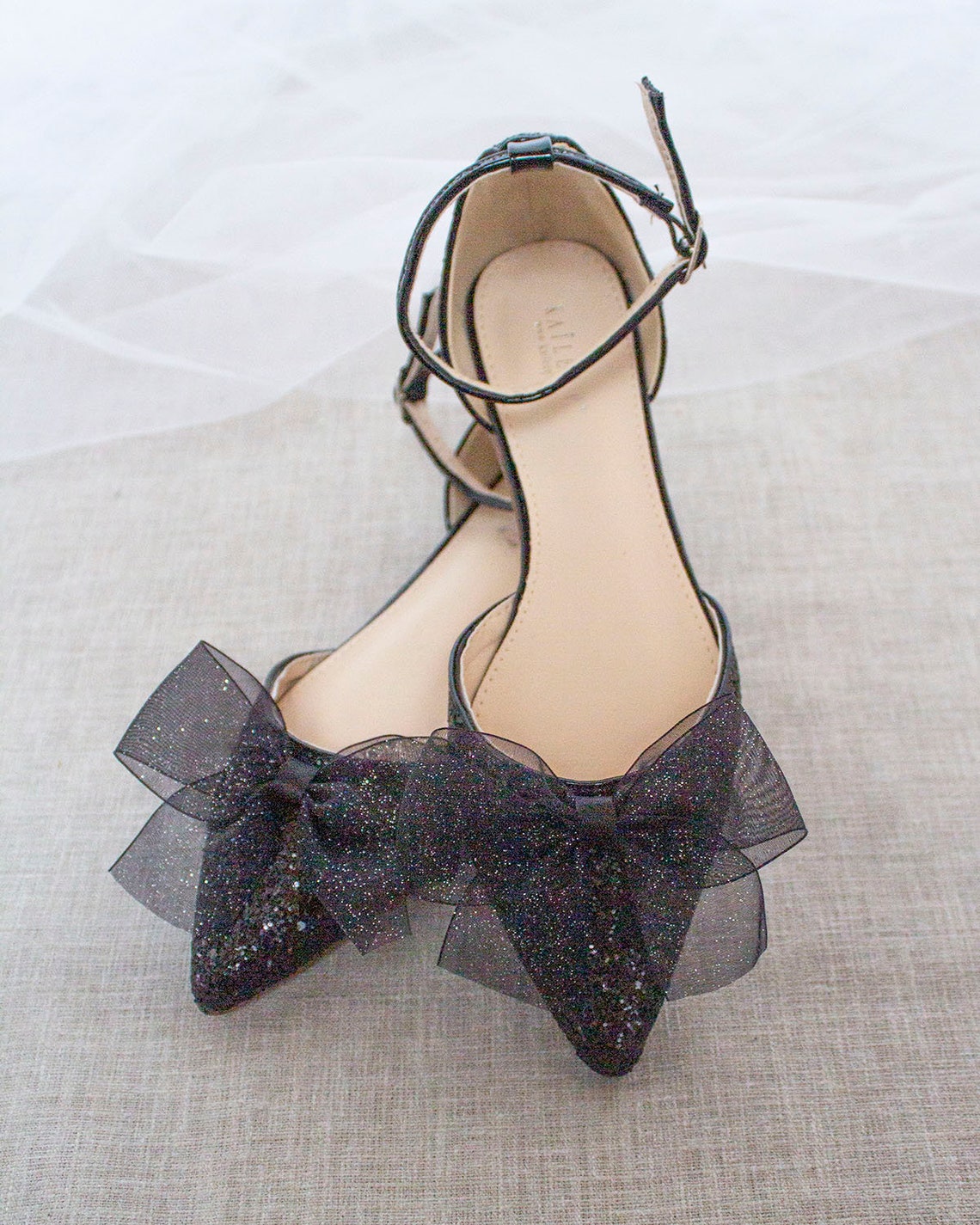 Blue Low Heel Bridal Shoes
If you love the color blue, then these stunning blue shoes will be perfect for your big day. They're a little bit of class, combined with a whole lot of fun. The high heels will add some elegance to your wedding look, but the low heel is still going to give you plenty of comfort for dancing and walking around all night long.
These navy satin block heel sandals are the perfect way to add a touch of elegance to any outfit. The wrapped satin detail gives them a luxurious look, while the block heel provides a comfortable walking experience. Whether you're wearing them to a special event or just dressing up for a night out, these sandals are sure to make you feel like a million bucks.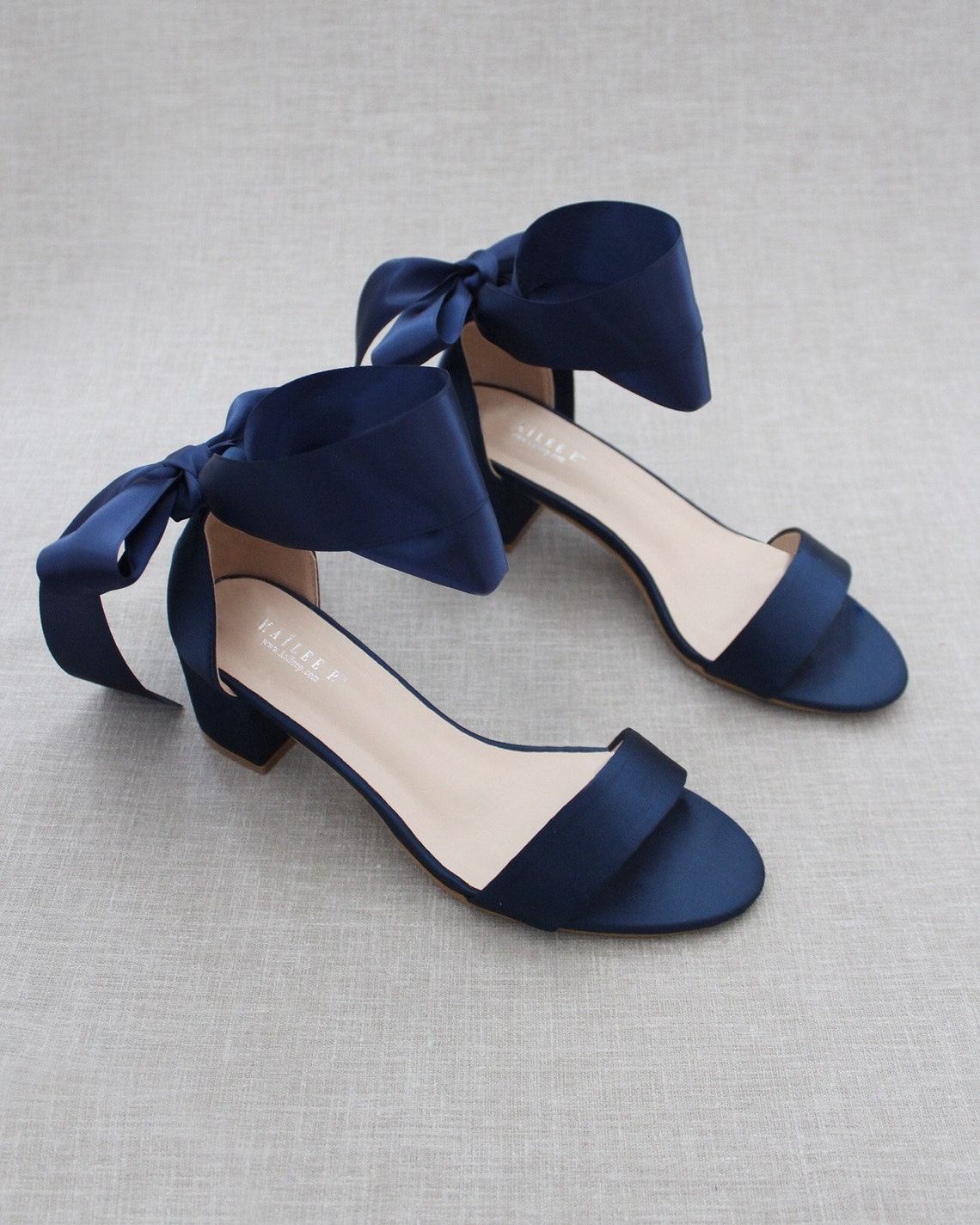 Dusty blue wedding shoes
Add a touch of blue to your wedding day with these dusty blue wedding shoes. Cross laces add a touch of tradition to this otherwise modern shoe.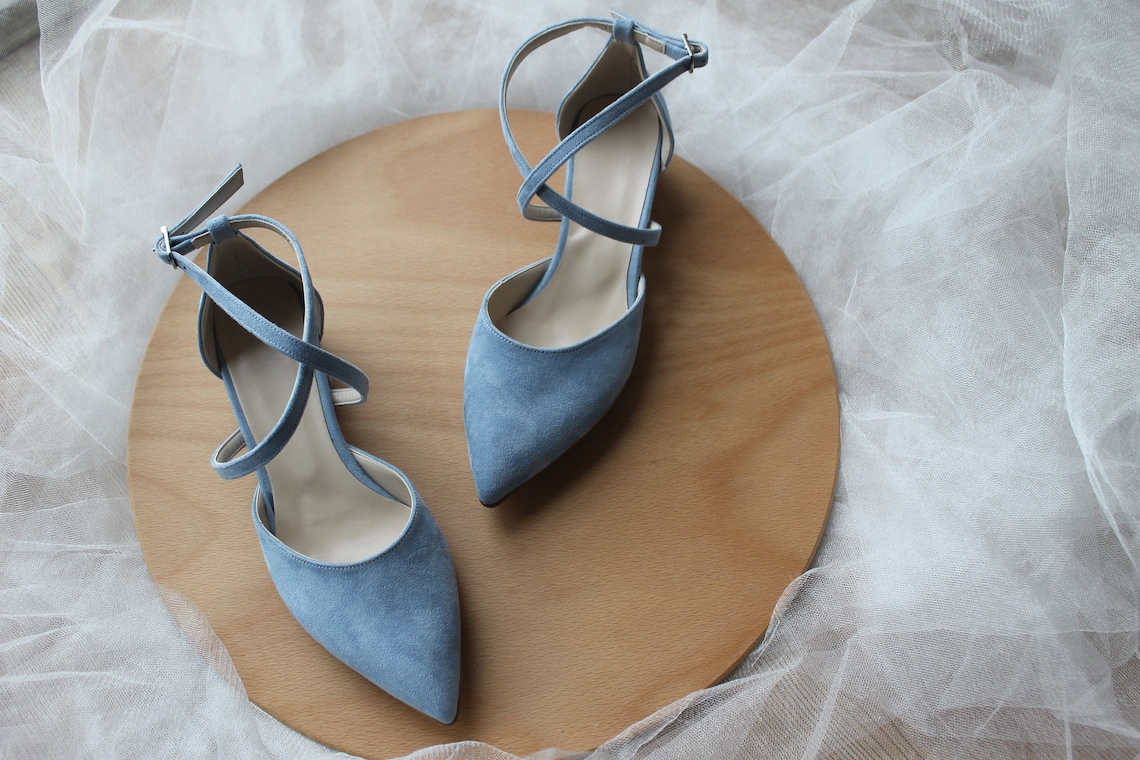 Low Heel Wedge Wedding Shoes
Low wedge wedding shoes are often assumed to be clunky, but take a little time to think of it. Stability provided by wedges does not negate the beauty of the design. The bride gains stability, comfort, and confidence. A boost to those qualities can only add to the beauty of the work. If you want your wedge heels to appear more delicate, your choice of color, texture, and fabric can make it look more delicate.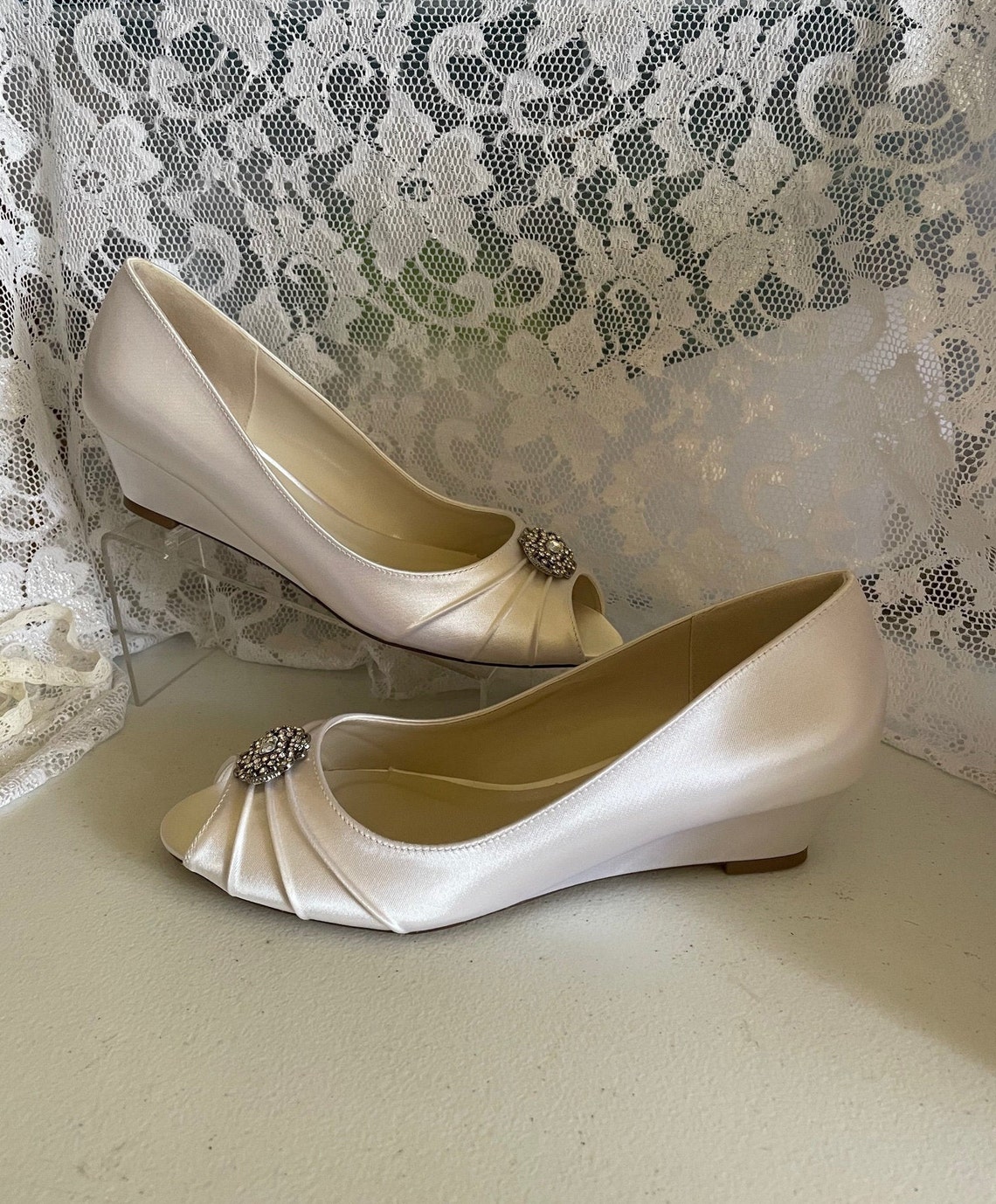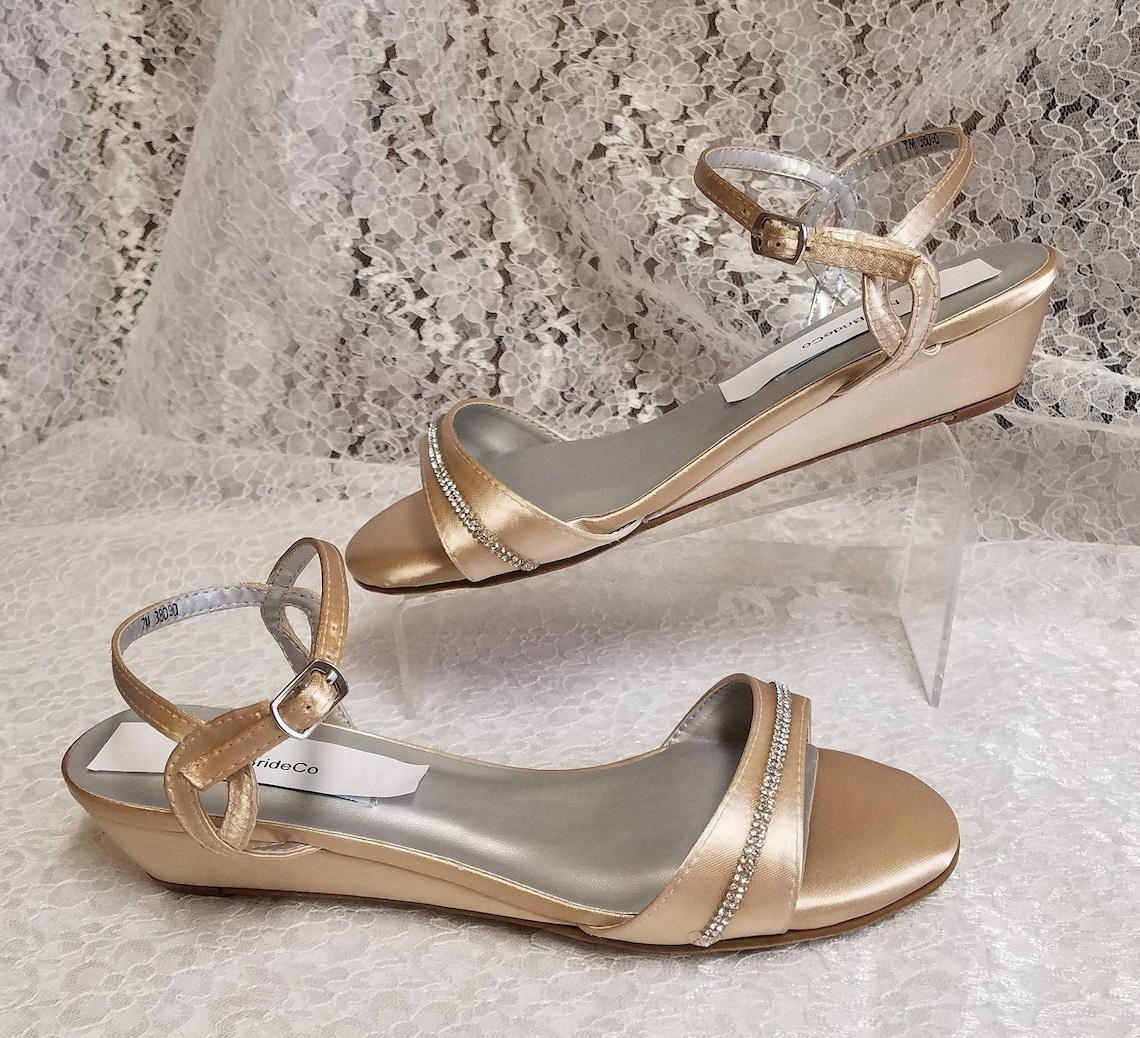 Conclusion
We hope that this article has helped you find the perfect low heel wedding shoes for your big day. If you want to see more shoes like this, then check out our other articles on different types of wedding shoes. You might also want to look into some cute bridesmaids' shoes!
FAQ
What is considered a "low heel" for wedding shoes?
A low heel for wedding shoes is typically considered to be 2 inches or lower. This can vary based on personal preference and what feels comfortable to the bride.
Are low heel wedding shoes comfortable to wear?
Low heel wedding shoes can be comfortable to wear, especially if they are made with good quality materials and provide adequate support. However, comfort can vary based on the individual, so it's important to try on different styles and brands to find the right fit.
What are some popular styles of low heel wedding shoes?
Some popular styles of low heel wedding shoes include pointed-toe pumps, slingback sandals, and peep-toe heels. There are also low heel options in flats, wedges, and even sneakers for brides who want a more casual look.
What Style Of Wedding Heel Is Most Common?
For weddings, low heel dress shoes are most commonly kitten-shaped heels, wedges, and block heels. If your goal is a balance between comfort and beauty, these are the first options to consider.
Do I have to wear white heels on my wedding day?
No! You can go conservative (with a white or nude heel) or creative (think: blue, metallic, black, or neon). If you wear a short dress or high slit, your shoe will be more visible, so you might want a more flashy heel.
Are low heel wedding shoes appropriate for outdoor weddings?
Low heel wedding shoes can be a great option for outdoor weddings, especially if the terrain is uneven or the ground is soft. Flat or low wedge styles can provide better stability and prevent sinking into the ground. However, it's still important to consider the specific location and terrain of the outdoor venue before choosing wedding shoes.