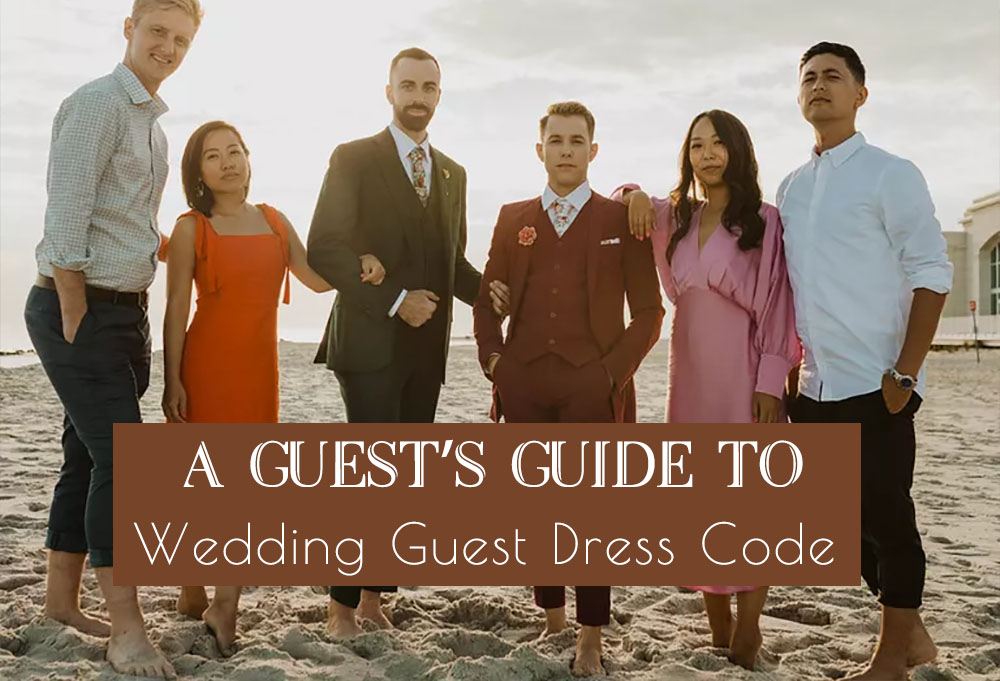 The wedding guest dress code is a complex topic that can be hard to understand. We've broken it down into simple terms so that you can feel confident in your decisions when it comes time to dress up for the big day. Whether you're looking for a formal gown or something more relaxed and comfortable, we've got you covered.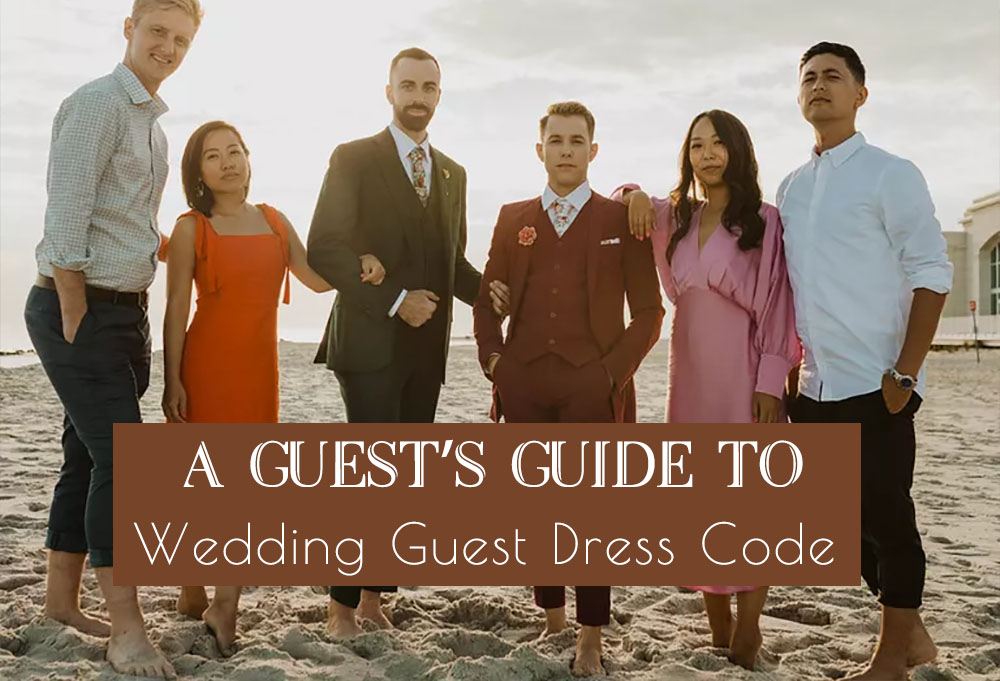 [ez-toc]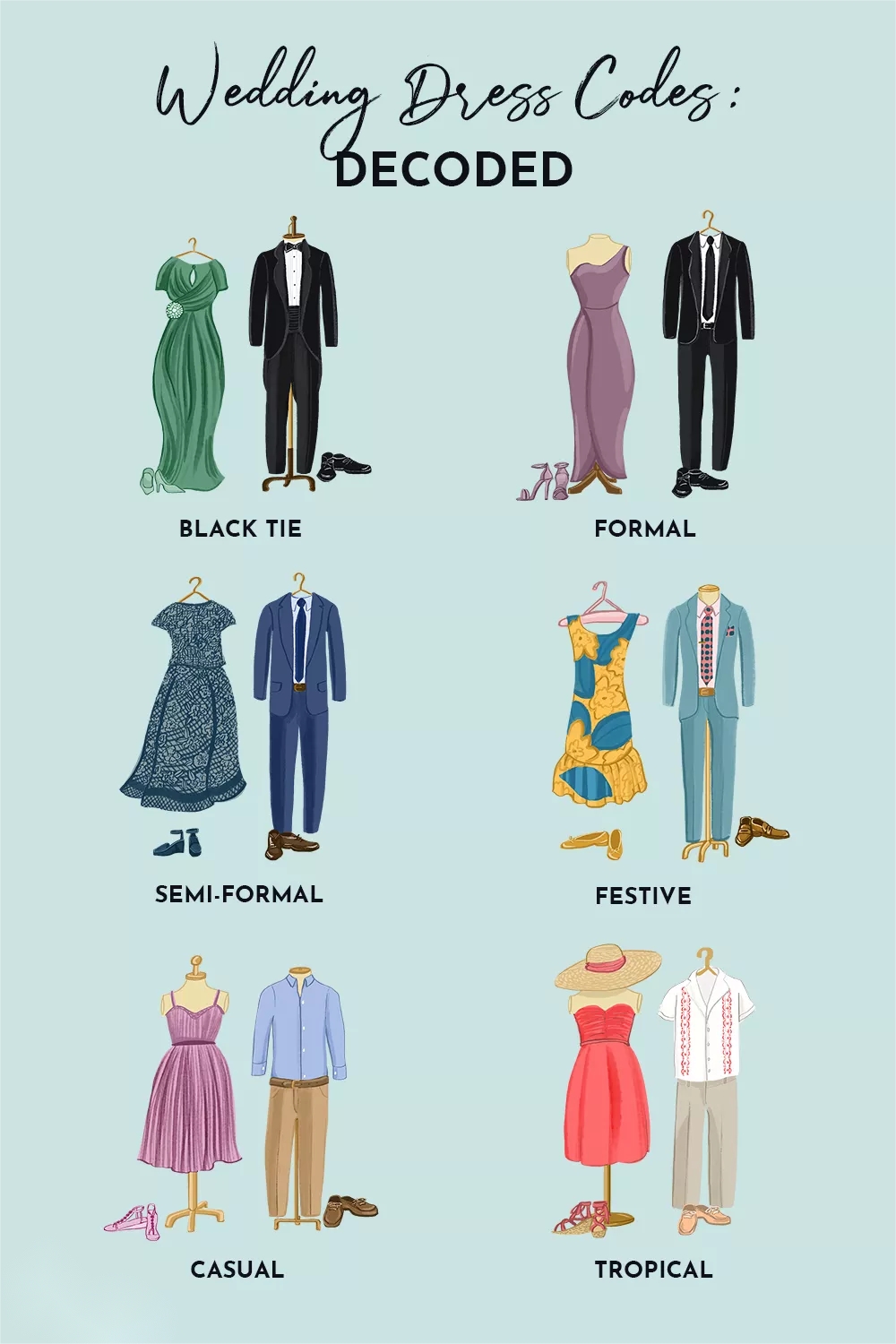 White-Tie
This is the most formal wedding attire (think: White House state dinners). There are no exceptions to the rule that women should wear formal floor-length evening gowns. Add jewelry, heels, and a clutch to your dress. A man is required to wear a tuxedo with tails, a formal white shirt, tweed, vest, bow tie, white or gray gloves, and formal footwear, such as derby shoes or oxfords.
Black-Tie
There is normally a wedding dress code that is the next most formal and usually means the event is an evening affair. The women should wear a formal floor-length gown that does not reveal the ankles at the hem of the dress, but if the wedding appears less formal, a sophisticated cocktail dress might also be a good choice. Additionally, women can wear stylish pantsuits. A tuxedo is required of men. Black bowties, black vests or cummerbunds, and patent leather shoes are also suggested. A white dinner jacket and black tuxedo trousers are acceptable for summer weddings.
Formal or Black-Tie Optional
Essentially, this is a bit less formal than black tie. So, a tuxedo isn't required, but the event is formal enough to be appropriate. What you'll get is the same as with a black-tie: a floor-length gown, a fancy cocktail dress, or a dressy pantsuit. As far as women are concerned, there's not much of a difference between black-tie attire and black-tie optional attire, although Mae says it's more acceptable to wear a dress that shows the ankles (which is not true of a black-tie dress code). Men may wear a tuxedo, or they may wear white shirt, a formal dark suit, or conservative tie.
Cocktail
While not as formal as black-tie optional or black-ties, cocktail attire is a popular dress code choice. There is a balance between elegant and comfortable, typically more formal than a day wedding but more casual than – a night celebration. For women, instead of a floor-length dress, they should opt for a tea-length, knee-length or midi dress. Men are required to wear a suit and tie, regardless of the wedding's setting. Keep your looks classy and polished, but don't wear anything too embellished or fancy that's distracting the newlyweds.
Semi-Formal or Dressy Casual
Dressing for a semi-formal or dressy casual wedding is important considering the time of the wedding. For evening weddings, choose darker, more formal colors, and for daytime events, choose lighter colors and fabrics. Try a below-the-knee dress or a dressy skirt and top. It is also appropriate for wearing a pantsuit. However, floor-length gowns would not be appropriate. Pair with heels, wedges, or formal flats. If the ceremony is held outdoors, and you'll be walking across a lawn, don't wear traditional heels that will likely get stuck in the grass. Men should wear a dress shirt and slacks, depending on the time of day, and can wear ties as well. The semiformal system allows you to take comfort, but you should not dress too casually.
Festive
There is a little newness to this dress code, and it will leave many guests scratching their heads. Basically, guests are allowed to have fun and play with their looks. Choose a cocktail party outfit that features bold colors and playful accessories. Wearing a cocktail dress or party dress of a fun color with playful accessories and heels or dressy flats is a good idea for a woman. Men should sport a suit with a bright tie or a creative pocket square.
Casual
This means the wedding is likely to be outdoors or on the beach, so it will be much more laid-back, especially when it comes to attire. Jeans, shorts, and tank tops are probably not appropriate, unless specifically noted as acceptable. The sundress is appropriate for summer (but make sure the fabric is not too formal). Wedges or dressy sandals are fine for casual weddings, but sandals and sneakers are not appropriate. You should wear khaki pants or dress pants with a collared shirt. If you'd prefer, you can add a tie or sports jacket, but not required. Feel free to wear a sweater too if it's chilly. I recommend you avoid any t-shirts or tennis shoes.
Tropical or Destination
The weather in tropical weddings is usually humid and hot, so you should dress accordingly. Remember, always err on the dressier side of caution. If you aren't sure whether your dressy clothes will fit, it's probably not. Just upgrade it a notch and you'll be fine. Wear a nice sandal or wedge with cotton sundresses as you would for a casual wedding. If the wedding is being held outside and the weather is blazing, consider wearing a sunhat.
The Guayabera shirts count almost always as appropriate wedding attire in the tropics. These short-sleeved, button-down shirts usually have decorative square pockets and often have embroidery. Colors and styles are available in a wide variety. Some designer labels offer their own version of Guayabera, if you want something slightly more upscale.
Concept Style/Themed
Some couples host themed weddings, and they ask that their guests follow their theme with their attire. Some couples, for example, request their guests to all wear one color, Mae says. This is especially popular in an "all-white formal" dress code. It's a stylistic choice that helps the couple create their desired aesthetic. The other option is inspired looks, like Gatsby or Roc Nation Brunch," Mae says. In some cases, guests can take inspiration from films or celebrities.
Come As You Are
Some couples ask their guests not to obsess over their attire or show up how they see fit and are comfortable. The attire can work well for a casual wedding at the beach, she suggests. Some guests may find this confusing, so you should consider what the couple normally wears, the location of their wedding, and the time of day it will occur. To know yourself as a guest is essential, Mae suggests. "As the saying goes, 'If you look great, you feel great!' Make sure you are confident in your attire so you don't feel underdressed or overdresses."
Wedding Invitation Attire Wording Best Practices
Brides are skipping dress codes on their weddig invitations more and more. If you don't want to add the already-vague "Festive Attire" to the invitation, but if you want to avoid guests asking you questions, you might want to pay more attention to what's on. If you're concerned about how to implement the dress code without spelling it out, you can incorporate subtle hints. "The bride's choice of text, font choices, and colors helps guests understand how to dress," Kallett says. A reputable stationer can assist you with all the details that will honor your vision and complement the formality or formality of this important day.
Where to Include the Dress Code
Wechtaluk says invitations are one of the first things guests receive directly about your wedding, so they can set the tone for the wedding party you're being planning. "You can use your invitations as a chance to communicate what to expect, from attire to the vibe you intend to create for your guests."
Formatting for dress codes
If you are planning a black-tie wedding, consider using customary phrasing. "When hosting a formal event, it is best not to stray from traditional etiquette guidelines," says Kallett. "The request line should say something along the lines of 'request the honor of your presence' or 'request the pleasure of your company.' If an invitation is worded 'happily invite you to the best day ever,' it is usually an indication that the event is not formal."
Where to Place the Dress Code Information
Kallett says that "a formal affair is after six o'clock and the word black tie or white tie is included on the reception card." If you start your wedding after six, expect guests to dress up a little more, unless you specify otherwise. If you are having an earlier wedding, guests may choose cocktail attire or garden attire.
How to Include a Dress Code on a Wedding Invitation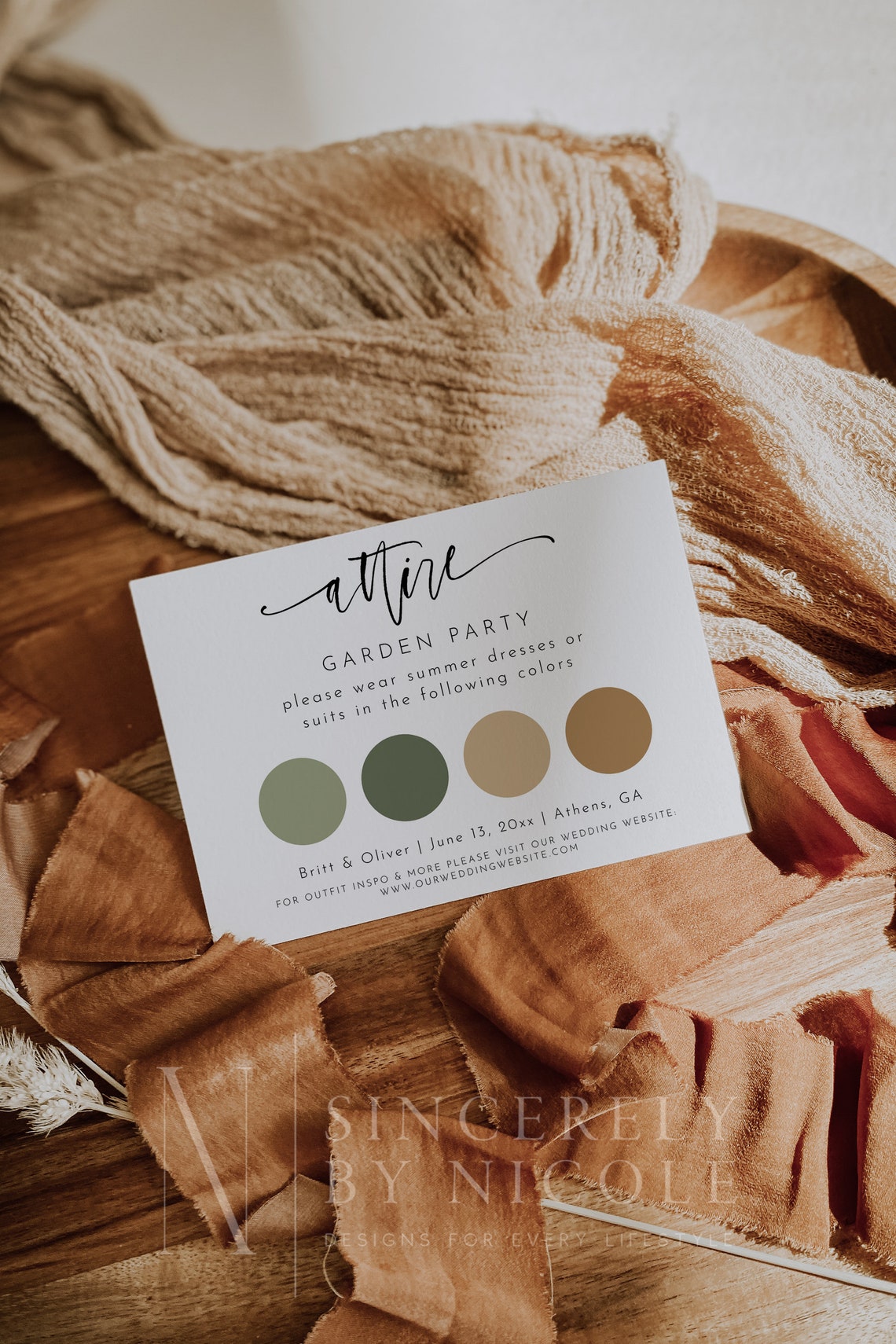 Including Dress Code Information on the Paper Invitation
Include your dress code in the corner copy of your invitation.
Include the dress code on the reception card, if you send one.
Write your dress code on an enclosure card, alternatively.
Use straightforward wording to get your point across. Wording for dress codes might be:
Black tie (tuxedos and formal gowns)

Formal, black tie optional (suit and tie and dresses)

Semi-formal (suit and tie and cocktail dresses)

Cocktail attire (suits and party dresses)

Beach or garden party attire (summer suits and summer dresses)

Casual (button down shirts and slacks and summer dresses or skirts)
5. Include dress code information on the FAQ page of your wedding website.
Reflecting the Dress Code on the Invitation Itself
Design a formal invitation to reflect a formal dress code.
Create a fun, playful invitation to showcase a more casual event.
Design your invitations to reflect a themed wedding.
Match dress code to your venue.
What To Wear As A Wedding Guest Female 2023?

FAQ
Use context clues to decide what to wear if no dress code is indicated on the wedding invitation or by the couple. Consider the formality of the wedding invite, venue, the time of day of the ceremony, the season, and the the religion of the ceremony. I would recommend a knee-length cocktail dress for a woman as well as a dark suit for he in case it is necessary.
First and foremost, don't wear white (unless you specify all-white attire as a stylistic choice). Also, do not wear anything too revealing, sexy, or flashy, nor do you wear anything overly casual, like jeans and sneakers, even at a casual wedding.