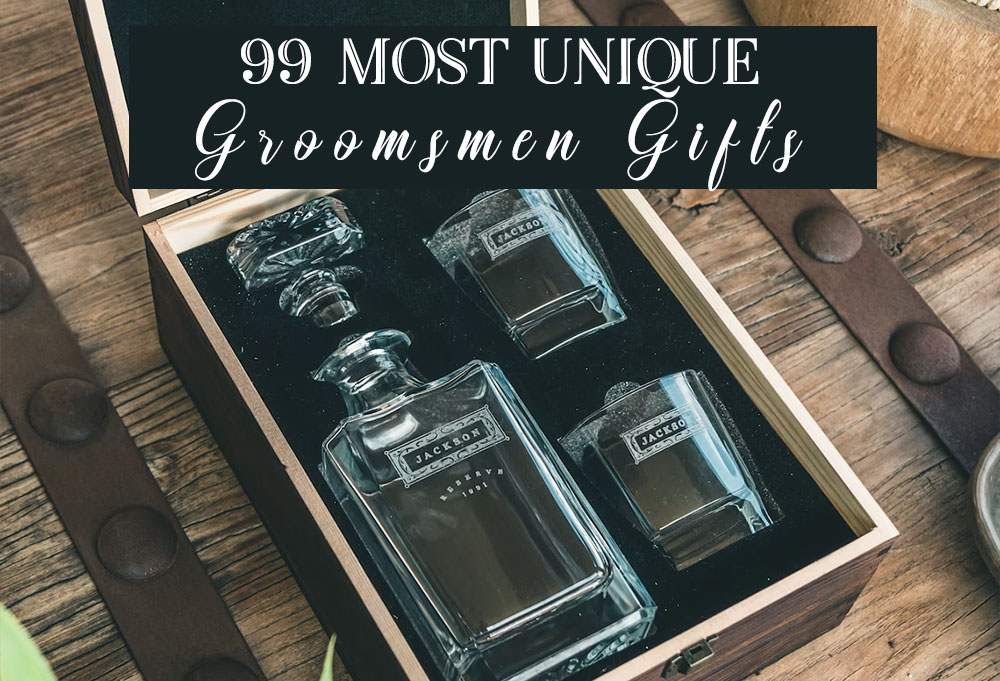 45 Most Unique Groomsmen Gifts For 2023
Here is a list to the best possible groomsmen presents for the year 2023. Gifts for the guy who has everything, as well as the enthusiastic traveler, golfer, cyclist, cigar connoisseur, sports lover, writer, outdoorsman, hunter, tailgater, and BBQ master are all available below. These are the best groomsmen gifts anyone has ever received.
The choice of what to give as a present to the groomsmen is ultimately more important than the amount of money that is spent on the gift itself. You can get the same boring gifts from anyone, but we've searched the web to find you the best, most original gift ideas for groomsmen.
Moreover, many of these Etsy merchants are sole proprietors, so you'll be able to give back to the community while shopping for the groomsmen.  High-quality one-of-a-kind groomsmen presents are obtained while also aiding local businesses. Win-win.
Get going, then!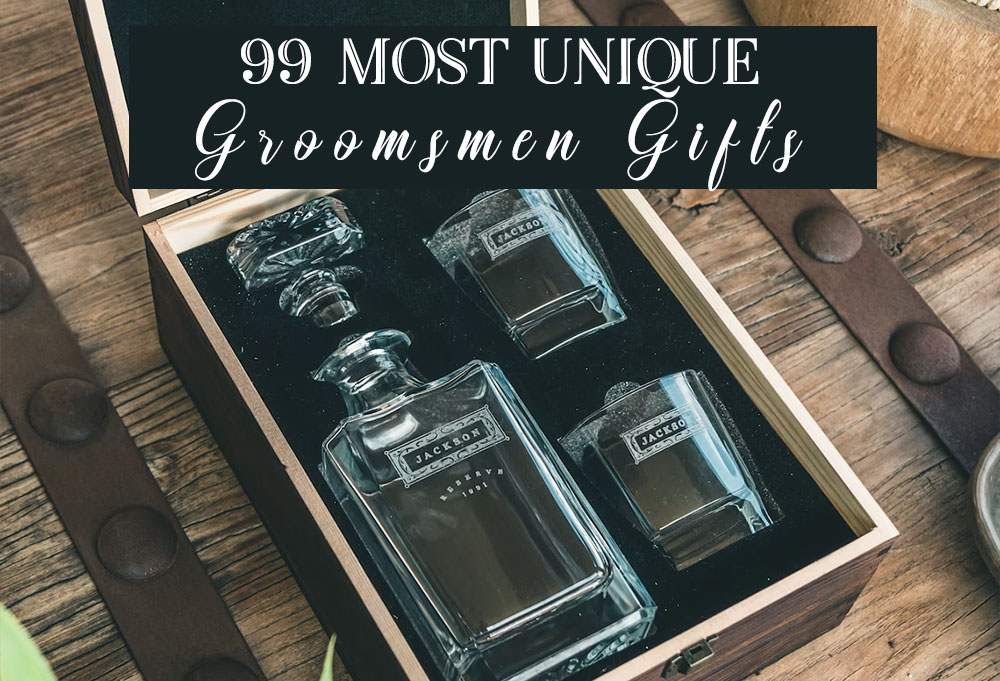 Unique Groomsmen Gifts
Unique ideas for groomsmen's present? Follow me! 🙂 We've got your back.
And if you've accumulated several presents, you may save yourself the trouble of wrapping them all by placing them in a nice gift box.
Chronograph watch
Could it be that he enjoys watches but has a taste for the more traditional design? Etsy offers some nice chronograph watches for a reasonable price.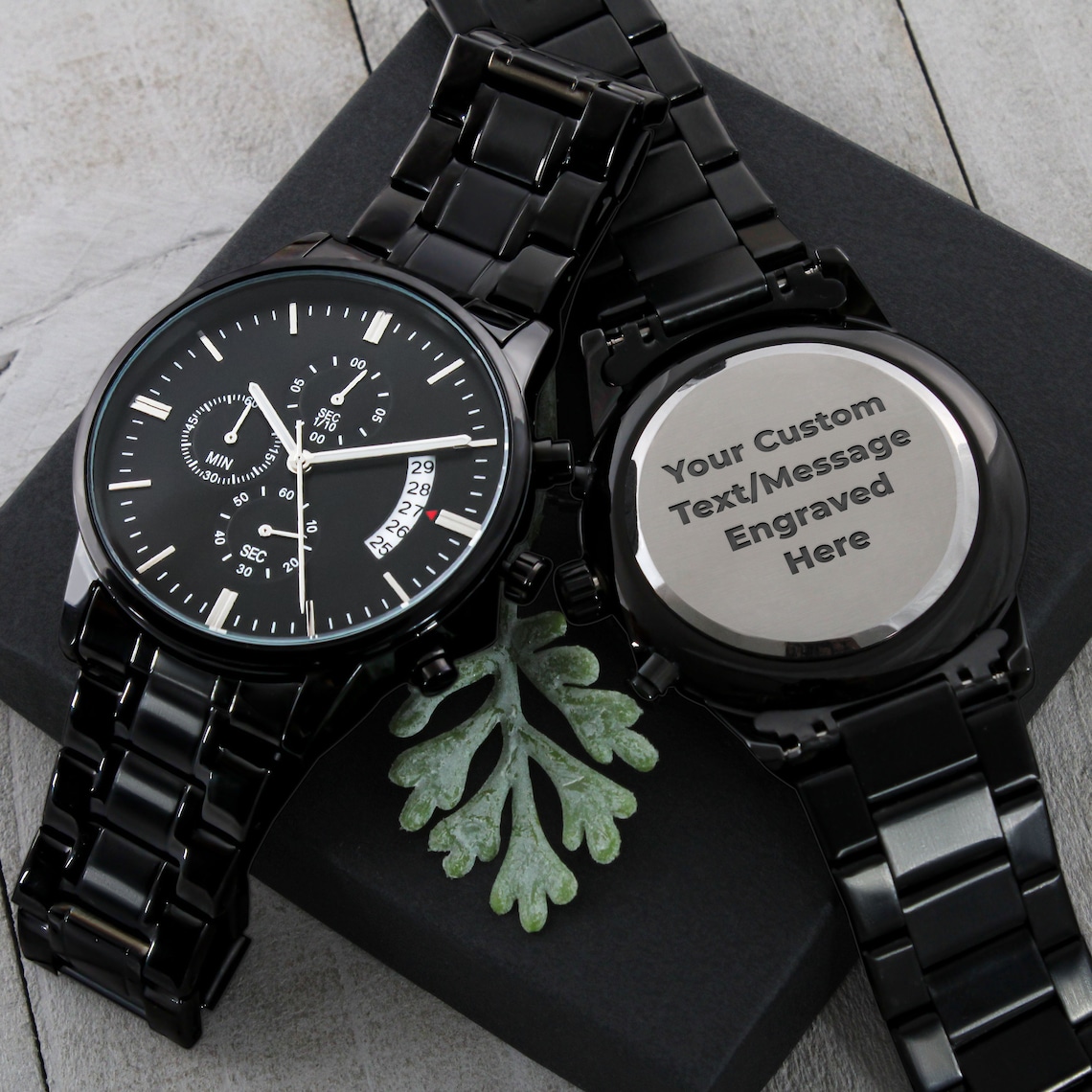 Groomsmen leather duffel bag
This genuine leather duffel bag is perfect for the guys.
His one and only carry-on luggage for future trips. Having it engraved is a great idea. Even though there must be hundreds of similar bags for sale online, this one has received nothing but praise as a present for the groomsmen.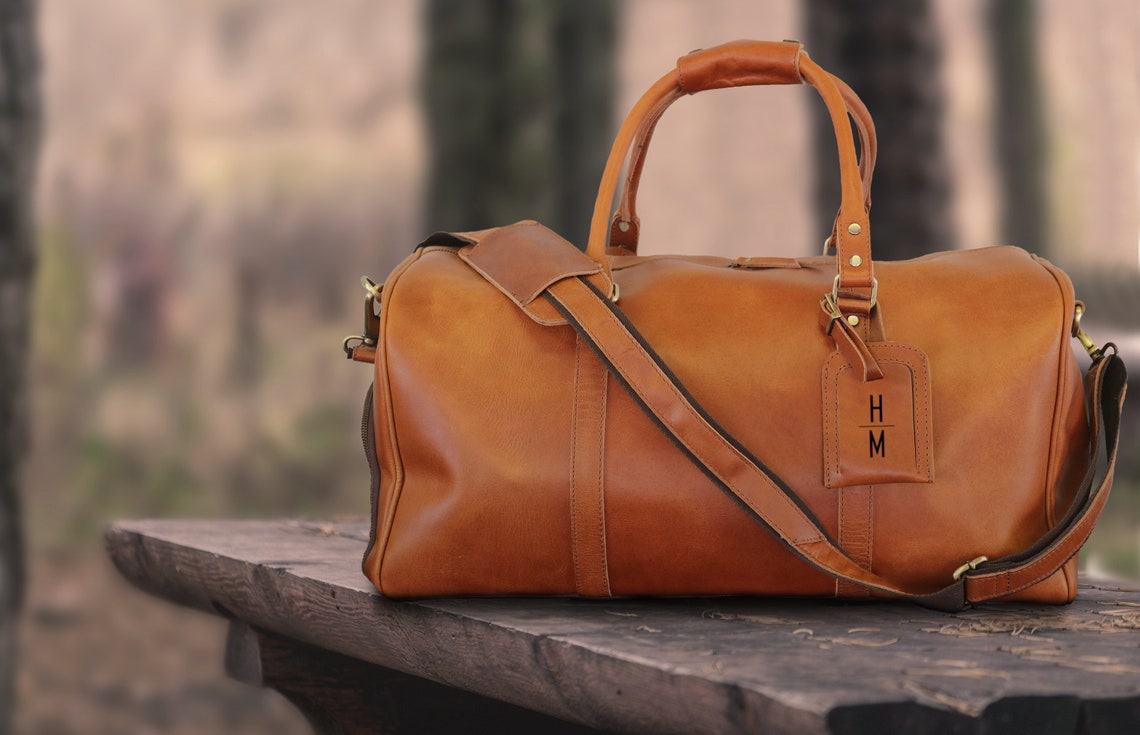 A flask with his caricatured face on it
The groomsmen deserve nothing but the best, so spare no expense on something truly special. Having a cartoon representation of his face is already quite impressive, but having it imprinted on a sleek stainless-steel flask is just next level. Absolutely amazing. Made by ToonedUpGifts.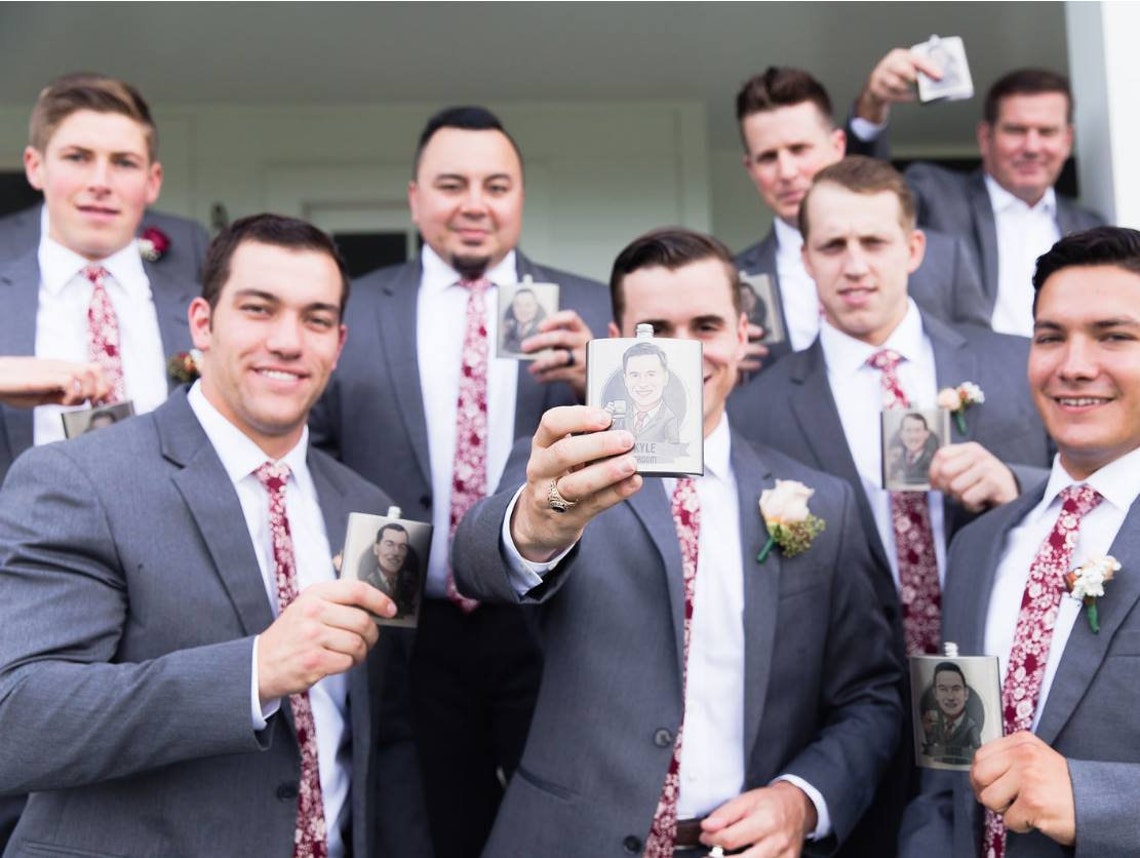 A snapshot of him turned into a bobblehead
Given that it was built specifically for him, does he already have one? No, I doubt it. From MyBobbleheadsShop.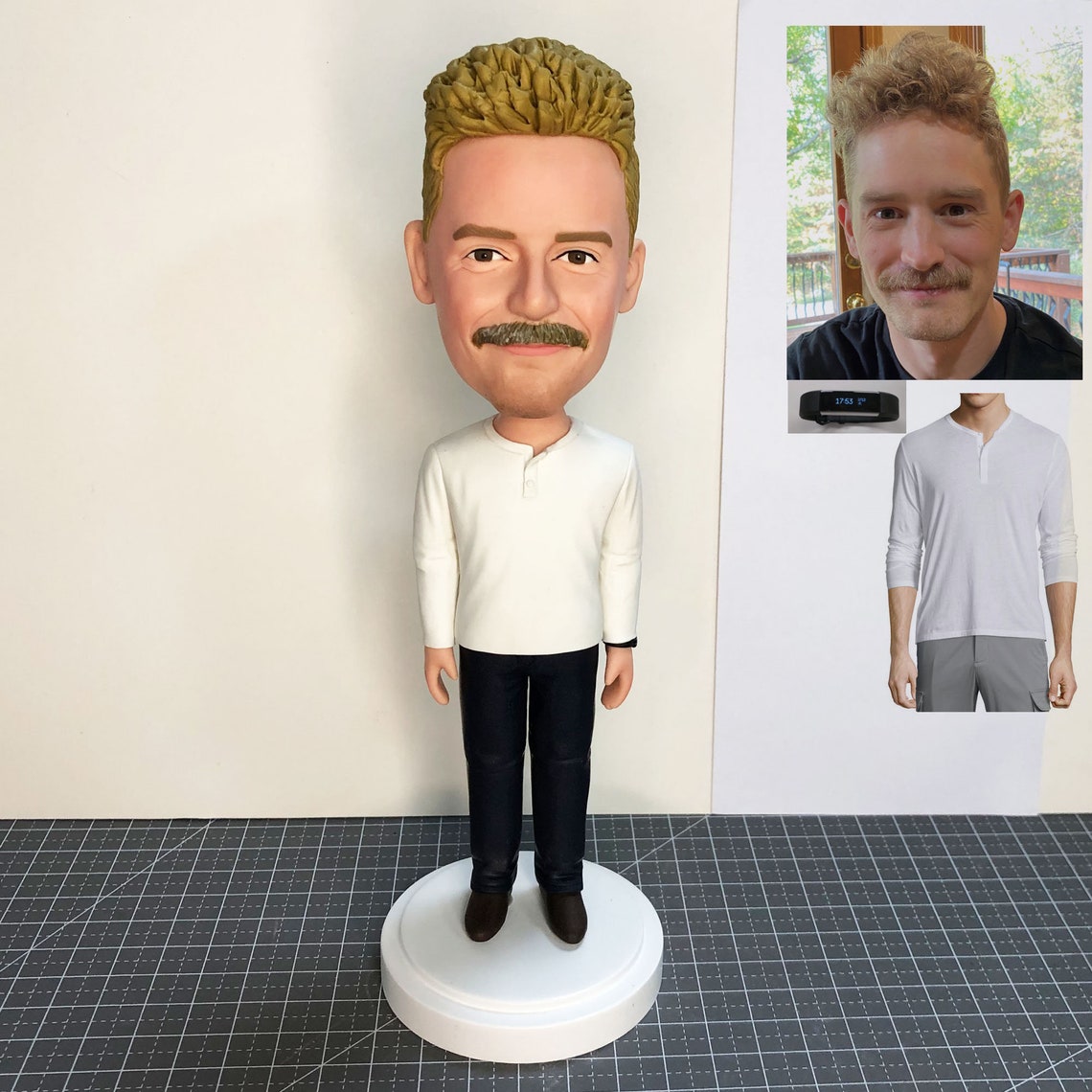 Vegan leather personalized can cooler and keychain
Embroidered with his initials and combined with a bottle opener keychain, this vegan leather can coolers are a thoughtful gift. Wow, that's an awesome deal. This was contributed by HisCorner.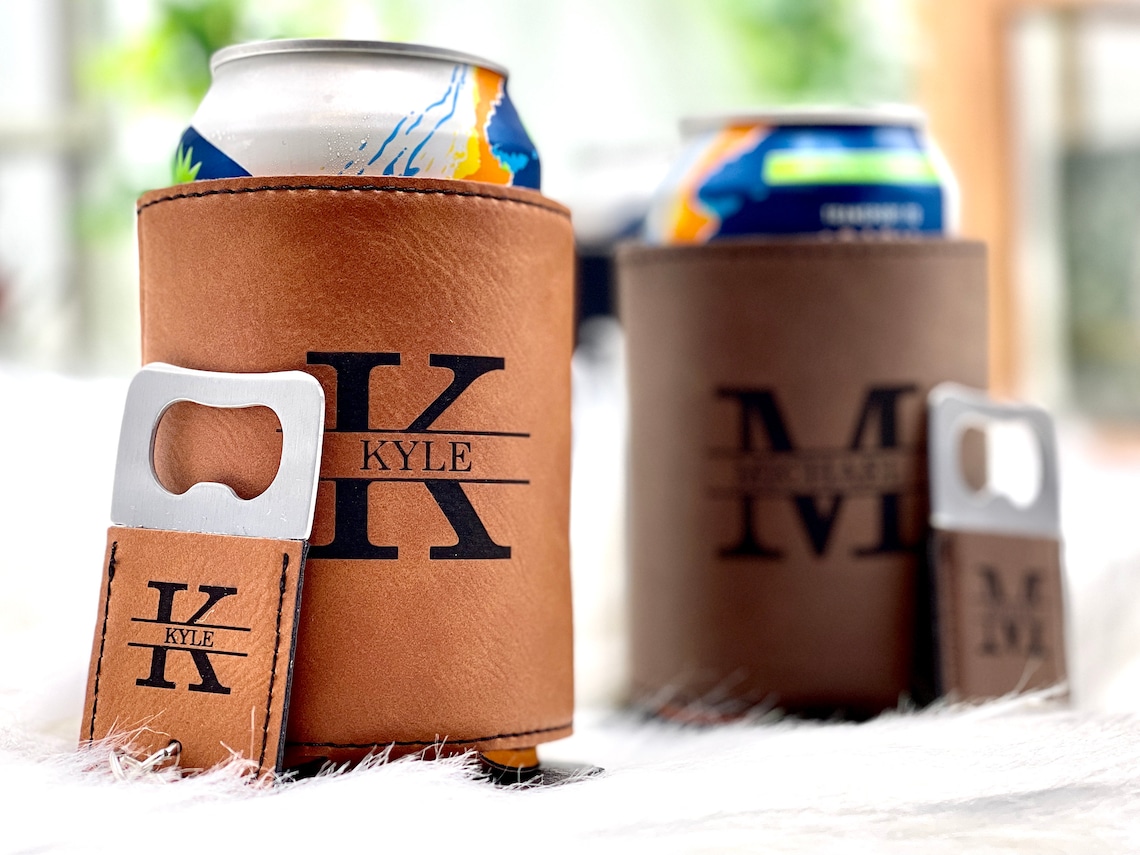 An engraved baseball bat coffee cup
Now listen up, all you baseball buffs! These mugs, crafted from recycled baseball bats, are the most original baseball-themed gift you can give to the men in your wedding party. With the help of Lumberlend. Excellent for baseball fans or those planning a wedding with a baseball theme.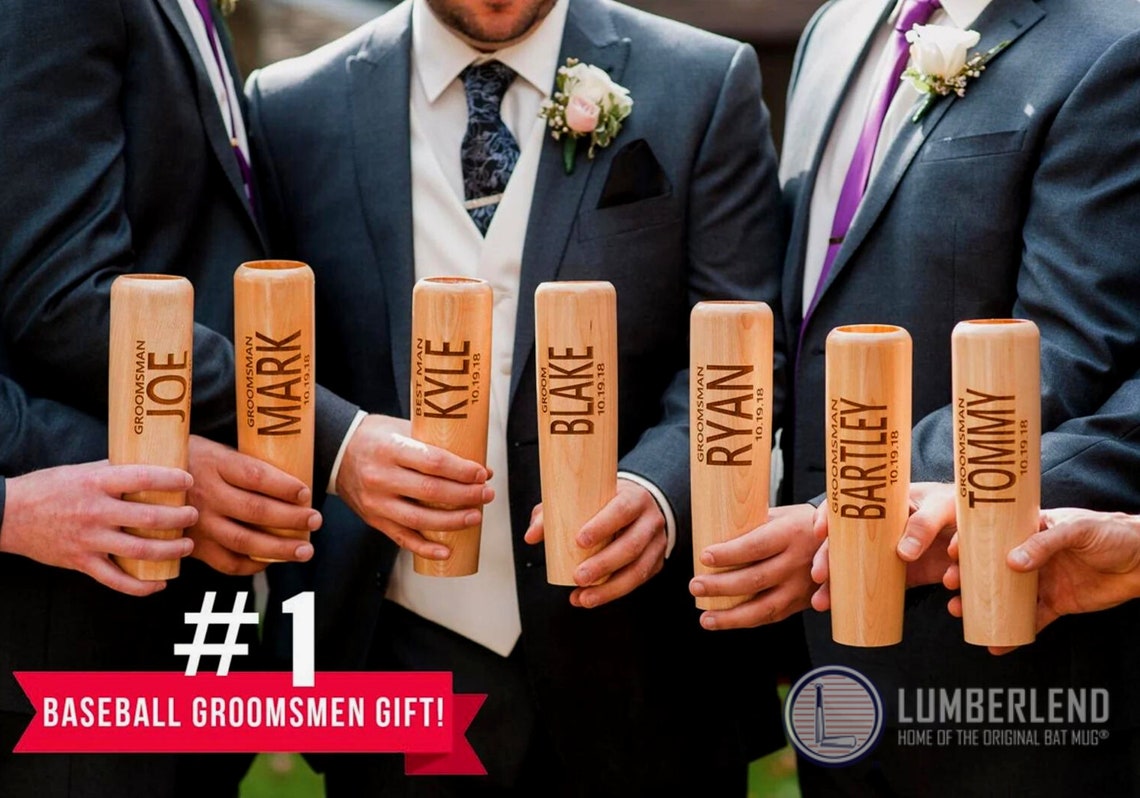 Customized hatchets for the outdoorsy groomsmen
Absolutely fav! Whether he enjoys camping, hunting, fishing, or any other outdoor activity, he will appreciate this thoughtful present.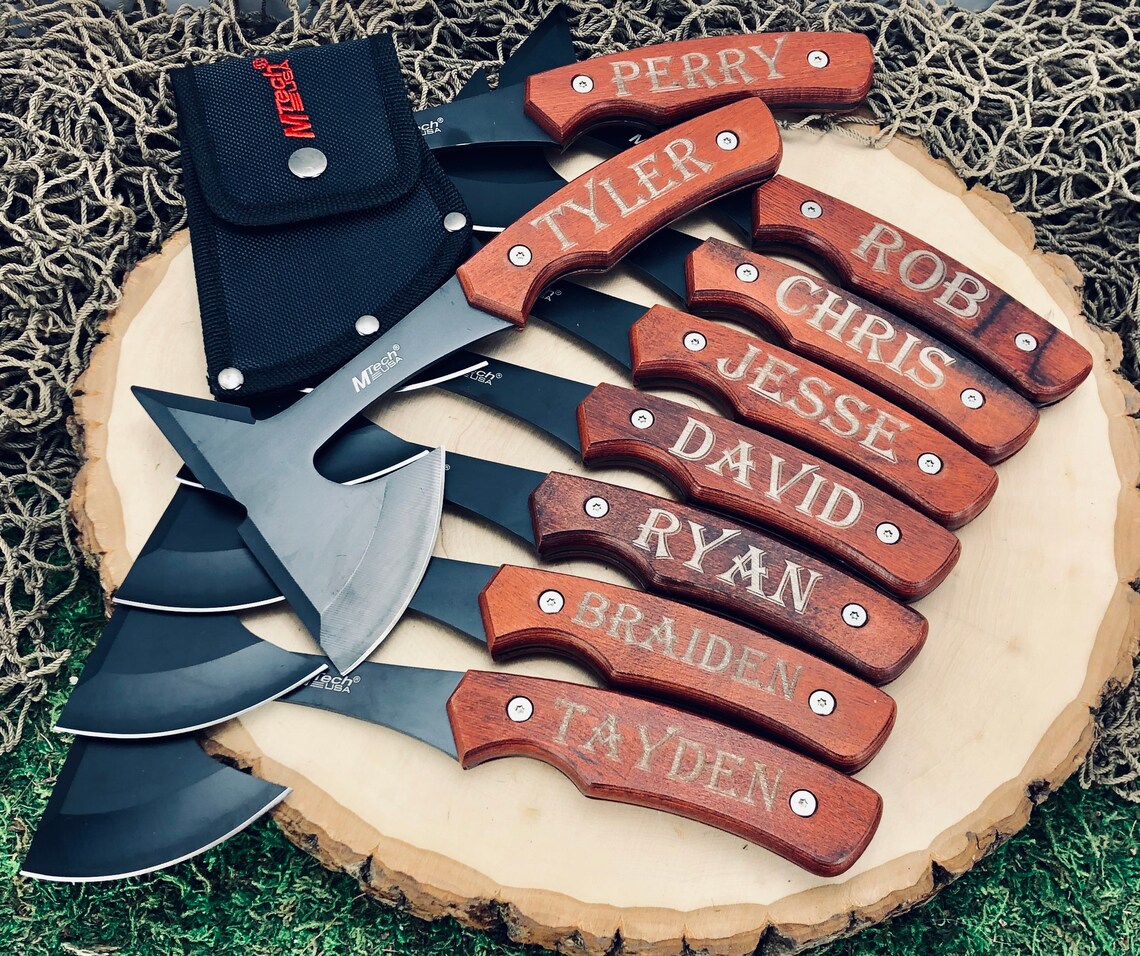 A grill and cooking set
Do you want to give your groomsmen something very special? For a wedding attendant, GRILLS are a top contender for the best gift they might receive. Portable and powerful, this griddler grill and panini press may be used anywhere.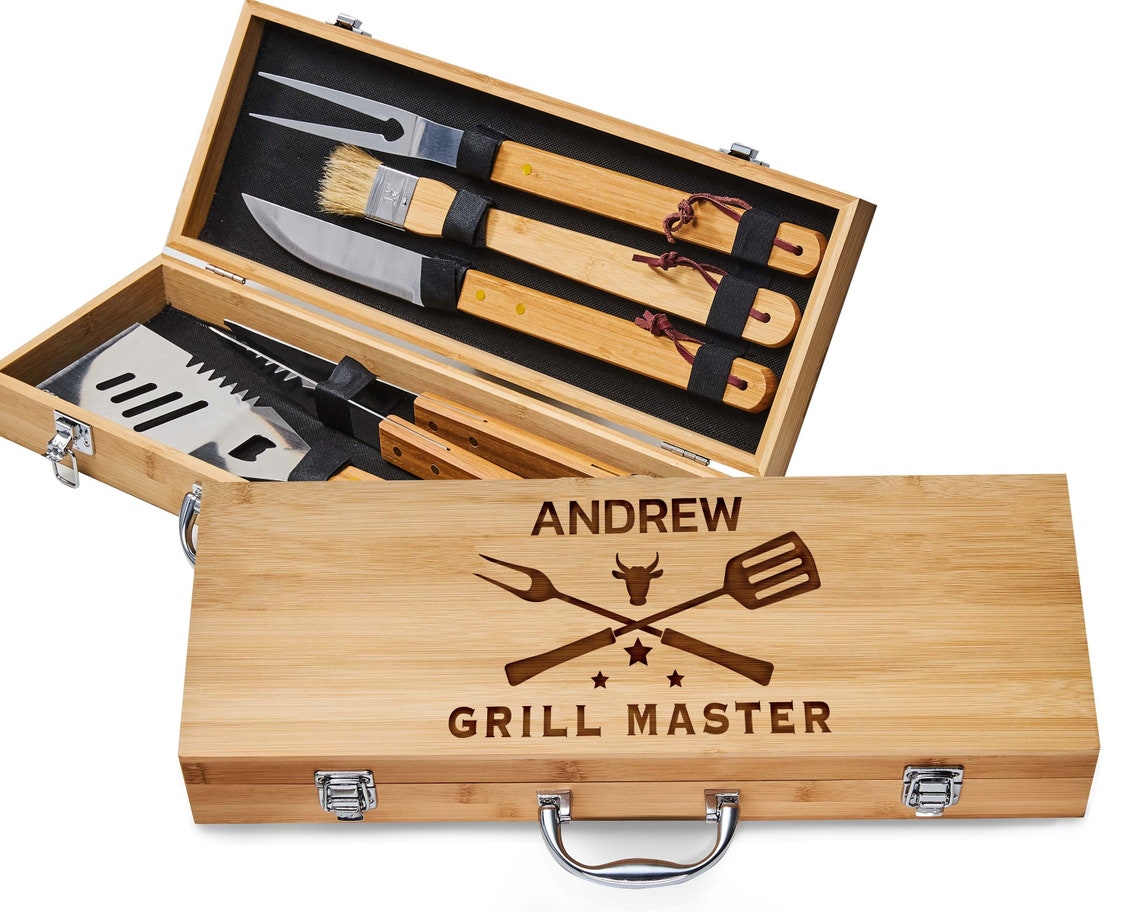 Personalized monogrammed toiletry bag
Dopp kits and shaving bags always make the cut when compiling lists of unusual groomsmen's presents. Beyond its evident attractiveness, however, we have noted that this one also has considerable storage space, including separate sections for accessories and zip-out pockets. In addition to being available in a rainbow of hues, it may be customized to suit your tastes. Original work by JJleatherhouse.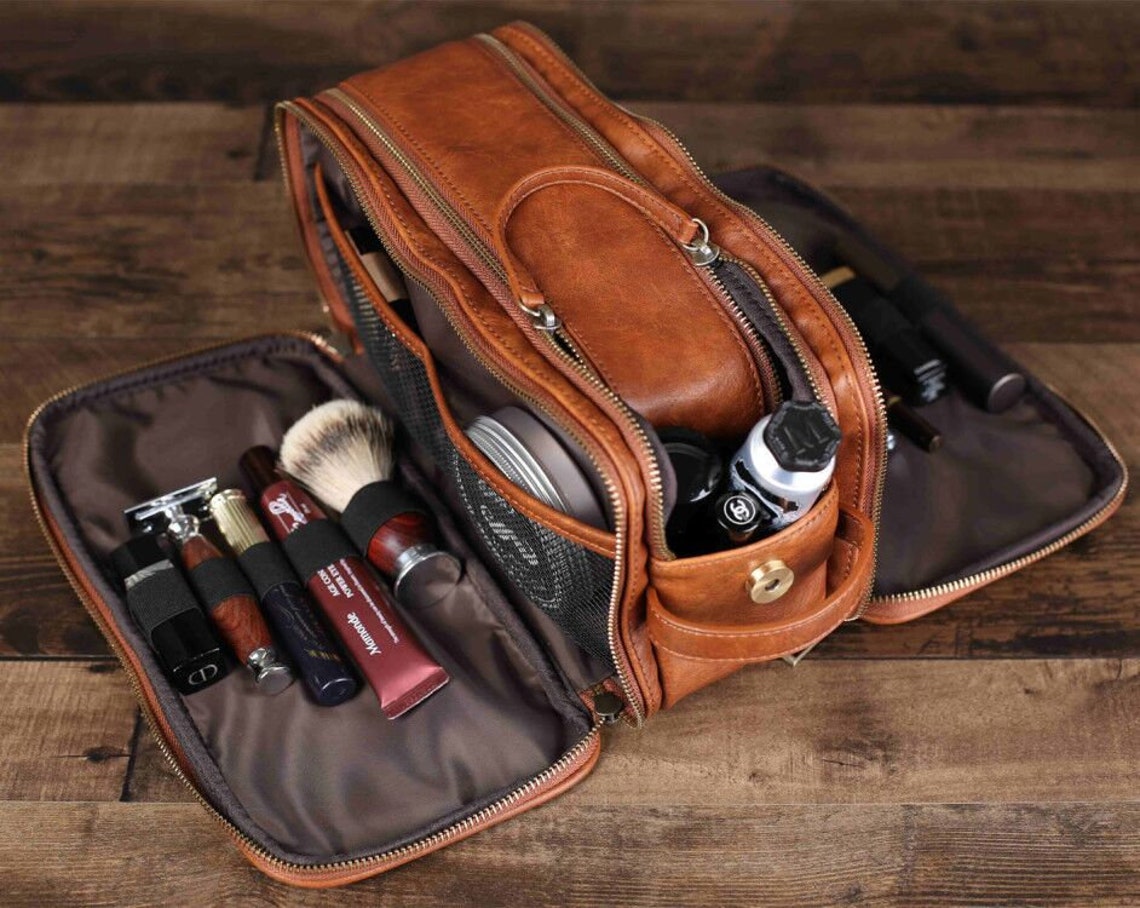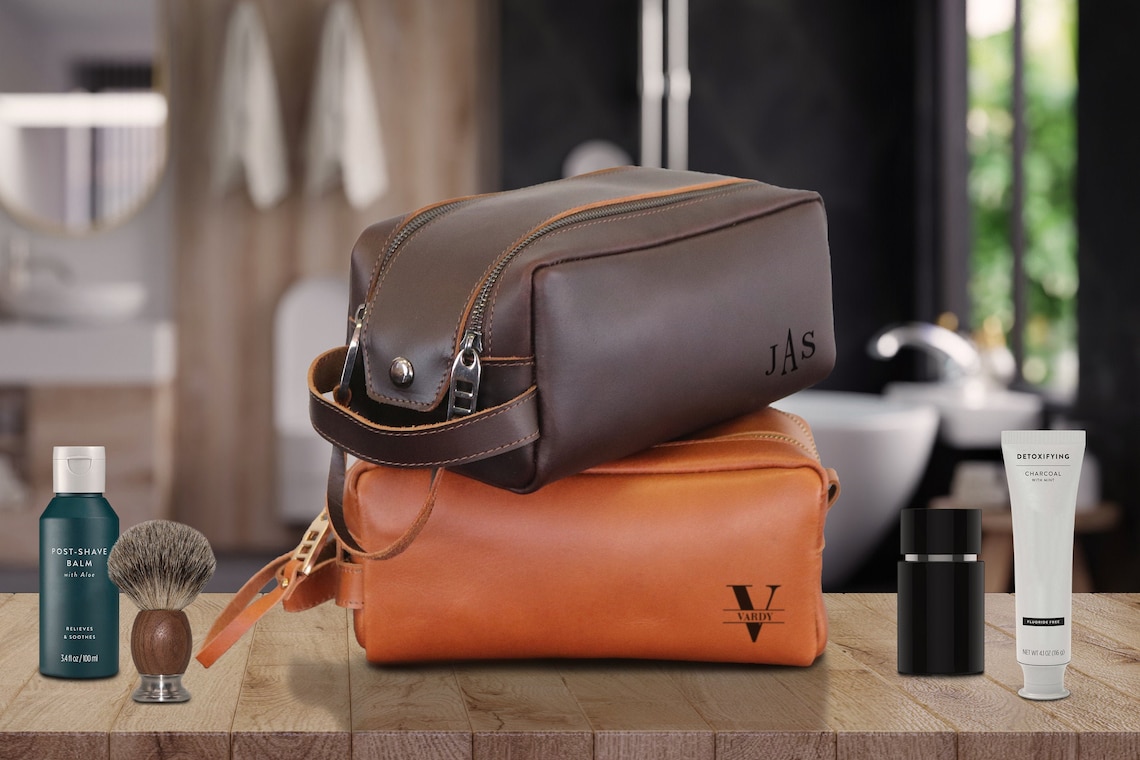 Customizable wooden groomsman gift box.
SuncoastLaser has beautiful custom gift boxes for the groomsmen available right now for little than $9, and you can put whatever you desire inside them. The presentation is great in its current form; feel free to steal ideas from the examples provided. Fill it with paper shred, throw in a cigar or two, then top it off with a little bottle of his preferred tipple.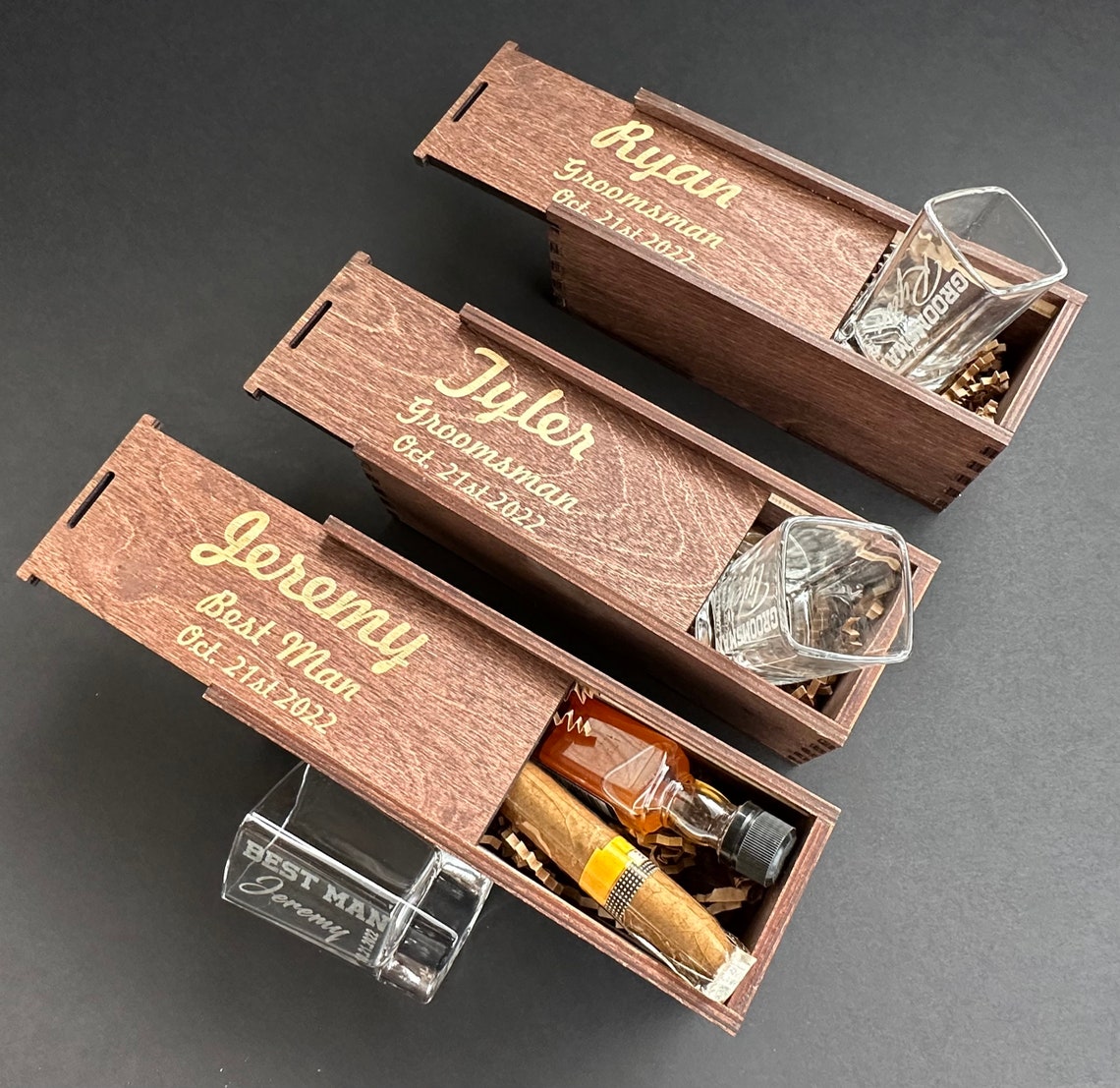 Socks for the groomsmen with a printed design
Socks. Exactly; that's all there is to the present. Including his title, this is a home run. Since these socks serve a practical purpose, it's no surprise that they've become so popular: they're soft, inexpensive, and make for a great photo opportunity, and men of all sartorial persuasions need socks.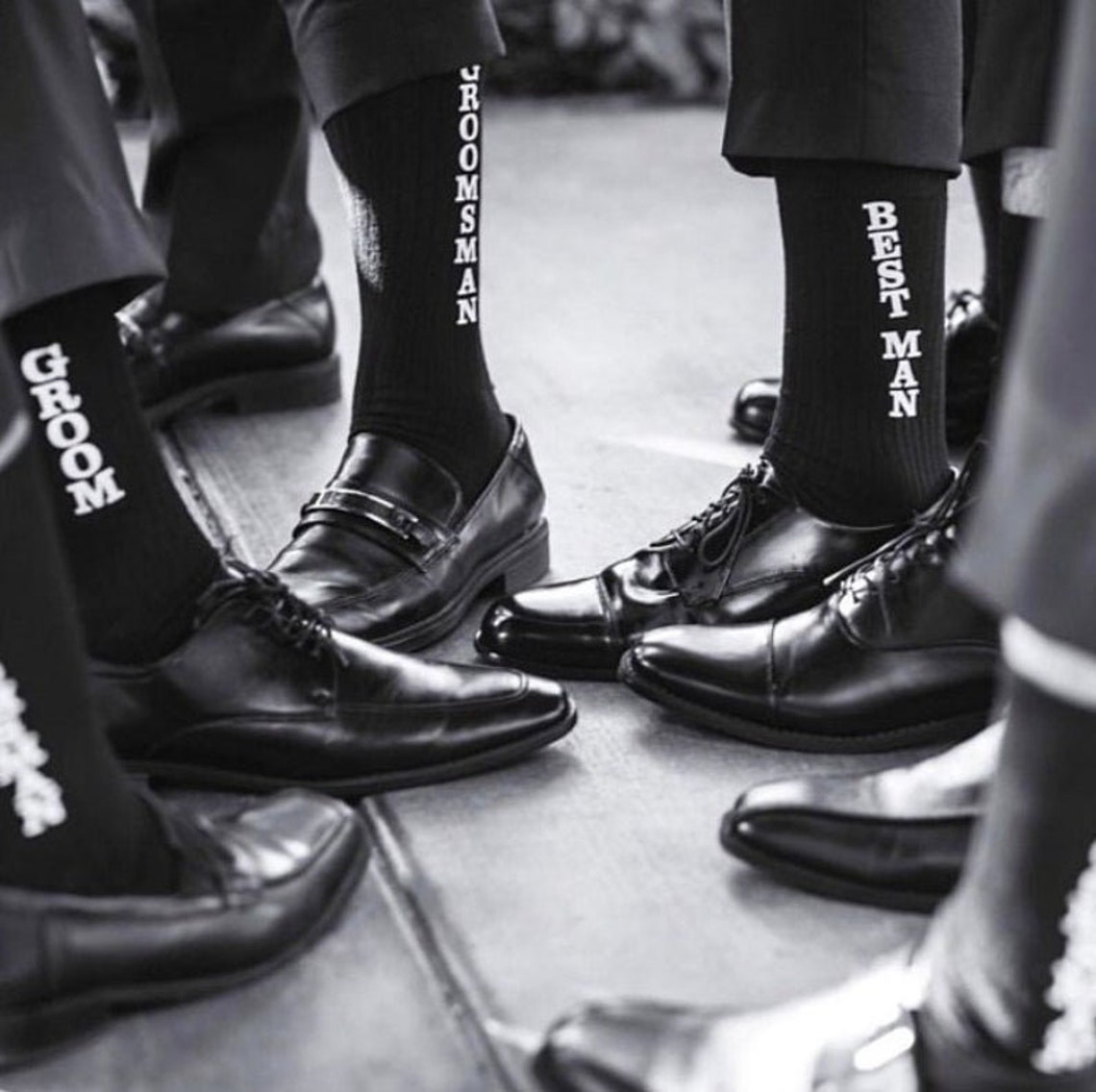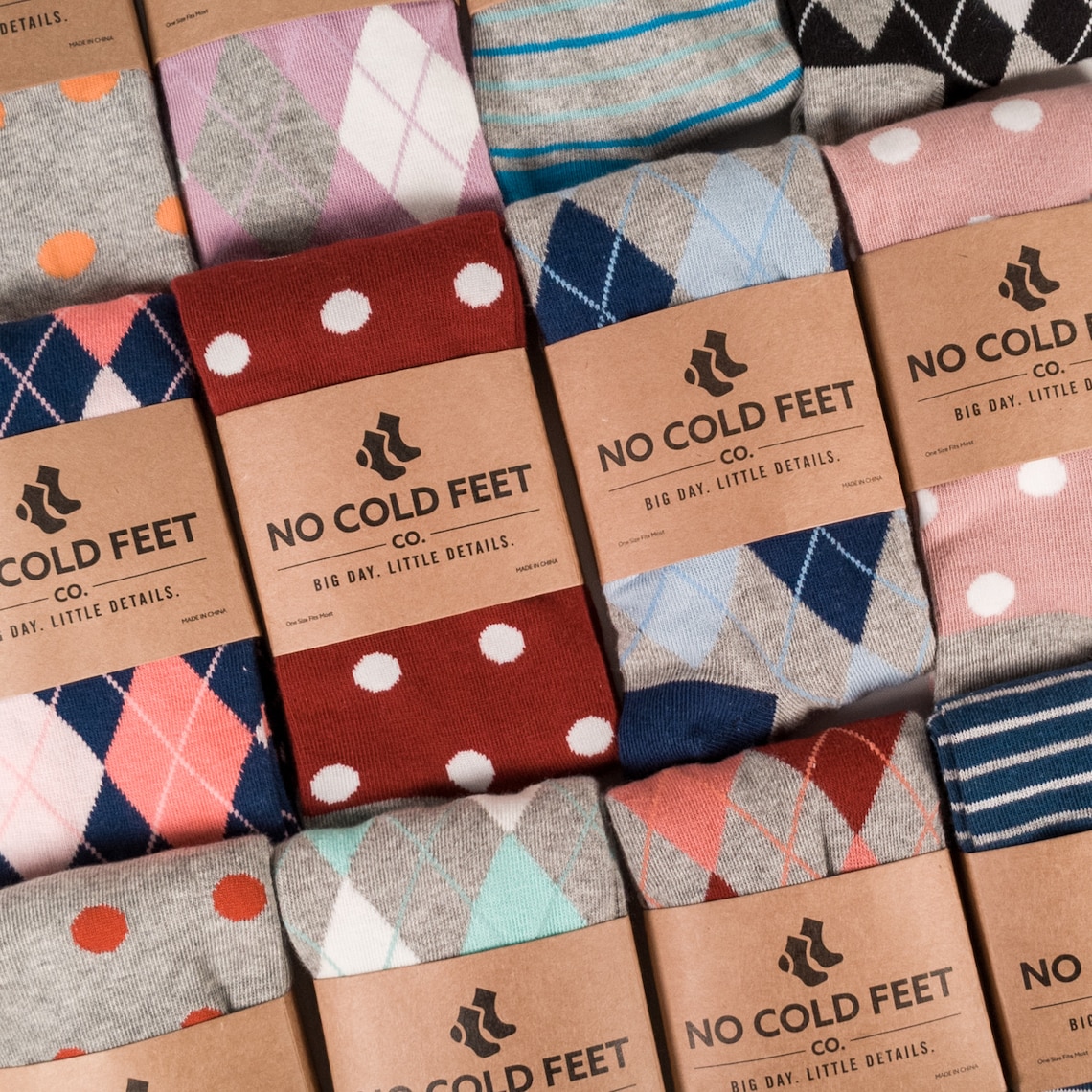 YETI® colster with ones initials on it
A very own custom YETI® Colster. Created! via EngraveIt.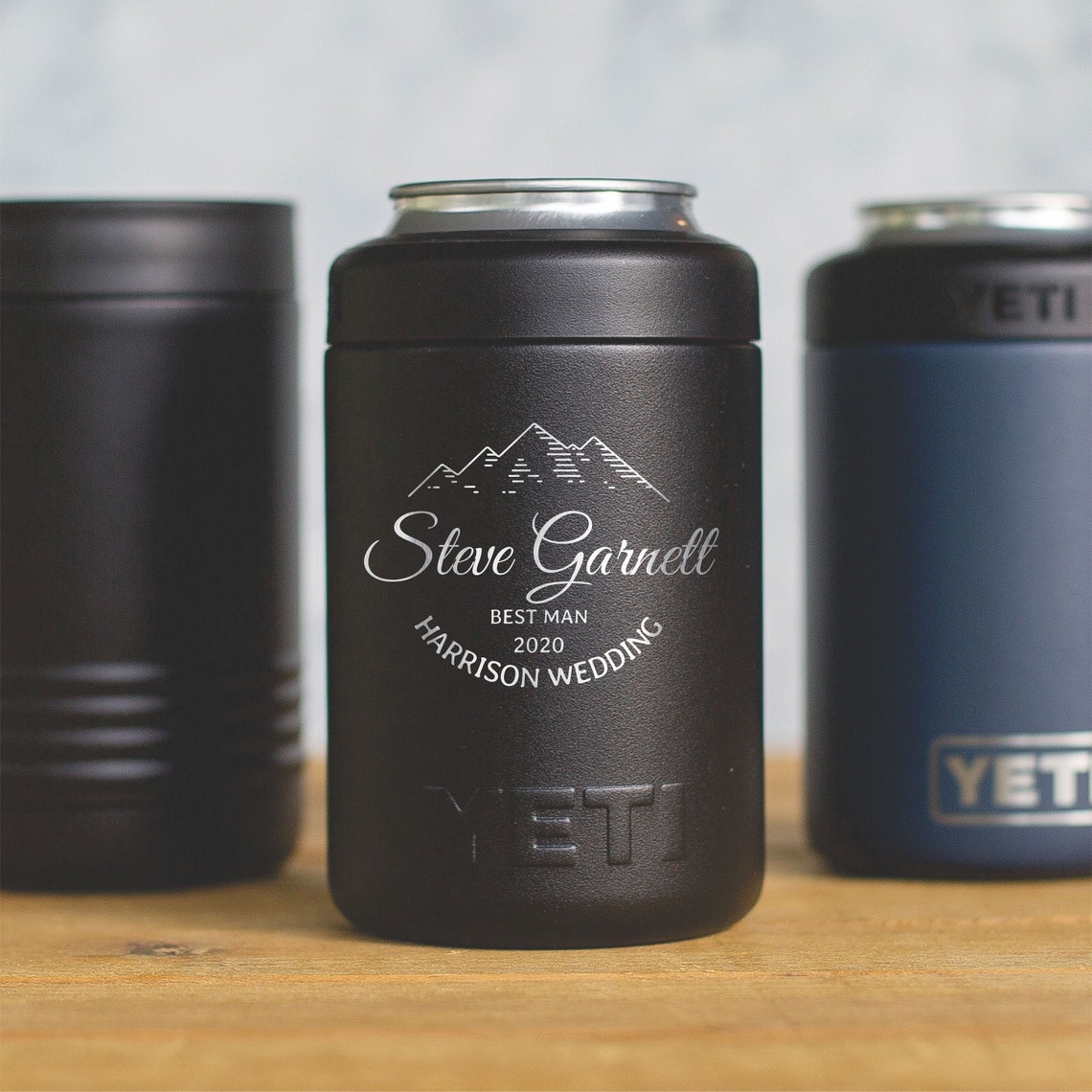 An etched bottle opener that also functions as a corkscrew
Considering how useful they are, the price is ridiculously low. As a bottle opener and corkscrew in one convenient tool, they also make for excellent groomsmen presents. They have a macho look and feel and can be customized. At a price point of $5.90 and up.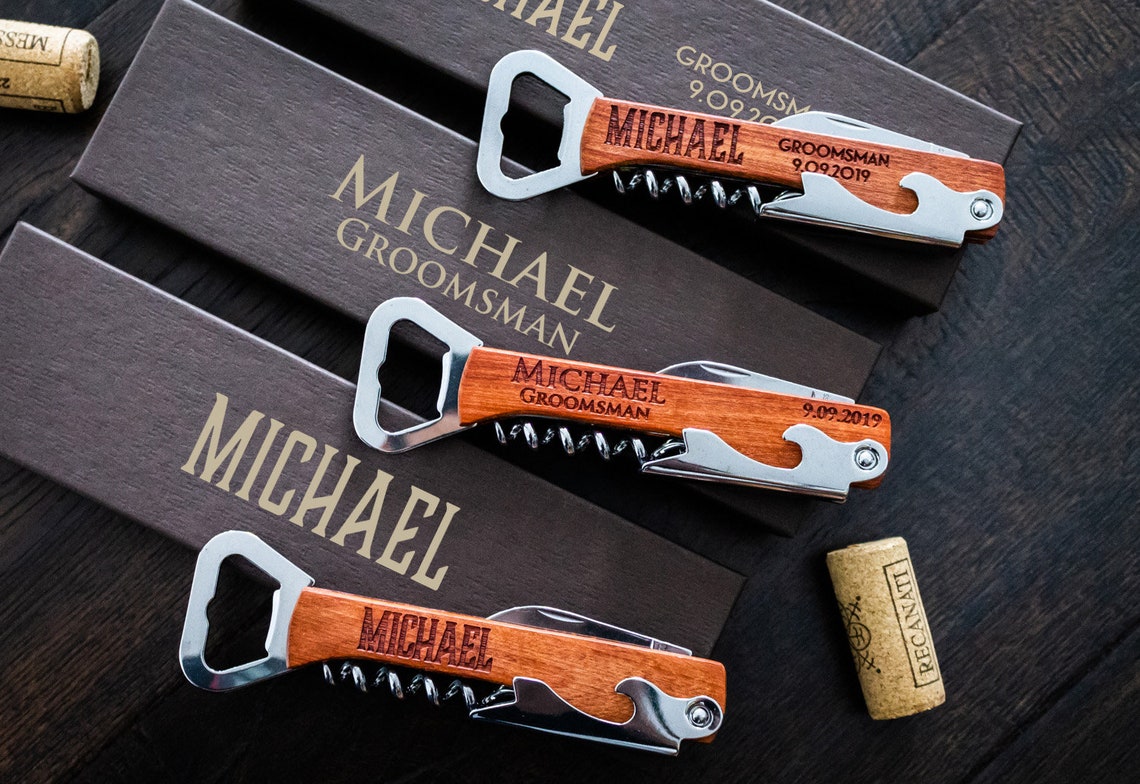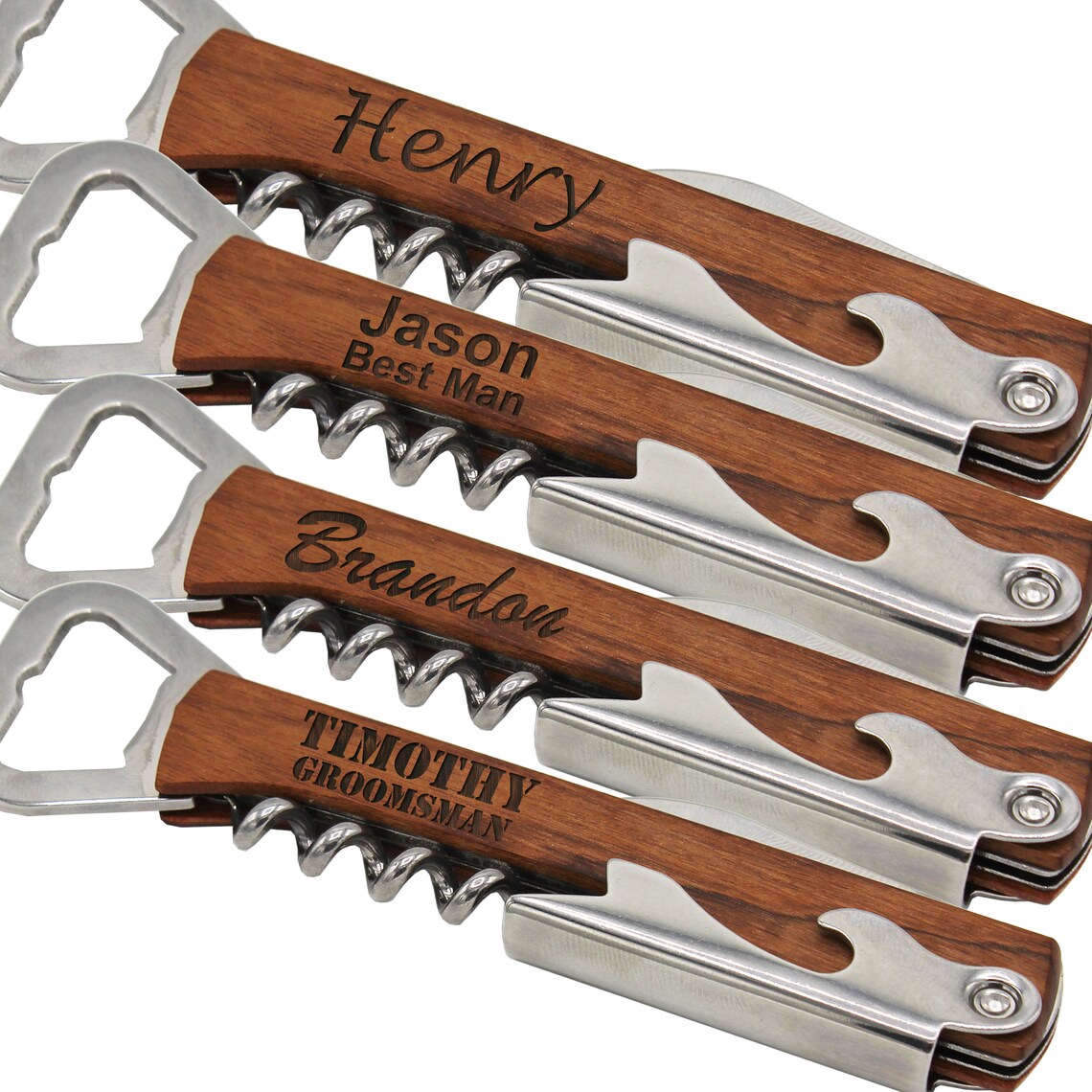 Forked bottle opener keychain
The bottle opener keychain features a distinctive forked shaped. It's useful as a hiking tool and for pressurizing your beer can.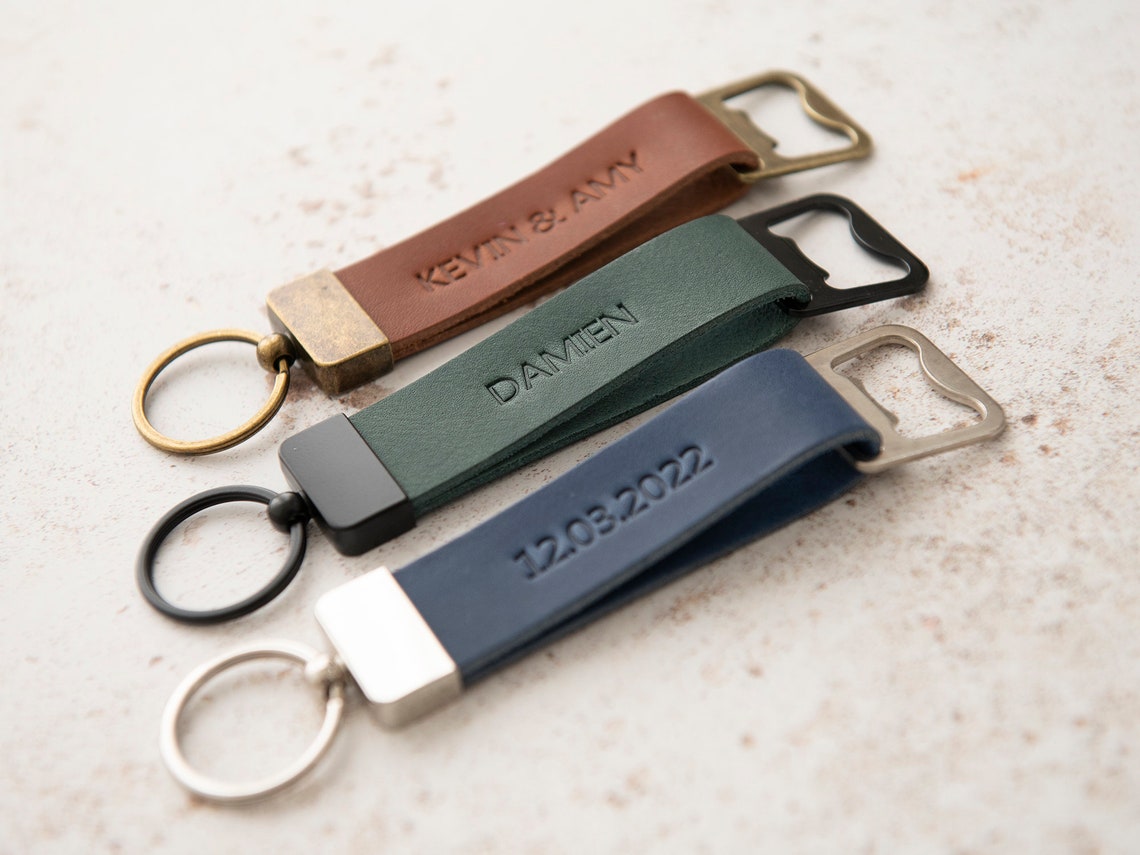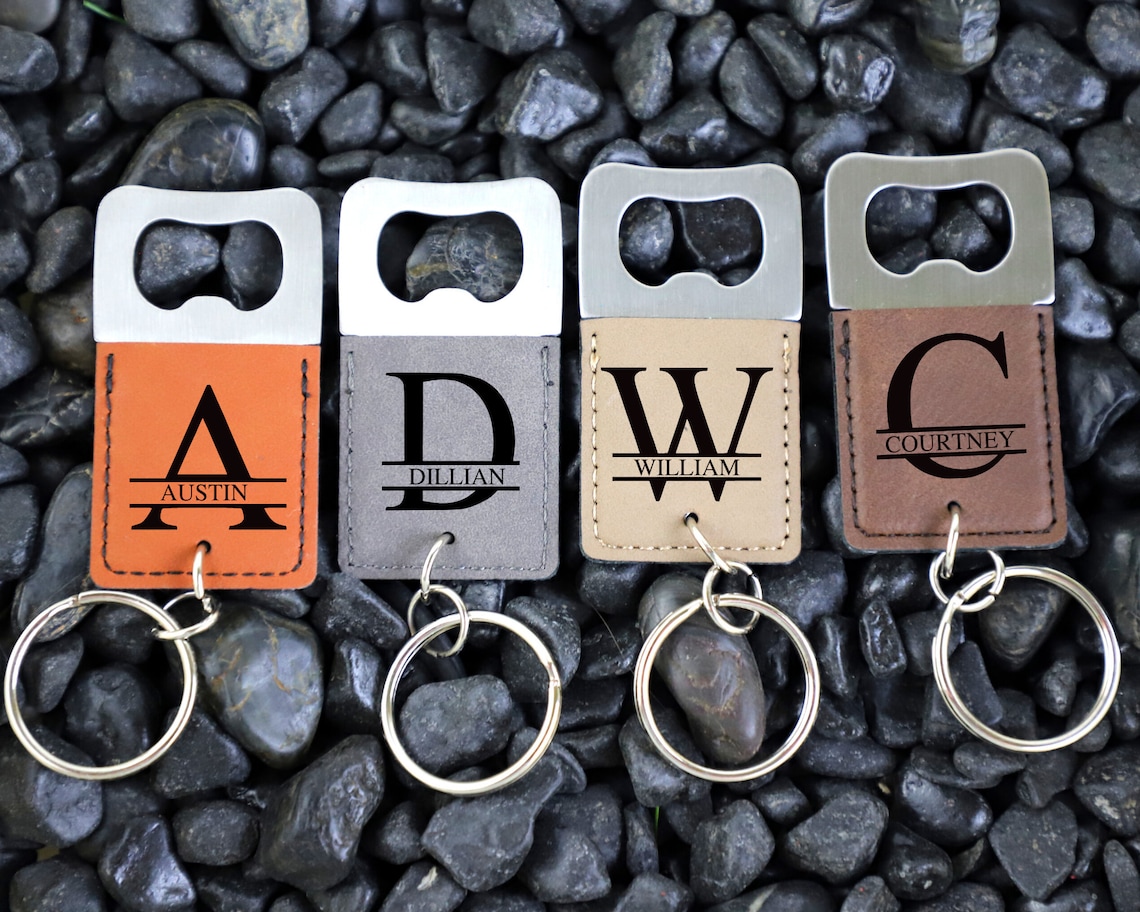 Whiskey snifters
They're a hit with the groomsmen and sure to be used frequently.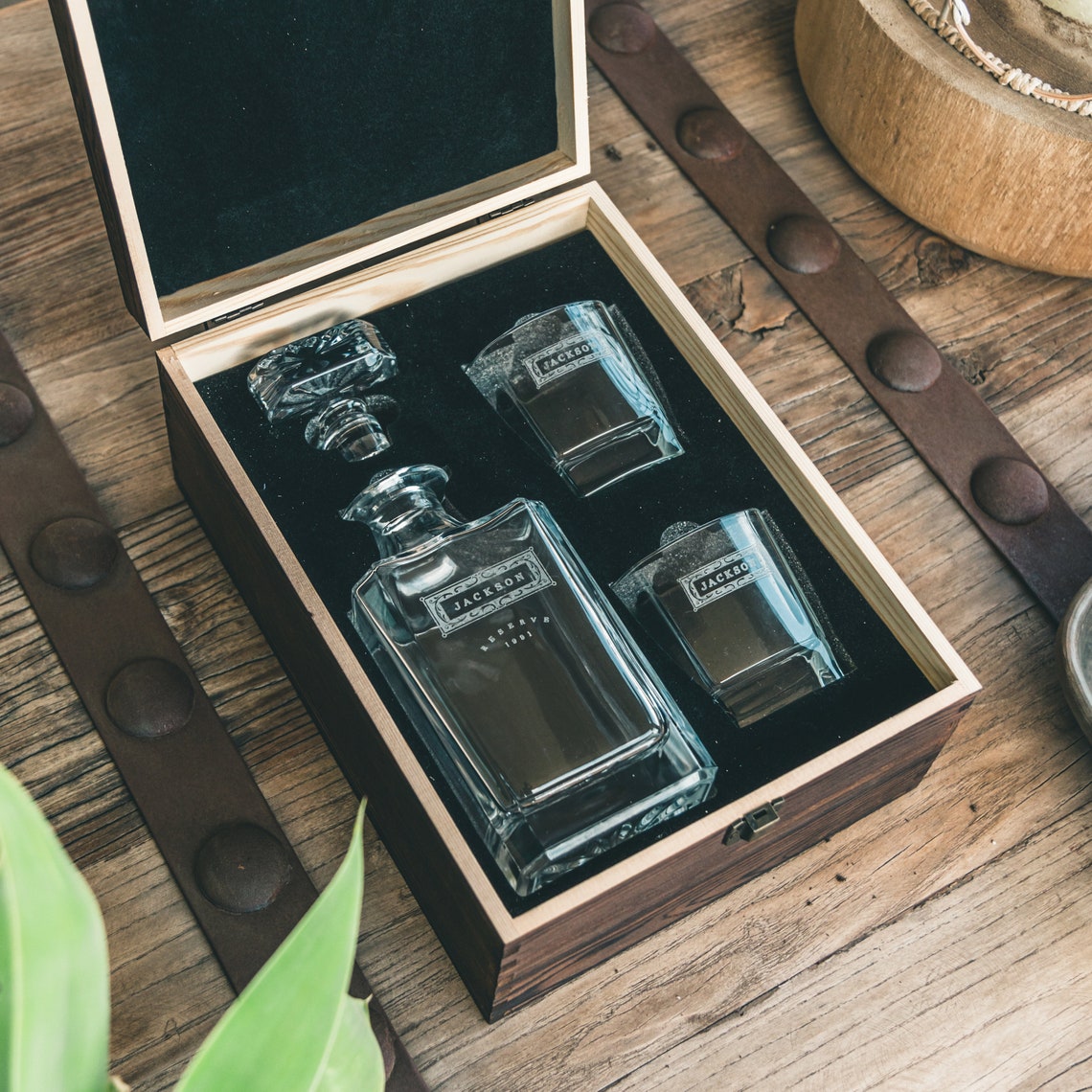 Latitude/longitude bracelets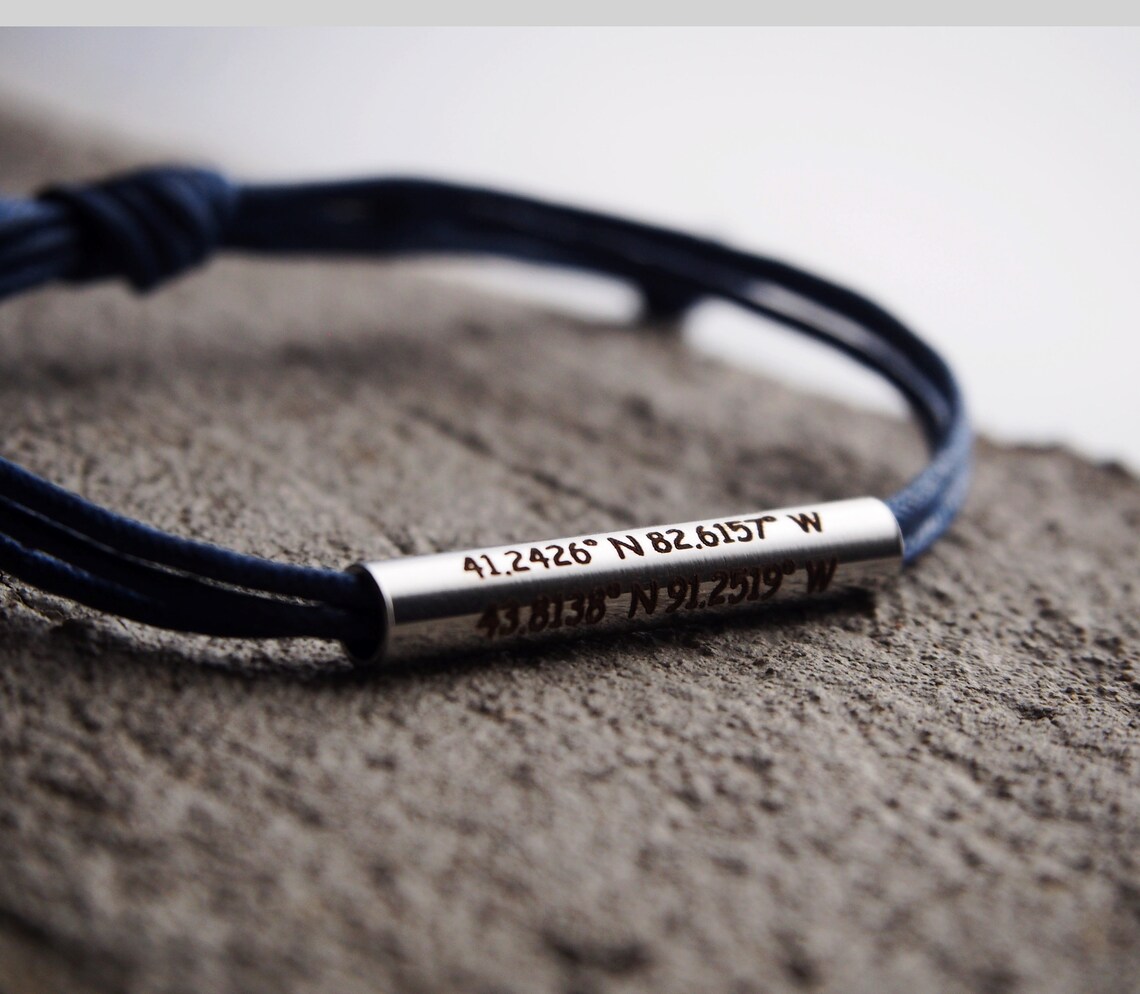 Boxed cufflinks, tie clip, and money clip set for groomsmen
Find the perfect groomsmen presents for your wedding party at WendyGiftsFinds. Cuff links, a tie clip, and a money clip are all part of the set.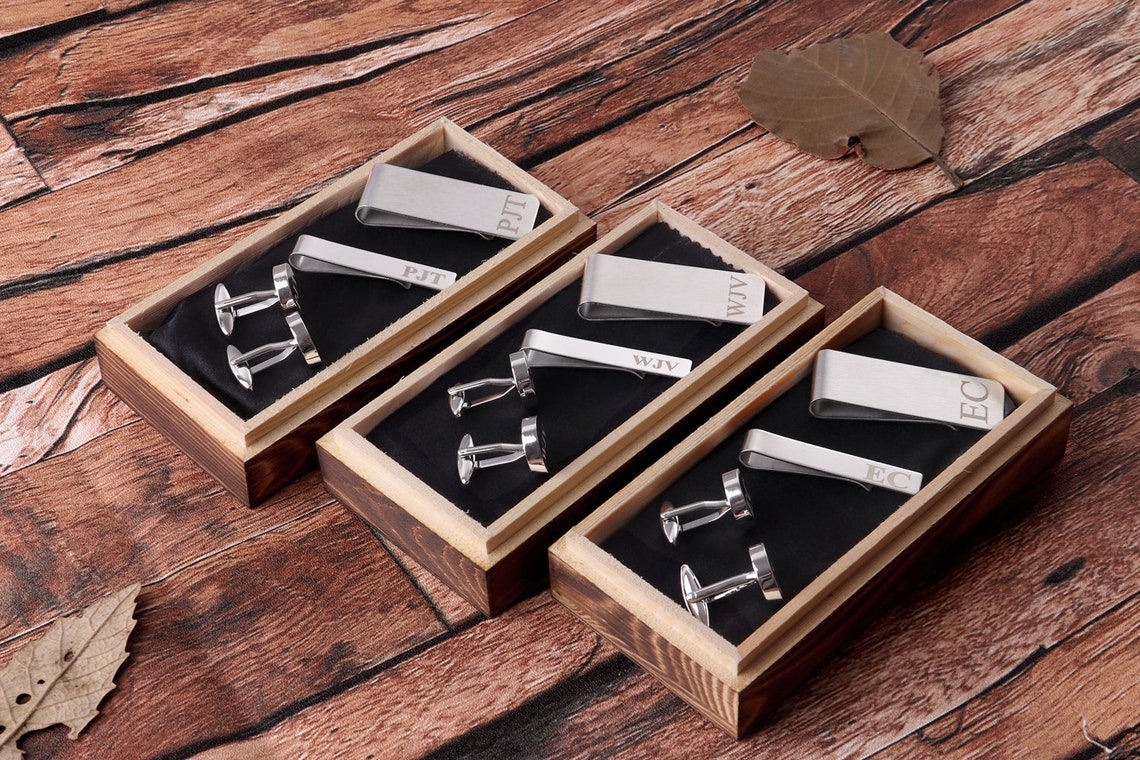 Wood watches for men
Wooden and built to last, these are sturdy. Because he presumably doesn't already have a wood watch, but would still be thrilled to receive a AVANTwatches one as a gift, these are one of the most original options for groomsmen presents. The best ones can be found at their store.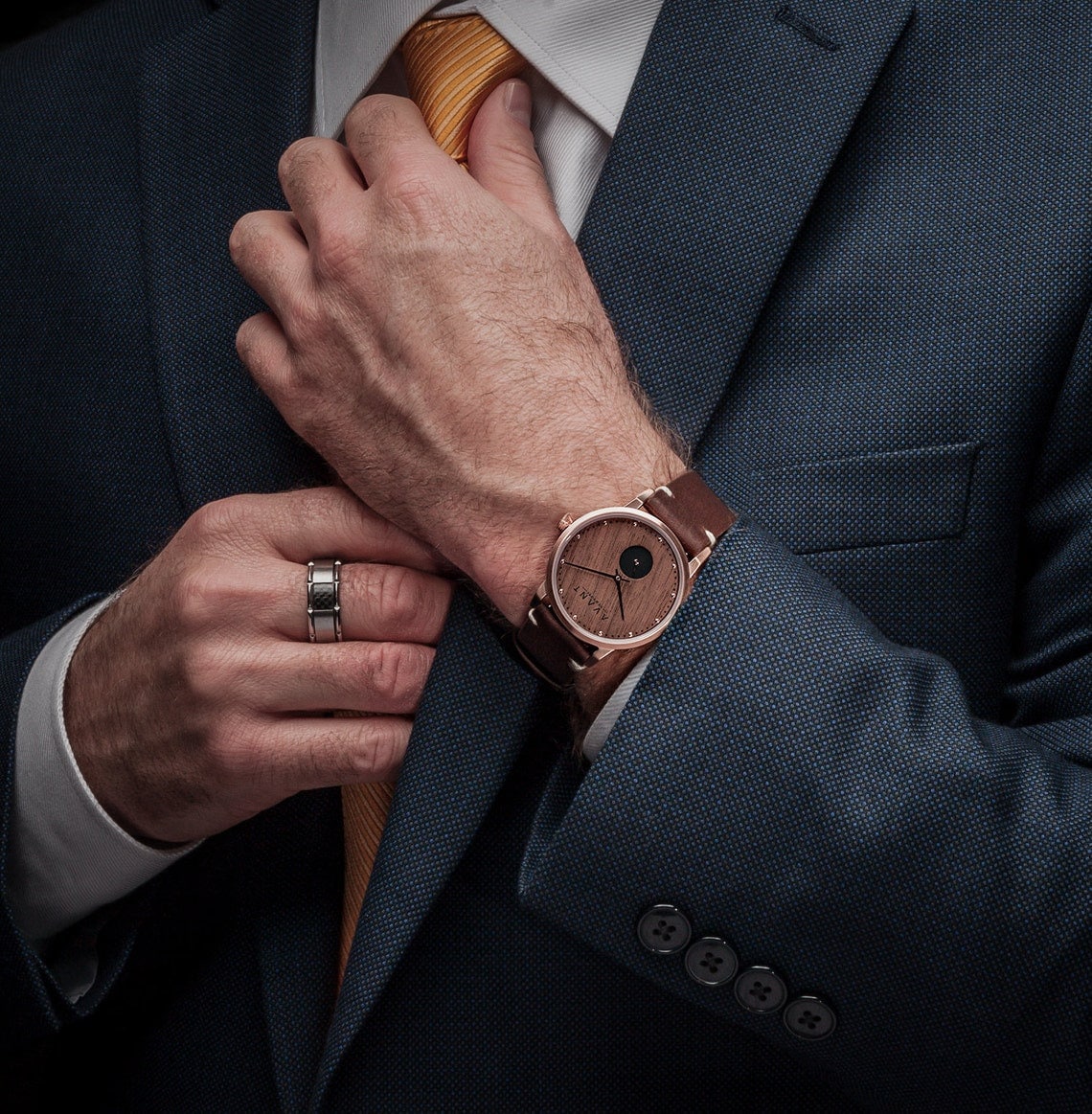 Golfer? Rather than a boring pen, give them one of these stylish golf ball markers
A divot repair tool and a place to mark your ball in a round of golf.
Personalized beer cooler bags
It's versatile enough to accompany him on his travels to the beach, a tailgate, a park, a vacation, a patio, etc.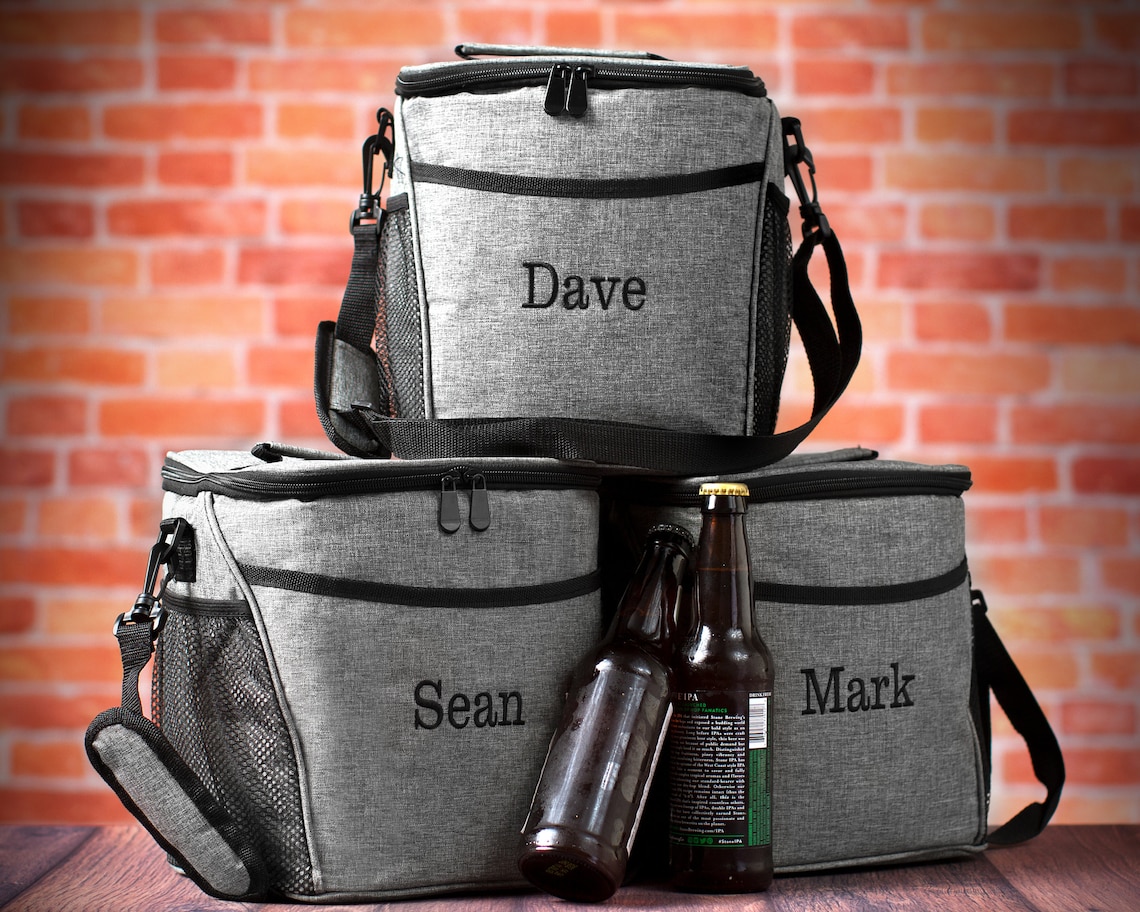 Custom ammo boxes
Personalized and built to last a lifetime. Find them with surprises like these inside!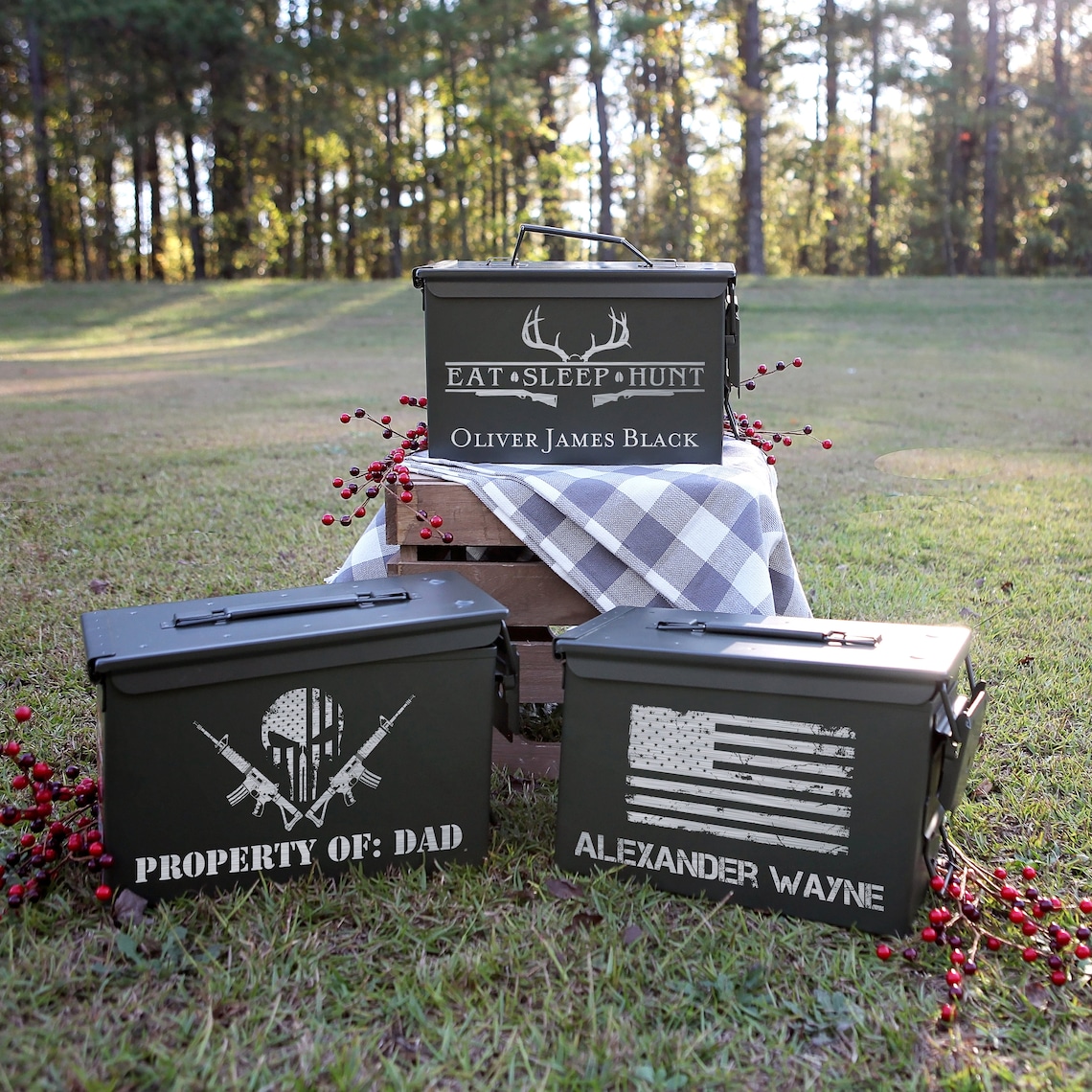 Customized, fashionable watch boxes
Groomsmen who appreciate a fine timepiece will appreciate receiving one of them as a present.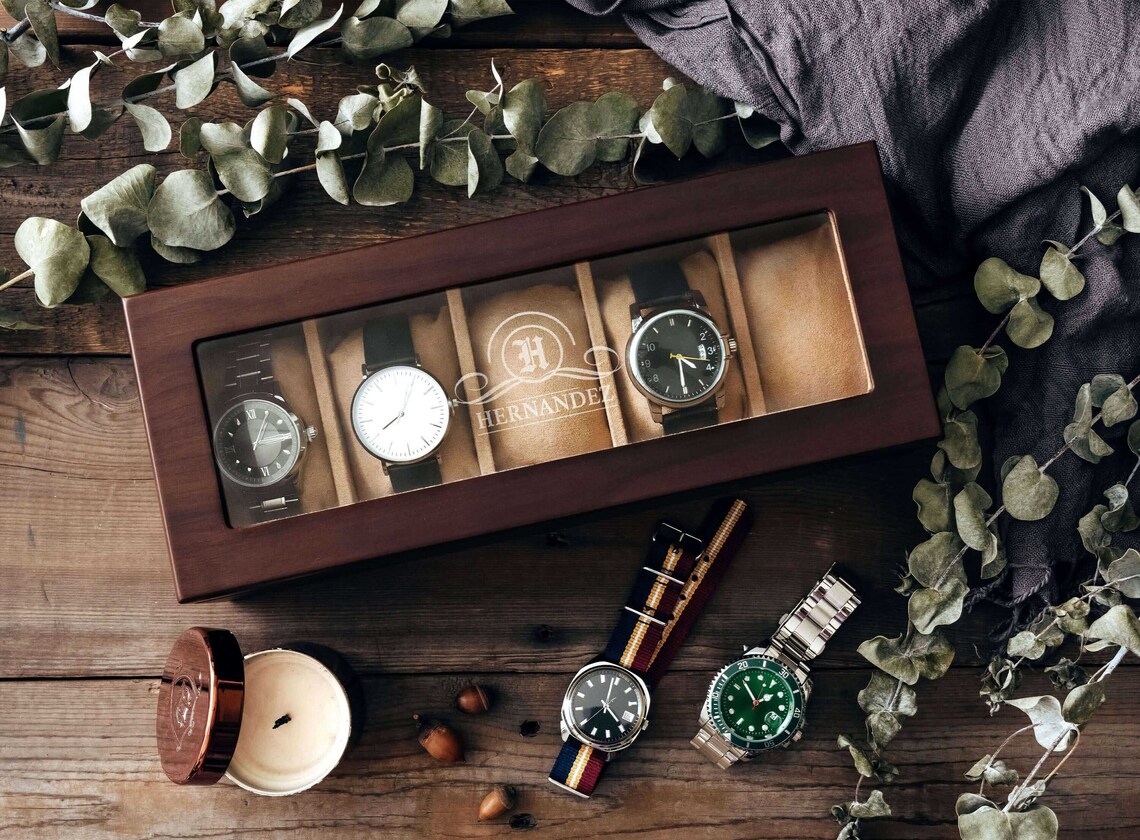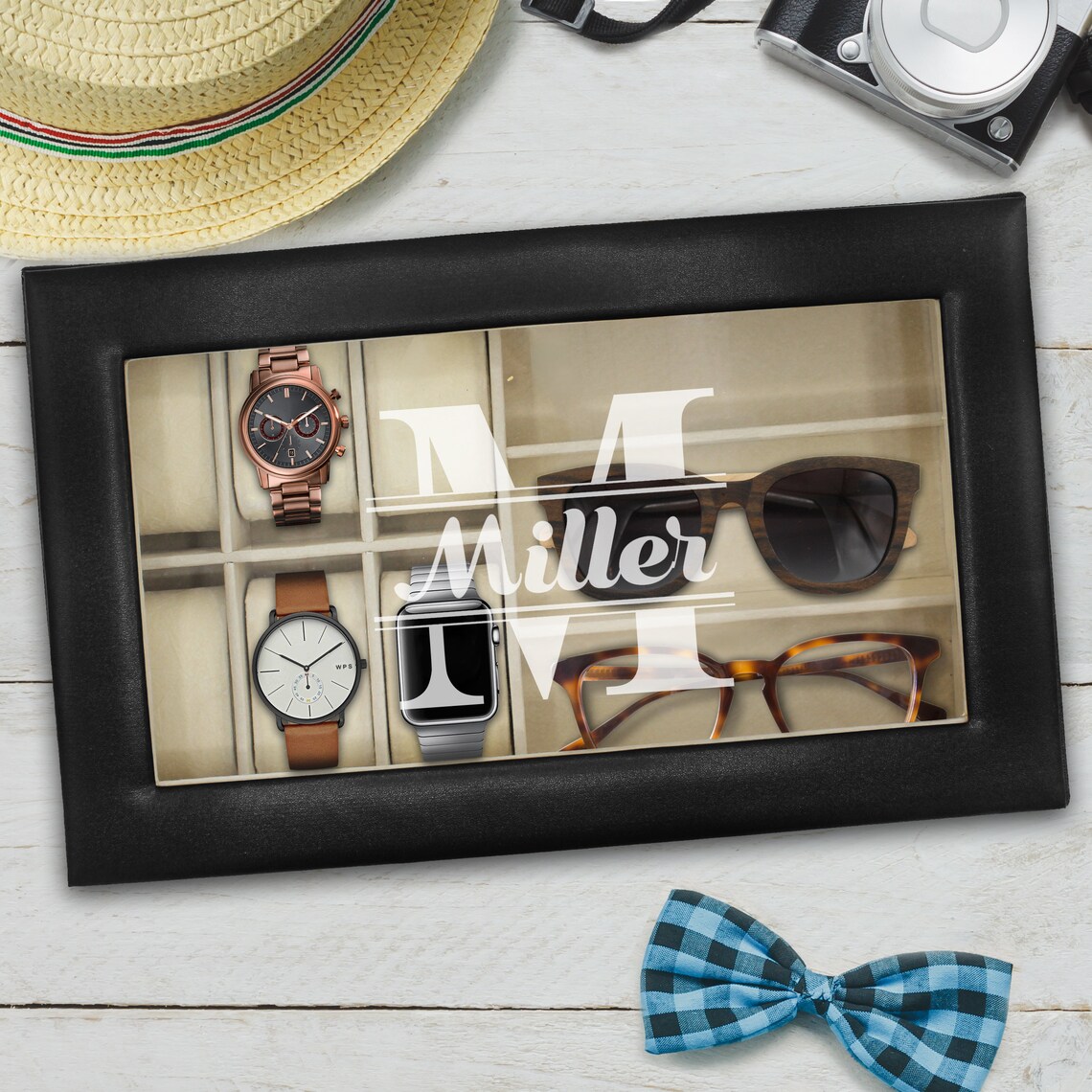 Personalized bamboo travel mugs
For the guys who share the bride's love of coffee, they are a must for the morning commute.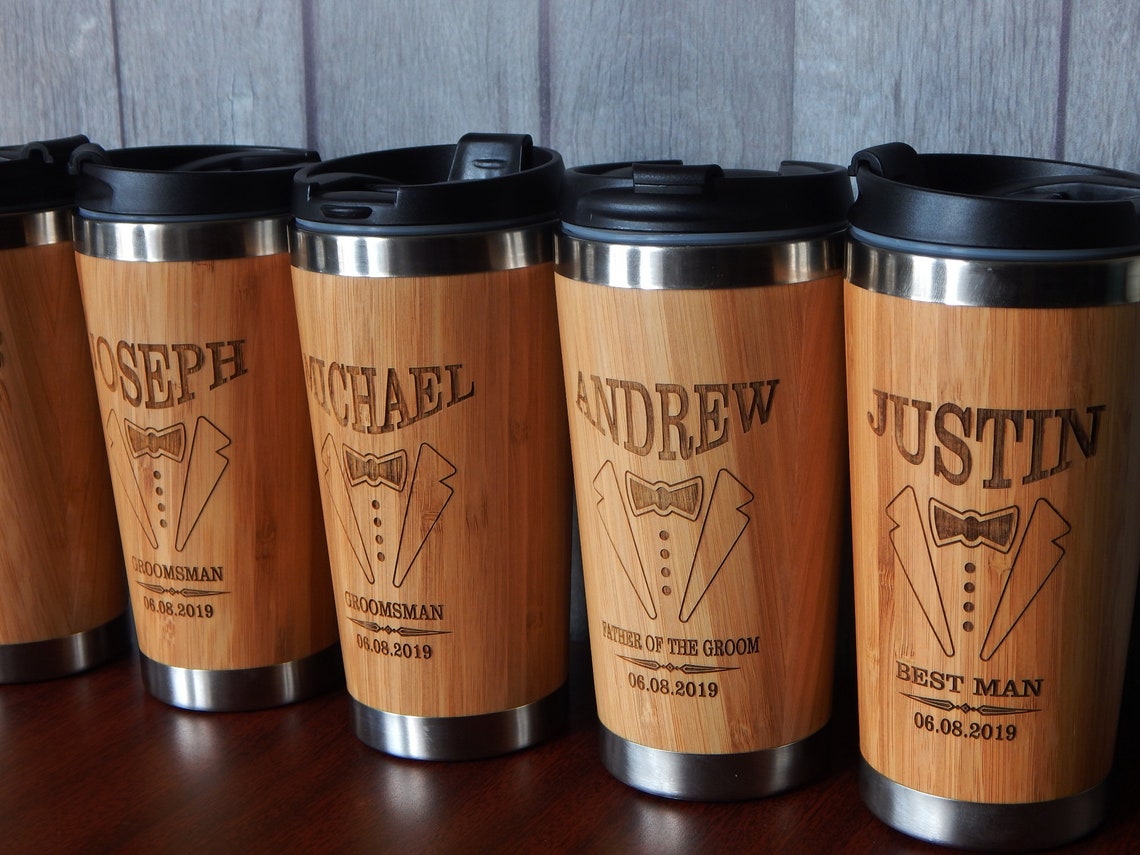 Engraved arrow cuff links for groomsmen
Adore White Truffle's selection of cuff links. Gifts for the groomsmen can't get much more original than this duo.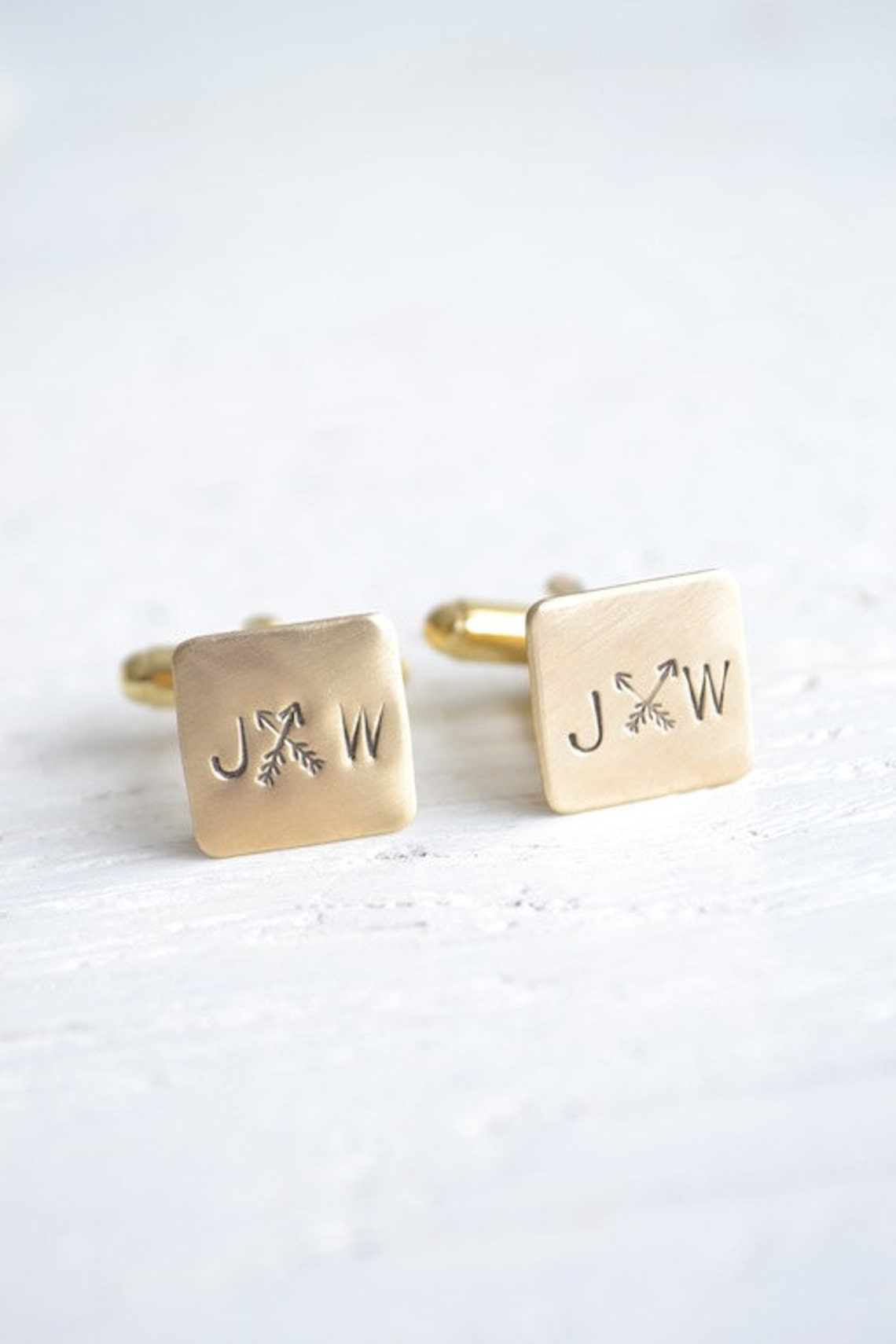 Handcrafted wood hip flasks
From WUDNHndcrftd.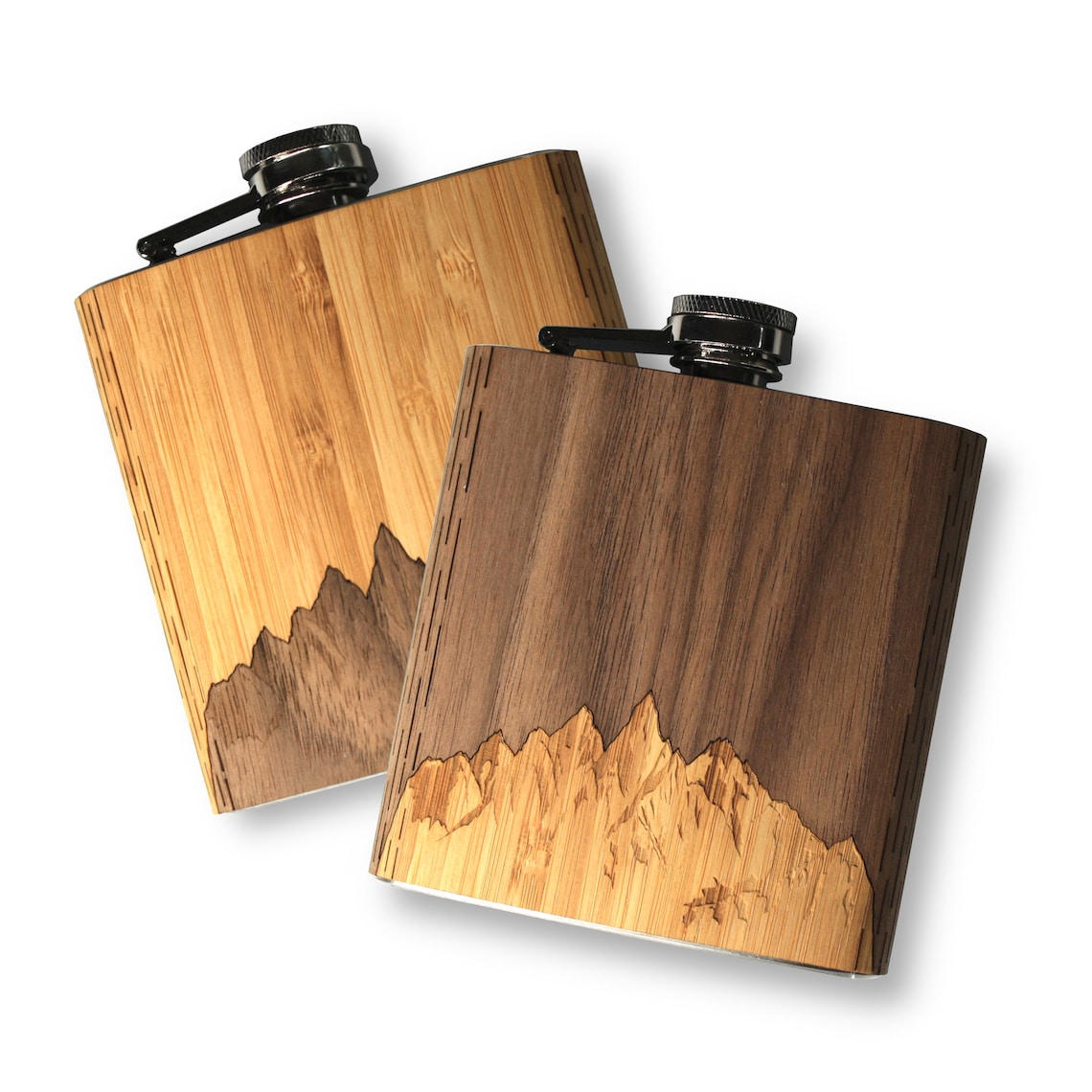 Shave kits
It's hard to think of a more unique groomsmen present than the gift of a close, comfortable shave.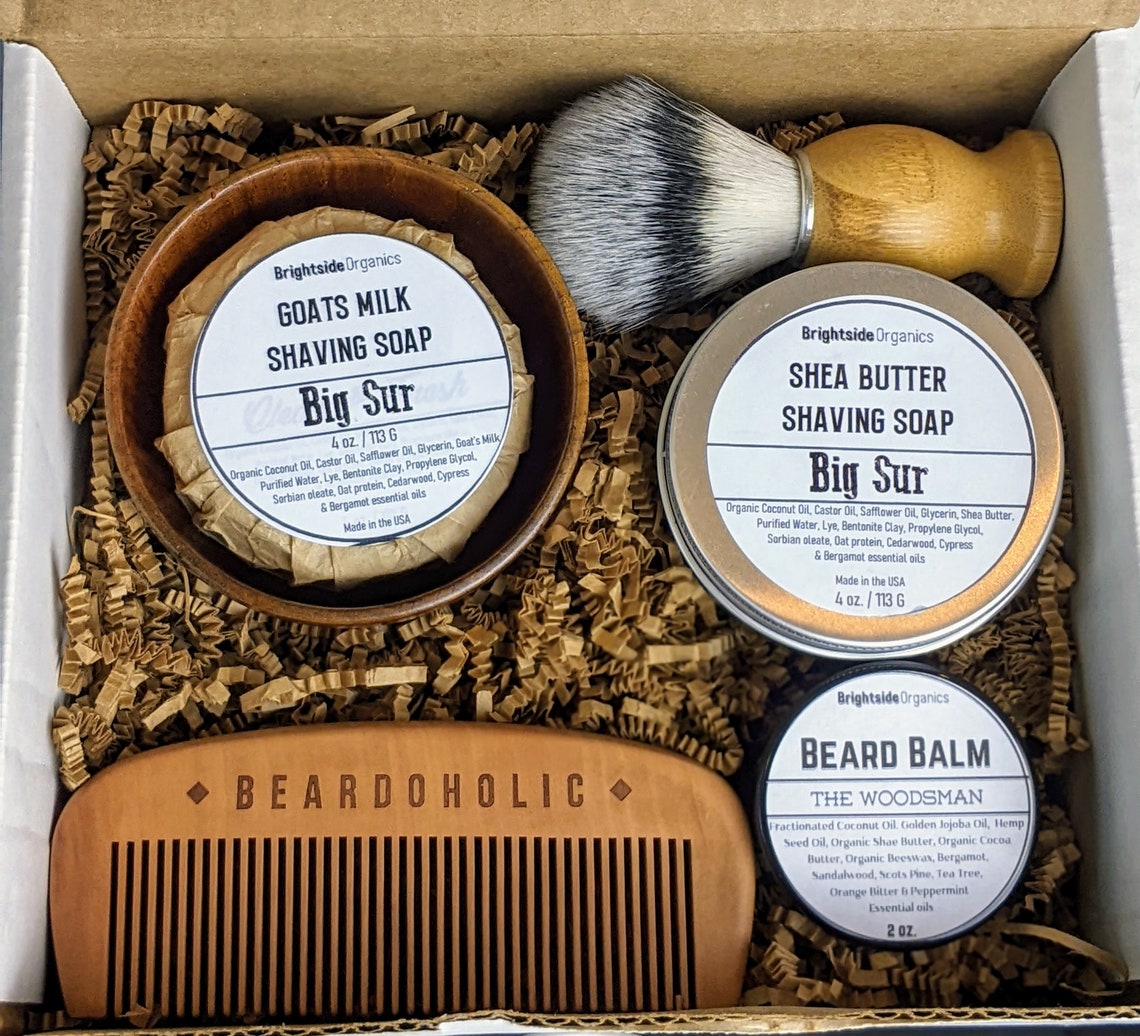 These unique gifts for groomsmen are what EVERY guy needs to have in his bag. These engraved knives are, yes, a knife, but also:
• 1/3 Serrated Blade
• LED Light
• Fire Starter
• Bottle Opener
• Seat Belt Cutter
• Glass Breaker
• Liner Lock
• Metal pocket clip
Personalized leather hip flask
Another wonderful flask with a cool modern design.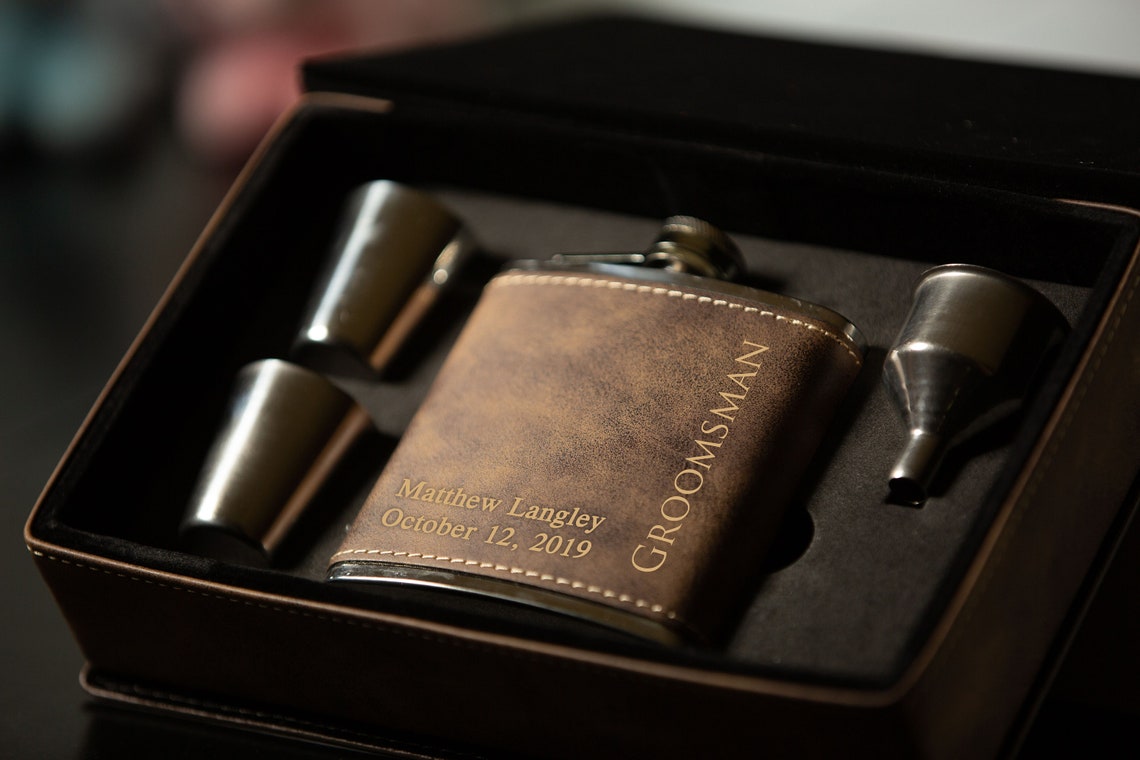 Wooden fedora hats
This groomsmen present is unlike any other I've seen! The brim of this gray fedora is made of wood.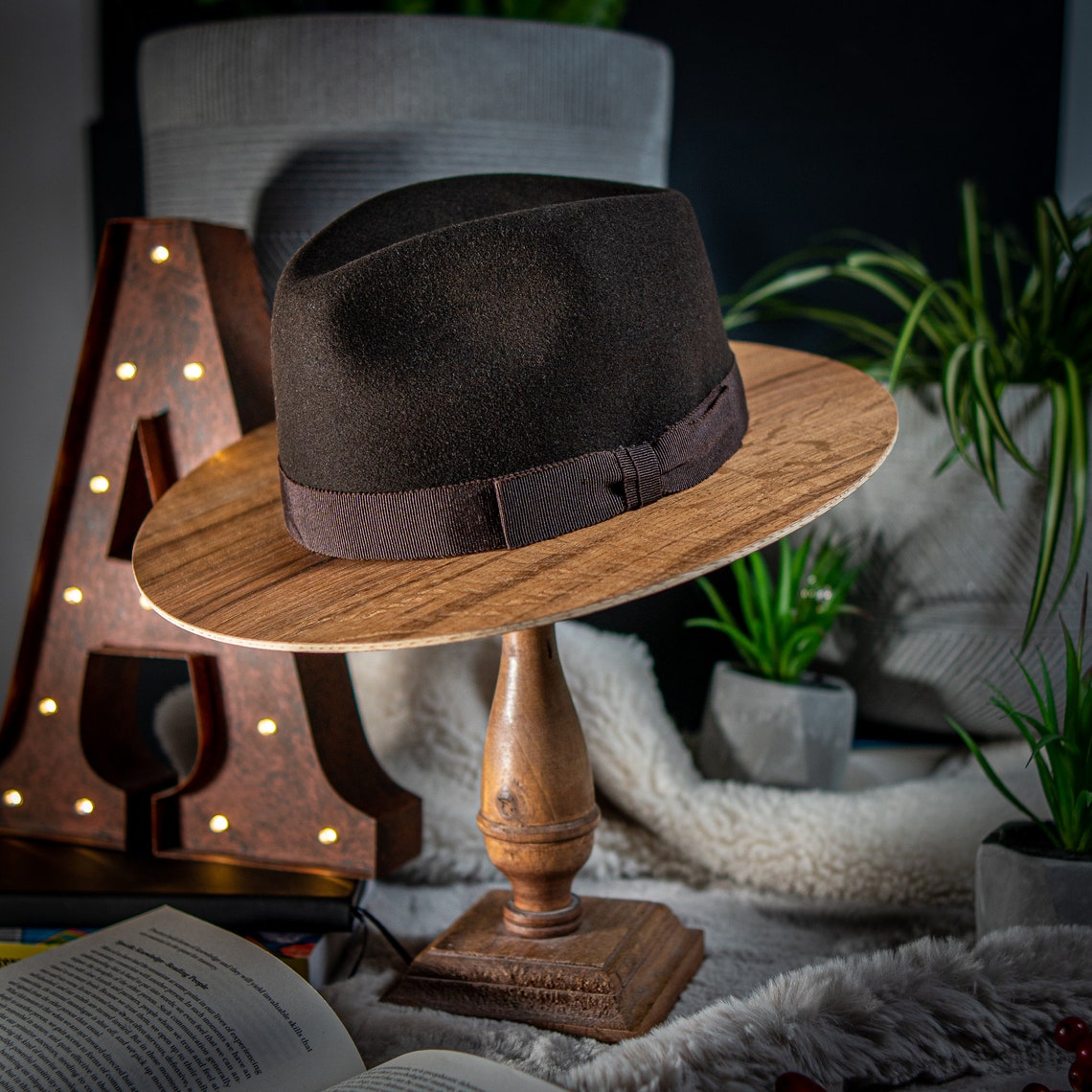 An engraved shot glass stored in a wooden box
Fans of TealsPrairie's unique selection of groomsmen gifts unanimously agree that this particular item is a must-have.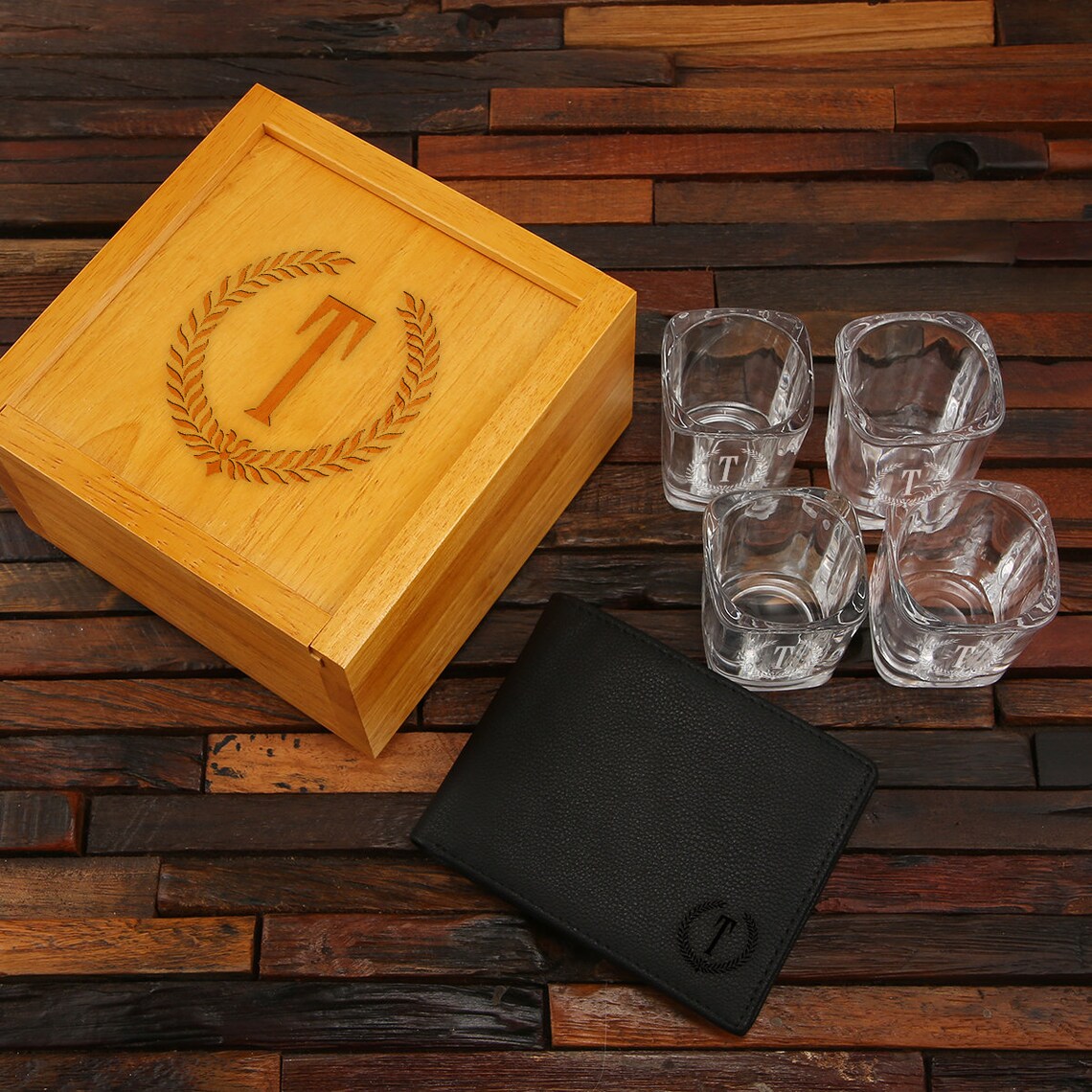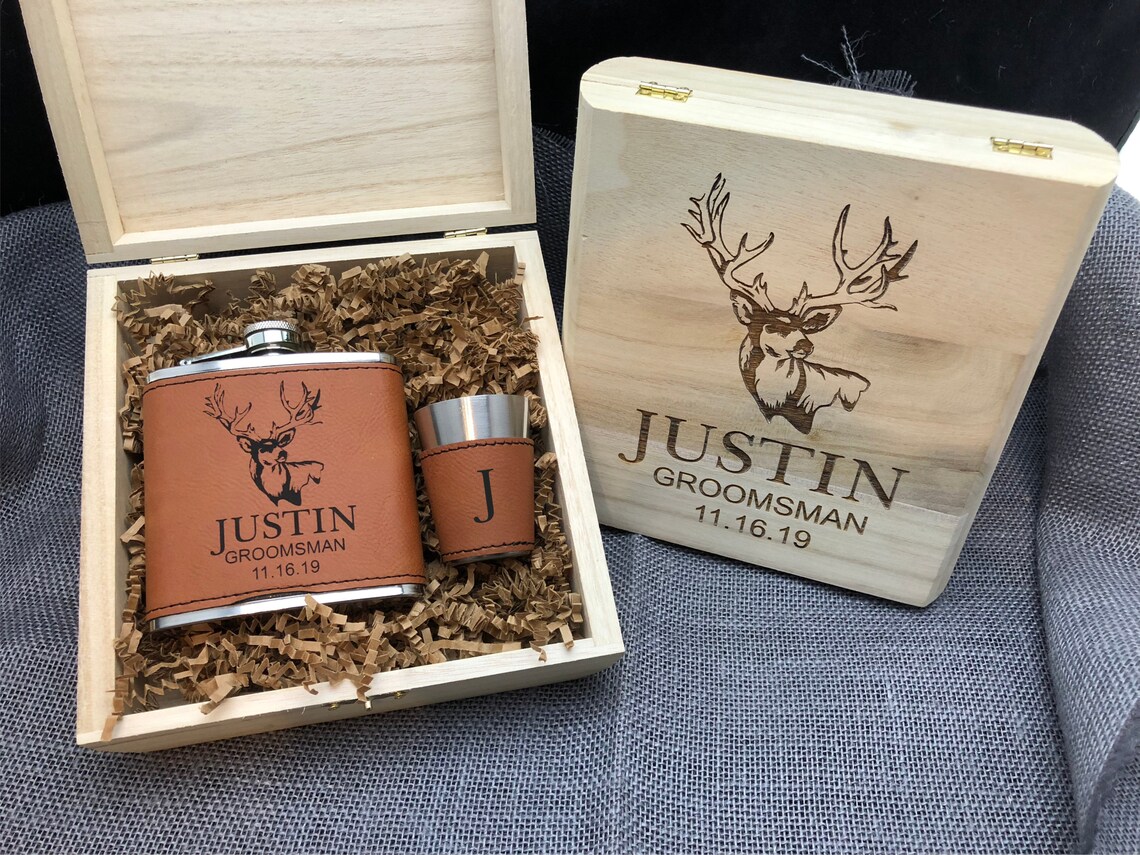 A pair of personalized polarized sunglasses with case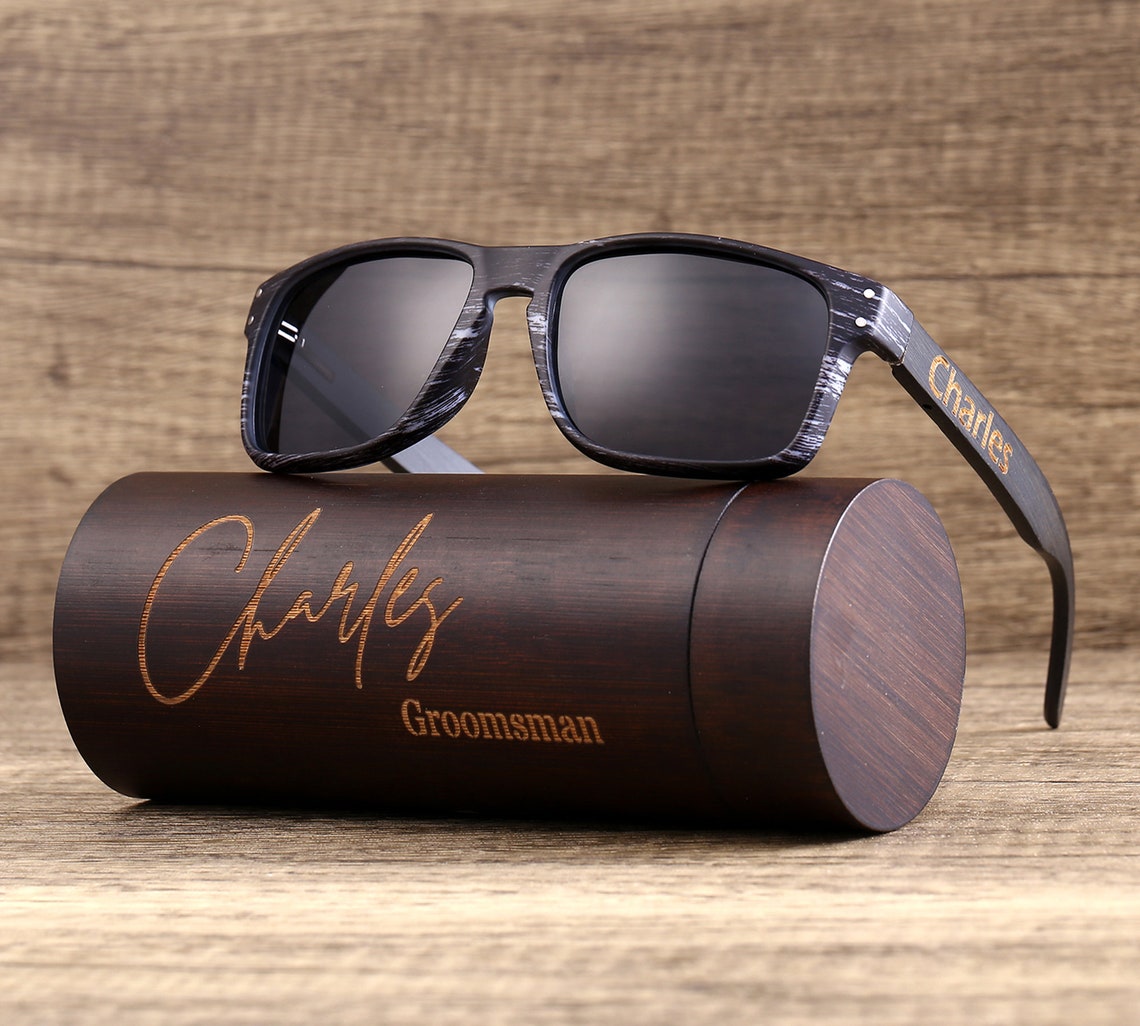 Wooden customized bottle openers and cap catchers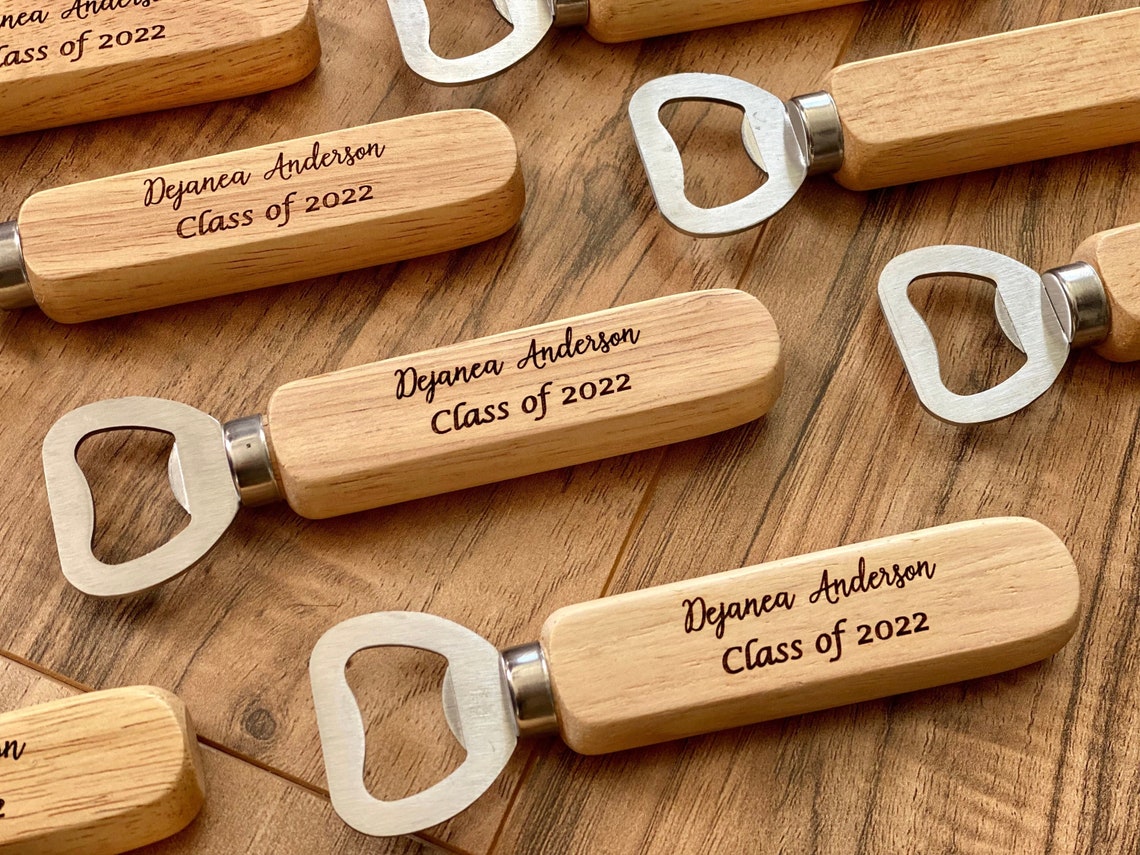 Need something compact to fit in a tight spot or to hang on the wall? It features a magnet on the inside to collect the caps.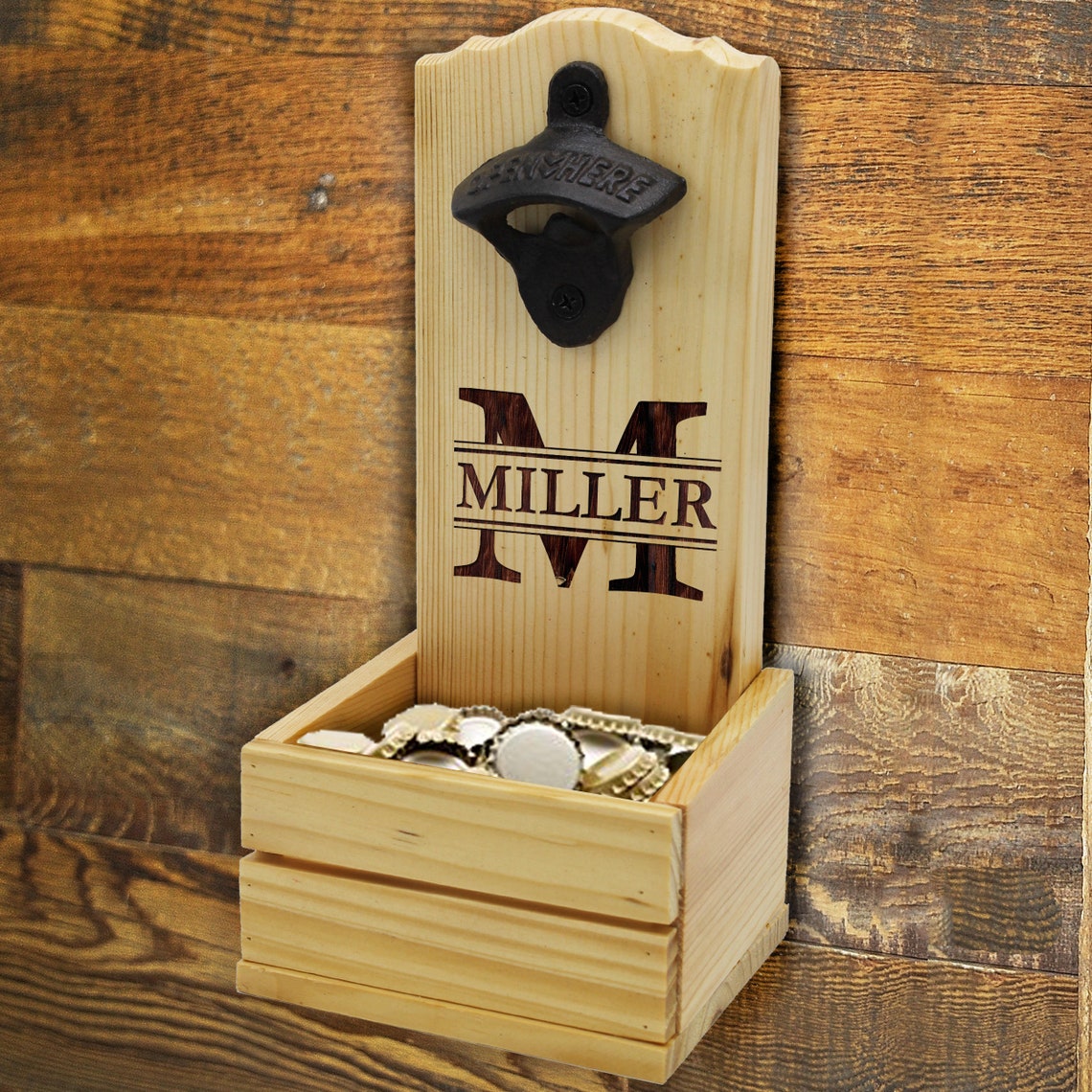 Fishing lures
Your favorite fishing gang will love receiving one of these as a present! Combine it with one of the other fishing-themed presents for the guys.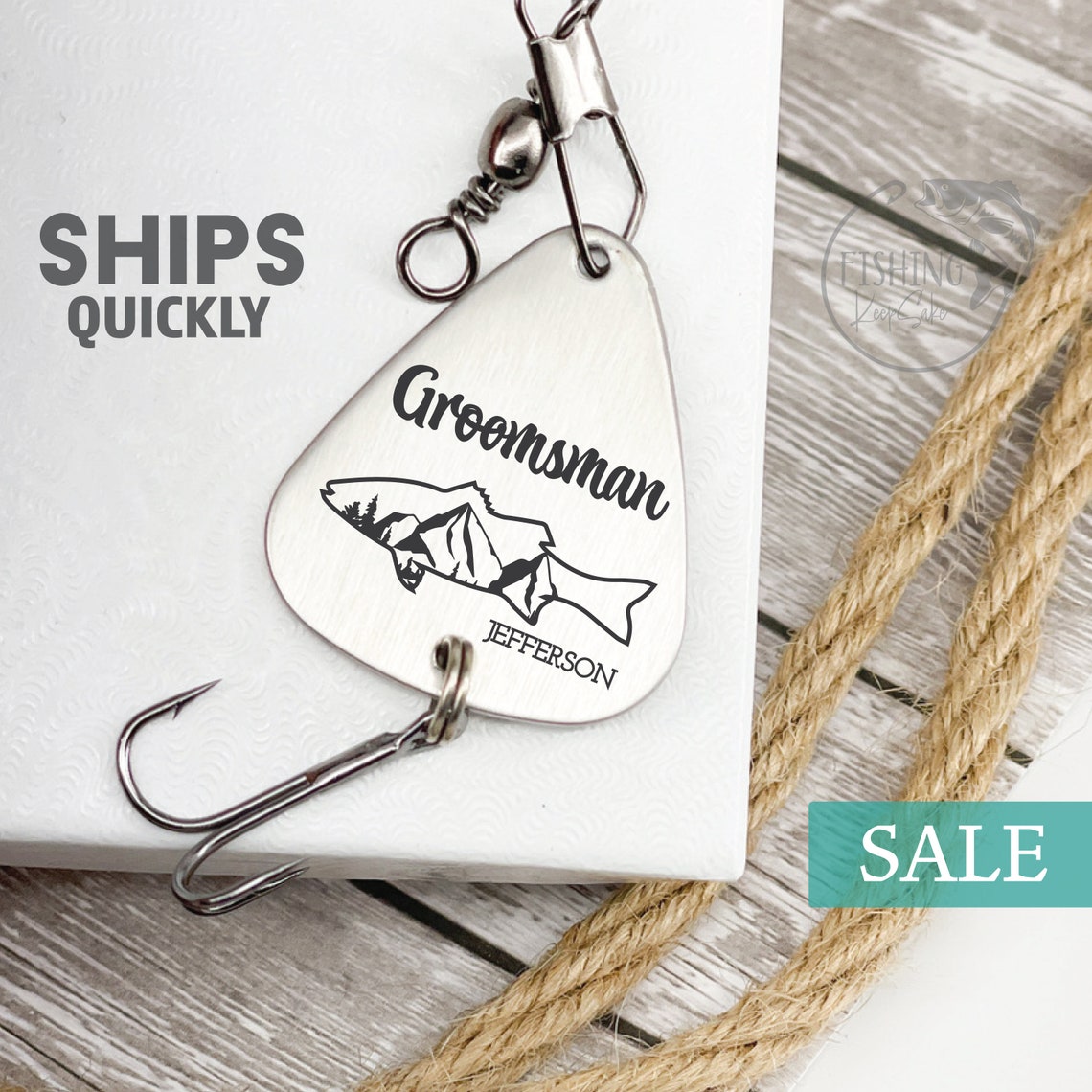 Leather-covered cigar cases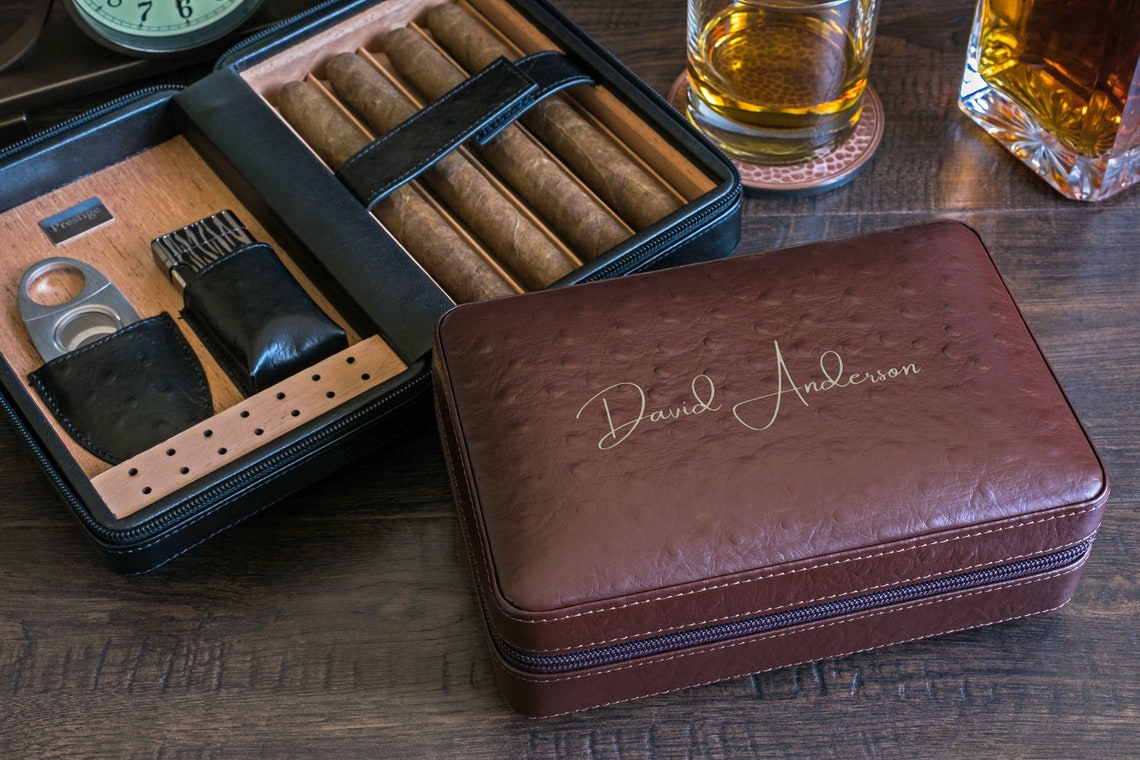 Packages of suspenders for the guys in the wedding party
Presenting the guys with items they may use on the wedding day itself can be the most useful gesture. These suspenders will complement their outfits wonderfully on the big day and beyond.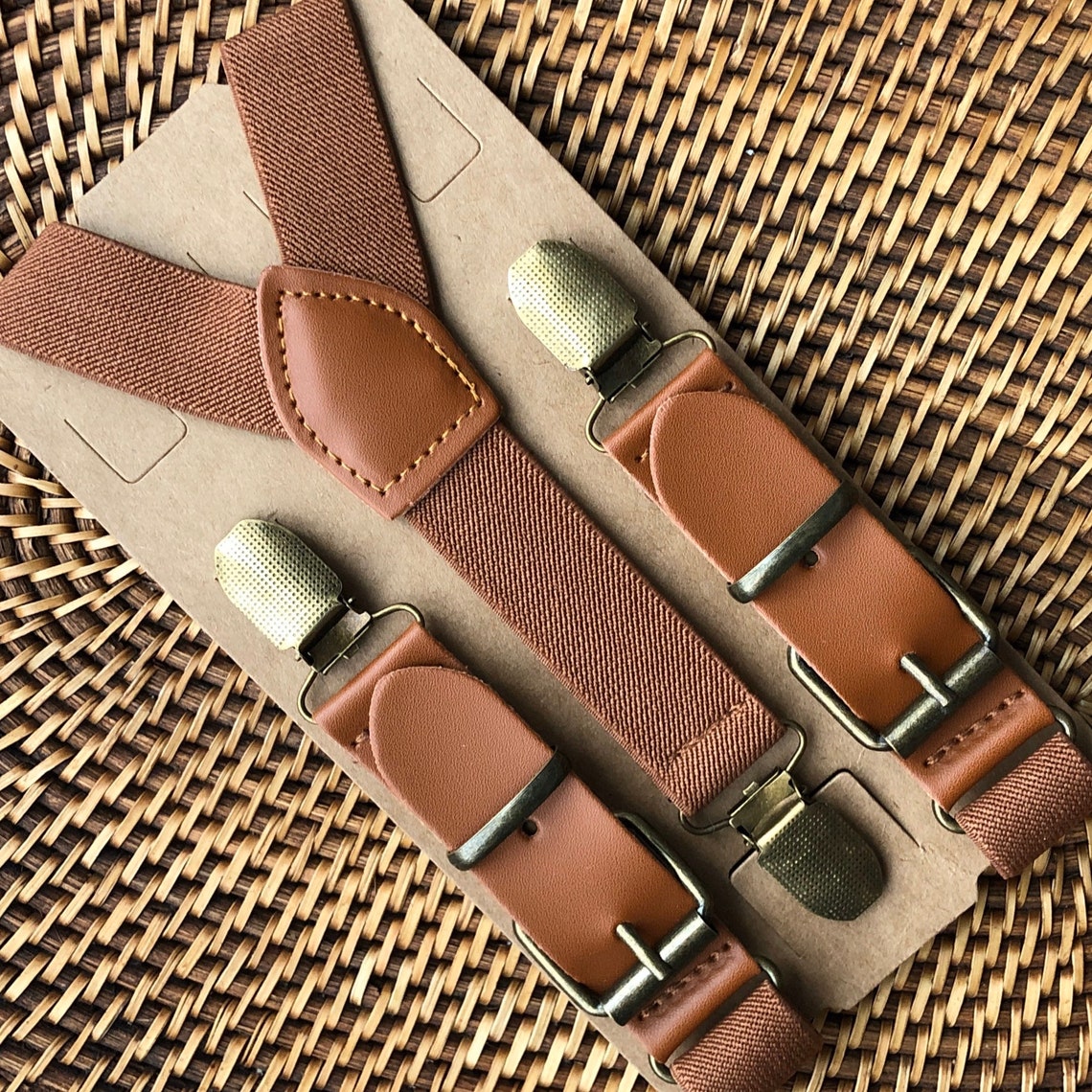 Beer caddy tote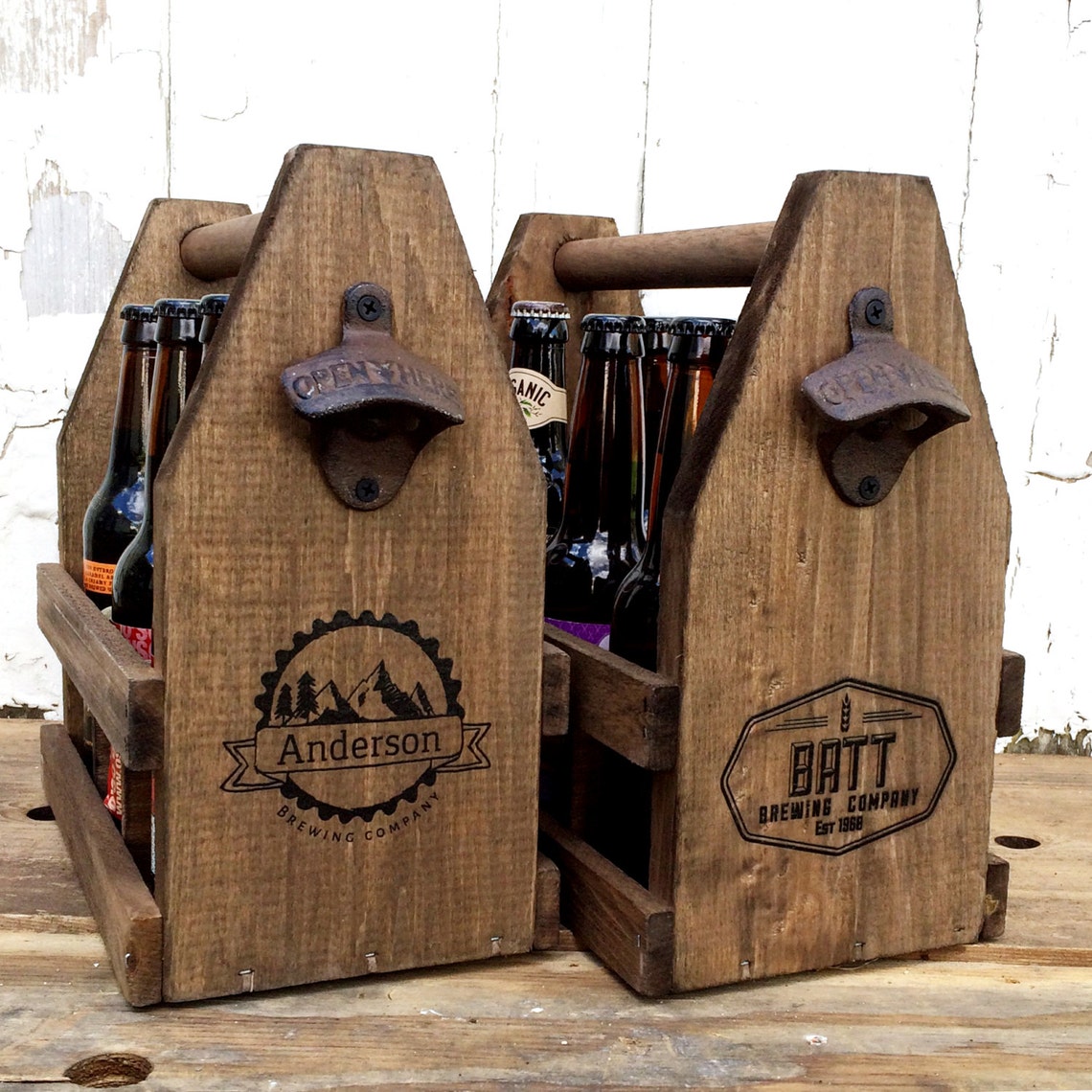 Docking station
The engraving on these presents is beautiful. His necessities will be easily accessible thanks to these docking stations. made by SoGoodSoWood.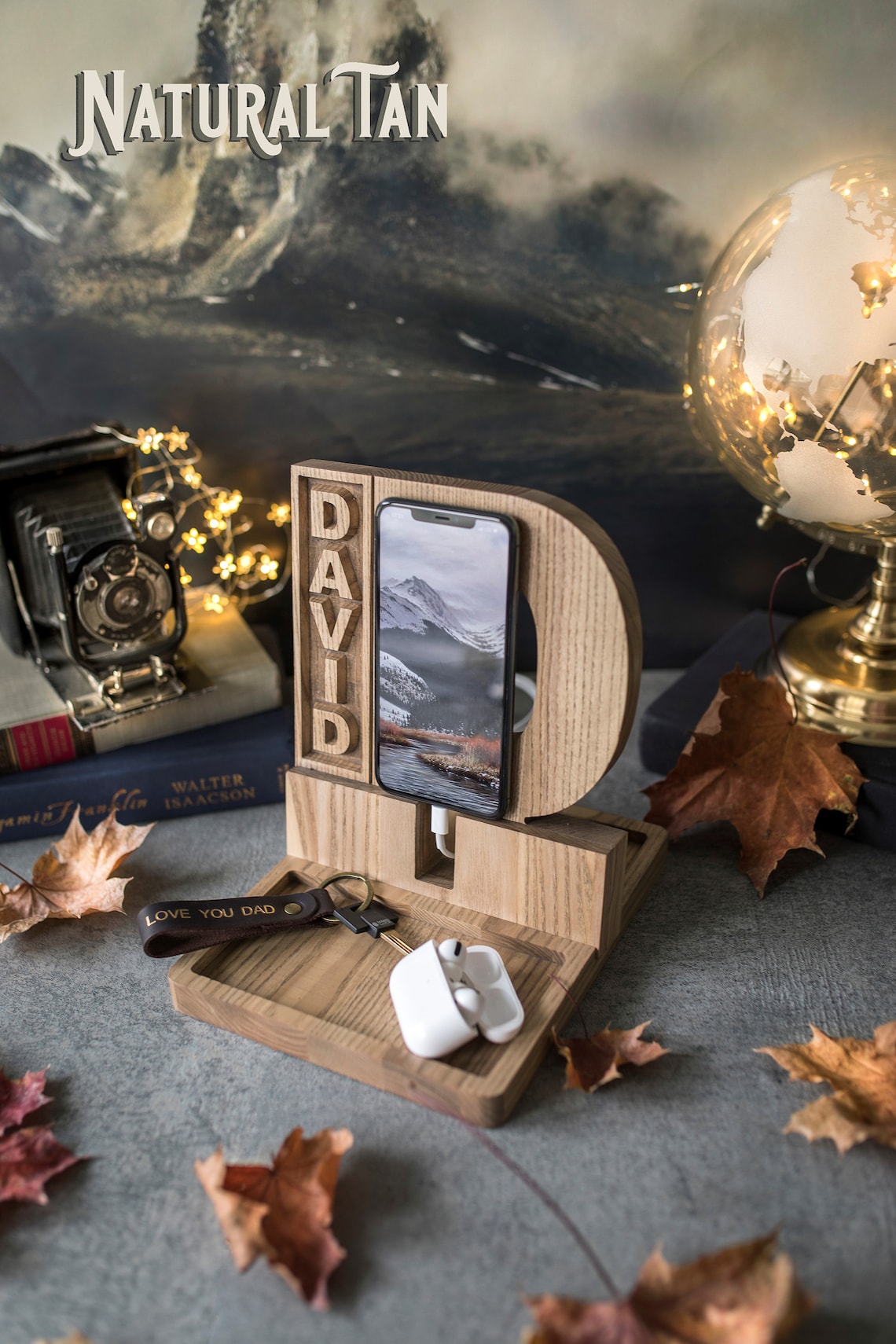 Cool leather drink holster
Among the most original groomsmen presents featured here, this one is sure to be a best-seller. These are a hit at any event, but they are especially appreciated at more laid-back outdoor wedding celebrations.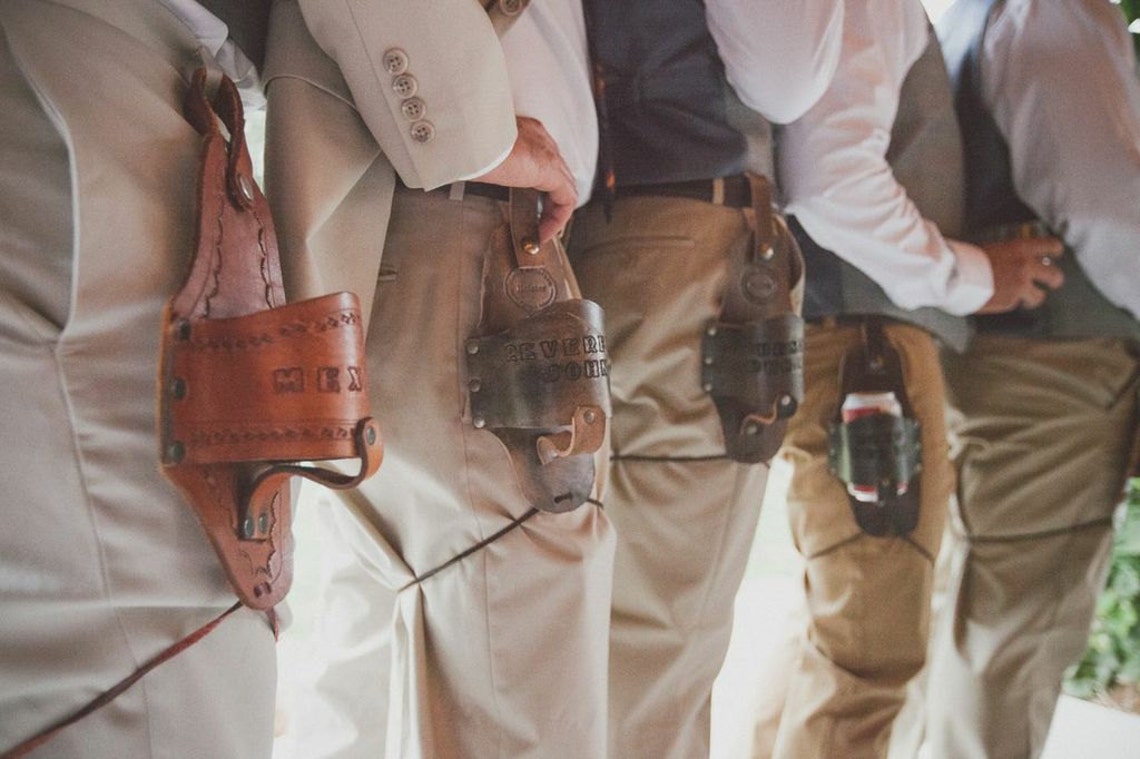 Leather wallet with the owner's initials
A special message can be engraved on the inside of this fashionable wallet.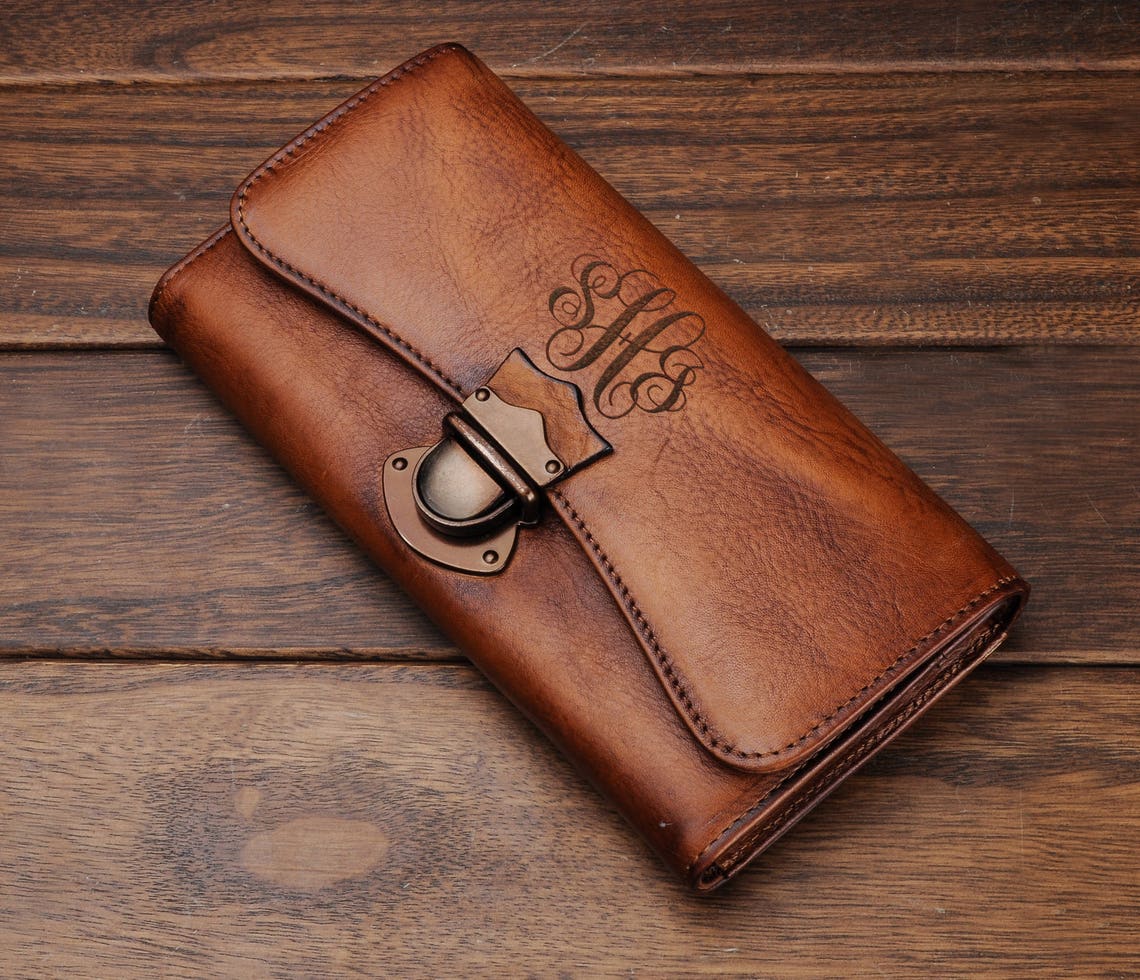 Wooden beer stein
Nothing else like it will ever be his!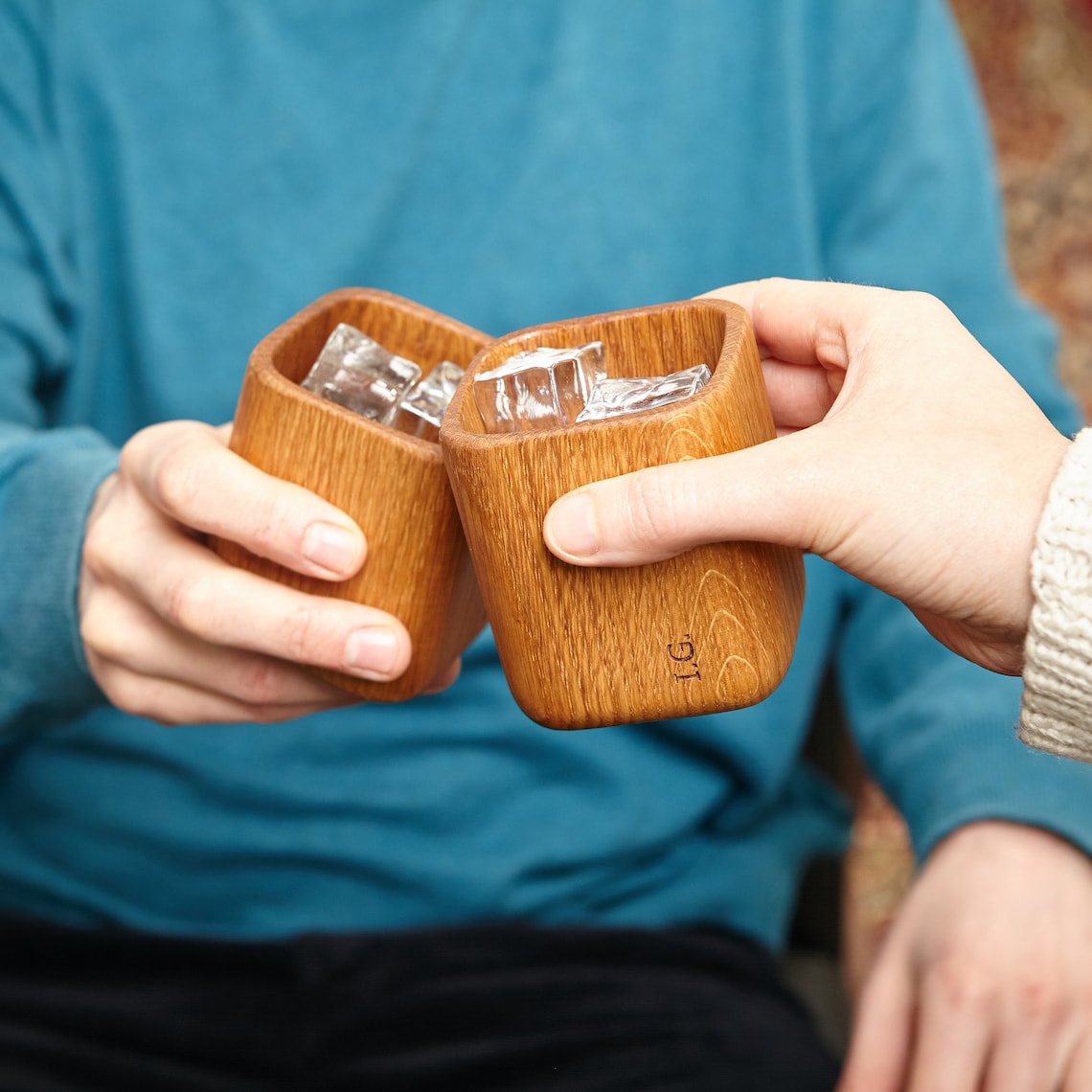 Sunglasses crafted of walnut wood, complete with case.
One of a kind summertime presents for the groomsmen!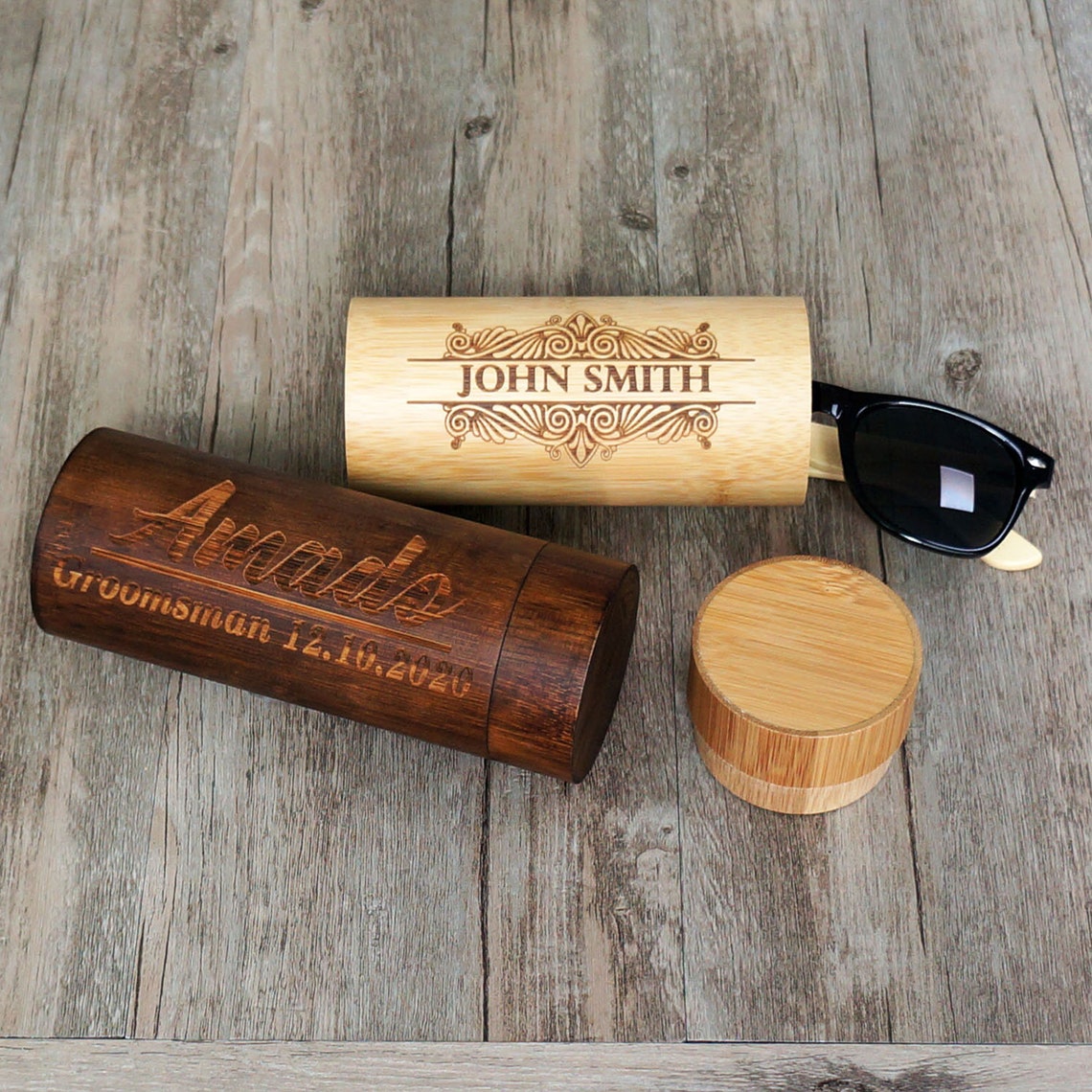 Leather portfolio
Definitely a positive trait.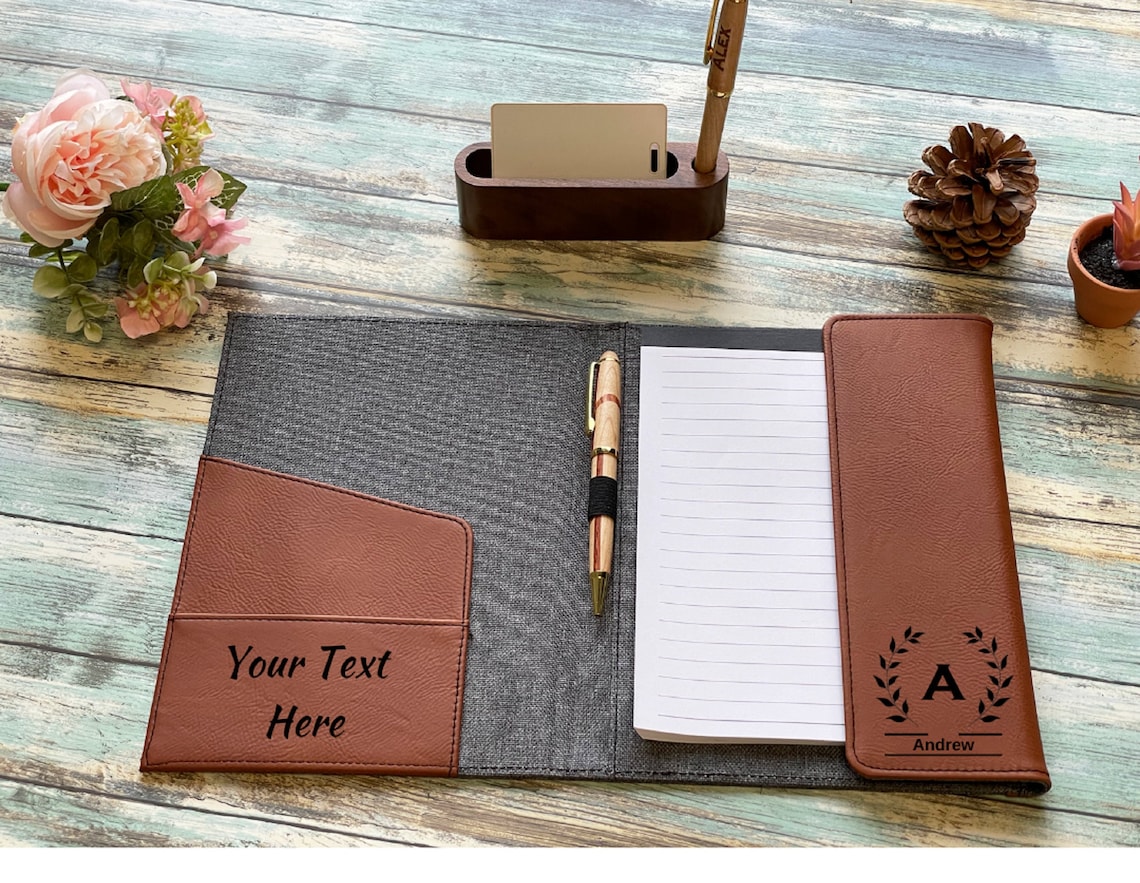 Personalized football
The monogrammed football is always a hit in the fall and is one of the unexpected creative groomsmen gift ideas on this list.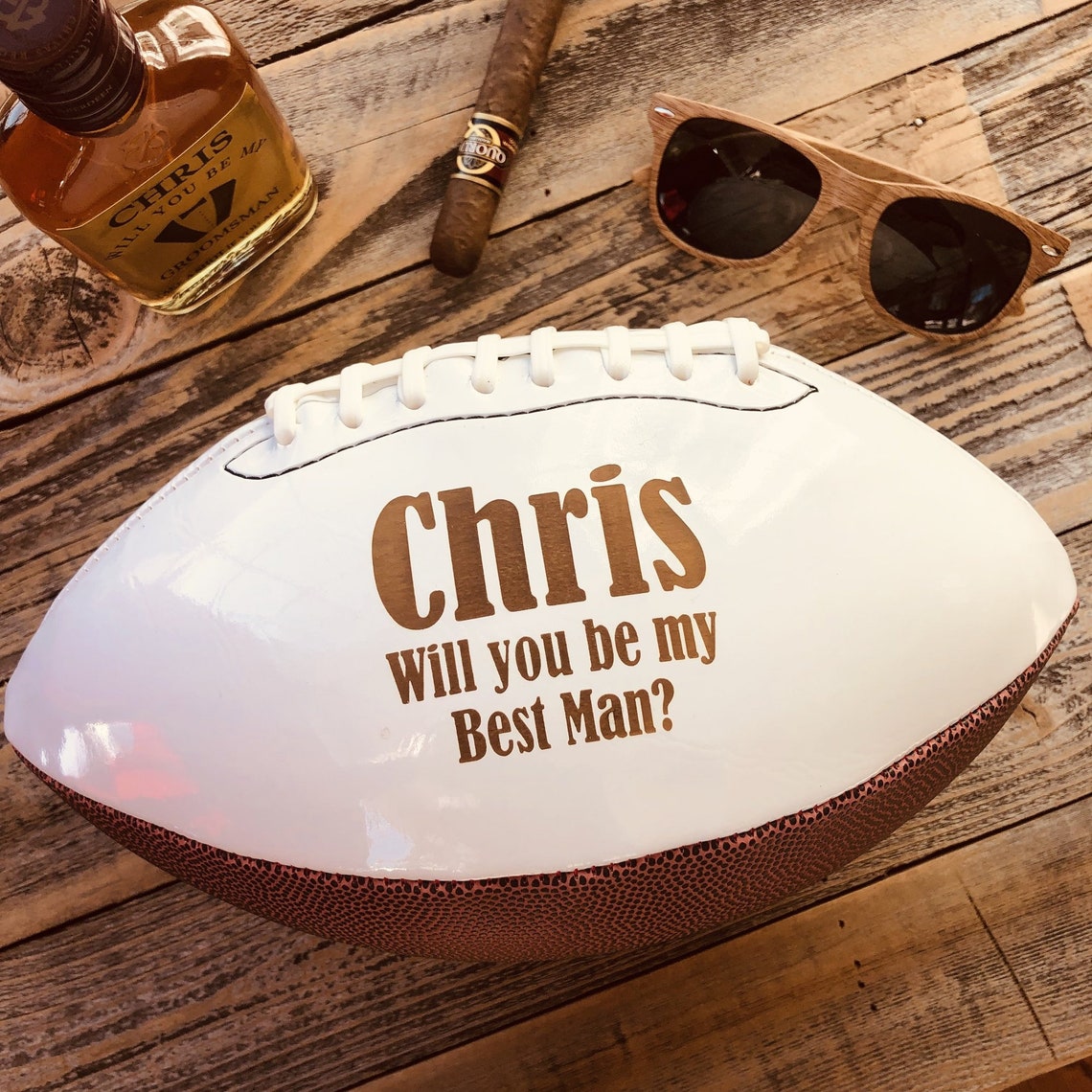 Camping mugs for groomsmen
There are also a variety of other styles to choose from.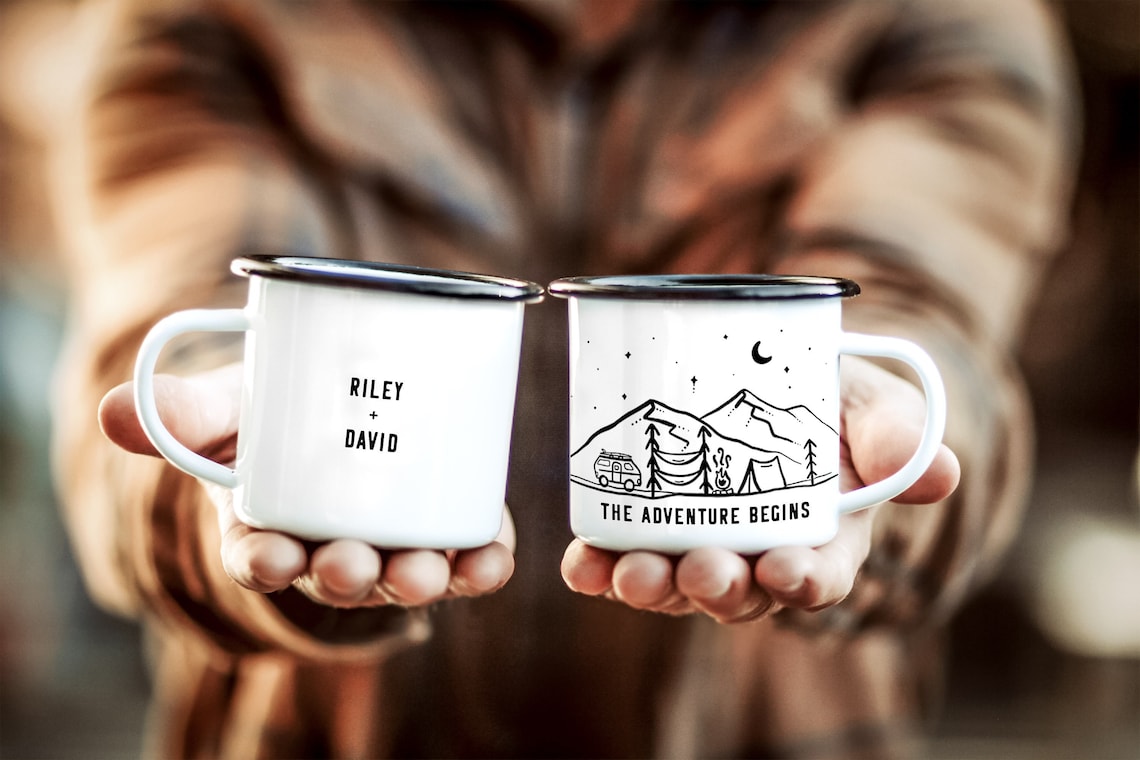 Glass humidors
A cigar enthusiast, if you will. Accessories are not included in the package. The quality of this humidor is unparalleled.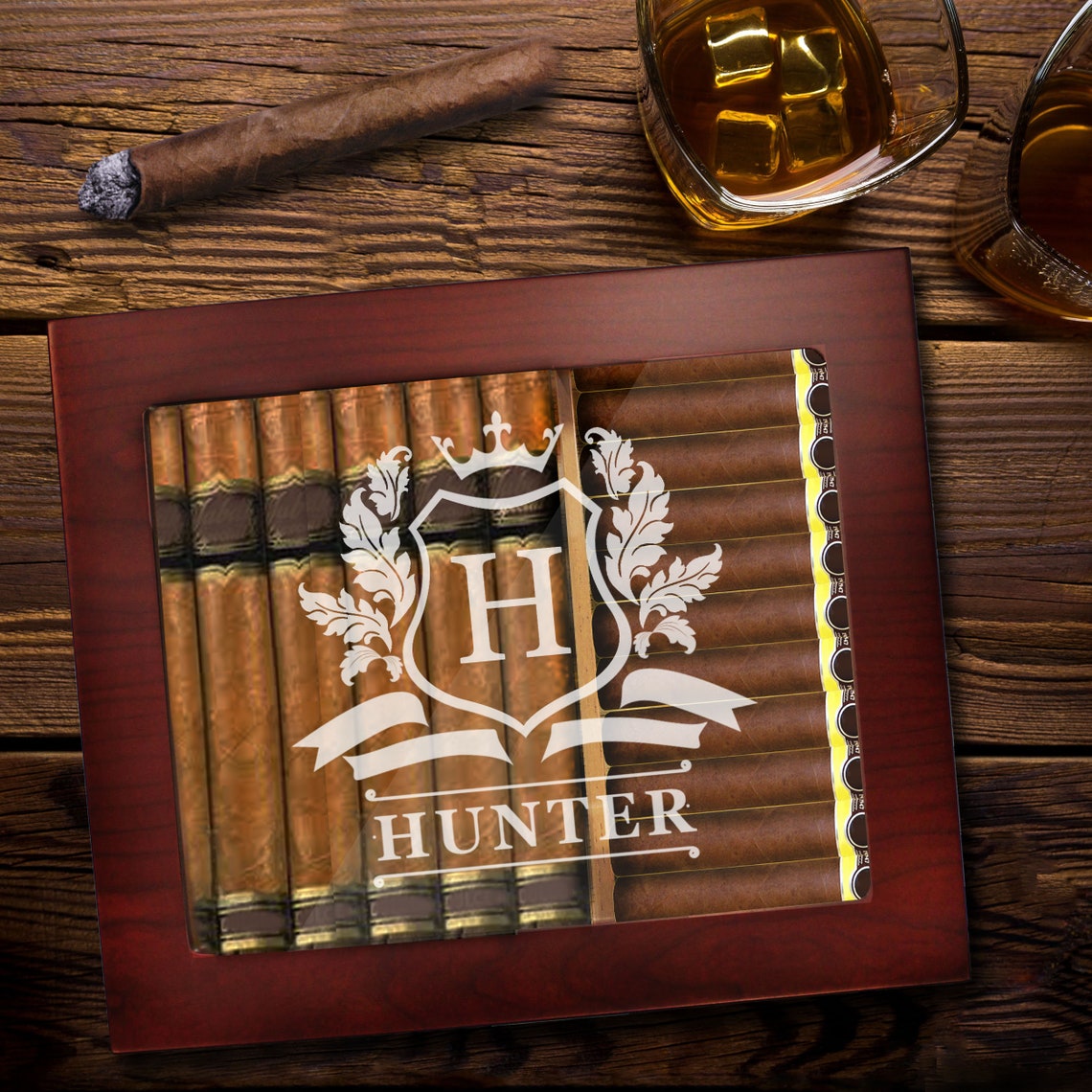 Personalized weekender bag
You can get his name on a useful groomsmen gift: a weekender bag or duffel bag he can take with him on weekend trips.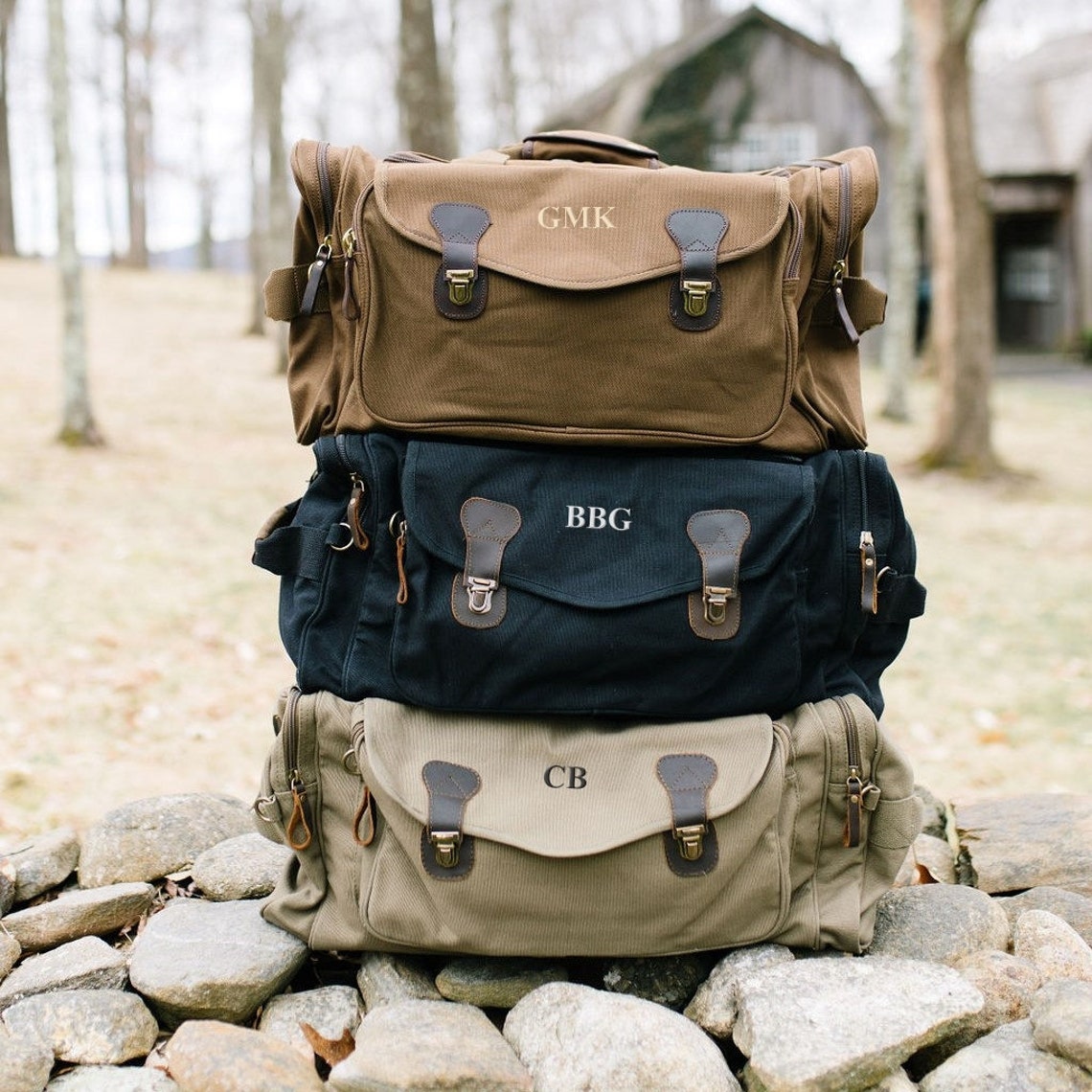 That wraps up the special presents for the groomsmen. Which one do you like best? Leave your thoughts in the comments!