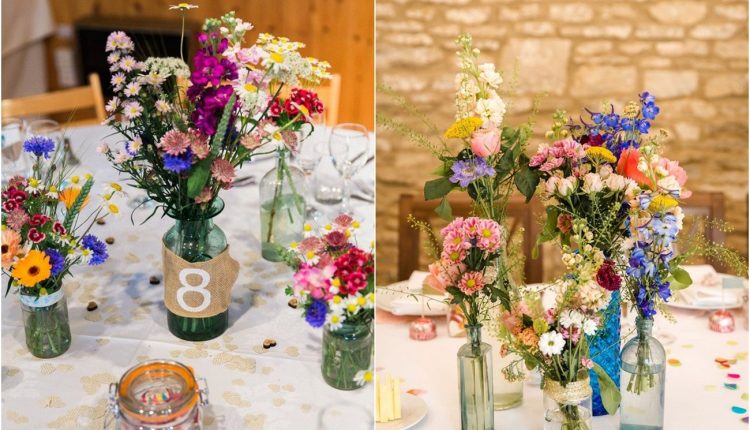 20 Whimsical Wildflower Wedding Centerpieces 2023
Wildflowers are fresh, natural, inspiring and are one of the best choices for a spring or summer wedding. Wildflowers can be used for a rustic, boho, backyard or just a laid-back wedding, and what's good about them – they are very budget-friendly, and you can even gather them all yourself and make all the arrangements without anybody's help. Let's have a look at the best ways to use wildflowers at your wedding and look at some stunning ideas.
Wildflowers are amazing for centerpieces: colorful, bold, a little bit messy and textural, they will make a cool centerpiece for a boho, rustic or woodland wedding. You can arrange them in jars, bottles, buckets, vases, even bathtubs to achieve the effect you want. Make several arrangements and put them on a wooden slice covered with a crochet or macramé napkin. Another great idea is planting wildflowers into a wooden box or planter and covering it with moss, this is a good idea for a woodland wedding.
Tips
How do you preserve fresh cut wild flowers?
Place the stems straight into a bucket of clean, tepid water (not cold water) as soon as possible after cutting. If possible, leave the flowers in their bucket of water in a cool, dark spot for a few hours to let them stabilize before arranging.
Mason Jar
Infuse your tables with the vibrant colors of your wildflowers with a glass mason jar! Simply fill the mason jar with water and colorful flowers, then measure out and place a rock to the side of the jar. Add a vase filled with water as the base and tie the ribbon around to help give the jar some extra support.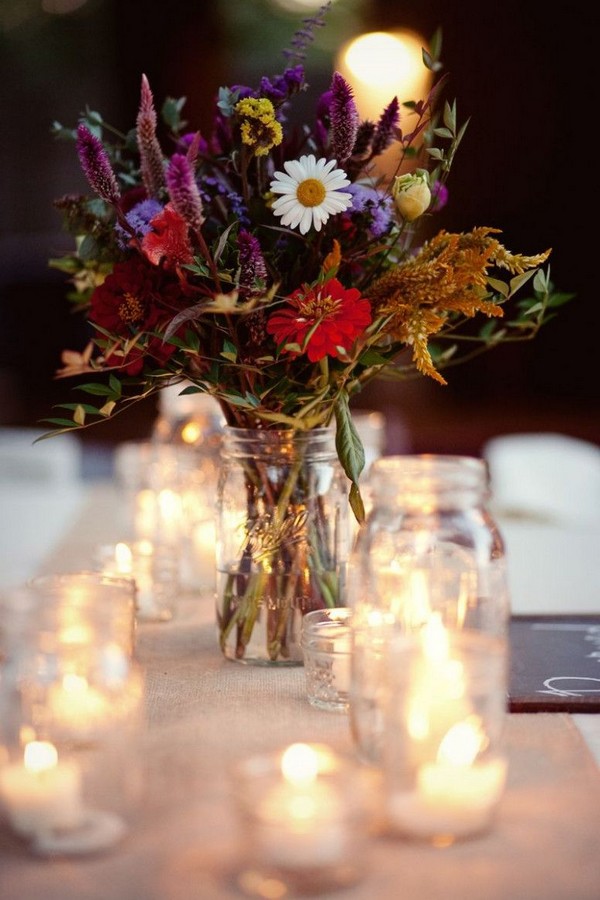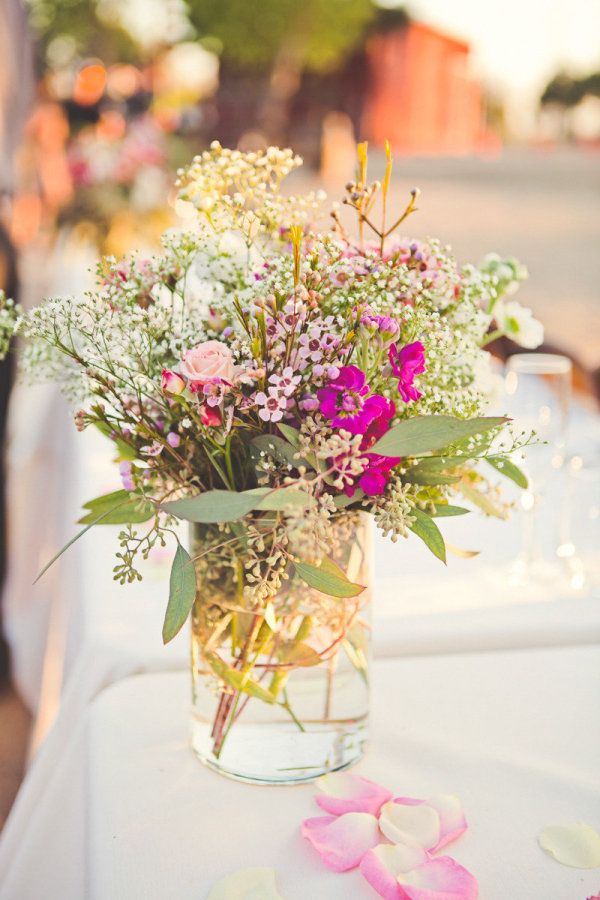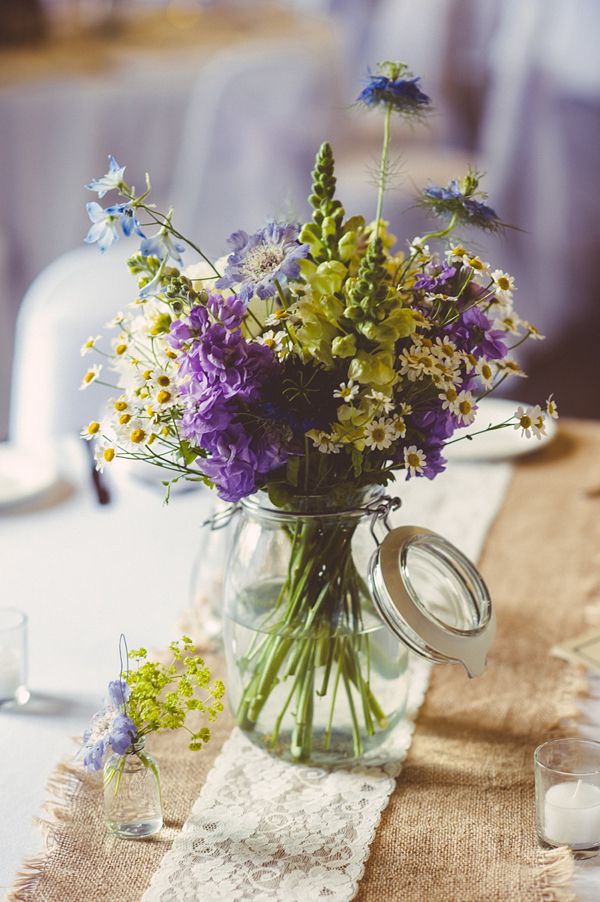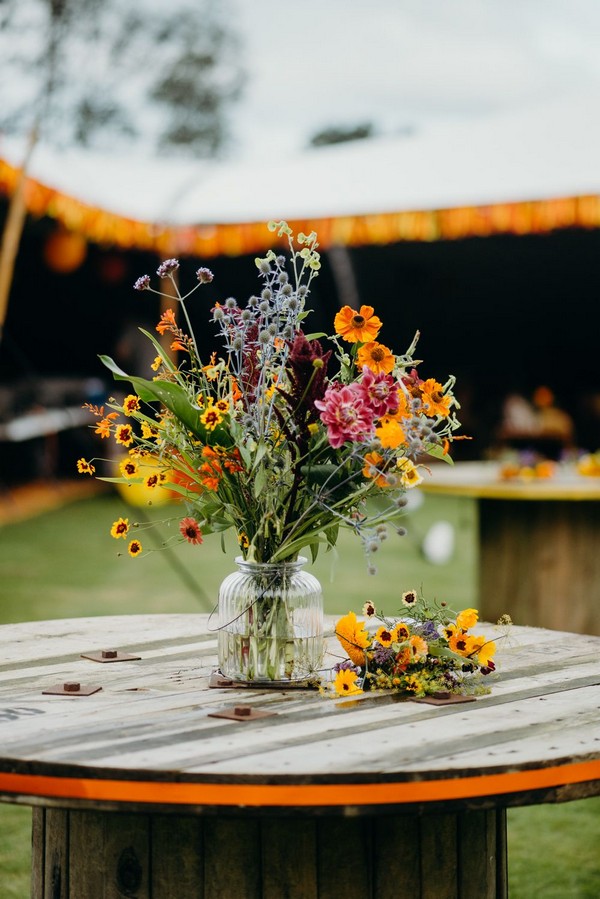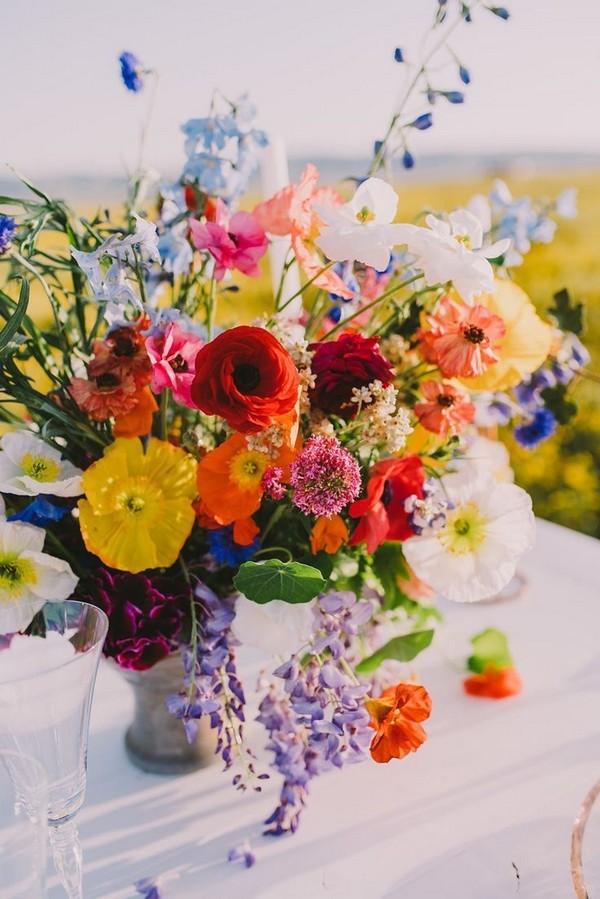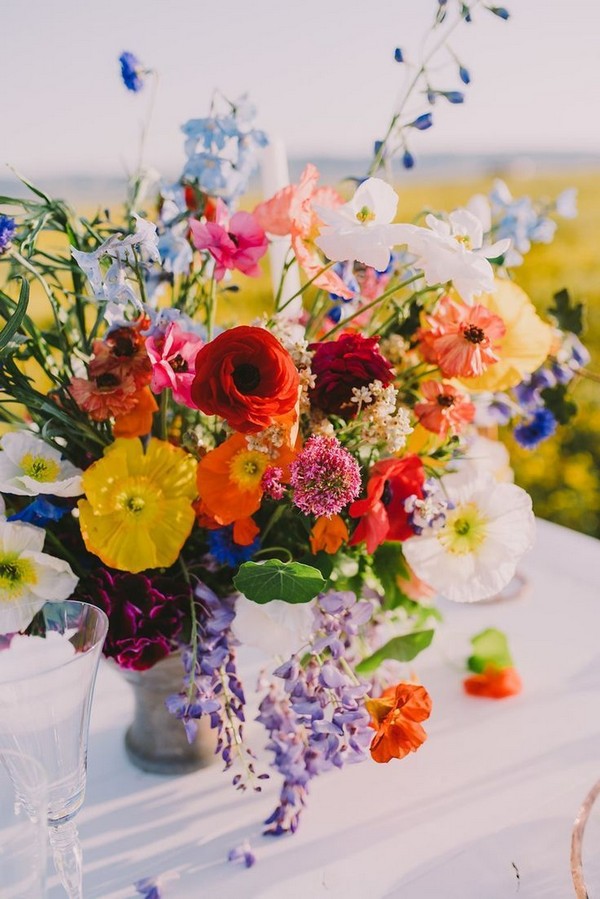 Bottles
There are a lot of different options for making bottles into centerpieces, and they are a welcome twist on the classic vase. By simply filling a washed out and empty wine bottle with a bouquet of your favorite flowers, you can create an elegant and beautiful centerpiece that will add a touch of romance to your wedding. Place them among your centerpieces and line the edge with blooming flowers for an attractive effect.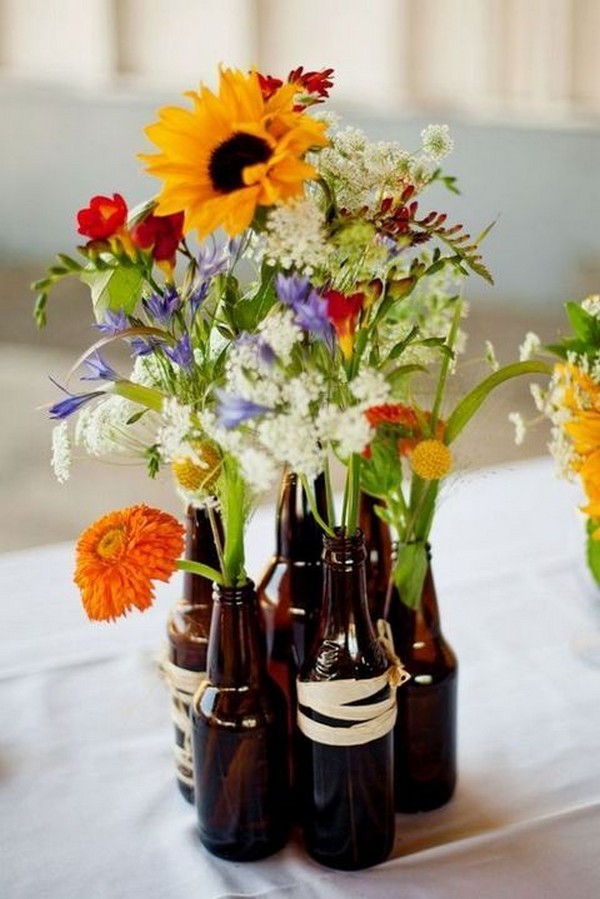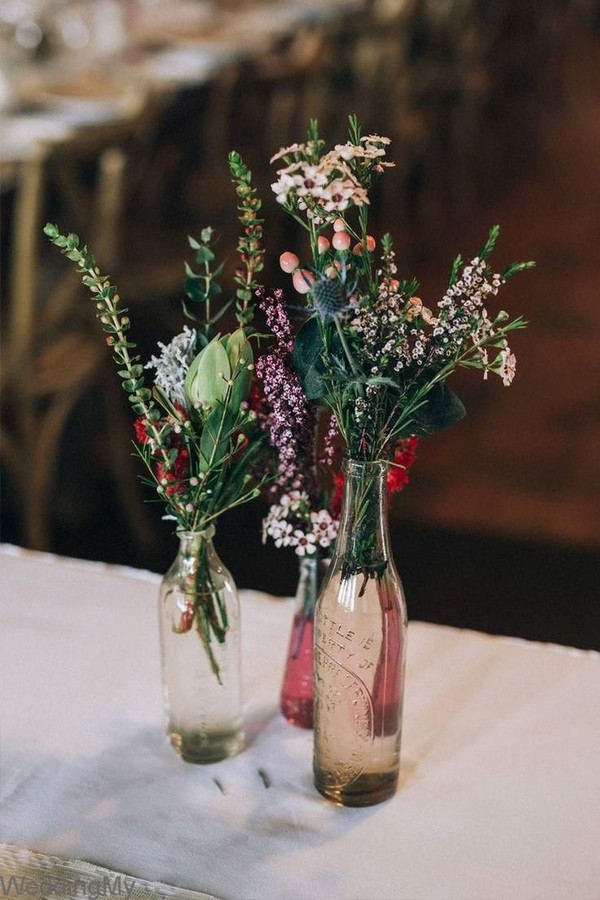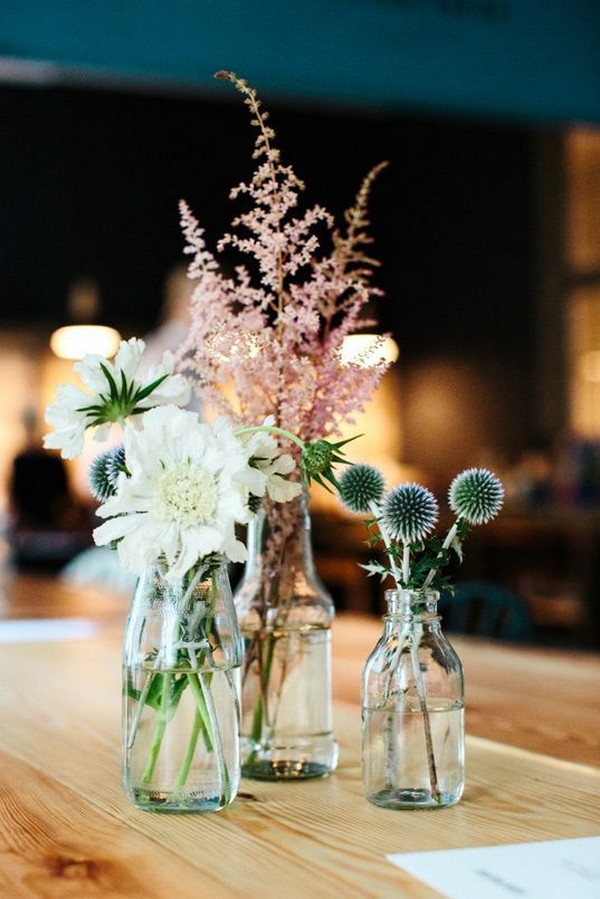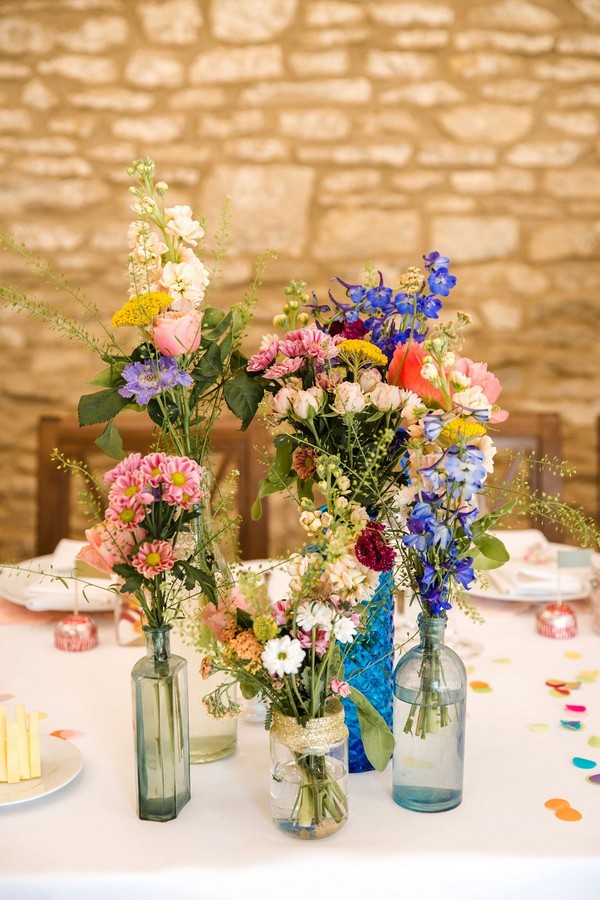 Blue Mason Jar
A sweet way to showcase a wildflower centerpiece, this blue mason jar is a simple centerpiece that pairs well with a centerpiece of wildflowers, an arrangement of greenery and candles. Let your centerpiece be a reminder of your special day.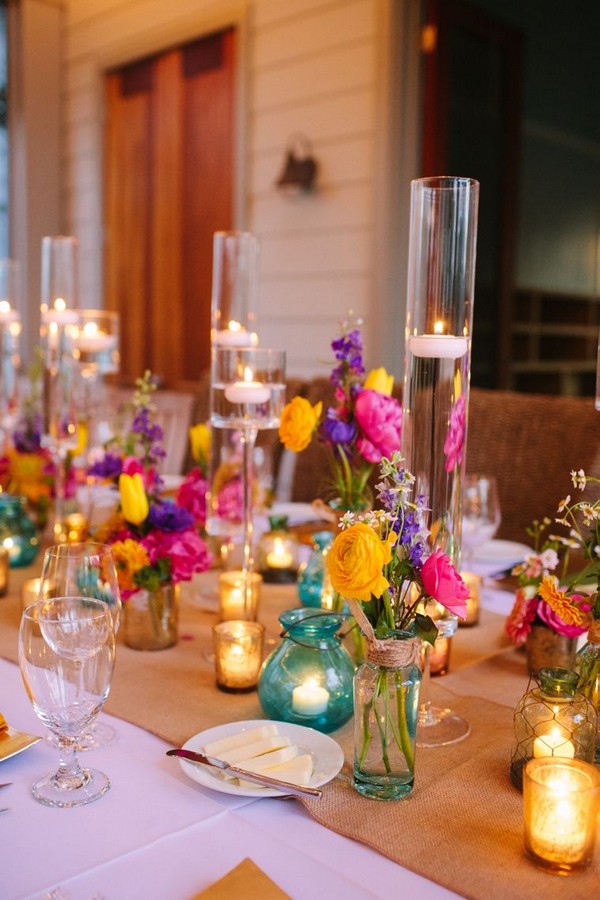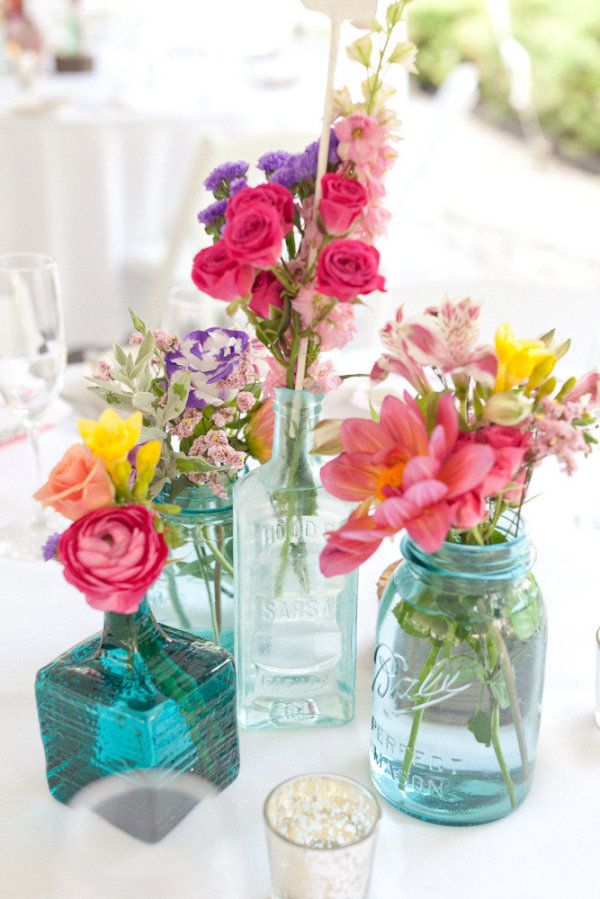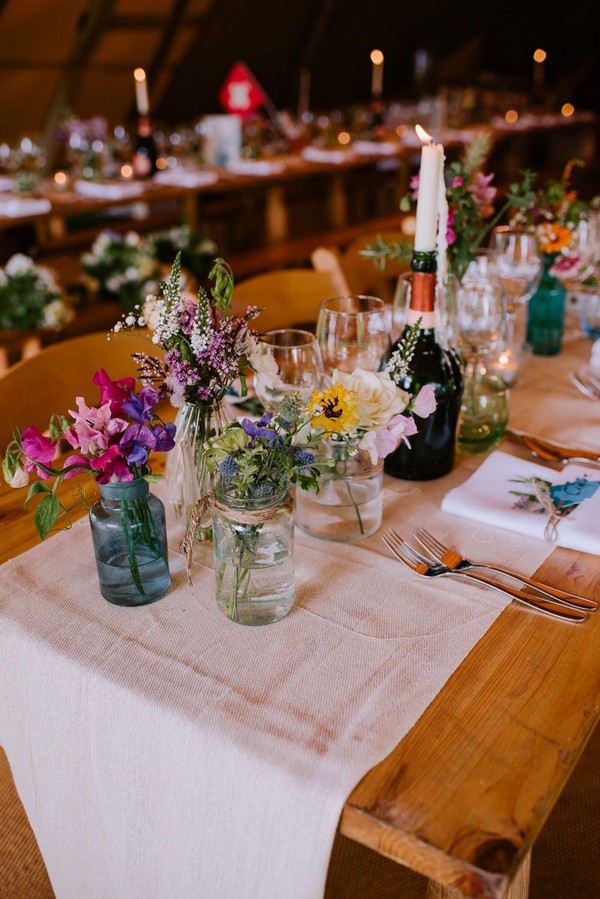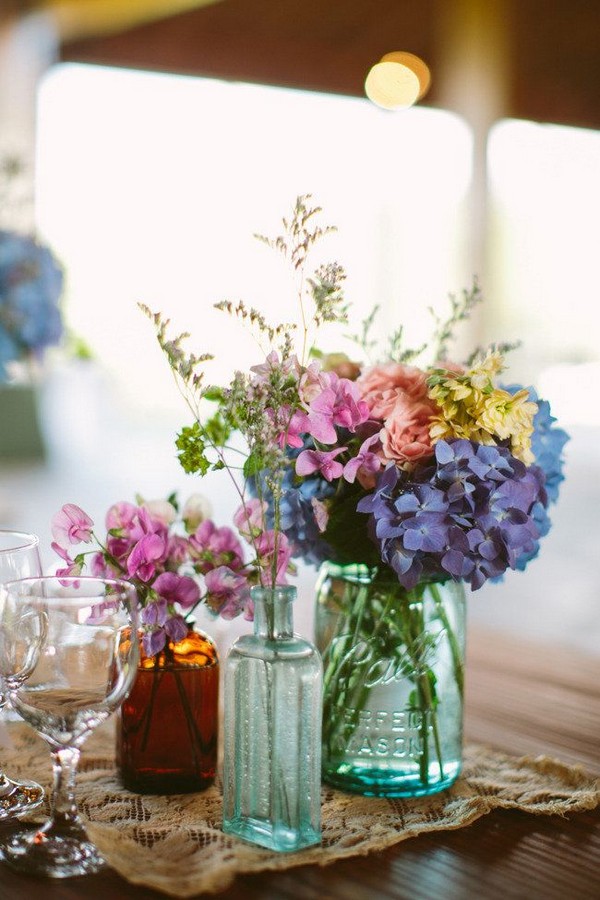 Tree Stump Centerpieces
As a centerpiece for your wildflower wedding, consider the woodsy, earthy aesthetic of a tree stump. You can either leave a little soft moss and a few flowers on the stones or make a tree stump centerpiece and decorate it however your heart desires.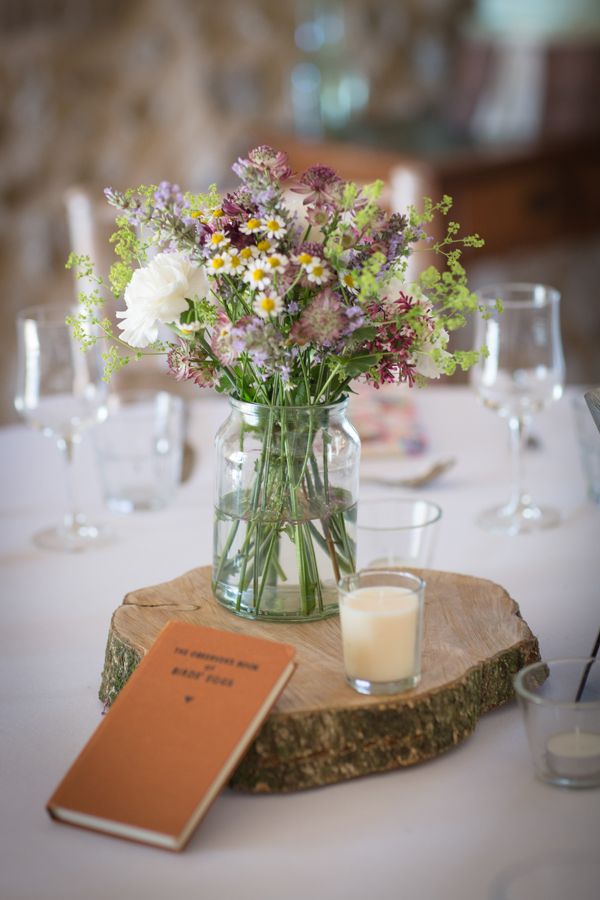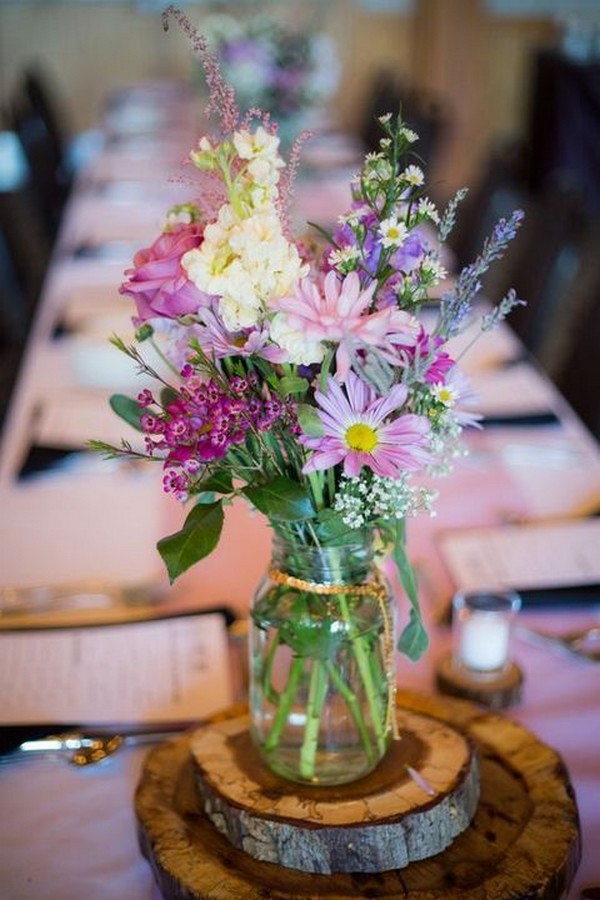 White + Yellow
These wildflower centerpieces are a chic way to add a pop of harmony to your spring or summer wedding. These whimsical flowers look best with a light yellow and white color palette. Assemble your flowers in a faux vase or shallow bowl with simple decorative styling. You'll find that these are a unique and lovely way to bring your guests nature into the festivities!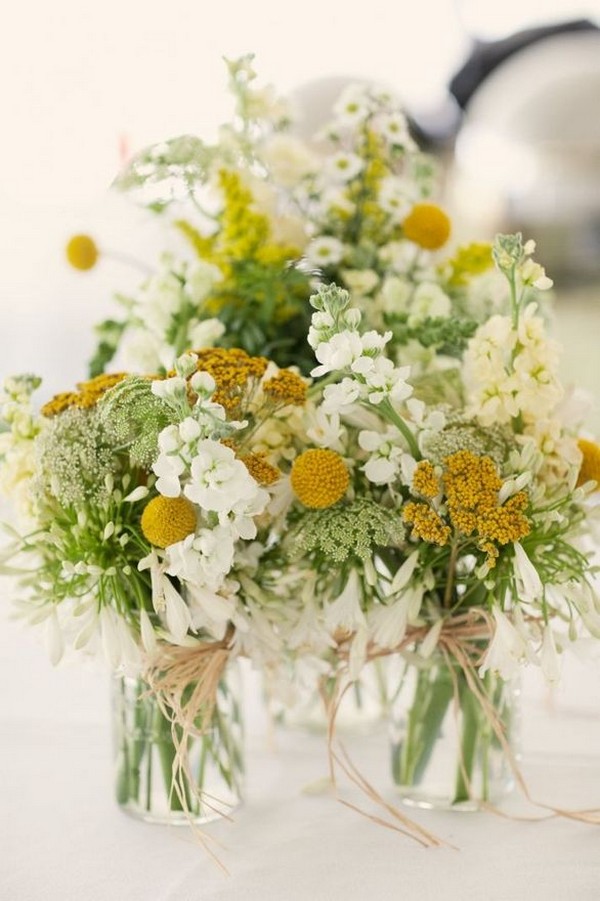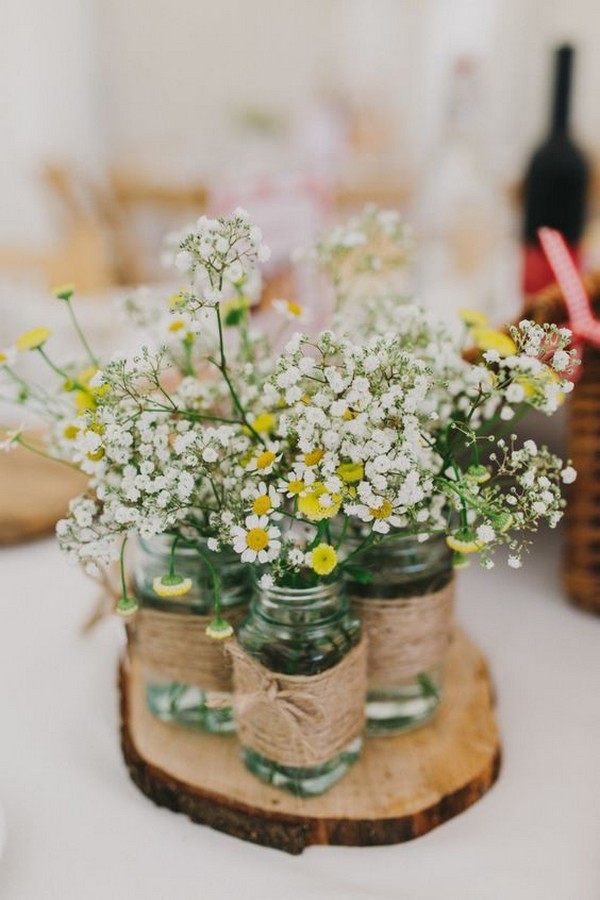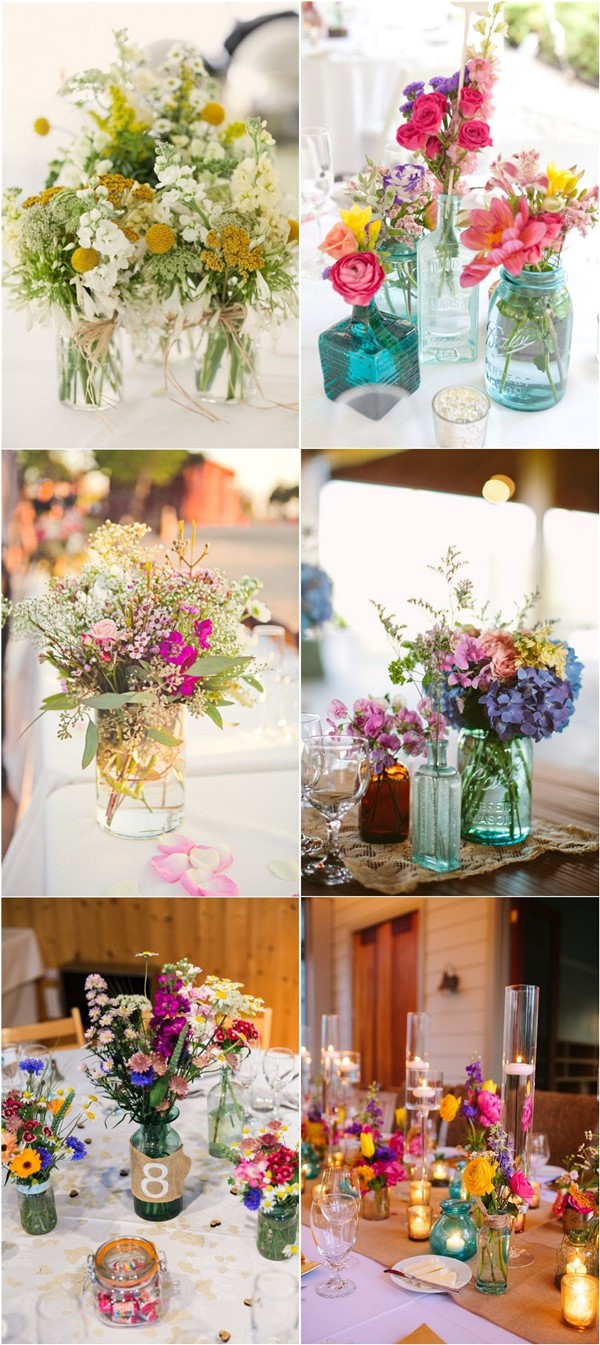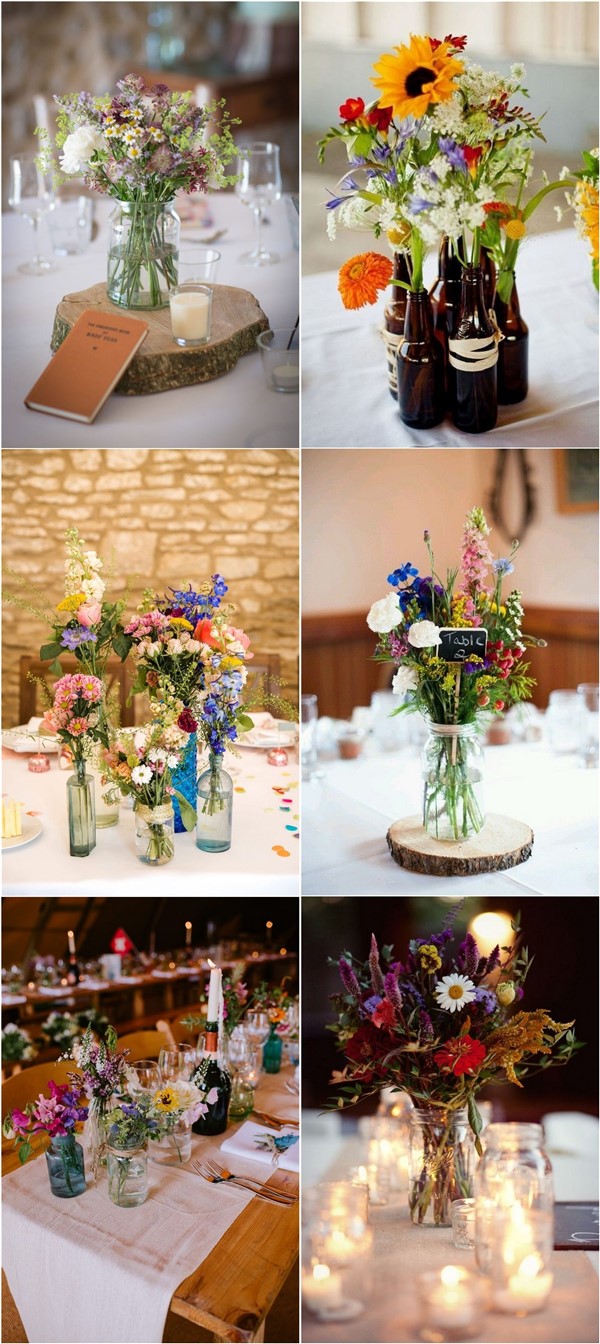 Wildflowers are a beautiful way to add a touch of nature to your wedding decor. If you're looking for budget – friendly ideas, we've got you covered with 20 ideas that will work for any style or theme. From DIY ideas to shop bought options, we've got something for everyone. So go ahead and get creative – there's no end to the ways you can decorate with wildflowers!