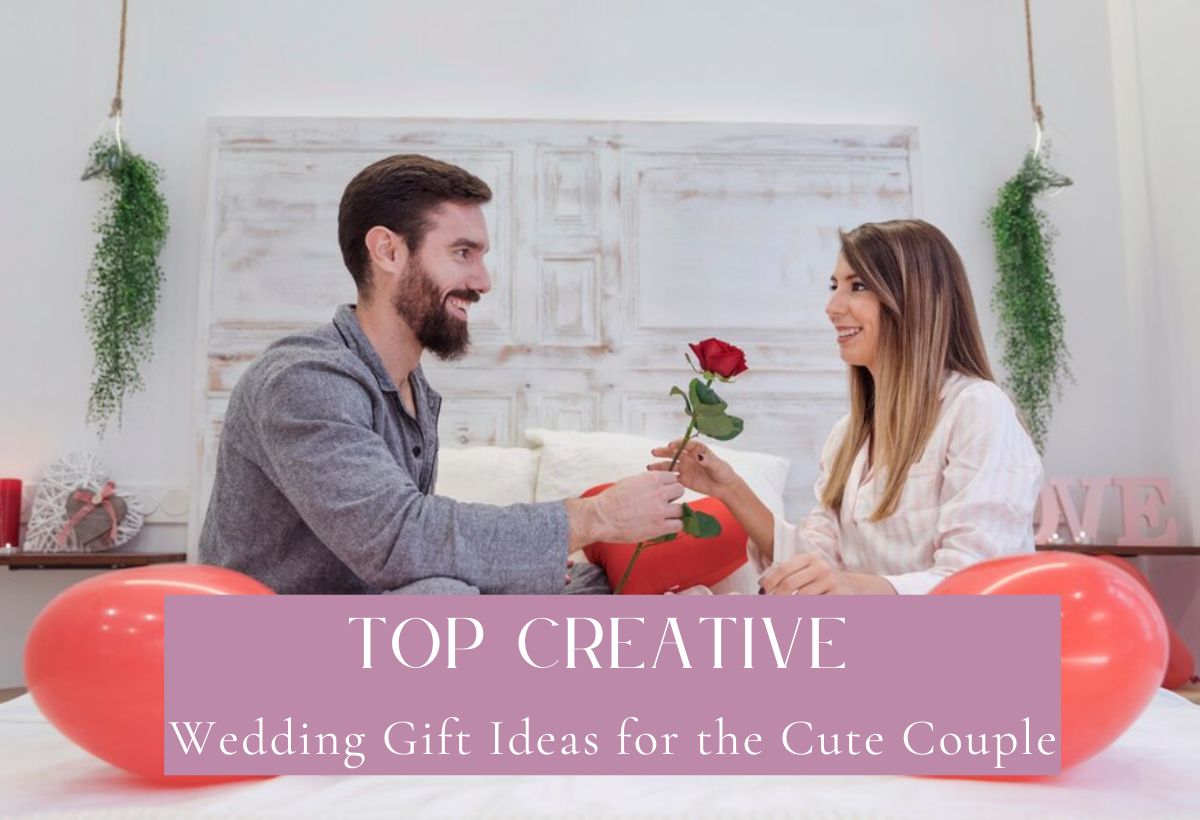 Top Creative Wedding Gift Ideas for the Cute Couple
Have you ever found yourself lost in a sea of options when it comes to choosing the perfect wedding gift? With so many ideas floating around, it can be overwhelming to find a present that genuinely captures the essence of the couple and their special day. After all, a wedding gift should be more than just an item on a registry or a gesture of tradition. It should reflect love, thoughtfulness, and creativity.
Weddings are joyous occasions that celebrate the union of two souls, and gifts play a significant role in this celebration. They symbolize the love and support we offer to the happy couple as they embark on their journey together. The right gift has the power to evoke emotions, create memories, and bring smiles to their faces.
However, finding that ideal wedding present can be a daunting task. The pressure to choose something unique and meaningful can leave even the most well-intentioned gift-givers scratching their heads.
But fret not! Here, we have compiled a list of the top creative wedding gift ideas that will surely leave the cute couple beaming with delight.
So, let's dive in and explore the world of top creative wedding gift ideas for the cute couple!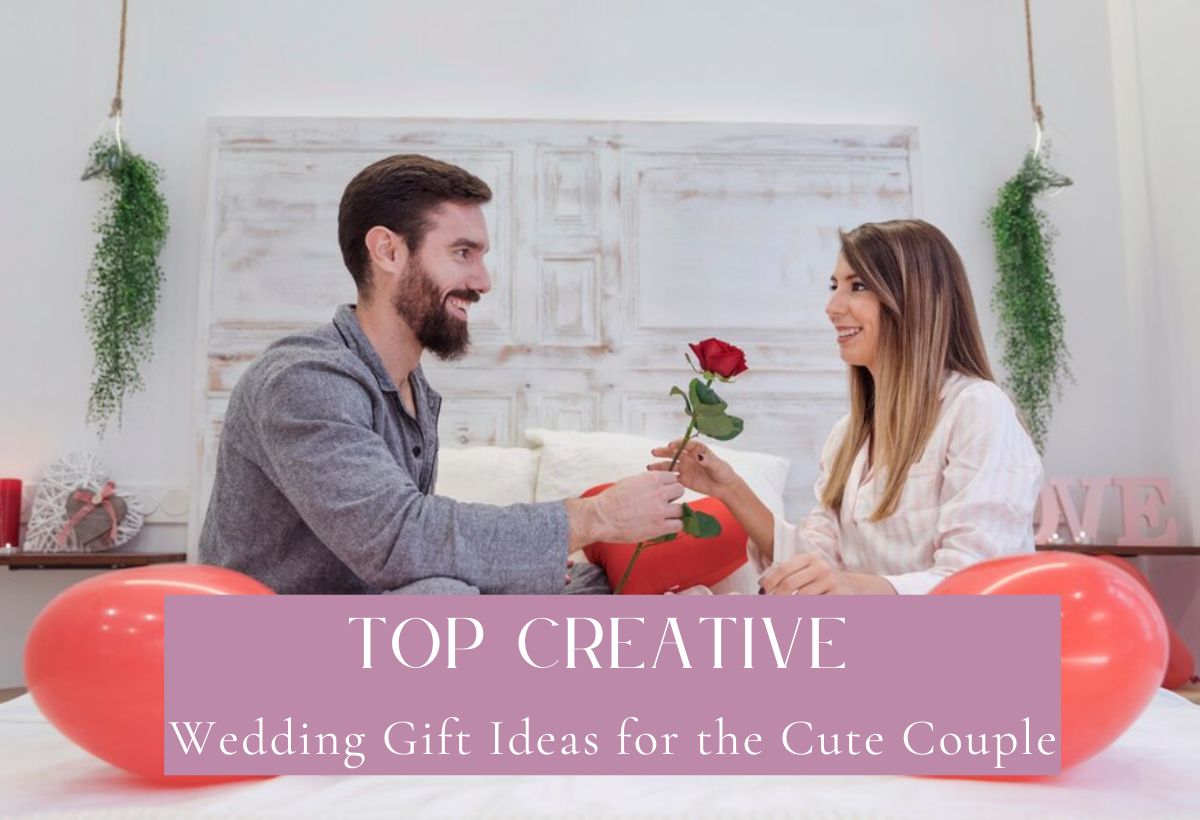 Photo Art:
A picture is worth a thousand words, and what better way to capture the essence of a couple's special day than through photo art? Instead of simply giving them a photo frame, consider gifting them a customized piece of photo art. You can create a collage of their favourite moments or transform their wedding photo into a stunning canvas print. This unique gift will allow the couple to cherish their memories in a beautiful and artistic way.

Espresso Machine
For the coffee-loving couple, an espresso machine is a perfect gift choice. This practical and stylish appliance will bring a touch of luxury to their mornings and help them start their day with a perfect cup of coffee. You can even go the extra mile by including a selection of gourmet coffee beans or personalized mugs to enhance their coffee experience. With an espresso machine, the couple can create their own cosy café at home and enjoy quality time together over a steaming cup of joe.

Video Guestbook
Why settle for a traditional guestbook when you can offer the couple a truly unforgettable keepsake? Introducing the wedding video guestbook – a unique way for guests to leave their heartfelt wishes, messages, and memories. By incorporating video-making software, guests can easily scan QR signage at the venue and record their heartfelt messages, which will be compiled into a professional and awe-inspiring video. This interactive and creative gift will not only add a personal touch to the wedding day but will also become a cherished memento for the couple, allowing them to relive the magic of their special day whenever they desire.?
Our Q&A a Day: 3-Year Journal
Marriage is a journey filled with beautiful moments and personal growth. The "Our Q&A a Day" journal is designed to capture the couple's thoughts, dreams, and experiences over a span of three years. With a question for each day, the couple can write down their answers and reflect upon them as the years go by. This unique journal will serve as a bonding tool, allowing the couple to deepen their connection and create a treasure trove of shared memories. It's a gift that keeps on giving and strengthens their relationship in a meaningful way.
Experience-based Gifts
Create unforgettable memories for the couple by gifting them an experience rather than a physical item. This could be anything from a romantic weekend getaway, a cooking class, a wine-tasting tour, or even skydiving lessons for the adventurous duo. Tailor the experience to match their interests and passions, and they will appreciate the thought and effort behind the gift.
Date Jar:
Help the newlyweds keep the romance alive by creating a date jar filled with creative and fun date night ideas. Write down suggestions like "Cook a meal together," "Have a movie marathon night," or "Take a sunset walk on the beach." The couple can pick a random idea from the jar whenever they need inspiration for a memorable date night.

As the adorable couple embarks on their journey of love and togetherness, your choice of a creative wedding gift can make their special day even more extraordinary. By opting for unique and thoughtful gifts like the ones mentioned above, you can show the couple just how much they mean to you and make a lasting impression on them.
These creative gift ideas go beyond the conventional and add a personal touch to the couple's new chapter. From capturing their cherished memories in a beautiful way to enhancing their daily routines with luxurious treats, each gift serves as a reminder of your love and support.
So, it's time to step away from the traditional alternatives and be unique!
Let your imagination soar, and let your gift be a reflection of the love and support you have for the newlyweds!