20 Bohemian Pampas Grass Wedding Ideas to Inspire You
Pampas grass is one of the most majestic and romantic of all wedding flowers. Its feathery leaves make it perfect for bouquets, boutonnieres, and centerpieces. In this article, we'll show you how to use pampas grass in your wedding so that your venue looks as magical as possible!
Pampas Grass Wedding Bouquets
Pampas grass is a great alternative to the traditional bouquet. Brides can use pampas grass as a bouquet or bridesmaids can carry sprigs of it. It's also a great way to decorate the wedding venue!
To make your own pampas grass bouquet, cut branches from the plant and trim off excess leaves. You'll want to keep some of those leaves attached so they frame the flowers and look pretty. Then take each branch and wrap it with greenery until you're happy with how it looks!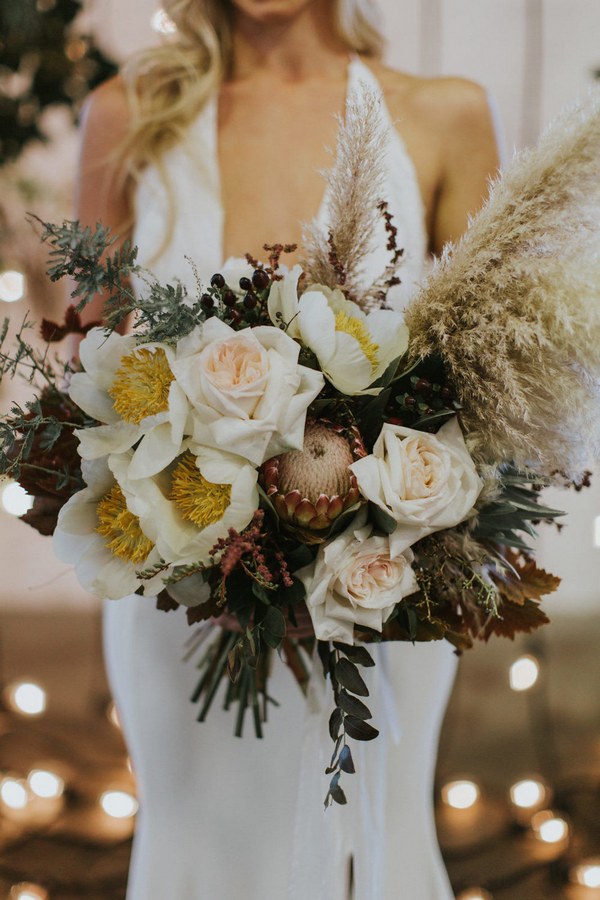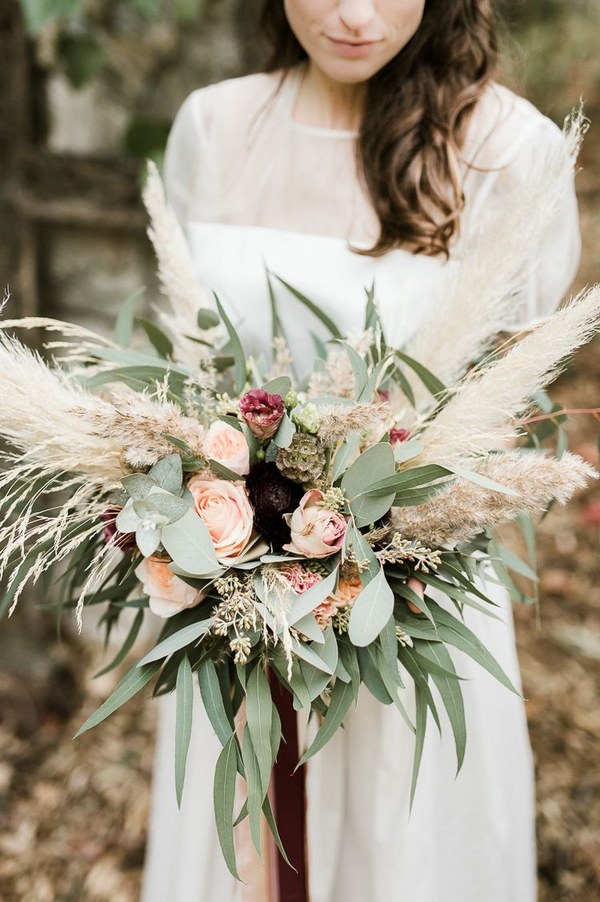 Pampas Grass Wedding Arches
You can decorate a pampas grass arch with flowers, greenery and other natural materials to create a truly Bohemian look.
Attach the arch to the ceiling or wall before you set up your ceremony space. The best way to do this is by using floral wire that's been cut into pieces about 10 inches long. Use one piece for each crossbar in the pampas grass and then connect those pieces together with another length of floral wire at the center of the arch (this will make it easy for you to hang).
If you're really not feeling DIY-ing something like this, ask an expert florist or wedding planner if they would be willing outsource this part of your ceremony setup on your behalf!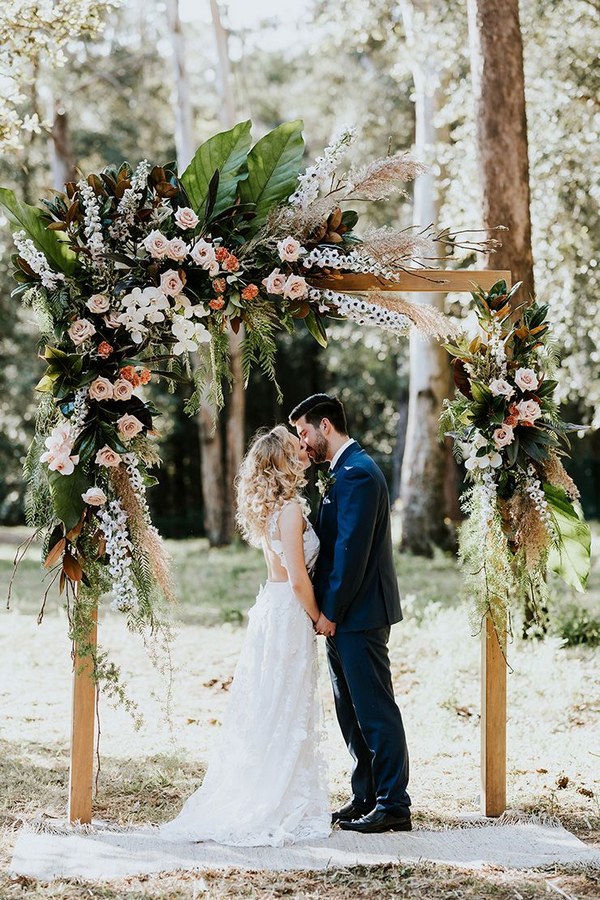 Source: the wedding play book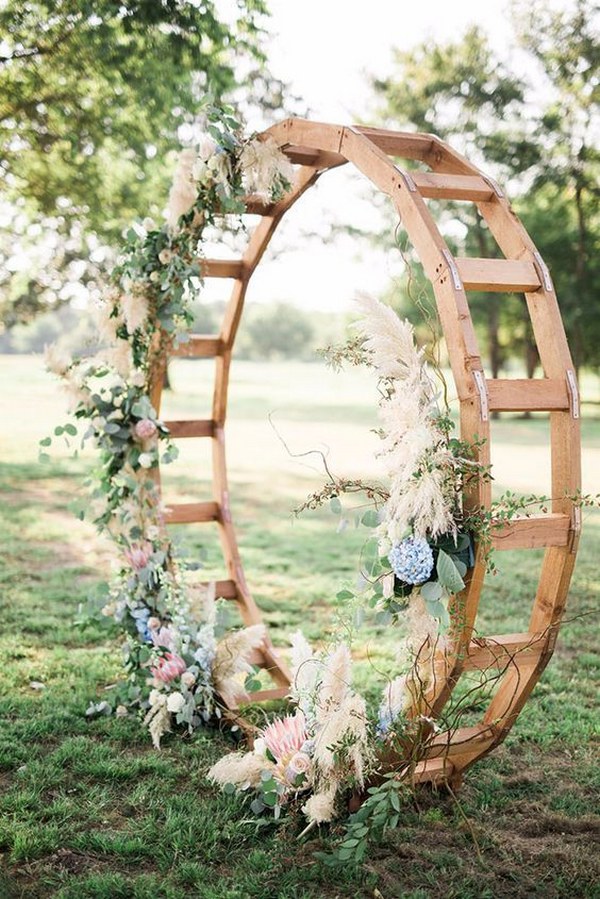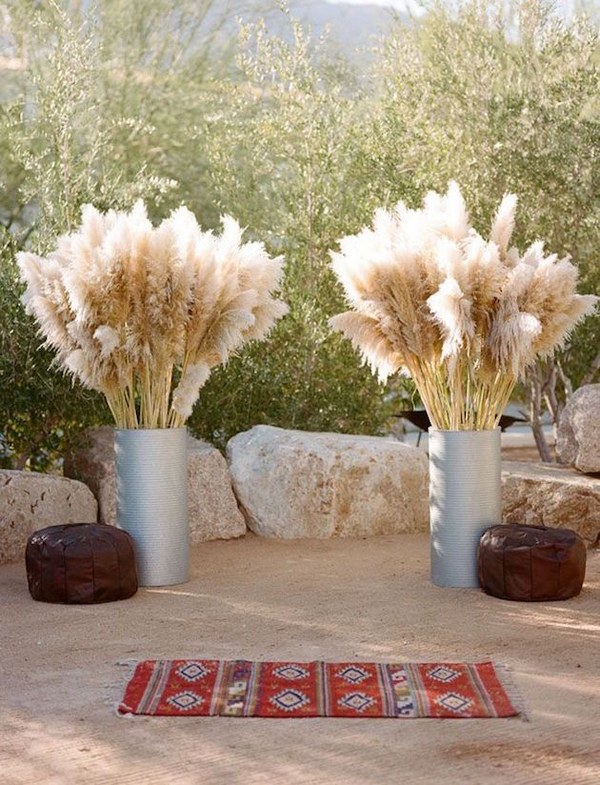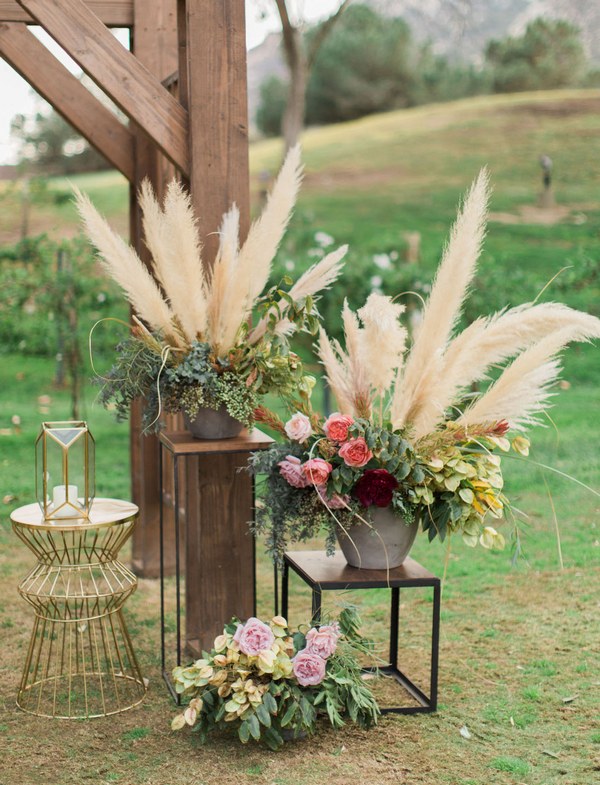 Pampas Grass Wedding Aisle Ideas
Another way to use pampas grass instead of flowers is to decorate the chairs at your wedding with it. You could use different sized pieces for each chair, or you could use one size for all of them. For example, you could make a bunch of pampas grass balls and place them on each chair seat like so:
This will look especially beautiful if you pair it with a rustic-chic theme!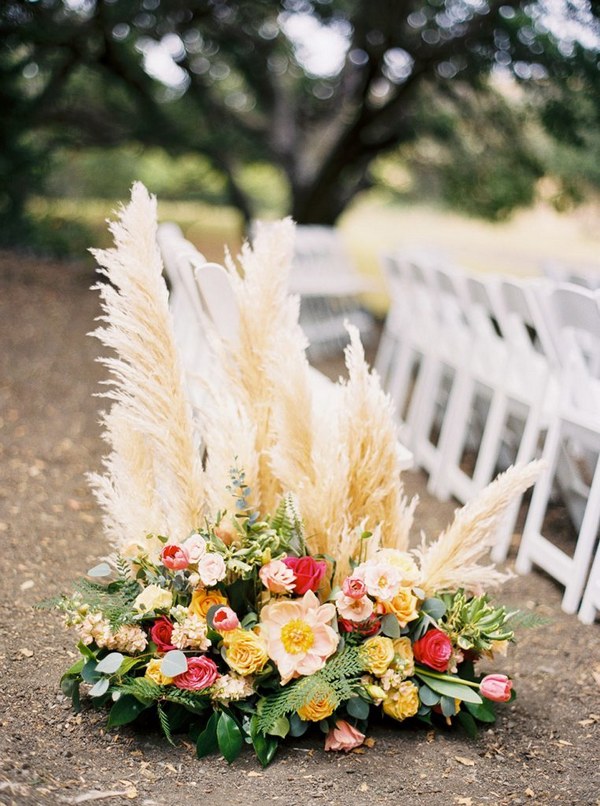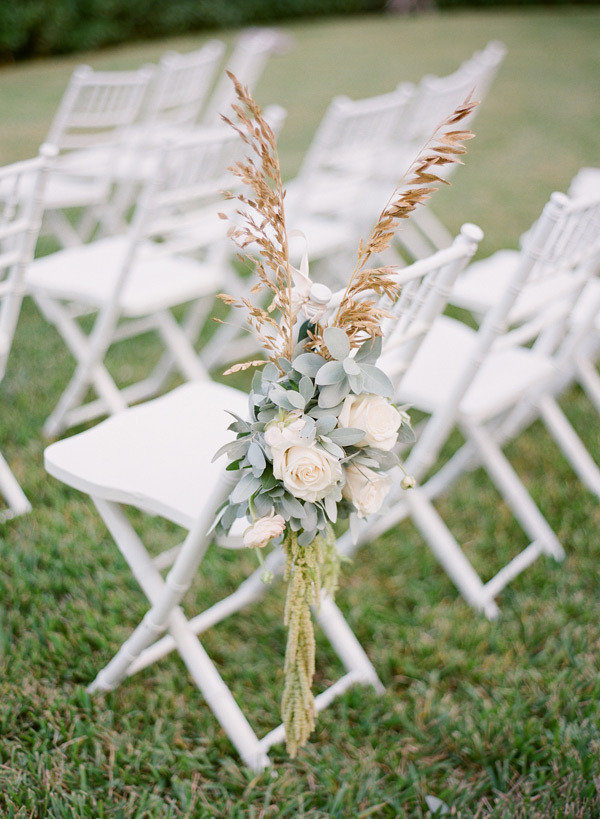 Pampas Grass Hanging Wall Decoration
This is an excellent example of a pampas grass hanging wall decoration. It's very easy to make and you can use it as part of your wedding decorations, or even as a gift for someone else's wedding.
Grab some scissors, glue and some string.
Cut the pieces into 4 inches long segments with scissors, then glue them onto the string in any desired pattern.
Hang this piece on the wall for everyone to admire!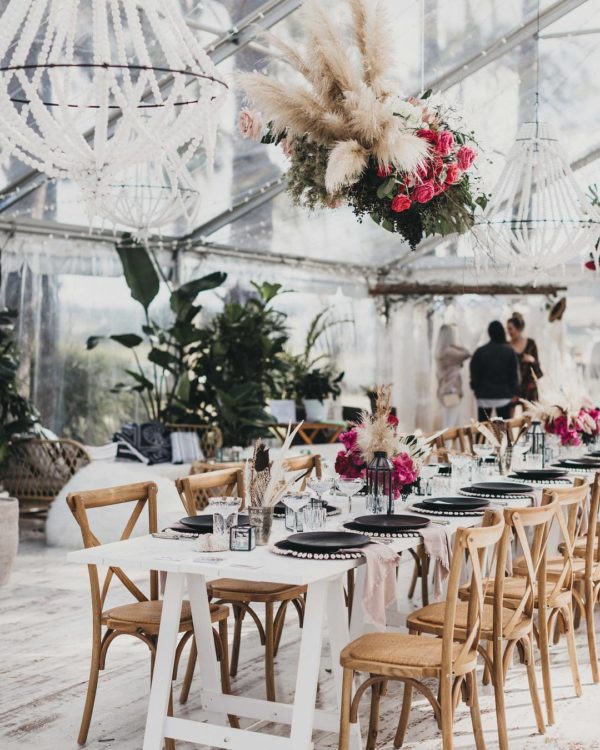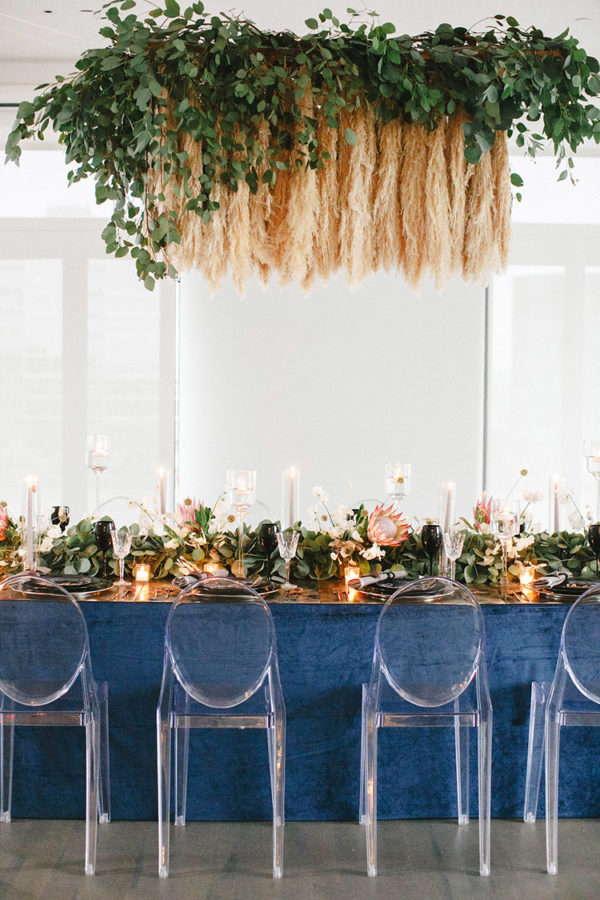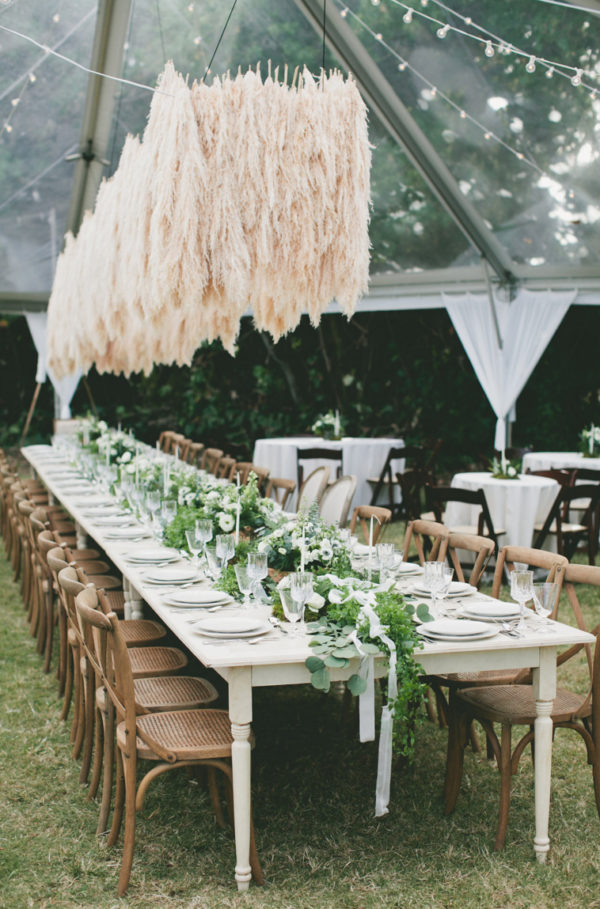 Pampas Grass Wedding Centerpieces
One of the easiest ways to incorporate pampas grass into your wedding is through centerpieces. The feathery leaves of this grass are eye-catching and will add a touch of nature, color, and texture to your table. They're also very easy on your wallet as you can use them in place of flowers that cost a lot more money!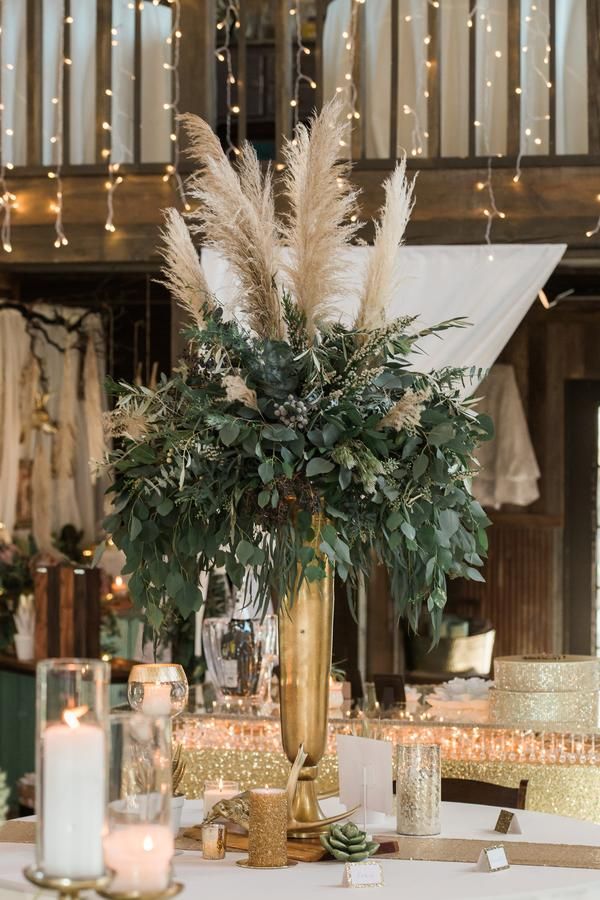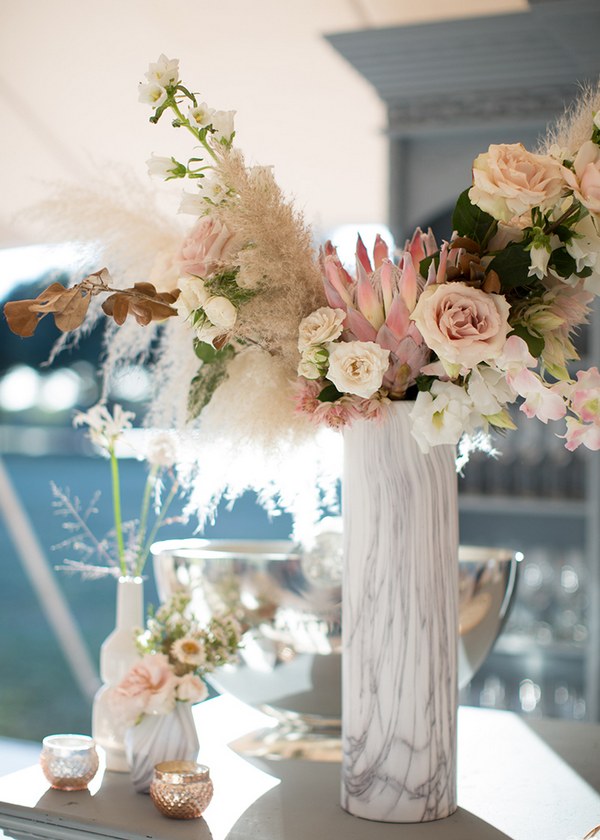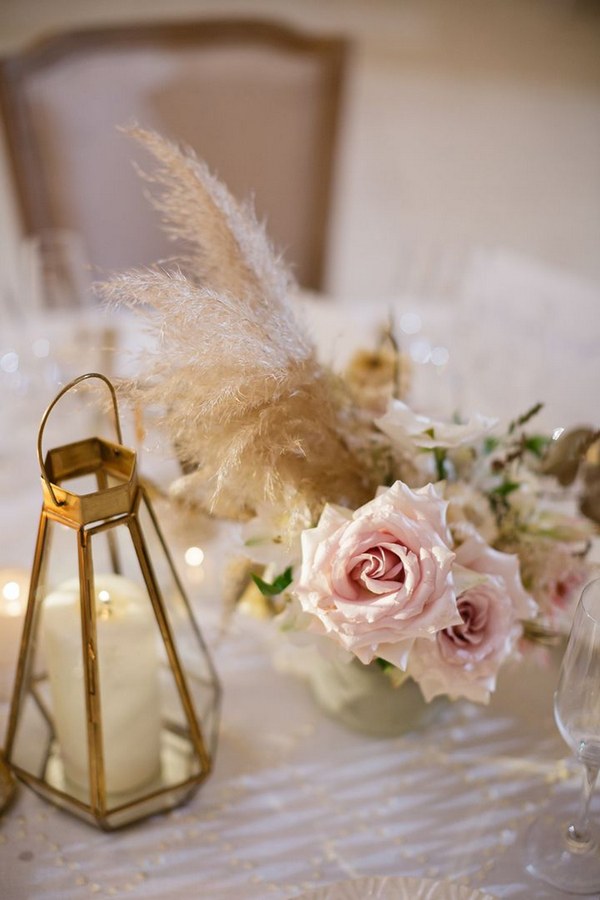 Pampas Grass Wedding Decoration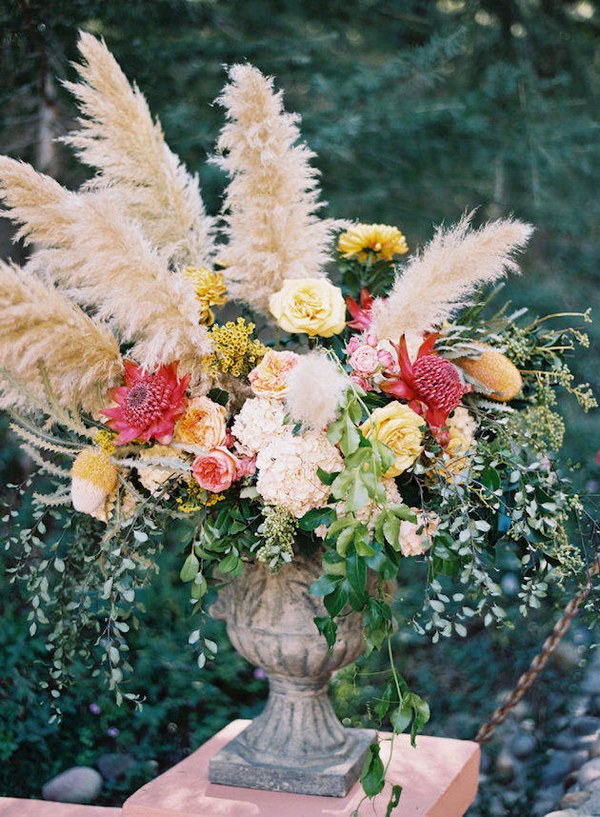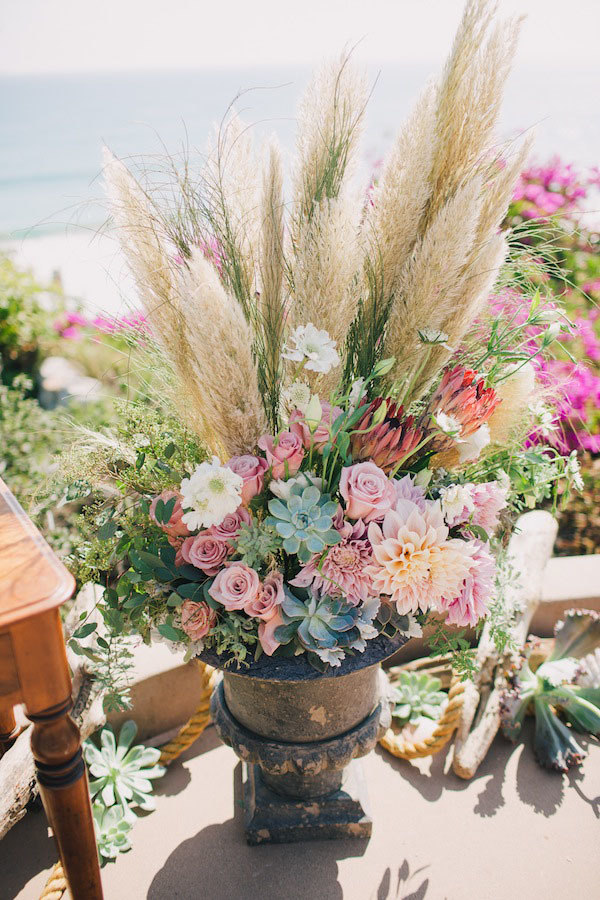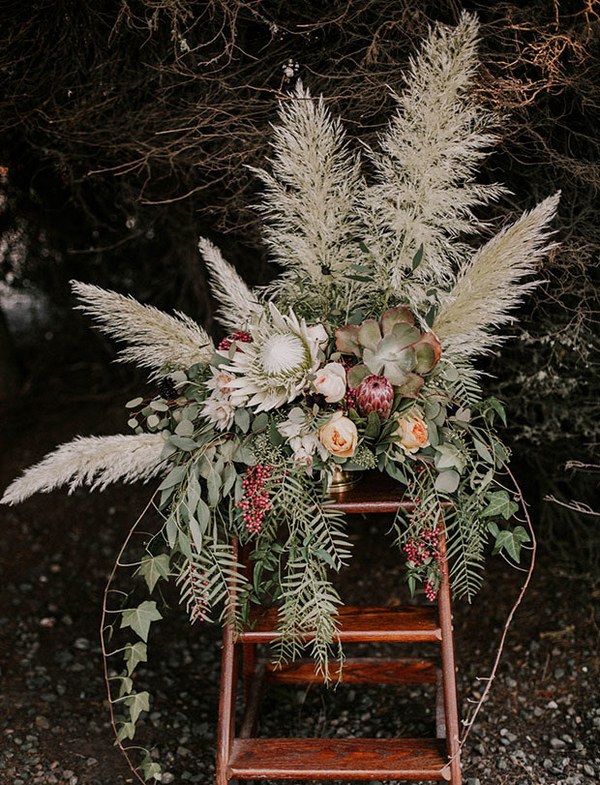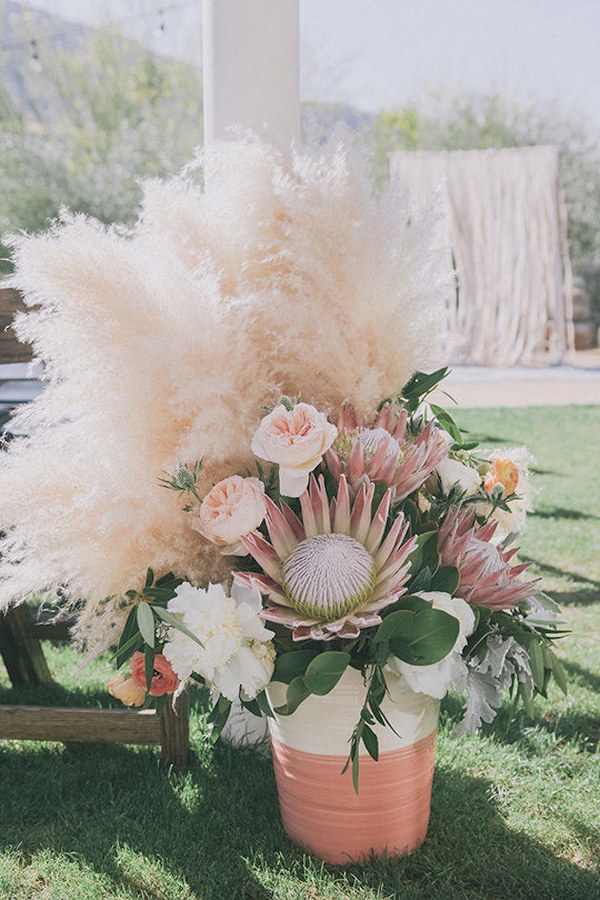 Pampas Grass Wedding Seating Chart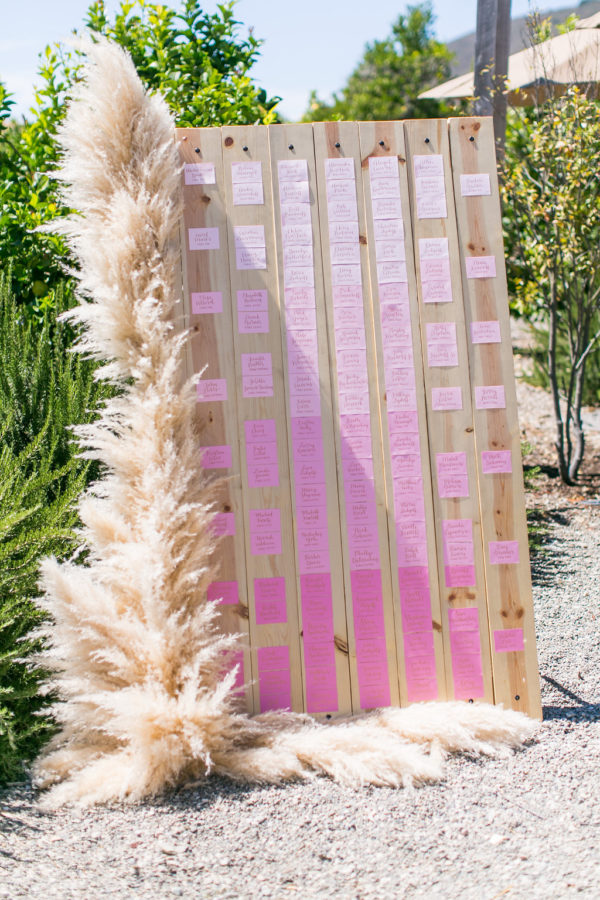 Pampas Grass Place Settings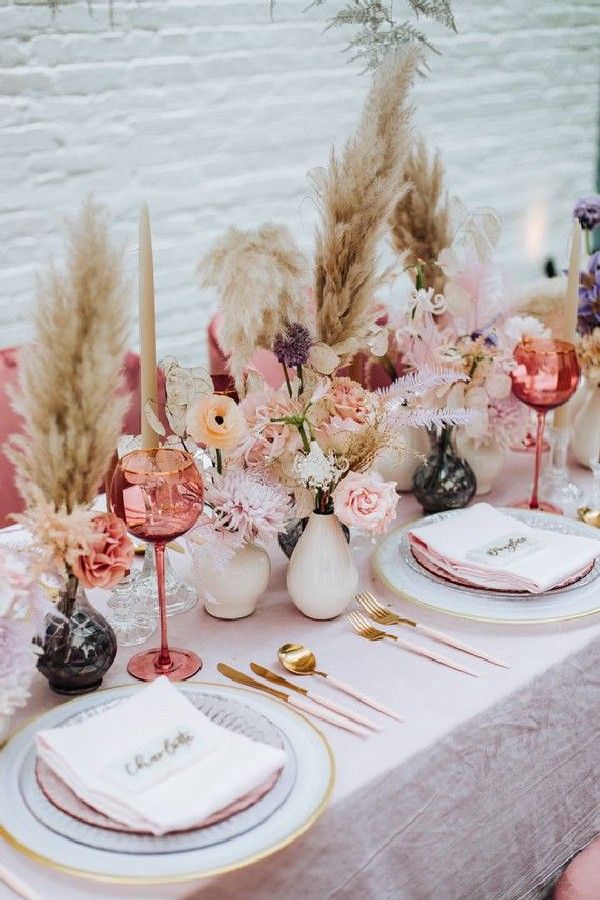 Pampas grass place settings are a great way to add greenery to your wedding tables. It's also a sustainable and eco-friendly choice for your wedding. The pampas grass will last for years, so it can be reused at future events.
To create these beautiful place settings, you will need:
Pampas grass in pots or cuttings from your garden. Use a mix of colors if possible!
A variety of vases with different heights and shapes (some wide and short, some tall and thin). I used glass votives as an example here because they are reusable after the wedding—just take out the candle before serving dinner! You could also use small mason jars or glass bottles if you want something more rustic looking than crystal clear glassware (this is my favorite option for casual backyard weddings). You just have to make sure that whatever container you use has enough room inside so that each guest can fit their napkin safely on top without getting crushed by other items being stored together inside—a good rule of thumb is about 1 inch between everything else inside the vessel so it looks clean & tidy when full up with flowers/greenery like this one does below



We hope that these ideas have inspired you to get creative with your own pampas grass wedding. The best part about this unique plant is that it's so versatile—you can use it as a centerpiece, ceremony arch, or even just as an accent piece throughout the whole event. It all depends on how much time and money you want to spend! If one of these ideas seems like something worth trying out (or all of them), then go for it! Make sure you do some research beforehand though so that everything goes smoothly when it comes time for execution. Happy planning!