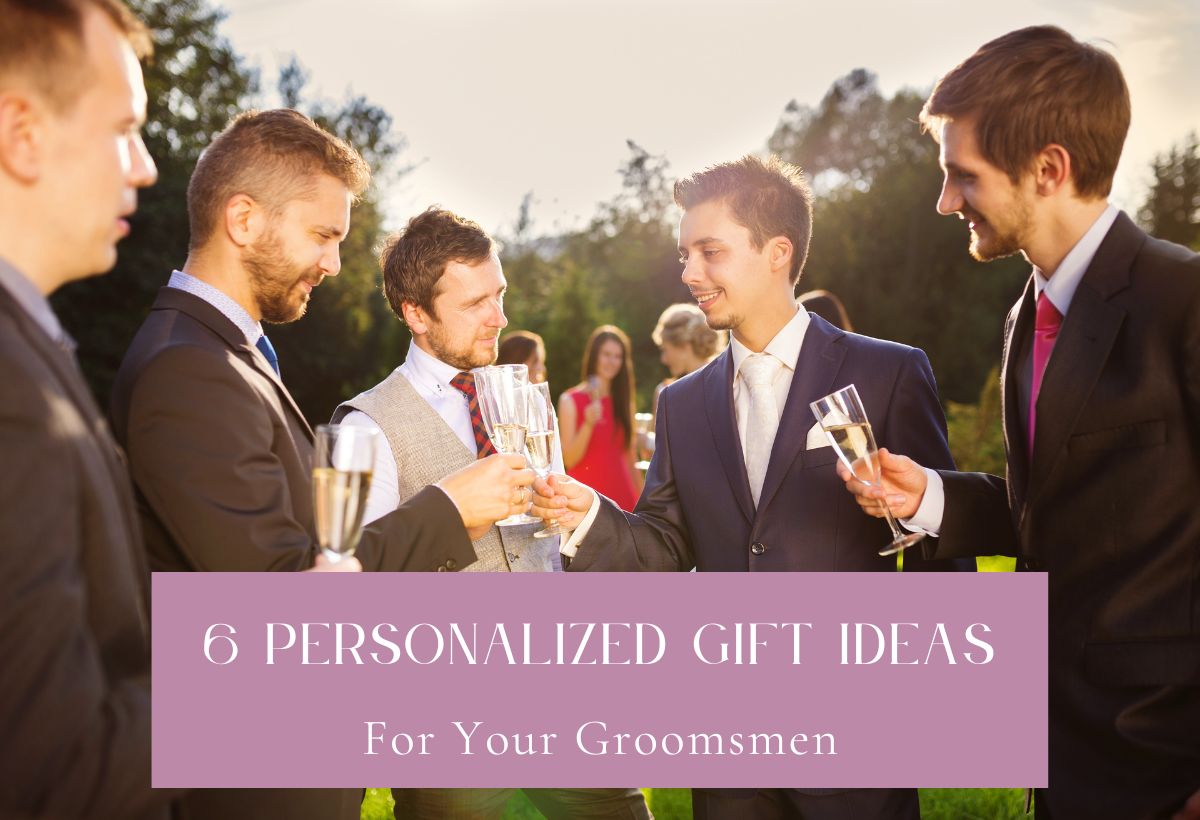 6 Personalized Gift Ideas For Your Groomsmen
Life's special moments shine brighter with friends by our side, much like stars lighting up a night sky. For a groom, his groomsmen are not just pals; they're his rock, his personal cheer squad, and confidants. This piece dives deep into celebrating these bonds with heartfelt, personalized gifts. It's more than just picking out a gift—it's about bottling up memories and shared adventures. 
Dive in as we guide you on selecting and sourcing those perfect tokens that say, "I cherish our journey together."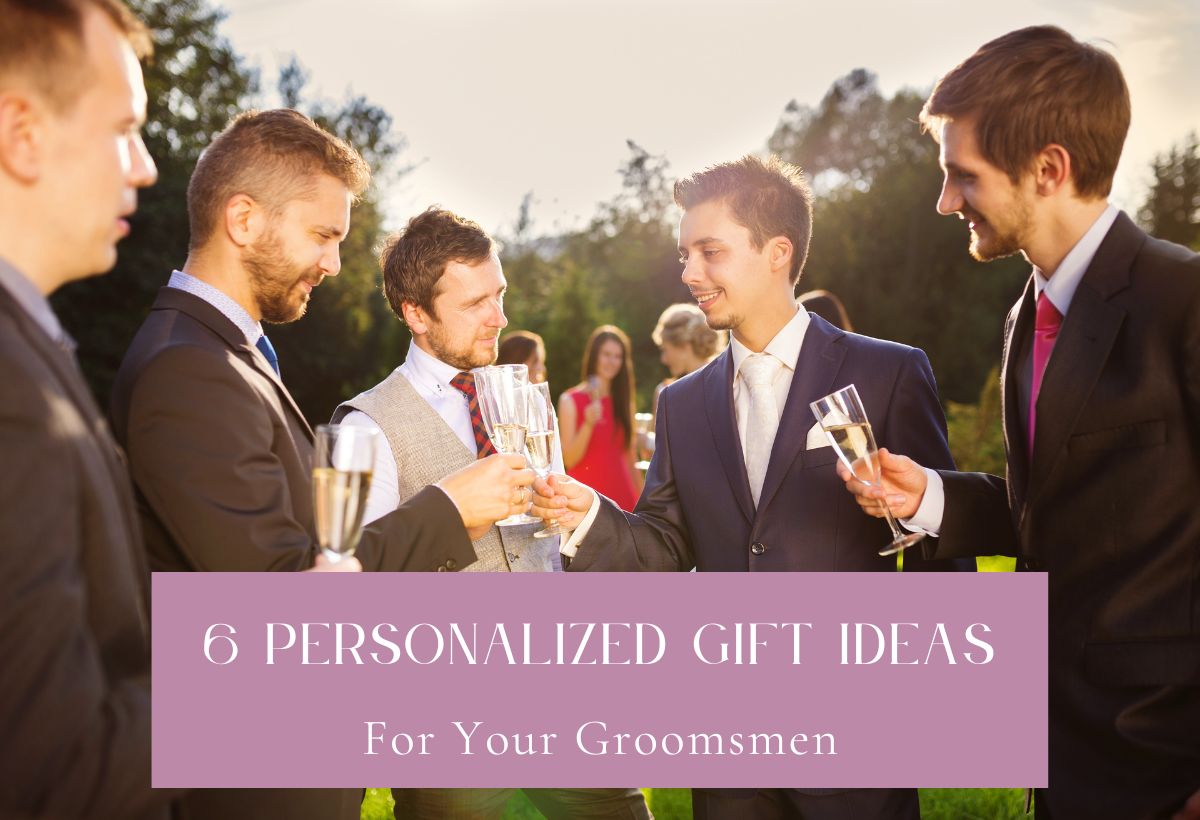 The Heartfelt Value of Custom Gifts for Groomsmen
Personalized gifts are more than just items—they're a testament to the bond with your groomsmen. These custom presents go beyond a mere "thank you," reflecting the depth of your friendship. Their uniqueness lies in the details, be it an engraving or a cherished memory. For your groomsmen, who've been steadfast in life's journey, such gifts resonate deeply, signaling, "Our bond is one-of-a-kind, just like this gift."
Crafting the Perfect Personalized Gift for Groomsmen
Picking the right personalized gift for your groomsmen is a blend of sentiment and pragmatism. It's about showing gratitude while ensuring they receive something they cherish. Here's a guide to nailing that choice:
Tune into Their Hobbies
Tailor your gifts to your groomsmen's passions. Golf aficionados might appreciate monogrammed golf balls, while whiskey lovers could treasure engraved glasses or decanters. It's about showing you've paid attention to who they are.
Aim for Everyday Use
Go beyond novelty. Choose gifts that weave into their daily lives. Think engraved pocket knives, monogrammed wallets, or personalized dopp kits. These practical tokens will be a constant reminder of your special day.
Think about the adventures, the laughs, the shared stories. Gifts that echo these memories or in-jokes can be touching. Maybe it's personalized jerseys of a shared favorite team or hats that mark a memorable trip.
With these touchpoints in mind, you'll not only express gratitude but also give your groomsmen something to cherish long after the celebrations.
Examples of Thoughtful Personalized Gifts for Groomsmen
1. Engraved Watches
Timeless and sophisticated, a watch is a classic gift. Elevate its significance with a personal touch by engraving the back with a meaningful date, initials, or a brief message. Whether it's a sleek leather-strapped piece or a metallic chronograph, a watch, like an engraved pocket watch from Dalvey, becomes an heirloom, marking the precious moments you've shared.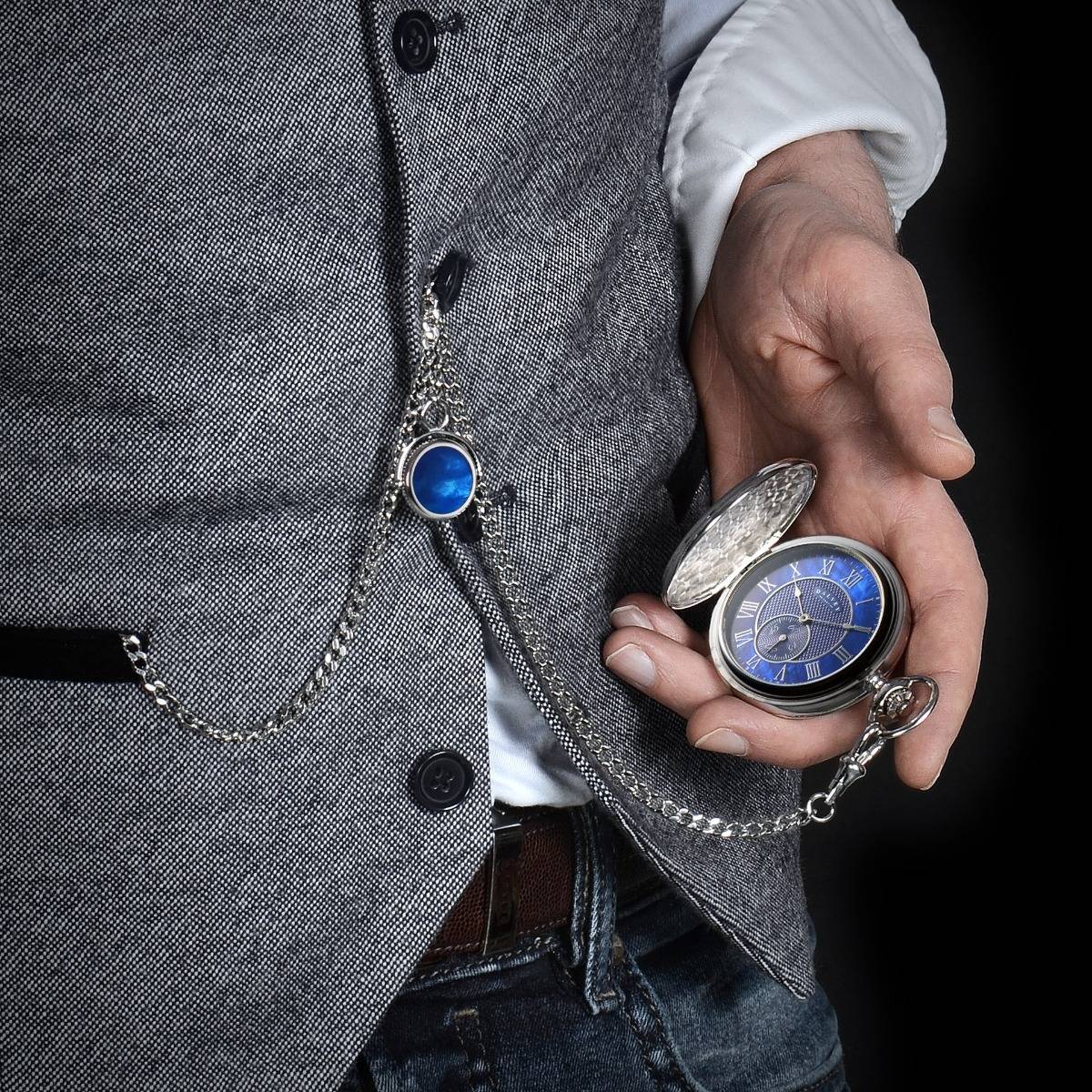 2. Monogrammed Whiskey Decanter
For the spirit aficionados, a personalized whiskey decanter etched with their initials or a significant date can be both a decorative and functional gift. Paired with matching glasses, it becomes a centerpiece for any home bar.
3. Customized Pocket Knife
Practical and personal, a pocket knife engraved with their name or a memorable quote can be a cherished tool for everyday tasks or outdoor adventures.
4. Personalized Leather Wallet
A daily essential becomes a thoughtful memento when stamped with a monogram or an inside joke. Opt for a classic bifold or a minimalist card holder based on their preference.
5. Custom Sports Jerseys
Celebrate camaraderie with a personalized sports jersey. Choose from your shared favorite team and add their names or nicknames to the back. It's not just a piece of clothing but a memory of the shared cheers and game nights.
6. Personalized Cigar Cutter
For the cigar enthusiasts among your groomsmen, a customized cigar cutter engraved with their initials or a special date will not only be a functional tool but also a stylish accessory. Every time they prepare a cigar, they'll be reminded of your special bond and the celebrations you shared.
Choosing from these personalized gifts ensures your groomsmen have a keepsake that's both meaningful and useful, reminding them of your shared journey every time they use or wear it.
Discovering the Perfect Place for Personalized Groomsmen Gifts
Finding that special memento for your groomsmen demands a touch of thought and a dash of creativity. Here's where you can start your quest for personalized gifts:
Digital Marketplaces
Online platforms offer a vast array of options, ensuring you find something that resonates with each groomsman's personality.
Etsy: A haven for handcrafted and custom items. Browse through artisanal flasks, hand-stitched leather goods, and unique cufflinks.

Amazon: With its immense marketplace, you're bound to find a plethora of customizable gifts ranging from engraved items to personalized keepsakes.

Things Remembered: This site specializes in personalization, offering everything from monogrammed glassware to customized watches.
Local Craftspeople
Handmade gifts carry an intrinsic charm, and local artisans can offer creations imbued with personal touches.
Jewelry Makers: Get a piece of jewelry designed, be it cufflinks, tie clips, or bracelets.

Woodworkers: Think bespoke wooden boxes, personalized frames, or handcrafted pens.

Leather Artisans: From wallets to belts, personalized leather goods never go out of style.
Niche Boutiques
These specialty stores cater to particular interests, ensuring your gift is both personal and unique.
Sports Memorabilia Stores: Perfect for the sports enthusiast; think custom jerseys or engraved baseballs.

Cigar Shops: A personalized humidor or engraved lighter could be the ideal touch for the cigar aficionado.

Liquor Boutiques: Offer a rare bottle with a custom label or an engraved wine opener.
In the realm of personalized gifts, it's all about weaving individual personalities into the presents. Whether you're browsing vast online collections or seeking artisanal expertise, there's a perfect gift waiting to be discovered.
Reflecting on the Essence of Personalized Appreciation
In essence, the journey towards picking the ideal groomsmen gift is akin to retracing the steps of your shared history. It's about encapsulating those shared jokes, unforgettable adventures, and moments of solace in a token of appreciation. 
With the guidelines and suggestions provided, you're equipped to make a choice that resonates deeply with your groomsmen, ensuring that your gifts aren't just items but tangible manifestations of your gratitude and friendship. 
Remember, it's the thought and personal touch that transforms a gift from ordinary to extraordinary.