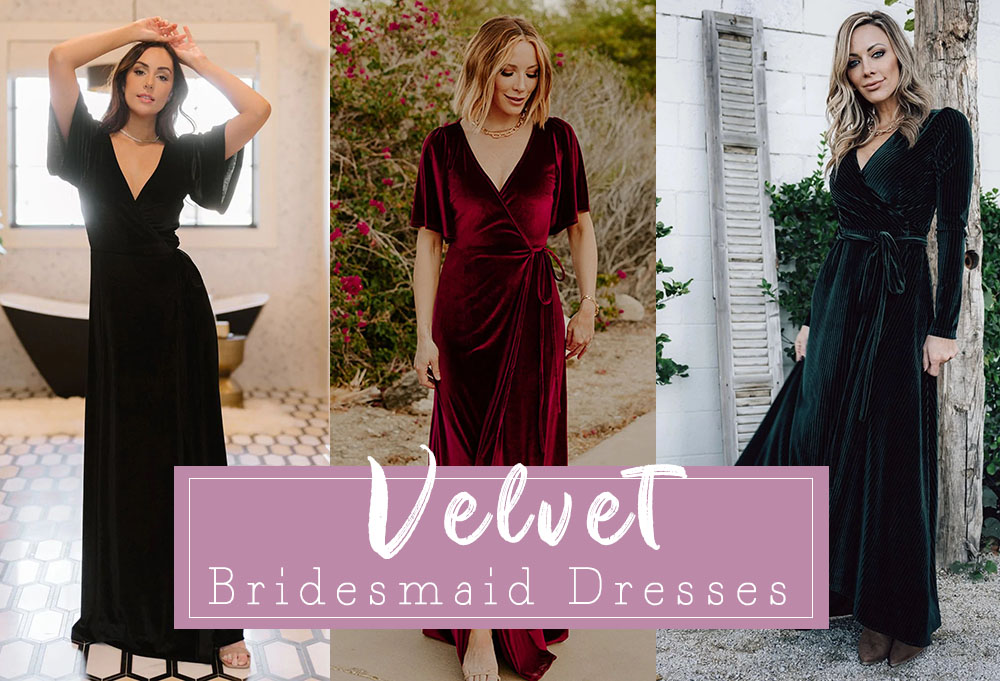 25 Velvet Bridesmaid Dresses 2023 That Can Be Worn Again
Velvet is one of the warmest fabrics out there. It's a great choice for winter weddings and winter events, but it can also be worn in other seasons as well. Velvet bridesmaid dresses are a great option if you want your girls to look chic and feel comfortable at the same time. So when it comes to choosing a dress for your wedding party this season, keep these velvet choices in mind!
Is it cold where your wedding is taking place? Are you just really into the trend of velvet bridesmaid dresses? Or do you just love velvet and would love to see your bridesmaids in it? Whatever the reason, here are some great options that you can check out.
Black Velvet Bridesmaid Dresses
Black is a classic color that never goes out of style. It's also one of the easiest colors to match with other bridesmaid dresses and accessories. If your wedding is formal, you can't go wrong with black velvet bridesmaid dresses—they will look amazing in photos and on the big day. Black velvet also pairs well with winter weddings since it's warm and cozy, which makes it ideal for an outdoor event in cold weather. This rich hue also pairs beautifully with fall foliage and spring flowers like tulips or daffodils; it works well as an accent color for any springtime wedding theme!
1.Black Velvet Wrap Maxi Bridesmaid Dress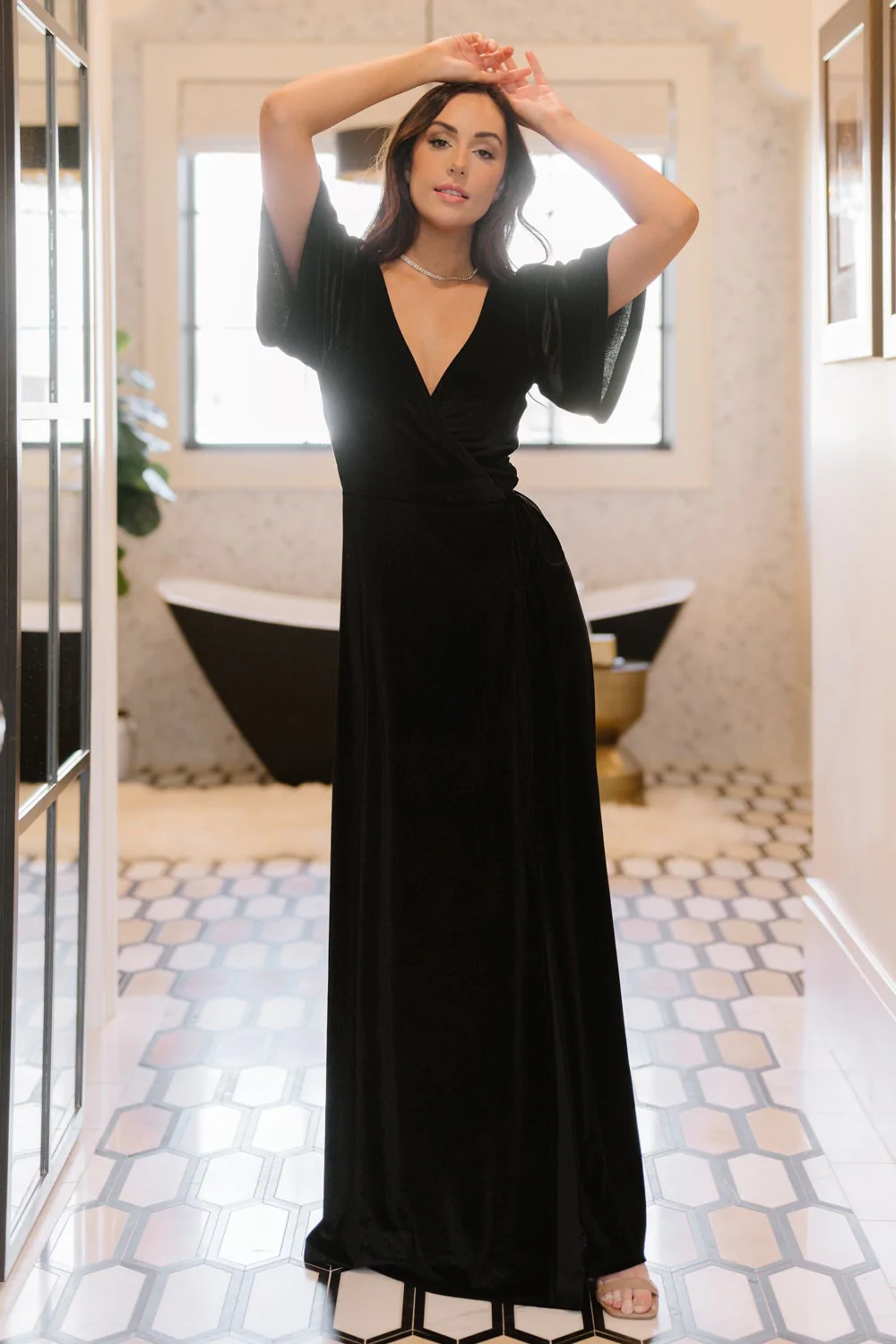 2. Long Sleeve Black Velvet Wrap Bridesmaid Dress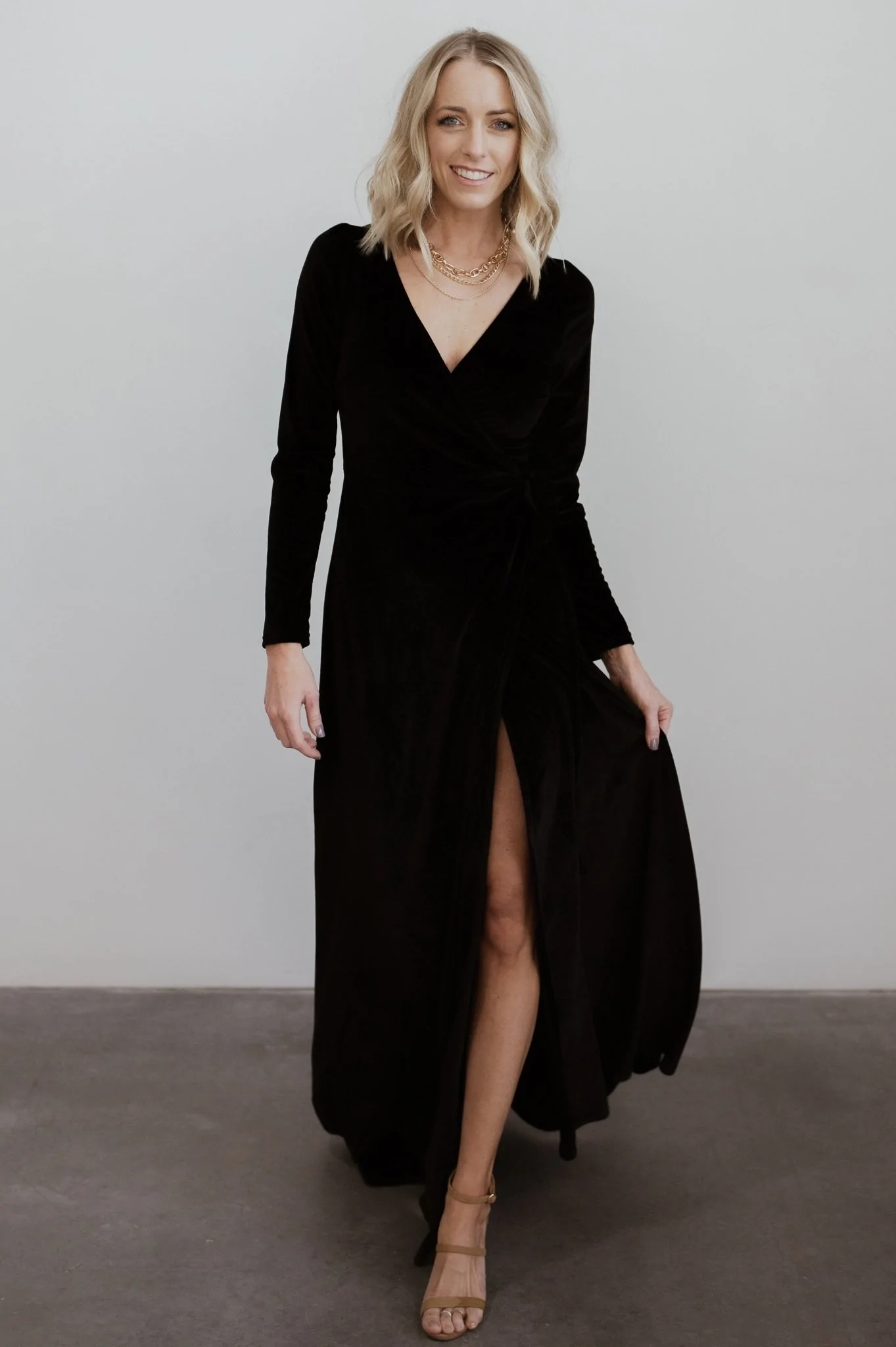 3. Black Velvet Bridesmaid Dress with elbow length sleeves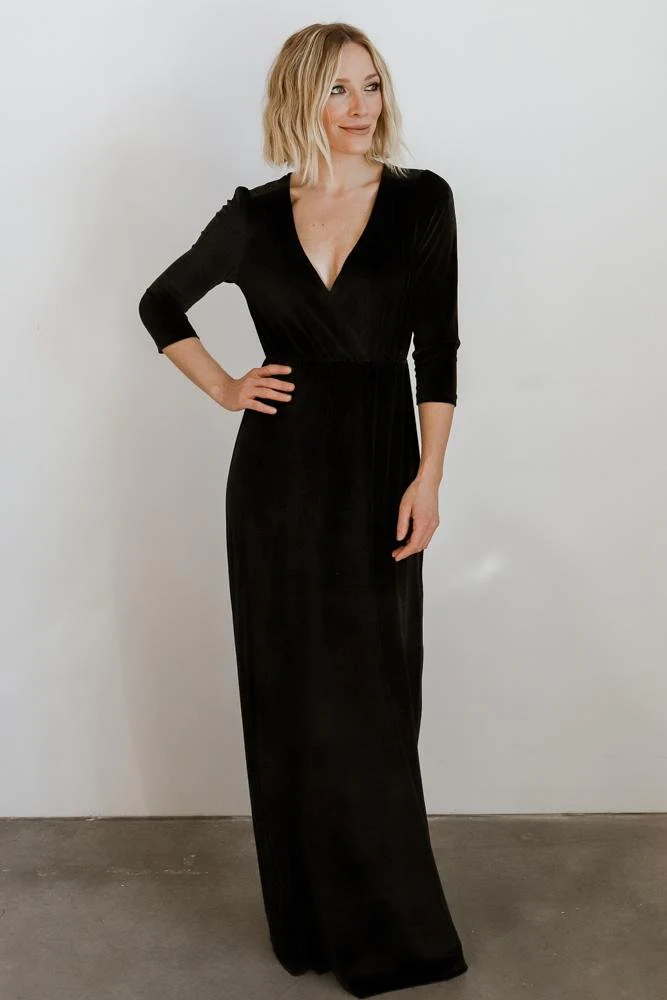 Green Velvet Bridesmaid Gowns
Green is a great choice for a bridesmaid dress. It is a neutral color, which means it will go with most wedding themes and styles. If you're looking to add some diversity to your wedding party, green is an excellent option because it's bold enough to make itself noticed but not so much that it'll clash with other colors in your wedding.
4. Dark sage emerald green velvet bridesmaid dresses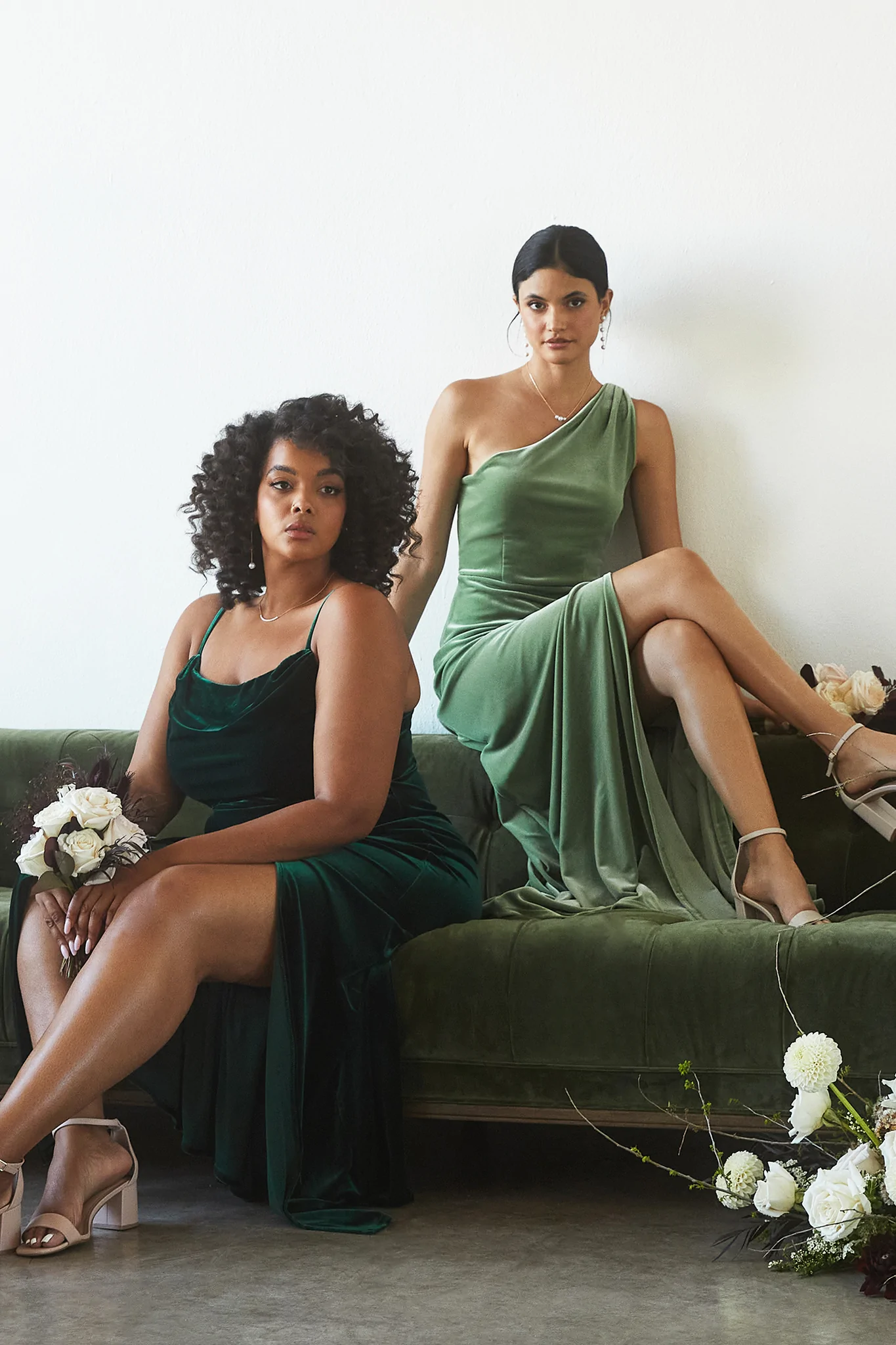 5. Emerald Green Velvet Wrap Bridesmaid Dress with Long Sleeves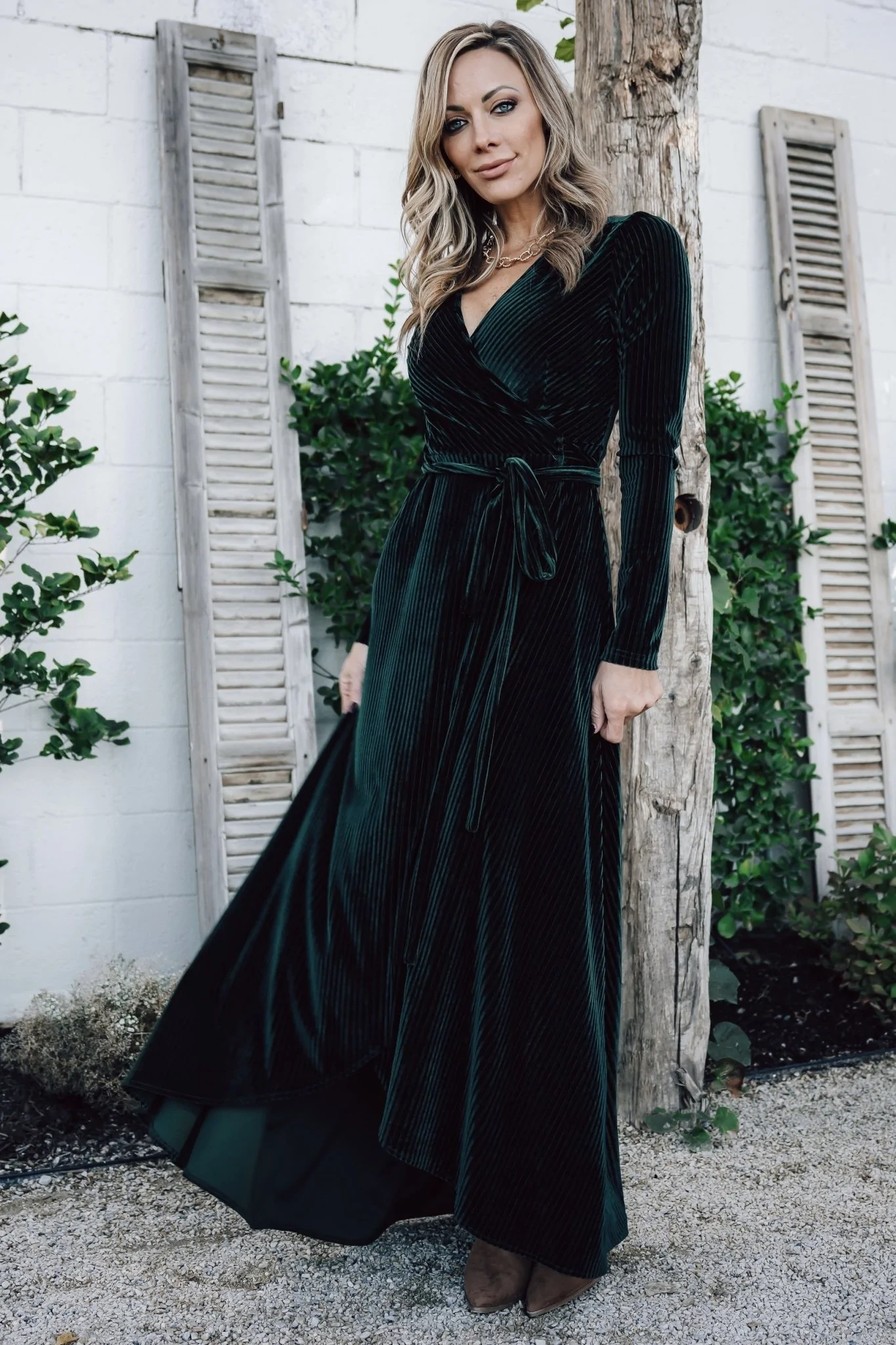 6. Sage Backless Velvet Bridesmaid Dress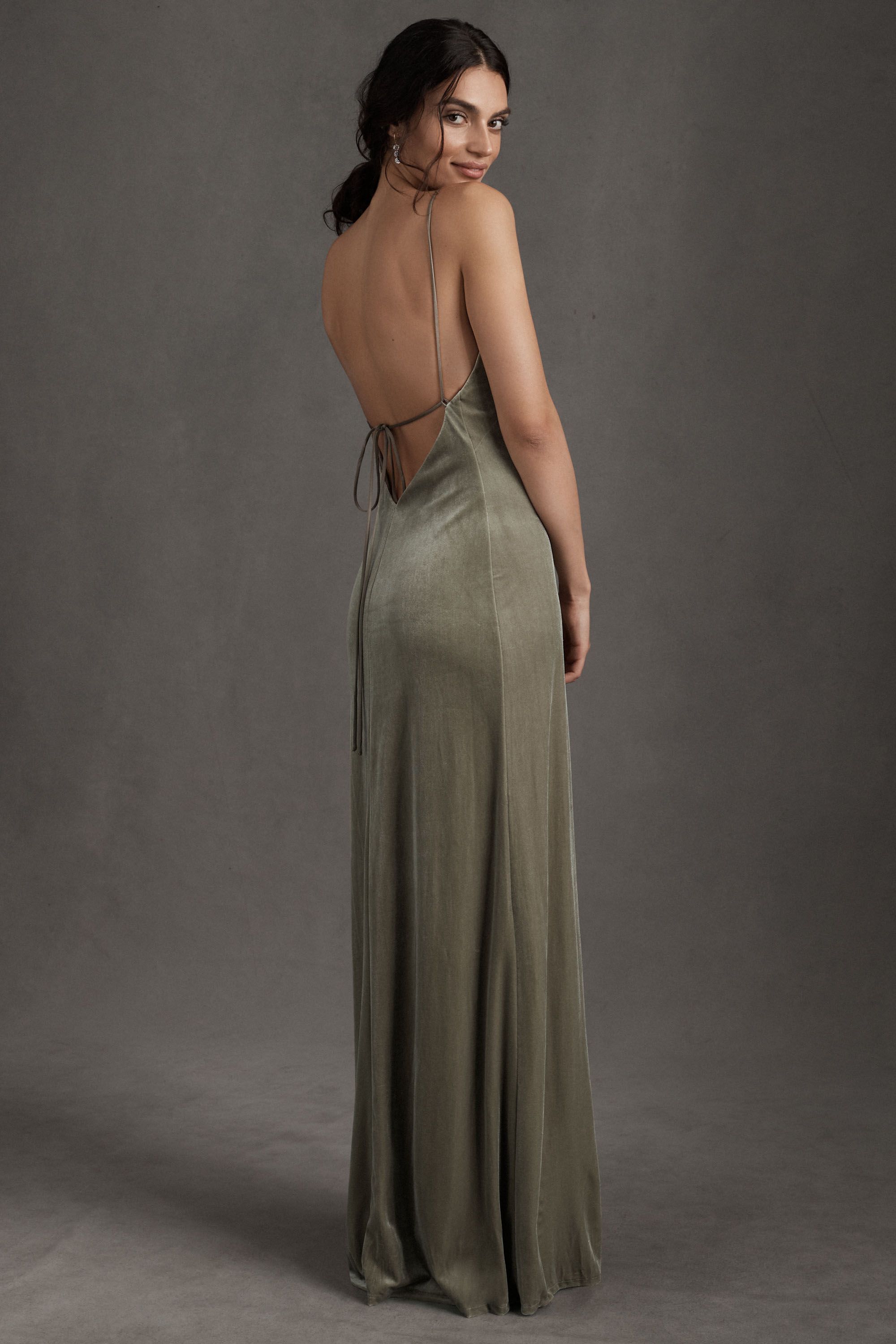 Emerald Green Dresses for Bridesmaids
Emerald green velvet bridesmaid gows are a classic choice for the bride who wants her maids to wear something a little more formal, but not too stuffy. These dresses are elegant and can be worn with heels or flats depending on the style of shoes you choose. They look great on women of all skin tones, so if your friends have varying skin tones it's best to stick with emerald green velvet bridesmaid dresses that match their eye color or hair color (if they're wearing their hair up). It's easy to find an emerald green dress for every occasion—even if your wedding is outside!
7. Emerald Green velvet wrap bridesmaid dress with subtle bell mid-length sleeves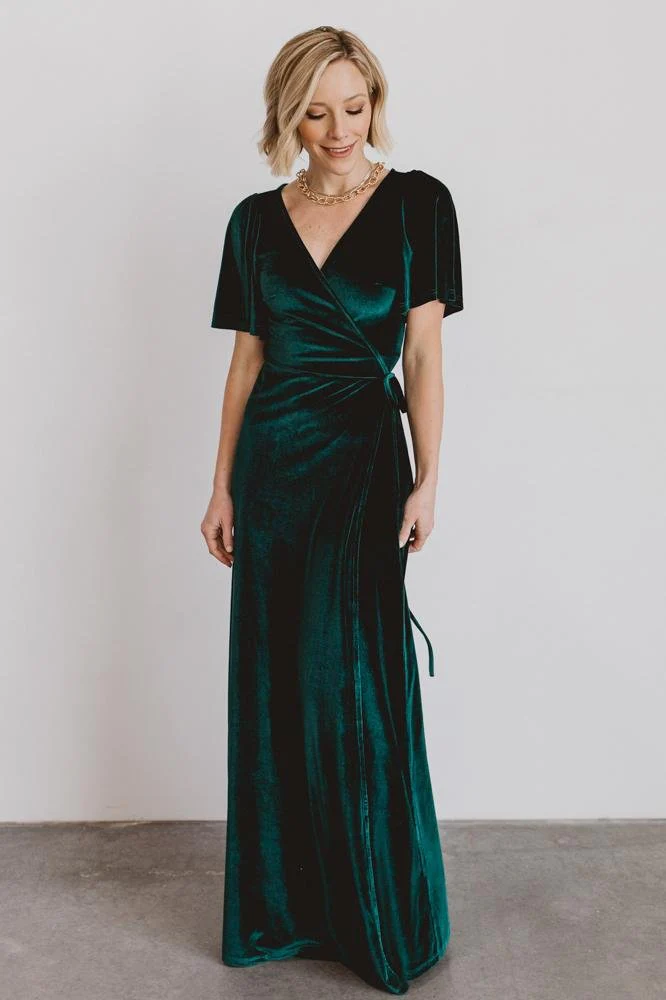 8. Dark Emerald Stretch-Velvet Sabrina Dress
9. Emerald Plus Size V-neck Velvet Maxi Dress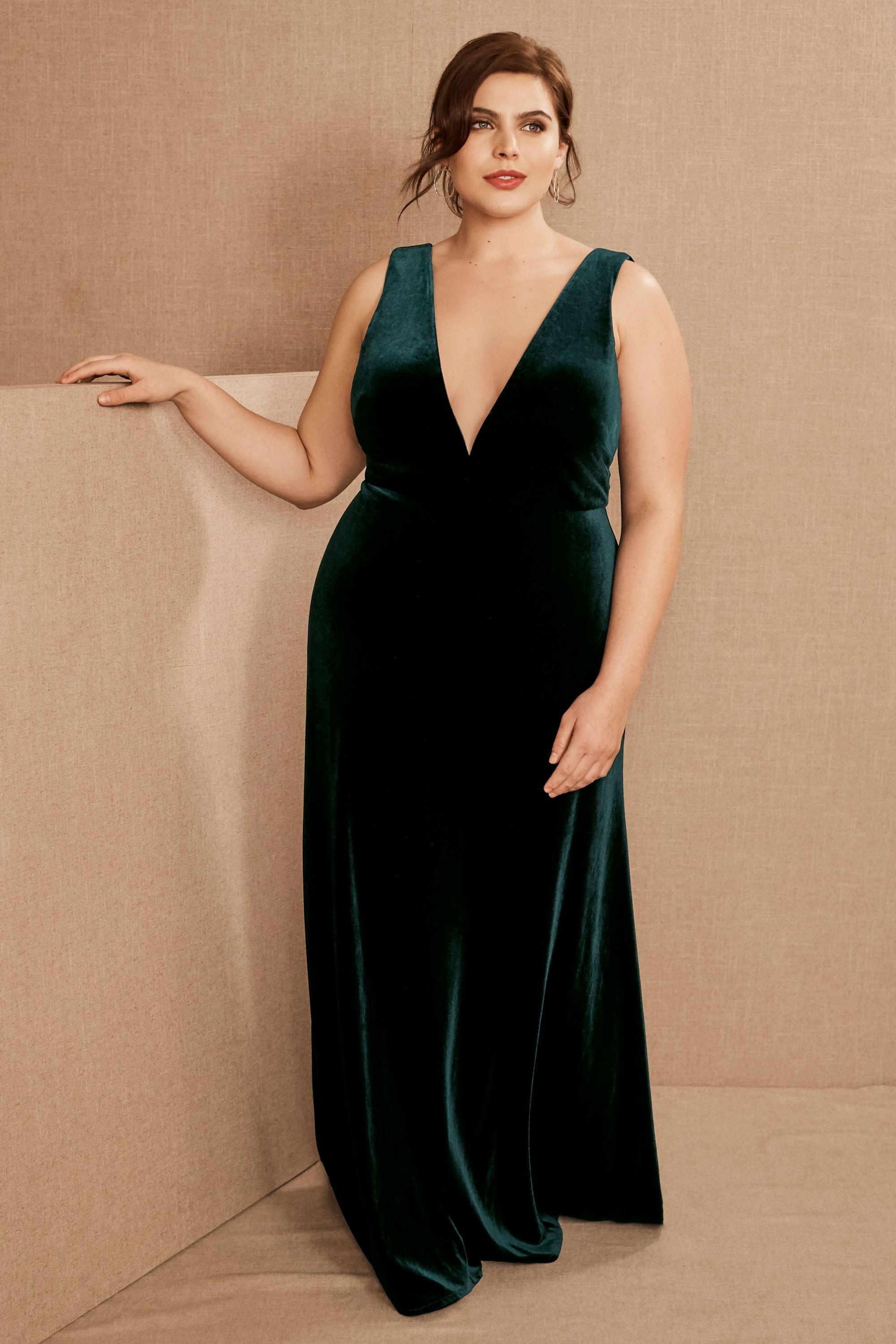 Burgundy Velvet Bridesmaids Dresses
Burgundy is a deep, rich red and is one of the most popular bridesmaid dress colors. It's flattering on most skin tones and goes well with any wedding theme.
Burgundy also works well as an accent color when you're pairing it with another bright hue like yellow or blue. The color combination gives your bridal party a sophisticated yet fun vibe that will make your wedding stand out!
10. Burgundy velvet wrap bridesmaid dress with subtle bell mid-length sleeves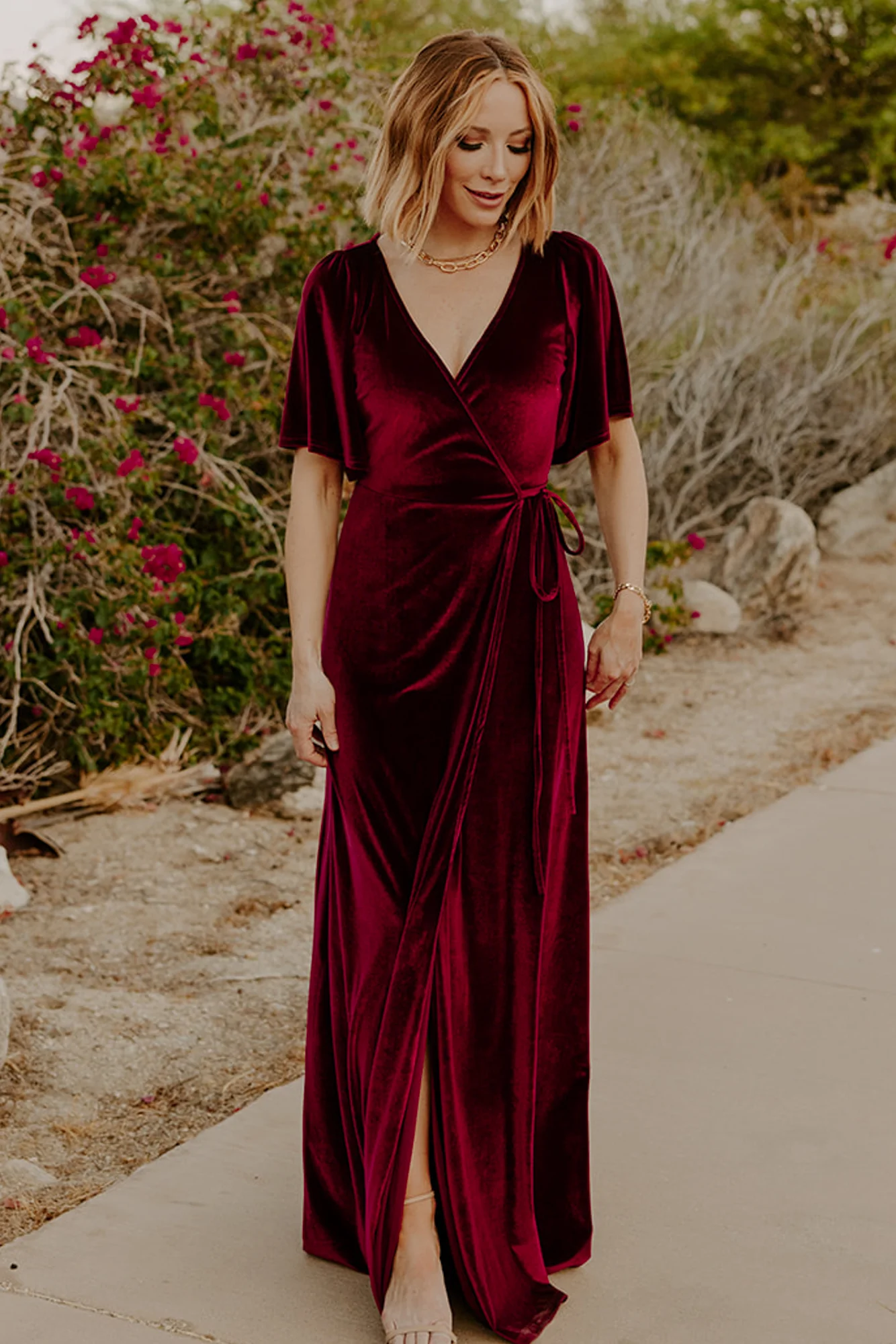 11. Burgundy Velvet Wrap Maxi Bridesmaid Dress with Long Sleeves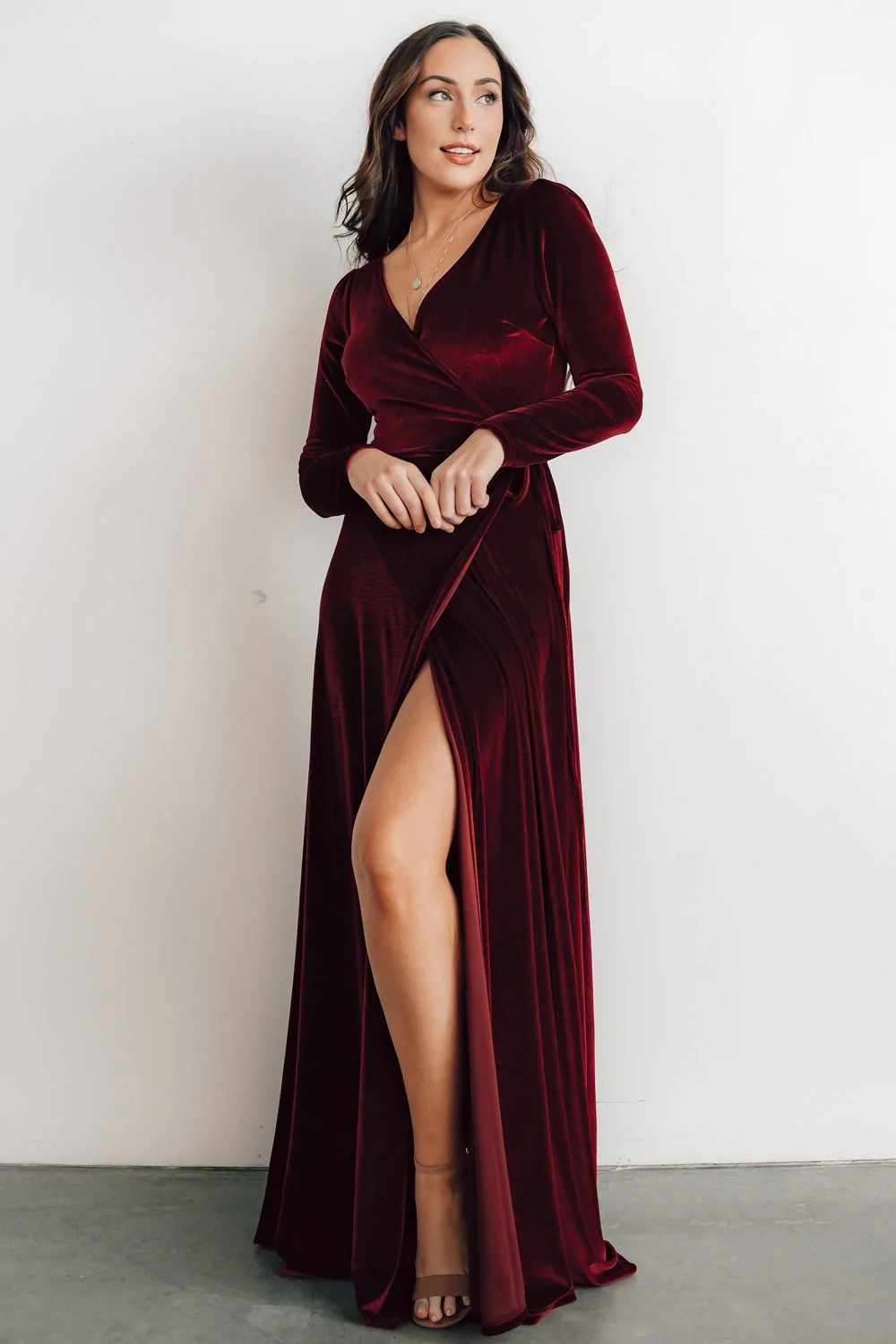 12. Burgundy velevt bridesmaid dress with slit 
Long Sleeve Velvet Bridesmaid Dresses
Long sleeve velvet bridesmaid dresses are a great option for winter weddings. The longer sleeves provide extra warmth and the soft, lightweight fabric allows you to move freely.
Long sleeve bridesmaid dresses are also great for fall weddings because they create a classic silhouette that can be worn year-round.
For spring weddings, long sleeve velvet gowns are perfect for adding color to your look with bold details like lace detailing or embroidered flowers.
13. Olive green velvet bridesmaid dress with elbow length sleeves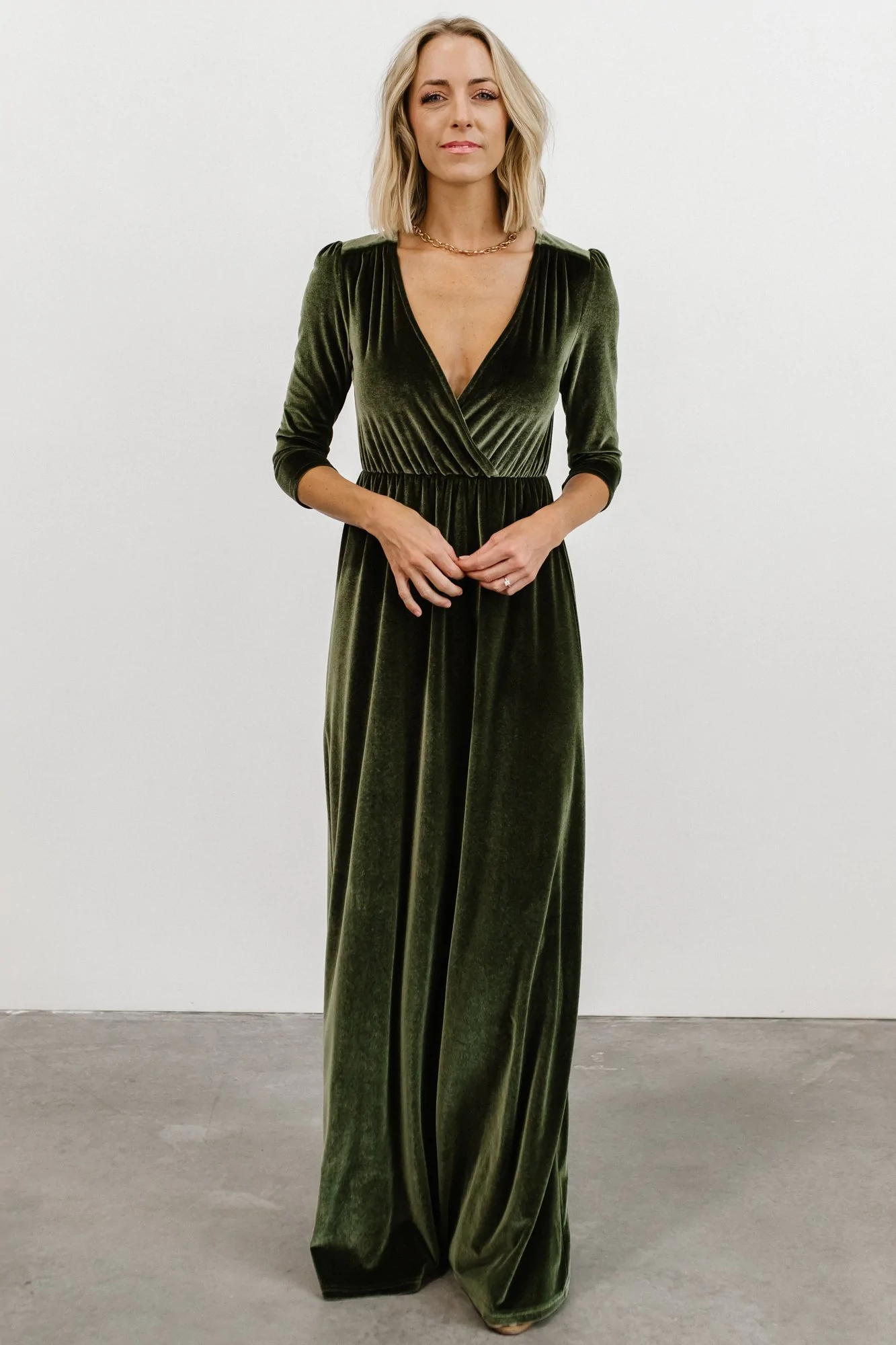 14. Dark Green Bridesmaid Velvet Dress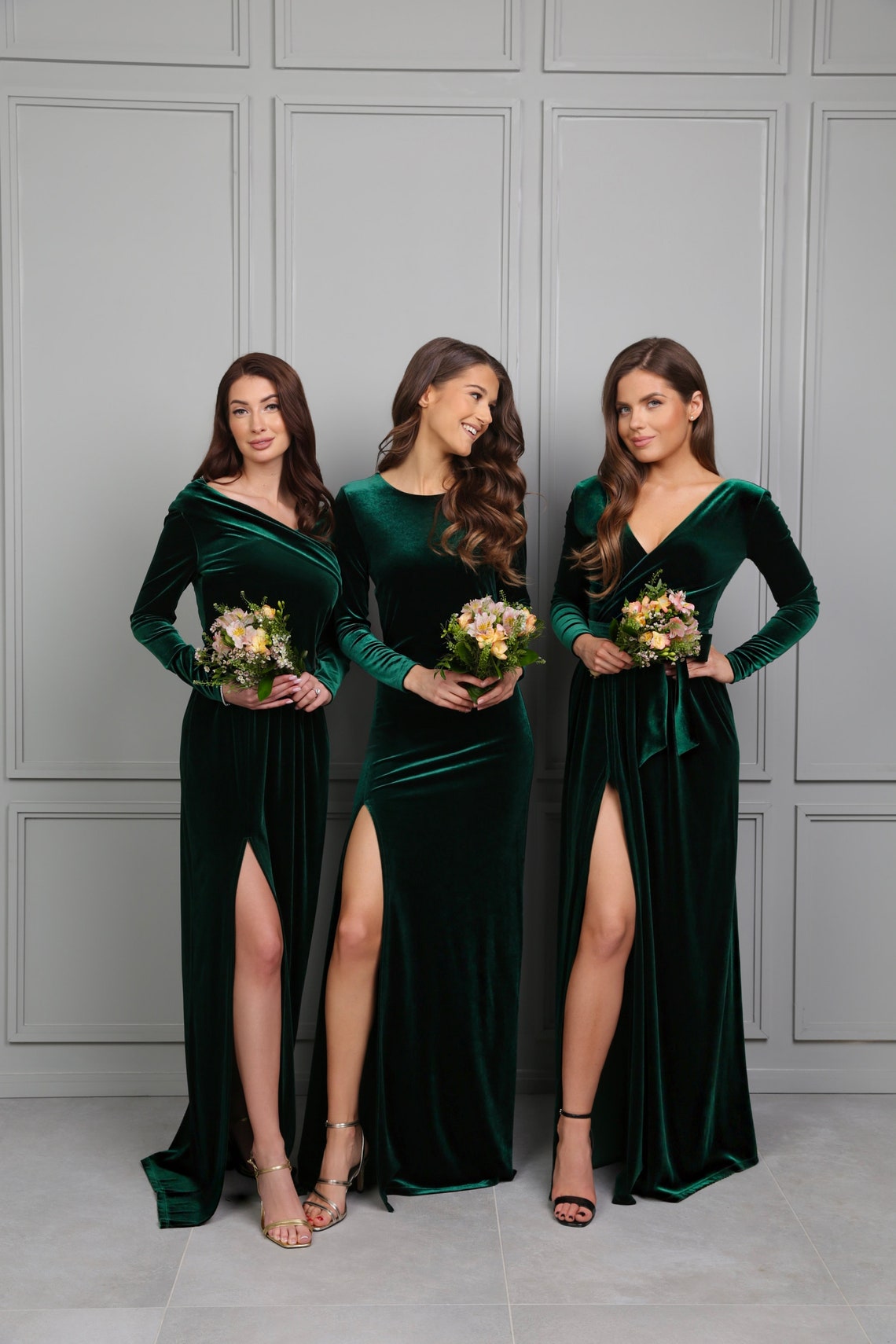 15. English rose V-neck Long Sleeve Velvet Bridesmaid Dress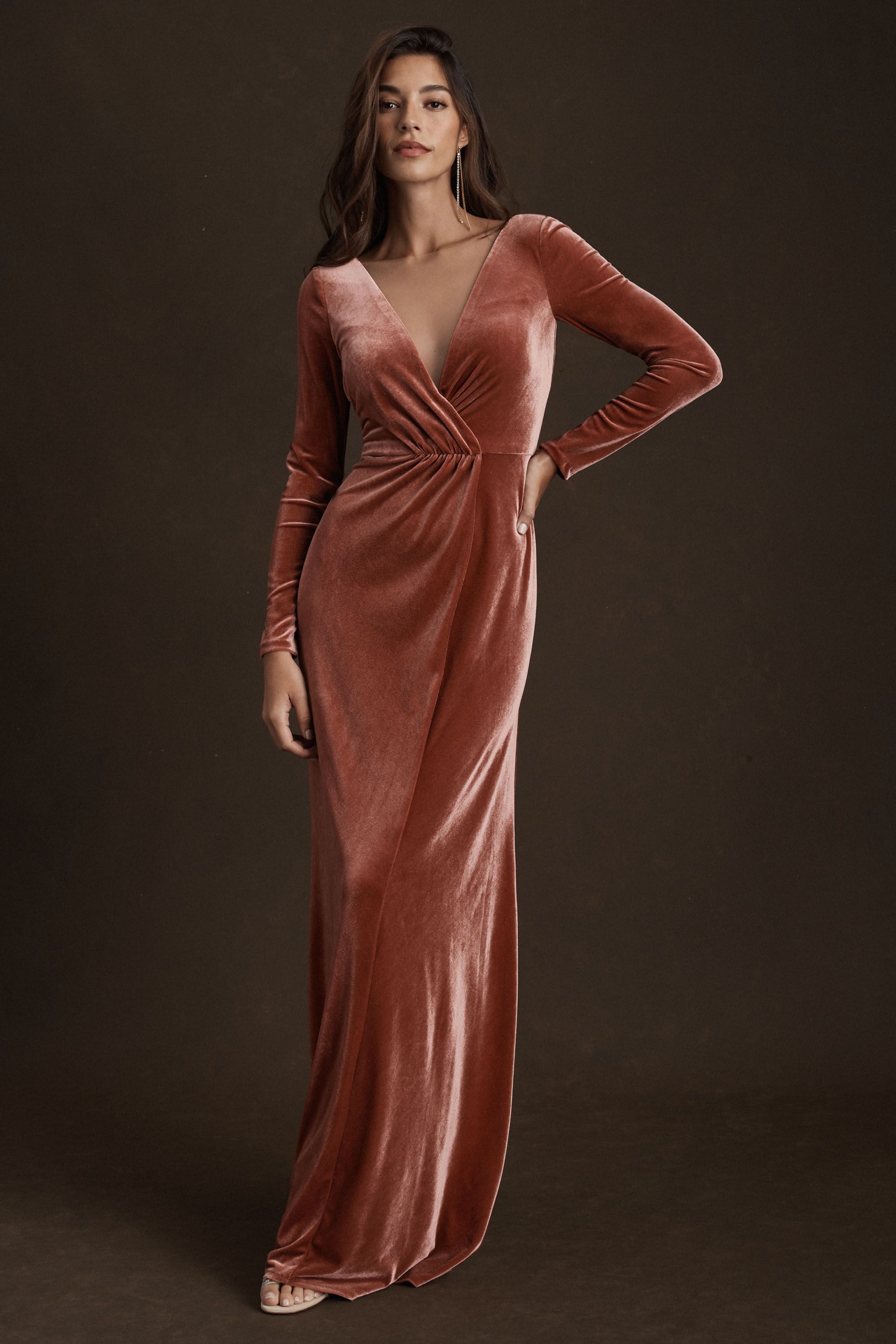 Red Velvet Bridesmaid Dresses
Red velvet bridesmaid gowns are the perfect way to add a touch of luxury to your wedding. They are also a great way to show your bridesmaids how much you appreciate them. If you are looking for a way to make your wedding day even more special, consider giving your bridesmaids red velvet dresses.
16. Embossed Burgundy Velvet Plus Size Bridesmaid Dress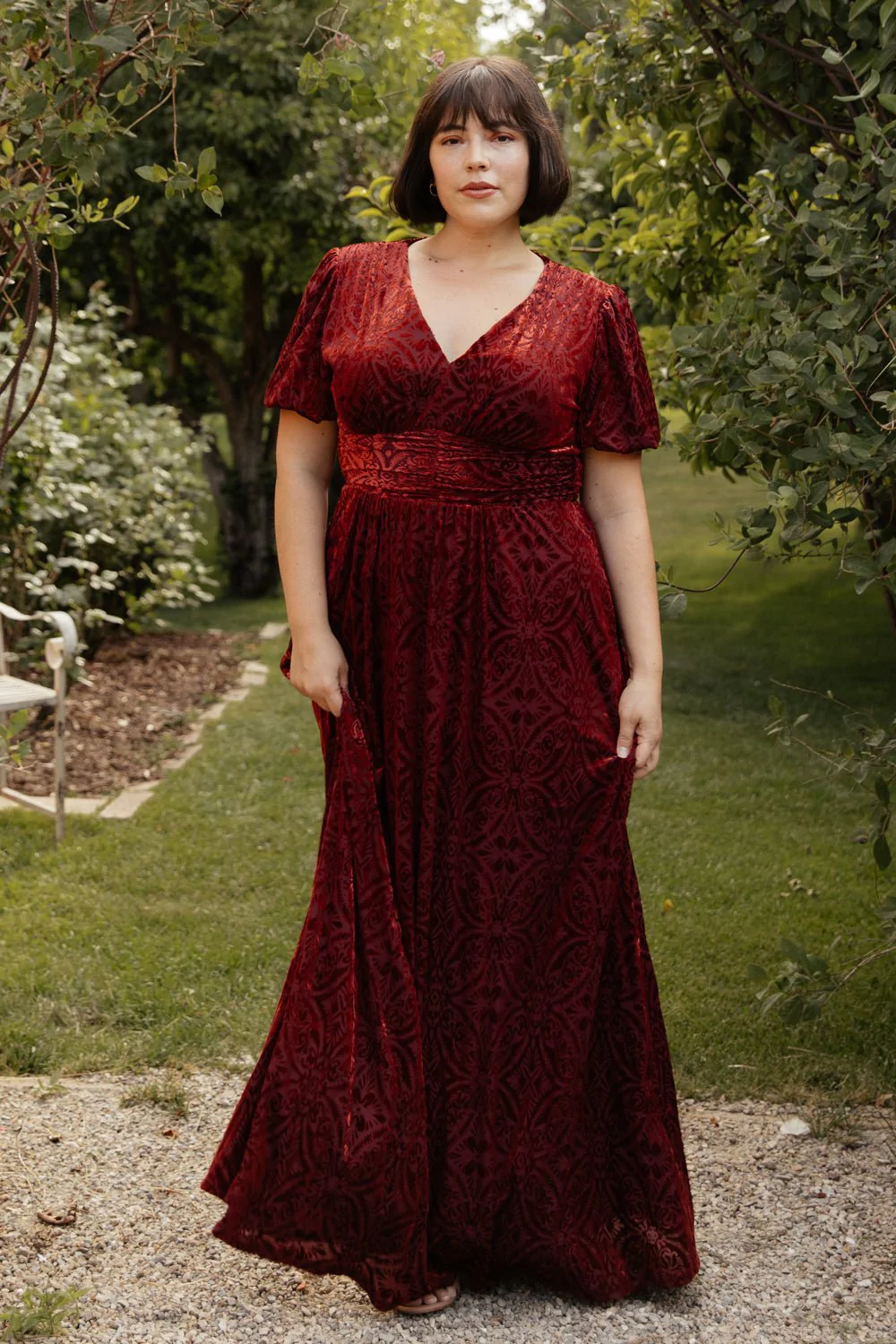 17. Cowl-Neck Convertible Velvet Midi Slip Dress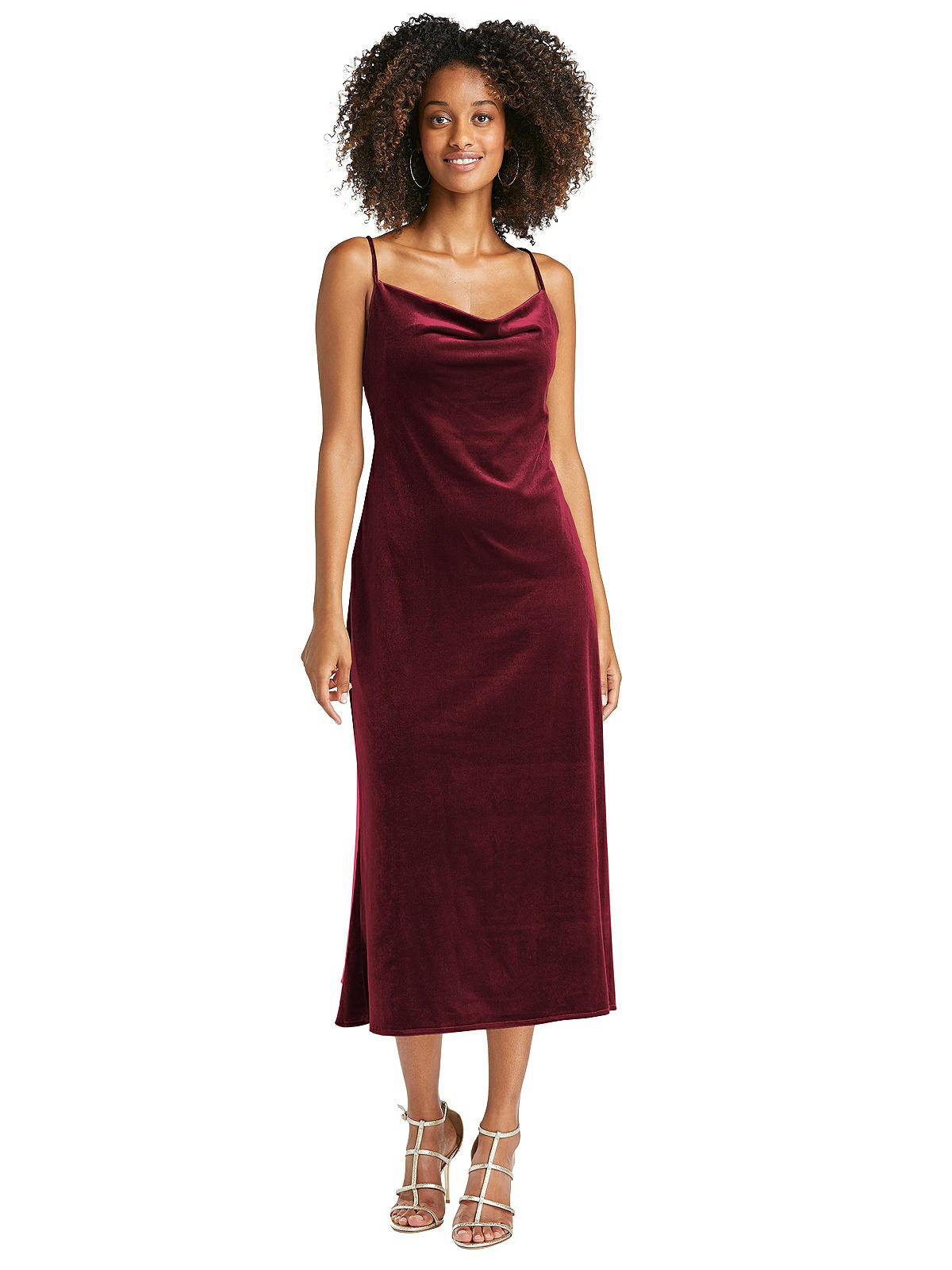 Blue Velvet bridesmaid Gown
Forget the frills and tulle, these blue velvet bridesmaid gowns are sure to make a statement. Rich in color and luxurious in texture, these gowns are perfect for a winter wedding. Your bridesmaids will love the way they look and feel in these gowns, and you'll love how they photograph.
18. Blue Velvet Bridesmaid Dress with Short flutter sleeves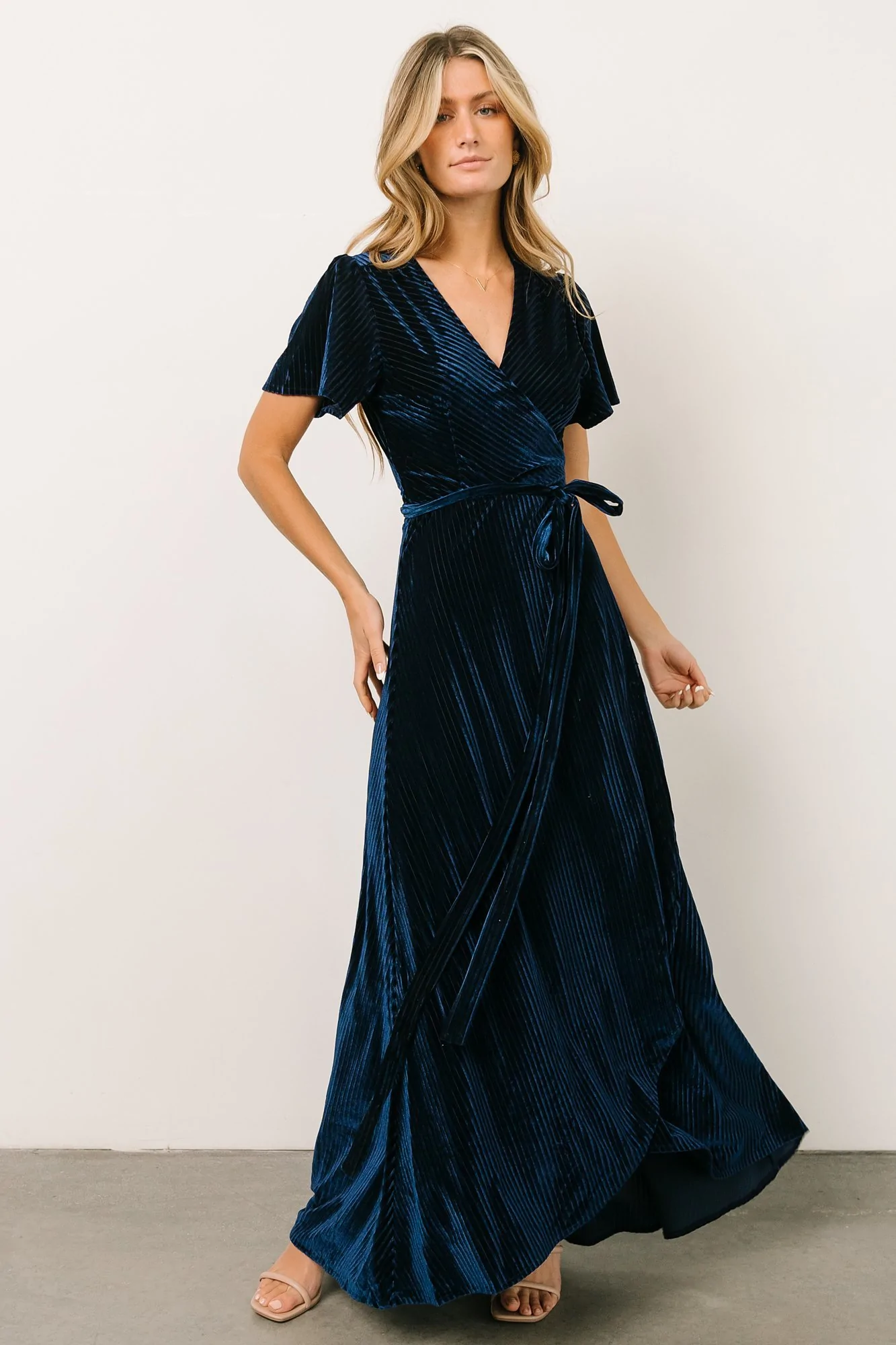 19. Blue Velvet Bridesmaid Dress with elbow length sleeves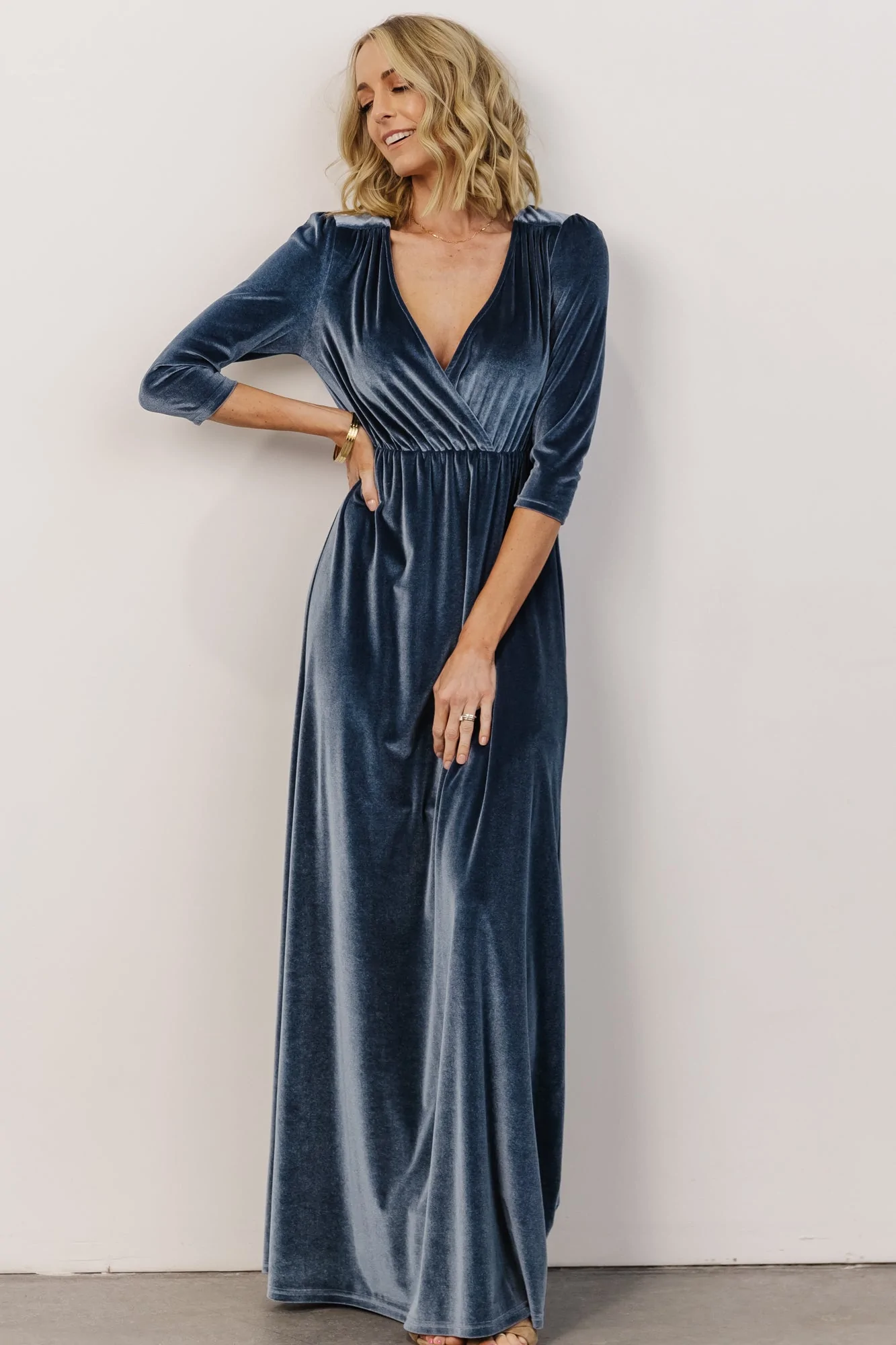 Terracotta / Burnt Orange
Terracotta and burnt orange velvet gowns are a stunning choice for your bridal party! From long, flowing gowns to short and sassy silhouettes, we've got the perfect dress for every bridesmaid. And with a variety of colors to choose from, you're sure to find the perfect match for your wedding palette.
20. Terracotta Velvet Wrap Maxi Bridesmaid Dress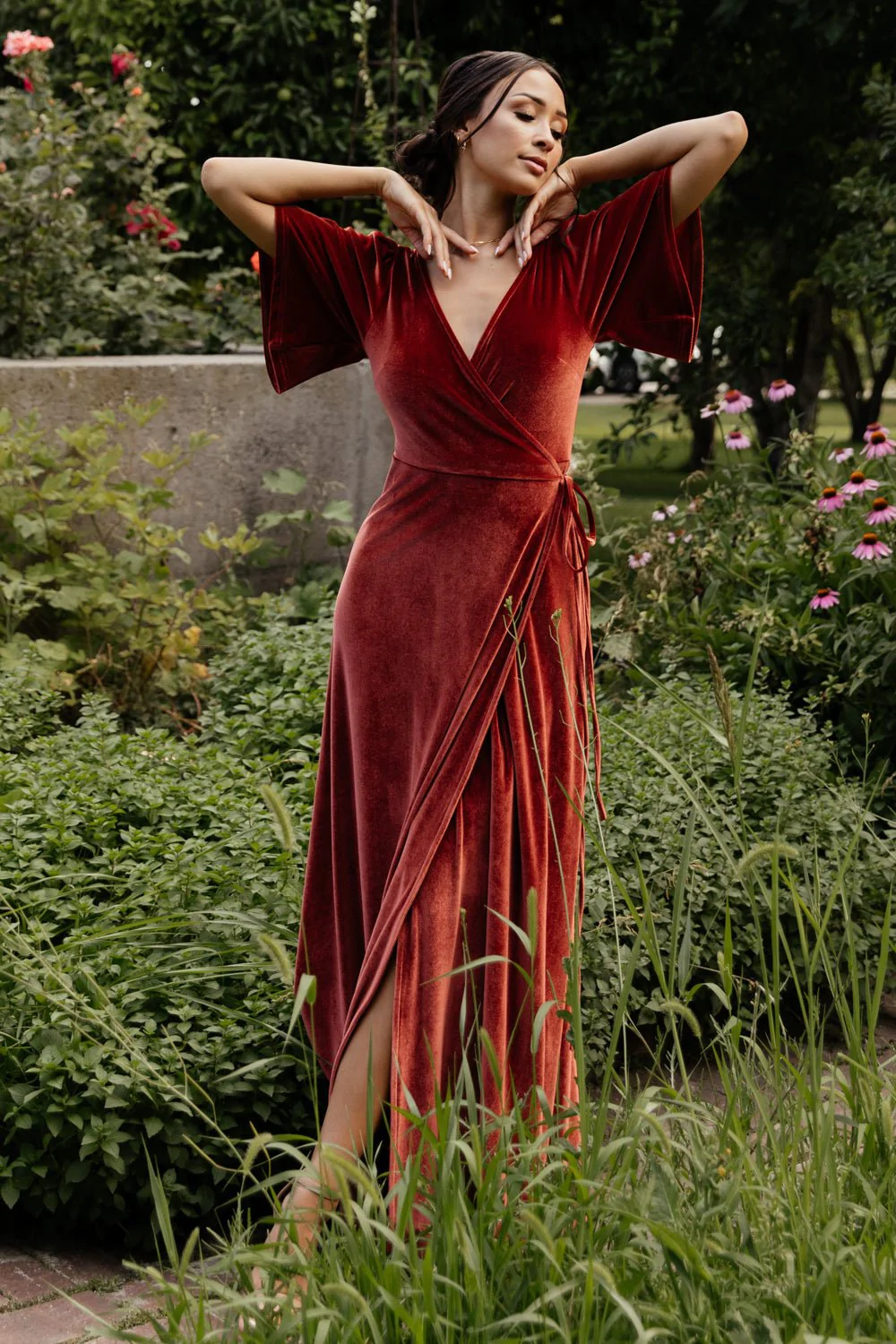 21. Velvet Open Back Dress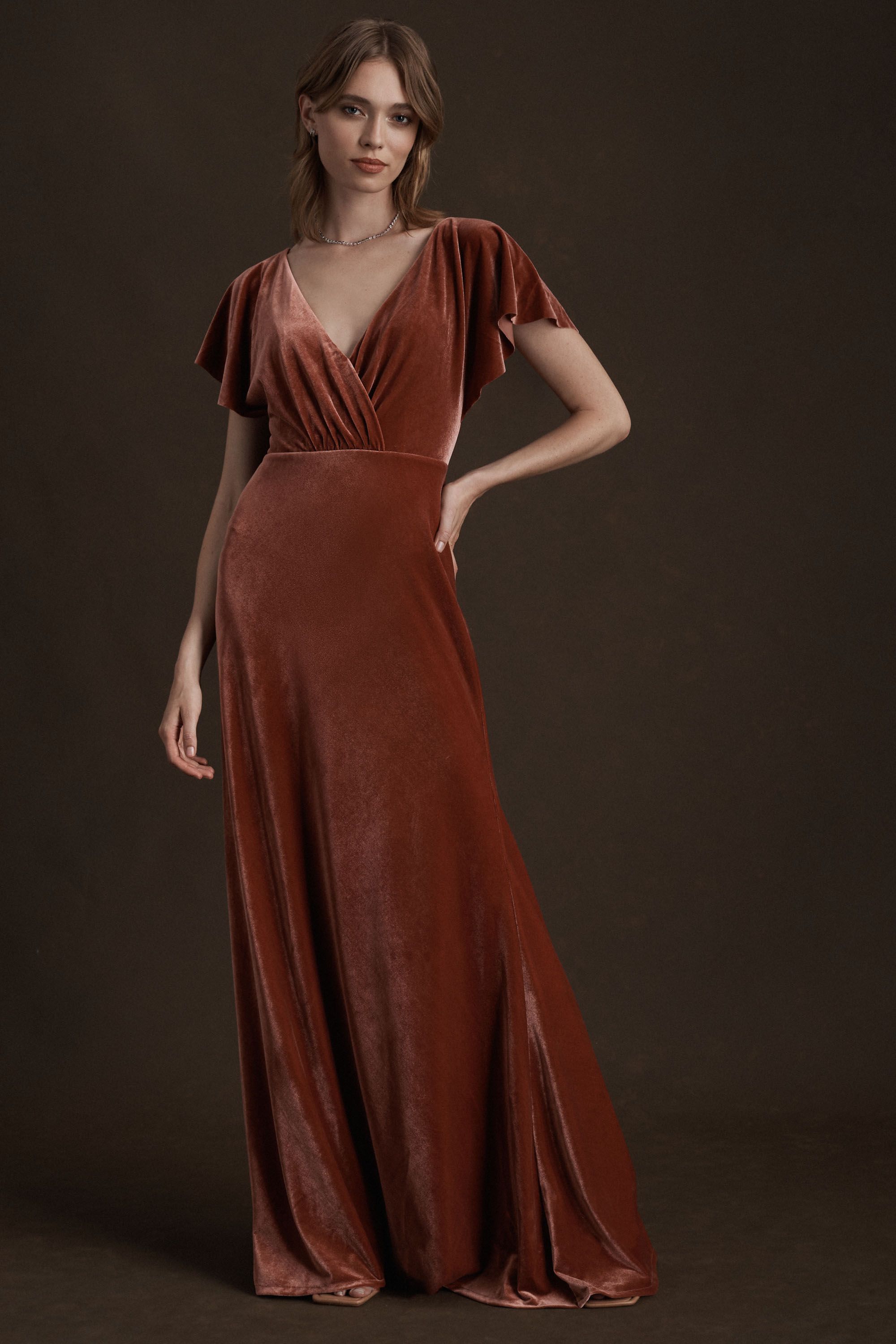 Champagne
Looking for something a little different for your bridesmaids? Check out Champagne Velvet, where you'll find a range of unique and stylish dresses to suit every personality. From classic styles to more modern looks, there's something for everyone. And with a range of colors to choose from, you're sure to find the perfect match for your wedding palette.
22. Champagne Velvet Bridesmaid Dress Maxi Flutter Sleeve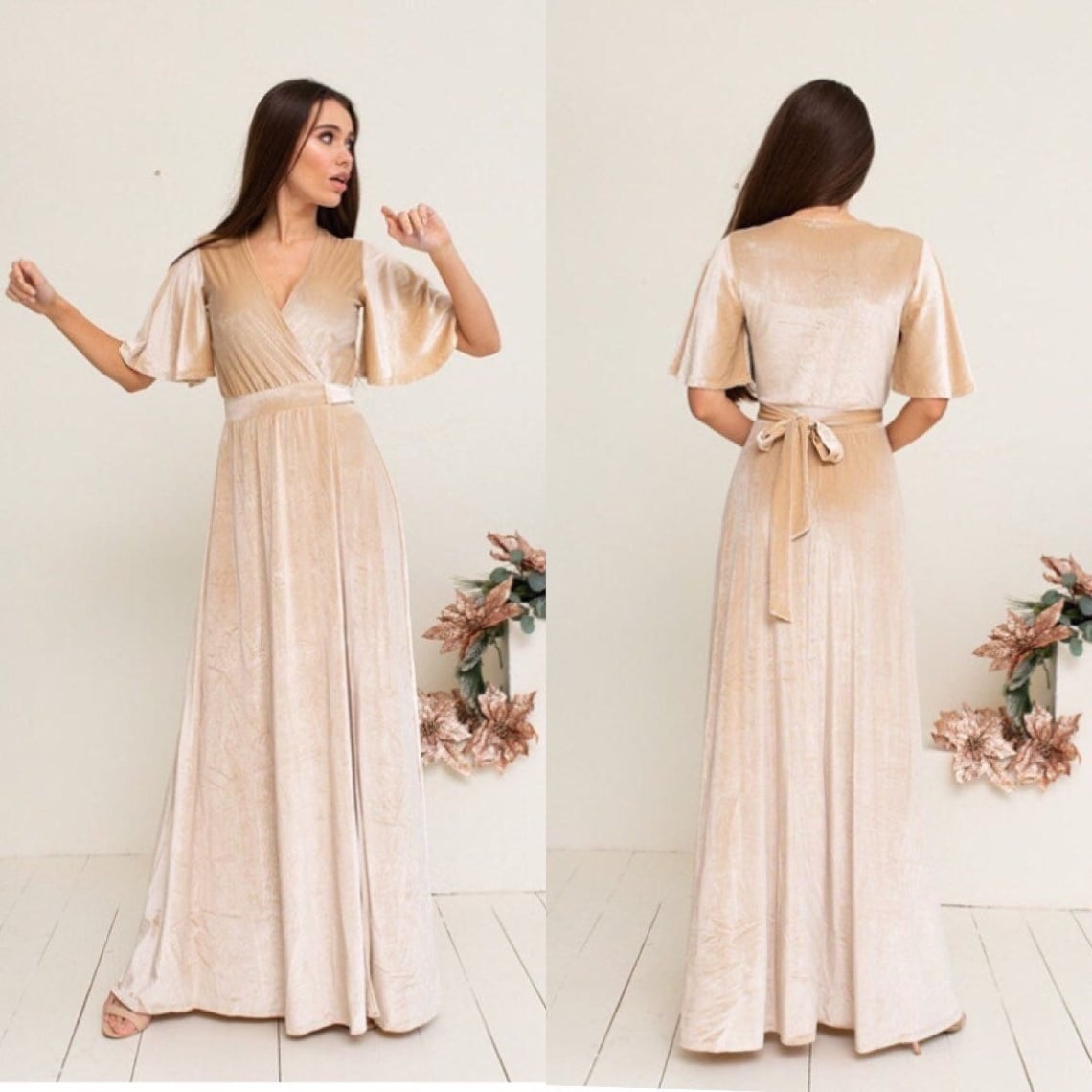 Gold
Your best friend's big day is fast approaching, and you want to make sure you look your best as her right-hand woman. Gold velvet bridesmaid dresses are luxurious and flattering on all body types, and the long wrap dress style is perfect for dancing the night away. Plus size? No problem! We've got you covered with our selection of flattering flutter sleeve dresses.
23. Gold Velvet Long Wrap Dress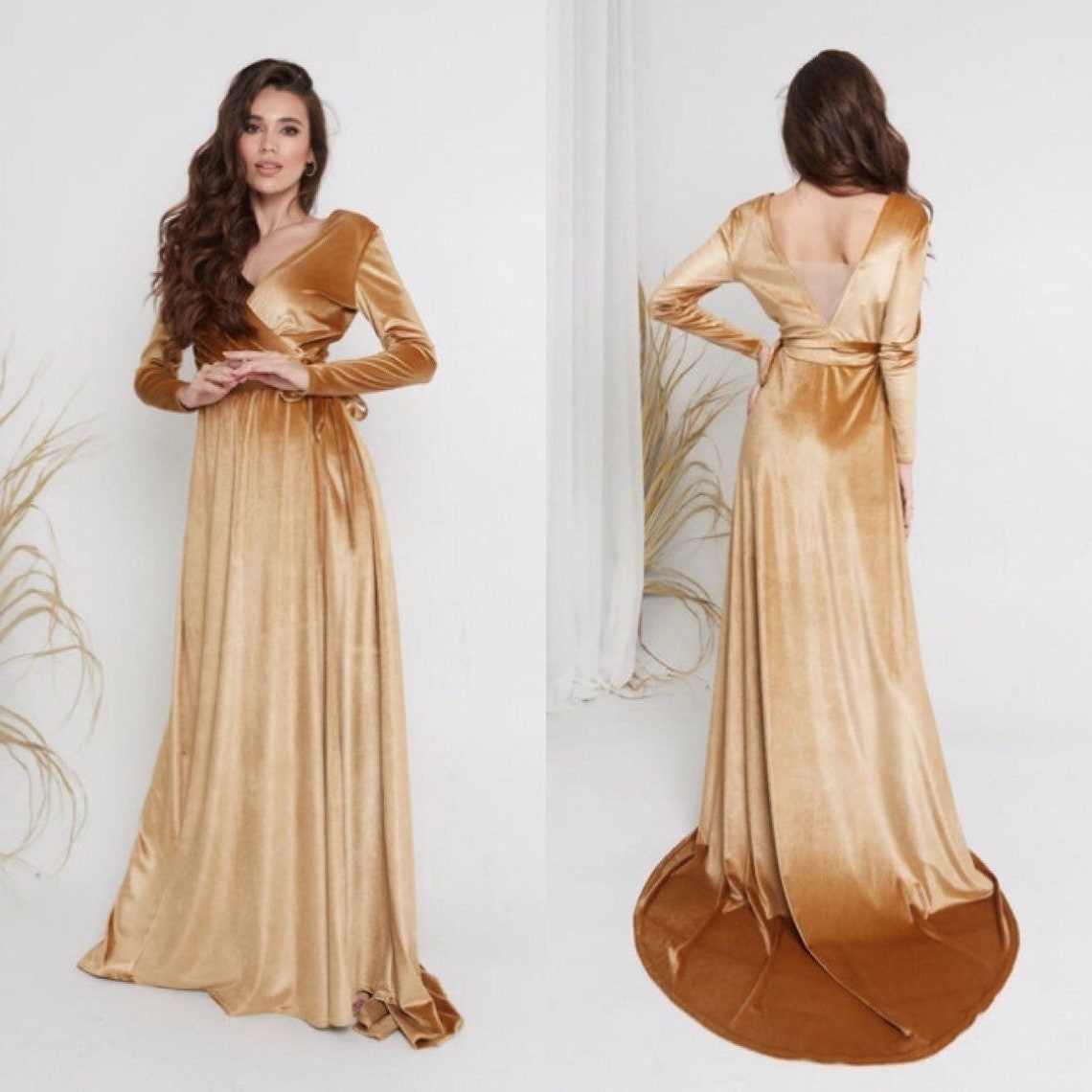 24. Gold Velvet Bridesmaid Dress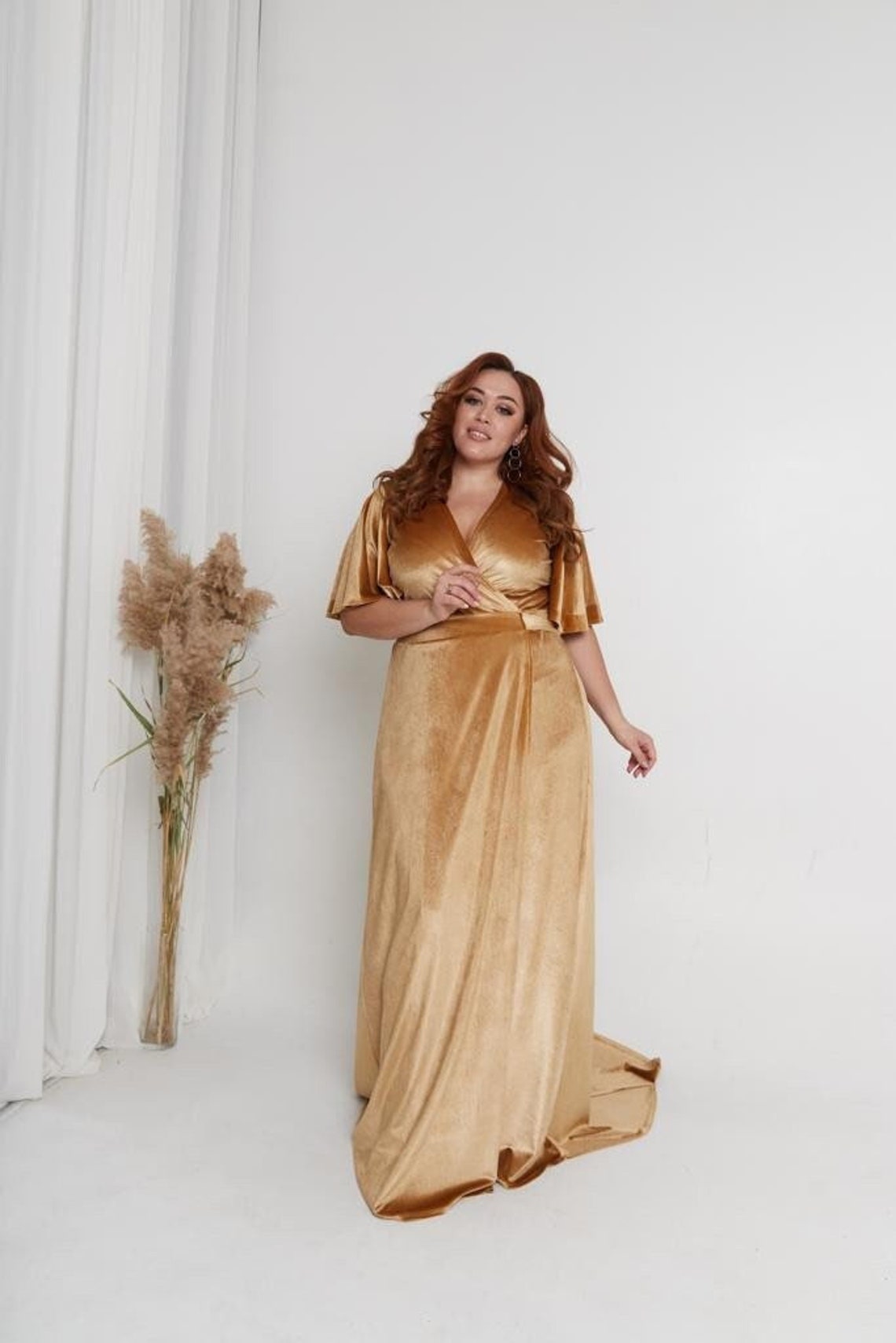 Plus Size
25. Dark Teal Velvet Bridesmaid Dress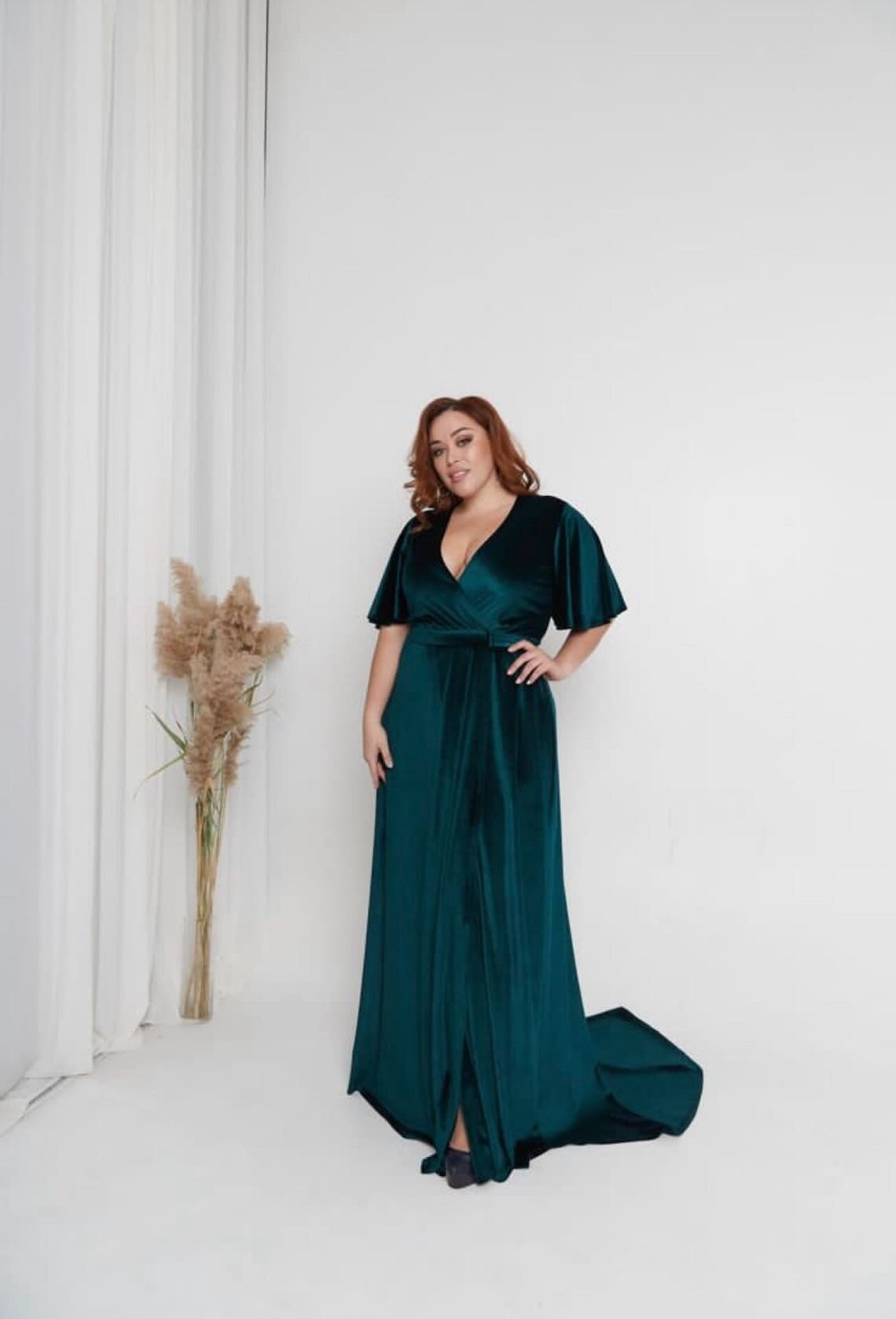 26. Plus Size Modern Velvet Maxi Dress
If you're looking for a warm and stylish option for your bridesmaids, then you should consider velvet.
If you're looking for a warm and stylish option for your bridesmaids, then you should consider velvet. Velvet is such a timeless fabric that goes with anything, so whether it's the bridesmaid dress or the groom's tuxedo up for consideration, choosing velvet will guarantee that at least one of your wedding day decisions will be easy!

FAQ
How do you pick a color for your bridal party dresses?
Consider your venue, your season, and your formality when choosing colors for your wedding party. "Some of the hottest velvet colors we're seeing are in the dusty pink and terracotta hues," says Wells. "We also see velvet bridesmaid dresses for the more elegant and upscale weddings, mostly in black and jewel tone palettes."
---
How do you accessorize velvet bridal party dresses?
While you can accessorize velvet any way you'd like, the luxurious fabric looks fantastic with sparkling details and elegant touches. "We love a more glam vibe with drop earrings or a statement necklace," says Wells. "Velvet also looks amazing with fur shrugs!"
---
What season are velvet dresses best for?
While Coleman wouldn't suggest wearing velvet in warm temperatures, both experts agree it's a "perfect choice for a Fall, Winter or an early Spring wedding." Wells adds that you should "definitely consider the temperature when considering velvet," so be sure to try some options out before selecting the fabric.
---
Conclusion
If you're looking for bridesmaid dresses, we have the perfect one for you! Our velvet bridesmaid dresses are made from high quality fabric that can be easily cleaned after wearing. They come in different colors and styles so there is something for every taste!