20 Mismatched Bridesmaid Dresses for Wedding 2023
When it comes to wedding planning, there are a lot of important details to consider. But one of the most important details is finding the perfect bridesmaid dresses. However, sometimes finding the perfect dress for each bridesmaid can be a daunting task.
Long bridesmaid dresses and separates are timeless, with a huge range of ideas and colors to choose from. Strapless and V-neck, one-neck and high-neck, burgundy and fuchsia, blue and black, and more – it's entirely up to you, your girls and your wedding colors. If you're having a bohemian wedding, note that bridesmaids' dresses should have flared sleeves, and if it's cold, consider a gorgeous velvet dress. Pieces are also popular: long-sleeved rock-n-roll plunging tops and bright colored maxi dresses.
If you're looking for a little inspiration, check out these 20 mismatched bridesmaid dresses that will definitely make your wedding day stand out.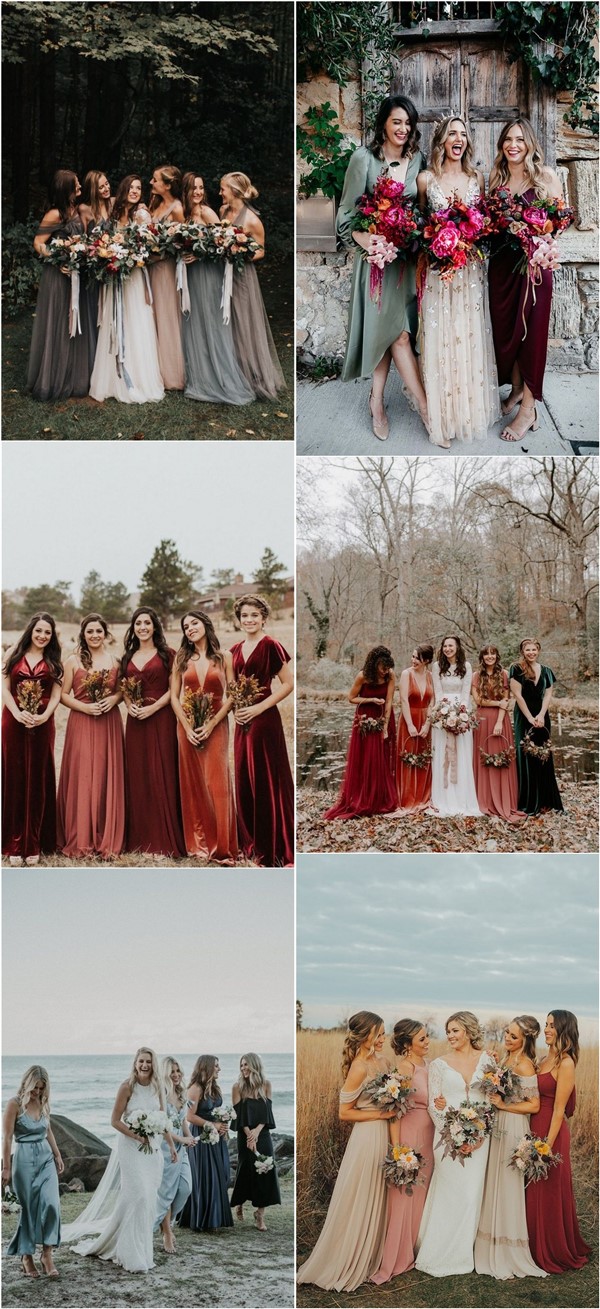 Burgundy + Blush
If you're looking for a fun and unique twist on the classic bridesmaid dress, then look no further than burgundy + blush mismatched bridesmaid dresses! This trend is perfect for the bride who wants her girls to stand out in a crowd, and it's a great way to add a pop of color to your wedding day look.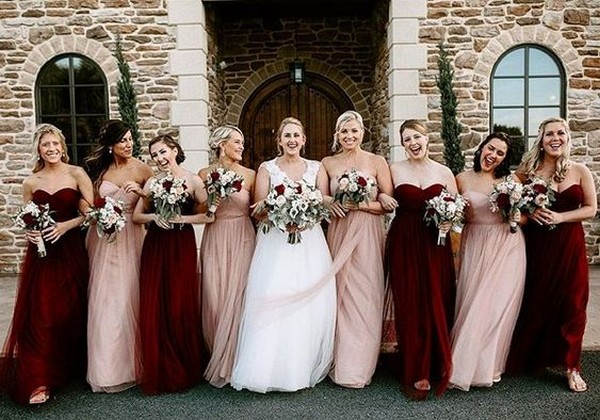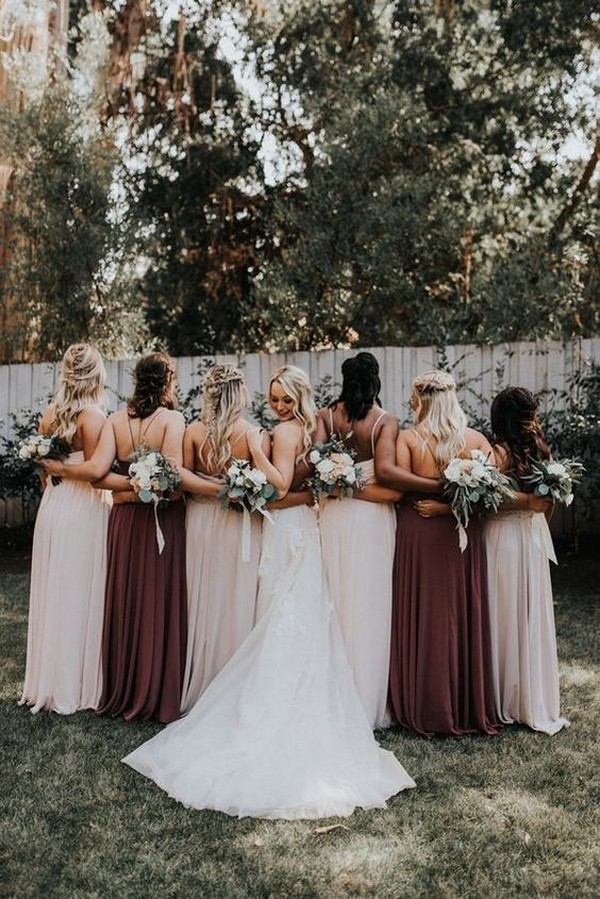 Burnt Orange + Grey
These beautiful burnt orange and grey bridesmaid dresses are perfect for mixing and matching! Each dress features a different style and silhouette, so your bridesmaids can choose the one that best suits their figure. Whether you're looking for a flowing maxi dress or a sleek and fitted gown, we've got you covered. Plus, the burnt orange and grey color palette is perfect for autumn weddings!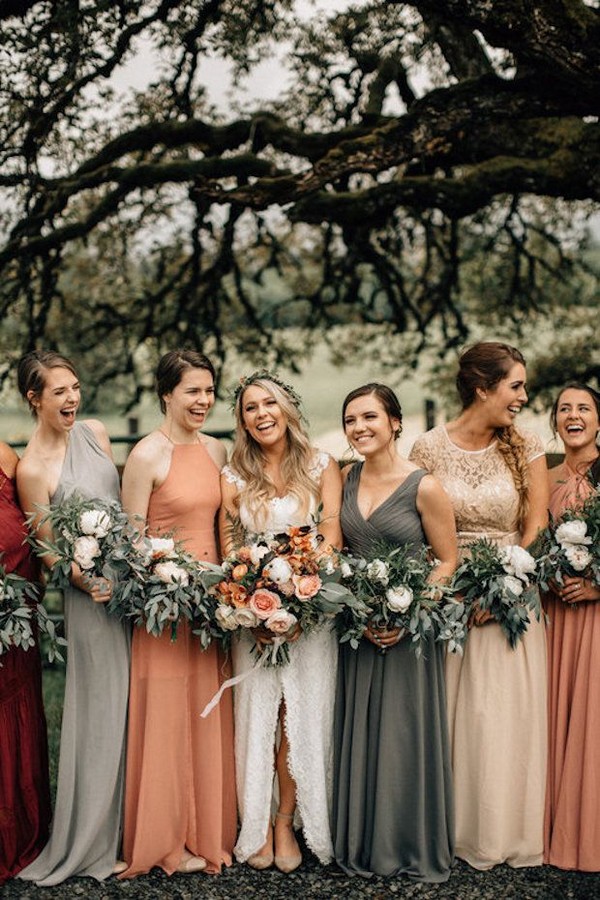 Pink Shades
Looking for a way to add some personality to your bridal party? With so many different shades of pink to choose from, your bridesmaids are sure to find a dress that they love.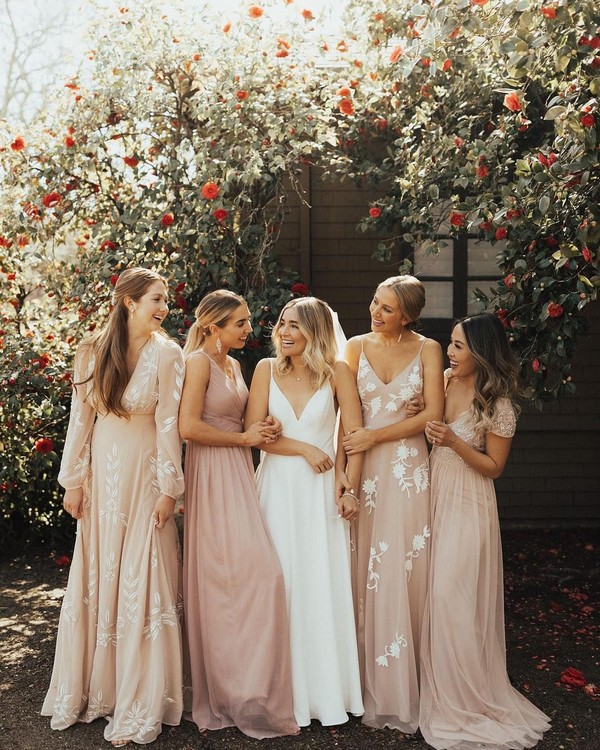 Blush + Grey + Dusty Rose
Your bridal party will look gorgeous in these blush, grey, and dusty rose mix and match bridesmaid dresses! With a variety of styles and colors to choose from, you're sure to find the perfect dress for each of your maids.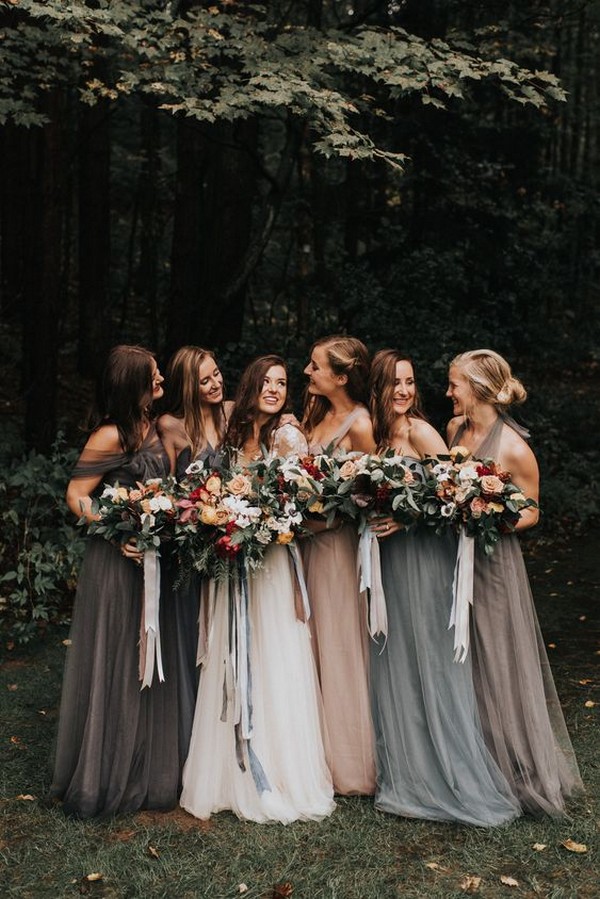 Bohemian Printed
Your bridesmaids are sure to stand out in these bohemian printed mix and match bridesmaid dresses! With a variety of colors and patterns to choose from, they'll be able to find a dress that suits their style and personality. Plus, the mix and match aspect will allow each bridesmaid to create a unique look that is still cohesive with the rest of the wedding party.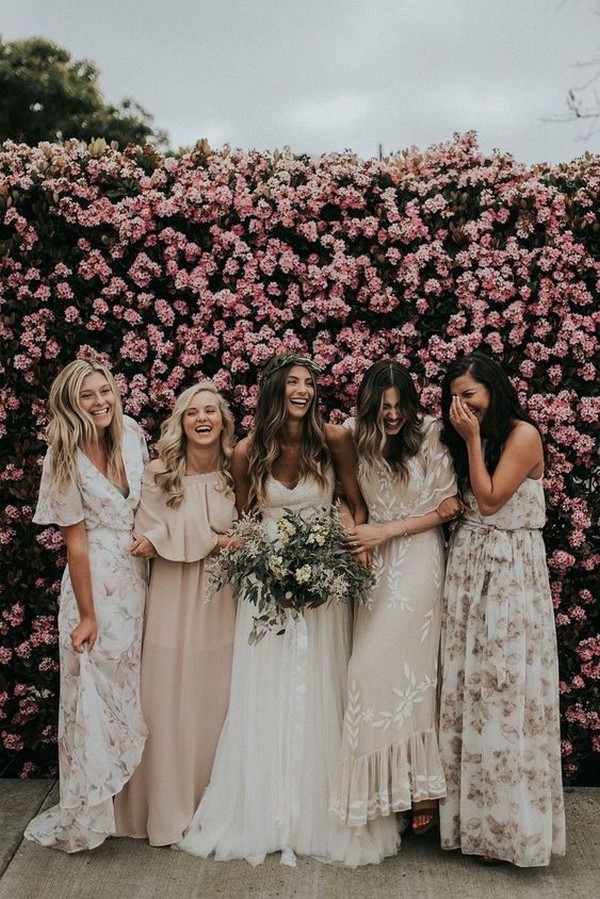 Velevt + Chiffon
This bridesmaid dress is a mix of velevt and chiffon materials. It is a perfect dress to wear to a winter or autumn wedding. The chiffon material is very light and airy, while the velevt provides a little more warmth and coverage. This dress can be worn with or without a veil, and would look great with a pair of heels or flats.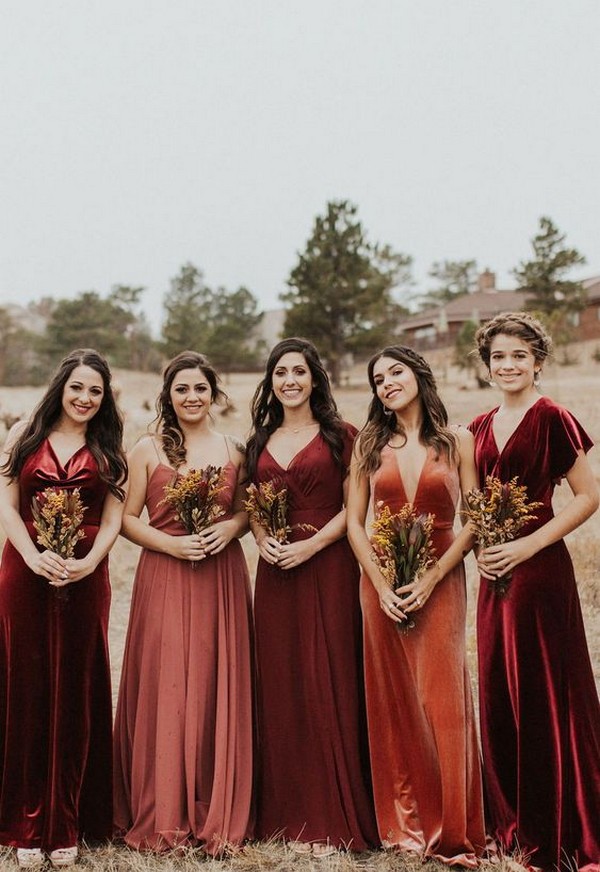 Rose Gold Sequined + Tulle
Your bridesmaids will be sure to stand out in these unique and beautiful dresses! The rose gold sequined dresses are perfect for a fun and glamorous look, while the tulle dresses are perfect for a more romantic and ethereal look. Whether you want your bridesmaids to match or mix and match, these dresses are sure to please!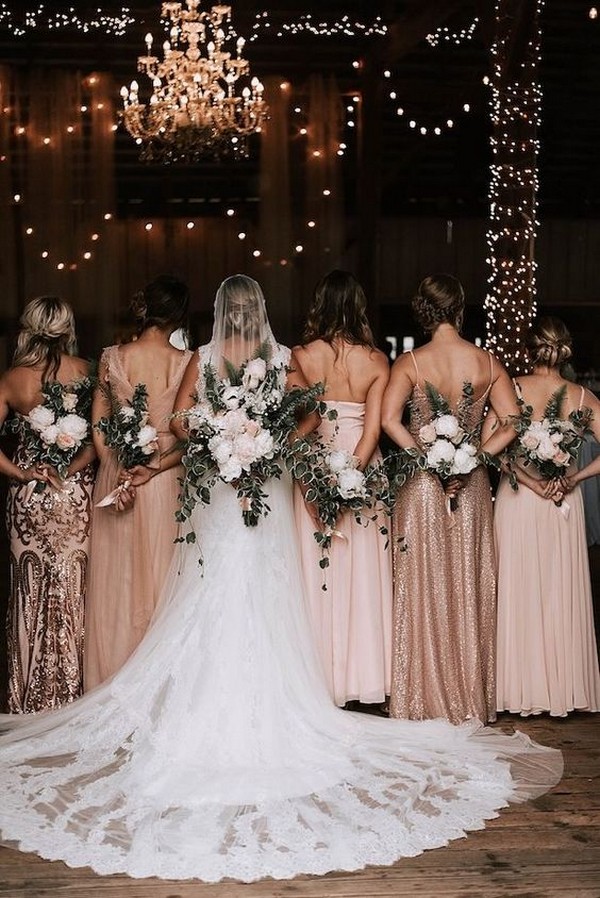 Mix Color Satin Midi Dresses
Looking for the perfect bridesmaid dress that can be worn again? Look no further than this satin midi dress! This gorgeous dress comes in a variety of colors and can be worn again and again. Made from satin, this dress is sure to be a showstopper!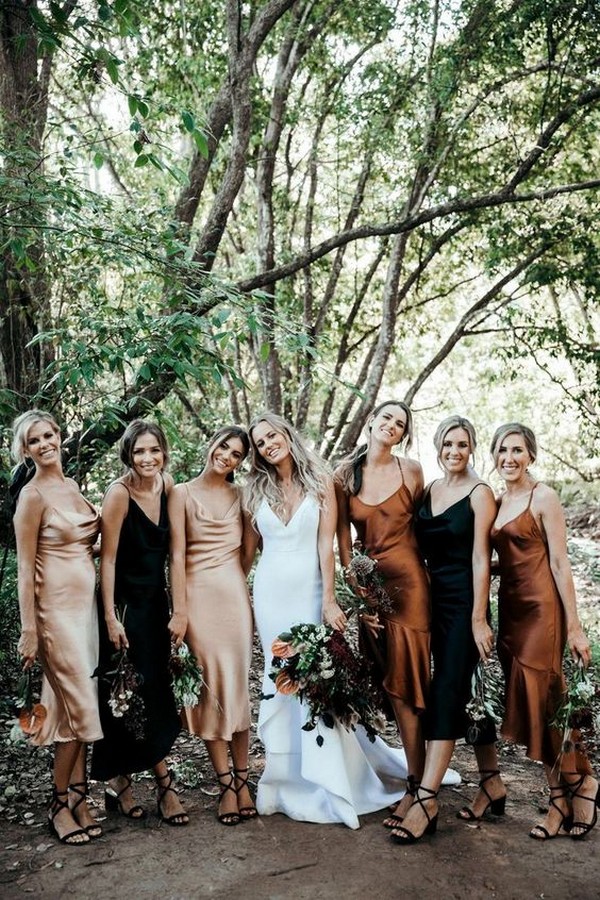 Grey Shades
If you're looking for a trend-setting way to dress your ladies, why not consider mismatched bridesmaid dresses in shades of grey? It's a chic and unique way to add personality to your wedding party, and your guests are sure to take notice.