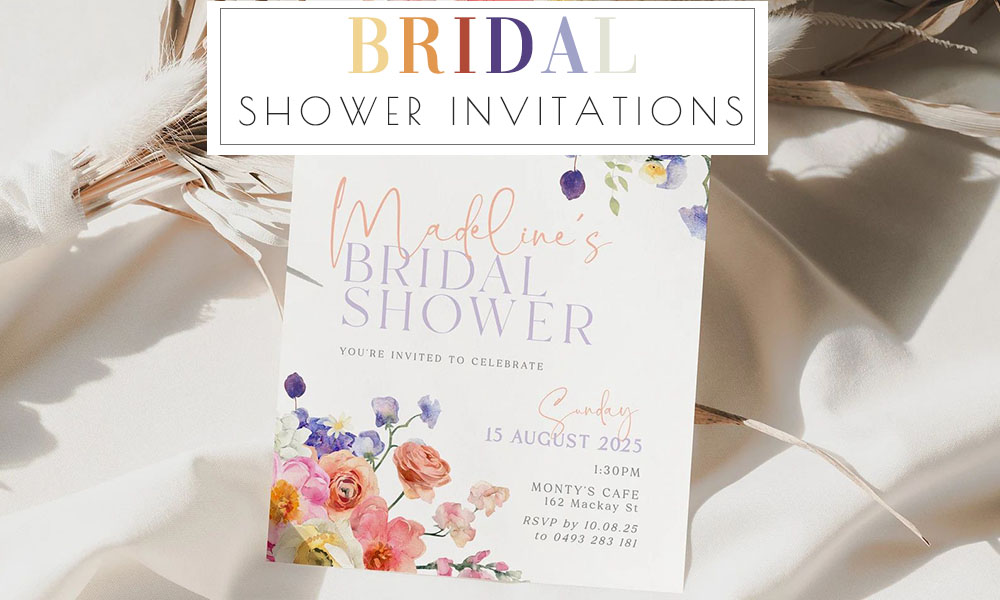 Top 35 Wedding / Bridal Shower Invitations 2023
Bridal shower invites can help create the mood for the party because they are likely to be one of the first party components that guests will see. There are invitations out there that elegantly presage the fun to come, whether you've settled on a specific theme (like brunch and mimosas or a poolside party) or your main purpose is celebrating the upcoming bride in serious style. And we've found 'em!
We found wedding shower invitations that work for various types of parties and price ranges to help you cross another item off your to-do list for the bridal shower. You may customize your invitations with all the information you need to include (such the location, registry details, and dress code) while still saving money by using the templates we've given in addition to professionally printed invites. (More so for gifts and favors, correct?)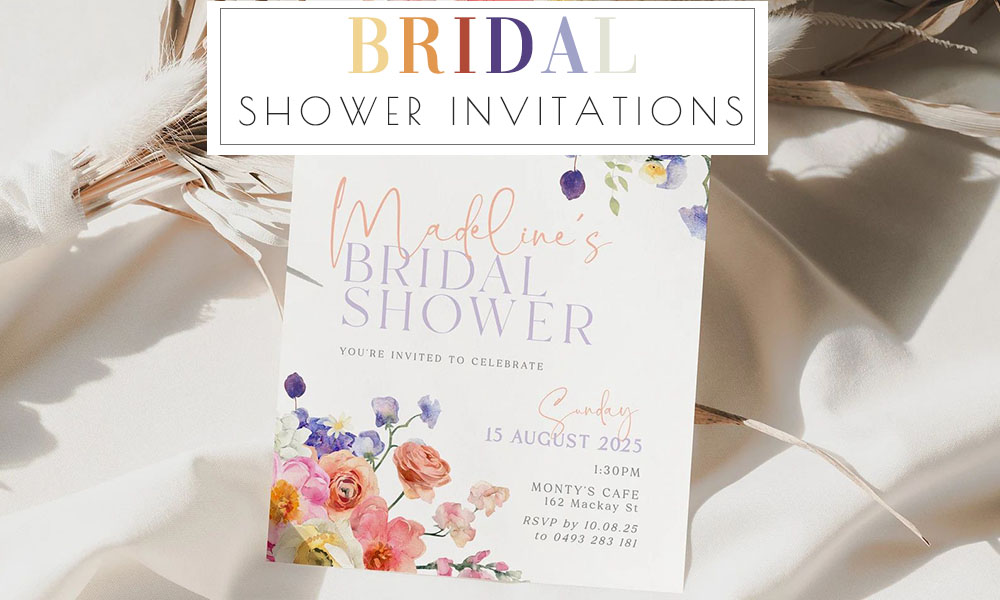 What to look for in a bridal shower invitation
A chance for a more carefree and enjoyable design approach may exist for the bridal shower invitation. Consider the venue of the festivities: will it be a beach? A picnic in the park or a city soiree? Your decisions should be guided by the current happenings.
Include all necessary details that your guests will need to know, such as the party's date, location, and any other pertinent details.
Wedding Bridal Shower Invitations by Themes
Bridal shower invitations are a fun and important part of the wedding planning process. The right invitation will set the tone for the entire event and give your guests a sneak preview of what's to come. Choosing a theme for your bridal shower is a great way to narrow down your invitation choices and make sure your event is cohesive and stylish.
Printable Bridal Shower Invitation Examples
Looking for some cheap and easy ways to save money on your bridal shower invitations? Check out these printable bridal shower invitation examples from Etsy!
Fall Rust Flowers Bridal Shower Invitation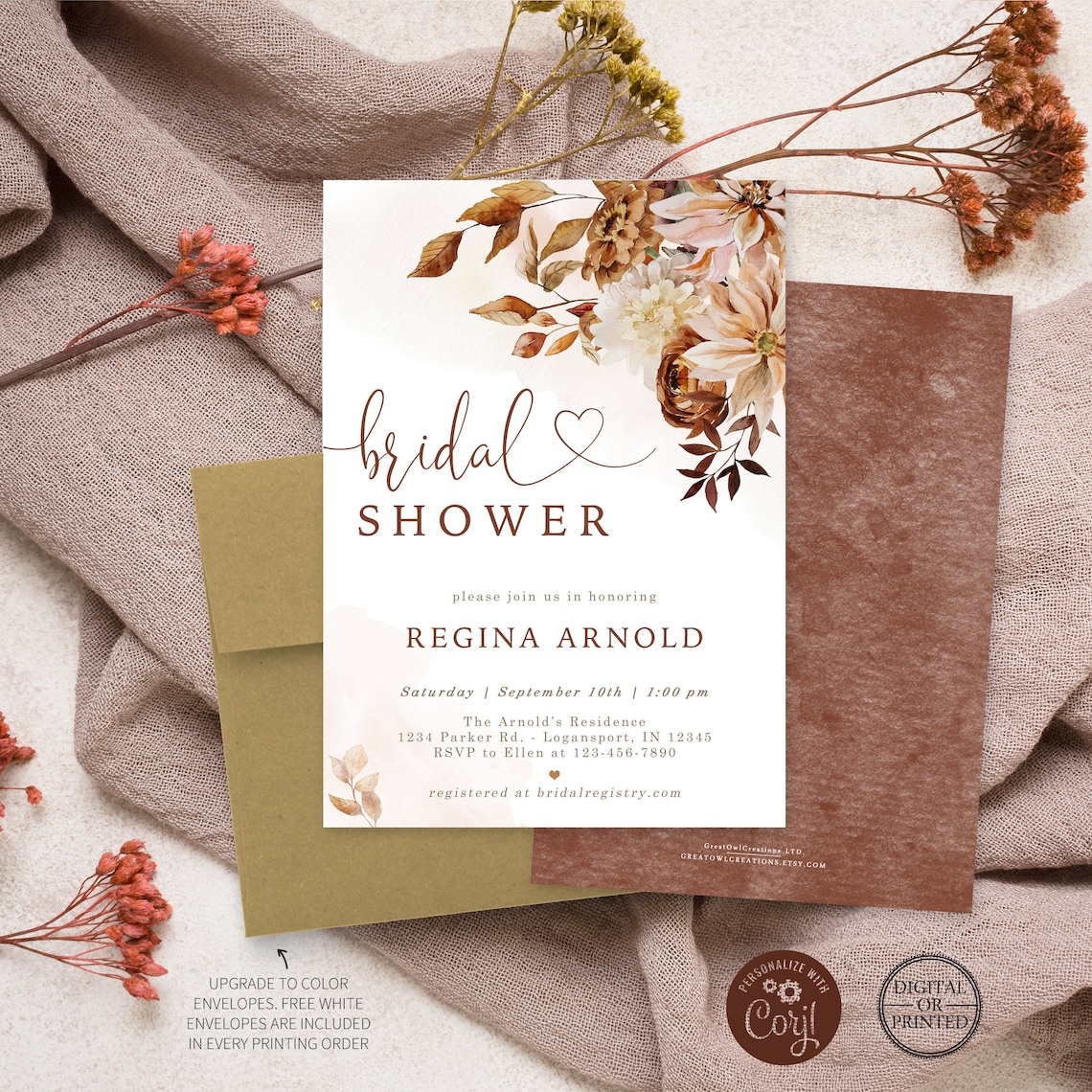 Minimal Boho Terracotta Arch Bridal Shower Invitation Template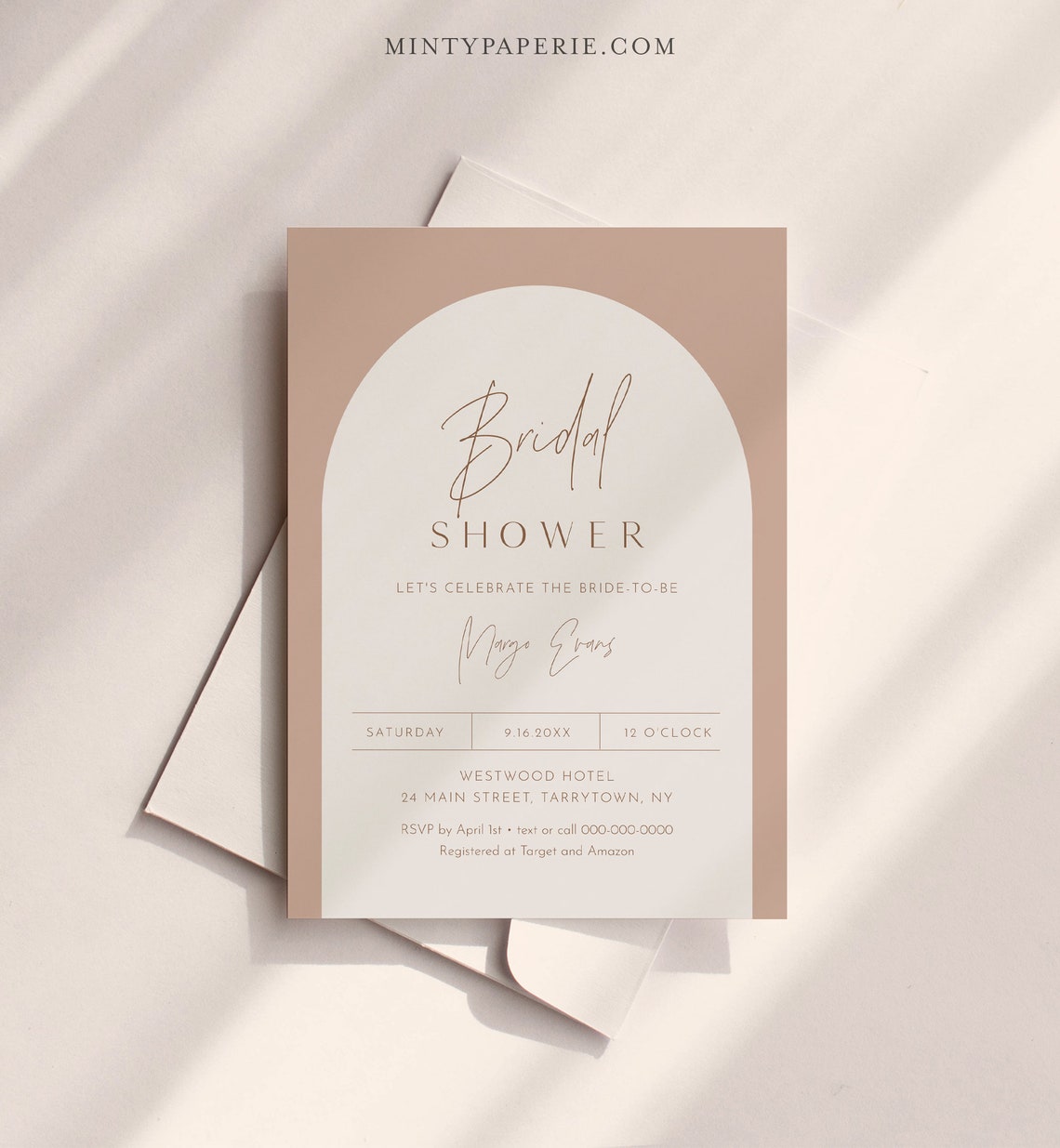 Botanical Blue Floral Bridal Shower Invitation Template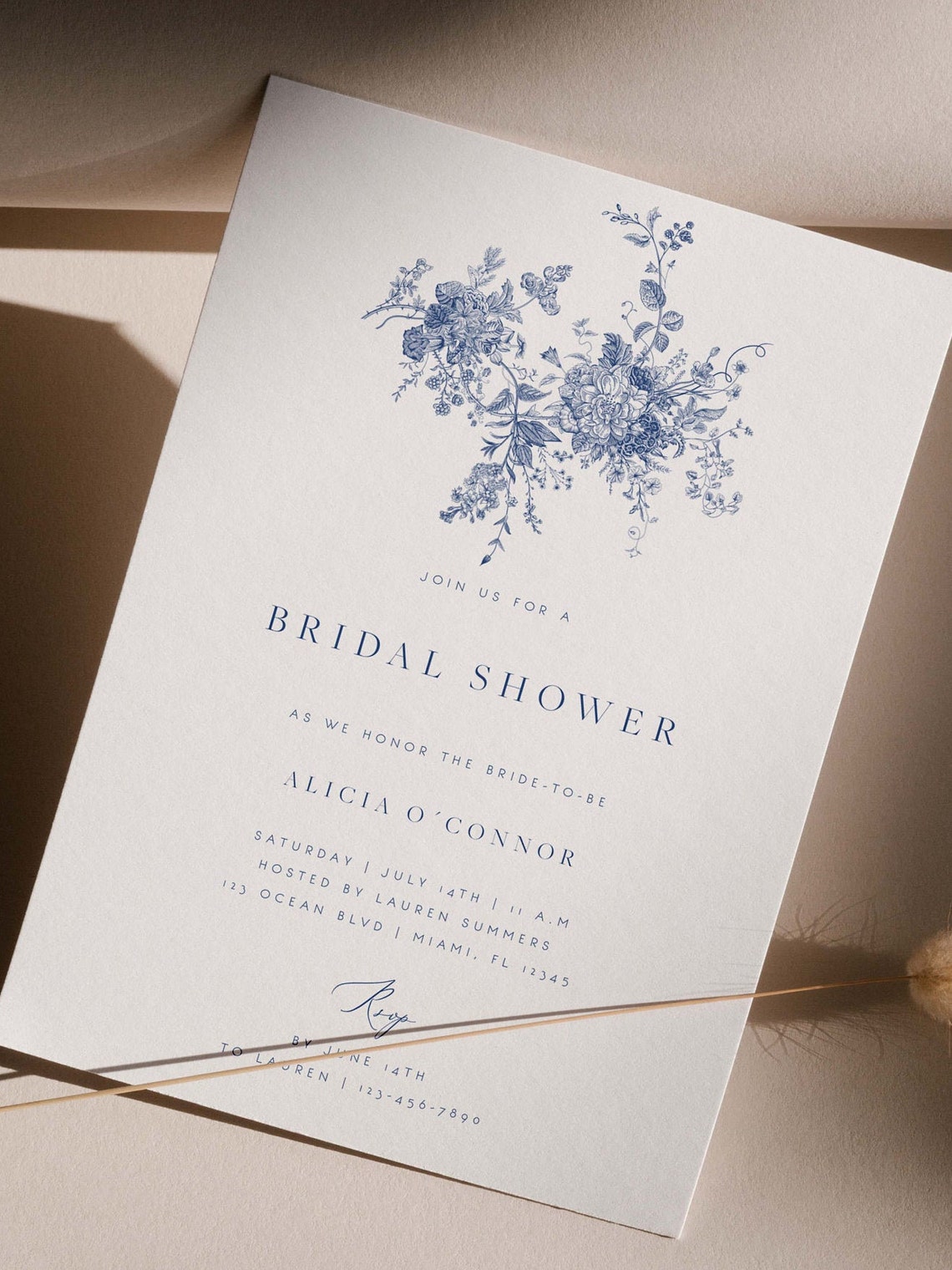 Eucalyptus Greenery Bridal Brunch Shower Invitation Template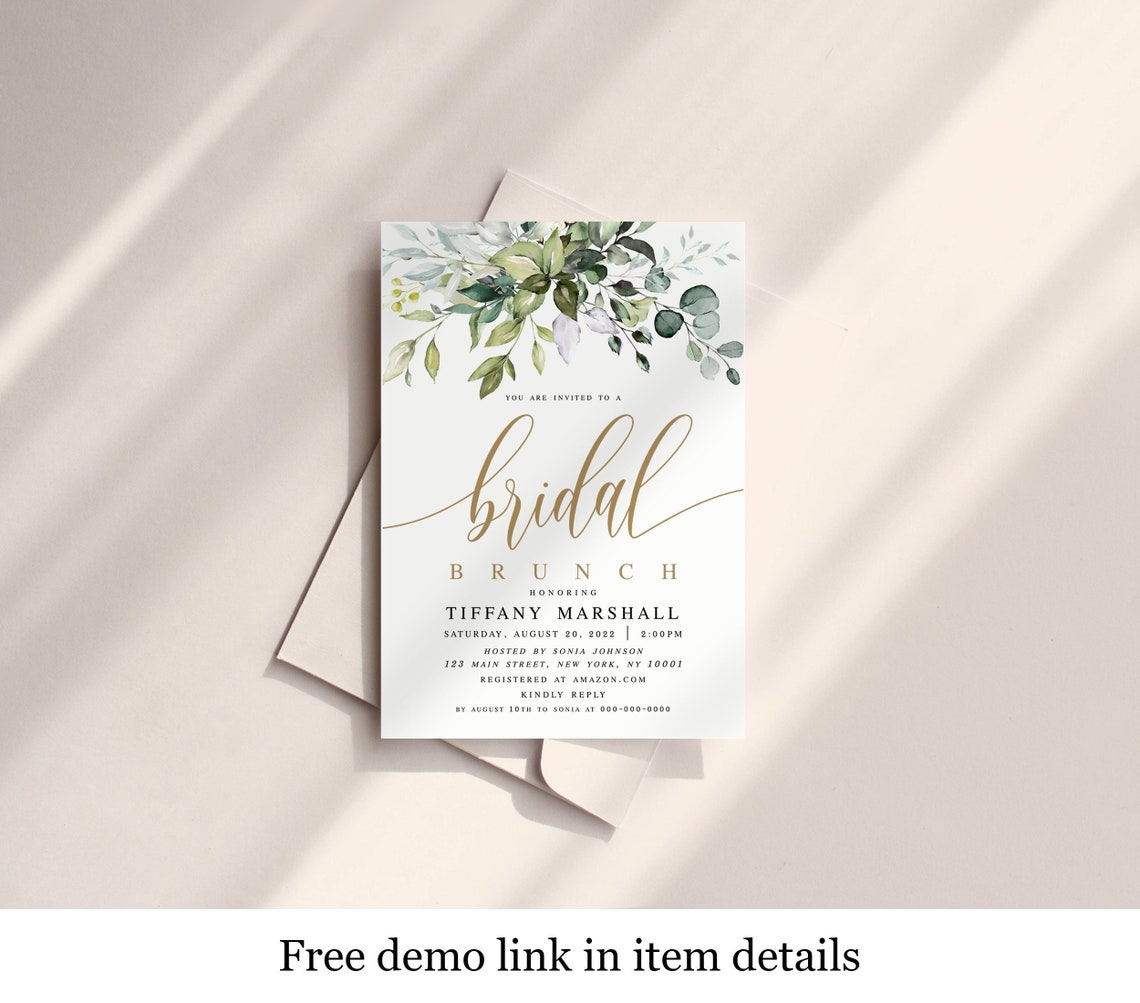 Brunch
Warm weather and lengthening days herald the return of brunch. This year, celebrate your bride-to-be friend with a lovely bridal shower brunch. invite your guests with beautiful, personalized invitations. Whether you're looking for something classic or trendy, we've got just the right design for you.
Boho Terracotta Pampas grass bridal brunch invitation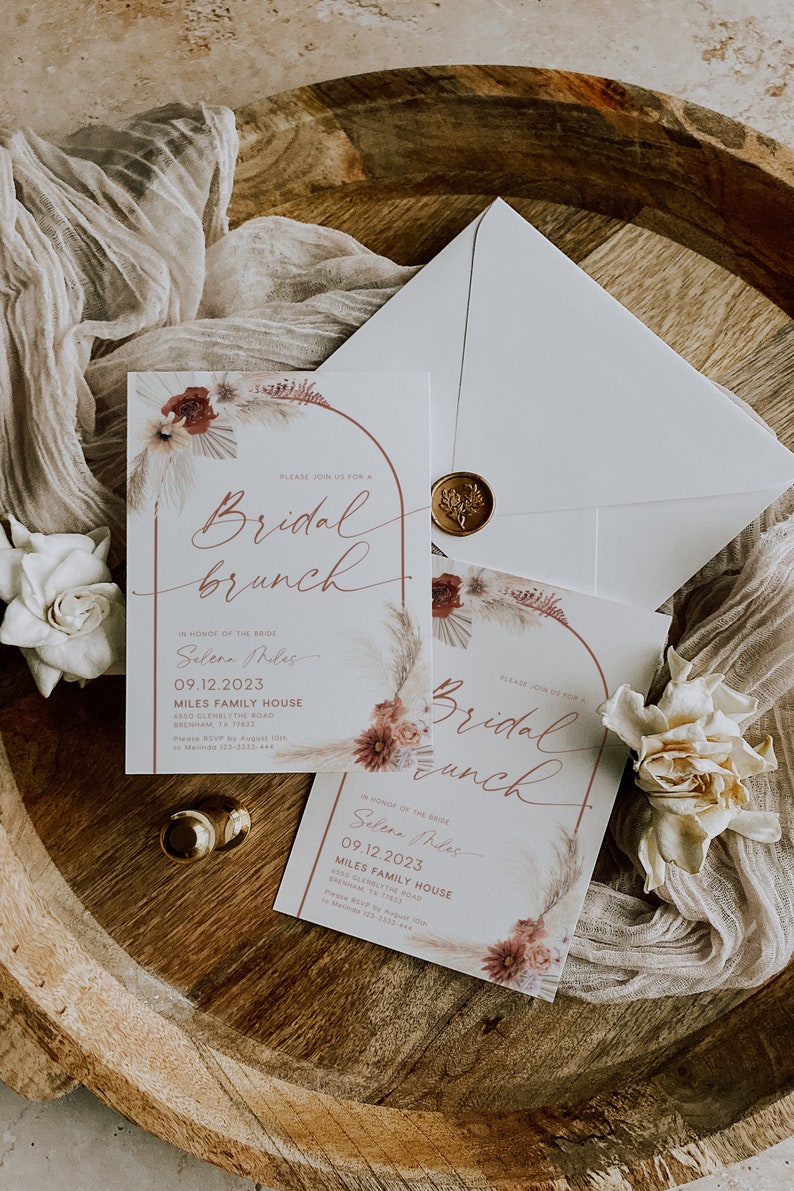 Pancake Bridal Brunch Invitation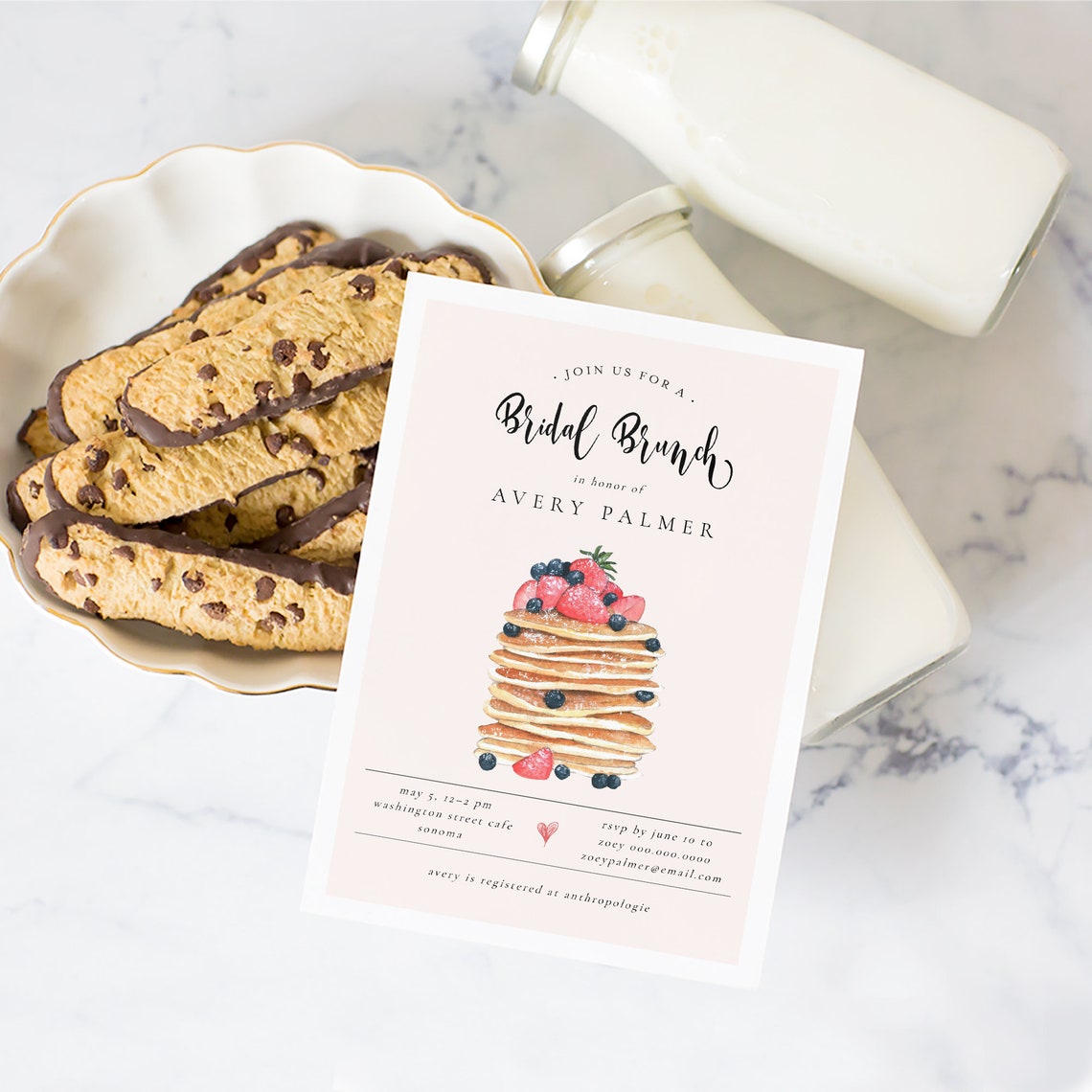 Tea Party
Tea Party Bridal Shower Invitations are the perfect way to celebrate your upcoming nuptials! They feature delicate tea cups and saucers, as well as pretty pastel colors. With these invitations, you can let your guests know that they're in for a truly special event.
Editable Time For Tea Floral Pink Gold Blush Bridal Shower Invitation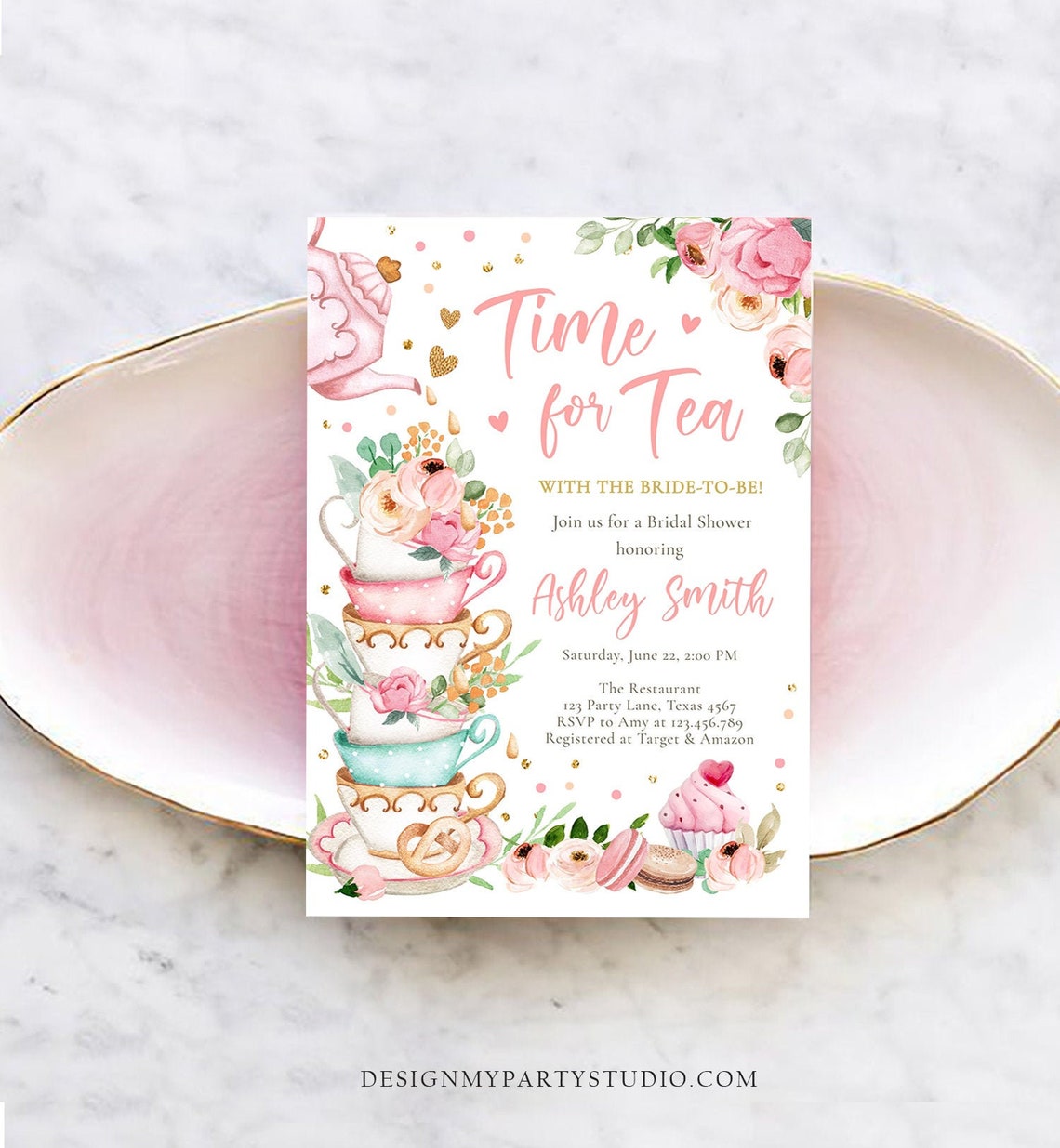 Greenery Eucalyptus Tea Party Bridal Shower Invitation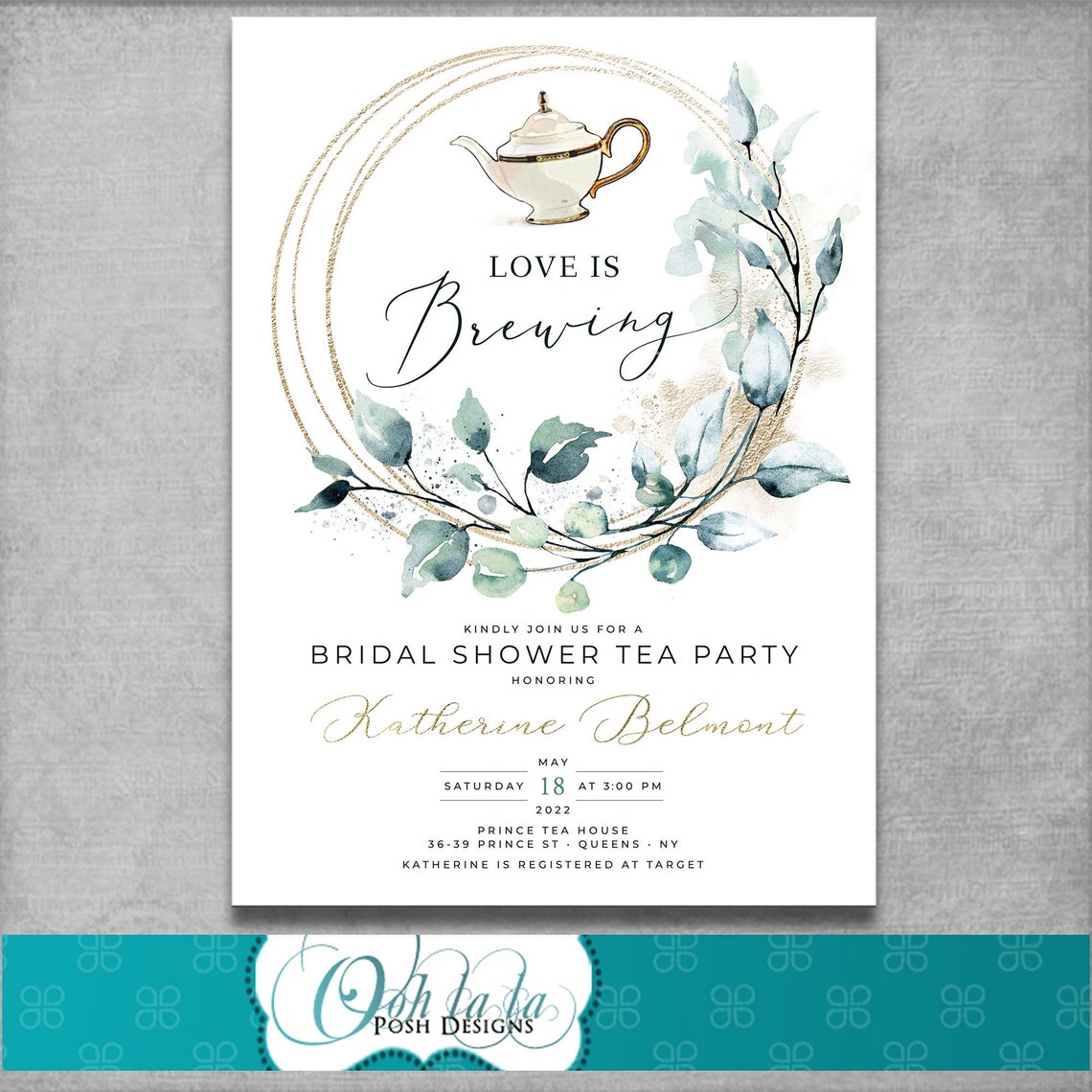 Rustic
If you're planning a rustic bridal shower, you'll want to send out invitations that fit the theme. Here are some great rustic bridal shower invitations to give your guests a glimpse of what's to come.
Rustic Mason Jar Bridal Shower Invitation Template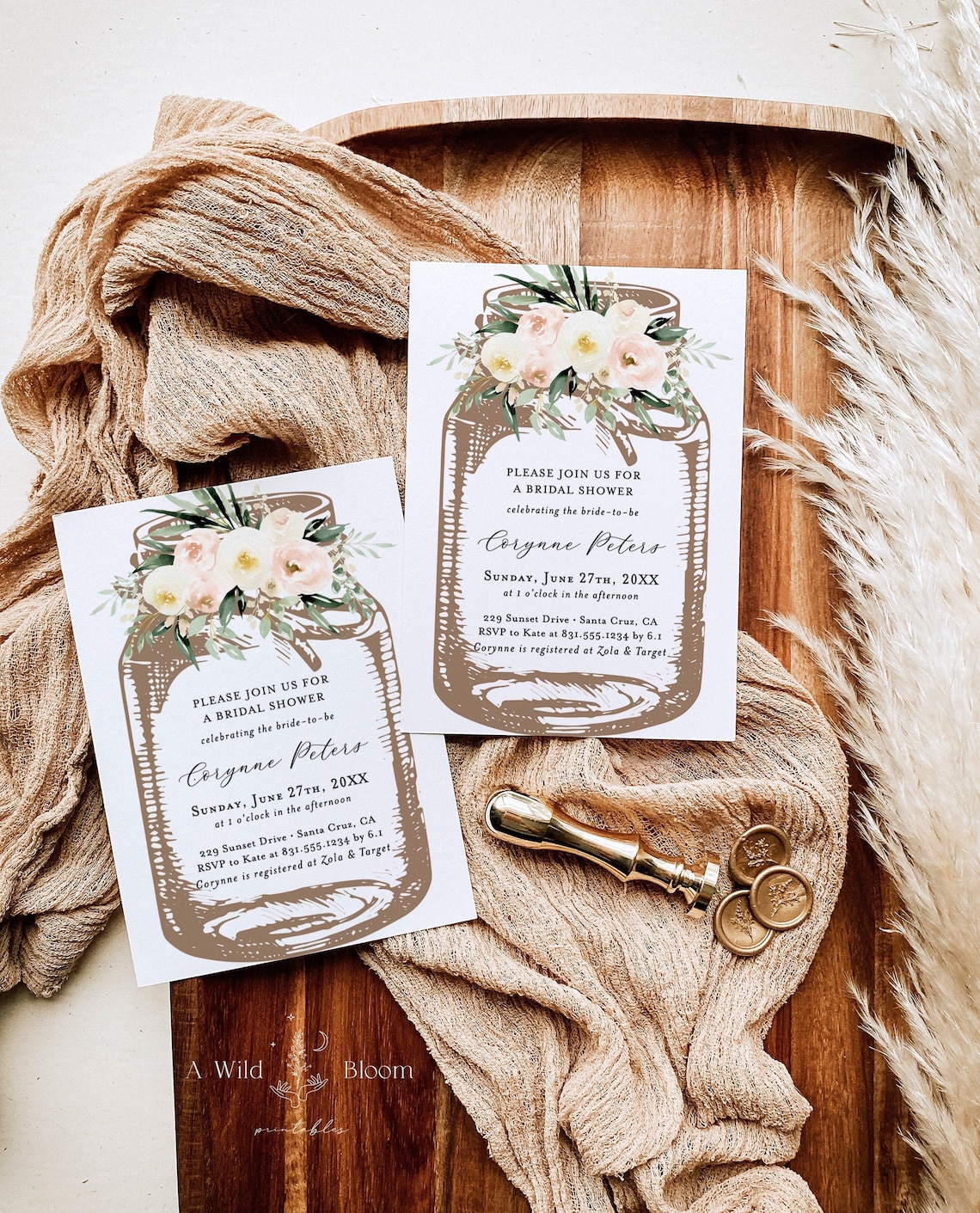 Rustic Baby's Breath, String Lights, Mason Jar Bridal Shower Invitation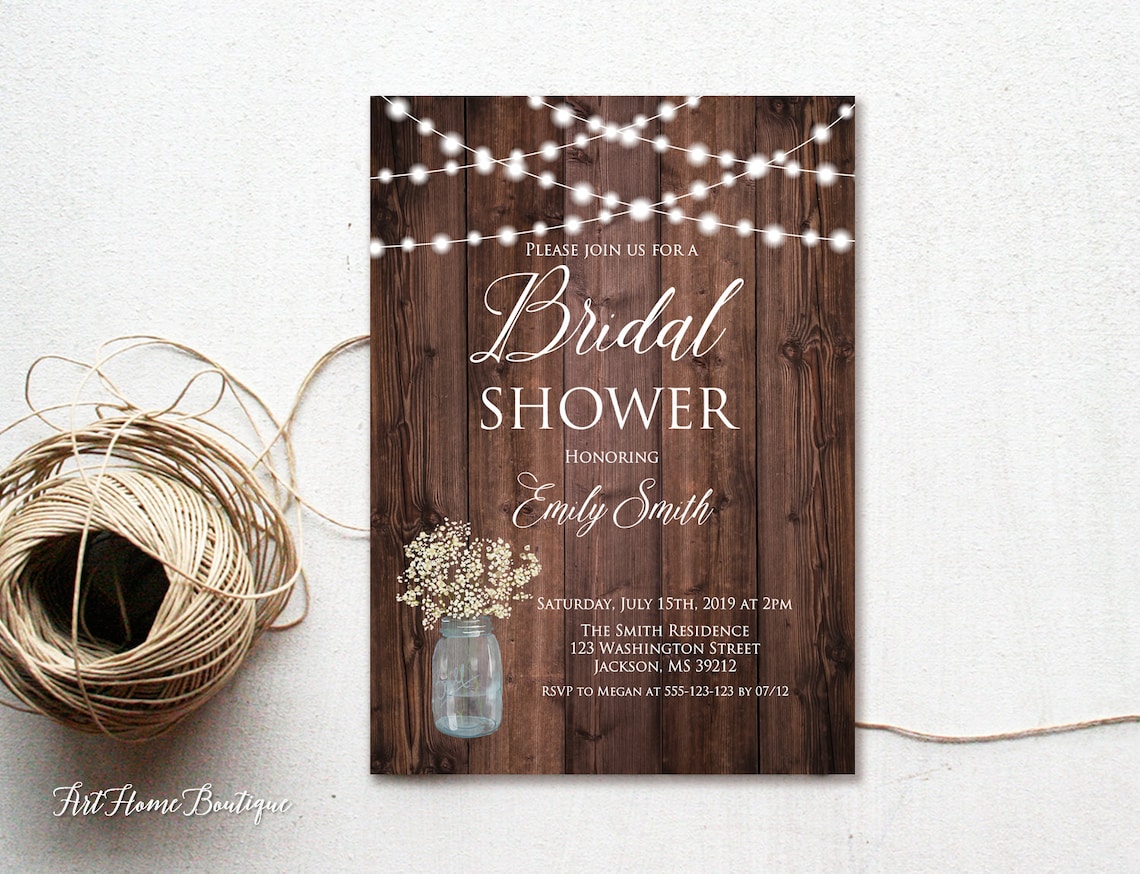 Boho
Boho bridal showers are all the rage and for good reason! They are chic, stylish, and unique. If you are looking for boho bridal shower invitations, you have come to the right place. We have a wide selection of boho bridal shower invitations that are sure to please.
Rustic Boho Burnt Orange Floral Bridal Shower Invitation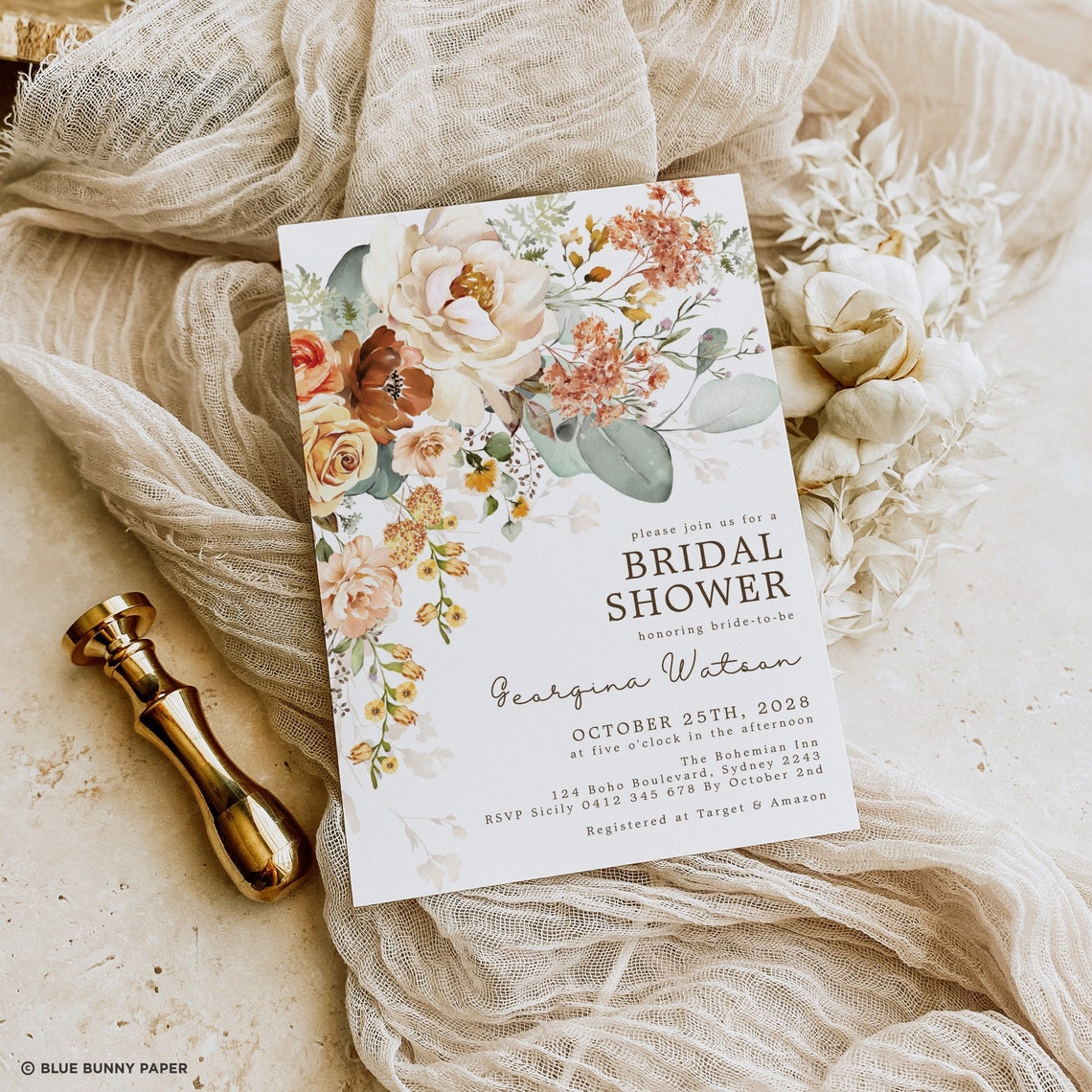 Boho pampas grass bridal shower invitation template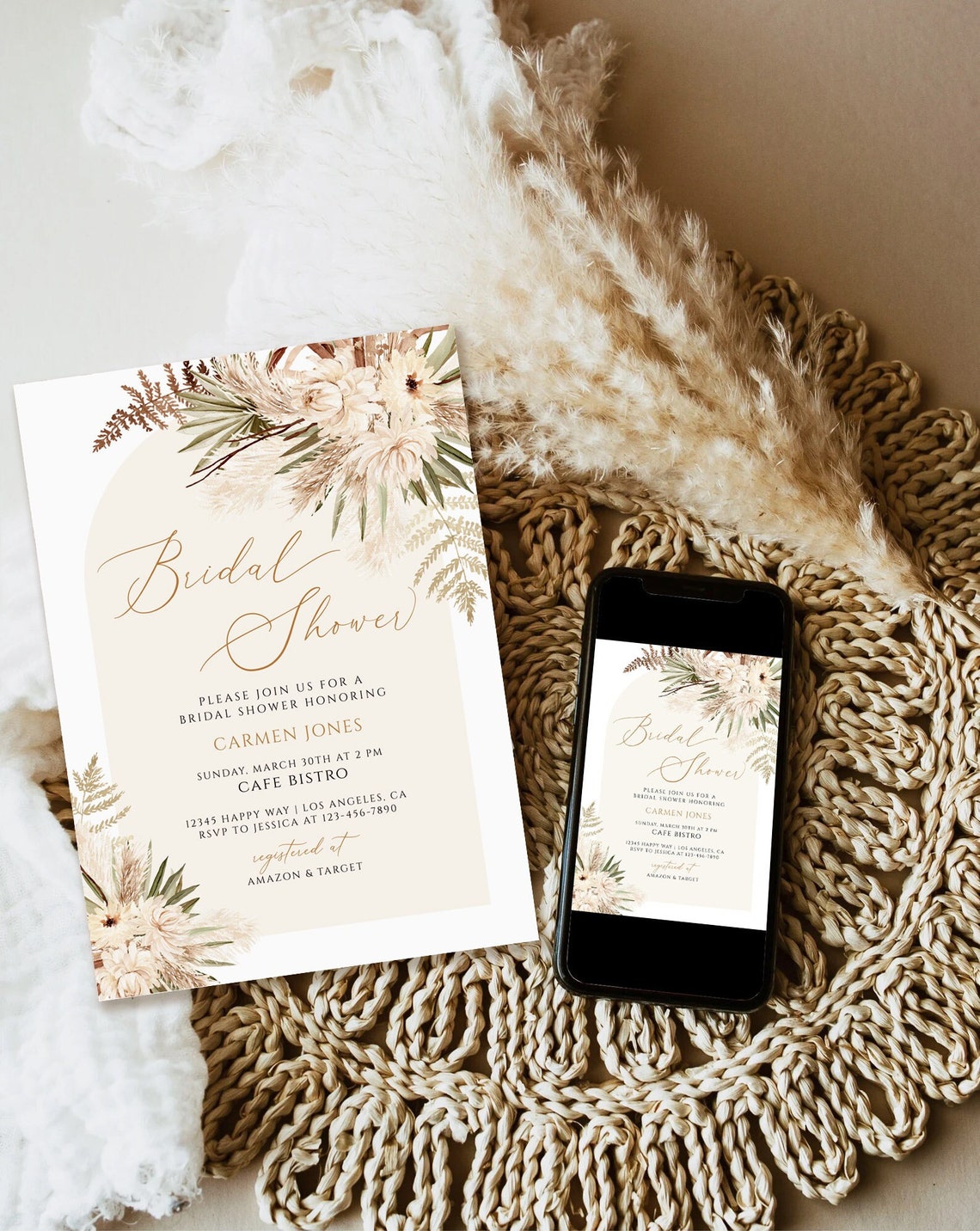 Lemon
If you love lemons, you'll adore these pretty bridal shower invitations! Perfect for a lemon-themed bridal shower, each invitation features a lovely lemon on a white background with your shower details printed below.
She Found Her Main Squeeze Lemon Bridal Shower Invitation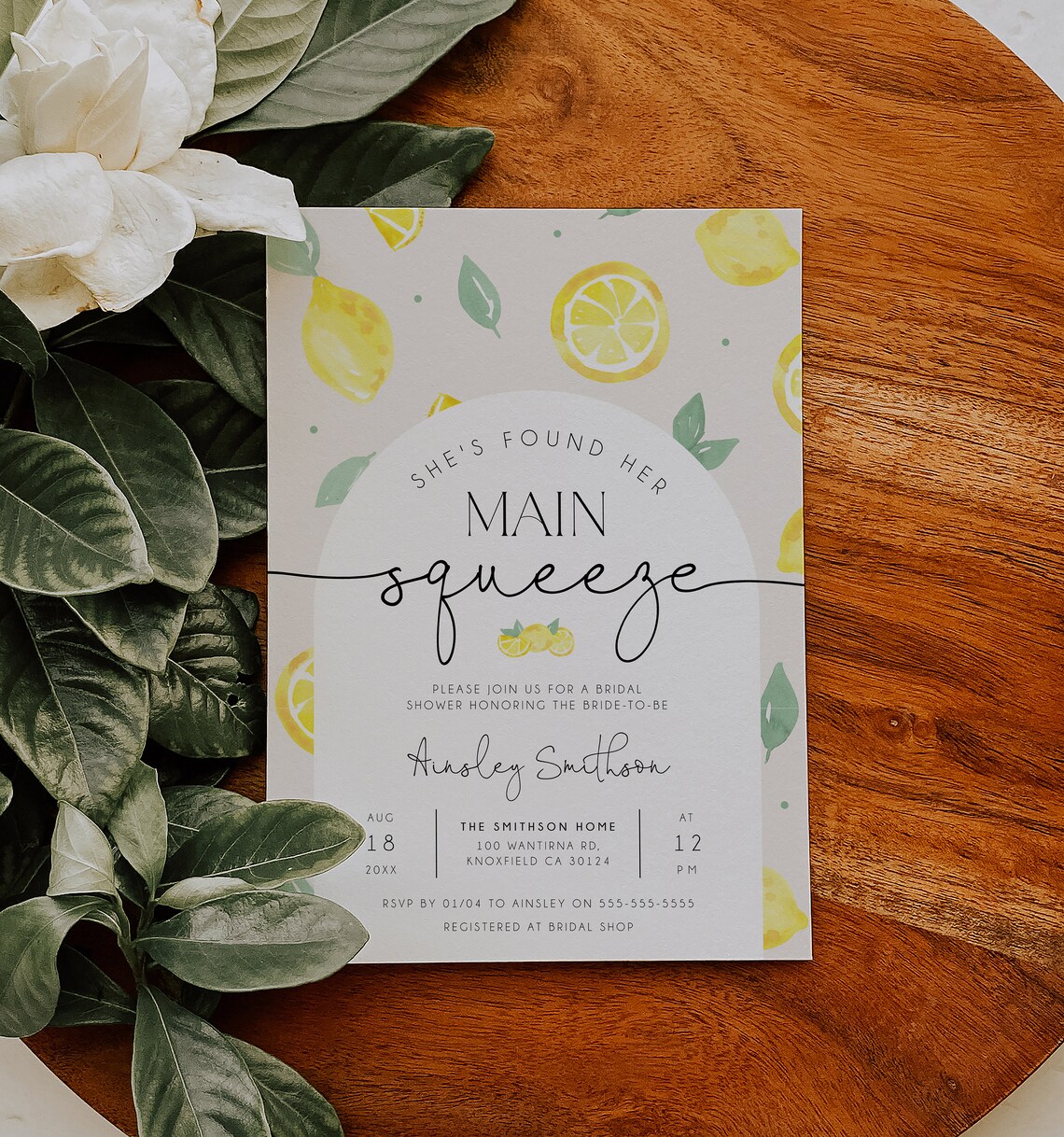 Bridal Brunch Bridal Shower Invitation with Lemon Citrus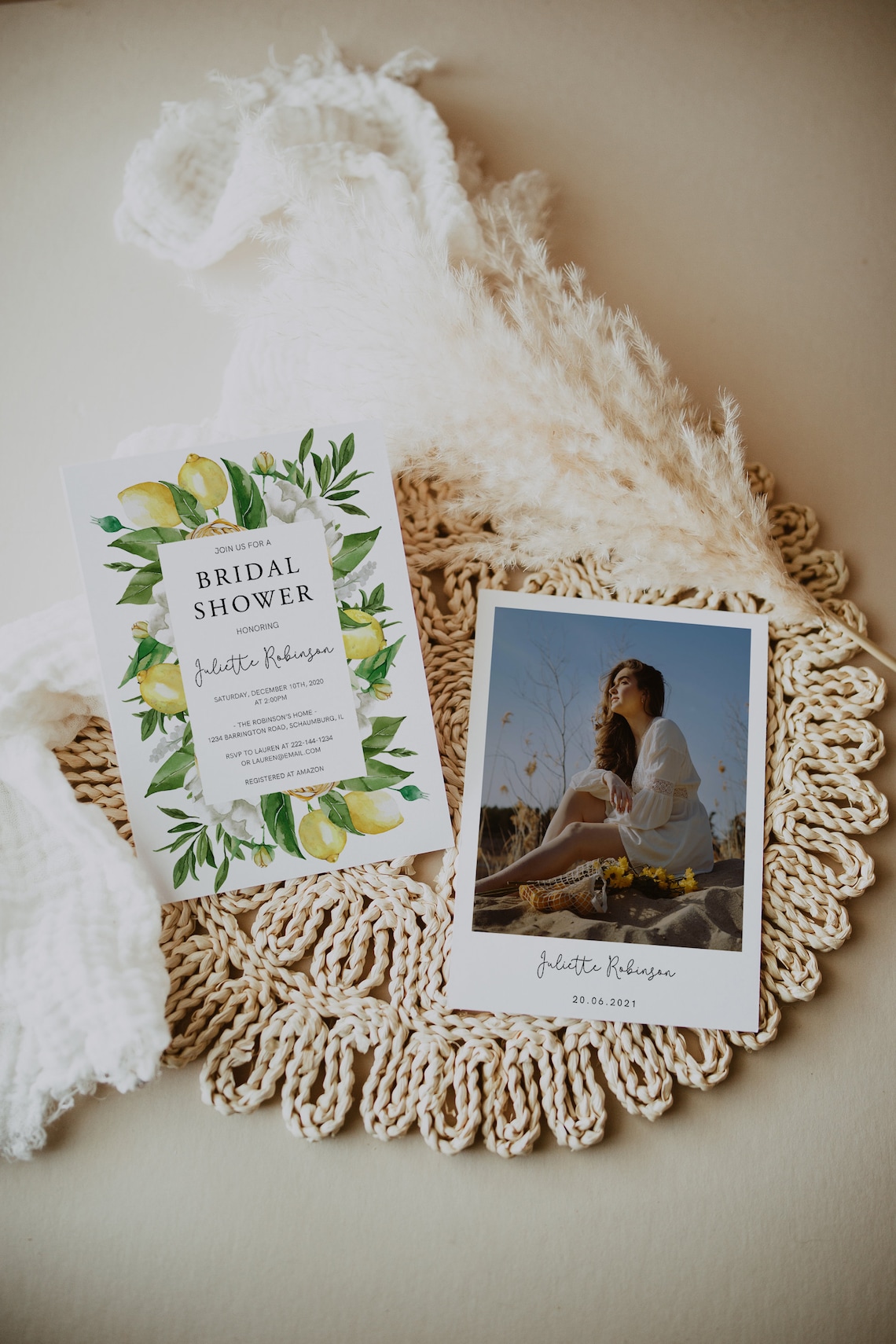 Sunflower
Sunflower bridal shower invitations are the perfect way to bring a touch of summer to your upcoming nuptials! These beautiful cards feature stunning sunflower illustrations in a variety of yellow, orange, and brown hues. With so many pretty details to choose from, you'll be sure to find the perfect design to match your wedding theme.
Fall Sunflowers and Burgundy Red Roses Wedding Shower Invitation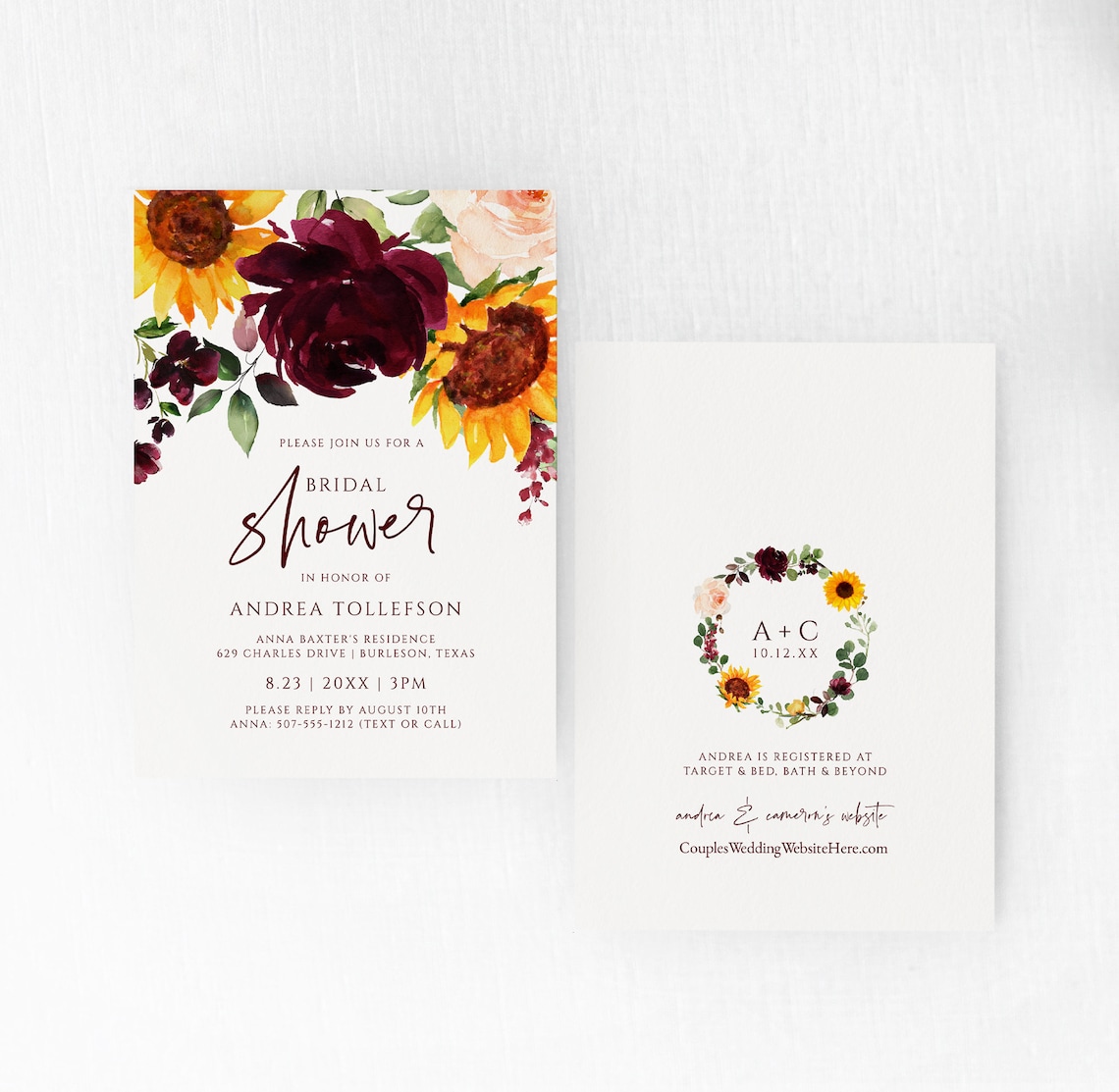 Sunflower Rustic Mason Jar Bridal Shower Invitation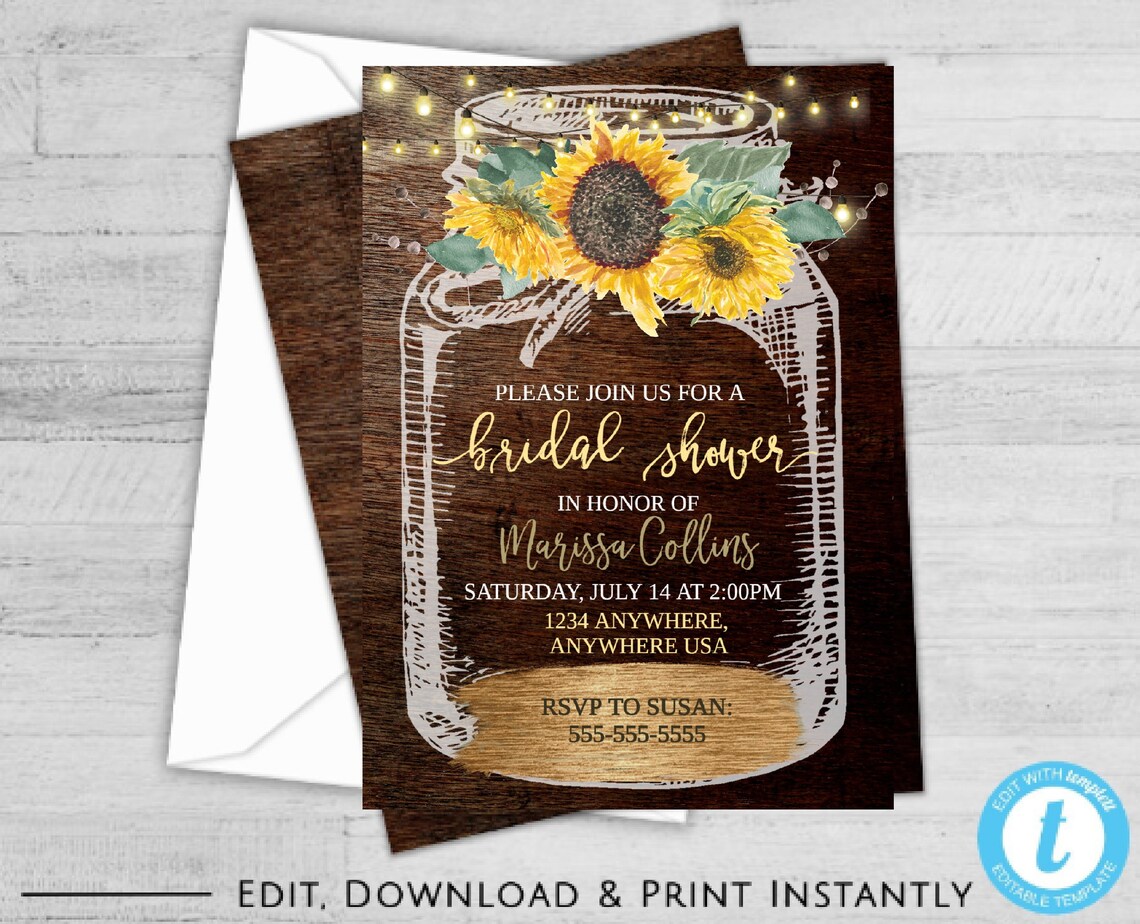 Floral
For the bride who loves all things floral, we've got the perfect bridal shower invitations for you! These floral bridal shower invitations are beautiful and stylish, and perfect for adding a touch of elegance to your bridal shower. From pretty watercolor flowers to simple and chic floral designs, we've got something for everyone.
Wildflower bridal shower invitation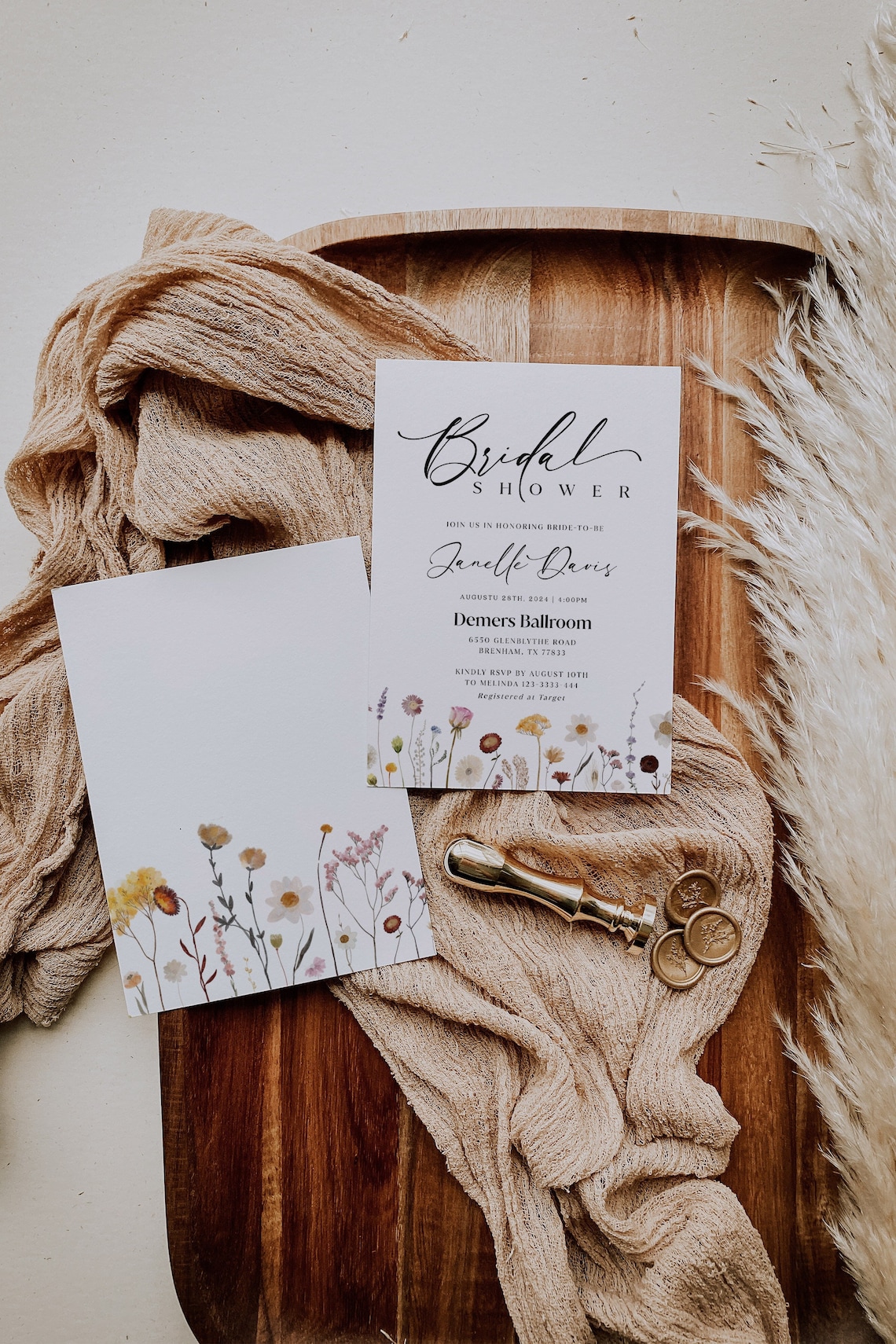 Jewel Tone Floral Bridal Shower Invitations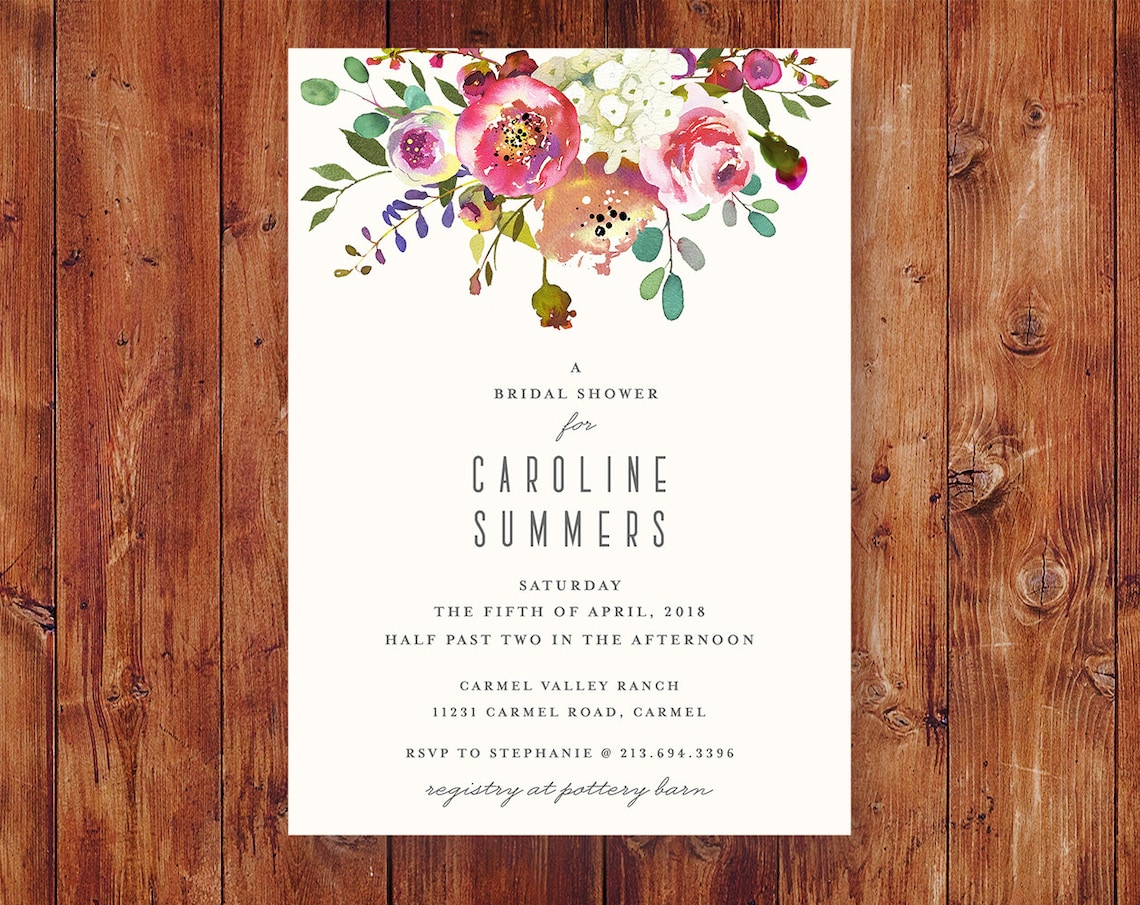 Couples Wedding Shower Invitations
There's no need to be couples-y to enjoy a couples wedding shower! Whether you're planning a low-key affair or a raucous celebration, we have the perfect couples wedding shower invitations for your event. From "Brews and Bubbles" to "Photo Couples", we have a design that will fit your style. So gather your friends and get ready to celebrate the happy couple's upcoming nuptials!
Brews and Bubbles Couples Shower Invitation Template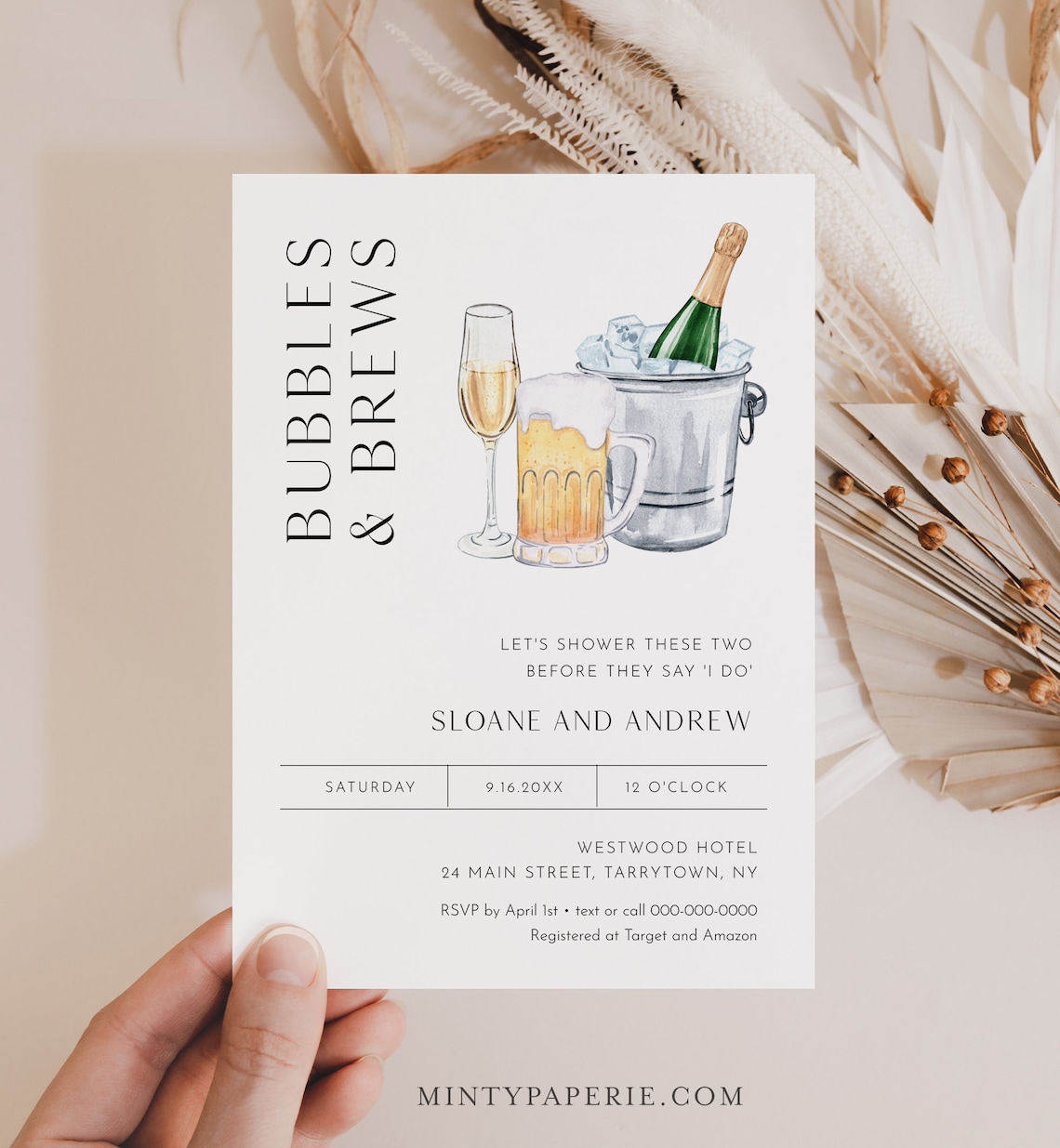 Photo Couples Shower Invitation Template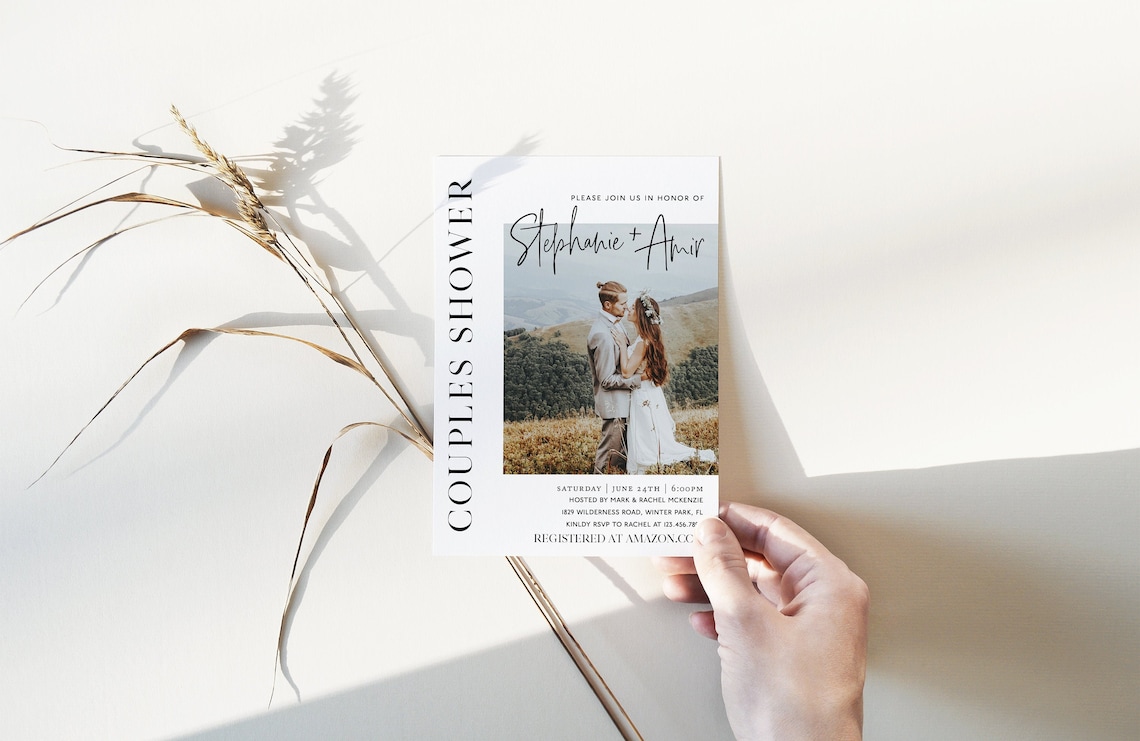 Fiesta
Just because your bestie is getting hitched, doesn't mean the party has to end! Fiesta your way into married life with these fun and festive bridal shower invitations. From Mexican cactus succulents to editable tacos bout, these party details are sure to make her shower one to remember.
Couples Shower Bridal Mexican Cactus Succulent Desert Floral Printable Invitation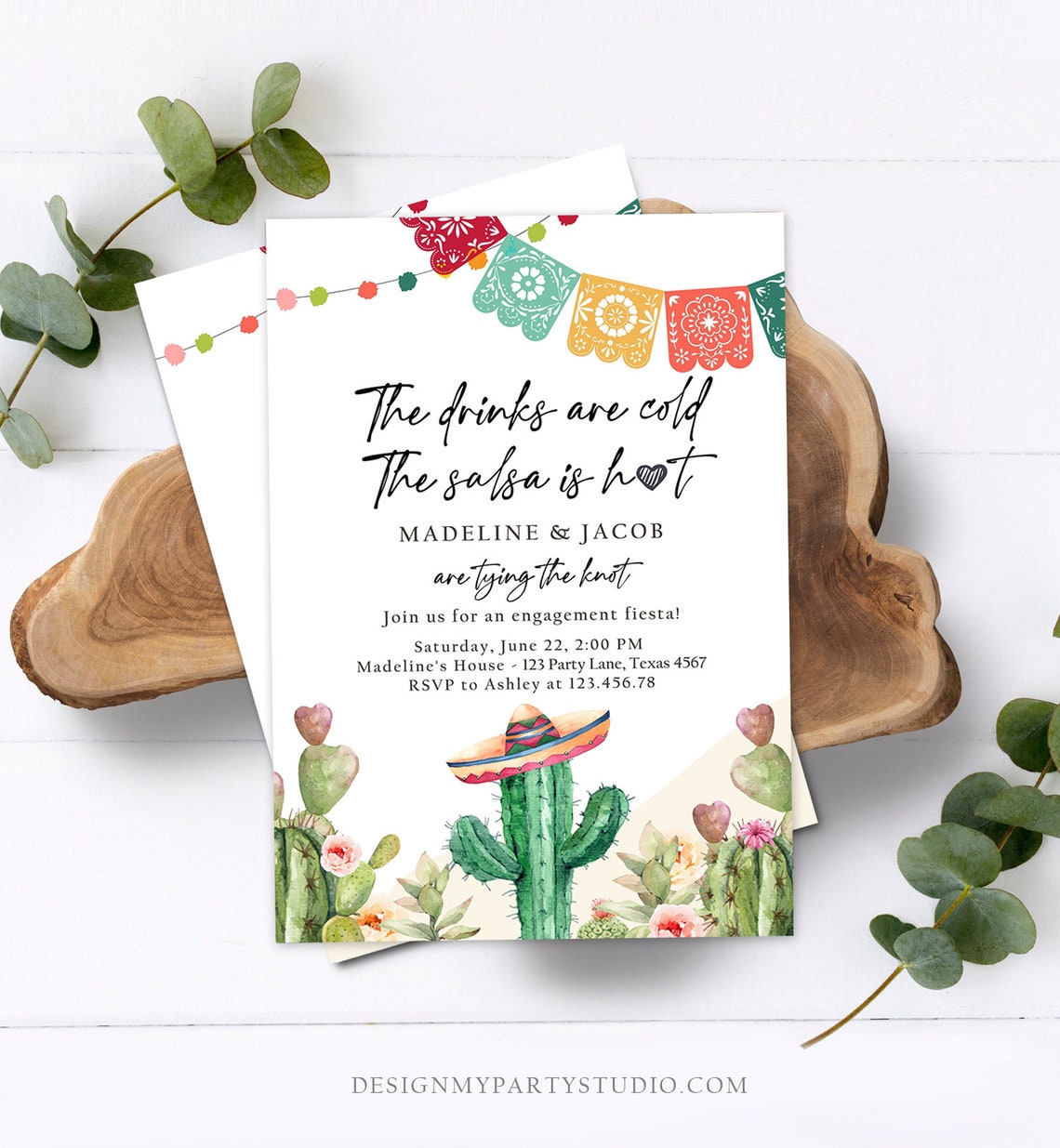 Editable Taco Bout Love Couples Shower Invitation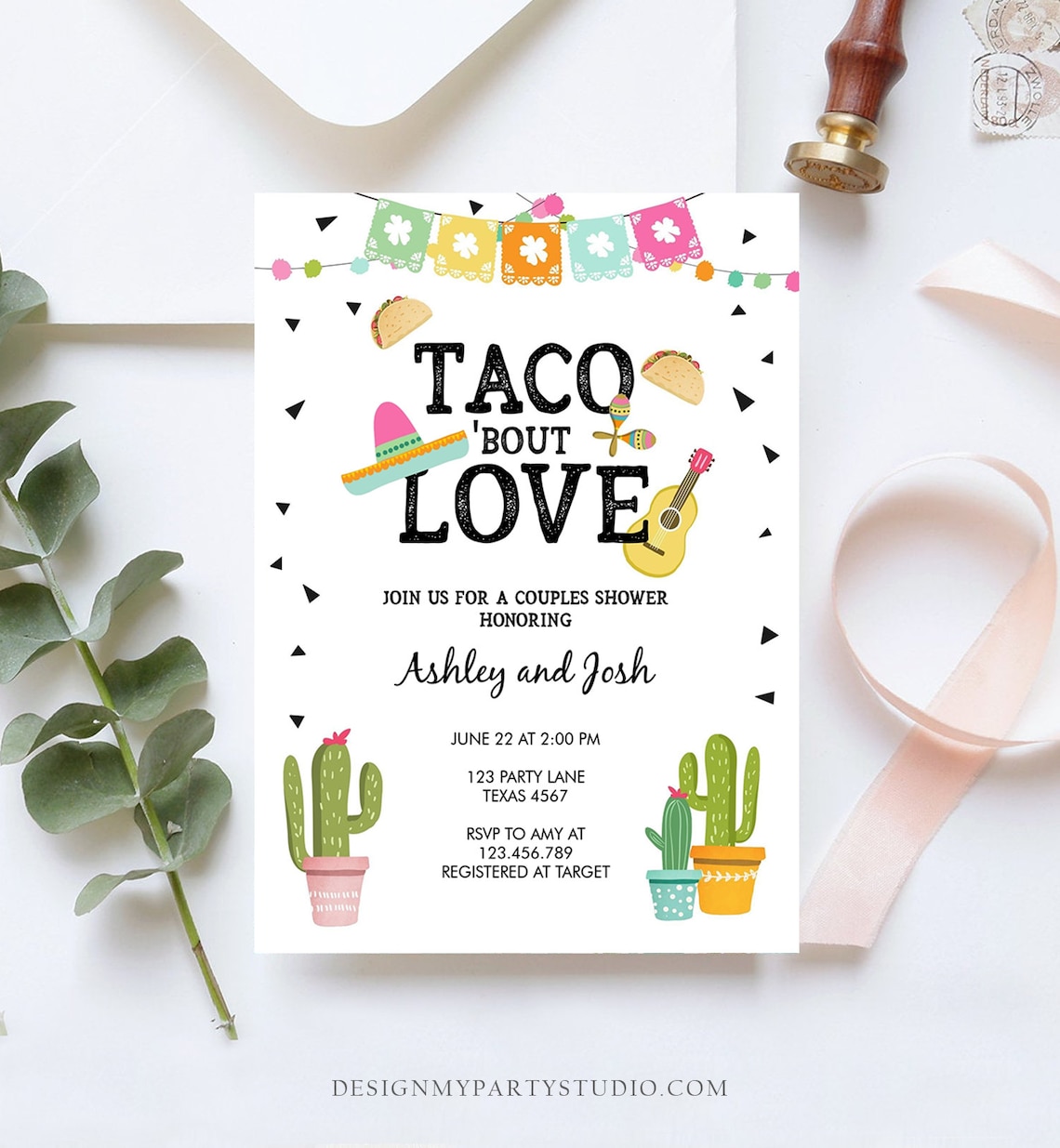 Tropical
Warm weather, sandy beaches, and palm trees – there's nothing quite like a tropical getaway to celebrate a bride-to-be! If you're planning a bridal shower with a tropical theme, these invitations are the perfect way to set the tone for your event. From Hibiscus flowers to pineapple patterns, these invitations will definitely get your guests in the mood for a fun-filled celebration.
Tropical bridal shower invitation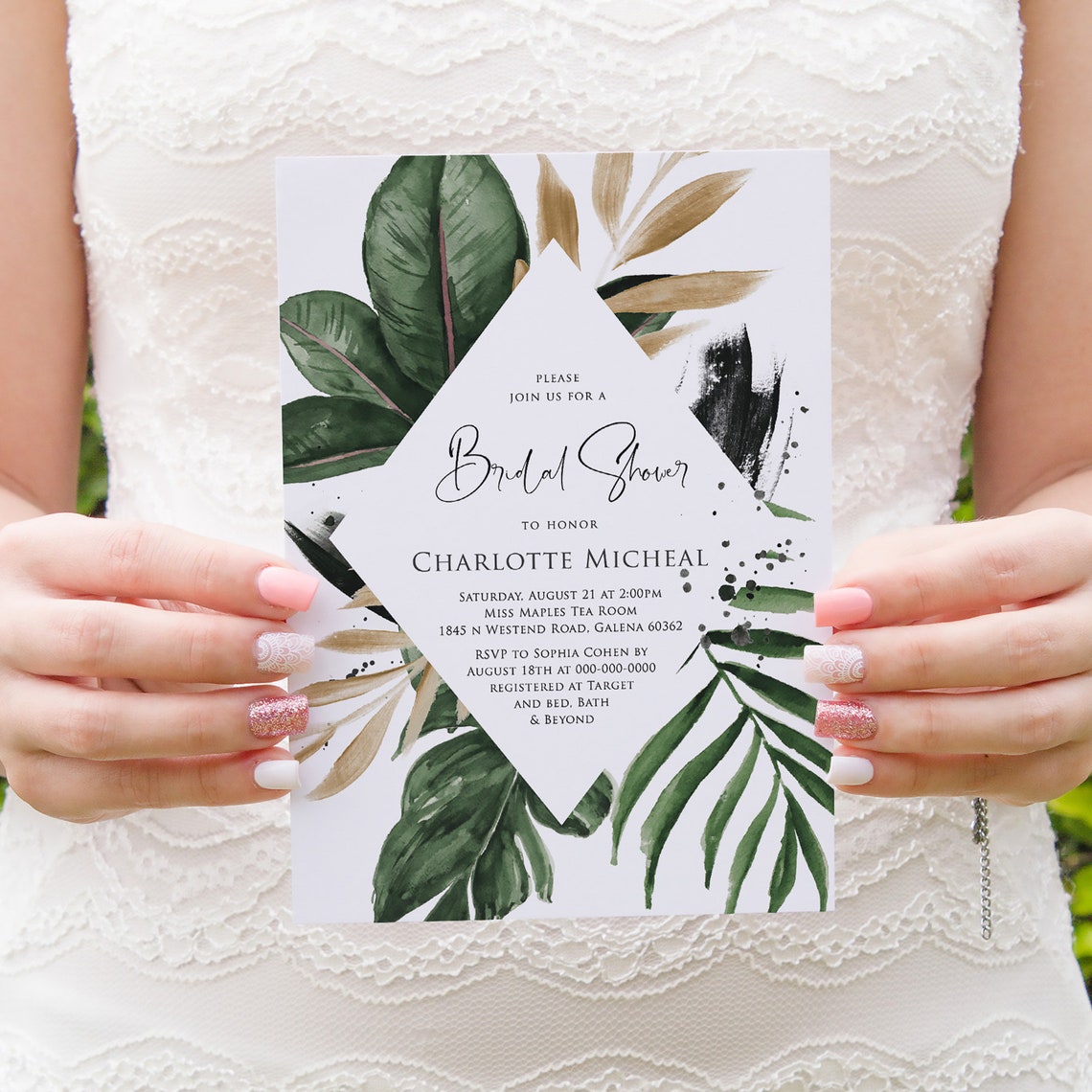 Flamingo bridal shower invitation template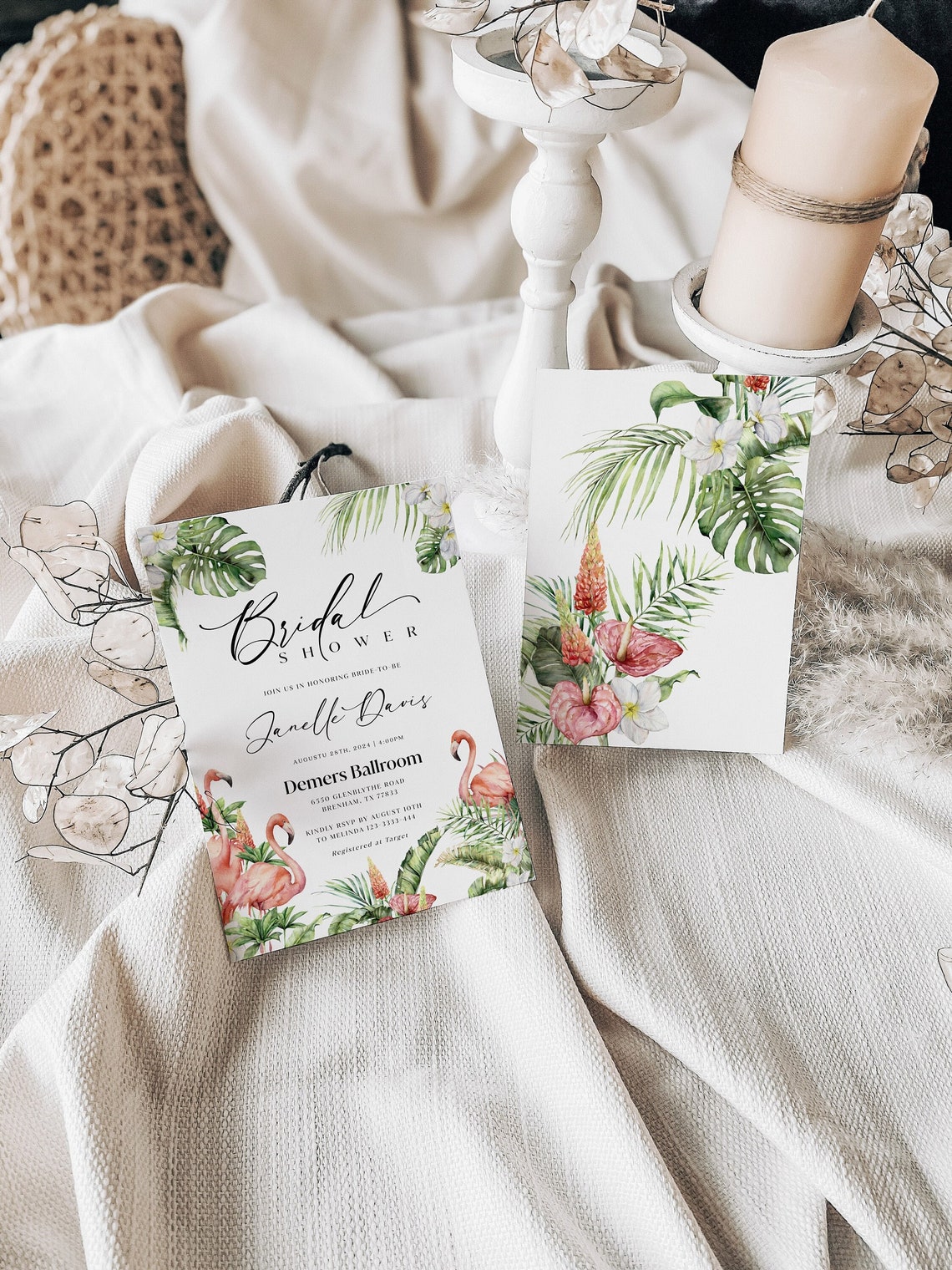 Beach
Beach bridal shower invitations are the perfect way to let your guests know that your celebration will be casual and fun. Whether you are having a destination wedding or a local beach-themed event, these invitations will get your guests excited for your big day.
Teal Blue Gold Pool Brunch Summer Invite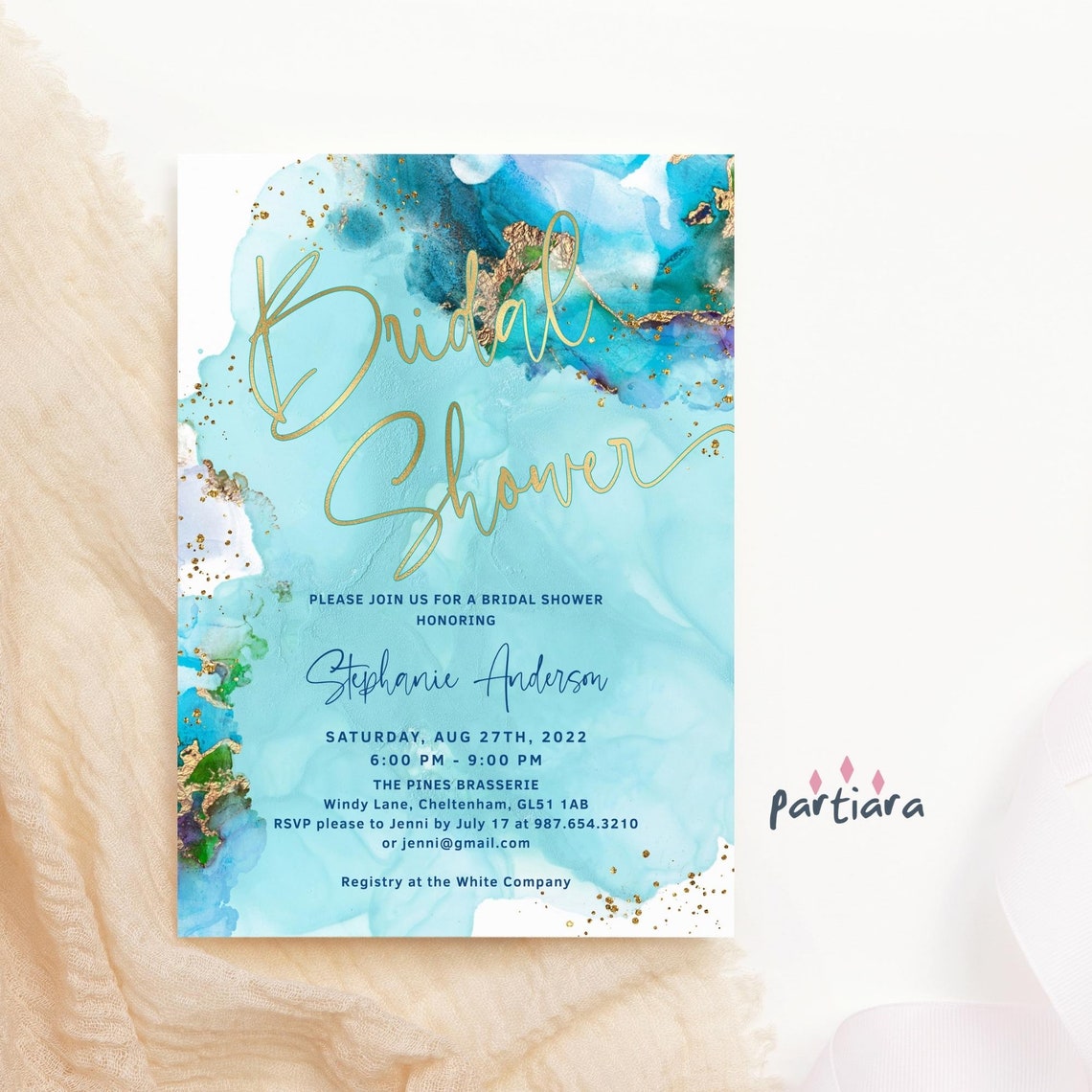 Shell Bridal Shower Invitation with Instruction Card and Recipe Card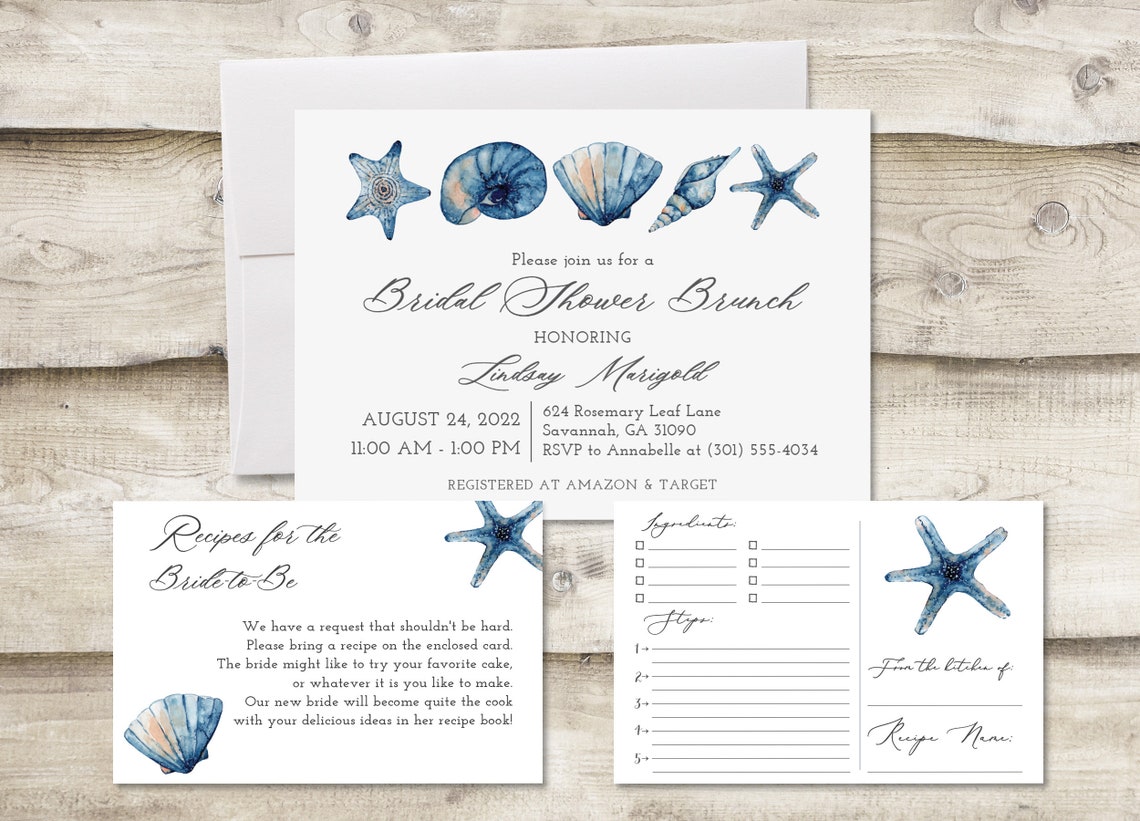 Harry Potter
As the big day approaches, Harry Potter fans will want to make sure their bridal shower is as magical as possible! These Harry Potter bridal shower invitations are the perfect way to do just that. Featuring the iconic Hogwarts castle and a message that is sure to make any witch or wizard happy, these invitations are sure to get everyone excited for the big day!
Magical Bridal Shower/ Wizard / Witch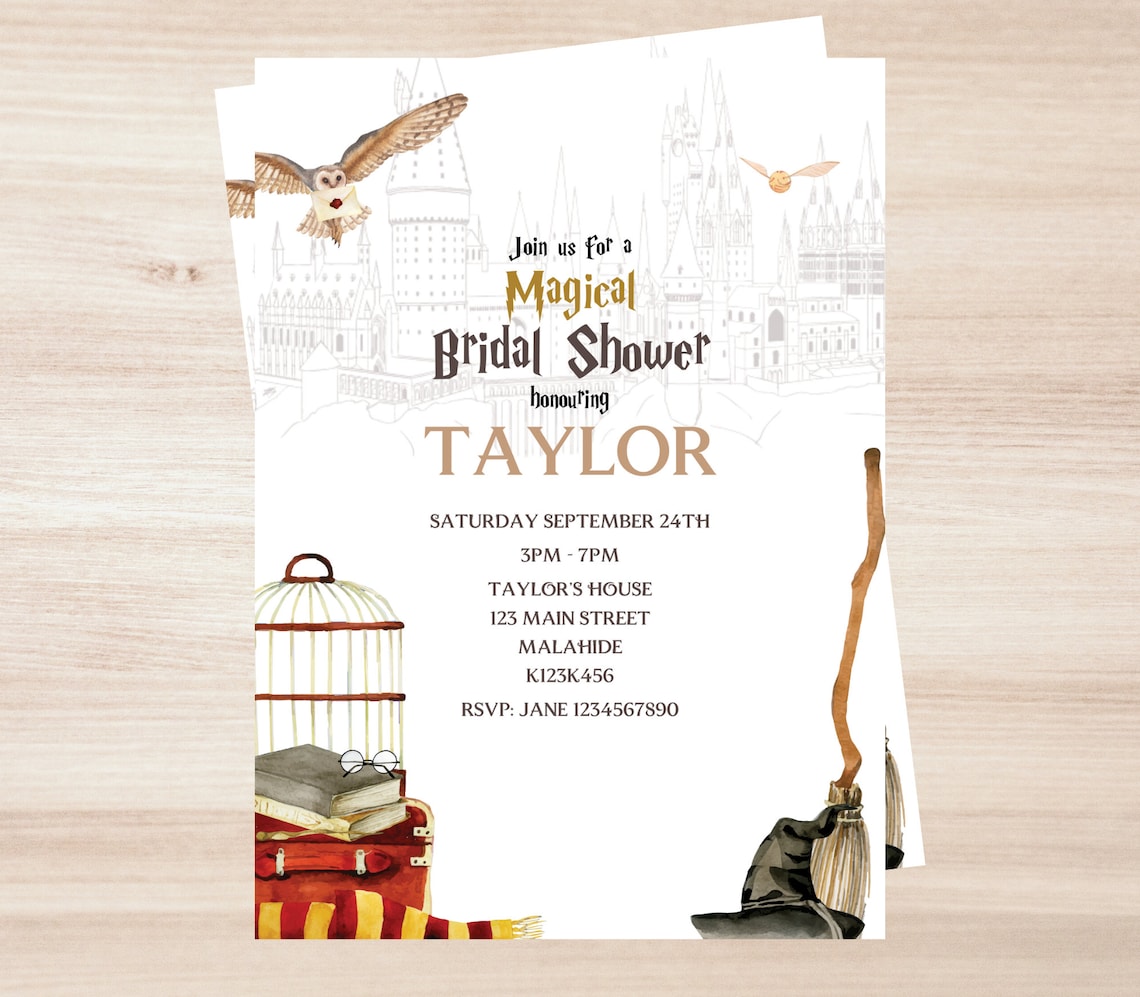 Blue Florals Bridal Shower Invitation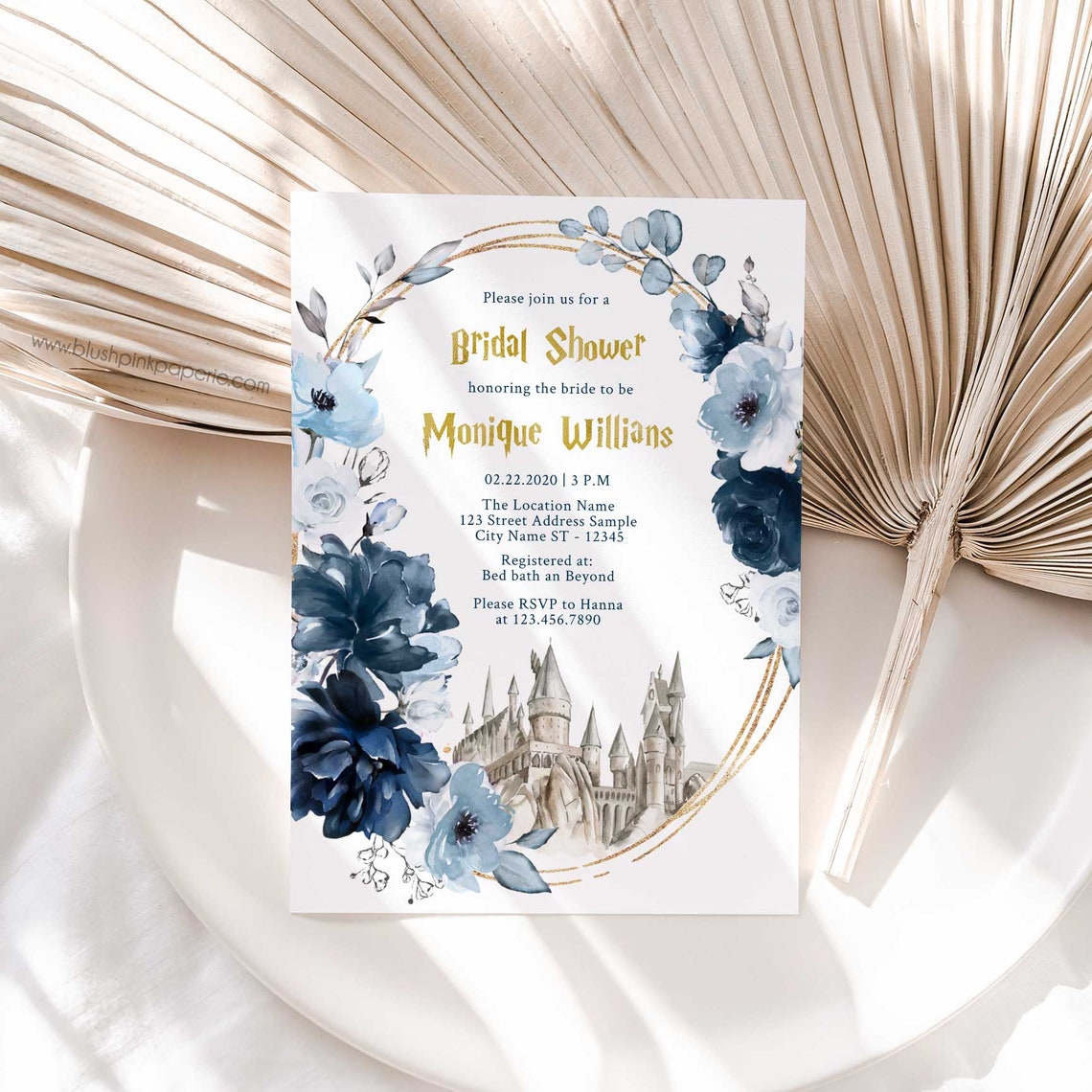 Fall
When it comes to weddings, fall is one of the most popular seasons. And for good reason! The cool weather is perfect for a cozy outdoor ceremony, and the colorful leaves make for beautiful photos. If you're planning a fall wedding, why not start the celebrations early with a fall-themed bridal shower? These invitations feature lovely burnt orange florals and pumpkins, perfect for a fall celebration.
Editable Boho Burnt Orange Floral Bridal Shower Invitation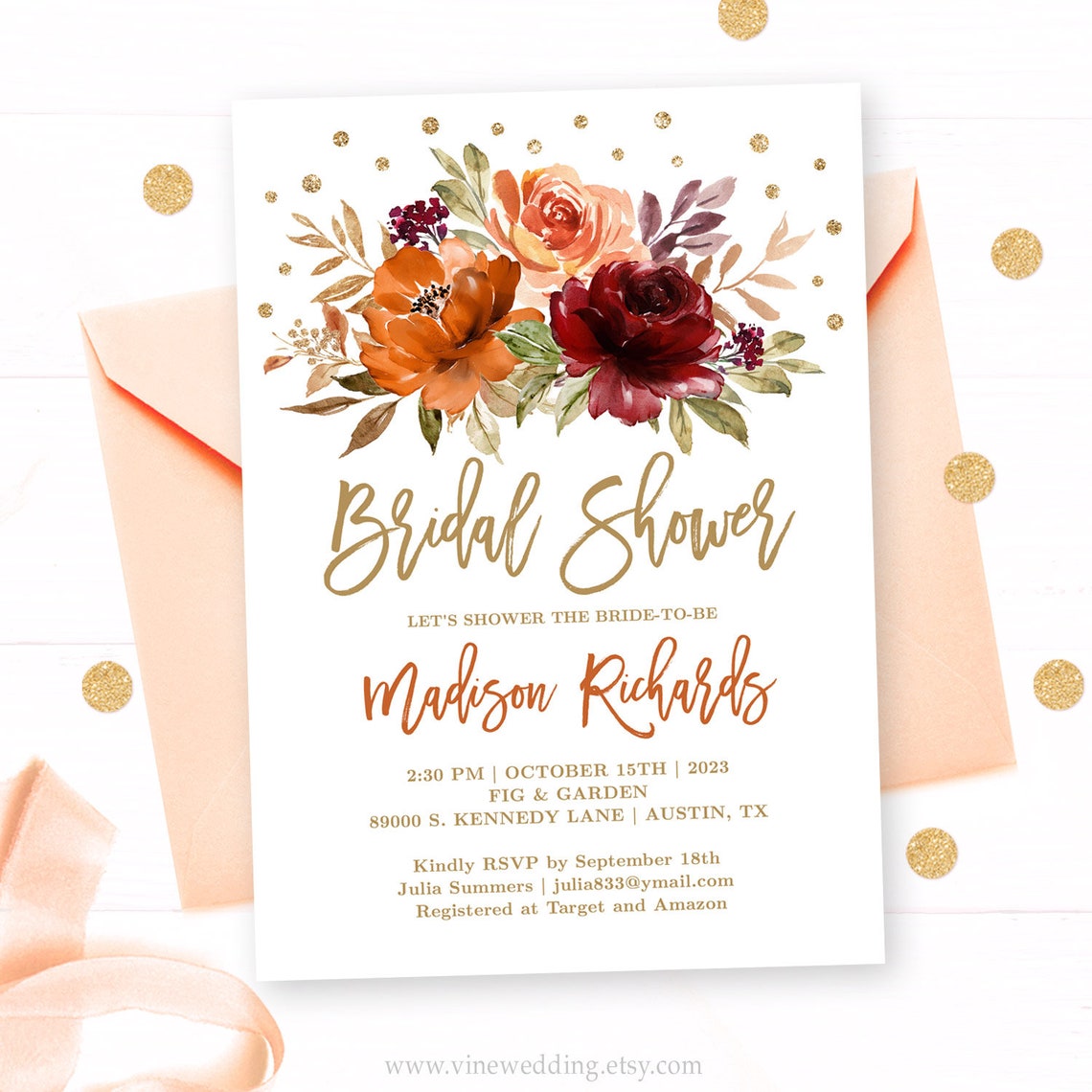 White Pumpkin, Fall Florals, Autumn Fall Bridal Shower Invitation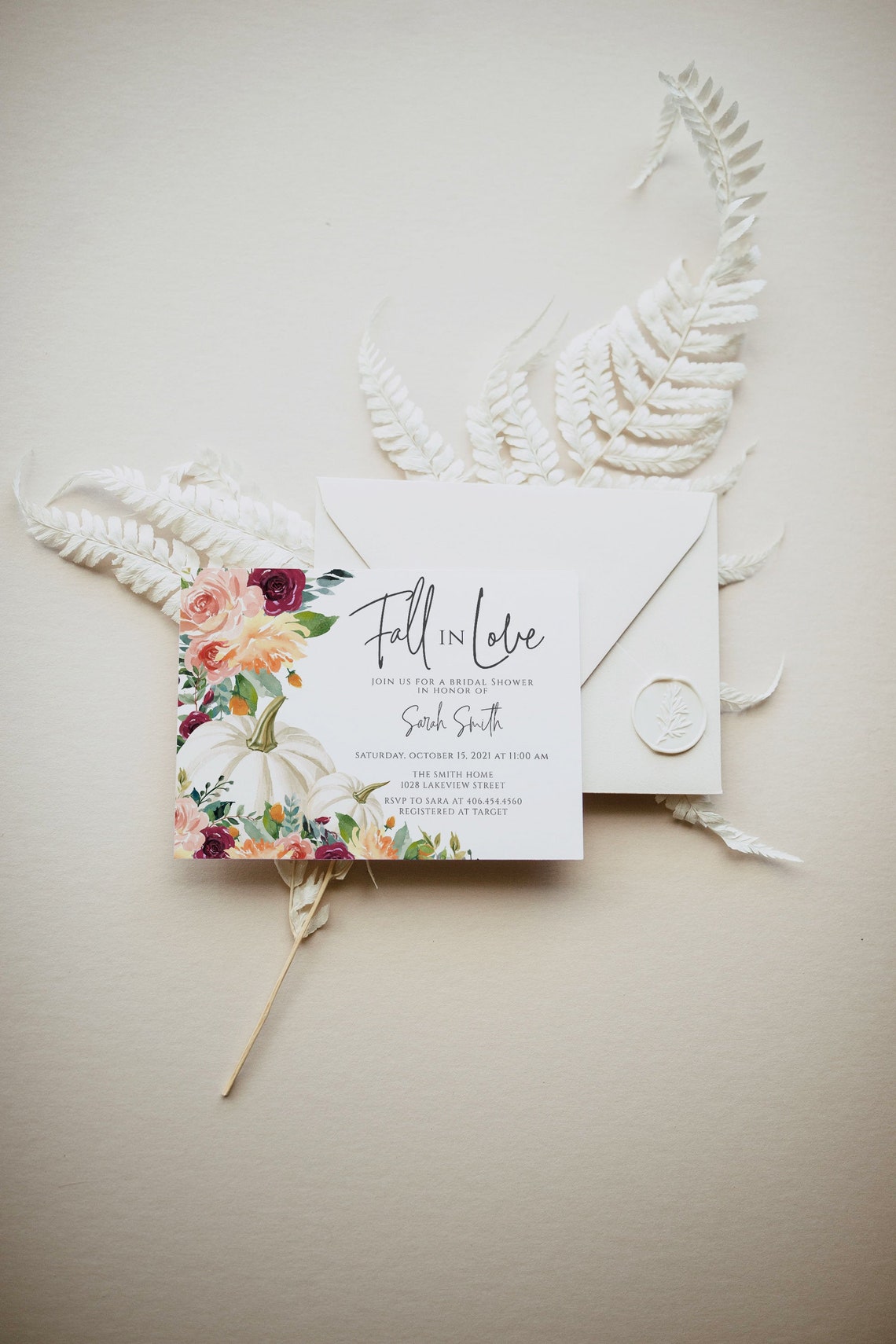 ---
FAQ
What is a bridal shower?
Before the wedding, the bride-to-be is treated to a unique event called a bridal shower. A shower is generally hosted by and for the bride's female friends and family, however nowadays it can be a more gender-diverse affair. Usually, the maid of honor or the bride's mother will host it.
What do I bring to a bridal shower?
It's always a nice idea to bring something to a wedding shower even though presents are not essential. You can select a gift from the bride's registry or go with something unique, such as a monogrammed robe, unique jewelry, or a particular framed piece of art.